Want to know about all the famous hot springs in Alberta, you have come to the right place. Let's get started. 
1. What is Hot Springs Alberta?
So, what do you know about hot springs at all? Because the first thing that comes to my mind when I hear the word hot springs it is definitely super-hot natural water offered by mother nature.
Yes, it is much more fun and amazing than your hot bathtub at home.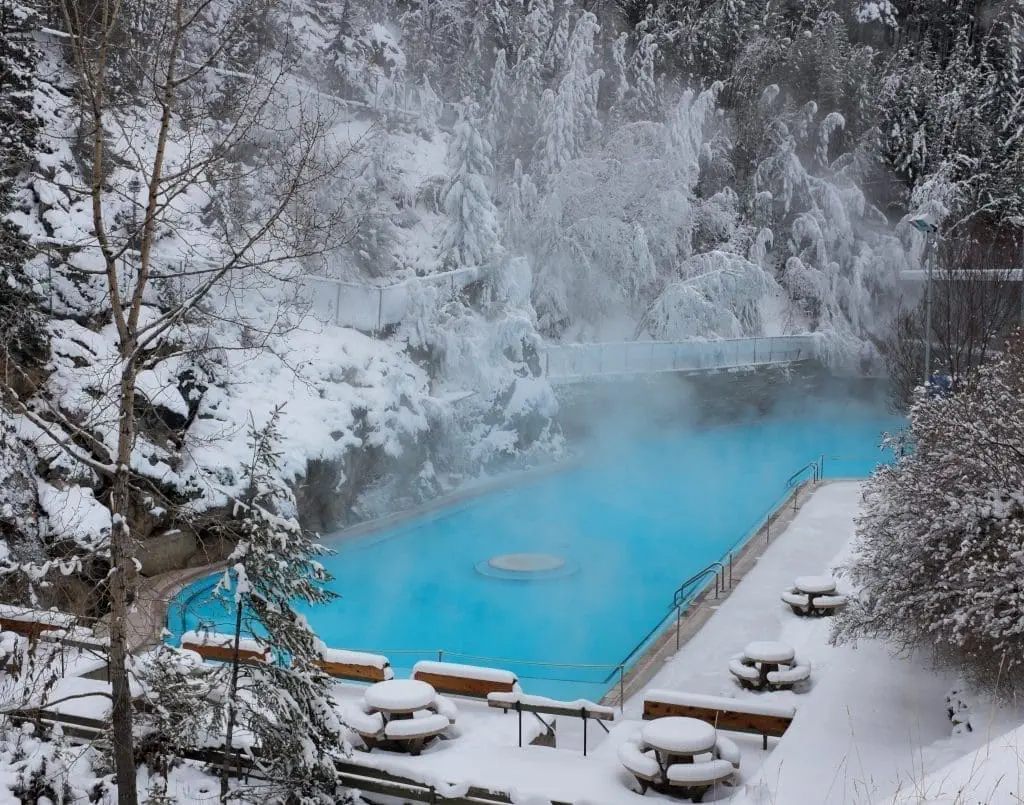 The hot springs are naturally built hot water ponds which are created in volcanic regions.
Now, the question arises how? And the answer is when the water comes in contact with really heated rocks inside the earth it creates natural hot springs, and these are the most favorable tourist attractions actually.
2. Where is Alberta? 
This article will particularly let you know everything about hot springs Alberta, or you can say the best hot springs in Alberta.
Alberta, one of the three grasslands (flat grasslands) in western Canada, is a stunning province. As you move to the west it is also sharing its borders with British Columbia.
2.1. What Makes Alberta So Famous Among People All Over the World?
Alberta is famous for so many things, and name a few, are:
Large oil industry

Fine grasslands

Museums & music centers

Mountains & glaciers
Yet, other than all these amazing things, the hot springs Alberta is still on top among tourists. Alberta thermal waters are something you should experience once in a lifetime because it's the natural treasures that Alberta owns.
In other words, the hottest hot springs and pools are what make Alberta famous.
Although not all the hot springs pools are natural hot springs water but trust me each one of them is worth visiting.
So, if you ever travel to Alberta then these natural hot springs water must be on your list, and I will help you make that list.
3. Best Hot Springs Alberta Pools
It is important to know that all the hot springs pools in Alberta hot springs are family friendly.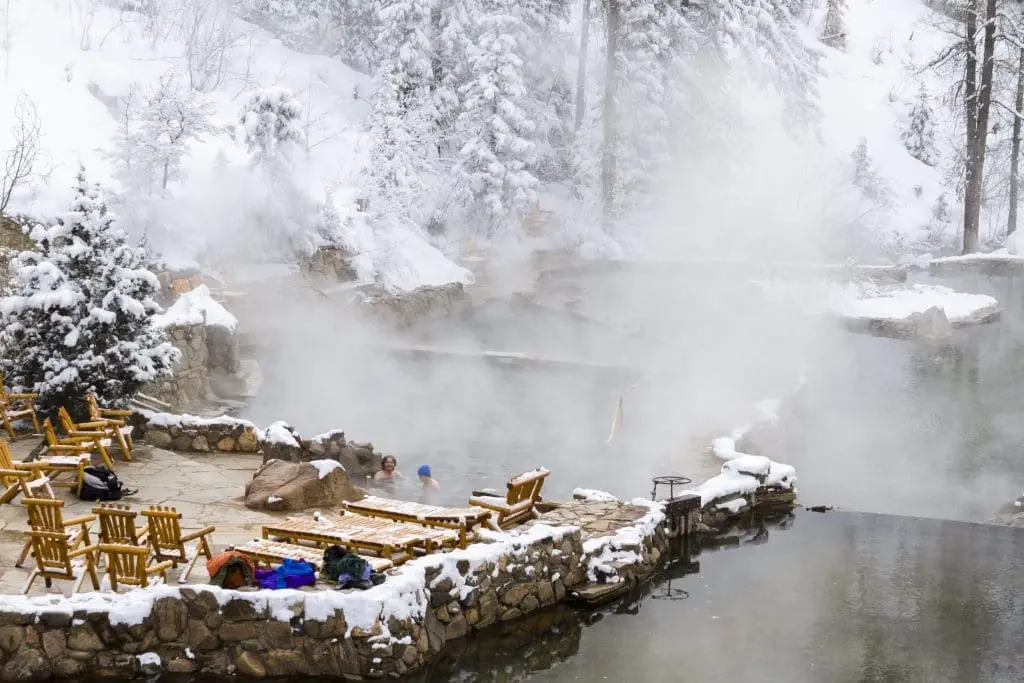 All the hot springs pools are extremely popular hot springs. Thousands of people visit all year round to these most popular hot springs.
3.1. Banff Upper Hot Springs
I will not bore you with any historical information, but a quick fact check is that.
The Banff upper hot spring Alberta is one of the nine natural hot springs pools in the area.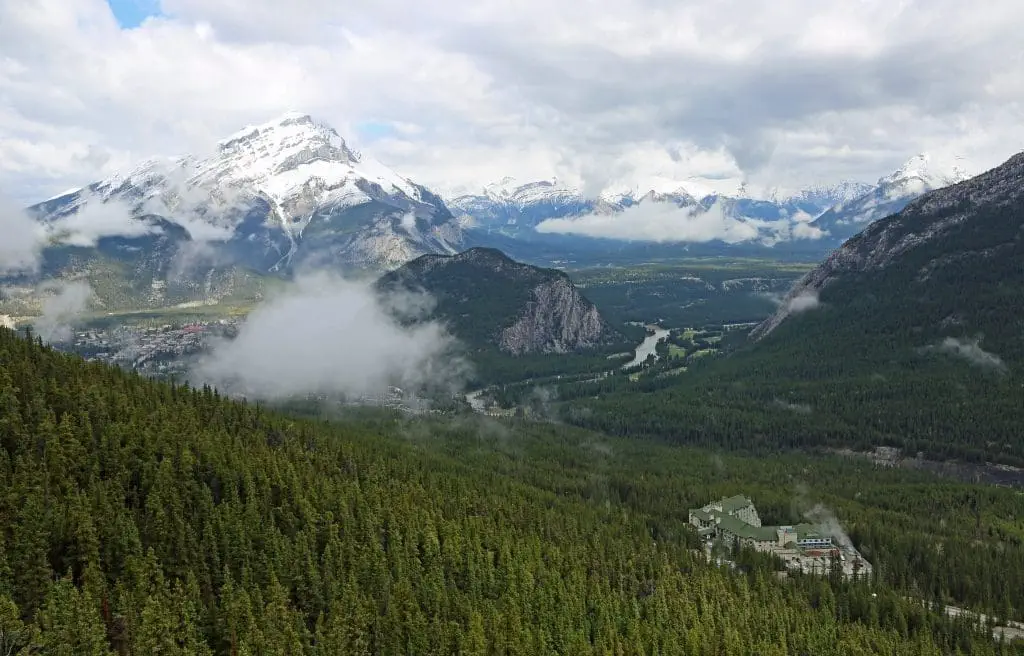 This beautiful spa and hot bath house are Around 4kms away from the main town of Banff located in the Banff National Park, plus you can either take a bus or your own car.
The hot spring Alberta is located on the top of sulfur mountain Ave surrounded by many other similar yet famous hot springs pools, therefore, finding the location would not be a difficult task.
3.1.1. Fun Things to Experience-
Since it's the most famous and crowded Alberta hot springs pool, they have more than 550 rooms and suits for the guests.
There is a beautiful cafeteria to grab your favorite food and eat around the mountains all over.
The outdoor pool has a comfortable temperature to soak yourself for a long time. Check all other details like
For the price, accommodations, steam room, reservations, about the area, or anything else, just go to the official website of Banff upper hot springs Alberta pool to get updated.
I would suggest you go for an early morning day trip or an evening one because they are less crowded.
3.2. The Cave and Basin National Historic Site
The cave and basin were Alberta's very first natural hot springs but now you can only enjoy the tour of the historical site.
Swimming in the cave and basin is now no longer allowed but you should definitely visit the site to know about the amazing history of natural hot pools in the Canadian Rockies.
The location is just 5km away from the Banff upper hot springs Alberta, it's going to be a mesmerizing experience.
3.3. Mist Mountain Hot Springs
Yes, it's easy to just get into your car and reach the best hot spring in the Banff area but what if I say, you need to find the natural hot springs through the adventurous hike on the Mist Mountain of Kananaskis country?
The mist mountain is a treasure of two natural hot springs which is not easy to find but worth the finding journey for sure.
3.3.1. Things To Take Care of Before Starting the Hike To the Natural Spring
The very first thing to consider is where to start which will be taking Highway 40 and then turning on your GPS to reach the destination.
Make sure to follow the hiking trails made throughout the hike and stick to them.
The trek is about 9km long, so make sure you have all the necessary equipment and supplies with you to avoid any inconveniences.
Trust me when you will see the small hot spring in front of your eyes that would be the best feeling after 2-3 hours of trekking.
Soak yourself in and enjoy the surrounding weather and the cold wind sitting in warm springs.
3.4. Miette Hot springs
The Miette hot spring is located in the Jasper national park of Alberta and is one of the most popular hot pools in Canada, Alberta hot springs.
The water coming from the mountains is so hot that it is first cooled down to varying temperatures and then supplied to the swimming pool.
3.4.1. Important Things To Note Down Before Visiting Hot Springs Alberta-
The first thing to know is that there are no prior reservations here, they work on have first come-first served basis.
Yes, they have changed rooms and every facility you need before and after your bath.
Parking lot convenience is offered along with a gift shop and of course, food is like a silver lining.
What are you waiting for, Miette hot springs has everything you need for a perfect vacation.
Go through their official website to get every information.
3.5. Radium Hot Springs
The radium hot springs are not exactly in Alberta, but they are not too far from the Banff of Alberta.
To reach the destination you just need to turn on your GPS and take highway 93 straight to Kootenay national park.
The hot springs are the silver lining on the clouds because other than this the radium town offers so much more than you can think.
How about hiking, or going fishing, which may be an adventurous trip into the mountains of radium? Guys visit the place, and you will literally find it timeless to cover everything the town offers.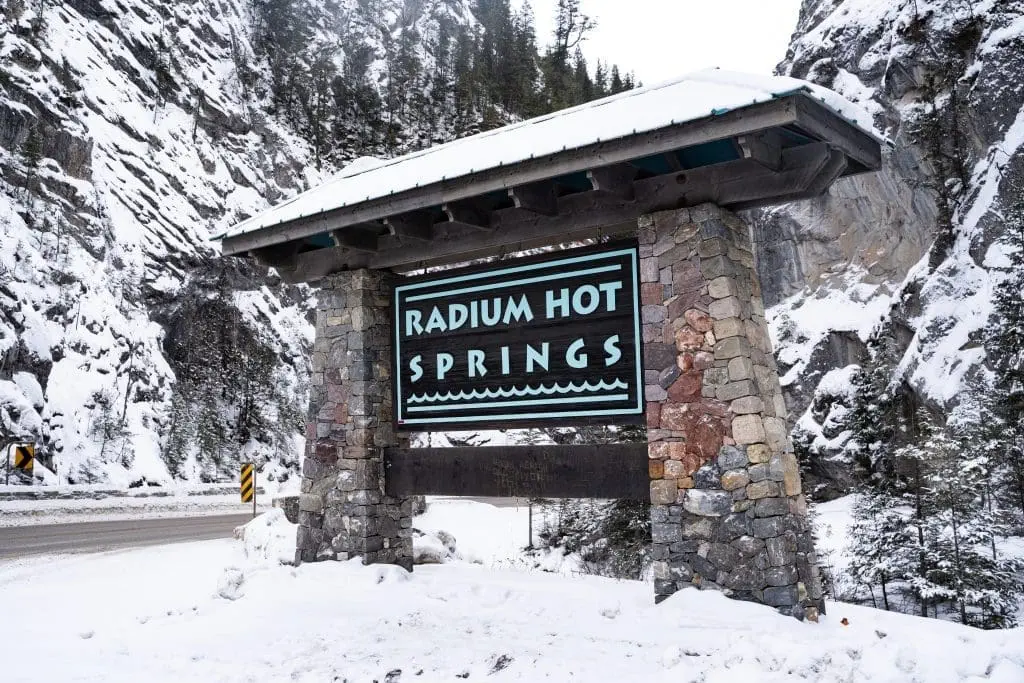 Their developed pools are outdoor and supply 100% natural mineral waters after altering the temperature to a bearable state.
3.5.1. Have a Look at Their Facilities –
They have showers in changing rooms and also steam rooms for their guests.
The food is readily available and there are even ramps to provide safe walking.
No need for prior reservations and yes, they have plenty of parking spaces.
I always share the official website, so you don't miss out on any important information.
3.6. Lussier Hot Springs
These hot springs are underdeveloped but are worth visiting since they are natural hot springs.
Lussier hot springs are located in white swan Lake provincial park of British Columbia, but it shares its borders with Alberta.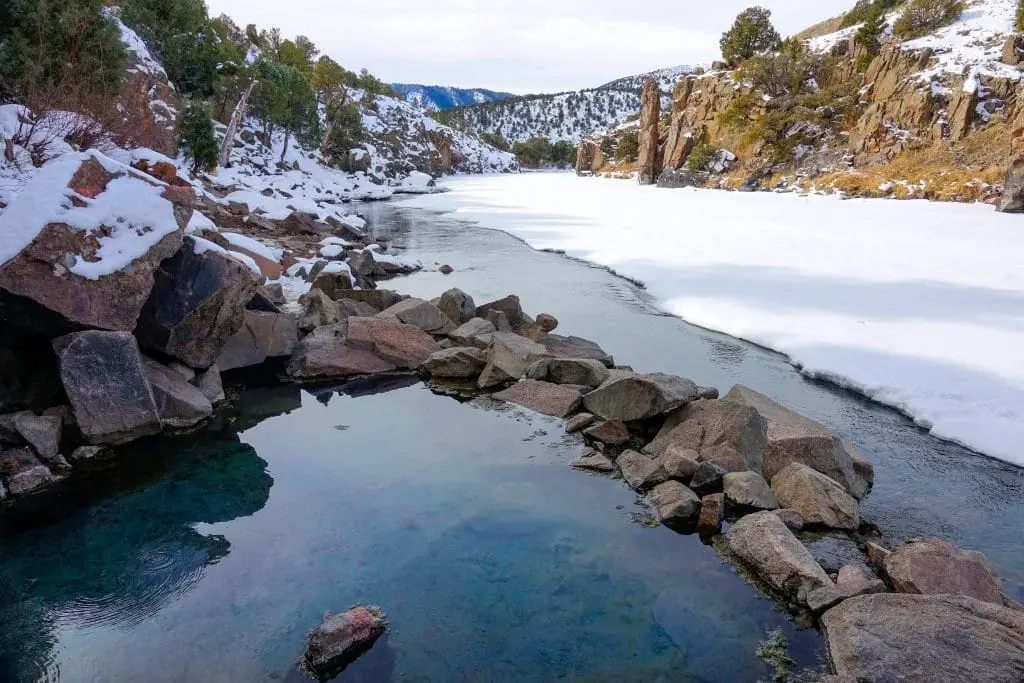 There is three natural hot springs Alberta here and the temperature varies depending on the river water mixing with it.
They have a toilet and changing room facility with hooks to keep your clothes on.
If you want to stay you have to take a nearby hotel like the very famous Fairmont hot springs resort.
The Lussier hot springs are completely free, and anyone can enjoy the mineral waters here.
3.7. Fairmont Banff Springs
The Fairmont hot springs is a luxurious resort that will give you an entire royal experience of perfect hot springs Alberta in the Canadian Rockies.
The resort is a complete holiday package because it doesn't only hold the best hot springs in Canada but also a number of activities offered to its guests. 
The resort is actually in British Columbia and about 2hours drive away from Alberta.
3.7.1. Have a Look at the Amazing Facilities Provided by the Resort-
They have both outdoor and indoor mineral pools which are very impressive.
They offer professional spa treatment, I mean, who doesn't want it, after soaking yourself in hot springs with incredible views?
Not just spa treatments, they provide everything from soap to bathing suits. the hot springs Alberta are famous for desired reasons.
The hot springs in the Canadian Rockies which are provided by this resort have healing powers for sore muscles.
You can
Make reservations

Book your stay

Grab the best food from the cafeteria

Enjoy the alleviated views

restaurants and fitness club

they have an amazing golf course at a high altitude
Have a quick tour of their website for better insight.
3.8. Ram Creek Hot Springs
Ram creek hot springs are the hidden treasures of Canadian mountains. if you also feel awkward or uncomfortable in heavy crowds then this place is perfect for you. the ram creek hot springs are the least crowded hot pools in Canada. 
Not a lot of people know about and not all of them reach the site because the path is quite complex,
but follow the trail and basic instructions and you be good to go. These two natural hot springs Alberta are not easy to find since they are underdeveloped but trust me, they are worth a shot.
They are on the same path as the Lussier hot springs and there is a trail that you need to follow to reach there. the water too is not that hot and bearable to sink in yourself. 
Yes, the track is not going to be easy but if you love the scenic drive and then a perfect soaking pool dive in hot springs Alberta, then the ram creek hot spring is waiting for you. 
3.9. Willow Stream Spa 
I am adding this at last because the Willow Stream spa is not a 100% natural hot springs Alberta.
But, after reading this you will definitely love to visit this place for a soulful experience. So, this spa is a luxurious place to make yourself no less than a special person.
The spa is in Banff, and you can find it easily through maps.
They have mind-blowing facilities which are hard to explore in a single day. Therefore, if you plan to come here at least spend a week grasping every essence of the overall experience.
3.9.1. Facilities That Will Amaze You: –
Their spa treatments are very professional yet soothing, the outdoor pool has saltwater access which has so many benefits.
Other than this they have pools with natural essential oils or imported mineral salts that have healing powers.
This spa is not just famous for its first-class hot springs pool, but they have the best dining options for its guests.
Here's a link to their dining page, check out the menus, cuisine, and cafes of Willow stream spa.
You can book your spa treatment online and select which kind of royal spa you want.
Everything is mentioned on their website so do check it out.
Your stay in one of the best hot springs Alberta will be a lifetime experience.
4. Final Words
I hope you got everything you needed to know about the hot springs in Alberta, further, I believe you will have a great trip to the destination. Don't forget to check out their official website to not miss any updates. I tried to cover all the natural hot springs of Alberta. I mentioned all the important things along with the required links, so, that you don't miss out anything. Though not all the places I mentioned are natural hot springs in Alberta, they are worth visiting. So, choose your favorite location plan and kick-start the best trip of your life.