Hey fam!! Here's your recipe guide to the best banana muffins…
Muffins are partly raised flatbreads or quick bread.
They come in sweet varieties such as chocolate muffins, blueberry muffins, dry fruit muffins, and savory varieties such as oatmeal muffins, whole wheat muffins, and cheese muffins.
It is considered a part of a traditional breakfast course too.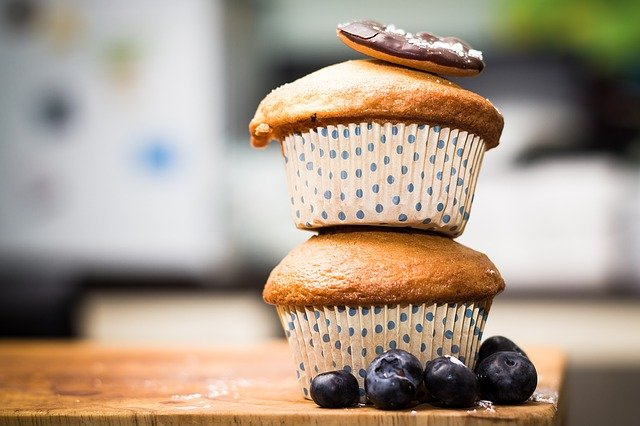 Imagine filling your stomach up with these delicacies first thing in the morning! YUM!
Muffins can be of two types: Quick bread muffins or American muffins and Flatbread muffins or English muffins.
Quick Bread Muffins
They are cupcake-sized bread that has a moist and coarse texture.
It comes in sweetened and unsweetened varieties, with sweet varieties being more popular.
Well, what would you prefer? A sweet or a savoury muffin?
Quick bread muffins are of American origin and can be prepared in many variations through the fusion of different ingredients.
To list a few of them would include Banana muffins, Chocolate chip muffins, Carrot muffins, Cranberries muffins, Dry fruits muffins coated with unsweetened applesauce, and so much more.
Flatbread Muffins
They are disk-like bread similar to the shape of pancakes and are unsweetened with yeast as one of the main ingredients.
Unlike quick bread, they are not entirely oven baked and are cooked on stove top resulting in their flattened disk shape.
Flatbread muffins are of English origin and can be served with butter or margarine.
They can also be coated with sweet toppings such as unsweetened applesauce, sour cream, jam, honey, maple syrup, chocolate syrup etc.
They also come with savoury toppings or sides such as sausage, egg, cheese, bacon etc.
Are You Confused Between a Cupcake and a Muffin?
Let's look at the difference between a cupcake and a muffin.
Cupcakes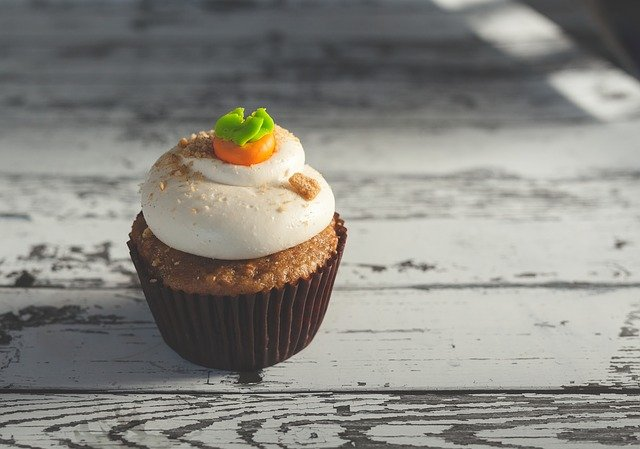 Cupcakes have a light, airy texture.
Aren't you more familiar with a cupcake than a muffin?
Well, this is because, to put it simply, cupcakes are a smaller version of the cake. The batter of both cupcakes and normal cakes are the same, and the size, baking equipment and shape differ.
Cupcakes are sweet desserts that are often eaten as a snack or dessert, unlike a muffin that can be eaten for breakfast.
They are topped with sugar icing or frosting and can be decorated with sugar sprinkles.
Muffins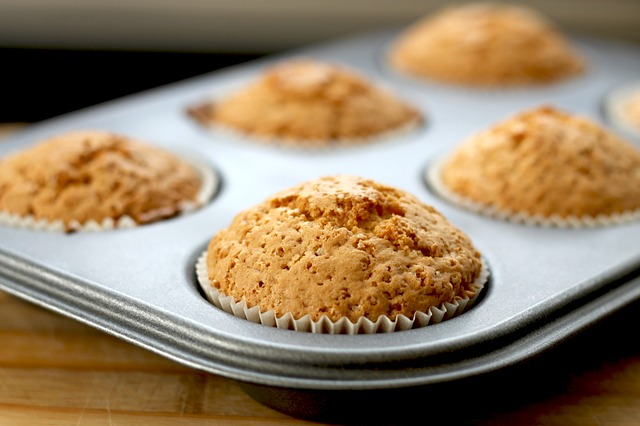 Muffins have a more firm texture, unlike cupcakes.
On the other hand, muffins have more solid ingredients mixed into the batter like blueberries or nuts or cranberries etc.
This makes muffins a healthier option, and it fills the stomach too.
It does not require much whisking like cake batters and is not complicated to make, unlike cakes which require a lot more care and things to be kept in mind for it to come out well.
The process is as simple as making a pancake.
You just have to bring in the wet ingredients together, followed by the dry ingredients, and give it a few whisks and twirls to blend them all well.
Best Banana Muffin Recipe
Muffins are the perfect combination of yummy and healthy.
You can incorporate any healthy ingredient into the batter, which still turns out deliciously perfect.
Muffins are easy to make, unlike cake batters that need more whisking.
As mentioned earlier, any pairing of ingredients for the muffin recipes would never fail to amaze you.
So come, let's divulge into the world of banana muffins and find out the secret of the best banana muffins.
Now you will see one of the best easy banana muffins recipes. Be prepared to hear your stomach growling and mouth watering for a story of these delicious banana muffins.
Banana chocolate chips muffins
The process starts by bringing together all the wet ingredients, followed by the dry ingredients.
Off to a Creamy Start
Whisking the eggs
First, we shall break the eggs into a large bowl and whisk them until it becomes a little fluffy.
Since it's a muffin, you need not whip the eggs until they become frothy but just for a minute or two.
Then add a bit of vanilla extract or essence to a tinge of vanilla flavour. This also helps lighten the eggy flavour. Make sure not to whip the eggs for too long.
Sweet tooth, here I come.
The next step is gradually adding granulated sugar to the eggs and whisking them.
It would be even healthier and tastier to use brown sugar instead of white granulated sugar.
Brown sugar gives more flavour than white granulated sugar since it contains higher molasses.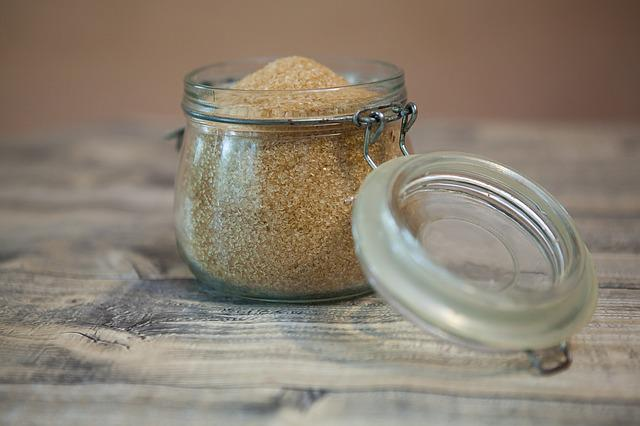 It's not a must-do, as it tastes awesome with white sugar. Consider it a tip to make your banana muffins more mesmerizing for your taste buds.
Now once the sugar is incorporated well, the batter constitutes a creamy texture. Let's make this batter smoother and buttery by adding a half cup of vegetable oil.
Beat the batter till the oil is blended well. Ooh, well, what can I say, but this batter is a sight for the eyes.
 Yummy Bananas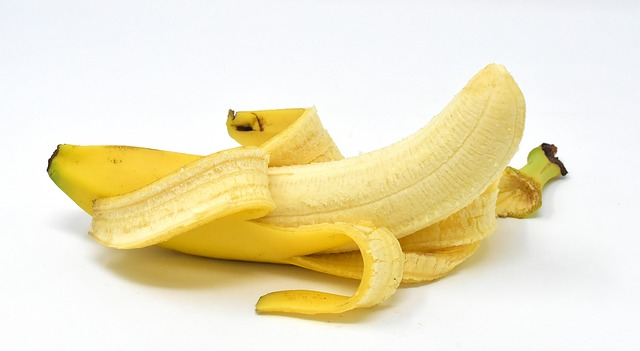 Take two very ripe bananas on another plate and mash them using a big fork or a masher. Mash bananas until they turn into a paste. Add these mashed bananas to the batter and mix them real good.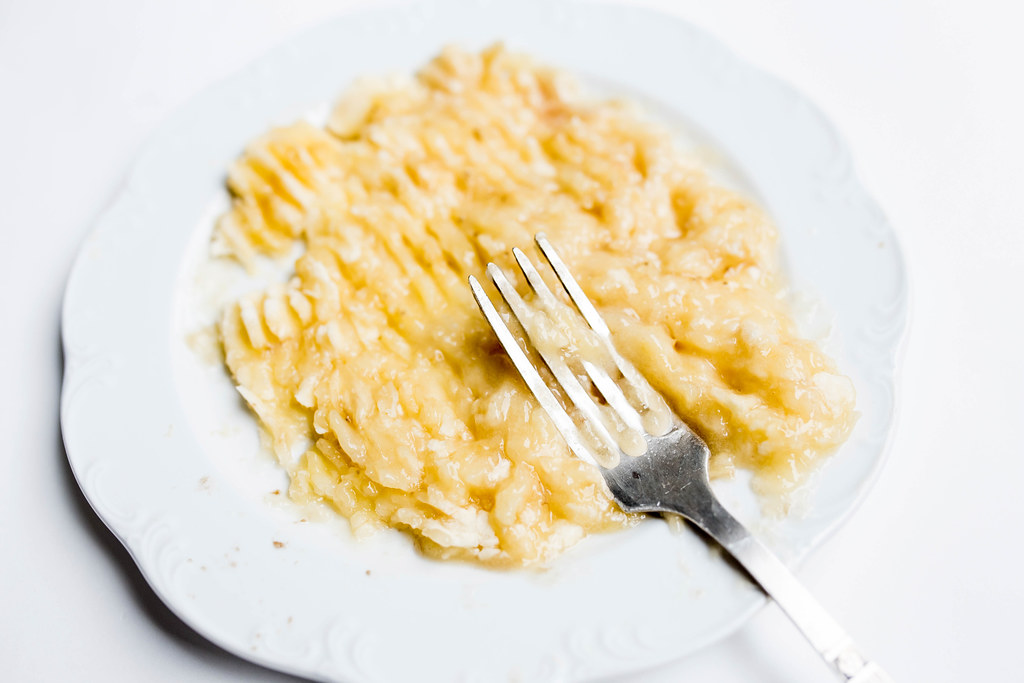 The batter consisting of wet ingredients is done. At this stage, almost 80% of our work is done. Phew! It may seem a lot, but it is simple and gives delicious results.
Flour, Flour Everywhere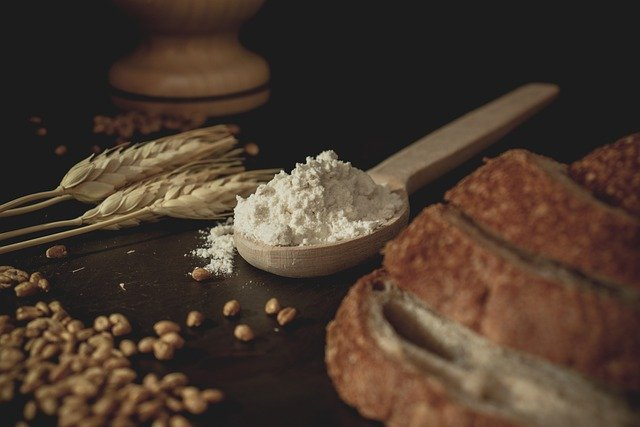 The time for the coming together of non-sticky dry ingredients has come.
Since we are doing a fusion of healthy and tasty, let's skip normal flour and alternate it with whole wheat flour and oats.
Trust me, and these are the go-to ingredients for a wonderful recipe.
Powder one cup of oats in the blender till it has a fine texture.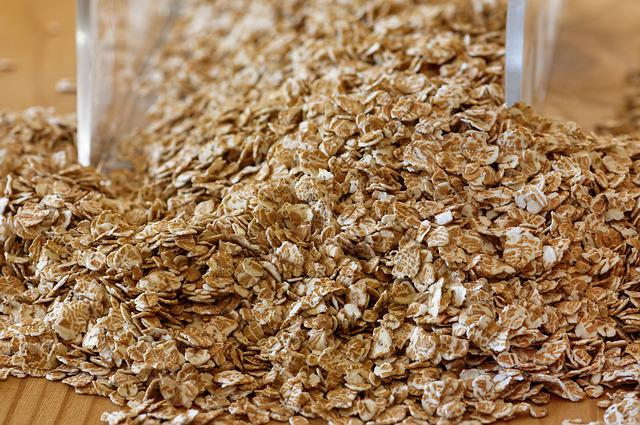 Sieve the powdered oats into another separate medium bowl, however, there would be some quantity of oats that may not be powdered well so put it back into the blender and grind it once again, till only a few particles would be remaining in the sieve.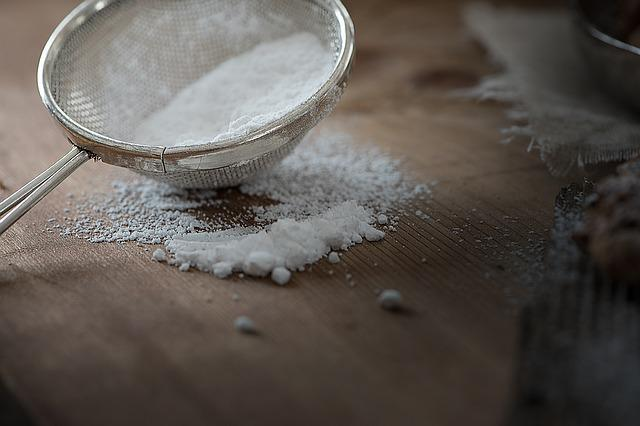 After seeing the oats, sieve one cup of whole wheat flour into the same bowl.
Add one teaspoon of baking soda and one teaspoon of baking powder.
Finally, sprinkle a pinch of salt for the magic of taste to work.
Fusion of Wet and Dry
Now it's time to add the dry ingredients to the wet ingredients little by little.
We should keep in mind to not add the flour in one go as it can form small chunks that can be hard to break later on.
Keep a three-fourth cup of buttermilk also ready.
Then add the sieved dry ingredients gradually along with the buttermilk to ensure smooth blending without forming lumps.
Do not over-mix the batter and only do so till the ingredients are mixed well.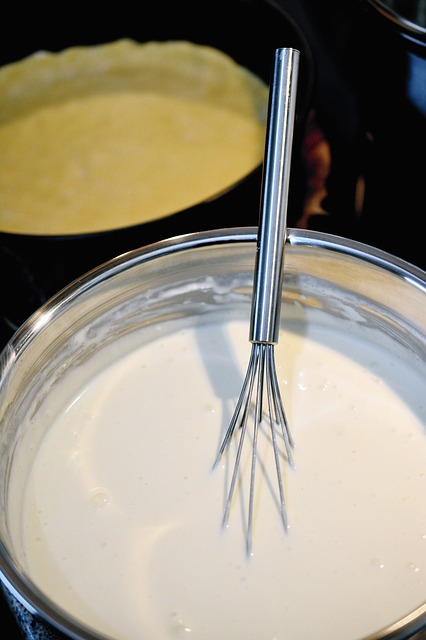 Spotlight of the Recipe
Now it's time for the star of the recipe aka to add chocolate chips.
Throw in half a cup of chocolate chips [and more if you would like;)] and give the batter a mix with the spatula once or twice just to spread the chocolate chip everywhere.
The batter is now ready to go into the oven.
Time to Pop it into the Oven
It is necessary to have muffin tins or trays to bake the muffins.
Preheat the oven for ten minutes at 180 degrees Celsius and grease the muffin tray with oil or butter.
Once the oven is warmed and ready, pour the batter into the muffin cups tray.
Chopped nuts can also be used to decorate the top of the banana muffins.
The amount of batter to be poured into the muffin cups is up to you, it can be filled to the top if you want big muffins, and if you are looking for more muffins, you can fill just half of the muffin cup resulting in mini muffins.
After spooning the batter into the muffin cup tray, pop the tray into the oven and bake the muffins at 180 degrees Celsius for 20 to 25 minutes.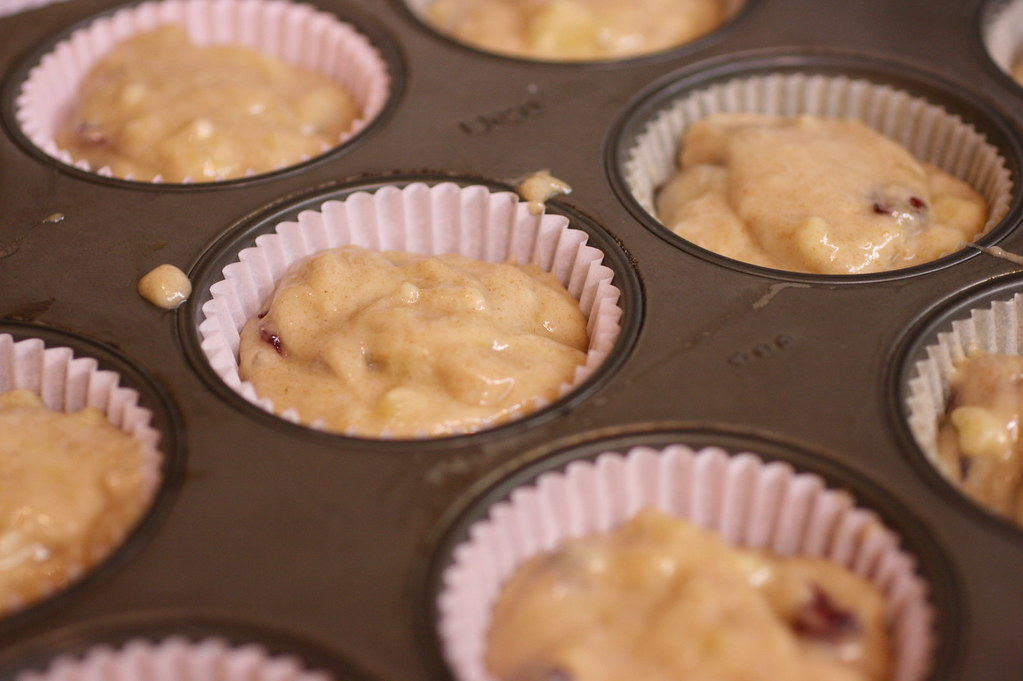 Patience is so Hard in Front of Muffins
Once the time is up, before opening the oven, wait for a few minutes and then take out the tray. This is to let the muffins cook more in the oven and cool a bit.
After taking the tray out, check if it's baked properly by inserting a toothpick into all the muffins.
If the toothpick inserted comes out clean, your muffins are ready.
A point to be noted here is that since the muffin contains Chocolate chips, the toothpick will have traces of chocolate on it as it is inserted when hot.
So only look for traces of batter to decide whether cooked or not.
Wait for the muffins to cool completely before taking them out of the tray; otherwise, the muffin can break apart.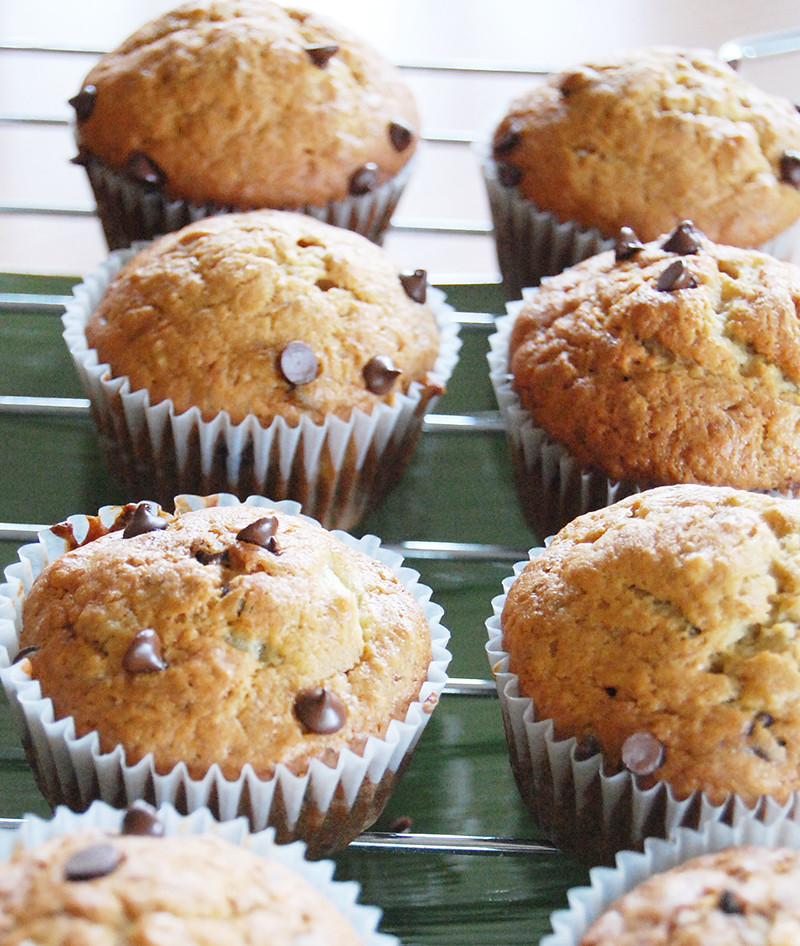 Aftermath
The outcome is moist and tender banana muffins. Bite into them and you will find out that they are the best banana muffins ever made.
Do not refrigerate these banana muffins as they taste best at room temperature.
They can also be stored at room temperature for three to four days, after which its advised to refrigerate them.
Although it would be an impossible feat not to finish eating these absolutely delicious banana muffins within two to three days.
The chocolate chips also compliments the banana flavor very well in this easy banana muffins recipe.
Bake the whole batter, and you will get 14 to 16 muffins based on the amount of batter you pour into the muffin tins.
Eating the muffin when hot or eating the muffin at room temperature are both delicious options.
Making the muffins is quick and easy, but baking can be a bit time-consuming.
Nevertheless, it's worth it in the end because these delicious banana muffins just melt your mouth with flavor and pleasures your stomach with filling.
Ingredients at a Glance
Wet ingredients:
2 eggs
½ cup vegetable oil
2 ripe mashed bananas
¾ cup buttermilk
1tsp vanilla extract
Dry Ingredients:
¾ cup brown sugar
1 cup oats powdered
1 cup whole wheat flour
1tsp baking powder
1tsp baking soda
A pinch of salt
½ cup chocolate chips
The Process at a glance
Add 2 eggs, vanilla extract,  3/4th cup brown sugar, and mix well.
Then add ½ cup vegetable oil and blend well. To this batter, add two ripe bananas.
Then follows the dry ingredients.
First, add one cup of powdered oats, one cup of wheat flour, one tsp of baking powder, and one teaspoon of baking soda.
Add a pinch of salt too.
While adding the dry ingredients gradually, add ¾th cup of buttermilk also little by little to mix the dry ingredients into the wet ingredients without forming any chunks.
Finally, add half a cup of chocolate chips to this batter and give it a final mix.
Bake the muffins at 180 degrees Celsius for 20 to 25 minutes and become the baker of the best banana muffins ever.
Things to Keep in Mind
Do not spend too much time beating or whisking the eggs, as it is not necessary, unlike when making a cake.
It is not compulsory to use standard flour and can test many other options such as whole wheat flour, almond flour, oatmeal etc.
Since the muffin we are baking is sweet, using sugar is not a must, and you can go for other options such as maple syrup, brown sugar, cane sugar, jaggery etc.
The dry ingredients must be added to the wet ingredients and not the other way round, as they can form many lumps that may be hard to break down, resulting in uncooked chunks in your baked muffins.
All the ingredients used must be at room temperature.
Preheat the oven before popping in the muffins.
The muffins must be baked for 20 to 25 minutes as it takes time to cook. If taken out sooner, it may feel a bit chewy and gummy.
Wait a few minutes before opening the oven, as the muffins are still being cooked in the heat even after the timer ends.
Substitutes
The recipe ingredients can be substituted as per preference and availability of the ingredients.
Those who prefer normal flour can go ahead with it.
Almond flour can also be used to make these muffins.
Melted butter can be used instead of vegetable oil.
Brown sugar can be substituted with maple syrup or jaggery.
Curd can also be used in place of buttermilk.
Those who are not a fan of chocolate chips or prefer healthier versions can go for blueberries, cranberries or dry fruits like chopped nuts, chopped walnuts or pecans and still result in the best banana muffins.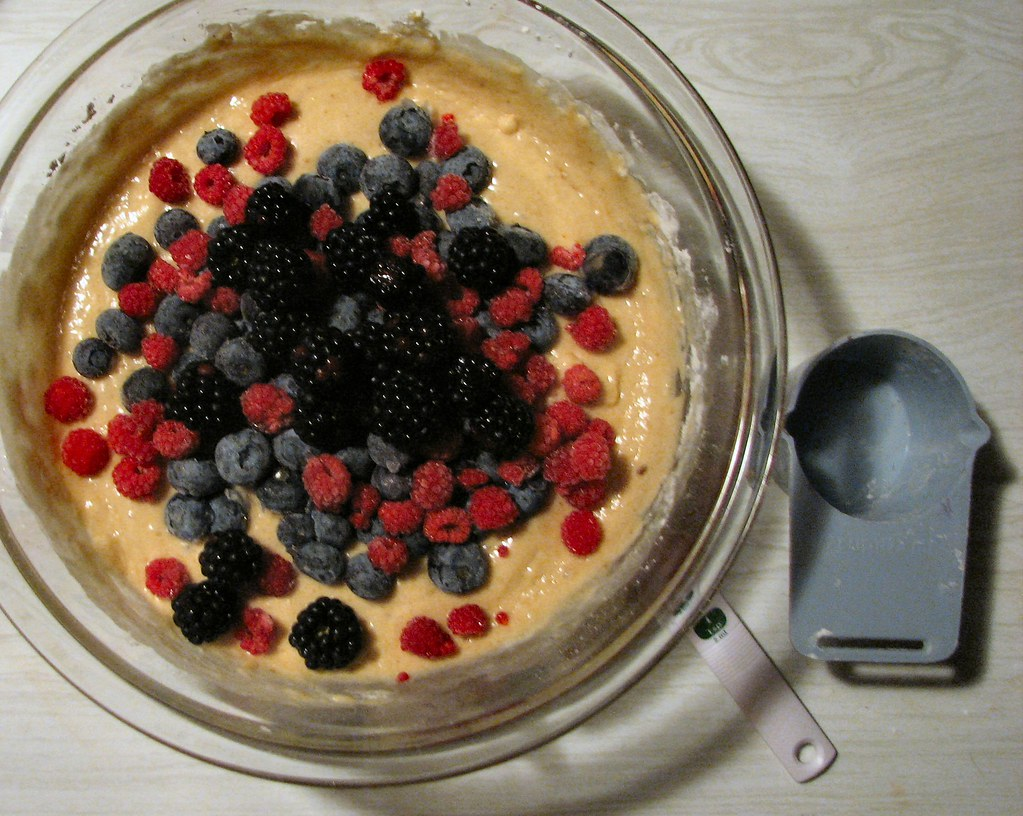 There may shockingly exist banana dislikers too, but don't worry you can go for other fruits and natural flavors if not a banana.
A few combinations would be apple and dry fruits, carrot and berries etc.
The process for all the muffins would almost be the same except for a bit of tweaking and variation in the main two ingredients.
The main two ingredients in the above recipe are banana and chocolate chip.
Hope You had a Yummy Time!
Well, now we come to the end of the wonderful banana chocolate chip muffin story.
This great recipe is a must-try and unique because many fusions can be worked into this single recipe, and all the recipes will turn out marvelous and mouth-watering.
This is for sure one of the easy and best banana muffin recipes you will ever find.
Try out this delicious recipe and soon you will frequently bake muffins.
You can become the owner of the best banana muffins!
So what are you waiting for, bake these delicious goodies right away and escape into a world of delicious sin.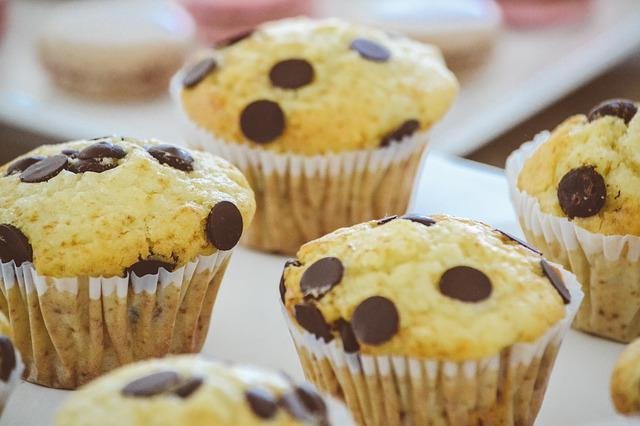 Other Suggested Reads
https://icycanada.com/how-to-make-chocolate-home/
https://icycanada.com/benefits-of-peppermint-tea-11benefits/
https://icycanada.com/nanaimo-bar-recipe-how-to-make-the-canadian-bars/
https://icycanada.com/delicious-chicken-fried-rice-recipe-a-must-try/
https://icycanada.com/nuts-and-bolts-recipe-5-more-holiday-staple-recipe/
As an Amazon Associate, Icy Canada earns from qualifying purchases.