Christmas is the biggest and most important Christian festival on the calendar. It is a beautiful time to spend with friends and family, holding a warm cup of coffee or eggnog on snowy evenings lit up by twinkle lights and singing along to Christmas carols. 
Should you find yourself spending your Christmas in Canada, here are the 12 best ways to get the most out of your Canadian Christmas:
1. Toronto Christmas Market
About half a million people yearn to spend their Christmas in the biggest city in Canada. And with good reason. Inspired by the German Christkindlmarkt in the fifteenth century, Toronto Christmas Market is one of the biggest attractions during the winter. It is a five-week event, which starts in mid-November and ends right before Christmas eve. It is more than just a fair, with vendors and Ferris wheels. There's a fifty-foot tall Christmas tree at the centre of it all; it is lit up by more than forty thousand little lights, eight hundred Christmas balls, and a special ribbon that runs 1.5 kilometres long! It is a celebration of the spirit, scenery, and sounds of Christmas.
There's no shortage of music at the Toronto Christmas Market. You can find Santa's Elves roaming around throughout the market and singing carols while visitors shop and munch. Many renowned artists also perform on the big stage; you can also find brass bands and Toronto Christmas Market's carolers singing carols for about fifteen minutes every day; they also hand out song sheets so that the crowd can join. 
The one thing that is necessary to make a good memory is food. And there's no shortage of fantastic food vendors here. From tasty sandwiches, turkey legs, Oktoberfest sausages, and Canadian poutine to desserts like Belgian waffles, chimney cakes, maple fudges, and strudels, this place has it all sorted out.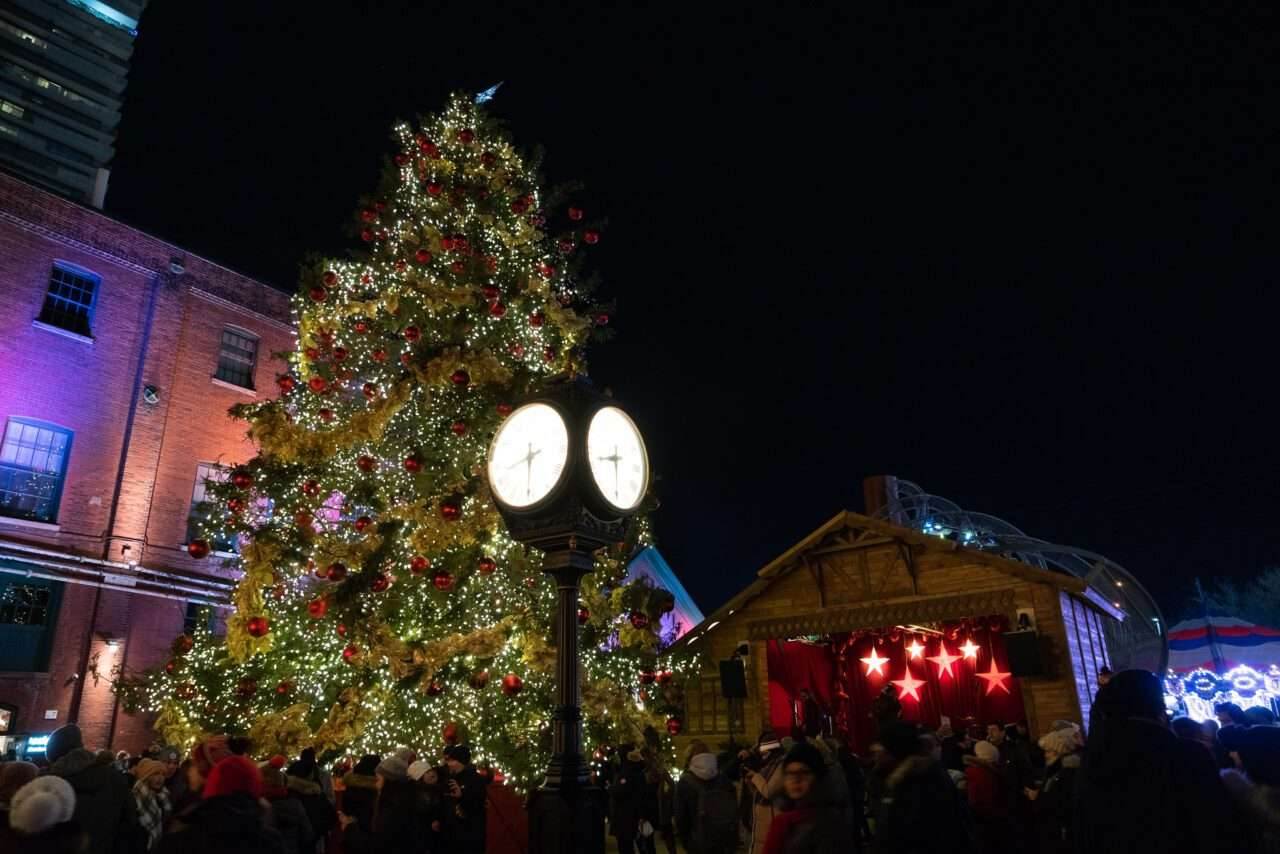 There's also a hundred-foot light tunnel, walking through, which feels like a stroll through the milky way itself. What's more, you'll also find a bar in the middle of this tunnel so that you can enjoy this magnificent scenery with a beverage of your choice. 
This place is also a dream come true for beer lovers because there's a beer garden with all the famous and in-demand alcoholic drinks for visitors to warm themselves up while they shop and have the best Christmas in Canada. 
2. German Christmas Market
Another brilliant way to spend the days before Christmas in Canada, the German Christmas Market, is held from 22nd November to 23rd December in the heart of Old Quebec. This pre-Christmas delight is an attempt to recreate classic European marketplaces with a particular selection of German snacks like bratwursts and gingerbread. Much like in Toronto, the German Christmas Market also has much choral singing and is a beautiful place to go Christmas shopping with your close friends and loved ones.  
3. Start Your Christmas at a Midnight Mass
Although it's not exclusive to celebrating Christmas in Canada, locals recommend spending evening roasting marshmallows over bonfires during the Christmas in the Park event. Once you're done with that, you can visit one of the numerous Basilicas or churches, new and old across any Canadian town, and attend the Midnight Mass on Christmas Eve. It gets freezing at night, so dress warm and grab a hot beverage to keep yourself warm while travelling to the perfect destination to start the holiest day of the year.
According to old Canadian traditions, everybody who attends the midnight mass is given a treat of tourtiere or pork pie. Families of French descent have a huge family dinner that is locally known as "Reveillon." This dinner is a grand family affair and usually carries on long into the night and the bleak hours of Christmas day morning. It is generally followed by songs or poetry sessions if the people are in shape to have more fun.
Popular foods served during this dinner include the preparation of roasted turkey and "boulettes" or small meatballs. Christmas pudding is another staple, while sweet companies make unique sweets like Barley Candy, which all young and old enjoy.
4. Pay a visit to the Niagara Falls
A trip to Canada demands a visit to the world-famous Niagara Falls. Christmas in Canada is even more of a reason to spend the holiday period at the waterfall. 
There are many fireworks set off during the holiday period, and these make the Falls light up in a dazzling fashion that is too beautiful for words. The Winter Festival of Lights is a literal Winter Wonderland that consists of the Dufferin Islands and the nearby areas. This spectacular light show truly captures the joy and beauty of the end-of-the-year festive season like no other. 
The Skylon Tower is another super popular tourist attraction to the Niagara Falls area. The Skylon Tower glows red on 25th December to celebrate Christmas. It offers breathtaking views of Niagara Falls when you add that with the exquisitely delicious food served in restaurants and cafes around the Skylon Tower, which will surely make your Christmas in Canada a special one. 
Last but surely not least, the Santa Claus Parade that concludes in a meet and greets session with Santa and Mrs Claus at the Niagara Falls City Hall is another spectacle that only a Christmas in Canada can offer you. 
5. The Cavalcade of Lights
This is a pretty prominent event during Christmas in Canada. Notably, in Toronto on Christmas Eve. The iconic Christmas tree in Nathan Philips Square is lit up, and boy, it is a sight to behold. There's also a brilliant fireworks display that lights up the sky on Christmas. If that wasn't enough, Canada's best musical artists come down to Nathan Philips Square for exclusive performances. It indeed promises to be a memorable evening and a brilliant start to the big day.
6. Visit Quebec
If you're aiming for an escape from the rush and the full life of the city, then Quebec is the place that you're looking for. Most Canadians themselves regard Quebec to be the most Christmassy location in the country. The town is dressed up in a cloak made out of snow and Christmas lights when you find yourself walking along the cobblestone covered snowy streets, the little cafes here and there; it feels like you're at a designated Christmas Village where Santa plans out his midnight.
The city does not forget its past, and if you ask the right people, you can find out more about the old Christmas traditions of Canada. Merely walking through Quebec is enough to want to make tourists spend every last Christmas in Canada. Be sure to visit the Notre-Dame-des-Victoires Church in Palace Royale while you're there.
7. Alight Night at the Upper Canada Village
The Upper Canada Village's Alight Night is simply a must-see tourist attraction. It is like travelling back in time and seeing Christmas for what it once was, back in the old days. You can have horse-drawn carriage rides around the village, and who doesn't like a good early horse ride? You can also visit St. Nicholas himself, sing along with the carollers at the old chapel, and have mouth-watering holiday snacks. At the same time, you stare, amazed at the millions of lights that light up the Upper Canada Village in Ottawa.
8. Visit Vancouver
Vancouver is a special place to be around Christmas in Canada. The snow-covered Coast Mountain Range offers a gorgeous backdrop to your Christmas celebrations. The entire city is covered in lights, and particular marketplaces are set up in Vancouver, just like in Toronto and Old Quebec.
Towards the end of November, Stanley Park becomes the centre of attraction around Vancouver. And with good reason. It almost becomes the miniature North Pole and is decorated with over one million Christmas lights. Yes, they counted. There's also a mini Christmas Toy Train, a unique attraction for children and their families.
If you're not around the Niagara Falls area, you can enjoy another Christmas parade in Vancouver. It has all the elements to be an unforgettable parade with floats, marching bands, and other good stuff. It usually takes place during mid-day and is a two-hour event. It is the largest parade in Western Canada, and you would surely be kicking yourself if you do end up missing it while you're around that area.
9. Sign Up For a Lighting Competition
If you're in Labrador City in Newfoundland, your eyes will be thanking you. If you haven't noticed it yet, Canada is pretty big on Christmas lightings. And you can't say anything against it, because everybody loves to see a well=lit jolly city during this time of the year.
Labrador City holds a Christmas lighting contest every year, and as you might be thinking, some people go big on it. I'm talking big. People wrap up their homes in Christmas lights, and some get extra creative with snow sculptures and making silhouettes out of the Christmas lights. It is a beautiful experience to have a Christmas in Canada in Newfoundland as they go more prominent on the lighting than the rest of the country.
10. Mask Up, Go Mumming
Sticking to the backdrop of Newfoundland, Pantomiming, or mumming, as it is locally known, is another great Christmas tradition that comes out of here. People in cities like Labrador and Nova Scotia get creative, wearing masks to each other's houses during the holidays. They do get noisy and a bit rude while going out to trick-or-treat, but stop immediately and remove their masks if the homeowners guess the thew identity of the masked kids correctly. Christmas in Canada honestly does sound like a blast.
11. Bake Cookies
A lot of Canadians indulge in cookie baking competitions and cookie exchange parties during Christmas time. A lot of people spend their Christmas in Canada at cookie exchange parties. The cookies and treats are supplied by the community and are free for all to take and consume. To add the cherry to this proverbial cake, the beautiful people also give out recipes to their individual cookies on demand. The people displaying their eatables usually coordinate with the organizers to avoid redundancy. At the end of the party, mums and dads go home with about a dozen or so new delicious recipes for cookies they can bake and share with their families in the future
12. Sit in, Watch a Christmas Movie
If you are an introvert or can't go out for whatever reason it may be, you can switch on the Christmas lights at your place, make yourself a hot cup of your favourite Christmas beverage, grab your favourite Christmas snack and chill out on the couch. In contrast, you make yourself cosy, cuddling with your significant other and watching a sweet Christmas movie. I'll leave the names of some viral Christmas movies that you must watch down below, in no particular order, they are:
Elf
Miracle on 34th Street
How the Grinch Stole Christmas
Home Alone
Love Actually
A Very Harold and Kumar Christmas
Black Christmas
Frosty the Snowman
While You Were Sleeping
The Man Who Invented Christmas
Kiss Kiss, Bang Bang
A Charlie Brown Christmas
No matter how you plan to celebrate Christmas in Canada, I can assure you that it will be a memorable one. There are many tours and travel packages for foreigners to come and visit Canada during the holiday season. Flights to major cities in Canada like Toronto, Vancouver, Quebec, Montreal, and Saskatoon are usually cheaper during the holidays because of their sheer demand for them.
The snow-covered country becomes a winter wonderland in the most real sense of the phrase. Eat, drink, and be merry, folks! You might want to spend days leading up to the big day in the north as well, as the numerous Christmas markets, big and small, scattered across the country make shopping for Christmas in Canada that much harder.
Why Try Out Rocket.net - IcyCanada's recommended hosting provider