Niagara Falls Fireworks is the most visited place in the world. And if your travel time is the night of Niagara Falls fireworks, that is the real treat.
Fireworks never fail to catch our eyes, and imagine those spectacular colors over the majestic falls; what a sight to behold!
A popular spot for curious spectators and adventurous geeks alike-Niagara Falls, is more than 6 million feet of water rushing down over the Rocky Bottom. Niagara Falls sits partially in the United States of America and partly in Canada. Niagara Falls lies on the edge of the Niagara Gorge, and three bridges link the Falls city to its US counterpart.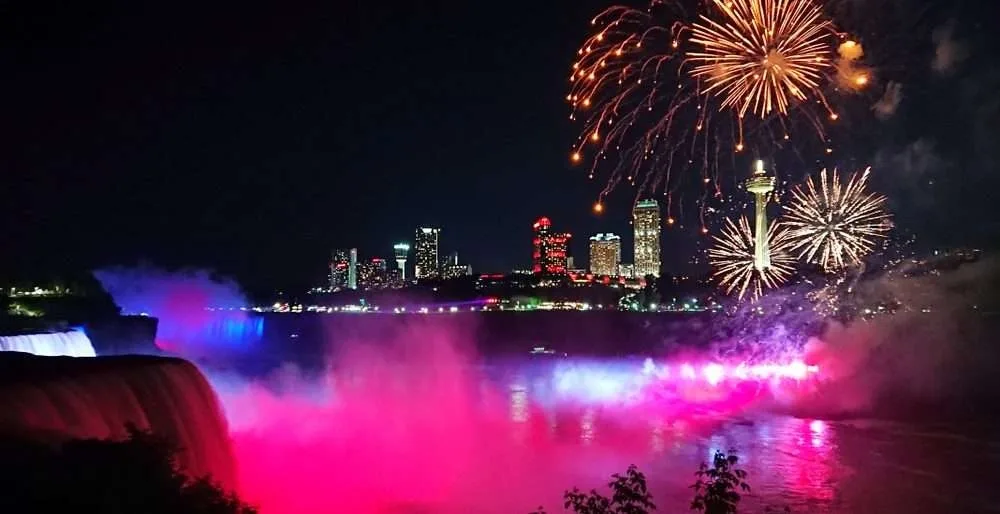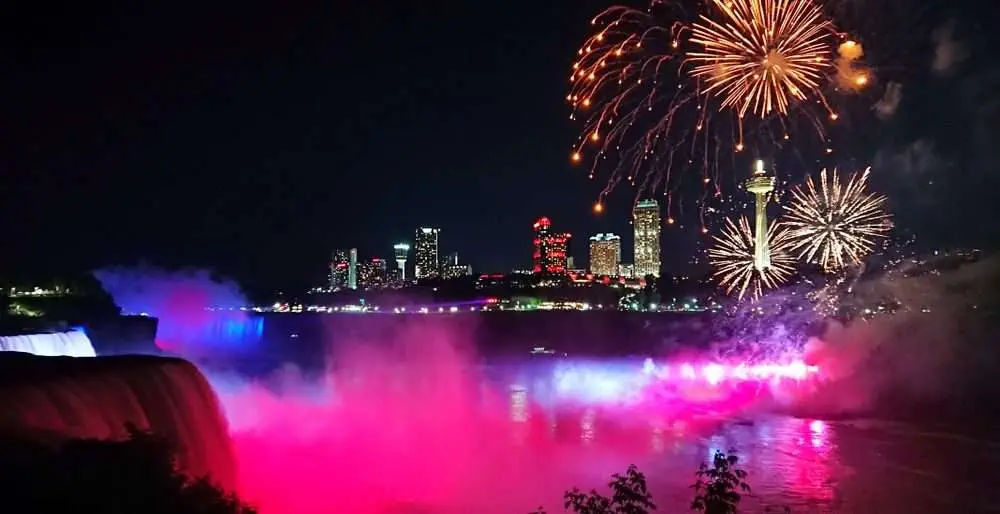 These are three waterfalls in total-Bridal Veil Falls, American Falls, and Horseshoe Falls. These falls fall into Lake Ontario and form the most impressive falls in the world.
The Ontario Power Generation Winter Festival of Lights, popularly known as Niagara Falls fireworks, attracts over 1.3 million and 1060 motor coaches and counting every year.
FIREWORKS SCHEDULE
The Niagara Falls fireworks are held in the summer, 7 nights a week at 10 PM. Spectators can also enjoy the fireworks on Friday, Saturday, Sunday, and Monday in the Spring (mid-May to June) and Fall (September to mid-October), and you enjoy this majestic experience free of cost.
Visitors can appreciate the sky painted with sparkling colors for 5-10 minutes, depending on the night. Fireworks display continuous rain or shine but may be affected by blowing winds. Wind speed and directions are checked throughout the day, and any changes in the schedule are intimated as soon as possible.
HOW TO GET THERE
1. Airplane
Four Airports: Toronto Pearson International Airport, Billy Bishop Toronto City Airport, John C. Munro Hamilton International Airport, and Buffalo Niagara International Airport can help you reach your final destination.
Once you get to any one of these airports, you can take a taxi, train, or bus to get yourself to Niagara Falls.
2. Train
The GO Train offers weekday service to Niagara Falls in the morning and one return trip in the evening. You can also reach via Rail, which provides direct departures from Toronto to Niagara Falls once daily with a return evening ride.
3. Bus
The GO Bus works with GO train to transfer tourists from Ontario to Toronto and then directly to Niagara Falls. Greyhound and Megabus charter buses also run from Toronto to Niagara Falls Bus terminal daily.
4. Car
Take the Gardiner Expressway West towards the Queen Elizabeth Way. Continue on Queen Elizabeth Way towards Niagara, exiting on the ON-420 to Niagara Veterans Memorial Highway East and there you will find your destination.
PARKING NEAR THE FALLS
There are many parking spots around the location, but the better option is Queen Victoria Place restaurant or Falls Parking directly across the Table rock center. These sites lie close to the Falls and are easily accessible.
BEST VIEWS
If not like any other tourist, you can also view the Niagara falls fireworks from other locations giving the best view possible.
Take an evening boat cruise and get the closest falls fireworks view, and that I tell you is the most dreamy way one can witness this wonder.

Ever wondered how the Niagara falls fireworks will be from a great height- Skylon tower's observation deck will give you that view.

Lying down on the grass with a cozy blanket gives the best view of the Niagara falls fireworks from Queens Victoria Park.

The Bridge that connects the American and Canadian falls-the Rainbow bridge gives a historical view of the overall fireworks.

The Niagara Skywheel gives a view complimented with a bit of adventure.
Take a look at how beautiful these fireworks are displayed over the city of Ontario.
HISTORY
The Niagara falls fireworks is the longest-running fireworks show in Canada. Niagara Falls fireworks, since its beginning, have received several prestigious awards, namely 'The number one event' in Canada, 'People's choice award' for the best event, 'Best cultural event,' and many other awards have been given to this spectacular program. 
NIAGARA FALLS ILLUMINATION
The white waters act as the canvas for the pretty lights displayed through small LED lights placed at 3 locations. This art of pretty light colors is often inspired by Nature, including Sunrise, Aurora borealis, Rainbow, and Sunset. Sometimes different colors are used for illumination according to the charitable and non-charitable organizations. 
SCHEDULE FOR ILLUMINATION
The nightly illumination begins at dusk every evening, lasting for five minutes playing three times. The performance begins at 7.30 pm every evening. The Horseshoe Falls of both countries are illuminated during this time for visitors to enjoy. 
ACCOMMODATION
Canada gives a variety of options to its visitors. If you want to enjoy the falls fireworks from the warmth of your hotel rooms, there are many to choose from. Right from Hotels, resorts like Crowne Plaza Hotel, DoubleTree Fallsview, Embassy Suites, Marriott Fallsview Hotel, and Spa to campgrounds like Campark Resorts, KOA Campground, Pine Tree Cottage Rentals. You can choose anything that fits your budget and enjoy the majestic fireworks from the comfort of your room.
PLACES OF ATTRACTION AT NIAGARA FALLS
1. Canadian Horseshoe Falls
Also known as the Canadian Falls, Horseshoe falls are the largest amongst the three sets of waterfalls that make Niagara Falls. The best time to visit Horseshoe falls is during the evening when the waters are illuminated with different colors.
2. Butterfly Conservatory
The city is also rich in flora and fauna. You can find over 50000 different species of small winged, splashy-colored butterflies. You can see them flying over the different types of flowering trees. This location is perfect for people looking for a calm and peaceful place to explore under nature's lap.
3. Skylon Tower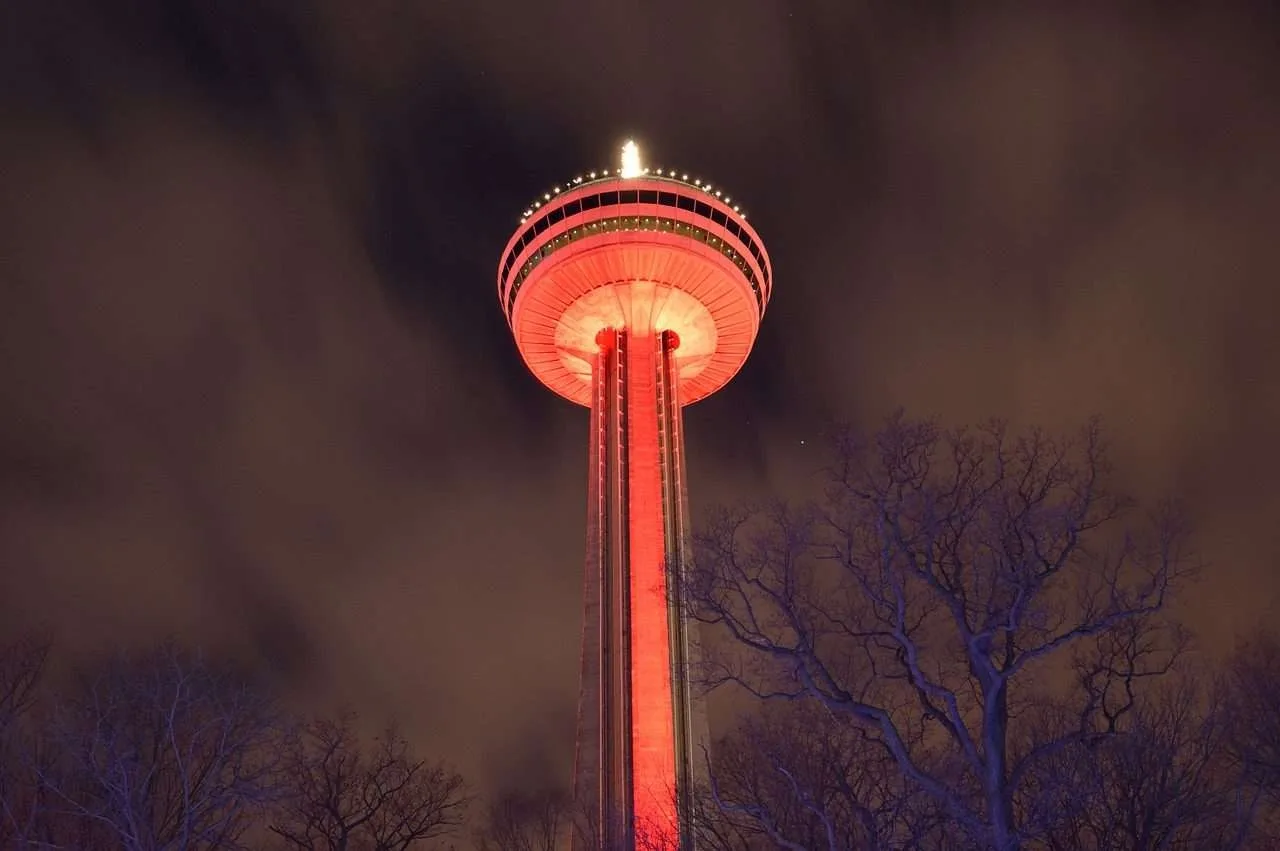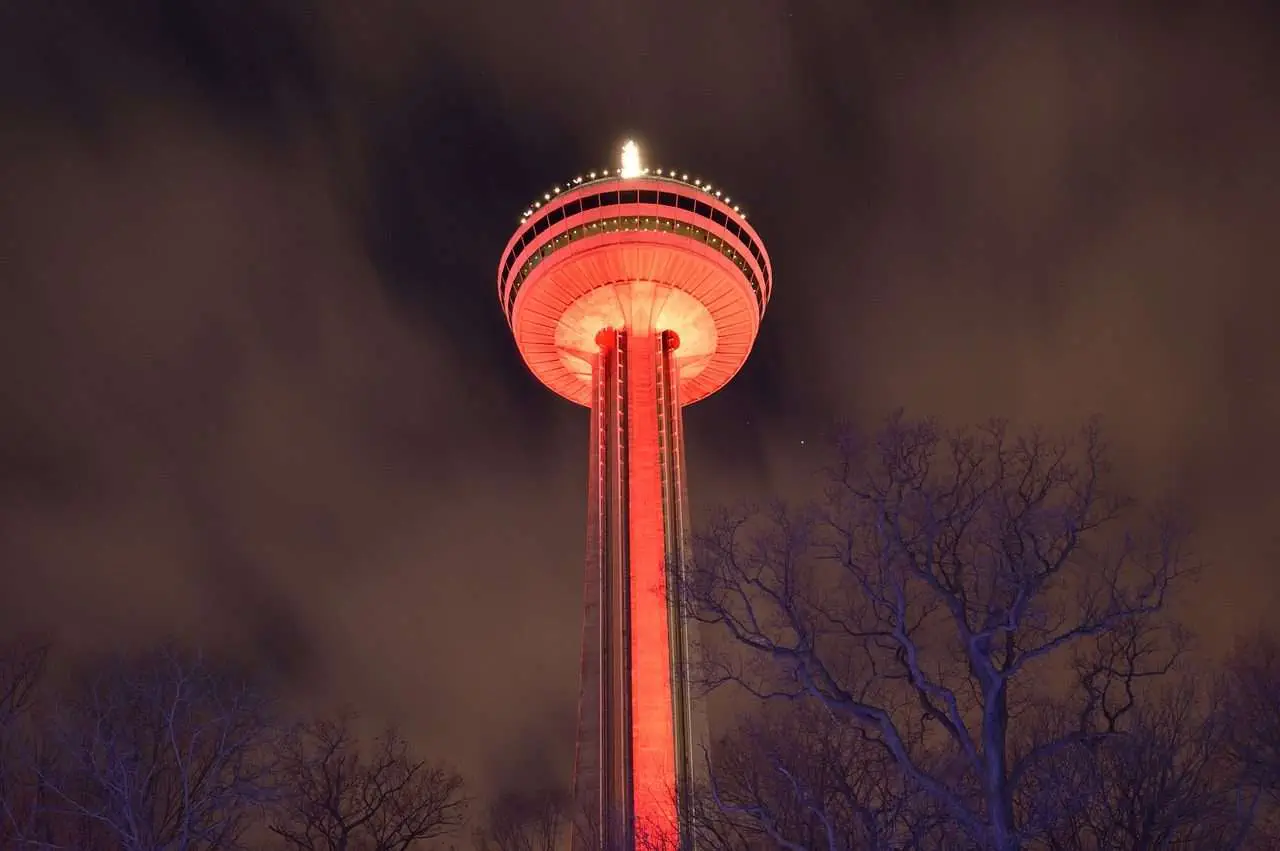 Reaching up to a height of 775m into the sky, this tower gives a perfect table for your dinner with fireworks in the background. There are two types of observational decks on the tower that offer an absolutely splendid view of the falls. On a clear day, you can even see farther from the Falls.
4. Journey Behind the Falls
For the daredevil ones, this journey sure satisfies your adrenaline rush. For this, the visitors are taken behind the strong force of the gushing water through a long tunnel that is quite old.
5. Table Rock Welcome Centre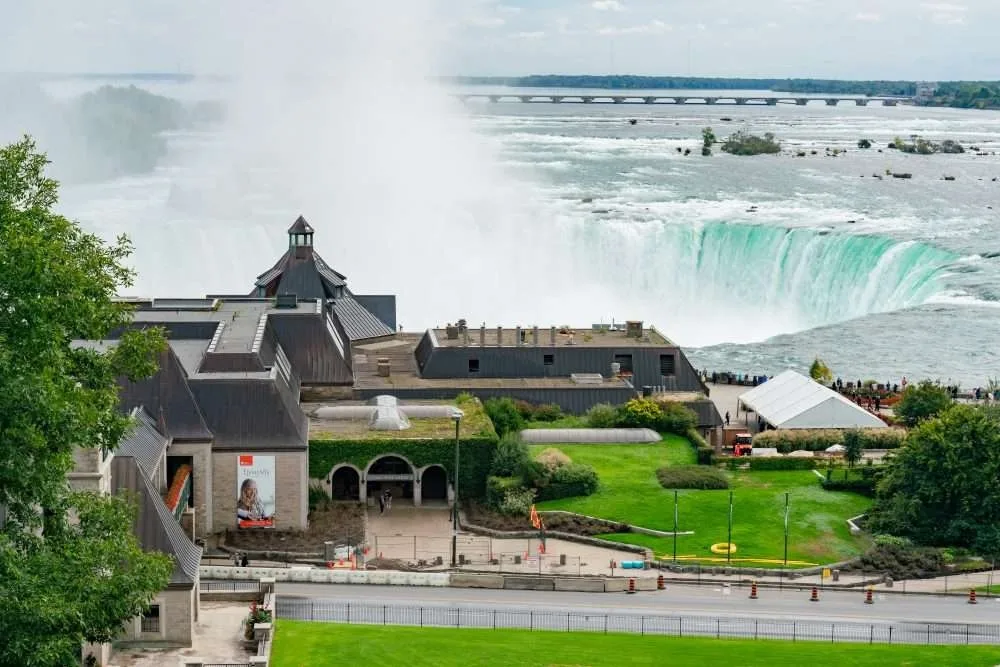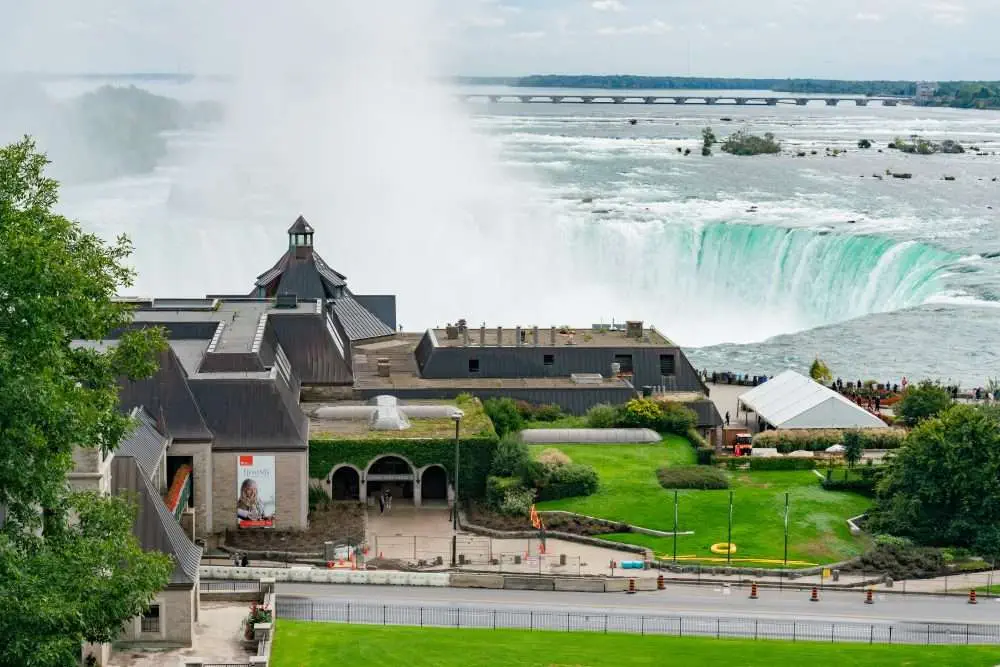 Also known as Table Rock House, it is a multilevel observational deck over the edge of Horseshoe Falls. The complex has two buildings. North building houses a retail store and welcome center with ticket offices for the tunnels Journey behind the Falls attraction. The South Building has fast food joint and a restaurant overlooking the Horseshoe Falls.
6. Niagara Wine Tours and Tasting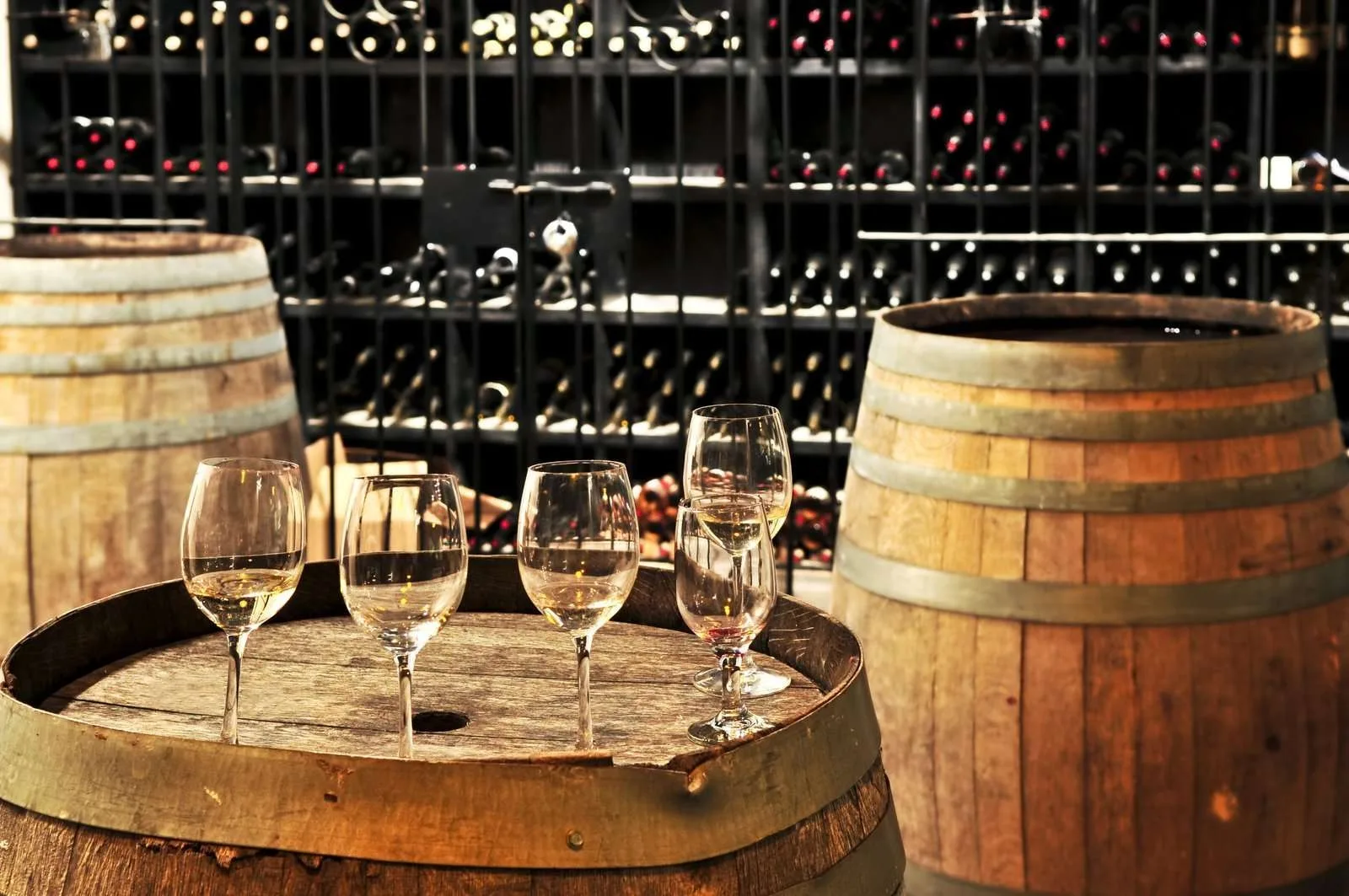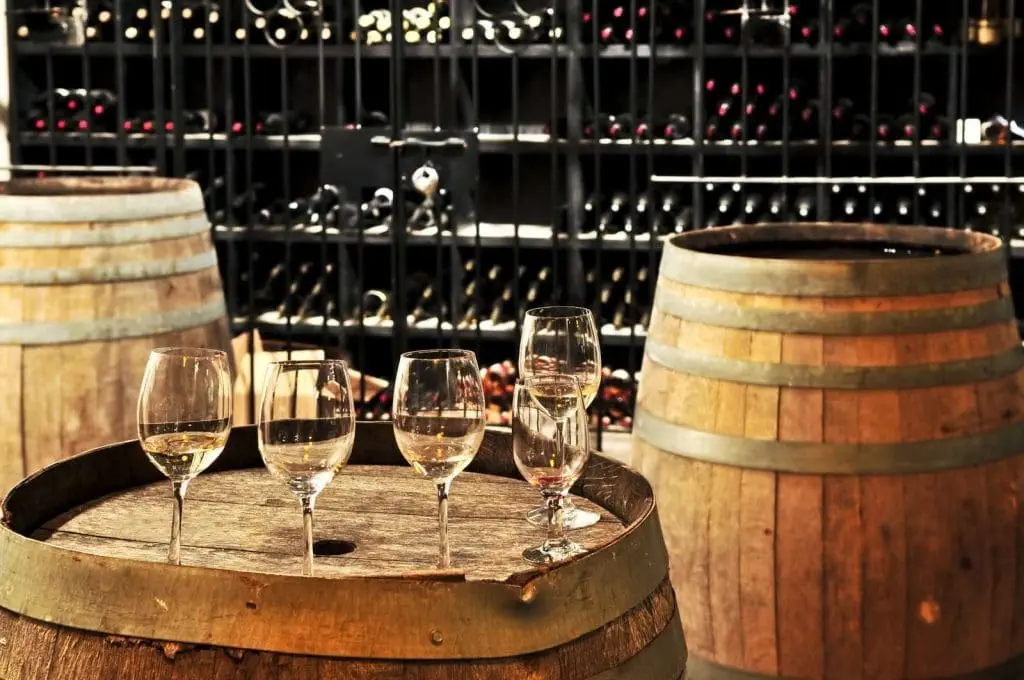 A vintage tour through the lanes of long stretches of wine yards is perfect for your whole group. You can also relish the tasting tour through the yards. These visits are very popular amongst the tourists.
7. White Water Park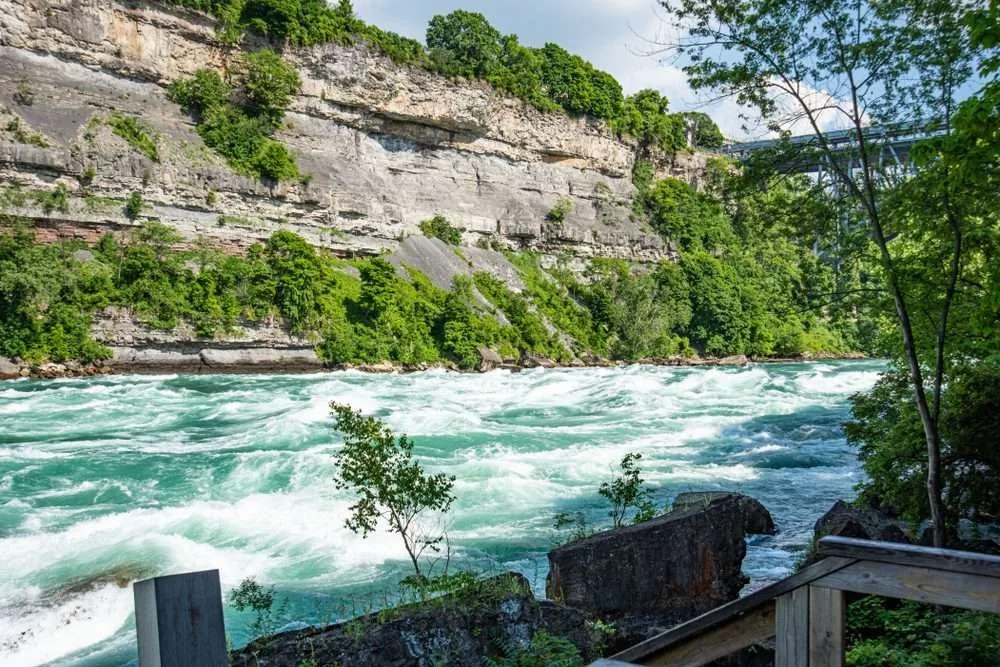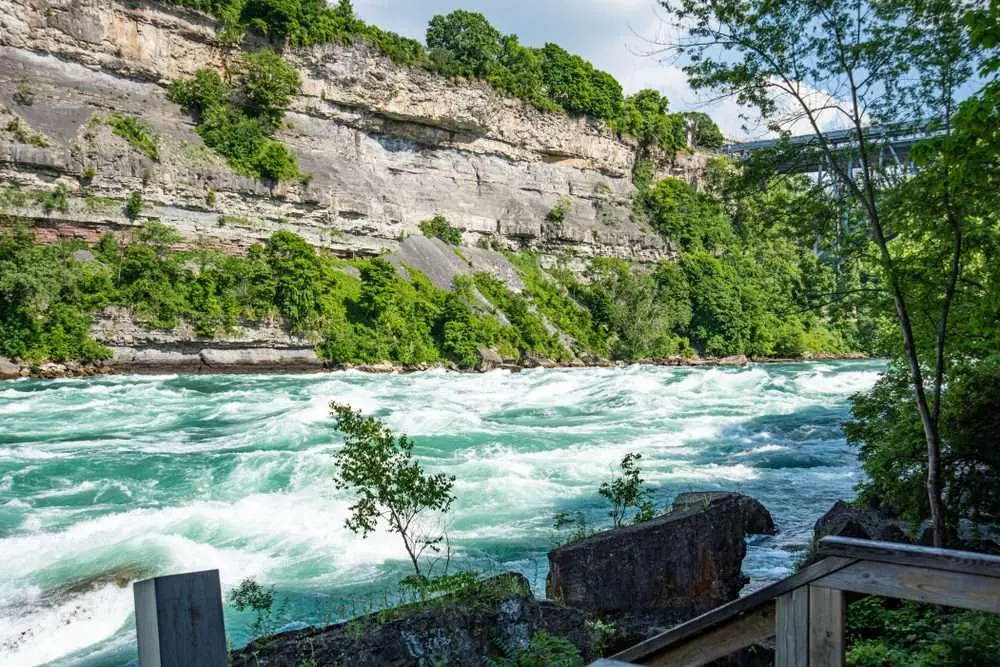 This manmade location built along the lower waters attracts thousands of visitors each month in Falls city. One can enjoy Riverside Walk by an elevator over 70 meters long. The Park also has several viewing platforms that allow visitors to get a closer look at the Whirlpool Rapids traveling at a speed of 48 km/hr.
Apart from these, there are many other locations where you can have an essence of Niagara Falls at every corner of the city.
The city doesn't fall short of places for tourists. So the next time you travel there, do not forget to add this breathtaking wonder of Niagara falls together with its Niagara falls fireworks and Illumination to your checklist.
As an Amazon Associate, Icy Canada earns from qualifying purchases.
[amazon_auto_links id="81298"]
The Icy Canada team strives to create content that matters. It's why our content is written by travel writers, authority experts, well-known authors, and niche experts. Our content is also periodically reviewed by expert authors for accuracy and trustworthiness.
As an Amazon Associate, Icy Canada earns from qualifying purchases. [amazon_auto_links id="81298"]