The Montreal Christmas market is one of Canada's most significant holiday events in Montreal's heart. So, let's check out the 8 most exciting things to do here.
It opens from late November to December and features many local artisans, makers, and creators local to Quebec.
With the Christmas markets taking place all over the city, Montreal is regarded as the most joyous city in Canada. Montreal is a fantastic location for anyone looking for a distinctive and memorable experience because of its rich culture, bustling atmosphere, and diverse people.
It has lots to offer everyone, and winter is one of the most picturesque times to come. This includes its stunning architecture in the European style and its delectable cuisine.
Tourists can enjoy live entertainment, unique holiday food items and beverages, and interesting activities and attractions. The Christmas Market offers a lot of holiday-themed games for children, including Kingdom of the Elves and Golden cookie trail.
Let us explore the Montreal Christmas Market!
1. 5 Awesome Montreal Christmas Markets
Montreal city is large and populous with a lot of balance of modern lifestyle and natural attractions. It is the most delightful place for tourists to trip for the holiday season to relax and enjoy an overwhelming number of luxurious resorts, cozy Airbnb, beautiful restaurants, and eye-catching views.
Here is a list of awesome Montreal Christmas Markets:
1.1. Montreal's Christmas Village 
The Montreal Christmas village setup is taken out of a folk tale book. Montreal Christmas Village is a place for a December holiday trip.  Its environment is filled with culinary pleasures and melodious Christmas carols sung by children.
Here you explore beautifully decorated cottages at Canal Lachire Park sparkling up on starry nights and various unique products to eat, nice to wear, and gifts for others. Keep your wallet full of money to enjoy it well.
1.2. Vegan Christmas Market 
The people of Canada are heartwarming opening up their doors for free during the Montreal Christmas season. It is situated at 50 Saint -Catherine Street. Thai distinct is ideal for solo travelers, romantic gateway, or your family. All the products here you will find 100 percent vegan foods.
Culinary items are healthy, and clothes are eco-friendly at Vegan Christmas Market.
1.3. Museum of Jewish Montreal Hanukkah Market
This is the most awaited event by Jewish. They welcome everyone to experience the festive market at the Museum Jewish Montreal Hanukkah Market with friendly vibes.
Here you can find products such as artworks, handicrafts, gifts, and tempting delicacies and explore museums and the Jewish heritage of Montreal.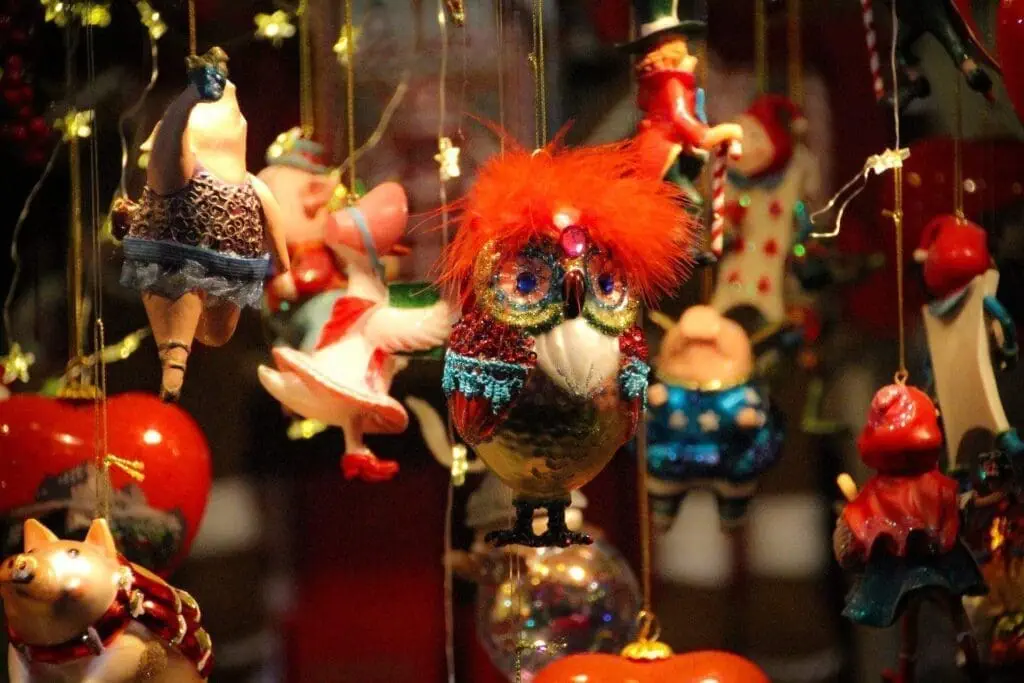 1.4. Etsy Montreal Holiday Market
Here you can shop your heart at this shopping mall is full of amazing goods. It delivers all types of items to buy for yourself or gift to someone.
All retailers gather to give a great shopping experience. People flock to this out market to buy Christmas shopping items like ornaments, clothing, red wine, culinary items, and a lot more.
1.5. Old Montreal Christmas Market
Every holiday season, Place-Jacques-Cartier hosts the Montreal Christmas Market in the Old Montreal region. With live music, fire pits, and snacks like mulled wine being sold to keep you warm while you peruse, it is more than simply a market; it seems like a party.
Don't miss out; the market is often only open from the second half of December. Numerous booths have been put up nearby, selling a variety of things that would make great Christmas presents, including candles, accessories, crafts, ornaments, and food. Additionally, the market has glistening Christmas lights, which add to the enchanting wintertime ambiance.
2. Most exciting Things to Do in Montreal Christmas Market
2.1. Enchanting Christmas Light Shows 
The city and popular hubs are decked with big, shiny displays worth traveling over. It is worthy of Instagram pop-ups. It is the most noticeable downtown core of Montreal.
2.2. See the Christmas Choir 
On Christmas day every morning Super Christmas choir is performed at Jesus' church in downtown Montreal where traditional hymns and harmonization for four mixed voices runs from noon. All are cordially invited to join and get a chance to sing along with them.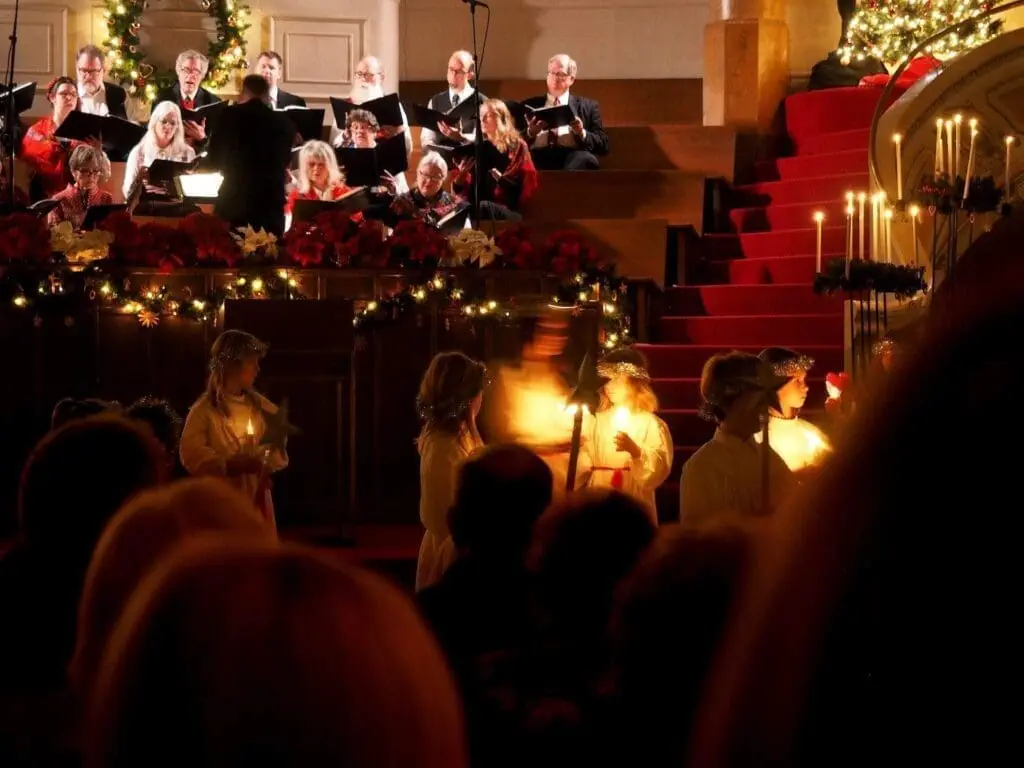 2.3. Hit a Skating Rink 
You need to bring your own skates to enjoy. This is open only during Christmas at the popular Bonsecours Basin's Old Port Natural Skating.
2.4. Go to Chinatown
Enjoy the delicious hand-pulled noodles at Lan Zhou, dumplings at Qing, spicy Szechuan fish at Chegg chill, bubble tea at Presotea, and dim sum at Imperial. You can buy groceries grab ramen, and tofu.
2.5. Merry Montreal in Old Montreal 
Jacques -Cartin Square is Montreal's old port with music, beer, hot chocolate, and photo booths. There is a Nordic zone with an art installation, A Quebec tasting bar of local products, and activities for all ages on Christmas day.
2.6. Christmas in the park
You can celebrate at these parks by sipping hot cocoa, curling in a blanket, and listening to music at places Emillie- Gamelin, Parc Lahaie, or Parc des Compagnons de St-Laurent.
French storytellers, sleigh rides, and toasted marshmallows on an open fire are found. Here the addition of Santa, clowns, and giant stilt walkers dressed as a monkey, its Christmas tradition get into.
2.7. Hotel Brunches, Lunches, Dinners, and Take-Out
It is full of guests. The top picks include Maison Boulud where three courses of brunch, and four – six courses of dinner are served. Renoir, where the chef combines local seasonal ingredients with brunch and at Rosely's Christmas brunch.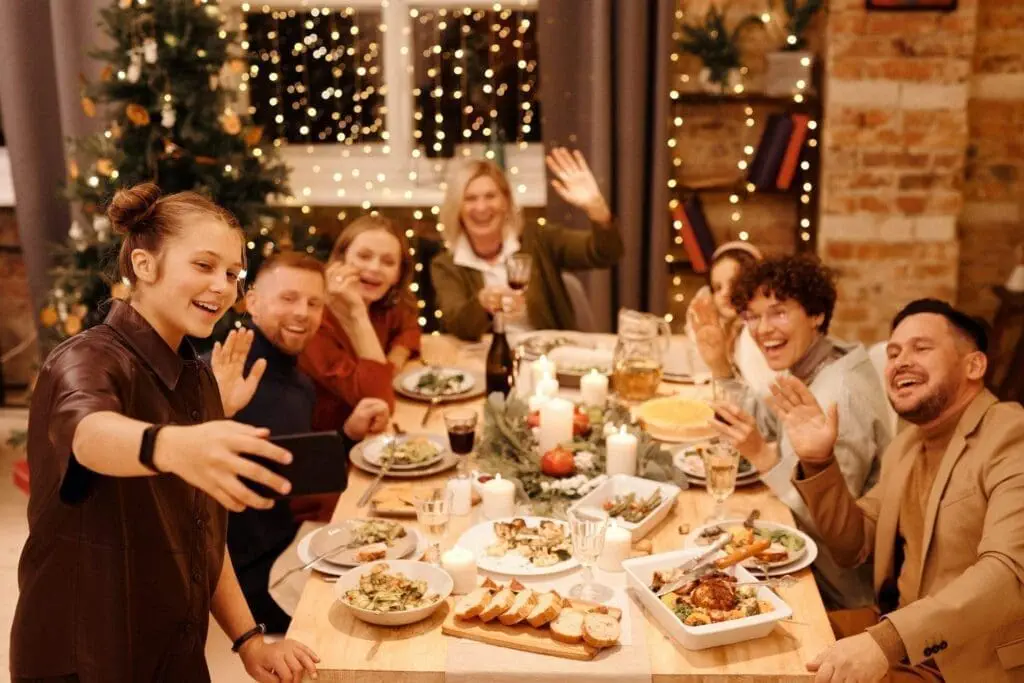 2.8. Drink at Miracle Montreal
The Christmas-themed popular bar hosts 132 Bar Vintage opens from November to December with special seasonal cocktails. Get yourself ready for a boozy night out with friends and enjoy responsibly.
3. Top Montreal Attractions 
Montreal's top attractions are:
Mary Queen of the world cathedral
Basilique Notre – Dame
Old Montreal
Lachine canal
Saint Joseph's oratory
Mount royal park
3.1. Montreal: Cultural & Theme Tours
History walking tour of Old Montreal
Montreal city sightseeing tour with live commentary
The original Montreal mural arts tour
Full-day Quebec City and cruise tour
Beyond the bike lanes bike tour
Helicopter tour over Montreal
Haunted Downtown
Haunted mountain
3.2. Top Free Things to Do in Montreal
Montreal is a cultural place that offers activities for tourists. There are many wise ways to spend one's lifesaving. This place values more public space and community events offering opportunities for free options.
Here is a list of the top 8 free things you can do in Montreal's city.
Visits the markets
Visit a free museum
Discover the Westmount suburbs
Take part in a festival
Go mural hunting
Dance in the streets
Tour the great library
Find your rhythm at the Sunday
4. Why Visit Montreux Christmas Market?
Some reasons why one should add these to their trip are:
4.1. Gorgeous Lakeside Location
You can do Christmas shopping delightfully near snowcapped mountains and crystal blue water and get a picture-perfect moment This place is popular for Santa and his flying sleigh spectacle where Santa glides over the lakeside promenade.
4.2. Unique Santa Train
You can see Santa in his Grotto at Rocher's- de- Naye to reach the palace you need to take a cogwheel train. This opportunity is available for all ages. This is a unique festive offering in the city on Christmas day.
4.3. A Christmas Elf Square 
Adults with kids will be happy to know about the entire section for kids is at Elf square below the big wheel where fun activities take place. List of Main Markets 
The lakeside Christmas market and restaurants
The Elves village
The Lumberjack village
5. Top 6 Montreal Winter Festivals 
Montreal festival celebration is the best thing that happens. Montreal's famous summer festivals like Osheaga and Just for laughs.
Montreal winter festival does not stop if the temperature lowers because excitement and zeal do not allow the people of Canada.
People embrace winters and cover up themselves to enjoy the festival season to the fullest. If you are planning to explore Montreal winter activities or enjoy a few hours with friends.
Check out some of the Christmas festivals:
Luminotherapy
Igoolist
Fetes Des Neiges
Lava En Blanc
Montreal En Lumine
Barbe Gazi
6. Final Words
Christmas in Montreal is a magical time of year, with plenty of seasonal events to take part in and colorful lights and decorations lining the streets.
A visit to Montreal will never get old because there is always something joyful going on, especially if you travel around Christmas. These are some of the top Christmas markets in Montreal, and they're wonderful locations for a romantic date or just to get into the holiday spirit.
Why not get something special from the region's craftspeople instead of big-name brands and corporations?
If you are looking for a perfect Christmas holiday trip, make sure to plan a visit to Montreal Christmas Market and explore Montreal city is famous for its Christmas celebration and culinary delicacies, local markets, and foods. This will be a worthy place to enjoy your vacations and make beautiful long-lasting memories forever.