Regarding food in Canada, the booming Maple syrup industry is what most tourists think about off the top of their heads. Maple syrup on pancakes, maple syrup on tacos, maple syrup on mashed potatoes, and maple syrup on ice cream; maple syrup is a staple among Canadian foods. But Canadian cuisine consists of so much more than just maple syrup. From varieties of meats to delectable pies, Canada has much more to offer regarding mouth-watering food.
Here are 33 traditional Canadian foods that are too good to miss.
Savory Traditional Canadian Food
1. Poutine
Poutine is so renowned among all Canadian dishes that it might as well be named its national dish. It originated in the 1950s in Quebec. Now it is prepared worldwide, with every country adding its special touches.
Poutine traditionally comprises three key ingredients; crispy, thick-cut fries, hot and rich gravy, and squeaky cheese curds. The French Canadian dish can be topped with pulled pork, bacon, smoked meat, and more.
Poutine is eaten all year round in Canada and is served at food trucks, high-end restaurants, cafes, greasy spoons, fast-food chains, and festivals.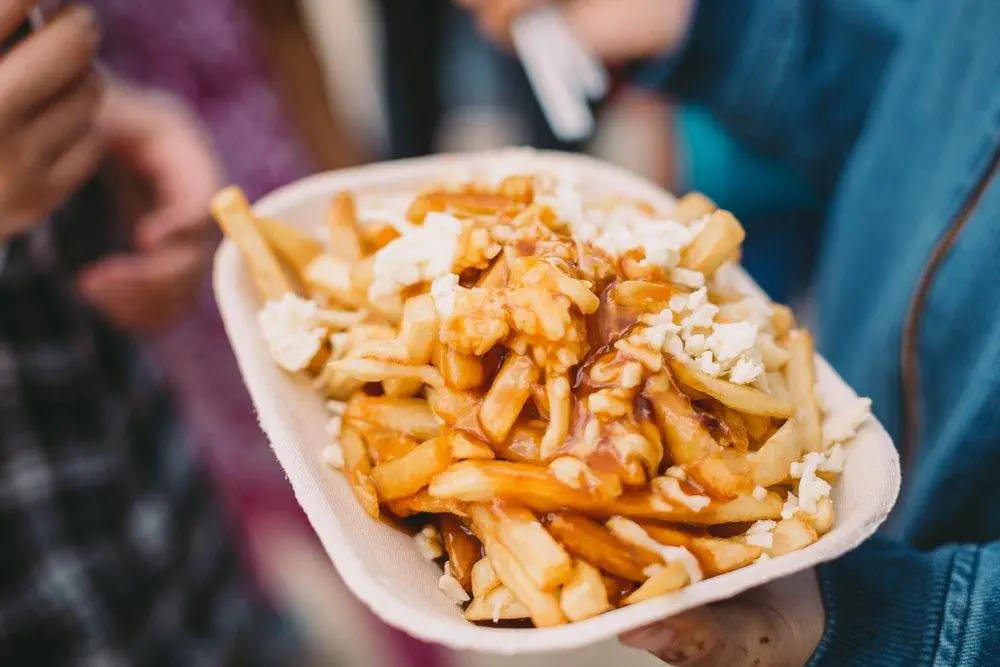 2. Tourtière
Another dish that originated in French Canada during the 1600s is Tourtière. The name of the meal is similar to the vessel it is prepared in.
Tourtière is a Canadian meat pie with pork, beef, veal, or game meat filling. It is seasoned with salt, pepper, clove, and cinnamon. Mashed potatoes are added to make it firm. The meat pie has a double crust of flaky pastry dough.
This traditional Canadian food is usually made during the holidays, including Christmas and New Year.
3. Split Pea Soup
Split Pea Soup is a French Canadian food developed by a chef in Ottawa named Marc Miron. He had heard of the French explorer Samuel de Chaplain and his lengthy expeditions in the new territory. Marc Miron wanted to find out what food kept the explorer nourished throughout his journeys.
He found the explanation in cured meats and yellow peas. The main ingredients, combined with herbs, blend to make split pea soup, also known as Habitant Pea Soup.
Split pea soup is a comfort food for many Canadians, especially during the chilly winters. This delicious soup is sold in cans in grocery stores.
4. Lobster Rolls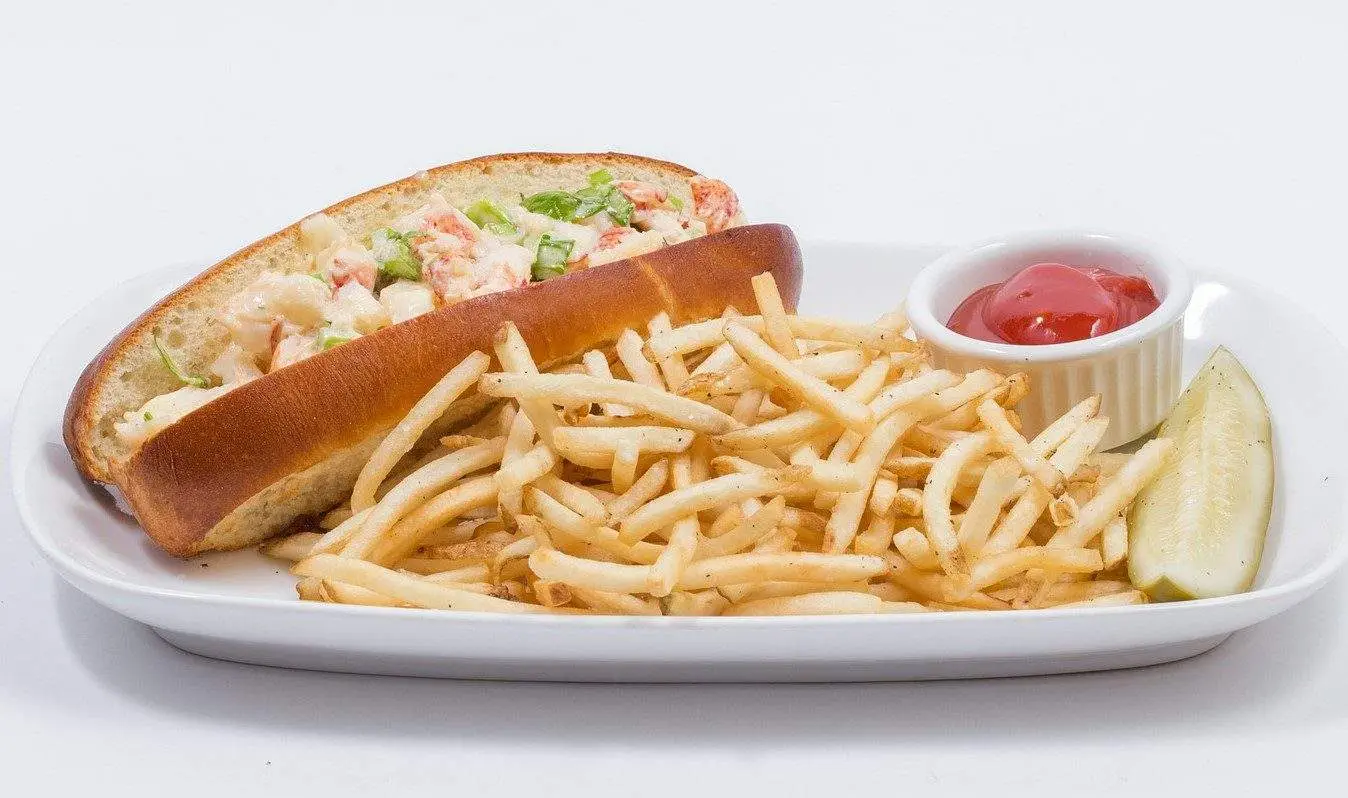 There's a saying among Canadians that Lobster Rolls are to Canadians as Cheeseburgers are to America. The roots of these Canadian foods can be traced back to New England and the eastern coastal provinces of Canada.
Lobster rolls are the most popular delicacies on Prince Edward Island. The lobsters are boiled or steamed in seawater and eaten on crusty buns with mayonnaise and butter dips.
5. Montreal Smoked Meat
Montreal's smoked meat is derived from beef brisket preserved for a week. Spices are added, and then the meat is smoked. This meat dish is served in a rye bread sandwich with mustard sauce and pickles. Montreal smoked meat is also used as poutine toppings.
Montreal smoked meat is a kosher-style deli meat and an integral part of Quebec cuisine. Head over to Schwartz's Deli in downtown Montreal to taste the world's most recognized smoked meat rye bread sandwiches in Canada.
6. Peameal Bacon
Peameal bacon is a Canadian bacon made famous by Willaim Davies, a Canadian pork packer from England.
Peameal bacon is made from lean pork loin and rolled and wrapped in cornmeal, making the crust appear yellow. In the past, peameal bacon was covered in ground yellow peas to preserve, giving it the name "peameal bacon."
Canadian bacon is added to a peameal sandwich on a bread roll to make for a popular meal in Toronto.
7. Jiggs Dinner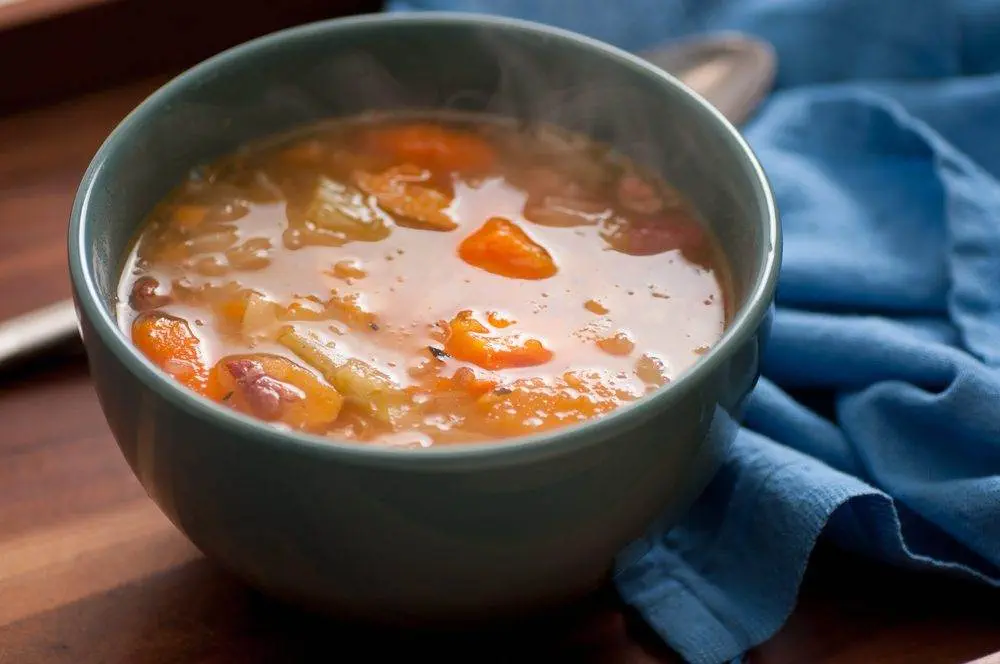 Jiggs dinner is a traditional Canadian food eaten in Newfoundland for Sunday dinners.
Jiggs dinner consists of salt beef boiled with cabbage, potatoes, carrots, turnips, and green vegetables. Condiments with the dinner include mustard pickles, pickled beets, cranberry sauce, butter, and thin gravy from the broth.
The broth created from the meat and vegetables is further used to make Pease pudding and Figgy duff through pudding bags soaked in the broth.
8. Muktuk
Muktuk is an indigenous delicacy from the Inuit regions in northern Canada. It is a staple for people living in the country's northern parts.
Muktuk is prepared from the fat and skin of a bowhead, narwhal, or beluga whale. It is mostly served raw but can also be finely diced, breaded, deep-fried, or pickled and eaten with soy sauce.
9. Donair
Donair is the official food of Nova Scotia, Canada.
Donair is a wrap-based traditional Canadian food. Its ingredients include shaved meat, vegetables, and sauces wrapped in pitas.
The Donair of east coast Canada, Halifax, has its own exotic sweet sauce blend, including different flavors such as garlic, vinegar, sugar, and condensed milk.
10. Fèves Au Lard
Fèves Au Lard was created through the cultural exchanges between the Québécois and the New Englanders.
Fèves Au Lard is a Canadian modification of baked beans from Boston. It is also known as bines or haricots au lard. The ingredients consist of beans, bacon pieces, molasses, and maple syrup.
This favourite Canadian food is served at sugar shacks in Québec and other French-speaking areas in Canada. Fèves Au Lard is served during breakfast in Newfoundland. In Nova Scotia, thick and sweet molasses are the key ingredients for Canadian food.
11. Hodge Podge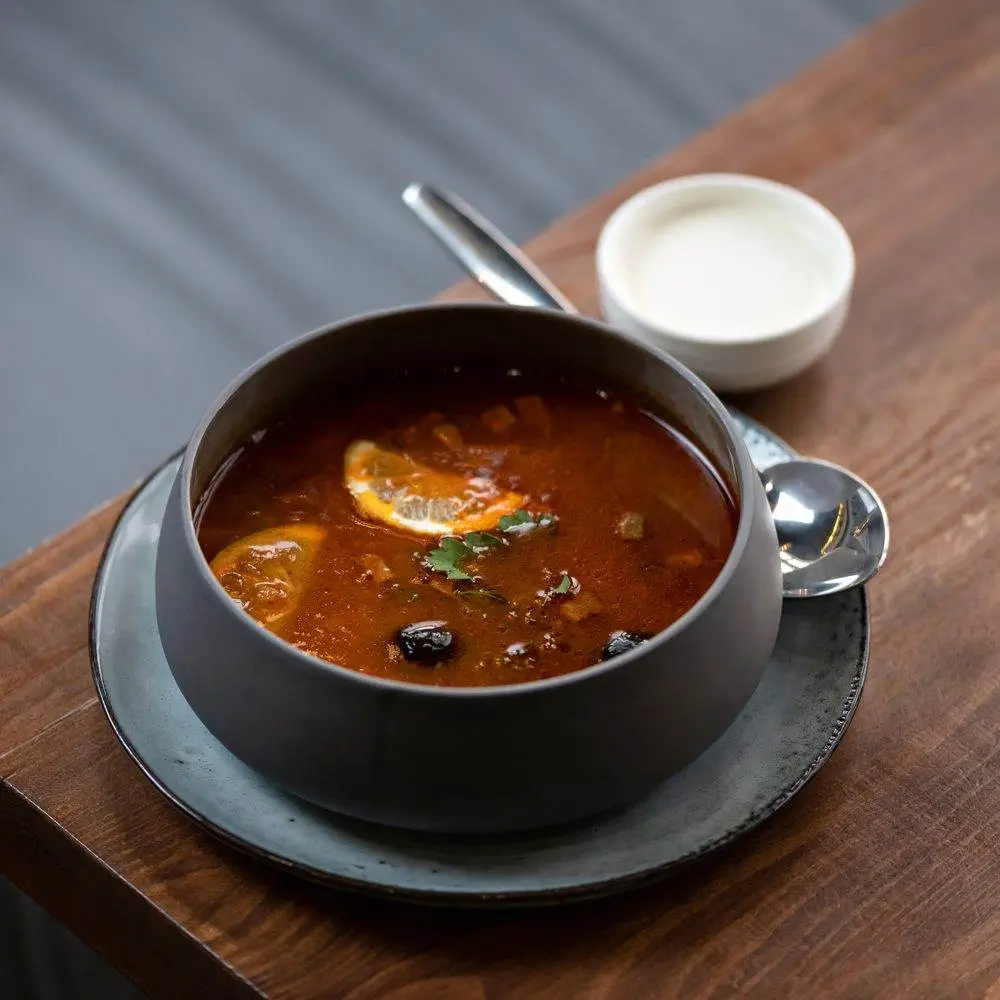 Another traditional Canadian food from Nova Scotia, Hodge Podge, is a soup or stew depending on the consistency.
This great Canadian food consists of fresh vegetables such as small baby potatoes, also known as new potatoes, fresh peas, green beans, wax beans, and carrots. These vegetables are boiled in a milk broth flavored with butter, pepper, and salt. Hodge Podge is typically eaten with corned beef from a can.
12. Canadian Pizza
Pineapple on pizza, for or against, has been the topic of heated debates worldwide. Hawaiian pizzas include cheese, pineapple, and ham toppings with tomato sauce. But did you know that Hawaiin pizza was created in Chatham, Ontario? In 1962, a Greek immigrant named Sam Panopolous was inspired to invent Hawaiin pizza after returning from his trip to Naples, where the first slice of pizza was created.
Canadian pizzas gain their name from having their own mix of toppings, including cheese, pepperoni, bacon, and mushrooms.
13. Smoked Salmon
Canada is a peninsula. This means that the country is surrounded by water on three sides. Seafood is a huge part of traditional Canadian food because of this reason.
British Columbia is known for its sumptuous and juicy salmon. Some of the favorites are Cedar Plank Pacific Salmon, Sockeye Salmon used in Cold-Smoked Salmon, and Gravlax and Salmon Jerky.
Traditional Canadian Snacks
14. Ketchup Chips
Ketchup chips were an experiment with grapes and orange chips in the 1970s by Lays. The fruity chips didn't gather a favorable outcome, but ketchup chips became a favorite among Canadian snackers.
Ketchup chips are described as having an amalgamation of sweet, sour, and tangy tastes, which, when paired with fried potato slices, is hard to resist.
Ketchup chips are among the popular Canadian foods native to the country. Other flavors of chips that can only be found in Canada are Dill Pickle chips and Ruffles All-dressed chips that include a bit of all the popular punches such as tomato, salt and vinegar, onion and sour cream, and BBQ.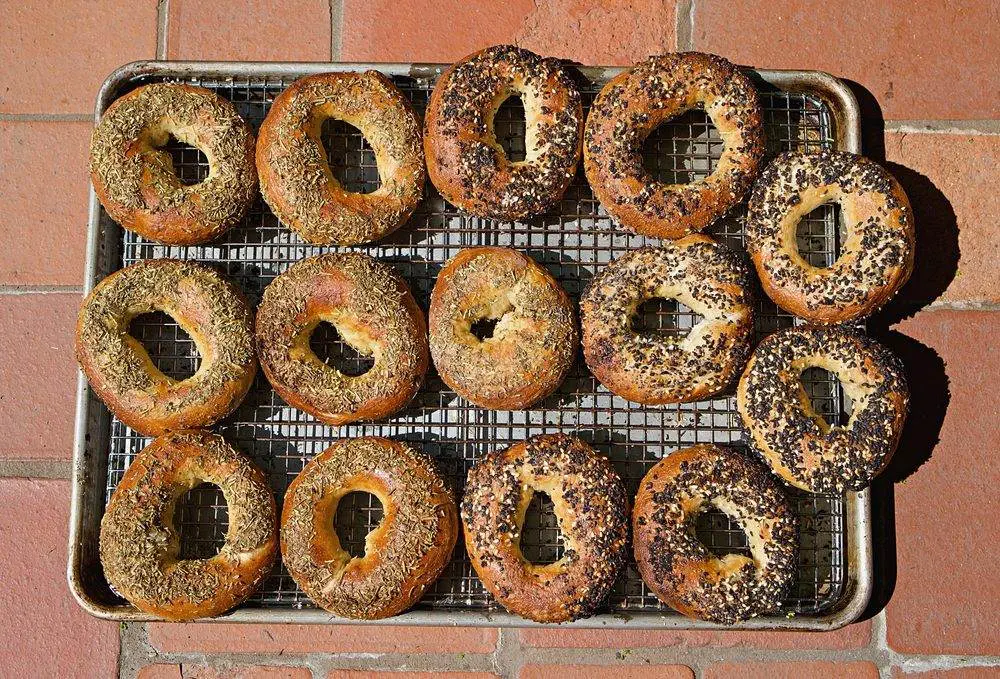 15. Montreal Style Bagels
New York is known for its bagels, but Montreal bagels can give York bagels a run for their money.
Montreal-style bagels are denser, thinner, and sweeter than New York bagels. Montreal bagels are boiled in honey before baking. Montreal-style bagels are baked in wood-fired ovens, often in front of customers, leading the bagels to have a crunchier outer crust. They are covered in poppy or sesame seeds while serving.
Montreal bagels are considered a traditional Quebec breakfast. The best-known sellers of Montreal-style bagels are St. Viateur and Fairmount Bagel in Canada.
16. Beaver Tails
Grant and Pam Hooker created Beaver tails for the Killaloe Craft and Community Fair in 1978. The snack sold like hot cakes, and now there is a food chain called BeaverTails in Canada, where that's all they offer customers.
Beaver tails are deep-fried dough pastries in the shape of beaver's tails. These are served with various toppings such as Nutella, peanut butter, Reese's pieces, sliced bananas, cinnamon, powdered sugar, maple syrup, strawberries, cream and so much more.
17. Maple Taffy (Tire d'érable sur la neige)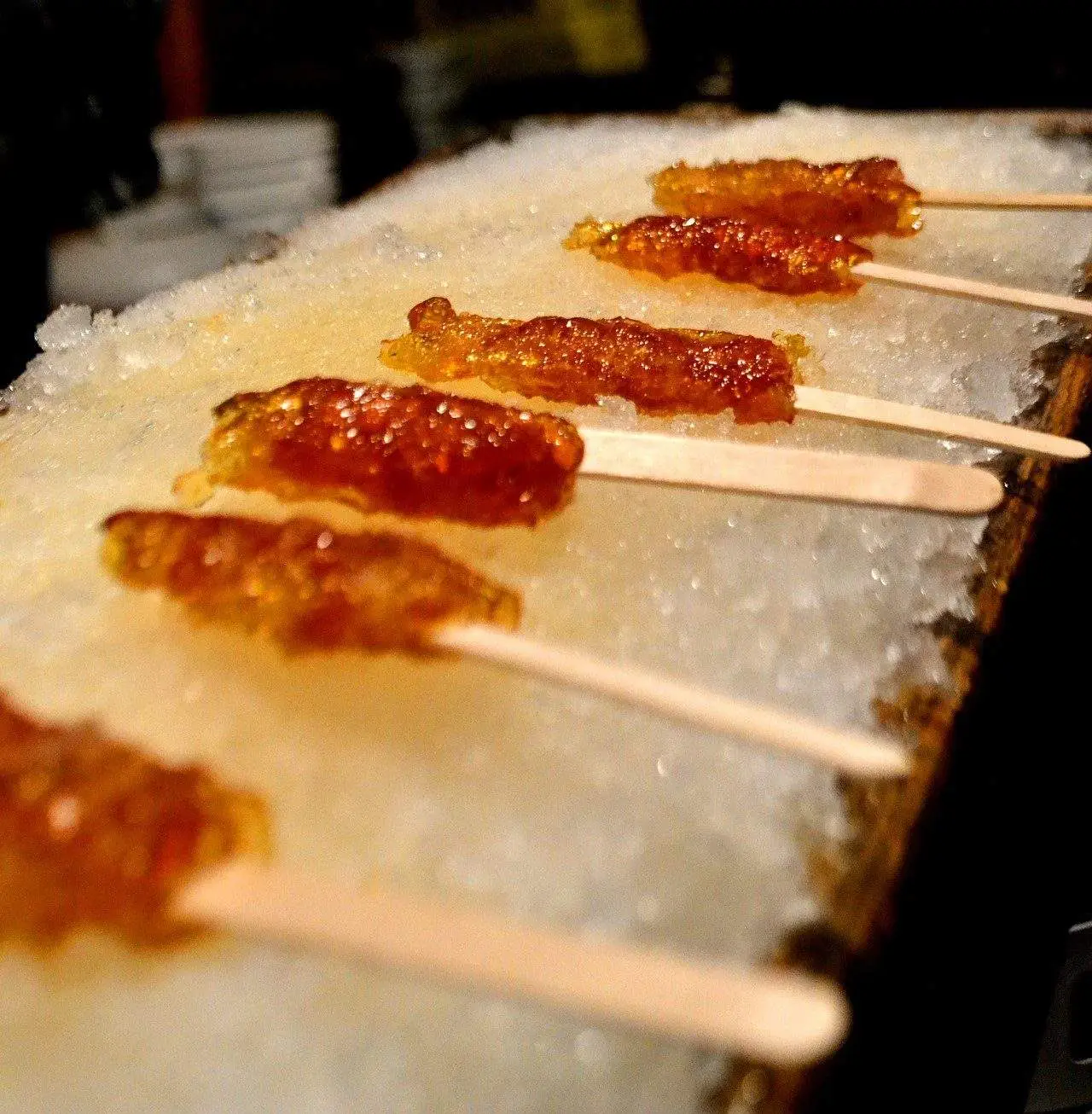 Maple syrup is so loved in Canada that residents even make taffies out of it. This sugar syrup is also called 'tire d'érable.'
Maple taffies are easy to make. All you need is maple syrup and snow. Pour boiled maple syrup on fresh, clean snow. Shape it on a popsicle stick and wait till the sugar syrup settles. Your maple taffy is ready to be consumed or sold at maple taffy booths at every winter festival.
18. Bannock
Bannock is primarily a traditional food of Scotland. It was introduced to Canada by Scottish fur traders. Bannock used to be the staple food of the indigenous Canadian people.
Bannock is a bread made from flour derived from corn, roots, tree sap, and baking powder. Bannocks can be baked to make them heavy and dense or fried to have a crispy crunch and fluffy inside.
These traditional Canadian foods are a substitute for other types of bread. They can be paired with jam, honey, butter, or even maple syrup to give it an impeccable Canadian touch.
19. Cretons de Quebec
Cretons are also known as Gorton or Corton. It is a spread that French Canadian forest workers frequently consumed. Now, this Canadian cuisine can be seen as an integral part of Quebec's culture.
Cretons is a pork spread made with onions and spices. Seasonings for the spread include ground cloves, nutmeg, cinnamon, and more. It has a fatty flavor resembling those of French rillettes. This spread is served on toast and multigrain bread.
Cretons can also be made using veal or poultry instead of pork. These are called Cretonnade.
20. Oreilles De Crisse (Crispy Pork Rinds)
Oreilles De Crisse gets its name from a story. A man called Christ had his ear swell up after a few battles near the Saint-Maurice River. His ears resembled the shape and size of cauliflowers. A nearby chef mocked him for his ears that looked like fried hog jowls calling the dish "ears of big Christ."
Crispy pork rinds are made from deep-frying fatback. The fatback is salted and seasoned before that. This Canadian cuisine is offered in sugar shacks in springtime as a salty side dish to complement the sweet maple syrup dishes.
21. Fiddleheads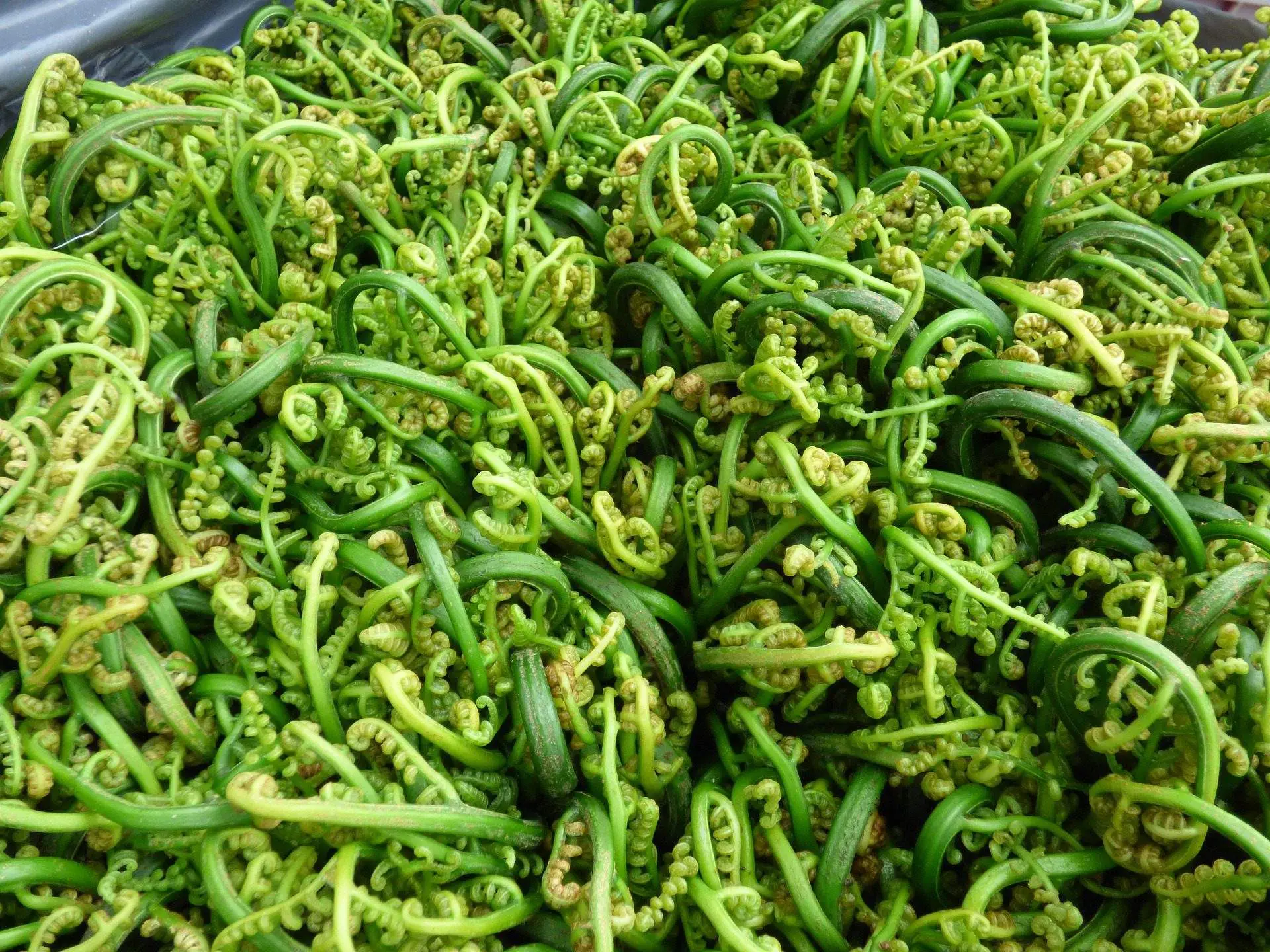 A healthier snack option is the fiddlehead fern salad. The plant is rich in vitamins, minerals, and antioxidants, making it nutritious.
There are several ways to prepare fiddleheads. The most common way is to rinse it, let it boil, or sauté and blanch before putting it in an ice bath. Fiddleheads are normally steamed to preserve their nutrition. It is a side dish served with lemon juice or melted butter.
If fiddleheads are made into a salad, add pine nuts, pecans, red onions, cherry tomatoes, grated potatoes, blueberries, cranberries, goat cheese, and more, according to your taste.
Traditional Canadian Dessert
22. Nanaimo Bars
Nanaimo bars are believed to have come from a 1952 cookbook called The Ladies Auxiliary, found in the Nanaimo General Hospital. During that time, it was given the simplified name of "chocolate squares."
Nanaimo bars are triple-layered desserts. The bottom is a coconut and nut wafer, crumb-based layer. The center is made up of sweet yellow custard icing and the top is a thin layer of chocolate ganache. Nanaimo bars have seen various modifications over time, including peanut butter, pistachio, mint, and more centers.
23. Butter Tarts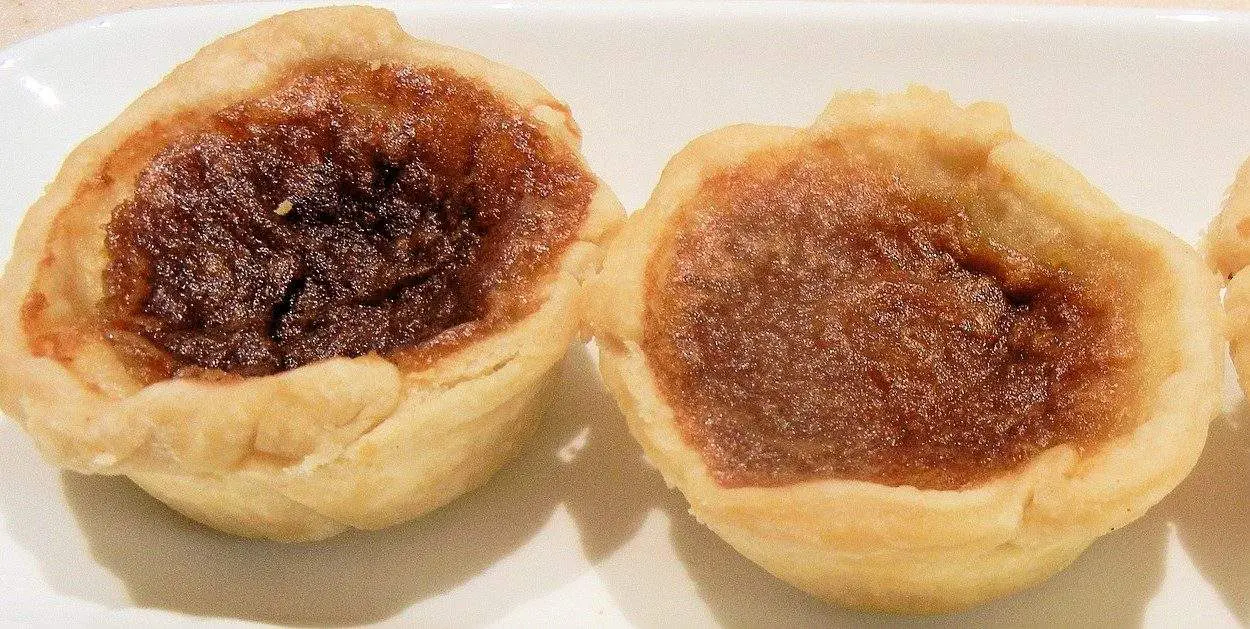 Margaret MacLeod first discovered the butter tart recipe in the Royal Victoria Cook Book in the 1900s.
Butter tarts are the epitome of Canadian culture, with Canadians home-cooking this dessert regularly. Butter tarts contain simple ingredients like sugar, eggs, and butter mixed to form the gooey center inside the flaky pastry shells. People often have diverse views on adding raisins, walnuts, pecans, or other nuts in butter tarts.
The Butter Tart Trail is the most well-known place to get your hands on these tasty butter tarts. This a street with 18 bakeries selling butter tarts of all kinds.
24. Timbits
Tim Horton was an ice hockey athlete who established Tim Hortons, a coffee and restaurant chain.
Timbits are doughnut holes that were introduced in 1976. A Double-Double is a two-cream and two sugars coffee that can exclusively be found in Tim Hortons with Timbits.
These popular Canadian foods come in a variety of flavors, including powdered sugar, chocolate, honey dip, and more.
25. Pouding Chômeur (Unemployment Pudding)
Pouding Chômeur directly translates to "unemployment pudding." It was invented during the Great Depression. It is also known as "poor man's pudding."
The simple ingredients that combine to make this cake are flour, milk, butter, and eggs. Lastly, it is covered by hot maple syrup. While baking, the sugar syrup seeps to the bottom to form a sweet sauce. The cake was made out of stale bread during the Great Depression.
26. Saskatoon Berry Pie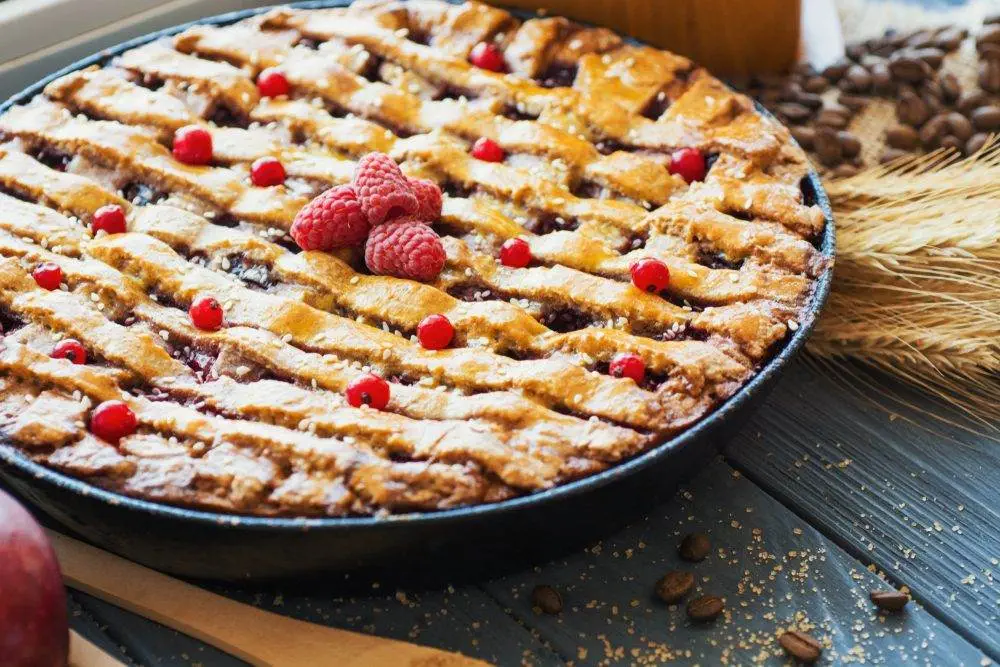 The berry's name is derived from the Cree word "misâskwatômina," which literally translates to berry. Saskatoon berries are native to Canada. It is so reputed that a city named after it – Saskatoon in Saskatchewan.
Saskatoon berries are known to have a sweet and nutty taste which translates into the Saskatoon berry pie. This includes the flavors of apple, blueberry, and almonds. This traditional Canadian food is used in various refreshments such as jams, wine, cider beer, cereals, and more. These berries are the main filling of saskatoon berry pie.
27. Flapper Pie
Flapper pie was known as Graham Cracker Cream pie in the 1800s. The name changed to Flapper pie in the 1900s.
It is a pie made up of vanilla custard and topped with meringue. Some people may top flapper pies with whipped cream instead of meringue, as seen in South Saskatchewan.
Head to Salisbury House in Winnipeg to taste the most delicious flapper pies. Flapper pies are sold as Wafer pies in this chain restaurant.
28. Sugar Pie
Sugar pies are sweet in a non-overpowering way. The filling has a smooth and creamy texture. It is different from American pies that use white sugar or a mix of both white and brown sugar in their pies.
The Shoofly Pie is a Pennsylvanian Dutch pie with very similar ingredients. In Indiana, there is a similar dessert called sugar cream pies. The origins of sugar pies are difficult to trace since many immigrants from North America had similar desserts.
29. Blueberry Grunt
Blueberry grunt is a fruit cobbler that originated on the east coast of Canada, mainly in Newfoundland. The name comes from the blueberries making a 'grunting' sound while cooking.
Blueberry grunt has a tea biscuit texture. It is usually served with ice cream or whipped cream. The dough on top is in the shape of dumplings. Blueberry grunts are baked on stovetops, in a pan, or iron skillets.
Traditional Canadian Beverage
30. Caesar Cocktail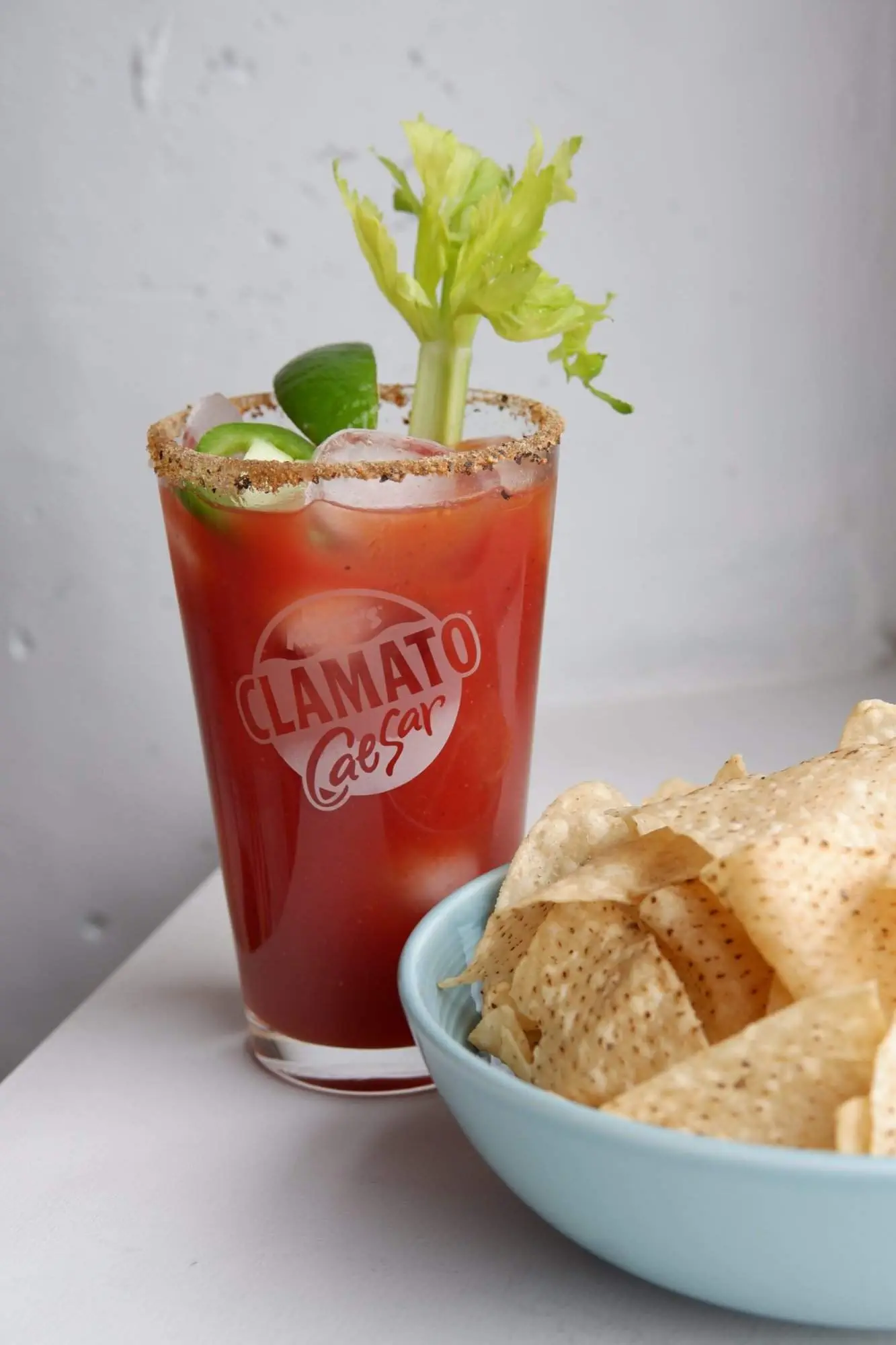 Caesar cocktail is widely considered Canada's national drink. Caesar cocktail was created in 1969 by Walter Chell, the the Calgary Inn's restaurant manager, now Westin Hotel, in Alberta.
Caesar cocktail is made up of vodka, gin, or tequila with clam juice, tomato juice, tabasco sauce, and Worcestershire sauce. It is served with ice in a salt-rimmed glass. Garnishings include celery, lime, hot dogs, burgers, onion rings, bacon strips, pickles, olive skewers, pickled onions, hard-boiled eggs, seafood, and sometimes whole roasted chicken or ribs.
31. Canadian Ice Wine
Ice Wine was first produced in Germany in the 1700s. In the 1970s, Germans immigrated to Canada and continued making ice wine in the new country. Ice wine is mass-produced in British Columbia and Ontario.
Canada is the largest producer of ice wine in the world. Ontario has the most favorable climate for the production of ice wine, contributing to its record. It has warm summers to mature the grapes and cold winters that see frozen grapes on the vine.
The Canadian Ice Wine won an international wine trophy and made Canadian history in 1991.
32. Canadian Ice Cider
In 1989, a winemaker, Christian Barthomeuf from Dunham, concocted the first ice cider in Quebec. The ice wines inspired him in Germany. He is fondly known as the "father of ice cider."
Frozen apples in eastern Ontario and Quebec are pressed slowly and delicately to extract the remaining juice. Quebec is more suited to grow apples than grapes according to its climate. This alcoholic drink is best served with a cheese board or salad dishes.
33. London Fog
London Fog originated in Vancouver in the 1990s. Mary Loria invented it. She was a regular customer of Vancouver's Buckwheat Cafe. She used to order the drink at other cafes and recommended the recipe to businesses till it spread all over. It is now a beloved drink all across Canada.
London Fog has Earl Grey tea, steamed milk, and vanilla syrup. Raw honey may be added depending on preference. It is a tea latte. The "fog" in the name refers to steamed milk.
The drink can be changed by replacing the tea leaves and milk with alternatives. In Scotland, the drink is known as "Vancouver Fog."