Wondering how much is the cost of living in Alberta?
With over 4.1 million inhabitants, Alberta is the 'westernmost' of Canada's three Prairie Provinces. It is Canada's fourth-most populous province after Quebec, Ontario and British Columbia.
Cost of Living in Alberta: A Look
A major contributor to Alberta's economy is its thriving Energy industry, which accounts for nearly every 1-2 out of 16 jobs. Known as "Canada's energy province," it is acknowledged worldwide for its influx of economic opportunities and high living standards. Forestry is another important industry, bringing in a net income of around 6 billion annually. We will look at two of Alberta's most popular cities and how much it costs to live in them.
Cost of Living in Calgary 

Calgary, Alberta's largest city, acts as the headquarters of the country's petroleum industry. It also caters to various other industries such as banking, finance, and insurance. It was known as the cattle-ranching capital, so much so that it gained a long-standing reputation as a "cow town." It was ranked as the 5th most liveable city in the world according to the Economist Intelligence Unit from 2009-2017. So, what's the cost of living in Calgary?
Rent – The Most Significant Cost of Living in Calgary
Like any other cosmopolitan, location and demand play a major significance in determining rental value. Compared to its populous counterparts, Toronto and Vancouver, Calgary offers reasonably affordable rental and housing rates, with prices at relatively low levels.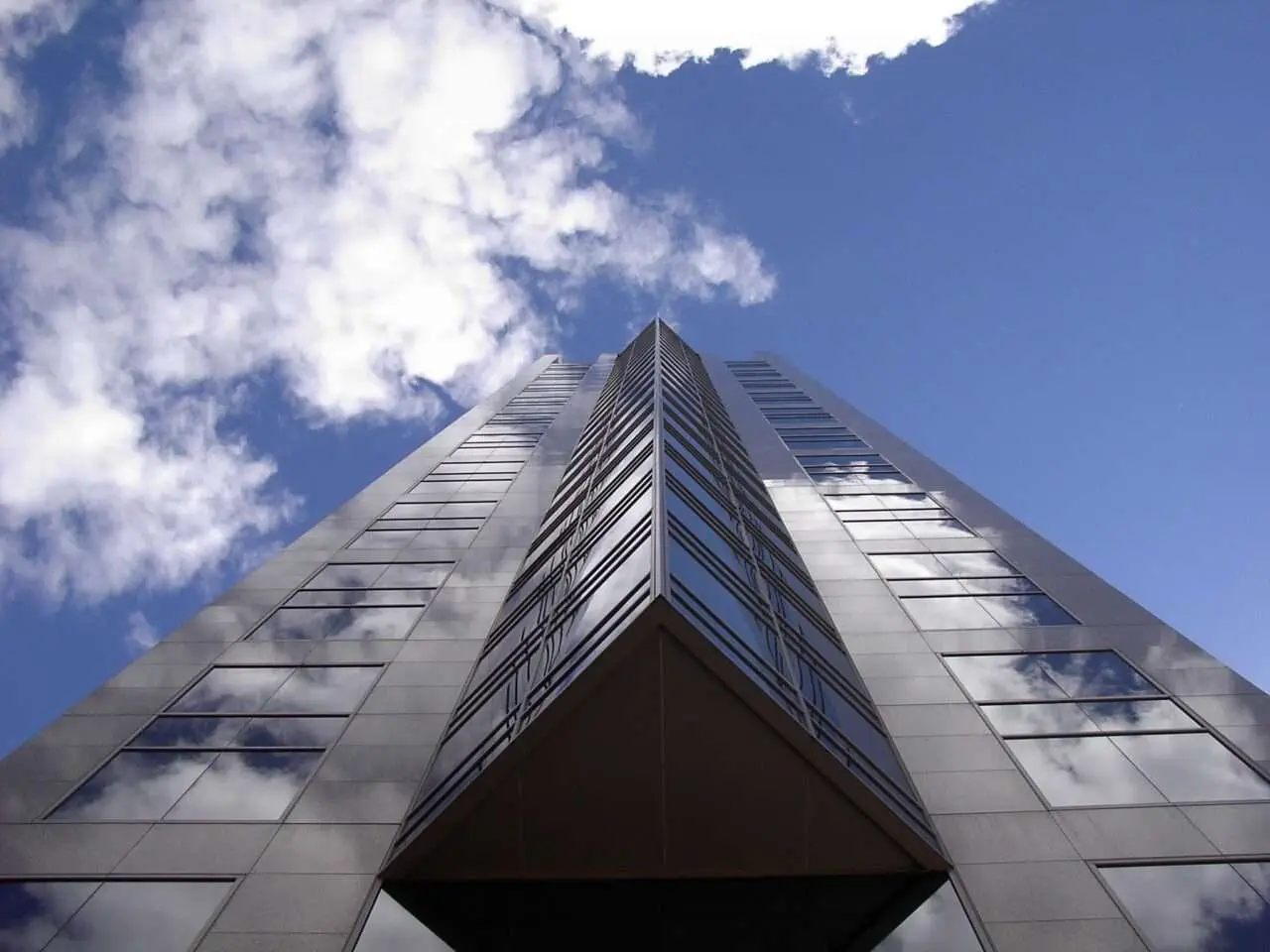 A studio apartment outside the City centre can range between $800-$1,000 with an average of $959.26. The same apartment with a similar type and model in the city's centre can range between $995-$1,500 with an average of $1,207.36. A full month's deposit is standard for all living spaces.
A 3-Bed rental property in the city averages between $1,500-$2,000 and is often higher when looking in the Northwest and Southwest areas. If one is willing to set up long-term roots, average house prices range between $420,000 – 490,000.
Appliances such as stove, dishwasher and fridge are often included in Apartment leases. Most apartments also provide shared laundry facilities and include utilities such as heat and hot water in their rent.
Condos often also provide utilities such as telephone and internet, which is included in total rent.
Grocery: Cost of Living in Alberta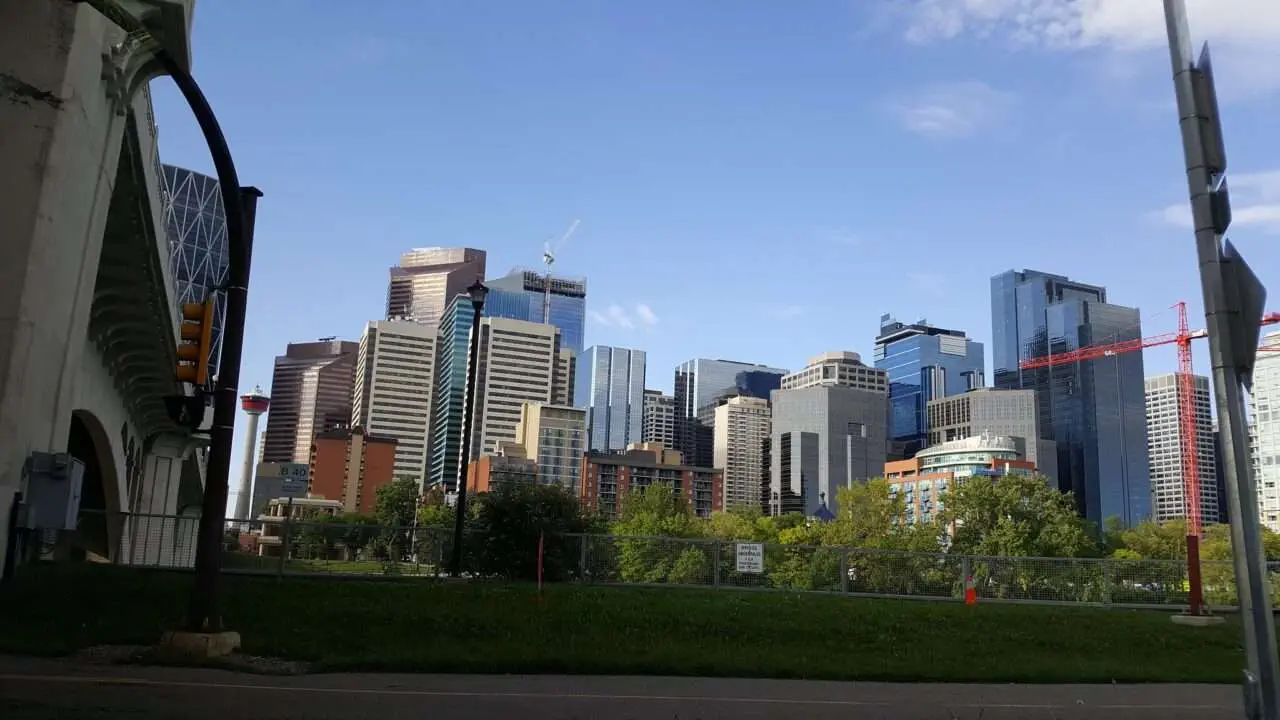 Monthly expenses on groceries and rations entail statistics that tend to vary from one individual to another. Various factors such as quality of food (i.e., fresh, organic, or processed), appetite quantity consumption, and the number of people to be fed come into play.
Expenses for a family of 2 adults can range from $400 – $600 per month. A 'Calgarian' on average would spend around $200-$300 per month on rations. Cooking most meals, planning and visiting a supermarket once every week help focus on what is needed and staying within the budget.
Groceries, particularly those such as meat and dairy products, tend to be higher than the average. A meal at a mid-range restaurant can often entail great value with minimal expense. Therefore it is common for many not to view it as a luxury and recreational option.
Utilizing red flag deals as well as Canadian coupon sites can help save a lot of money.
Factoring in Transport for Cost of Living in Calgary
Having a car often serves as a much more practical alternative. The public transport system isn't as extensive and widespread as compared to the other Canadian cities.
A monthly pass at an average of $103 is a great value. Individual train and bus fares cost around $3 per journey. C-Train is often a good option for downtown stops.
Uber services are easily accessible. Car hire and rental services such as Car2Go are also available. Shared cars for short distances often work out a better alternative in terms of cost and efficiency.
What about Utilities?
The cost for utilities is influenced by how old the house is, its efficiency and personal usage.
A rental space of around 1,000 sq. ft or more for 2 people can make one spend around $150-$200 per month on utilities in Summer and around $250-$300 per month in winter, depending on how high the heat is.
Minimizing water usage, remembering to turn off lights when not in use and not overloading appliances can help save money. The older the device, the more power and electricity it will drain since the battery's functioning capacity reduces over time. Letting go of older appliances such as older PCs and fridges can save a lot of money but cut off at least $20 per month. Replacing air conditioning usage with ceiling fan usage for half of the time and using energy star appliances can also go a long way.
Leisure and Recreation Cost in Alberta
Calgary offers the advantage of various indoor recreational sports such as arenas with indoor rinks, opportunities for ice hockey, ringette, and more. Its highly specialized and extensive arts centres provide the opportunity and space for developing art skills such as visual and performing arts. There are 8 municipal golf courses and 13 athletic parks offering soccer, rugby, and baseball services.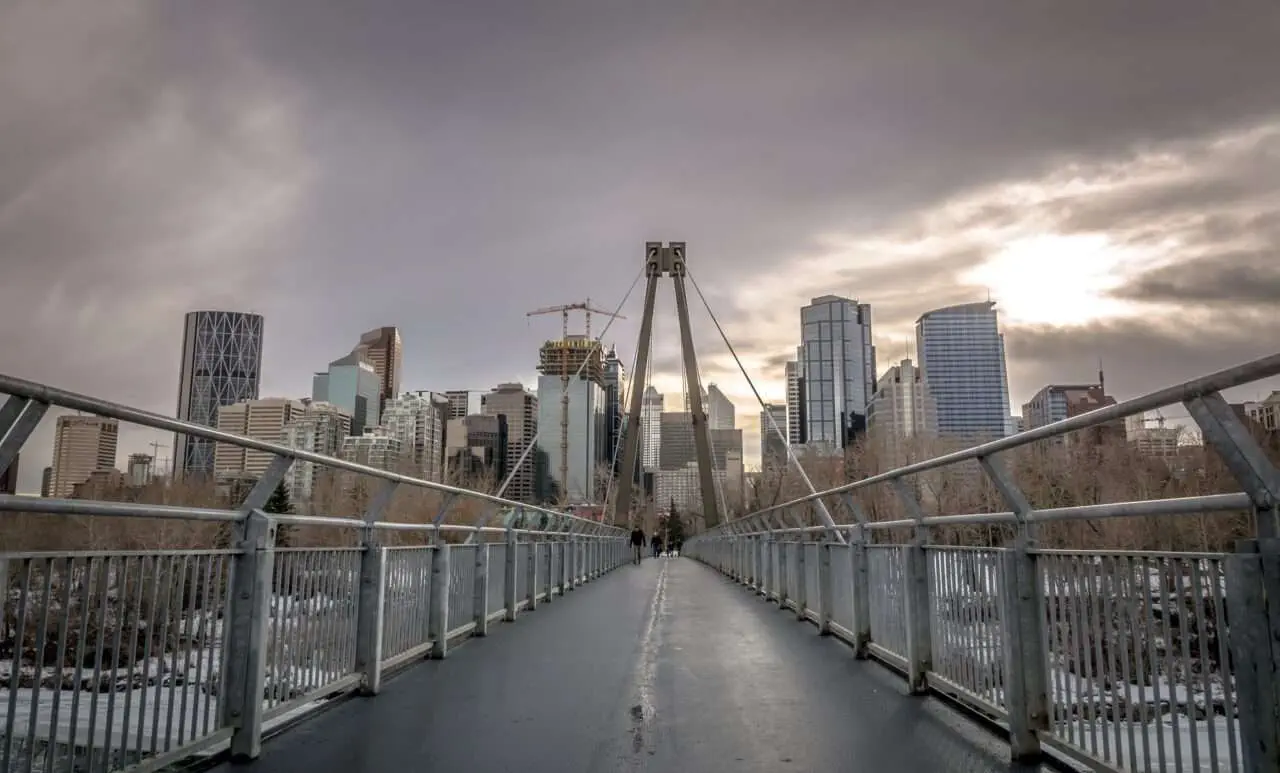 The Glenmore Sailing Club started in 1959, offers youth summer camps, night racing events, Friday evening socials, collegiate and warrior sailing, and much more. The club also helps catering sailing lessons and to teach people with physical disabilities.
A cinema ticket can cost around $14 per person, depending on slot timings and movie popularity. A 3-Course meal for one person in a mid-range restaurant twice a month can cost around $60-$70. Fitness and Sports club memberships for one can go as high as $40-$77 per month.
City parks such as South Glenmore Parks and Prairie Winds Park are often good options for a fun family day out. Free public skating on statutory holidays is also provided. Spruce Meadows and Fish Creek Provincial Park provide fishing activities at low prices.
Cost of Living in Edmonton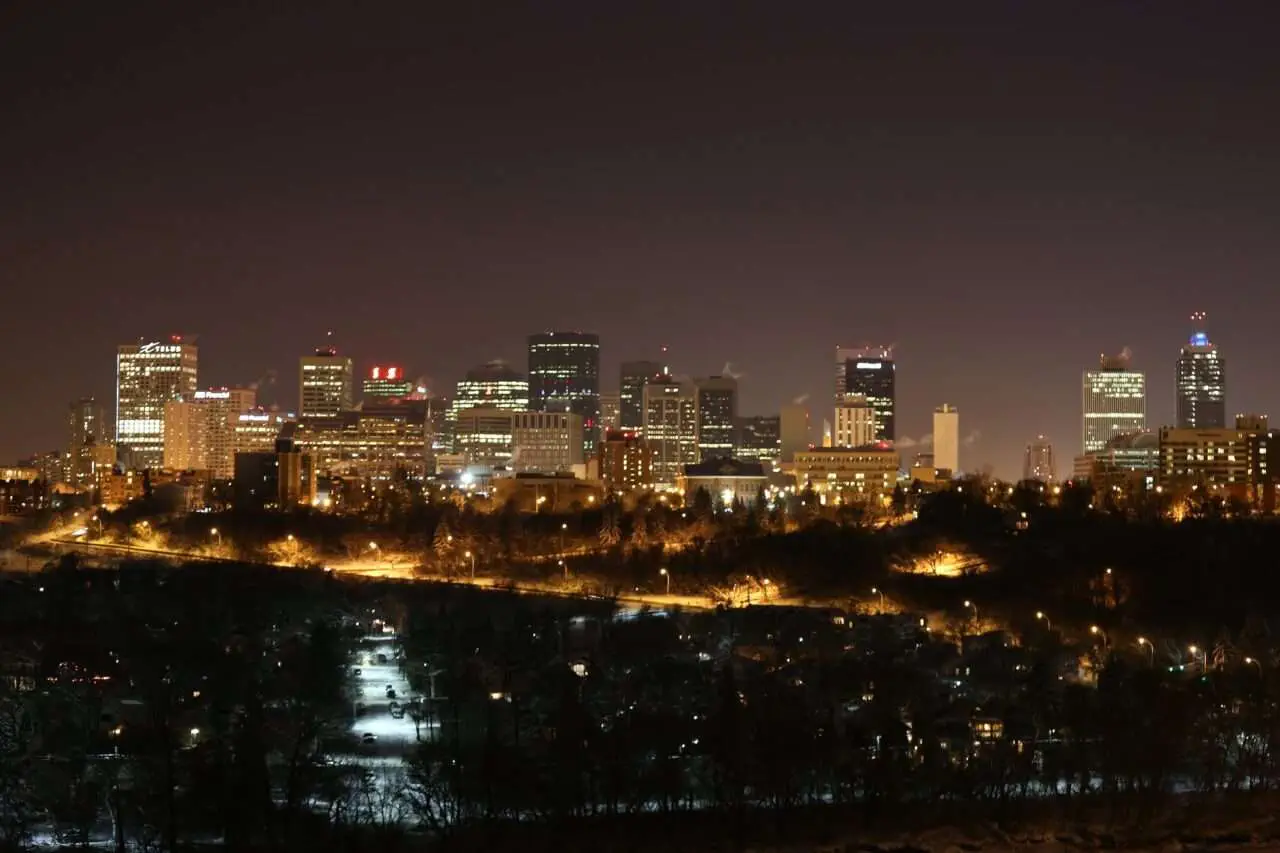 Known as "Canada's Gateway to the North," Edmonton is the capital city of Alberta. With a population of 9.81 lakhs, it is Alberta's second-largest city. Having extensive road, rail and air transportation links, it has the world's largest gas and oil industries. Being one of Canada's most diverse and strongest economies, Edmonton's city offers a wide range of employment and jobs, making it more ethnically diverse compared to many other states and regions.
Rent: The Highest Cost of Living in Edmonton
'Edmontonians' enjoy the highest household income in the country and have considerably lower taxes along with exemption of the Provincial Sales Tax. Edmonton has a cost of living index of 69.31, 147.35% higher than Delhi (India).
Rental rates depend on the size, amenities, location, age, or even the rental unit's condition.
– How much does it cost?
A 1-Bedroom Apartment in the city's centre can cost around an average of $1,220 per month. Simultaneously, the housing of a similar model outside the city centre can cost around $800-$900 per month.
Rental rates for 3-Bedroom Apartments and Condos range from $1,500-$2,000 per month, depending on the locality and facilities available.
Buying apartments can cost one has paid around $2,400-$3,200 per square meter on average.
Transport cost in Edmonton
The Edmonton Transit System, managed by Edmonton, Alberta, provides Light Rail Transit and Bus System services.
The LRT system covers around 18 stations, 24km(15miles) of track and is the busiest light rail transit system in North America. A single-pass fare costs around $3.25 and only remains valid for use for the next 90 minutes.
The bus network is built around a series of bus stations called Transit Centres, located near commercial areas such as shopping malls and subway stations. The price for a single-pass bus fare is similar to that of the LRT.
A monthly pass costs around $99 per person per month. The basic tariff for a taxi trip covering an 8kms(5 miles) short distance costs around $21. The price of gasoline in the region is $1.05 per litre.
Although car often stands as a much better alternative, these are the 2 major means of transportation in the city.
Cost of Groceries in Edmonton
In comparison to other cities, Edmonton is not a very expensive place to live. The same goes for rations as well. For a family of 4(2 adults and 2 kids), expenses can range from $400-$600 per month.
– How much does it actually cost?
According to Statistics Canada, an Edmontonian spends around $237.60 per month on groceries.
The average family spends around $3,058 per year on dining out, making around $254 per month.
Cost of Utilities in Edmonton
Gas and Electric: Edmonton experiences freezing winters and a long snow season. Even in summer, nights can feel cool and chilly. Times during winter can often get brutal and harsh, with temperatures dropping to -40 Celsius and bringing in severe cold storms that often force inhabitants to evacuate to neighbouring cities like Toronto. Cold winters mean utility bills in winter are comparatively higher than those in summer.
For a 3-Bedroom House, monthly bills for gas and electricity can cost as much as $280-$400 in the winter months and $100-$200 in the summer months. For many condos, these prices and facilities are often included in the rent.
Water and Wastewater: Most rental units use a meter, and the bill is tabulated, keeping in mind the quantity of water and basic service charge. Additional costs include those for wastewater and drainage.
Typically, monthly bills often range between $70-$110 per month, depending on water usage.
Telephone, Internet and TV:
Internet and TV packs usually range between $120-$180 per month. Phone bills are between $30-$80 a month. Separate internet TV packages start from around $30 a month.
Telus offers TV and Internet Packages starting from $105 per month for the first 24 months; thereafter, the price is $130 per month.
Healthy Insurance Cost in Edmonton:
According to Alberta's Health Care Insurance Plan, permanent residents are provided free access to medical and health care services. Private Insurance Plans can help prevent those not eligible for AHCIP from paying heft amounts such as $100+ for something as minimal as a check-up.
Leisure and Cost of Living in Edmonton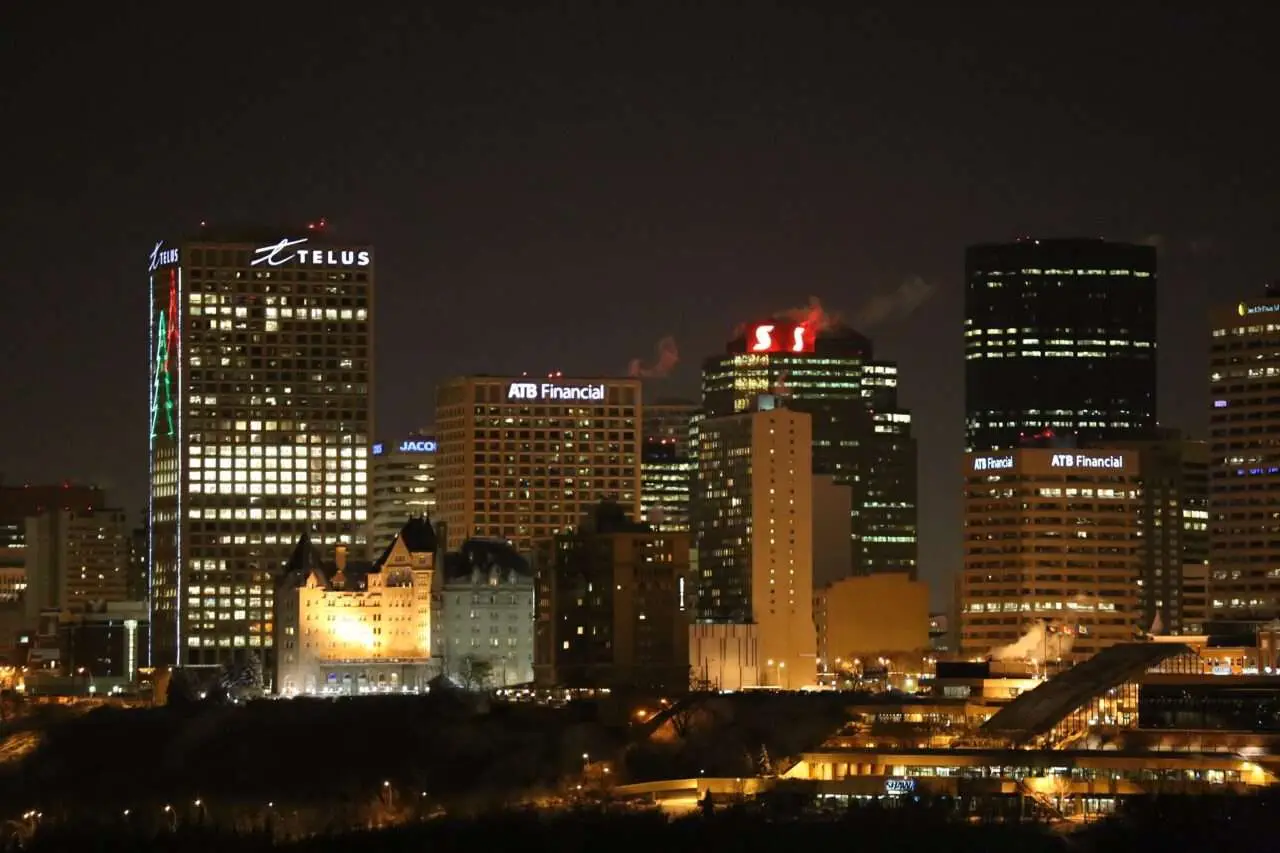 Edmonton is home to famous rock hand – Nickleback's lead singer, Chad Kroeger. From mud festivals to cowboy gatherings, it hosts around 30 festivals annually and is known as "Festival City." Some of these are Taste of Edmonton, Bacon Festival, Edmonton Rock Music Festival, and more.
A 3-Course meal for 2 at a mid-range restaurant can range between $50-$90. Fitness Club Memberships start from $35 per month and go as high as $89 per month.
The River Valley, a common spot for sightseeing, is 22 times the size of New York's Central Park. Jasper National Park, believed to be the wildest mountain park, is home to animals like Grizzly bears, Black Bears, caribou, and moose.
Fort Edmonton Park, Canada's largest living history museum and West Edmonton Mall, North America's largest mall spanning over 48 blocks, is located in Edmonton.
So, now you know the cost of living in Alberta, are you looking to move in soon?