A travel guide to Emily provincial park!!
Enjoying a vacation in serene surroundings is a dream of every person. Making the perfect escape at a site among tall trees, glittering beaches, hiking, camping, and canoeing is what is loved to be done during a vacation.
The smell of nature and relaxing in its cradle in campsites give you the much-needed energy booster away from the typical day-to-day activities.
The quality time spent with your family and friends leaves you with some beautiful memories to be relished, and you will long to want more of such reminisces.
But where can this possibly happen, you ask? Well, provincial parks are your answer. More specifically, Emily Provincial Park.
But before that…
What are Provincial Parks?
A provincial park also called a territorial park, is managed by a country's province in contrast to national parks. They are places for recreation generally open to the public.
A provincial park is a land or water, large and small, natural or man-made.
Provincial Parks could have a more or less relatively stringent environment. They are meant for recreation, tourism, nature protection, and education. The countries with provincial parks are Canada, Argentina, South Africa, and Belgium.
The depletion of natural resources, filth at scenic places, and the dearth of recreational sites for the increasingly urbanized population gave birth to the idea of provincial parks during the end of the 19th century.
One of the first provincial parks with a campground was established as the Queen Victoria Park in 1885. Today most of the provinces have provincial parks or land sites that have been designated for the conservation of nature.
You can find access to some of the best campgrounds among the Ontario Parks.
And today, in this article, we will talk about one such provincial park, Emily Provincial Park.
Emily Provincial Park, Ontario Parks, and Park Office
The need for recreation in a natural setting is what everyone desires. There are various provincial parks across Canada, with renowned ones located among the Ontario Parks.
Ontario parks consist of about 340 provincial parks and 295 conservation areas covering over nine million hectares. But one of the best campsites that you should never miss out on is the Emily Provincial Park compared to other provincial parks.
Located right in the heart of Kawartha Lakes, this Park is a true paradise. The word Kawartha means the land of reflections. The bright waters and happy lands of the Kawartha Lakes rightly bring happiness to its visitors, denoting that it goes apt with its name by reflecting happiness.
Kawartha lakes attract a lot of recreation seekers and tourists from around its vicinity, and this chain of lakes comprises rivers, waterways, and campsites.
Everything you can do at Emily Provincial Park in Ontario is a delight to the soul. The bright waters and happy lands of the Kawartha Lakes with its picturesque campgrounds is a beautiful place to visit.
Established in 1957 and covering over 83 hectares, it is a great day camping site with a lot of privacy and boardwalk trials to let you enjoy nature.
Why Visit Emily Provincial Park?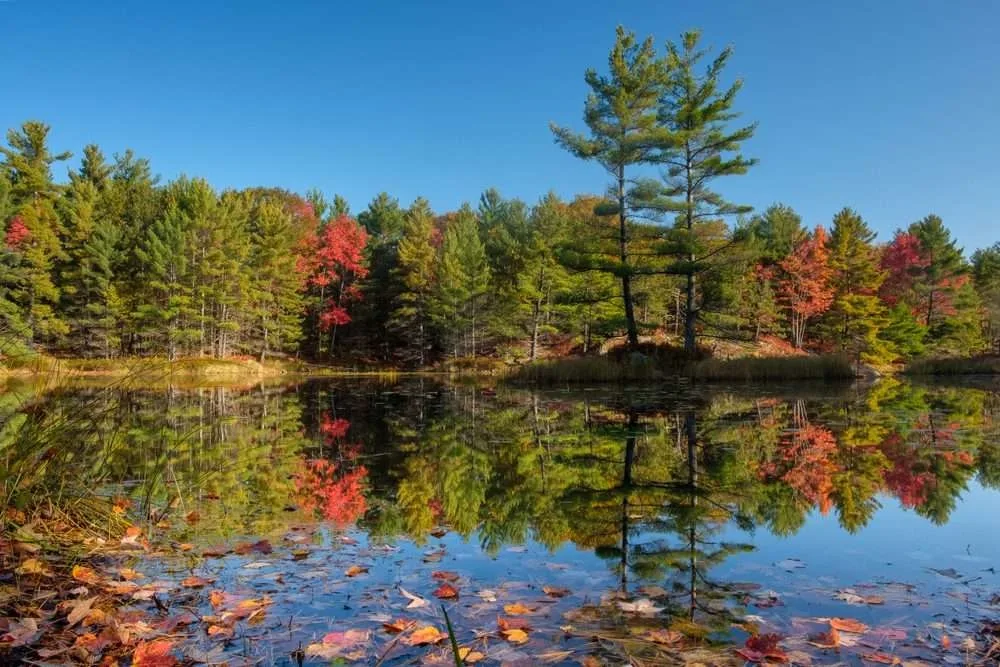 Emily Provincial Park is one popular campsite for recreation near Peterborough that provides various quality camping services to visitors. The aim is to offer campers a wide variety of family-oriented recreational facilities.
Located at the beginning of the Kawartha Lakes, Emily Provincial Park is the gem of this lake, in Ontario. It has three of the best campgrounds with ample camping space and trails, making it the picture-perfect escape holiday spot.
The land base of this provincial park is about 69 hectares, but the park is maintained under regulation up to 83 hectares.
The best moment to enjoy is by parking your RV along the lake or relaxing in a comfort station or at a campsite next to the gurgling sounds of water hitting along the shorelines.
It is the ideal place for exploring waterways. The campsites have access to the river that leads to the Trent Severn Waterway.
What to enjoy at Emily Provincial Park?
The Emily Provincial Park runs along the Pigeon River and has two sandy beaches to cool off after a long hike or outdoor activity. The North part, a tent-only campsite, is located the farthest, near the day-use area and has ample parking space in front of it.
South Beach is ideal for children with its shallow sandy shores, picnic spots and playground. Remember, there are no lifeguards at the park, so those going out swimming should be cautious as you are entering the water at your own risk.
The banks have numerous wetlands resting spots for various wildlife, making it ideal for viewing them from your campsite.
Car campsites at Emily Provincial Park are offered at all four campgrounds. The Circle Campground, Hilltop, and the Hill campsite have wide, grassy, and private sites with electrical hook-ups. Only private tents are offered at the Cedars Campground.
While you are at the Emily Provincial Park, remember the Cedars Campground is a no electric and no radio zone having about 57 sites. The other campgrounds are a mix of no electric and no radio sites. You can find the dump station on the way out.
All the campsites can accommodate a minimum of 20 people and a maximum of 50. So you can have fun with a huge group of your family or friends at the site.
The Emily Provincial Park site staff will guide you through the self-use recreation facilities that you may need at the campground.
You can enjoy sunbathing, swimming, boating, and other outstanding water-oriented recreations at the park.
Boat rentals are available for a minimal amount at the campground. There are boat launches to enjoy the water through the Trent-Severn Waterway System.
You can have a wonderful night out at the campfires that have been crafted well under the staff-led activities at the banks of the Pigeon River.
The park staff encourages local and regional schools to visit this amazing campground in Ontario, and they guide you through to make the best educational use of the park's resources.
What's in it for summers?
During summers, you can use the special activities provided for children at the location. The ministry creates this event to enhance and educate your child on nature, outdoor activities, and the efforts done for local conservation of nature in Ontario.
A free hands-on fishing program that teaches the new angles of fishing irrespective of age is also available. The Park Office will help you with the details of these special activities. You can find ads posted on boards along the trails as well.
There is a firewood concession, store concession, fast food concessions available at the park. Some additional concessions are also available as per the need and policy restrictions.
Summers can be enjoyed the best with boating, canoe gliding, and other water activities. You can enjoy wildlife viewing and fall colour photography during the other seasons.
What's in it for winters?
Even though most of the park's facilities are closed during winters, make the best use of the weather by going for cross country skiing, snowshoeing, and winter hiking.
If you are someone who enjoys fishing, there are a lot of places where you can drop your pole in the waters of Emily Provincial Park. It is best if you have a boat and head deeper into the water to get a good catch of fish.
In case you have forgotten your fishing gear, you can pause at the Park Office to buy tackle or live bait. But remember that you require a fishing license or visit Ontario's travel and recreation department for all the information needed before you head out for fishing at the lake.
More things to know…
If you intend to visit the park during the fall season, then definitely go in for a scenic bike ride along its roads. Don't forget to bring on your bike, helmet, and route map to enjoy one of the most pleasurable bike rides. If you want a peaceful ride get along the TransCanada Trail and go for some awesome biking experiences.
You can find a not too long boardwalk trail close to the water that goes out to an island and is ideal for a refreshing feel.
The Emily Provincial Park has three boat docks, and if you are interested in canoeing, you can rent a canoe at the Park Store and learn the sport at a relaxed pace along the slow-moving Pigeon River. Any Info required on the rental fees and boat launch can be obtained at the Park Office.
As night approaches the park, you will realize just how much you have escaped into nature by camping at Emily Provincial Park. It leaves you with a feeling of being present at a "Wonderland" with its awe-inspiring view of shooting stars.
Conclusion
While adventure is what awaits you at the Peterborough Emily Provincial Park, it is a place that will leave you with a great camping experience. Biking along the scenic TransCanada Trail or embarking along the Trent Severn Waterway will remain as one of the fantastic moments that you have gulped in.
The warm waters at the sandy, glittering beaches will leave your kids with a tickling familiarity. Walking or riding in your car along the well maintained tree-lined roads will make you let your hair loose and enjoy nature's beauty along with its wilderness.
And that's all you need to feel on a vacation.
I hope this was an interesting read for you, and you felt the urge to visit Emily Provincial Park at the earliest.
Have a happy vacation!
As an Amazon Associate, Icy Canada earns from qualifying purchases.
[amazon_auto_links id="81298"]
The Icy Canada team strives to create content that matters. It's why our content is written by travel writers, authority experts, well-known authors, and niche experts. Our content is also periodically reviewed by expert authors for accuracy and trustworthiness.
As an Amazon Associate, Icy Canada earns from qualifying purchases. [amazon_auto_links id="81298"]