Are you a Costco member yet? It's cheap and could save you hundreds of dollars every year. In fact, in 2020 there were over 105 million Costco memberships around the world.
What is a Costco Membership?
Costco Wholesale Corporation is also known as Costco (Costco Canada). It is a widely spread business that owns a series of warehouse clubs that run on a membership-only basis.
It is one of the topmost retailers in the world. Costco's first-ever warehouse was built in the year 1983. Seattle by James Sinegal and Jeffrey Brotman built it.
1. Features of the Membership and Their Functioning
A warehouse club, or a wholesale club, is nothing but a retail store. They deal with merchandise sales. Costco sells in huge wholesale quantities at low prices using the no-frills policy. All a customer has to do is own an annual membership by paying a fee to shop.
After the United States, Costco Canada has seen its second-largest number of warehouses with a whooping 100 at work. Memberships
are issued
to customers interested in being a part of the club. 
2. What Are the Criteria for a Costco Membership?

Just
like in a lavish nightclub, you can't get in without a cover. Costco Canada holds a cover policy too. It's in the form of a membership fee and lets you shop all year long as you, please.
Anyone who wishes to avail of a Costco Canada membership has to comply with certain rules and regulations. Costco may revise these rules at any given point with the member's consent and prior notice.
Let's take a look at the rules and regulations to avail of the membership:
Any Individual aged 18 years or older are eligible.

These memberships are non-transferrable, as they can

be used

only by the actual owner of the membership

.

Every Business/Household

is limited

to owning only a single membership.

A legal government-linked ID proof or a Canadian amalgamated document should

be produced

.

Should be a current or retired employee of

Civil Service or Armed Force
Or, they should
be qualified
as a Chartered Accountant, Chartered Architect, Doctor in various fields, Chartered Surveyor, Solicitor, Barrister, Magistrate, Advocate, Chartered Engineer, Civil, etc
.
A photo must

be submitted

during registration. It will be visible either on the back of the Costco membership card or the Capital One MasterCard.

If a member fails to comply with any of the rules or abuses membership privileges at any point in time, Costco can cancel the applicant's membership.

If a primary cardholder's membership

is terminated

, it will

terminate

the membership of the associate cardholder

.
Another advantage of being a part of Costco Canada is a 100% Satisfaction Guarantee. If you are not satisfied with the services, a full refund on the membership
is provided
. 
You have Benefits, Savings, a minimal fee of only $60 (CAD), and a whole year to make the most of it. Looks like it's time to make a little detour to your nearest Costco store.
3. The Different Types of Costco Canada Memberships
Memberships are majorly divided into categories:
Individual Membership
Business Membership
3.1 Individual Membership
Costco Canada provides Individual membership to employees of select groups and professions. It is available to any individual above the age of 18 years. One must also fulfill the requirements listed above. There are 2 types of Individual Costco memberships available.
3.1.1 Gold Star Membership with an annual fee of CAD 60
Gold Star Membership allows an individual to
purchase
products for personal use. They can do so in any of their stores worldwide or online at costco.com. Once you apply, an email with the membership number will
be sent
to you within 2 business days.
The application will
be taken
to a Costco Canada Membership Counter. Then you will be issued your membership card. Further, a Canadian-issued Government ID or a US Passport should
be produced
. It is necessary to complete the application process. (NOTE: Government ID Numbers are not recorded).
3.1.2 Gold Star Executive Membership with an annual fee of $120
Want to become an Executive member? Members receive several benefits, like 
A Gold Star Executive Membership Card comes with a free Household Card. An executive member can shop for products for their home and family. It is valid for a year and can
be used
at any Costco Canada location or any other Costco location worldwide. You can also use it online at costco.com.
The Costco Gold Star Executive Membership follows the same application process as the gold star membership
.
Once applied, the membership number will
be emailed
. It has to
be produced
at a Costco membership Counter where you
are provided
with a Membership Card. Also, a Canadian-issued Government ID proof or a US Passport should
be produced
. It
is required
to complete the application process.
(NOTE: Government ID Numbers are not recorded).
3.2 Business Membership
A Business Membership enables a Business to avail of the benefits of purchasing business needs, personal use, etc. A Business Membership is further classified as follows:
Individual Business Membership with an annual fee of CAD 60 annually.
Business Star Executive Membership with an annual fee of CAD 120 annually.
Both the Business Membership types have a validity of one year at any Costco Canada Store or any Costco Store worldwide
. You can also use it online at costco.com. The application process is
similar to
that of individual membership. It can
be renewed
annually
.
All of

the Memberships mentioned above have two things in common:
They include a Household Card that your Spouse/Family Member can use.

Their validity extends worldwide.
(NOTE: All the prices concerned with Membership are pre-tax. The actual price depends on the region of
purchase
)
4. Costco Digital Membership Card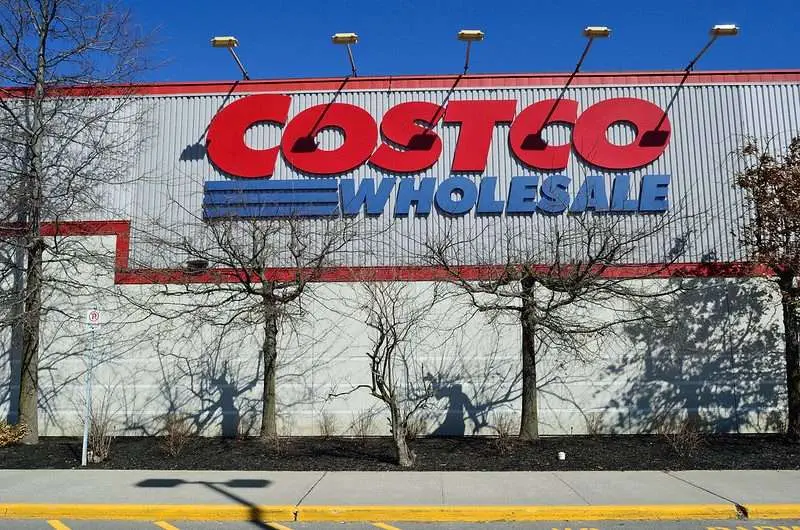 Amidst the whole pandemic situation across the world, any form of social contact is fatal to life. What could be better than having Costco Canada card? It operates
digitally
and lets you avail yourself of
all of
the benefits.
You don't have to carry a copy of the card wherever you go. Sounds fascinating? Yes, Costco Canada provides you with the facility of a digital membership.
A digital version of the Costco Canada Membership can
be accessed
via the Costco app. This app also allows you to renew your membership and lets you check your reward balance.
The Costco app is available on the Google Play Store or the App Store. With this digital membership, Costco has made shopping easier and more fun. Moreover, you don't have to worry about misplacing your card!
5. Common FAQs About The Costco Memberships
Q1. How do you pay for your purchases?
Ans. Costco accepts only Visa Credits. If you do not own a Visa Credit Card, you can make payments via cash, debit card, or check. Costco only accepts members from the same family who are living at the same address.
Q2. Is a membership from Costco a feasible option if you don't shop in bulk?
Ans. As per the analysis, Costco's main attraction is its savings on bulk shopping. Therefore, if you do not have the means to store in bulk or shop for more, this membership is not the best option.
Q3. What services of a Costco Warehouse can you access as a non-member?
Ans. While most of the services are covered via memberships only, some parts of the store are accessible to non-members. These include the Pharmacy, the Food Court (conditions apply*), and the Liquor Department (conditions apply*).
Q4. Can you shop at Costco without actually being a member?
Ans. Yes, you can do that. One way is to tag along with a friend who is a member since Costco members are allowed to bring two guests. Another way is to use Costco shop cards. These work like gift cards that members receive and range from $10 to $100. Costco sells pretty much everything you need, from home appliances to your favorite gadget. 
Costco offers a wide range of shopping options. Right from basic amenities like oat milk to a diamond ring, they have everything. Walking through those big bulky shopping aisles is a dream come true for shoppers. You see a lot of things you didn't know you needed. From tech to apparel, they have everything in store for you with a big saving pool.
Costco Wholesale Corporation is a lot more than
just
that. Costco has frequent new store openings. You might
just
grab onto those grand opening discounts and
newly
arrived options to shop from. And with Canada being its second hot spot, there is
just
so much more awaiting its members.
With its
widely
spread stores, employment opportunities are endless. With all that
being said
, if you have your Costco Membership already, Congratulations! You've made it as an adult, and if not, what are you waiting for?
Visit the official website of
Costco.com
or the
Costco Canada Website
and get started on your fantastic shopping journey with Costco
. Happy Shopping, Canada! Want to know more? Check out similar articles here.