Edmonton, also known as the festival city of Canada is full of light and very much bright vibes. It is the capital city of Canadian province, Alberta.
There is no shortage of reasons to visit Edmonton – especially when the top one is the Edmonton International Fringe Festival – a global phenomenon everyone looks forward to.
The Edmonton International Fringe Theatre Festival is the biggest and longest-running Fringe Festival in North America. The Fringe Festival invites and gives a platform to a plethora of independent and talented artists and performers.
It is one of the most awaited festivals internationally. Performers from different parts of the world gather in Edmonton to be a part of it. The Edmonton Fringe is not juried or censored. Instead, performances are selected based on a lottery system.
The best part is, artists, get 100% of the net ticket price. Edmonton Fringe festival could be the best hub artists could ask for.
History of the Edmonton International Fringe Festival – The Beginning
Edmonton International Fest has been in tradition since the early 1980s. In 1982, Brian Paisley, artistic director of Chinook Theatre organized a 'Fringe Theatre Event' with $50,000 that he received.
Most of the Fringe Festivals worldwide were inspired by the Edinburg Festival Fringe in Scotland. The Edmonton International Fringe is a founding member of the Canadian Association of Fringe Festivals.
Two very prominent Theatre companies – Teatro La Quindicina and Shadow Theatre were born at Edmonton International Fringe Festival.
Several other theatre companies were formed behind the idea of Edmonton's Fringe Theatre, with the number of theatres still growing today.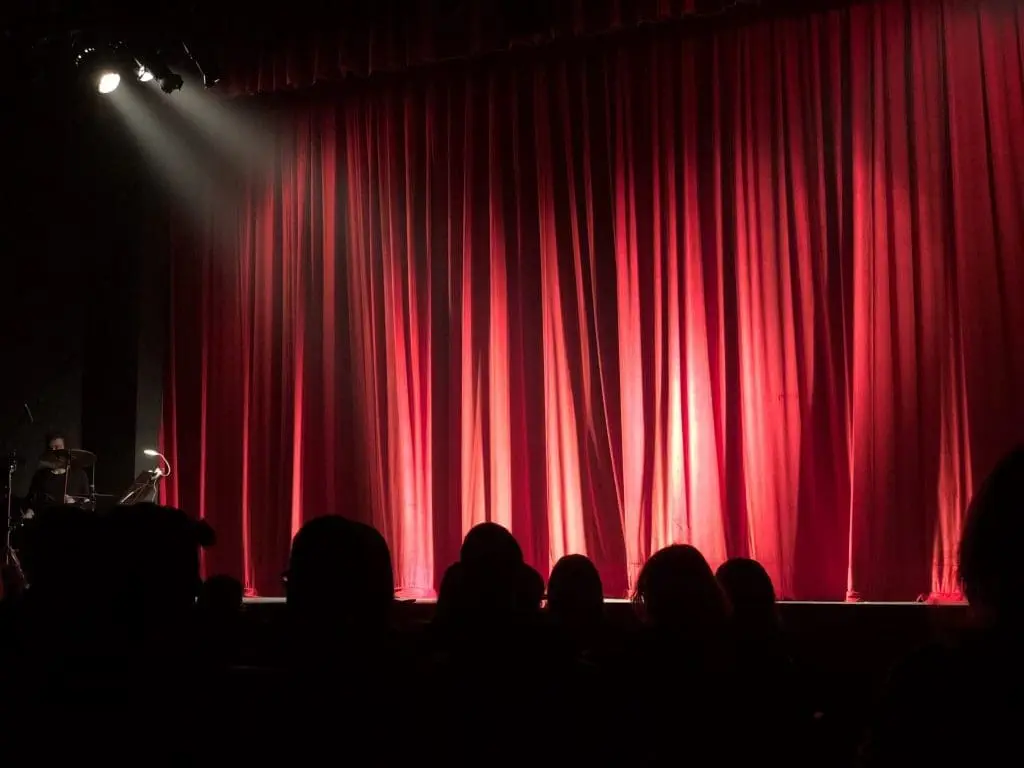 Today, not just artists, the 11-day festival also gathers more than 1,200 volunteers who help organize various acts across all theatres and manage large gatherings in outdoor stages.
As of recently, there were 8 indoor Fringe theatres for a young audience, 2 outdoor stages, and more than 60 buskers who take part in the festival.
Paisley, when he started working on the Edmonton Fringe, did not expect a lot. He gathered people from all fields to build and organize the festival. It came as a surprise when tickets were finally up for sale and the first year gathered an audience of more than 7,500!
Edmonton's Fringe inspired several other Fringe theatres. Paisley continued to organize Fringe performances across various locations in the country. And was even a playwright for several acts!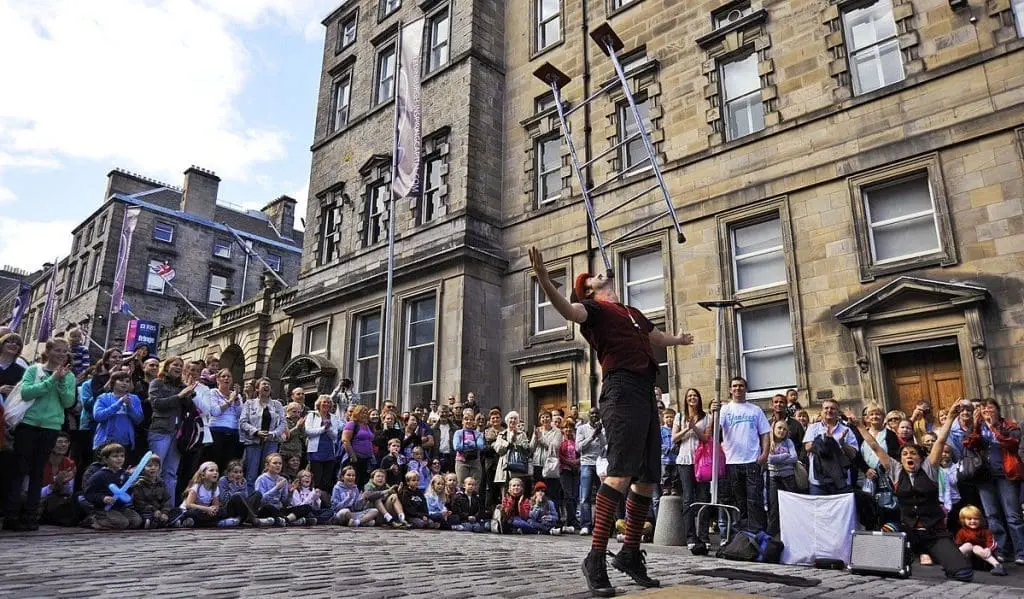 The Edmonton Fringe Festival has indeed come a long way since then – new themes each year, surplus audience, and distinctive shows put up by various artists.
Edmonton Fringe is the largest and oldest festival of its kind in entire North America! So make sure you are a part of this celebration if you ever get a chance.
Fringe artists are known to bring forward theatre acts that are bold and straight-forward. Famous for its satires and dark comedy, Fringe has had a history of putting out original and experimental content unparalleled to any shows of that kind.
Have a look at the brief history of Edmonton and the shows it got along –
Fringe Festival In Edmonton Through Different Time Periods
Fringe through the 1980s – Vintage Vibes
Edmonton Fringe debuted in 1982 as North America's first Fringe, with 200 live shows in 5 theatres. More than 36,000 artists were a part of the performances.
Performances in the Fringe festival include different forms of art and entertainment that revolve under the concept of theatre.
They are unique and bring to life culture in a raw, abstract way. International, national and local artists gather in this Edmonton fest to showcase their talent.
The early years of this festival saw an influx of extremely talented locals and big names. Such as Die-Nasty, Mump and Smoot, Ken Brown, The Dan Show, Three Dead Trolls in a Baggie, and many more.
These acts were a part of the festival for longer than 10 years, adding more colors to the stage every year. These include musical trios, quarters, jazz bands, musical groups, as well as theatre/ drama groups. Oh, to mention the pleasing Operas and French plays that have been on for years.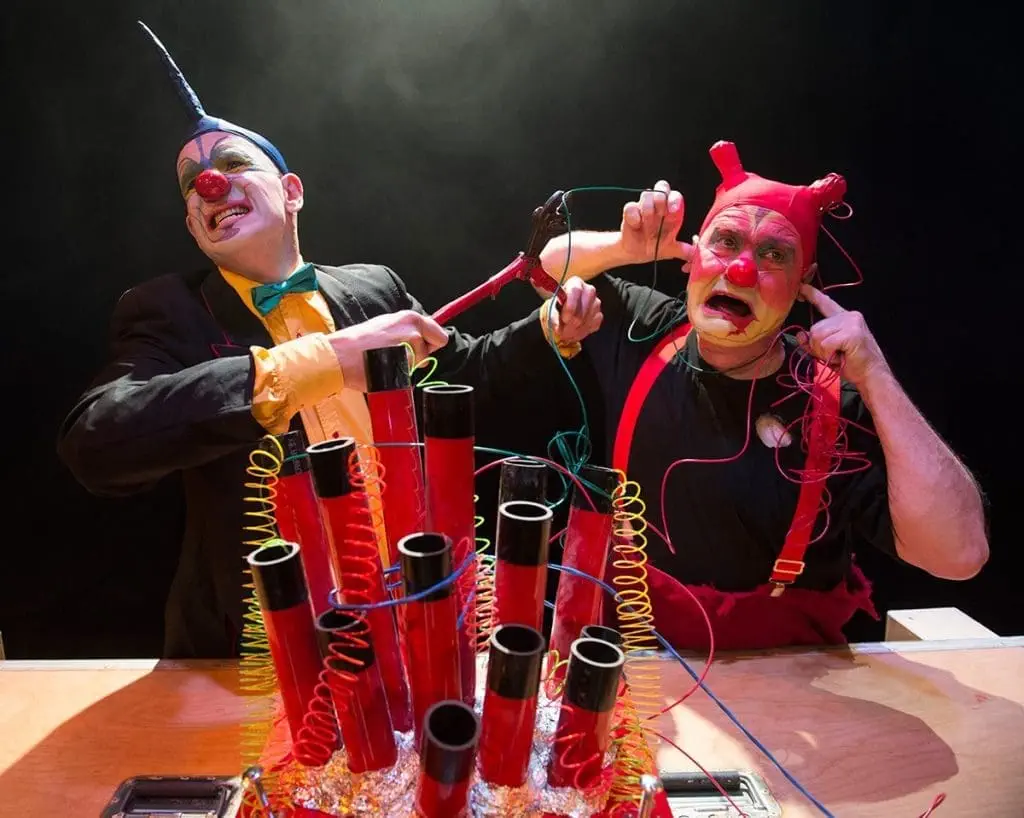 At several points of time, Paisley and artists of the 80s and 90s have recalled how the Fringe has given a stage to almost everyone who wanted to become artists, regardless of where they stand professionally.
It opened up new opportunities, and people across countries came down to watch any show they put up in front of them. The festival only grew with time.
The 1980s saw an era of beautifully portrayed plays. Some notable plays would be Home Free by Lanford Wilson, Refugee by Jim Nelson – a satire set during the Cuban Missile Crisis.
Shakespeare's Macbeth directed by Ti Hallas, Leading Ladies by Gallery Players which showed the advancement of women in society, and so on.
Classical and Jazz music was especially popular, and musical performances kept the audience enticed for long. Calumet Ring Flute Quartet, Cramer Brothers Jazz Trio, Music and Musings, etc. were some famous renditions.
Fringe in the 1990s – The Glow Up Theatres Needed!
The fringe of 1990 was themed 'The Fringe That Roared.' Streets of Edmonton saw cultures of the middle age, acts of clownery, animal shows, a capella by a famous local group Juba. Puppetry by Eric Anderson, traditional Japanese Drums show by Kita no Taiko, and so many more.
Street acts were either free or followed your typical 'pass the hat' money collection.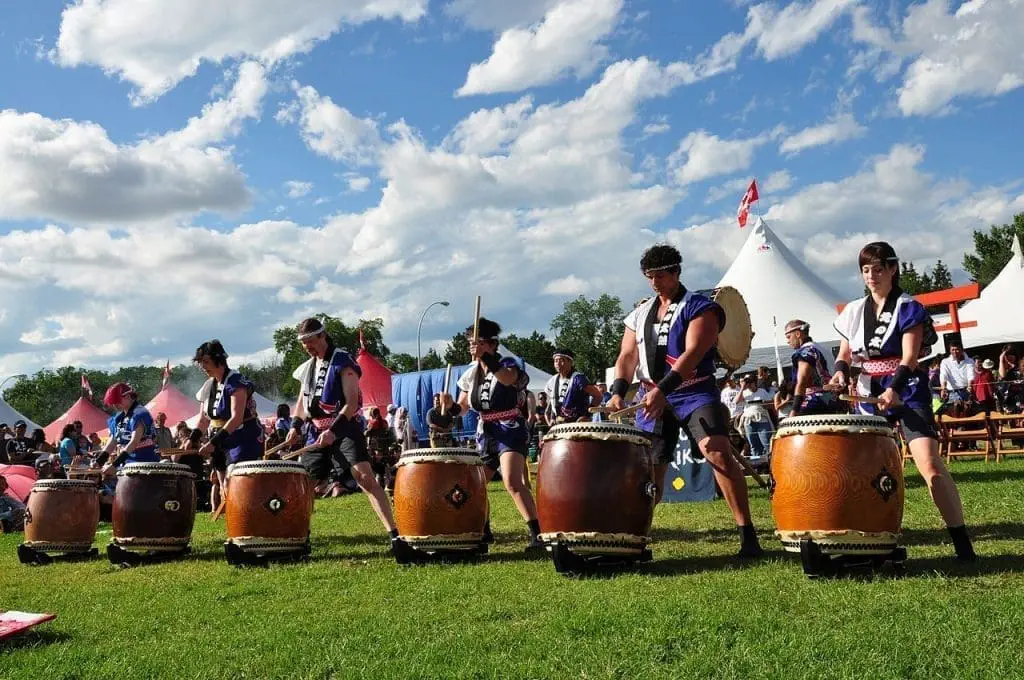 Theatre (or indoor) stages had their beauty. Acts mesmerized with performances on the history of music, fantastic prose-poetry by David Cale, – The Redthroats.
And a play called The Noose by The DuoPsyche Productions throws light on suicide and mental health awareness, which was a great move considering the stigma around the same during the 90s.
1994, themed Frakenfringe, was another unique year for Edmonton's Fringe. The theme focused on several issues and social causes, with performances revolving around the same and creating awareness among viewers.
The Dungeon Masters Handbook by Robert Maffott revolved around a young man trapped in fantasy and illusion due to domestic abuse and violence.
Unbroken, by Kate Connell and John Patrick Shanley, was on their journey of Love. Acts talked about women empowerment, sex, drugs, art, society, and groove music of their times.
By 1994, there were 150 theatre companies, 50 venues, and around 1000 volunteers. Close to 450,000 people gathered to witness the festival. High time actors, directors, playwrights and improve artists came out to showcase what they have within!
Fringe in the 2000s – More Artists and Better Stages, The Show Goes Global saw an average of 45,000 viewers for indoor stages. Which included comedy, operetta, plays, and a variety of other performances.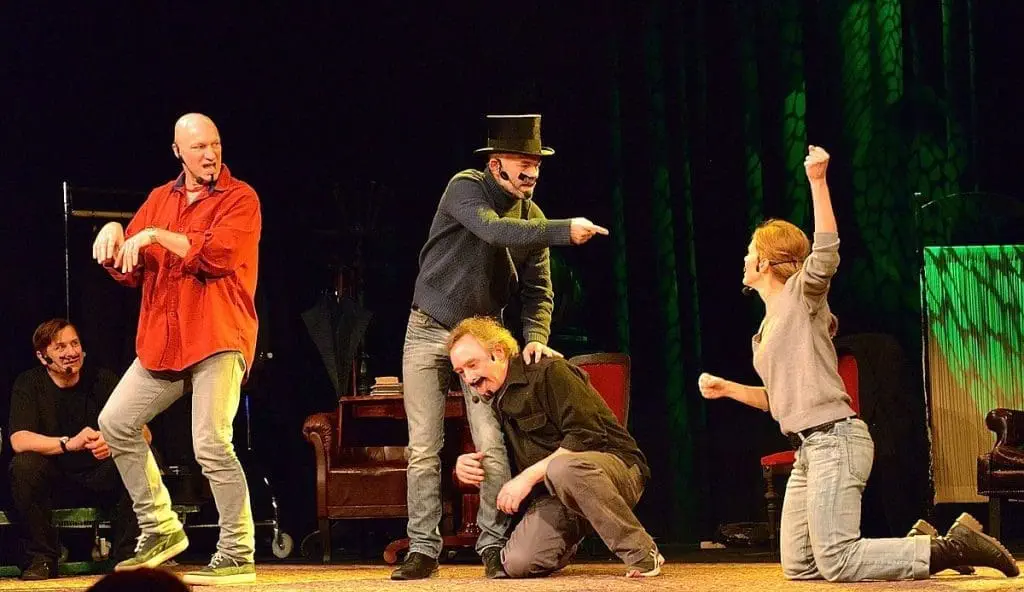 Actors from different parts of the world showed up to witness this visual treat, and claimed Edmonton Fringe to be a place 'that brought humanity together.'
Ken Brown, writer, director, and actor, hosted the most number of shows from 1984 to the early 2000s. His most successful play being Life after Hockey that was performed more than 1,200 times.
Edmonton Fringe Theatre festival is known for its creative themes each year. For example, Fringe Daze of 1988, 14 Karat Fringe of 1995, Planet of the Fringe in 1997, Attack of the Killer Fringe of 2003, Fringe Polis in 2011, Fringed and Confused in 2014, Fringe-O-Saurus Rex of 2018, and so many well-thought themes.
Each theme tried to bring out specific issues, ranging from horror and mystery to women, technology, love, and culture.
Venues and theatres increased and more artists started coming up with any sort of talent they held to surprise the public.
Fringe gave a stage for anyone and everyone around Alberta to try their luck in Fringe – you win the lottery, you perform.
While a lot of artists could only perform once in all these years, several acts and theatre companies grew popular and successful even outside the Fringe stages. They also got a chance to repeat their performances in the Fringe theatres and keep the legacy on.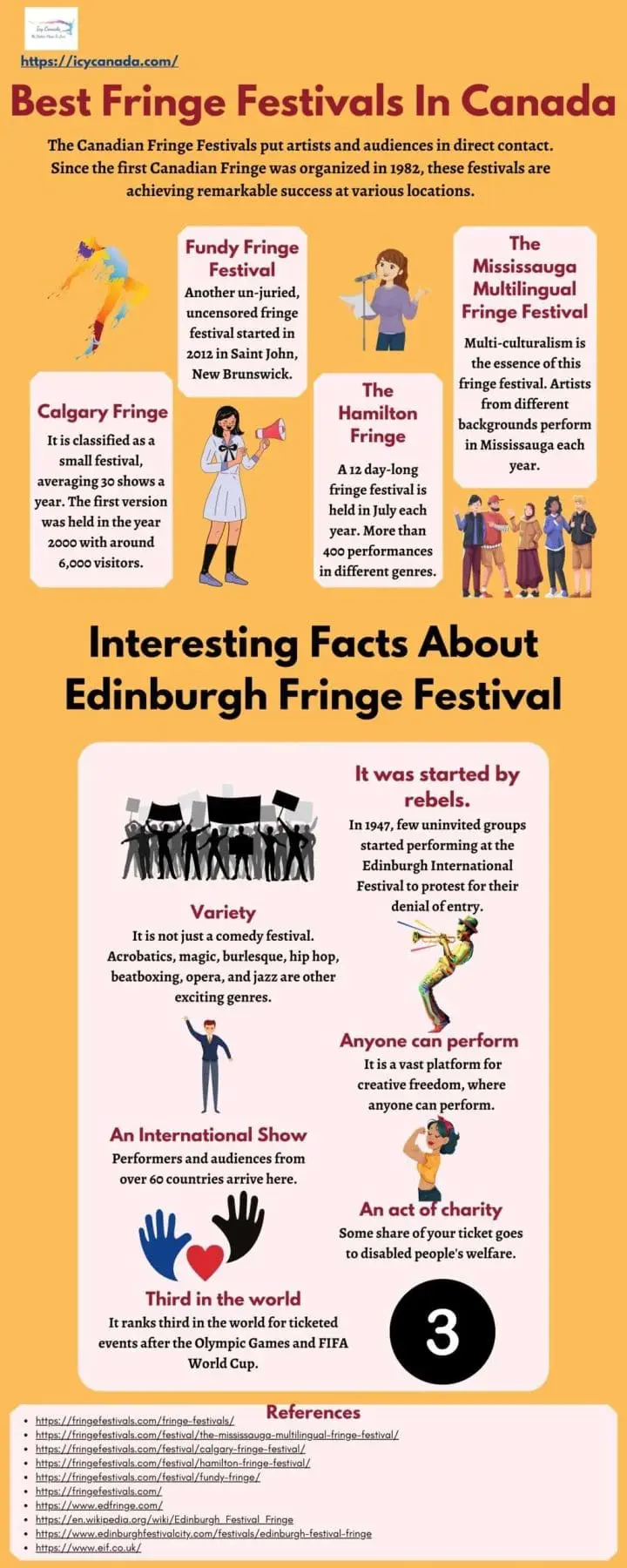 The Edmonton festival celebrated 25 years in the year 2007. Acts covered themes of all the previous years and highlighted the beauty of Edmonton's spectacular festival.
Themed 'Live and Let Live,' 2007 saw 600 artists perform in 21 different venues. By 2009, there was an influx of more than 550,000 viewers.
Here is a short video showing the Fringe culture – both indoor and outdoor acts of 2009 –
Fringe after 2010 – A Boost in Box Office Collections
As the Fringe started getting bigger, the early 2010s saw more than 750,000 attendees, with more than 115,000 buying tickets for indoor shows.
There was no looking back after 2010. The numbers only kept increasing. Several newsletters and articles started including the Fringe Festival as one of the top reasons to visit Canada or Alberta.
Mid-August is a wonderful time to be in Canada and the Edmonton Fringe Festival could only add up to one of the many reasons to do so. The shows are magical, and the ultimate Canadian vibe is everything you want to experience.
2012 saw more than 1,800 performances across 11 days. People showed up in massive numbers to be a part of it. Watch a traveler explain and show more about Edmonton's Fringe of 2012 –
The modern era also came with several controversies and mishaps during the Fringe stages. Small mistakes like untimely curtain fall, technical difficulties, and misunderstandings led to people calling out the authenticity of the fest.
People went to the extent of calling outperformers for putting out 'a bad show,' and that the fest should rather invite talented artists instead of 'noobs' who can't entertain the audience well.
Despite mixed public opinions and general obstacles to the festival, Edmonton's Fringe pulled off the acts very well. A mix of operas, musicals, mime shows, concerts, movie reviews, street acts, and beautiful dance performances.
Edmonton Fringe Festival also has a 'Kids' Fringe' section that specifically keeps the young entertained and joyful throughout the fest days.
2017 was another successful year for Edmonton. Get a glimpse of what the street performances looked like!
Indoor shows saw more than 200 shows across theatres. A few very prominent ones are Off Book: the Musical by Rapid Fire Theatre, which is frequently performed in the Fringe.
Letters to the West 113th, by Mentalist Jeff Newman, and Falling Awake by Nayana Fielkov and Matthew McCorkle, a witty comic act portraying dreams, love, and people elegantly.
MAN UP! Has Daddy Issues was a very special Cabaret which questioned patriarchy, misogyny, and the society's mainly masculine norms.
Canada takes pride in its equal marriage laws – Bash'd!: A Gay Rap Opera, was a beautiful drama which showed two men falling in love amidst the societal stigma, and promising to get through it together.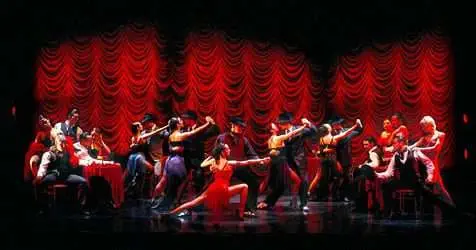 Edmonton Fringe Festival is unique in a way that it indirectly calls out the society, its norms, the people, and their beliefs in the most creative manner possible – exactly what people need to get more aware of – in the form of entertainment.
2019's Fringe, held very recently, was themed Where the Wild Things Fringe. The streets gathered close to 848,263 visitors, and total box office revenue of $1.72 million.
More than 147,000 people bought tickets for a total of 258 indoor stages. Shows are generally priced between $10 and $16, including the service fee.
Check out this short clip of Edmonton Fringe Festival of 2019 below, to get an idea of what has changed over the years:
With popularity also comes a lot of pressure. The Edmonton Fringe Festival, which is now global, attracts international attention – including artists, writers as well as media.
Acts are expected to be put out in a more professional and organized manner for the audience.
If you are planning to visit Alberta any time in the future, plan around mid-August because the Edmonton International Fringe Festival is all the more reasons you need to be here!
While you are it, make sure you don't miss out on another beautiful and welcoming city – Calgary.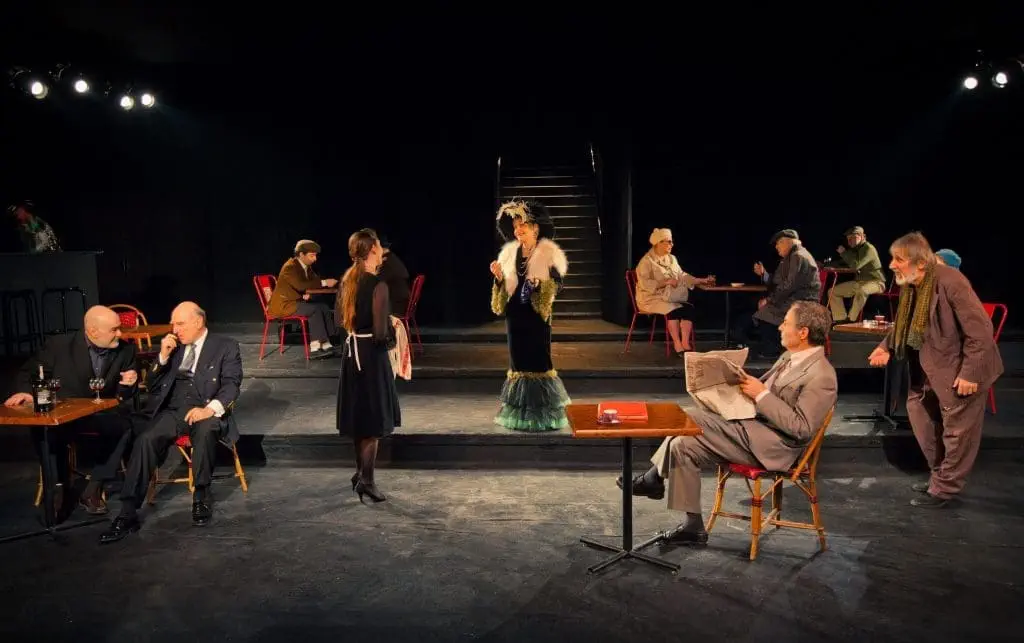 For the first and only time since it was held, the 2020 Edmonton International Fringe Festival, scheduled for August 13 to 23, 2020 was canceled due to the COVID-19 pandemic.
But that is alright! Brace yourselves for the upcoming years, and in the meantime, make sure you check out videos of previous years.
The Edmonton Fringe Festival also comes with a Festival Guide every year which is available online. Check it out to know more about various themes, artists, and acts.