Canada is, by far, one of the most popular countries to visit. No travel enthusiast would want to miss out on this land full of treasures worth exploring and experiencing.
Every country comes with its beauty, and Canada is no different. From stunning lakes and stretches of the Canadian Rocky Mountains to beautiful scenery, eye-catching architecture, and unique culture, Canada has it all.
Reasons To Visit The Charming Country – Canada
If Canada is not on your bucket list yet, here is a list of the top 25 reasons to visit Canada.
1. Get Enchanted by the Mesmerizing Lakes of Canada
The first and best reason for the 25 reasons to visit Canada would be Canada's enticing lakes.
Dividing the U.S. and Canada, Lake Huron is one of the largest freshwater lakes. The shoreline is a popular travel spot with its sandy beach and calm vibes.
Lake Superior is the most superior when it comes to the number of shipwrecks it had seen. It still is, no doubt, a beautiful watch, and a place to visit.
A must-visit would be Lake Ontario, as it stands right below Niagara Falls. You can see several small islands on this lake and the lake entices you with its pretty shoreline.
As you move to the national parks and Rocky Mountains of Canada, you will find the Emerald Lake, with its magnificent emerald green water – a treat to the eyes.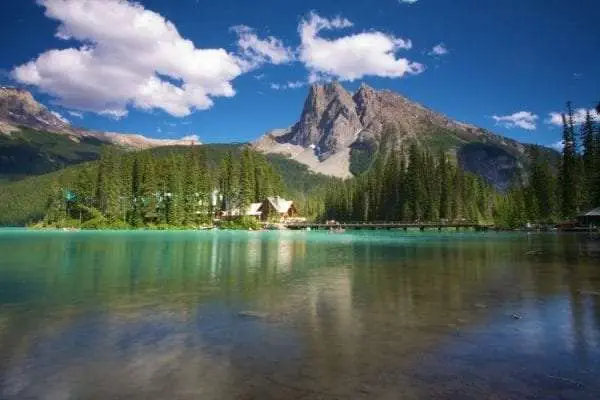 The list of lakes would continue as you move across the country. You would come across Moraine Lake, Lake Louise, Abraham Lake in Alberta, and so many more. I mean, you do not want to miss out on such a calming and mesmerizing experience.
2. Remark Canada's Wildlife Species
If you are a wildlife enthusiast, are curious about rare and endangered species, or well just want to spot animals in the wild, Canada stands right there with its unique range of animal species.
There are many National Parks that we'll come to later, in Canada. You can encounter Bison herds in Edmonton, Wood Buffalo National Park, and the Prince Albert National Park.
Grizzly Bears hold great significance in Canada. With long thick hair all over their bodies and sharp claws, they are one of the most sought-after wild creatures.  Canada provides Bear and Wildlife watching in different national parks. The most significant number of bears exist near British Columbia in the Knight Inlet Lodge.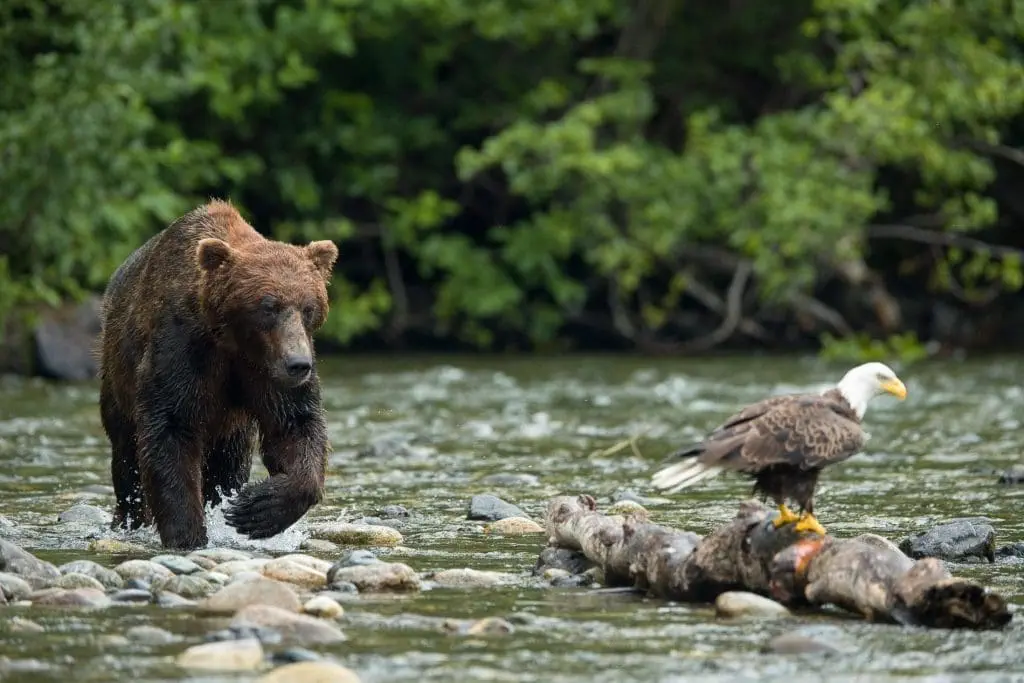 Other iconic species include Moose, very widely spotted in the forests of Canada. You can also find reindeer, or Caribous to be specific, near St. Lawrence. Let bears top the list of 25 reasons to visit Canada.
Grab your chance and go animal-watching in Canada!
3. Hop across National Parks
WorldAtlas 2017-18 has listed the top 3 most famous National Parks ranked by the number of visitors.
Jasper National Park, Alberta
Located along the eastern slopes, Jasper National Park is a must if you want to see a galore of species. You can enjoy nature and take part in adventurous activities while watching reindeer, bears, and elks. Jasper is a beautiful place to be and feel the environment around you.
Banff National Park, Alberta
Banff is one of the world's best and oldest national parks, as it comes with its beautiful snow-capped peaks, forests, lakes, fantastic sceneries, and a plethora of outdoor activities you will enjoy. Unite with greenery and feel the wind. The park also facilitates wineries, hotels, and resorts where you can sit back and relax.
Pacific Rim National Park Reserve, British Columbia
The park is located on Vancouver Island and overlooks sandy beaches and dense rainforests. You can experience the beautiful aquatic world here. It also facilitates kayaking in the waters, surfing, hiking, and witnessing some of the best island groups and bays.
There are many national parks across Canada – Yoho National Park in British Columbia, Thousand Islands National Park in Ontario, and The Saguenay–St. Lawrence Marine Park in Quebec and the Elk Island in Alberta.
4. Let the Magnificent Niagara Falls Entice You
Niagara Falls should be your top priority if you wish to visit Canada. As the three falls combine to create the most magnificent waterfall in the world, the view is divine. You would not want to take your eyes off this beauty.
A visit to these Falls opens the doors to several activities and full-on entertainment. Authentic restaurants, music shows, and festivals are on almost all 'round the year.
Of the 25 reasons to visit Canada, make sure you don't miss out on this one.
5. Take a Trip Around the Rocky Mountains
The Canadian Rockies encompass most of the national parks, lakes, and sites. You can base your entire trip around the Rocky Mountains and take off to close cities, attractions, and tourist spots. The ambience around is graceful and airy.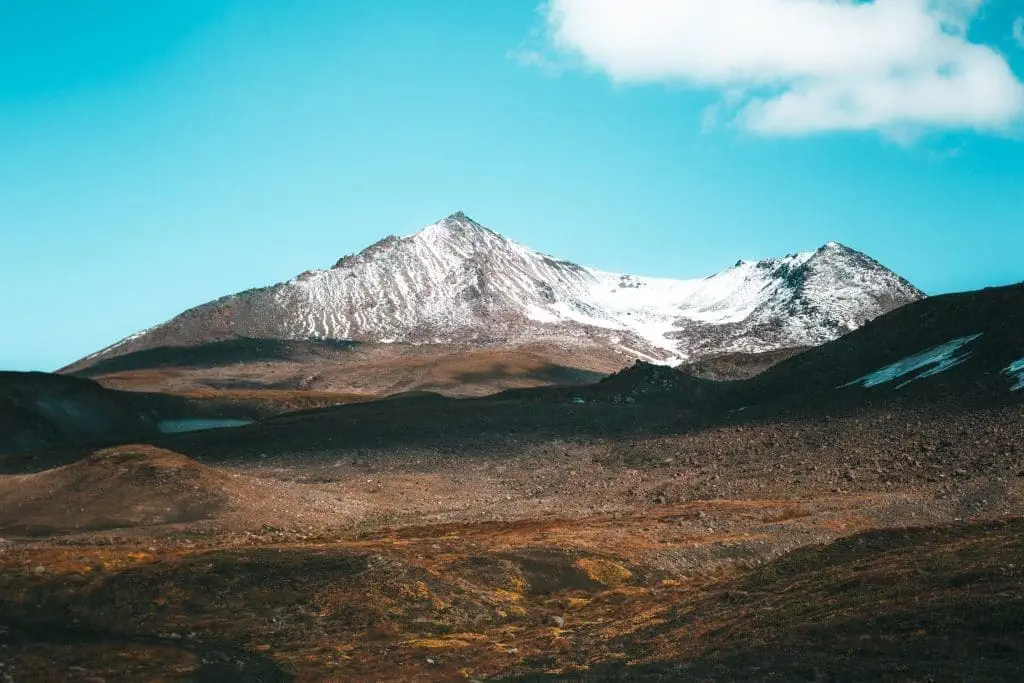 6. Live the Glacier Skywalk Experience
The Glacier Skywalk is supposedly one of the first and most unique interventions of its kind in the ecosystem. Experience nature first-hand as you walk across a cliff-edge glass floor. Feel the glaciers. Feel the valleys and ice-capped mountains that surround you as you keep walking. It is an unforgettable experience.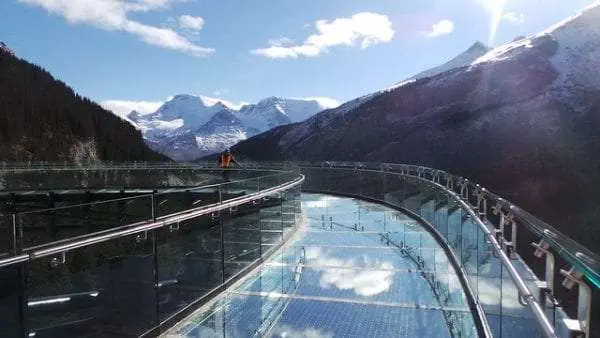 7. Go Whale -Watching
Whale-watching is undeniably the best thing you can do in Canada. There is a flood of opportunities to go whale-watching. The most sought whale-watching destinations are Newfoundland, British Columbia, Quebec, and Nova Scotia.
In Quebec, you can watch Belugas, Humpbacks, and minkies. If you are lucky enough, you'll come across the blue whale and the fin whale too. The sight is absolute eye candy.
If you want to watch Killer whales, there is no better place than British Columbia, as it has the highest population of killer whales.
In Newfoundland and New Brunswick, you can spot several whale species – minkes, humpbacks, belugas, and blue whales!
Just 25 reasons to visit Canada are too less to appreciate the beauty Canada holds.
8. Experience the Northern Lights
Put this on the top of your list of 25 reasons to visit Canada. We have all, at least once in our life, wanted to experience the Aurora Borealis.
A visit to Canada would, for sure, up your chances to experience the Northern Lights. The months between September and February are the best to see them in real life. There are many cities and areas in Canada to see the Northern Lights –
Yellowknife is by far the best place to see the Northern Lights. It falls under the Auroral Zone, where Auroras have the most unobstructed views.
You can watch them in Lake Superior in Ontario, as it gives way to a majestic view of these lights.
Yukon is one of the very few places that aid a clear eyeshot of the Northern Lights because of its dark nights.
They're also clearly visible around the Canadian Rockies, Churchill, Yoho National Park, and the Banff National Park in Alberta.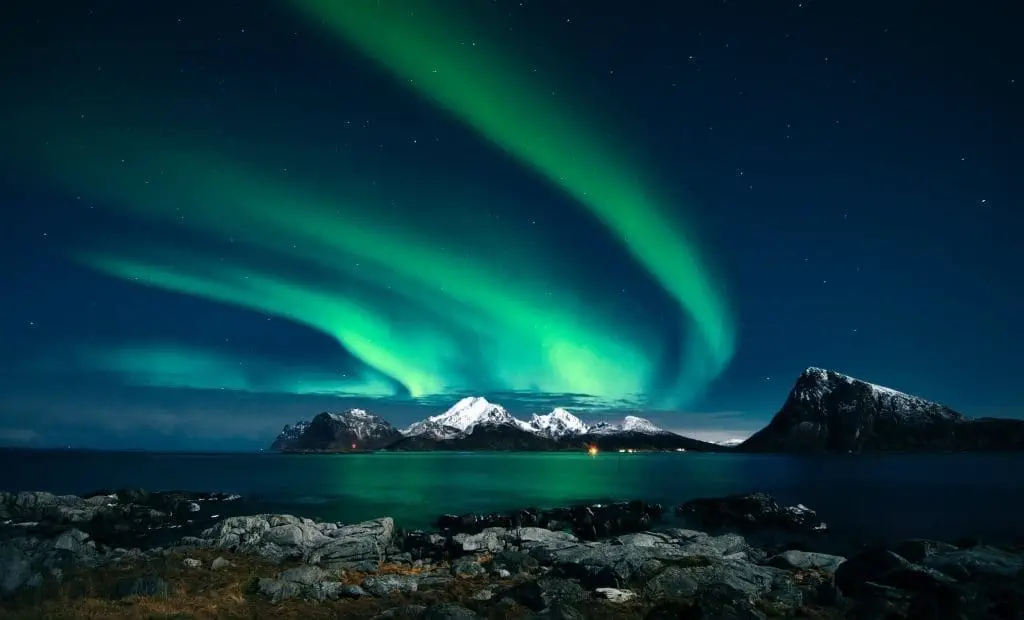 9. Travel Across Canada by Road and Train
The best way to travel across Canada is by rail and self-drive. Nothing beats the joy of city hopping as you explore places on your own. As you move from one town to another, the Canadian railway covers forests, meadows, lakes, the Rockies, and beautiful sceneries.
A road trip can get you to view all kinds of architecture, buildings, museums, and the local beauty Canada holds. Rail and road travel will also cost you much less than air travel from one city to another.
Watch as buildings of the 60s, people, and the essence of each city fall behind you as you take off to another destination on wheels.
10. Engage in Outdoor Activities
Canada is known for its myriad of fun activities. A visit to Canada would fuel the hotdog in you as you would want to jump from one adventurous activity to another.
Whistler is known for the scope it provides in skiing, as travellers from all over the world drop by to boost their adrenaline gush.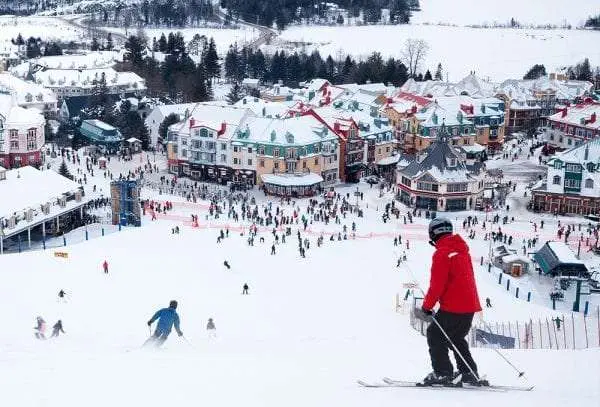 Hikers take to the East Coast of Canada, around British Columbia, for trekking. Trek lovers plan their hikes and set up their camps amidst the green. Though conditions might get harsh as the altitude of the trek increases, a well-informed and well-prepared trip would never disappoint. Try to avoid polar bears, though!
Whistler also takes pride in Bungee Jumping. Overlooking the Cheakamus River, you must try Bungee if you want to take a huge jump right into its picturesque blessing.
The best way to go whale-watching is Kayaking with the whales! You do not want to miss out on this brilliant opportunity. Observe and be a part of the aquatic beauty. Make sure you add Kayaking to your top 25 reasons to visit Canada.
11. Enjoy the Uniqueness of Every Season
No season is the wrong season to plan a trip to Canada. Canadians experience winter, spring, summer, and autumn, and every season comes with its charm and opportunities for entertainment and tours.
The best time to visit would be around summer, as the city blooms with activities and festivals you would enjoy. If you have time on your hands, you might as well be a part of the Pride March in June and get tickets to the Montreal Jazz Festival, an opportunity to listen to some of the best artists around the globe.
Unleash the adventurer in you and visit Canada during winter. Experience the enchanting Aurora Borealis, go hiking with polar bears, and celebrate Christmas and New Year's with locals.
Winters are delightful in Canada. Go all prepared for skiing, skating, and your icy interests.
Spring is generally the best season for a Canada trip if you want to cut down on your expenses. Canada has mesmerizing views of blossoming flowers and colourful trees.
Accommodation, tourist attractions, and inter-city travel are generally priced lower during this season. So plan your budget and have a memorable trip.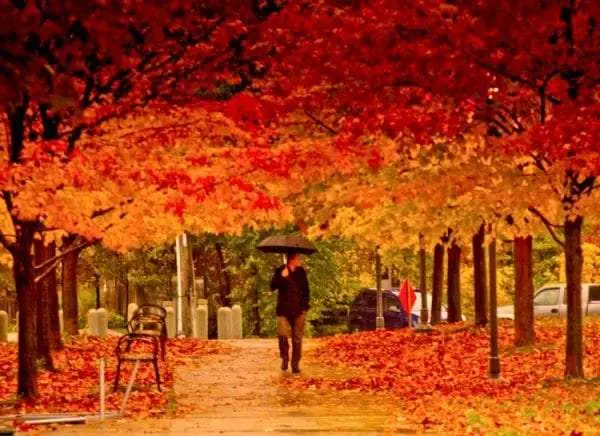 We all love autumn. The raw, brown, and dry leaves all over the roads, vintage feels, and a splash of colours in the yellow spectrum are alluring.
The best way to spend time in Canada during autumn is to stroll in parks and forests, take in the breathtaking view of nature, and enjoy the scenery.
Autumn also brings in several festivals – Niagara Grape and Wine Festival in St. Catherines, The Waterloo Oktoberfest, Tremblant Symphony of Colors in Quebec, and countless other colourful events.
12. Canada Falls on the Affordable Side
If you're in for spending on a country, let it be Canada. Though Canada might come off as an expensive destination, especially with the number of cities, attractions, and activities it facilitates, a little check on your budget would be worth it.
Once you are in Canada, all you need to do is count on trains, buses, and cars for inter-city travel. Take my word on this; they are quite cheap and would fit your expenses.
Take a Megabus and go all across this vast country with so much to offer. Many cities allow the renting of hostels, so you don't need to worry about an expensive stay.
Locals are friendly and would help you out with cheap modes of transport and expert advice. Choose your travel package wisely and let your journey unfold with no stressing over your budget.
13. Get Familiar with Canadian Culture and Traditions
Culture, traditions, and basic etiquette vary from one country to another. Canada takes pride in being a multicultural nation and is home to quite a lot of ethnicity.
The official languages in Canada are English and French, considering the history of French and European influence on the country. People come from all backgrounds and nations, making the country diverse with populations majorly from Spain, Germany, Italy, China, and Punjab.
I did not put it under the 25 reasons to visit Canada with no purpose. Canada's diverse and multicultural societies have a beauty of their own.
14. Behold the Architectural Beauty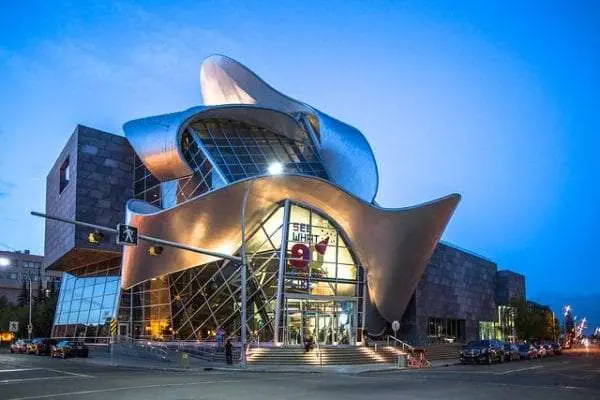 Canada is precious when it comes to architecture, history, and museums. You will come across some of the best-designed monuments and structures. A few hand-picked ones are –
Museum of Anthropology at the University of British Columbia – the building stands as a unique work of art constructed in 1976, with an excellent mixture of concrete and timber. The museum is beautiful both inside and out, as you can explore and gain knowledge about human society as you step inside.
The Marine Building in Vancouver brings out Canada's aquatic charisma, as it stands 21 stories high, crafted with seaweed, various fish species, seahorses, and aquatic animals.
Habitat 67 in Montreal has a distinctive touch of Japanese architecture. You can see an interconnection of 354 boxes, the essence of which the St. Lawrence River brings out.
Absolute World in Mississauga is an eye-catching twin tower. They gained popularity due to their curves and were named the 'Marilyn Monroe buildings'!
Other famous architectural attractions would include the Royal Canadian Mint in Winnipeg, its triangular design, and mirrored glass that reflect Canadian currency.
The Canadian Museum for Human Rights is another majestic piece located in the heart of Canada. The Quebec City Castle was built in the 80s.
Surrounded by greenery, it could be the best place where you can spend time. We could get another 25 reasons to visit Canada focusing only on its architecture.
15. Enjoy Canada's Theater and Literature
Canada has a rich history of theatre and art. If you are in for a literature tour, Canada holds scores of events, festivals, and musicals that celebrate Canadian theatre and history.
Across summer, you can find affordable theatres in different cities you would enjoy sitting through and experiencing. Some of the most well-received and popular ones would be the Fringe Festival in Edmonton, Stratford Festival in Ontario, and Shakespeare by the Sea.
You should not miss out on Toronto's Elgin and Winter Garden Theater, known for being the only double-Decker theatre in the world.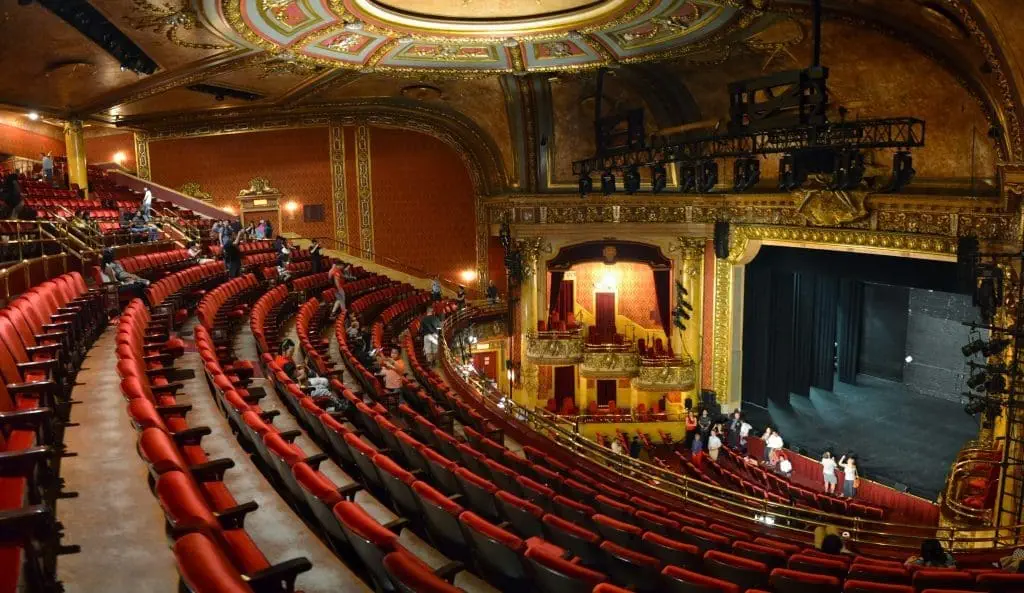 Grab your tickets to these world-renowned musicals and theatres as you acknowledge and thrive for literature.
16. Explore the Country's French Heritage
Canada is very well-known for its history of French heritage it holds. Several attractions in Canada depict French architecture, and a significant percentage of internationals in Canada are French. It is also one of the two official languages spoken in Canada, along with English.
The French built forts and monuments across various cities in the 17th century, mainly for defence and pursuing Catholic practices. French and British influence in Canada is for sure one of the top 25 reasons to visit Canada.
Quebec was founded in 1608, and Notre-Dame-de-Quebec in 1647. Quebec is known for being the only fortified city on the entire continent. It is full of archives and muniments that outline French settling.
17. Be a Part of Events and Festivals
Probably the best out of all the 25 reasons to visit Canada is the festive aura all year. Canada takes pride in being accommodating of multiple cultures, so you will never fall short of festivals or miss the festive season.
From Christmas Eve to Jewish festivals and Spanish traditions, Canada celebrates them all.
Montreal Jazz festival is one of the most sought-after festivals during summer. It is a ten-day-long festival inviting artists from all over the world.
Thousands of people from around the globe gather to be a part of the enthusiastic and majestic performances.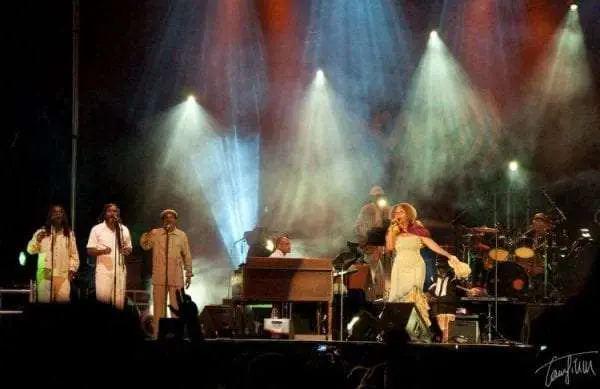 The Canadian National Exhibition or The Ex runs for 18 days straight, exhibiting developments and inventions in science and technology, and showcasing Canada's diverse and vibrant culture.
Experience and be a part of the world's prettiest fireworks at The Montreal Fireworks Festival. La Ronde, located across the Dolphins Lake, hosts the festival.
The fireworks are pitched in by some global industry leaders as a part of the fireworks competition. Do not miss out on witnessing the brightest and most colourful lights as they cover the skies.
A similar fireworks show would be The Celebration of Light around end-July. Other notable festivals include Winterlude Festival with competitions and fun on the ice and the Just for Laughs Festival which celebrates international comics.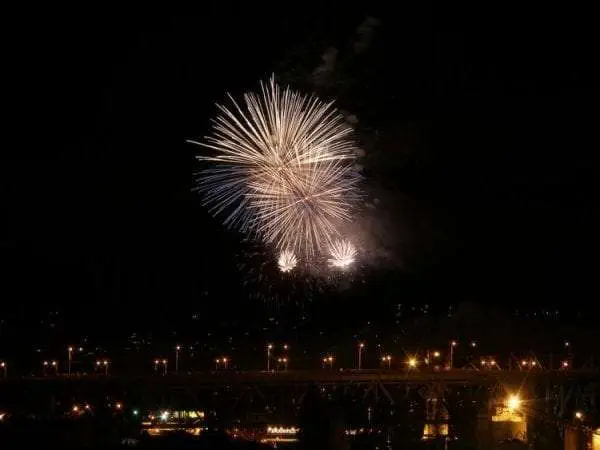 18. Canada Is the Safest Country You Could Be In!
Canada is the second safest country in the world after Switzerland. Surrounded by nature's beauty and some of the best cuisine to offer, your visit to Canada would be worth it.
If you wish to travel across a country without continuously having to worry about getting lost, assaulted, bribed, scammed, or robbed, this is it – your ideal country.
This is the main, and most important of all the 25 reasons to visit Canada.
19. Have a Go at Ice Hockey
Ice Hockey is the most popular sport in Canada. With national-level players, moves, and games that would blow your mind, Canada takes the top position in this field.
There are also quite a few tourist attractions, adventure parks, and events where you can give a shot at Ice Hockey. If you are a sports enthusiast, let Ice Hockey top this list of 25 reasons to visit Canada.
Other well-known sports you would come across while in Canada would be Lacrosse, Soccer, and Baseball. You might join the locals as they play and have fun.
20. Try Traditional Cuisine
If not food, I don't know what better could come under the top 25 reasons to visit Canada.
Poutine comes as a mixture of French and Canadian culture. This popular dish includes crispy fries with cream cheese and delicious gravy over it. Quite mouth-watering, right? It is available in almost all food joints across the country and differs in each one depending on what ingredients you want to come with.
Another tooth-some Canadian food item would be Tourtière, a pie filled with beef, spices, pork, fish, and meat. Tourtière is a dish people eat during the festive seasons, especially Christmas and New Year's Eve.
We all know that Canada is famous for its Maple. Food joints all over the country take expertise in presenting dishes and snacks rich in Maple Syrup.
The Maple syrup season falls between February and April. Visit maple farms and meadows where farmers extract the maple syrup and enjoy its beauty.
21. Taste Canadian Wine
Canada's wine industry is on the rise with an increase in the production of good quality wine. If you are a wine enthusiast, Canadian cities have a lot in store for you. Canada is primarily known for its icewines.
As you travel across the cities, you can drop by Ontario's Redstone Winery and Inniskillin Wines, Burrowing Owl in British Columbia, and local wineries around Niagara. As a wine lover myself, this can't be included in the top 25 reasons to visit Canada!
22. Spend Time in Toronto
Toronto is full of life and energy. The roads behold scenic beauty with trees lined up on each side and greenery all around. Summers and springs bring in colourful flowers that add to the beauty of the city.
As the sun sets, the city roars with events and festivals. You can hop across midnight clubs and movie theatres, or spend time in parks amidst the green.
Toronto is a city everyone needs to touch at least once in their lifetime. Toronto, undoubtedly, would fall into the list of 25 reasons to visit Canada.
23. Take a Break at Vancouver Island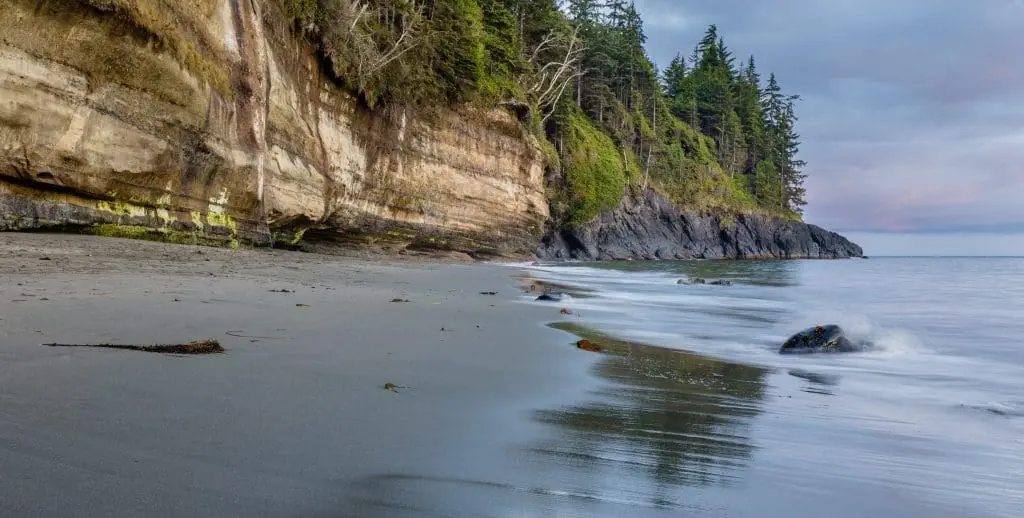 Vancouver is a great city itself with so many places to be and see. Vancouver Island will be your best choice if you want to recharge and take a break from the hustle-bustle of every day.
Surrounded by lakes, glaciers, and waterfalls, the island will make you feel one with the earth. Let the water play with your feet as you relax on sandy beaches and enjoy country vibes. There is a lot more to Vancouver than adding to the list of 25 reasons to visit Canada.
24. Visit the Capital City of Ottawa
As we reach the bottom of the 25 reasons to visit Canada, let's not forget Ottawa. The capital city has a lot to offer. Like any other city, Ottawa is busy with life as people move along the town's liveliness.
It is calming with all the museums and gardens around. Spend time in Ottawa, walk in the lush gardens, taste different types of Poutine, and fall in love with the Ottawa River. While you are here, drop by the Parliament Building too.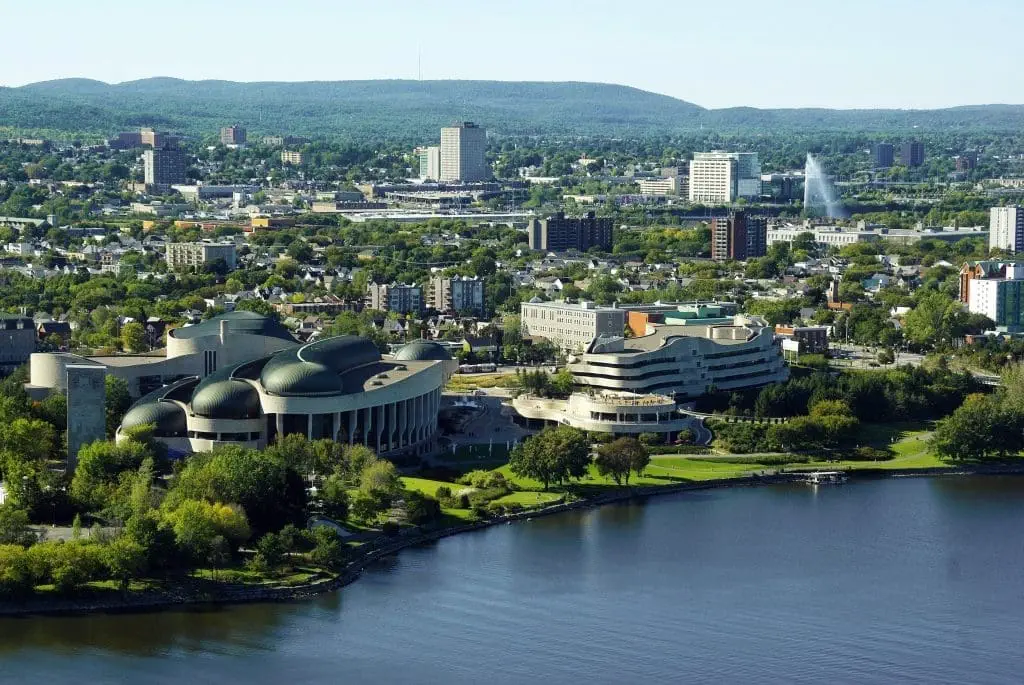 25. Friendly Locals
The best one of the 25 reasons to visit Canada is the friendly and warm locals. Canadian cities are pretty laid-back and accommodate diverse cultures, so you would not have a hard time visiting attractions, finding affordable lodgings and local food stalls, and enjoying each city's essence.
Locals are the ones who would aid the top 25 reasons to visit Canada and make it memorable.
Canada is a welcoming country budding with scenic beauty, and activities lined up for you. If these 25 reasons to visit Canada get you excited, plan a trip post-pandemic and pack your bags! Are you in yet?
Suggested Read: 
Amazing Facts About 5 Highest Mountains in Canada!
The 15 Best Comic Stores in Toronto To Watch Out For
Conclusion
The huge peaks and expansive glacier vistas that come to mind when most people think of Canada are undoubtedly there. The first thing you should realise is that Canada is a very large and diverse country when you go there.
Visit Ottawa, the capital of Canada. There are other attractions, such as the Rideau Canal, the Canadian Museum of Nature, the Canadian War Museum, and the Canada Aviation and Space Museum.
That's all there is to it. Venture forth and discover!
Click here to read more.