Looking for a pleasant getaway for a day, Montmorency falls your best escape. And here we've got a ready guide to help you explore the best destinations Montmorency Falls has to offer!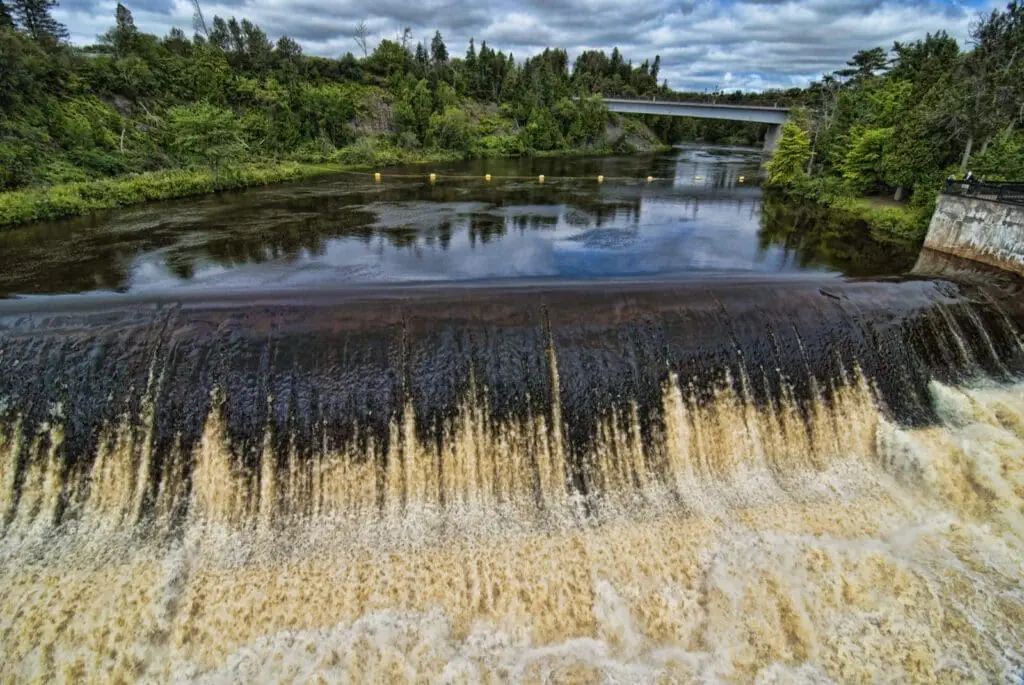 Montmorency is a waterfall located on Montmorency River, Quebec, Canada, from where it falls over a cliff into Saint Lawrence River. Montmorency falls lies in the center of Montmorency falls park, also known as Parc de la Chute-Montmorency. It is 12km from Old Quebec City. The Montmorency falls were named by Quebec City's founder, Samuel de Champlain, in honor of his patron Duke of Damville, Charles de Montmorency-Damville, Admiral of France, and Brittany.
Montmorency Falls is 83m tall, which is higher than Niagara Falls by 30m. Often Montmorency falls can be seen as a single waterfall falling over a cliff, but a fact not known to many is that it is a fall made up of three waterfalls. The largest and most attractive one is visible to us and has Montmorency falls park built around it. The other two are rarely visible in pictures. One of the three waterfalls is natural, and the other two are manufactured by an old hydroelectric power station more precisely.
Some believe the Falls to be haunted. History says that two young lovers Mathilde and Louis, were supposed to get married in July 1759. But few days before the wedding, the British began an attack near the falls. Louis was a member of Colonial militia and hence fought the battle and was killed. Grieve-stricken Mathilde wore her wedding gown and jumped over the falls. If the rumors are believed, a white figure can be seen throwing herself into the falls even today.
1. MONTMORENCY FALLS VIEWPOINTS
There are many options one can choose from to view the Montmorency falls. Visitors can either walk up a staircase or take a cable car to and fro. For the adrenaline junkies, the park offers a combination of hiking and rock climbing to the top of the falls. For level people, a 300m double zipline has been set up.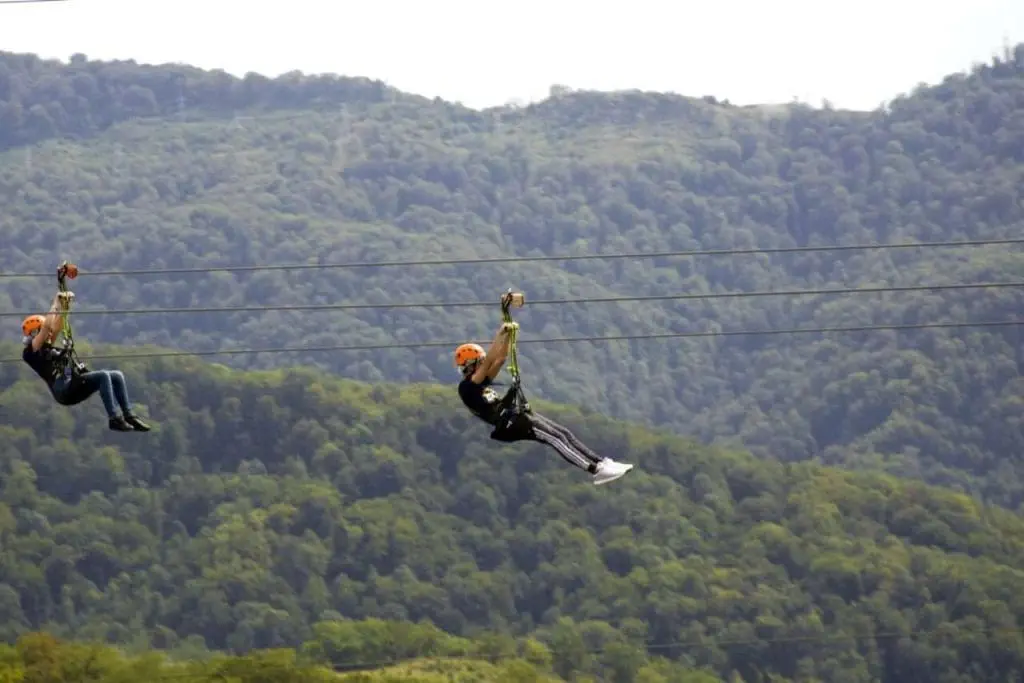 1.1 STAIRCASE
Visitors have to climb up the 487-step staircase to the cliffside to the top of the falls. Many viewpoints on the panned staircase offer a truly delightful view of the Montmorency Falls. Appreciate the small mists of water spraying on your face from the falls. Once you reach the top, make your way to the suspension bridge, which gives a birds-eye view of the falls falling into the Saint Lawrence River.
1.2 CABLE-CAR
Cable cars start from the parking lot below and move up to the spot beside the falls. Visitors can move up and down the cable cars or take a car up and walk themselves down. From the terminal, walk towards the suspension bridge and listen to the peaceful sound of the water below you and let it take over your thoughts, and watch yourself healing.
An up and down trip takes C$13 for adults and C$7 for kids aged 6-17.
1.3 FERRATA CIRCUITS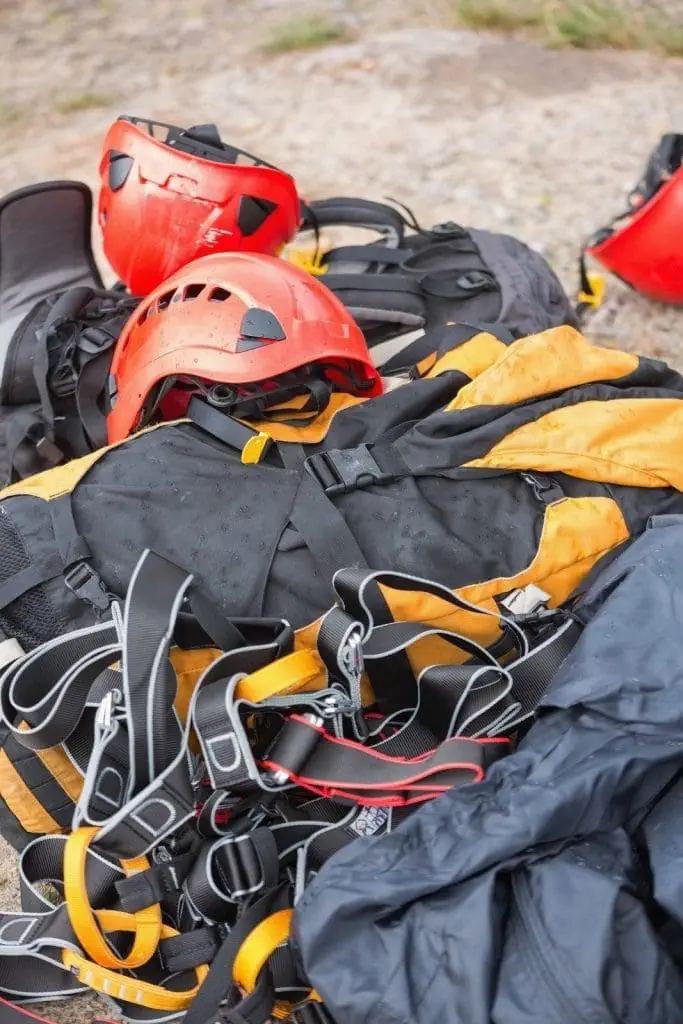 To take a more magnificent view of the falls, visitors can choose a path that involves a combination of both hiking and rock climbing. These routes are known as Via Ferrata. This route is differently designed for different age groups.
Explorateur- This route is for beginners aged eight years and above. It spreads for 200m and takes about 2 hours to complete.
Torrent de Montmorency- An intermediate-level route designed for ages 12 and up. It spans a distance of 260m and takes about 2 hours 30min.
Ascension Tyro 120- This route involves a zip line for 120m and 130m via Ferrata. An intermediate level route designed for ages 14 and above, which takes about 2 hours 15min to complete.
Professional guides safely lead all these routes. Fees range from C$18 – C$48.
Climbing or moving up by any route, everyone is sure to pay a visit to Montmorency Villa. It offers good food with a great view.  Inside, one can find an Interpretation center, A gift shop, dairy bar, cafe, and a restaurant.
2. SEASONS AT THE MONTMORENCY FALLS
In Autumn, the leaves in the park change their color and contribute to the vibrant yet exotic visual of the Montmorency Falls. This season is most preferred for little hiking up the cliff to the top of the falls. If you are madly in love with taking pictures for the gram, this season will work the best for you.
In summer, The falls glow in yellow color due to the high iron content in its water. If you choose to climb the stairs, refresh yourself with the water spray on your face from the water falling into the river. Every year in Summer, the park hosts International Fireworks Competition which uses the falls as a backdrop.
Winters offer a completely different yet breathtaking view of the falls. The water stops flowing, and the freezing temperature turns the water into a mountain of ice. Water mist forms beautiful ice formations, which is a sight to behold. Hiking and rock climbing will be closed for the season, but you can climb the ice walls if you are an experienced ice climber. For this, visitors have to book a slot before their visit. Visitors can also take a walk around the park, indulge themselves in sleigh rides and tobogganing.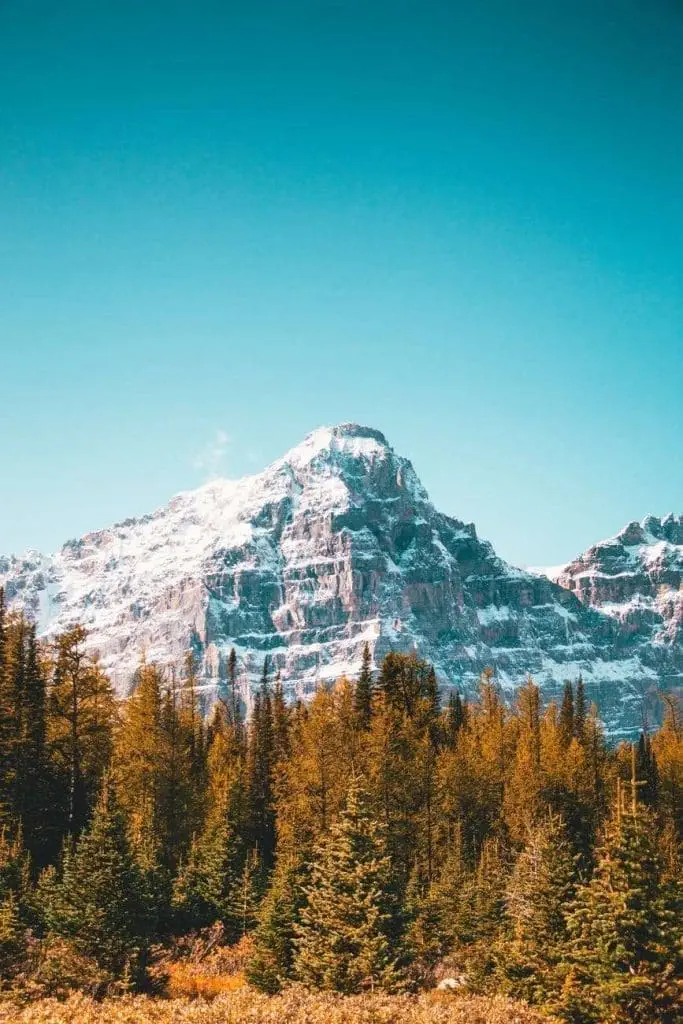 The spray in winter freezes and forms on cliffs and foot of the falls; this formation is popularly known as 'Sugar Loaf.'
3. HOW TO GET TO THE MONTMORENCY FALLS
A. CAR-
Drive out of Quebec city towards the east and take Autoroute 440. Then keep an eye for exit 325 for the Montmorency falls.
B. BY BUS-
Take bus 800 from Hotel Park Royale to Royale /des Rapides. Once you reach there, take a walk for about 5 min to the waterfalls.
C. BY TRAIN-
Board Train of Le Massif de Charlevoix, which transports passengers from Quebec city to the Montmorency Falls.
ADDRESS –
5300 boulevard Sainte-Anne in Quebec City.
4. HOW MUCH DOES IT COST TO VISIT THE FALLS
4.1 PARKING –
Car and motorcycle – $3.48 per vehicle.
4.2 ENTRY FEES [Regular price]
Children [upto 17 years] – $0.00 per person
Adults [18-64 years]- $6.96 per person
Seniors [65 and above]-$6.31 per person
4.3 ENTRY FEES [Residents of Quebec]
Quebec metropolitan area residents- $0.00 per person
Children [upto 17 years]- $0.00 per person
Adults [upto 18-64 years]- $3.48 per person
Seniors [65 and above] – $3.26 per person
4.4 FEES FOR CABLE CARS
ROUND TRIPS
Child [ under 5years] -round trip-$0.00/FREE
Children [6 to 17 years]-round trip $7.18per child
Adult- round trip $14.57 per adult
Seniors [65 and over]- round trip $13.26 per person
Family -1 adult and two children 17 and under -round trip $27.61 per family
4.5 ZIPLINE FEES
Double zipline -Child- $21.00 per child
Zipline – Adult[18 and over]-$28.00 per adult
4.6 VIA FERRATA FEES
Child – $25.50 to $38.00
Adult – $34.25-$50.50
Montmorency Park and the falls are open all year long. If in Canada, you have to admire this relaxing experience a few miles away from the city.