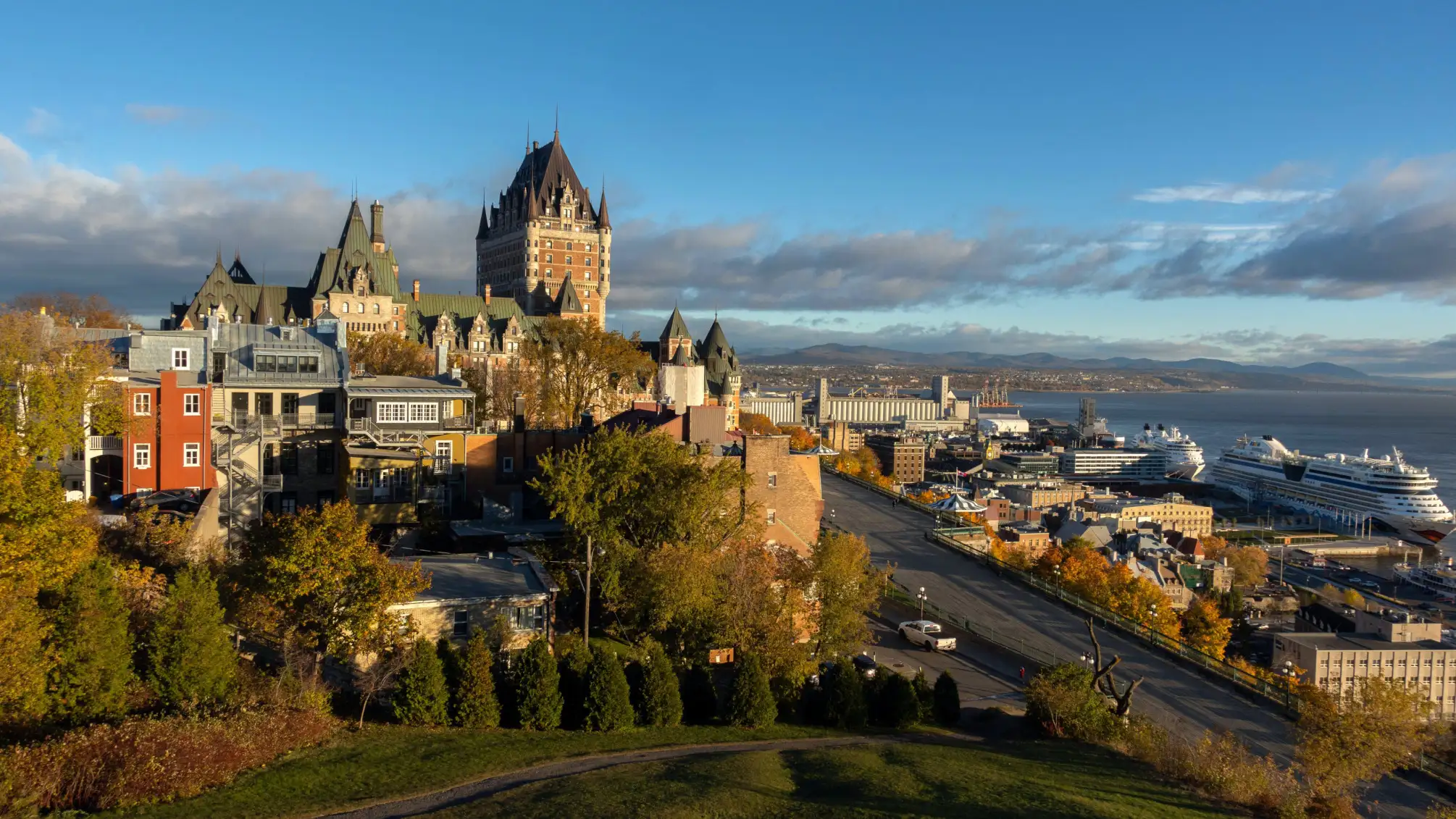 Québec City is the capital city of the Quebec province of Canada. It is the second-largest city in the Canadian province after Montreal. It is one of the oldest cities of Canada, located in the northeast of Montreal at the confluence of St. Charles River and Saint Lawrence River. Quebec is the only walled city of North America, north of Mexico, recognized as a UNESCO World Heritage Site in 1985.
Quebec City was founded in 1608 by a French explorer named Samuel de Champlain. Old Quebec is located at the foot of Cap Diamant, which is on the eastern part of the Quebec Hill plateau. From the fur-trading colony to the present-day administrative center at Place Royale, today Québec City stands as a UNESCO World Heritage Site with many French-speaking people.
The Upper town of Québec City was initially developed for its military advantages, and it contains the city's most famous attractions like the defensive Citadel, Chateau Frontenac, Notre-Dame Basilica, Dufferin Terrace, Québec city's fortified walls, Montmorency Falls, Plains of Abraham, Musée de la civilization and many more.
The lower town of Québec City is known for its picturesque, cobblestone streets of the only fortified city of old Quebec, historic stone buildings, and narrow streets. There are many things to do and explore in Québec City, from taking guided tours, wandering through the stone walls of old Quebec, to tasting the traditional food in restaurants and adventures during the frosty winter months.


1. Explore The Citadel of Quebec
It is a National Historic Site and was the largest British fortress in North America, located atop the Cap Diamant in Old Quebec. It was first occupied by British troops, followed by Royal Canadian Artillery. This place of Quebec was also a site for the conference of colonies of British North America for planning Canada's confederation.
Now, Quebec city's citadel is an active military base in Canada. This place is famous for its military quarters and the summer residence of the Governor-General of Canada. These buildings include Canada's oldest military building, The Dalhousie Gate, The East Casemate at the entrance, and the Governor General's residence. Quebec City hosts events such as military strategies, conferences, military functions, and others.
Address: 1 Côte de la Citadelle, Québec, QC G1R 3R2, Canada
Hours: Monday to Sunday, 10 am to 5 pm
2. Visiting Musée de la Civilisation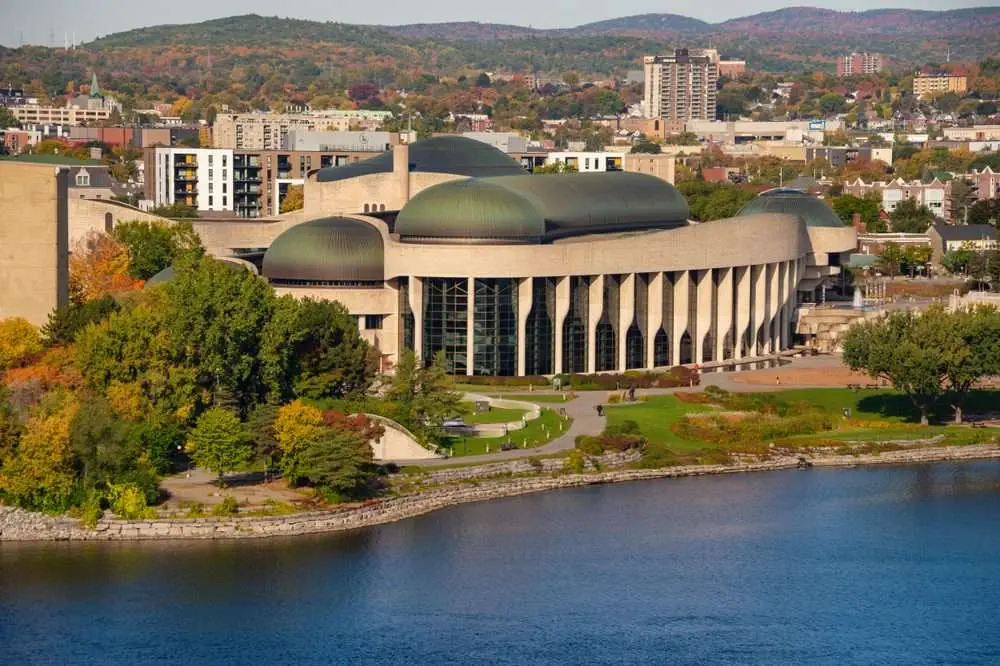 This museum was designed by Moshe Safdie in the 1980s, who has won many awards for the building's architecture. It is situated in the old Québec City near Vieux Québec and the Saint Lawrence River. The museum has permanent and temporary exhibits centered around the human condition and also hosts many exhibitions. You will also find historic structures such as the Fort Museum and the old post office building of old Québec. It hosts workshops based on current, historical, and unusual subjects, highlighting contemporary cultures and diverse societies. The Youth Zone arranges activities such as interactive exhibitions and costume workshops every weekend.
Address: 85 Rue Dalhousie, Québec, QC G1K 8R2, Canada
Hours: Tuesday to Sunday 10 am to 5 pm, Monday closed
3. Staying at Château Frontenac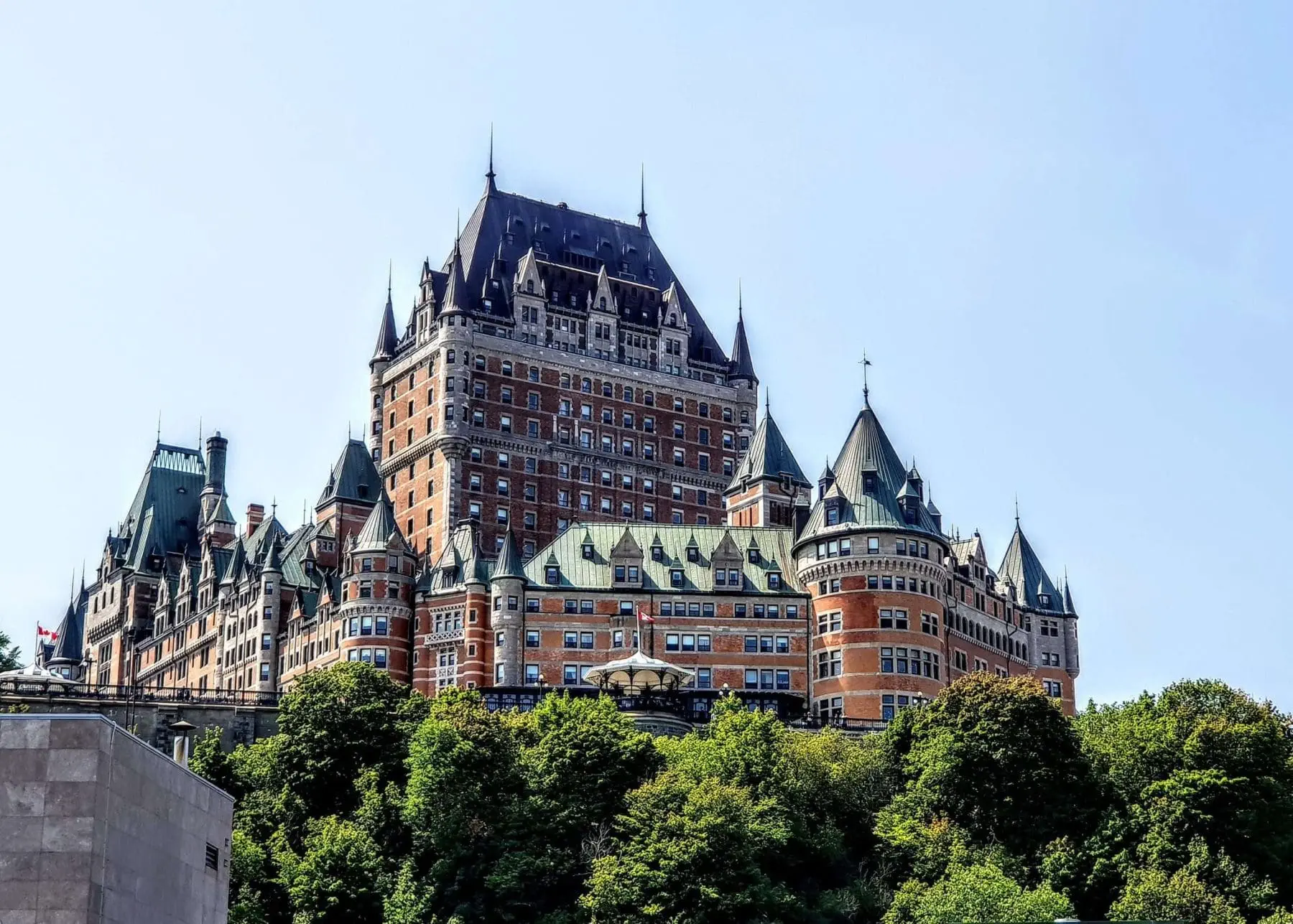 Château Frontenac is the most prominent landmark of Quebec and the crowning jewel of Quebec city. One of the best hotels in the old Québec City, overlooking downtown Quebec and the St. Lawrence river. The hotel is really impressive at night. The Dufferin terrace is a magnificent wooden terrace of the hotel. Dufferin Terrace gives you space for strolling, wandering, meditating, or relaxation with an admiring panoramic view of Quebec.
The Château Frontenac provides stunning views of St Lawrence river (from Terrassa Dufferin), south of Citadel and Plains of Abraham. Château Frontenac also has a historical significance for the Quebec Conference in August 1943, where the allied powers held a meeting to plan D-Day landings in Normandy (June 6th, 1944). Château Frontenac can be said as a castle featuring Quebec City's incredible view.
Address: 1 Rue des Carrières, Québec, QC G1R 4P5, Canada
Hours: open 24 hours
4. Wandering Through Place Royale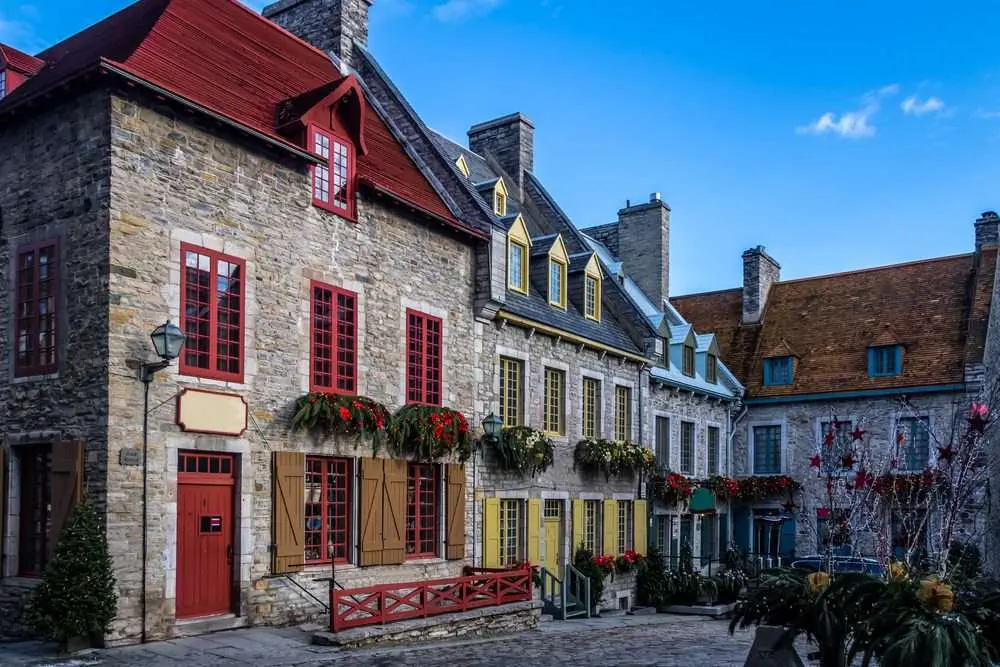 It is a historic site of old Québec City that combines French and British influence. This site is on several cobblestone streets and is also the birthplace of the French-American community. During the 17th and 18th centuries, this old Québec area was a colonial center of France where they had set up businesses and industries for marketing. Its location close to the St Lawrence river gave the French the best access for trade. It is the Place where Samuel de Champlain founded the city of Québec in 1608.
Samuel de Champlain had built the permanent settlement for the French and Americans. Here you can visit the Notre-Dame-des-Victories Church, which is the oldest stone church in North America. Besides, you can also see the second house of Samuel de Champlain and visit the magnificent historical buildings of old Quebec city. Moreover, you may spend your leisure time in the Maison Smith café or other restaurants, see the bust of Louis XIV and go for an evening walk in the winter.
Address: 2-4 Rue des Pains Bénits, Ville de Québec, QC G1K Rue des Pains Bénits, Québec, QC G1K 4G7, Canada
Hours: Monday to Sunday, open 24 hours
5. A Leisurely Walk Throughout Petit Champlain
Quartier Petit Champlain is the capital of New France, named after Samuel de Champlain. This site is a small commercial place in Quebec and is also the best place for shopping. It is a perfect place for strolling over the bustling narrow pedestrian streets and historic buildings of Quartier Petit Champlain. The Boulevard Laurier is an attractive and luxurious shopping center with 250 stores and restaurants.
Petit Champlain has a wide variety of shops, artisan boutiques, restaurants, cafes, art galleries, sweet shops, fine restaurants, jewelry shops, museums, services, and entertainment. Petit Champlain is located between the upper town area of old Quebec city (or Vieux Québec)and the St Lawrence river waterfront. It is a port area of Old Quebec. Petit Champlain has Quebec's oldest built-in 1635, usually known as the breakneck stairs or breakneck steps. These steps take you to the lower town of Quebec, which is perfect for music, humor, and theatre lovers. It is magical in winter, illuminated by thousands of lights.
Address: 61 Rue du Petit Champlain, Québec, QC G1K 4H5,Canada
Hours: Monday to Sunday, 10 am to 5 pm
6. Amidst the Greenery in Plains of Abraham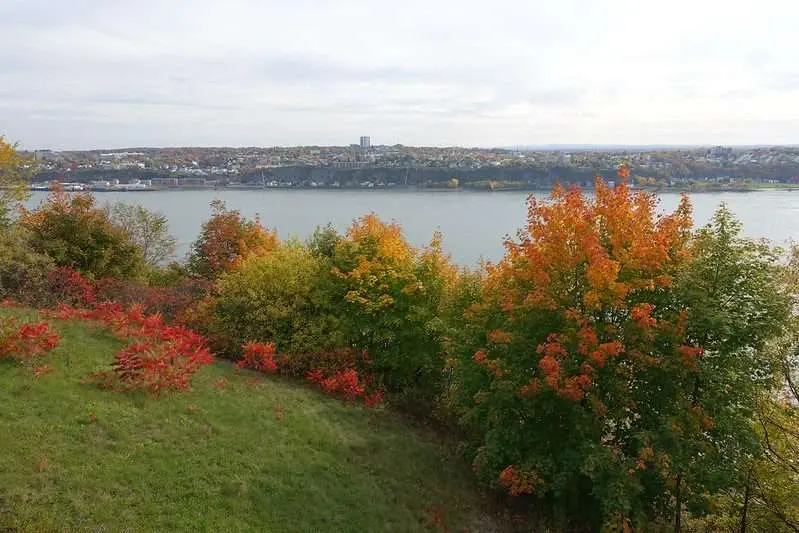 During the French Indian war in 1759, the British forces defeated the French troops on the Plains of Abraham while they landed upstream from Quebec. The generals Wolfe and Montcalm fought here for the French and British Empire of North America. The Battle in this region went on, even after the capture of New France. This site is also famous for the Battle of Quebec, when the Britishers repelled an attack during the American Revolution. The exhibits of this Place retell the history of how Quebec has resisted and fell into the trap of the British, who had already captured New France.
You will find the green expanse of Plains of Abraham, as far as your eyes stretch. The Joan Arc Garden, designed by Louis Perron, has a wide display of flowers throughout the year. There is contemporary art in four buildings on Plains of Abraham, where the Brosseau Collection of Inuit art is one of the highlights, done by 60 artists. Plains of Abraham is the Central park of the city of Quebec. A lot of festivals are held at this spot. A lot of people are seen cycling, picnicking, cross-country skiing, or snow-shoeing during winter.
Address: The Battlefields Park, Quebec City, Quebec, Canada
Hours: Monday to Sunday, open 24 hours
7. Charming Rink at Place d'youville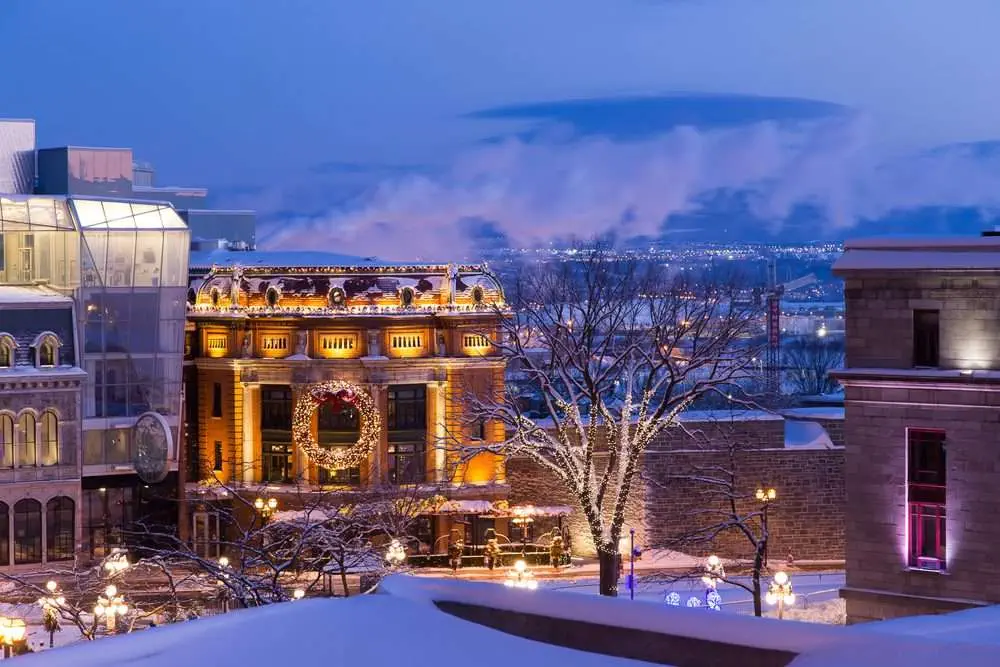 This Place is situated on the rue of Saint-Jean, which is the oldest road in Quebec. It is a public square at the Quebec City center. It is against the stone walls of Porte Saint-Jean. The area is historically a part of Saint-Jean, which makes a boundary between Quebec Parliament Hill and the old city of Quebec. This square is named after Marie Marguerite d'youville, a French Canadian widow who founded the Grey Nuns of the Montreal religious order.
The Ice Hotel is one of the incredible hotels of Quebec, which is situated in Place d'youville. The Ice Hotel has 44 rooms constructed every winter with 30,000 tons of snow and 500 tons of ice. The ice skating rink at Place d'youville is a loveable place for ice skaters or skiers. Hence, this Place must be visited in winter.
Address: Montreal, Quebec City, Canada
Hours: Monday to Sunday 7 am to 11 pm
8. See the Stunning Montmorency Falls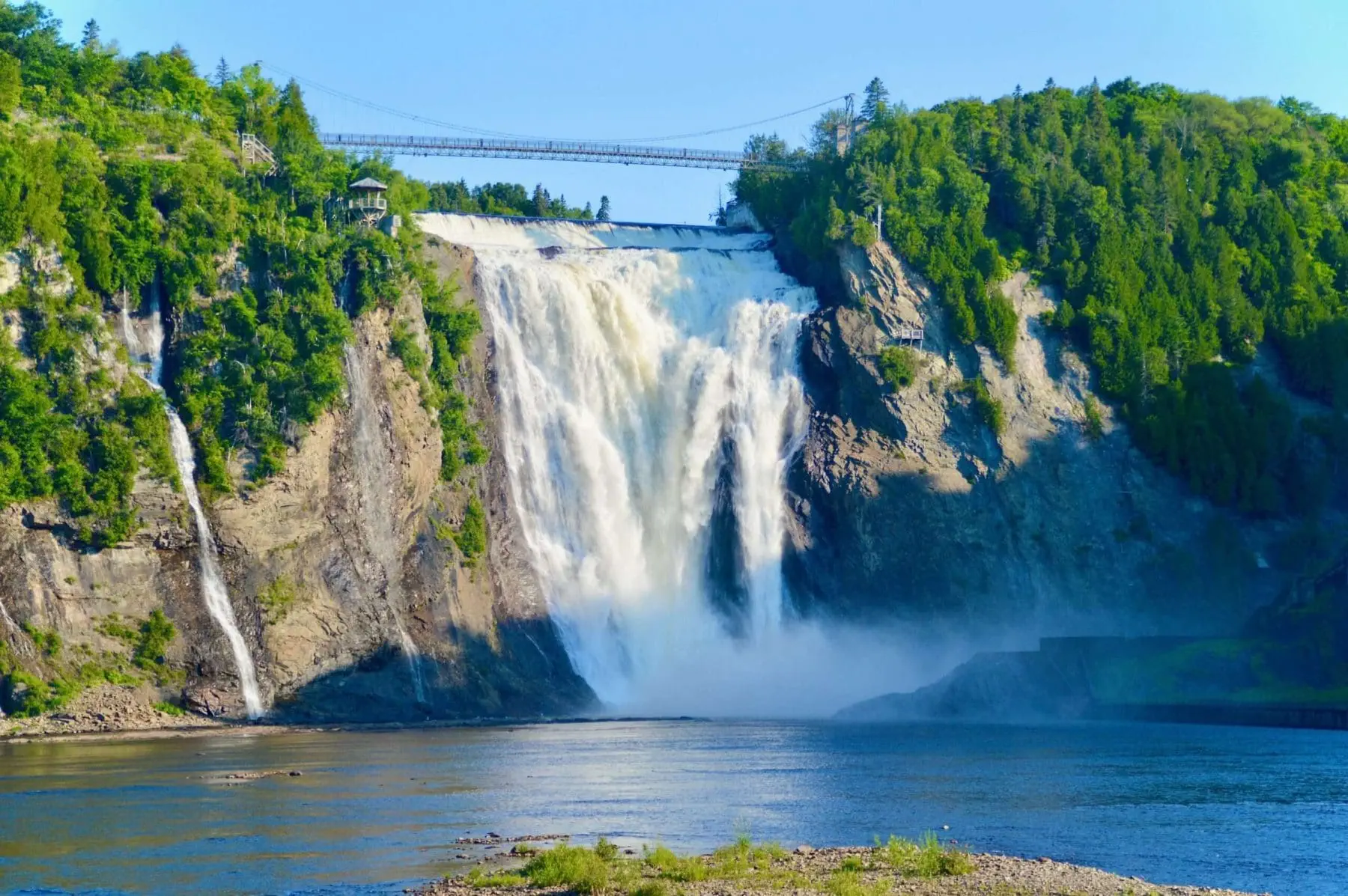 This fall is 30 meters higher than Niagara Falls, which is only 15 minutes from downtown. It is easy to travel here by bus from the city center. There is a suspension bridge at the very top of the falls, from where you can experience the overwhelming power of the falls, just beneath your feet. You can take a gondola or cable car ride for a more vivid view of the fall and also the panoramic view of Quebec.
The Via Ferrate and Zipline adventures are perfect for thrill-seekers, from where you will get a close-up view of the falls. The Restaurants and Terrace from where you can enjoy the scenic beauty with a vast array of cuisines. The amazing thing about this fall is that it turns into ice in winter and becomes a playground for ice climbers.
Address: 2490 Ave Royale, Quebec City, QC G1C 1S1, Canada
Hours: Monday to Sunday 9 am to 6 pm
9. Entering the Fascinating World of Species in Aquarium de Québec\
Aquarium de Québec is a great ocean discovery tunnel in Quebec, overlooking the St Lawrence river, where you can check out the creatures that inhabit the depths of the Pacific Ocean. You will also come across marine animals such as polar bears, walruses, and several species of seals. You will also find hundreds of jellyfishes, seashores, and sea dragons.
The Aquarium de Québec ground is a place where you can enjoy yourself with your family, and you will find picnic spots, splash pads, a view of the river, and rope courses for kids. The aquarium is illuminated with lights at night, showing animal sculptures and projections, turning it into an enchanted forest. This Place has nearly 10,000 specimens from 300 species. It is a fascinating place to visit in Quebec.
Address: 1675 Av. des Hôtels, Québec, QC G1W 4S3, Canada
Hours: Monday to Sunday, 10 am to 4 pm
10. Exploring the Jacques-Cartier National Park
It is a stunning glacial valley and a plateau region of Quebec. Deep valleys and rivers crisscross the plateau. Hiking along the 100km trails will see lush green sceneries and breathtaking views and encounter bears, deer, and moose in their natural habitats.
There are nice cozy campsites for camping lovers where you can pitch a tent for the night or stay in yurts, permanent tents, or small wood cabins. The main attraction lies in kayaking, canoeing, or stand-up paddleboarding and exploring the gorgeous river valley. Jacques National Park becomes entirely snow-covered in winter, where you can enjoy outdoor activities such as backcountry skiing.
Address: 103 Chem. du Parc-National, Stoneham-et-Tewkesbury, QC G3C 2T5, Quebec, Canada
Hours: Monday to Sunday, Open 24 hours
Apart from the above mentioned must-do things, there are also other aspects which you should miss at all such as enjoying your leisure at the cafes, restaurants, shops, music venues, and theatres of Saint Roch, a district located outside the city walls of Québec; going to watch the Laval University of de Québec, which is the oldest French-language University of North America, founded by Queen Victoria in 1852; questing the Old Québec restaurants, connecting with local artisans at Île d'Orléans, appreciating world's largest Québec art at Musée national des beaux-arts de Québec and so on.
There are a lot of things to explore in the Quebec City of Canada. Québec has an extensive public transport system which makes it easier for you to travel. Take from tourist places, adventures, tasting traditional foods, enjoying Quebec city's history, special activities, friendly vibes, and stunning sights. Québec is the best city to find an amazing French-Canadian culture. The varied weather of Québec with transforming seasons also adds flavor to its beauty. The festive atmosphere and French culture of Québec and the historical tales of old Québec make the city more exuberant in its unique way. Hence, Québec is an outstanding travel destination for enjoying your holidays.