Is this your first time visiting Quebec city or old québec? Are you confused about the best season for vacation in Quebec City? Is it Fall, Winter, or Summer?
Don't worry; whatever the season is, you have your season's guide here for the top 12 things to do in Quebec city? Whether it is a 2-day trip or a 15-day trip you are looking for, we've got you covered!
Furthermore, if you live in North America and have never been to Europe, you might want to check out Quebec City. Full of treasures, Quebec city alone holds a million things to do.
Quebec city's old town is full of liveliness with an enchanting history and makes traveling to Quebec city worthwhile. If you ever heard someone praising Quebec city's beauty, who has visited Quebec city, believe it!
It might captivate you with charming streets, a brilliant food tour, and unbelievable national historic sites in just one city: Quebec City. Before hopping on to things to do in Quebec City.
Let's explore some awe-inspiring facts about Quebec City first…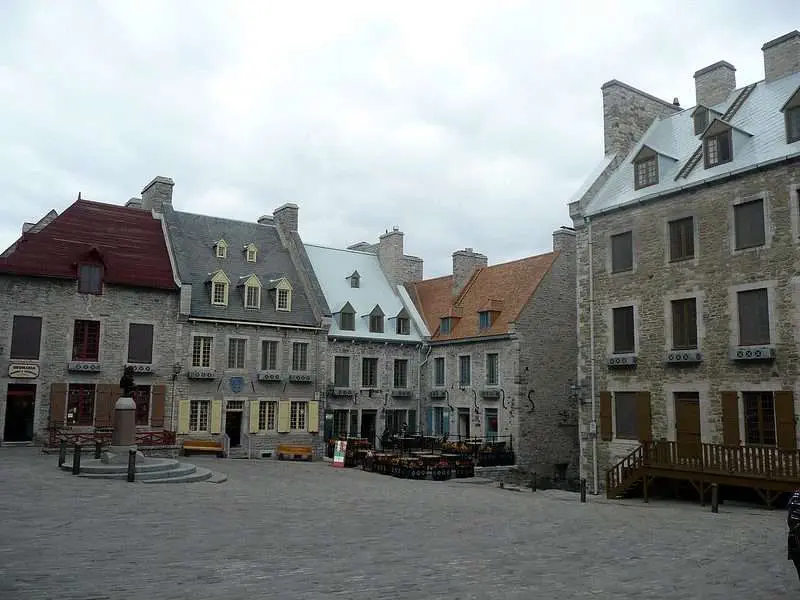 Quebec City: UNESCO World Heritage Site
Quebec City, a province of Quebec located in central Canada, is seated on the north bank of the St. Lawrence river.
Quebec is a French-speaking state, and French is its official language. Quebec City is the oldest French-speaking city in North America.
Discovered in 1608, Quebec city was declared a UNESCO world heritage site in 1985. New France was founded here too.
For more than 400 years, Quebec City has been keeping its history intact and alive to this day which can be experienced by visiting old Quebec – the only fortified walled city in North America.
Being the second-largest city in Canada while Montreal holds the first place – there are innumerable things to do in Quebec City. Quebec is a host of fascinating facts… and the list is never-ending.
So, which season should we visit Quebec city? It's time to see Quebec city in 3 different lights of three different seasons.
12 Things To Do In Quebec City To Make Most Of The Season
Things to do in Quebec in different seasons – Every season brings something new with it – what you will see during fall might be gone in winter.
Some places can send you to a Christmas movie scene or sing a Christmas carol, while some make you treasure the power of Montmorency fall in the heat of the summer.
Dive into the realms of Quebec city and old québec – fall, summer, and winter.
Try These Things To Do in Quebec City: Winterland
1. Fine Dine At Fairmont Le Château Frontenac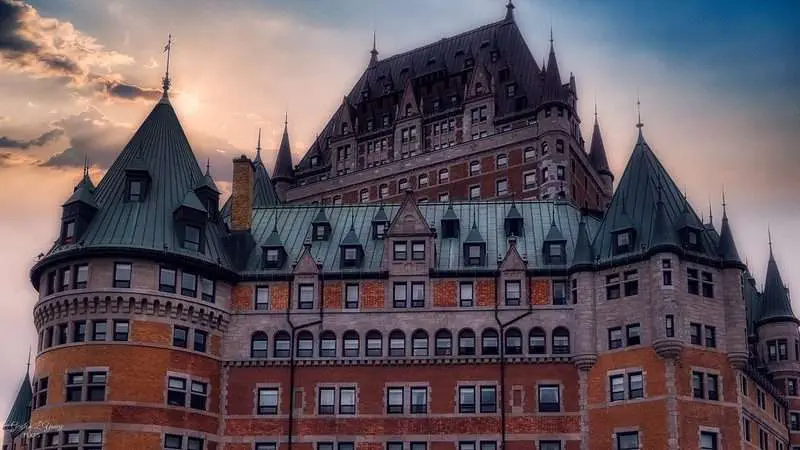 Fairmont Le Château Frontenac is the most photographed hotel in the world. Who wouldn't want to click a picture here, no? This famous tourist attraction – is braving the ravages of time for 125 years.
Especially when you are in Quebec City, château Frontenac is a must-visit on the top 12 things to do in Quebec City.
Château Frontenac's s castle-based design appears to be Canada's Disneyland. Holding its roots on a clifftop, at first, you may not believe it's a hotel – its amazing architectural style is absolute bliss for the eyes.
What can you do here? Lawrence river
Don't forget to notice the hand-painted ceilings at Château Frontenac that are worth your attention. If you need a place to eat, take a walk around Château Frontenac and enjoy North American-infused European flavors with an astounding complementary view of the St. Lawrence river.
Perfect for day trips, visit bar 1608, which is also the year Quebec city was established.
2. The Taste Of Authentic Poutine Is Here! – Quebec City Food Tour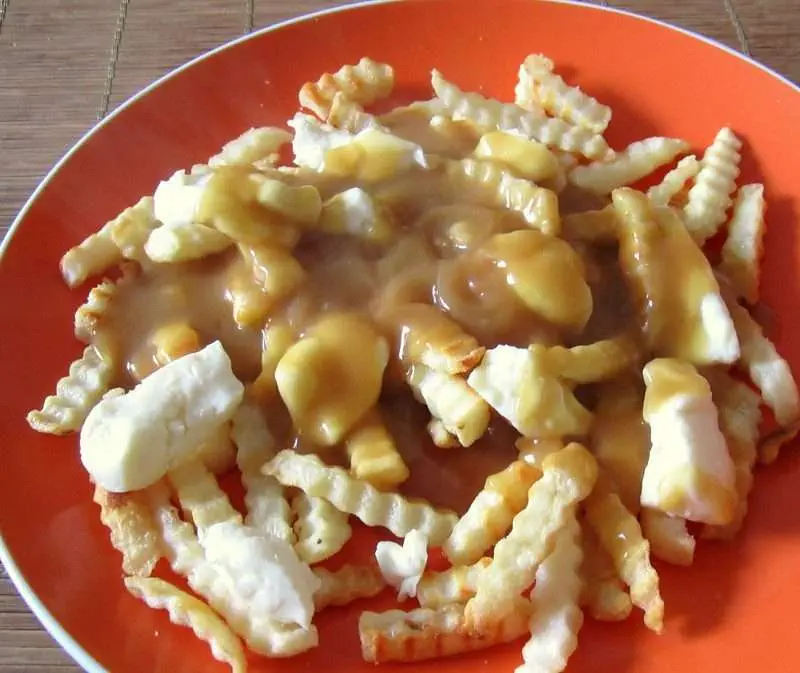 When you are exploring the lanes of Quebec city, don't forget to have Canadian poutine; it's a must-have Canada's classic dish.
So, What is Poutine? Poutine is a dish made from French fries with curd cheese drizzled with brown gravy, the dish is flavourful and gives satiety value, so there's no room for hunger.
What can you do here?
Though you will find poutine all over Canada, do try it when you are visiting Quebec as poutine is considered to have originated in Quebec, so you might as well try it here too – well, it's uncertain yet.
You will find plenty of shops or restaurants that sell poutine. Relish in the flavors of Quebec.
3. Exhilarating Cable Car Funicular Ride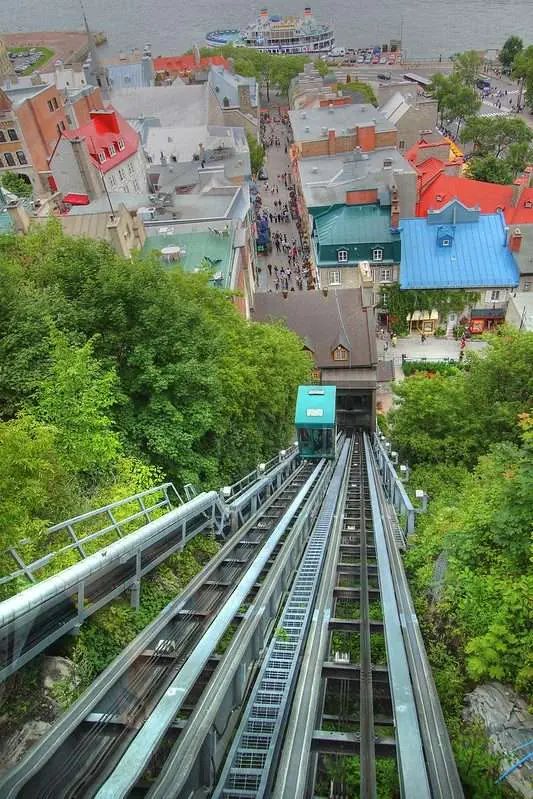 The funicular is a cable car exciting ride from upper town to lower town (the city is classified as two towns that are upper Quebec town and lower Quebec town).
One can travel by stairs or cable rides from one part of the city to another. In Quebec City, you can use a funicular ride though you can take stairs to walk around, admiring all the scenic beauty.
What can you do here?
You should try the Quebec ferry ride across the Saint Lawrence River if you find the funicular ride amusing. This cable ride starts from Dufferin Terrace.
Take a local tour guide to get a better understanding of Quebec city.
4. Take A Stroll Around The Only Walled City – Old Québec, North America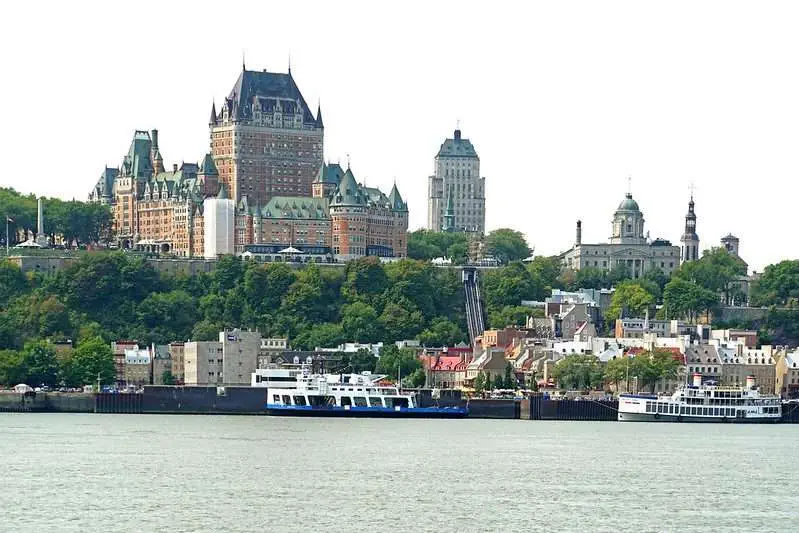 Did you know that old québec city is the only walled city in North America? Astounding, no? That is why the city has a Charm of its own.
For someone who loves to take a stroll – the wall of old québec is heaven and an absolute thing to do in old québec in the fall. The walls of old Quebec city are walking on the walls.
What can you do here?
Just like the Rideau canal of Ottawa was built as a defensive mechanism.
Old québec -this only walled city in North America – fortified the city as a defensive mechanism, so make sure that you explore more and more about the old québec national historic site, military history, and its intense culture; that wows us!
We know Canada is best at preserving Ottawa, Montreal, or Quebec. Some of the historic buildings are preserved beautifully and are intact. This makes old québec's history alluring.
Check Out Things To Do In Quebec City: Fall
1. Shop Souvenir At Quartier Petit Champlain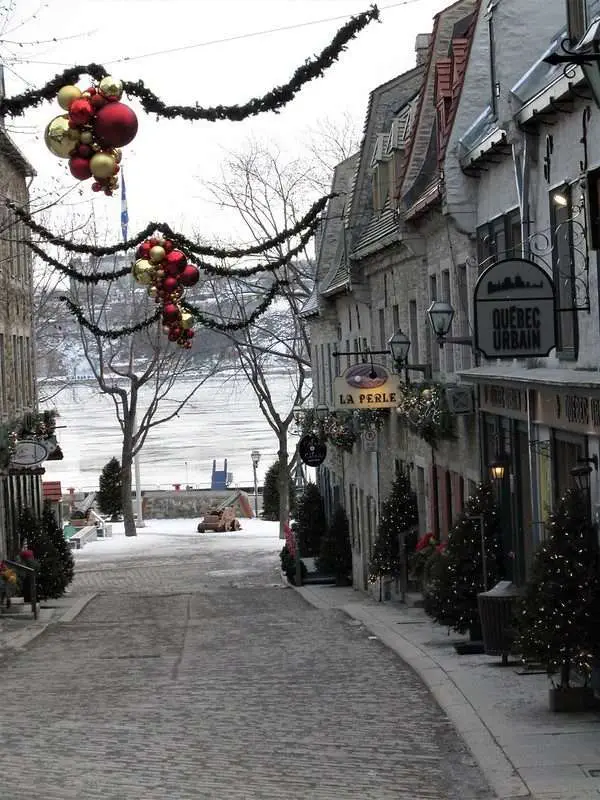 Quartier Petit Champlain – Quebec City is pedestrian-friendly, and this is worth the go; as you move through the rue du petit Champlain lanes, you'll feel like you are wandering in a European lane.
At quartier petit Champlain, you can do the best local shopping, buy souvenirs for family and friends, look for some handcrafted items, and visit boutiques and restaurants – it's the oldest yet majestic picturesque lane.
What can you do here?
While at fall season, the streets at rue du petit Champlain are generally un-crowded. Quartier Petit Champlain is surreal in winters when the beauty of this street fades from the night's darkness. Live in a Christmas movie scene where every picture taken is a wallpaper kind.
Christmas brings lights and positivity to the street, making a glimmery street that fades the darkness and creates a brilliant environment.
2. Feel The Chills At Hôtel De Glace

Heard of the ice hotel? Hôtel de glace is as pretty as a picture. People can stay here and enjoy the starry night stargazing at the ice hotel. The room ensembles an igloo in the hotel – basically a modern version.
What can you do here?
As you look outside the room, you would only see a thick blanket of ice over Christmas pine trees that looks like a painting. You'd not need to worry about the cold temperature as it is controlled accordingly and provides warmth.
Though you still need to protect yourself from the elements and bundle up yourself before you plan this Hôtel De Glace stay.
3. Fall For Delight At Place 'DYouville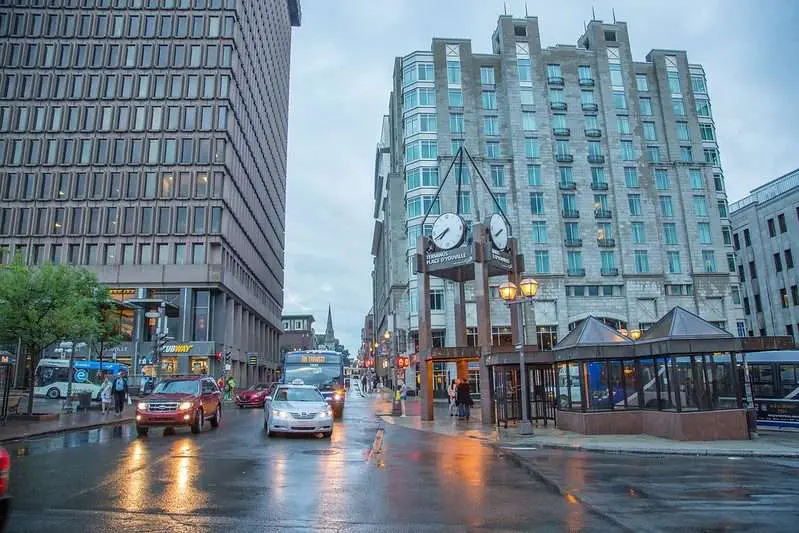 Place D'Youville is a historical public square where everything looks straight from a fairytale. Winter and ice skating go hand in hand, especially in the Winterland: Quebec city.
What can you do here?
Thanks to its technologies that keep the ice freezing in any season, you will be thrilled to know that you can ice skate here even in warmer weather. Also, do ice skating at Place D 'Youville; relax and chill here. When you are at it, discover theatres too.
4. Shower Some Love For Nature At Montmorency Falls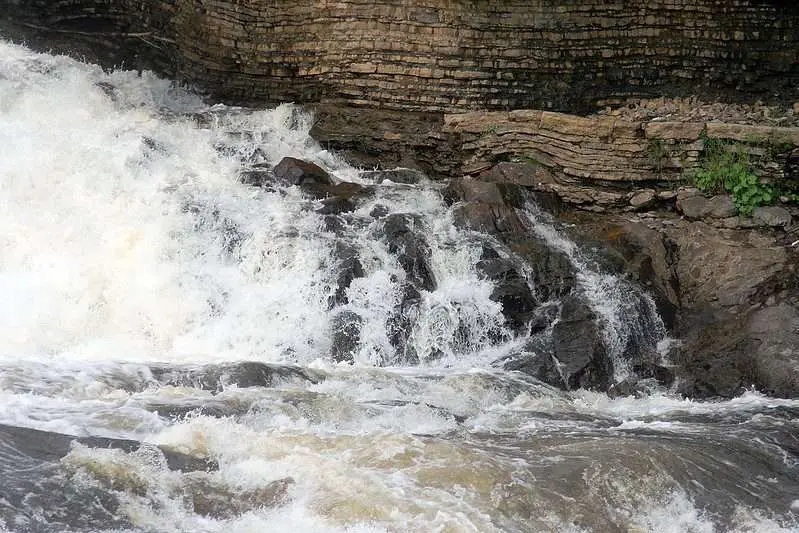 Walking on fortified walls of old québec? Would you like to walk across a waterfall? Yes, it's possible. Montmorency falls located outside Quebec. Montmorency Falls is taller than Niagara falls, so it is worth trying.
It will surely give you chills when walking through a surreal scenery that makes you feel like you are on a piece of heaven on earth.
What can you do here?
For a more in-depth and up-close view, do a cable car ride. Capture the beauty in your eyes more than ever from above the waterfall with a full coverage view. You can also check out ziplining, known as Via Ferrata.
In fall, it looks gorgeous, but it also opens doors to varied winter sports in winter. Another activity that is worth going for is snowshoeing on the hiking trails.
Go For Things To Do In Quebec City: Summertime
1. Have The Best Flavors Of Quebec: Quebec City Food Tour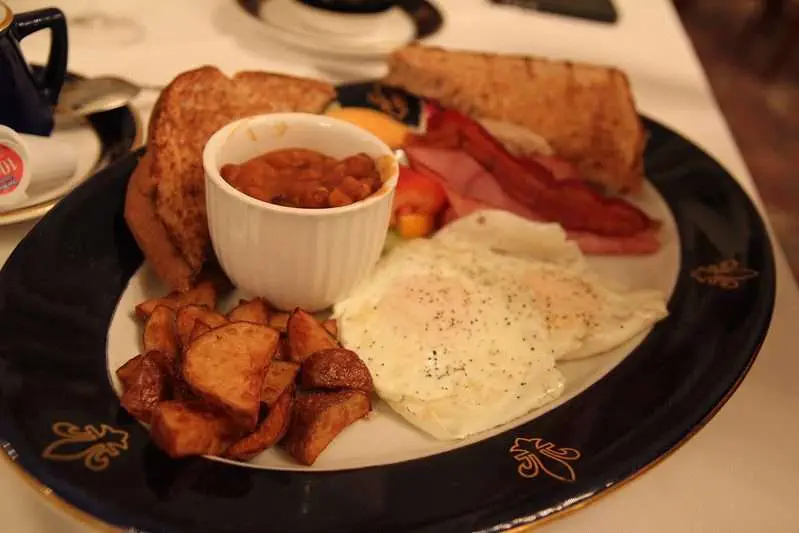 Quebec City has the best food, and you'll find restaurants, cafes, and local food at every nook and corner without looking for it. The Quebec food tour will amaze your taste buds with delicious food.
What can you do here?
Explore the food variety here, like poutine, maple taffy, and maple syrup. The taste and food quality will have your heart, and you can try local wine and fresh fruits.
2. Be Mesmerized At Notre Dame De Quebec
Been to Notre Dame Cathedral Basilica? Canada has two more, Notre dame de québec, one of them in Quebec city. Experiencing it from the inside is a magical site to walk through.
The breathtaking architecture of the time of its build will consume you to go any further. Notre dame de québec is one of the best historic buildings and national historical sites to visit if you are in Quebec city.
What can you do here?
Notre Dame des Victoires or Notre dame de québe is the oldest stone church and a landmark from which Quebec city begins. Feel like you are in an old movie – a romantic one when discovered in winter.
Enjoy your time at Notre Dame de québe and pause to capture moments.
3. Streets That Speak Surrealism – Place Royale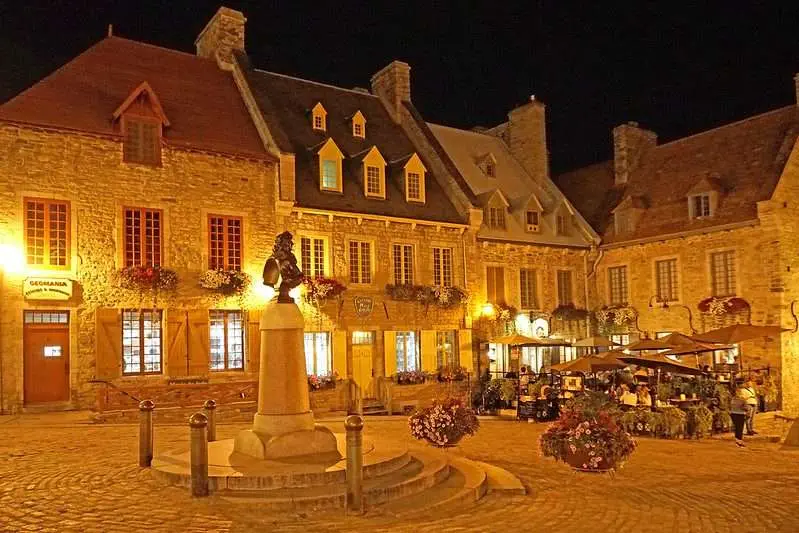 At Place Royale, Cobblestone streets square adds depth to Place Royale, which is bedazzled with the beauty of the oldest stone church. The oldest square reminds you of European countries.
What can you do here?
When the snow falls at Place Royale, this street turns even more majestic and makes us believe we are in some Disney animated movie or some Christmas-based web series.
Place Royale – as the name suggest, is palace-like. Imagine snow on the ground, and every street wishes you Merry Christmas – it is the most liven place to be.
4. Take A Break At Ile D'Orleans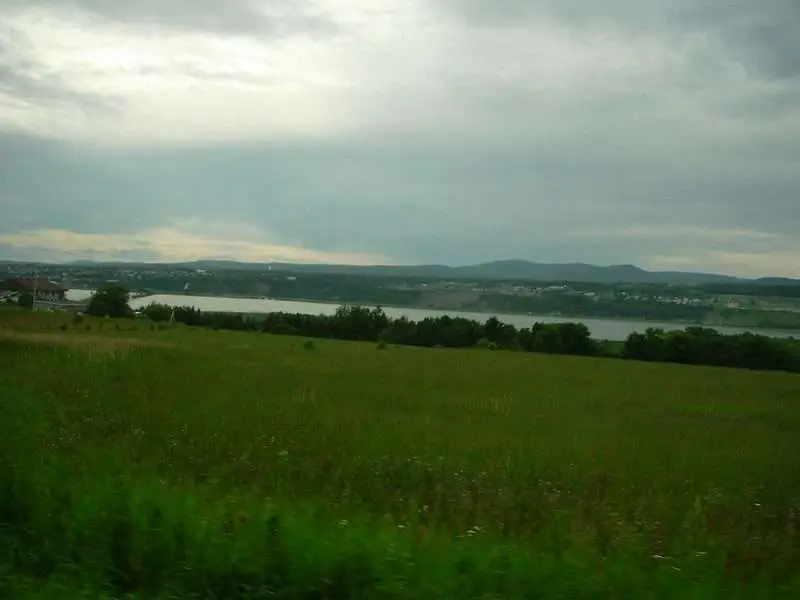 The island is the first permanent french settlement or french colony in North America. Ile D'Orleans's pleasing sight doesn't ask for attention, and it's way heavenly.
What can you do here?
Situated near Montmorency falls, the island is famous for producing fresh vegetables and fruits. Find vineyards, local wine, and maple syrup here. Spend and relax in the scenic park. If you need to relax or want some time away or spend me time, the Ile D'Orleans has your back.
What are some more things to do in Quebec City?
Dine at chateau frontenac.  you will see chateau Frontenac for its amazing view
Shop at German Christmas Market or shop at rue du petit Champlain
Visit the largest British built fortress
Explore downtown Quebec city
Visit Citadelle de québec
 Make Your Time The Best One At Quebec City – Quebec City Tour: Q/A
How Long Should You Spend In Old Quebec City?
If you live nearby Quebec city or Canada, you can come over for weekends and a 3 or 4-day trip. Furthermore, if you came from far places, then we are sure that you don't want to come to Quebec to end your trip on an incomplete note.
Take your time. Within 4 days, you can experience lots of things because every nation's historic buildings are close to Quebec, which gives time advantage.
You can plan a 3-day itinerary or guided tour to visit all of Quebec city's historical and national sites in time. Give 2-3 days to explore Quebec's all-important and exciting sites.
With the help of a locally guided tour, you will better understand the significance of historical buildings so that they can be covered in 2-3 days.
Are 2 Day Trips Enough In Old Quebec City?
2-day trips are enough for you to visit all the main sites and try out different things to do in Quebec city and yet have leisure time to roam and shop.
However, if there are still some major sites left, do take a day or two more to explore them to the best you can. Start your journey early in the morning and cover all the important sites to make sure you discover all you can in 2 days.
Plan out where and how you want or take a guided tour to make most of the Quebec city's season within the time frame.
Most of the travel is done on foot, and if you are planning a trip for 2 days, you need to skip the day trips, and it will be more time-saving if you go in seasons like fall or summer when the places are usually empty, with the best hotel rates and more things to explore. Visit Montmorency fall and Lawrence river for a great summer experience.
Is Quebec City or old Quebec better than Montreal?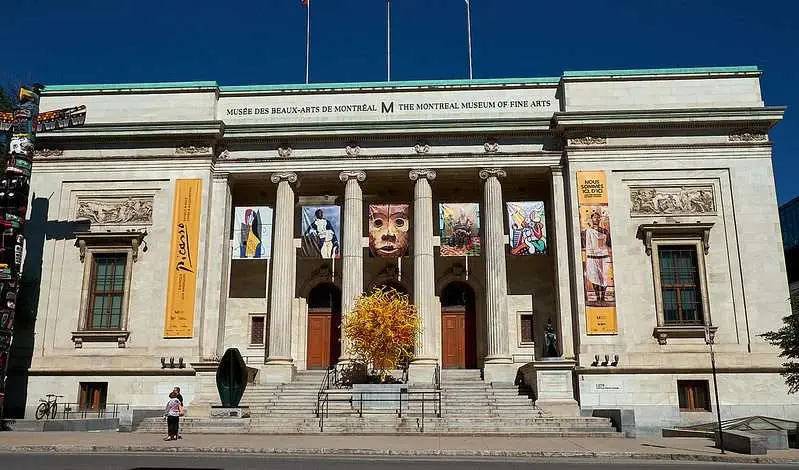 Montreal is a cosmopolitan city and popular for its great cafes, restaurants, and city life. Montreal is bigger than Quebec, so there are more things to traverse.
Things to do in Quebec City –  you will love Quebec if you have a knack for historic buildings and curiosity about historical sites.
Moreover, if you find the history behind these historical buildings intriguing, Quebec City has a touch of a European country.
Additionally, discover Quebec City if you love nature, hiking, cycling, and walking in Quebec. What can be greater than these best things to do in Quebec City.
Should we visit Quebec or Montreal?
A vacation in Quebec city is good for a break and to enjoy the scenic beauty.
They both are unique countries and have unique things to see – it depends on whether you want an urban or rural feel. The activities in both cities are going to be almost the same. However, the vibe is unique.
Whichever the city is, you will learn and explore something new.
Can you walk around Old Quebec city?
Hell yeah! You can walk around the city's historic sites – albeit it is one of the best things to do in Quebec City. You can also do walking or guided tour through this picturesque city.
From moving from upper town to lower town by walking and climbing stairs. Take a stroll and stop by pedestrian-friendly streets.
Let's hit the road
The city's history is exceptionally vast and rich, there are so many things to do in Quebec City, and each of its sites is like witnessing history.
Quebec City – Where every historic building tells a story. Quebec City has no shortage of activities. This city in North America is an ideal place to go with your friends and family.
Walk wherever you can; if you are a history student or love history, you'll love this place more than anything; it's like rewinding Quebec's history and historical importance.
If you want to see the colors of Quebec city, then fall is the perfect time to be here.
If you are fond of winter sports and have a knack for activities like skating, then visit in the winter.
If you like to want a normal temperature, whether you are traveling solo or want some alone time, then summertime is perfect.
Generally, at this time mostly, there is no rush, and you can enjoy your time doing from the list of things to do in Quebec City.