Are you working late hours and fearing missing some great time with friends and family? Richmond Night Market, in Canada, is a delight for people who want to spend time on weekends or late at night.
On the lines of night markets in Asia, the Richmond Night Market promises to please all your senses equally. A perfect weekend gateway for fun-filled activities and satiating your taste buds with mouth-watering foods. This night market also speaks aloud about the arts and culture scene of the host city, Vancouver.
The largest night market in North America is worth visiting and getting the best deal for fun and entertainment you could ask for.
1. History of Richmond Night Market
Raymond Cheung founded the Richmond Night Market in the year 2000. The once modest affair now turned out to be an international attraction.
He got inspiration from the night markets in Asia. He said that night markets are popular in countries like China and Taiwan since people work till late. According to him, night markets are the best place to enjoy and socialize.
What started as a small venture in the parking lot in the great city of Richmond today attracts 8,000 to 10,000 visitors per day on 18 acres of land in Richmond city of Vancouver.
Today, the RNM team works hard to get the best flavors and artists in one place. A true visitor's delight!
2. Location of Richmond Night Market
The Richmond Night Market is located at 8351 River Road, Richmond. It is about 25 minutes from Vancouver city center. It is near the River Rock Casino, and Vancouver International Airport is a nearby 10-minute drive or 15 minutes by public transportation.
This night market is five minutes from Canada Line's Bridgeport station.
Easiest is to take a train from downtown Vancouver to avoid traffic and parking heralds. Don't worry about returning; trains run all night.
If you are already in Richmond, take The Canada Line but don't get off at Richmond Station. Get off at Bridgeport Station. Here follow the crowd and look out for the big yellow ducky.
3. Admission to Richmond Night Market
3.1. Tips for Easy Entrance
Follow the arrive early or late entry ticket advice below to avoid long wait hours.
3.1.1. Arrive Early or Late
You must arrive early, before 7 pm, to avoid the lineup at the entrance gates. Though the crowd disburses at nearly 9 pm, you can come late too.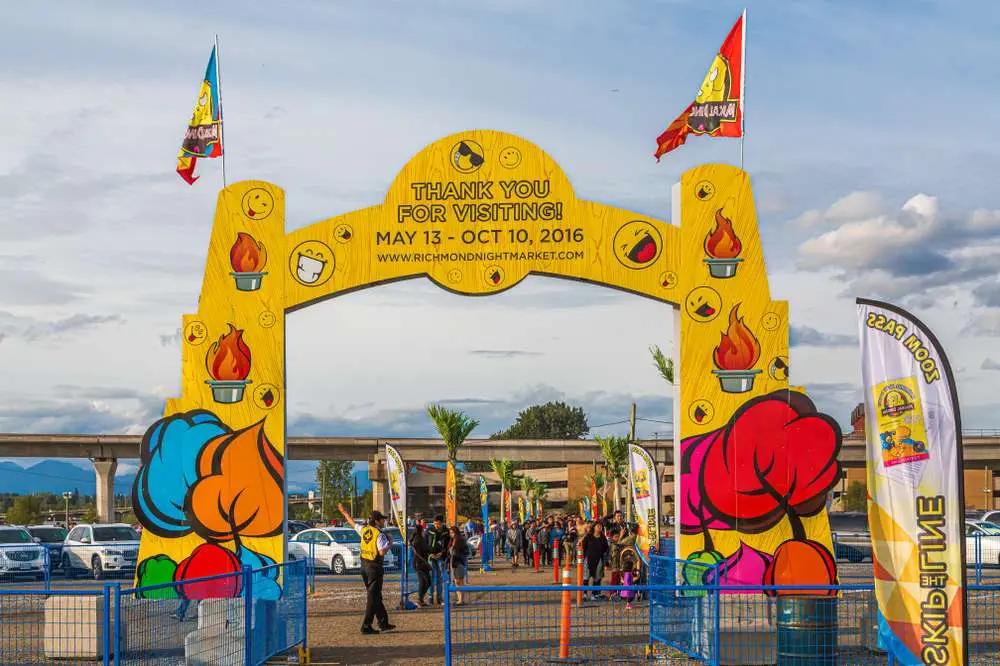 3.1.2. Entry Tickets
You must buy a ticket for admission to the Richmond Night Market. The ticket is for the age group 7 to 59. Free access for seniors above 60 or children under seven.
Alternatively, you can buy the express pass for six. Formerly known as zoom pass, it is available at the venue. Although purchasing a zoom pass or an express pass might not save you a pocket but saves time. So you may avoid standing in a long queue to buy single tickets.
Zoom pass lets you have six entries, extended for days or a family entry.
The zoom pass admission line is different from the general entrance line. So sail in smoothly with zoom, aka express pass.
Note: Entry ticket does not include any food cost.
3.1.3. Coupons
You may have to wait inside. So to avoid curls of line, it is better to buy coupons from sponsors and promoters of vendors inside at the entrance and beat the crowds inside. This way, you can buy the food items or get discounts on items inside instantly.
Isn't it a great way to skip rush at your favorite food joint?
4. When is Richmond Night Market Laid?
The Richmond Night Market is a summer market and can be accessed from the end of April to mid-October, though the exact period may vary each year.
4.1. Day & Time
On some days of the weekend, the market is open until midnight.
You can check the market during the state holidays too.
Richmond Night Market is open on selected Monday nights or long weekends like Canada Day.
Please note the night's market opening day may differ each year. For detailed month and weekend details, check the website.
5. Events in Richmond Night Market: 5 Activities To Have Maximum Fun
Richmond, Vancouver, has had lots of immigrants in its history. Most Asians are part of the diverse culture present in Richmond, Vancouver. The Richmond Night Market team ensures the all-inclusive culture scene beautifully integrates loads of activities in the night market.
So, don't forget to take photos of the enthralling atmosphere you are about to be in.
5.1. Food
Let your tongue savor the delicacies around the world at Richmond's food market.
Asian food trucks or hawker-style stands, more than 500 international food items vendors worldwide with fresh dishes are beautifully decked up with great options.
Get the best deal for large grilled squid, a lot better priced than at the restaurant.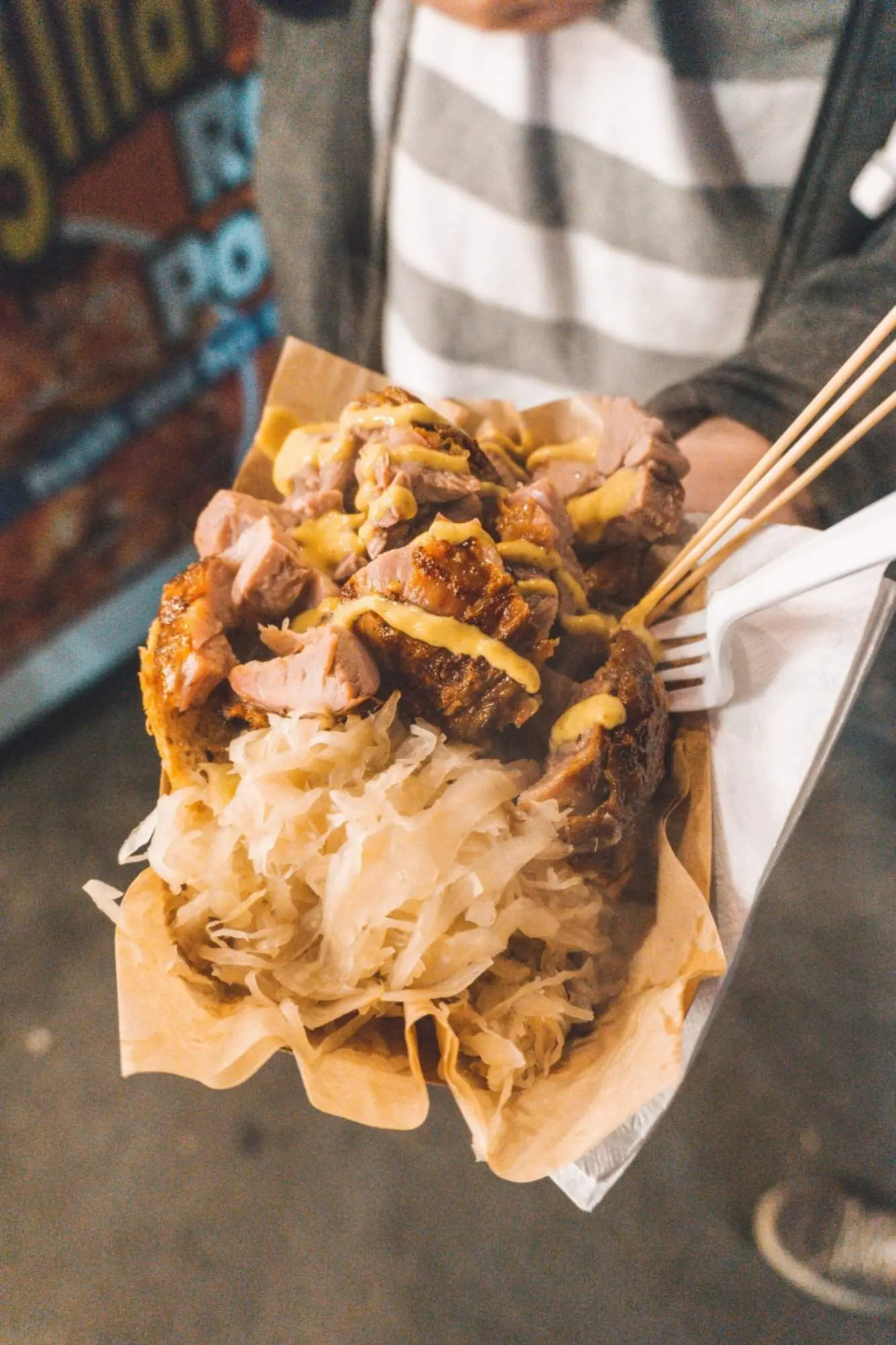 Rotato (Spiral Potatoes), BBQ Skewers, stinky Tofu, Rolled ice cream – Thai style, Rice burger, Japanese Mochi-Covered strawberries, Flying cup noodles, Crayfish Fried Chicken taco, Seafood Springroll, Osmanthus Ferment Rice Latte Jelly, Ice cream puff, One coconut- a young coconut without shell, Mudslide Bubble Tea, Afghan Bolani, Brazilian pastries, and Japanese Poutine all cover the food stalls.
The food market offers a wholesome meal for your entire family, offering city favorites and world-famous delicacies. So eat your stomach full, as the activities below will compel you to binge more.
5.1.1. Angel Duck Cafe
The 30-ft duck in the middle of the night market. The star dishes here are Jello Duck treats and Donut lollipops. If you have reached earlier, quench your thirst with special duck slush drinks. The drink is served in feature party cups with flashing lights.
How about drinking your own picture? Try customizing your drinks with the image of yours on the top. Isn't it amazing?
Cheung rightly called the food market "The heart of night market."
5.2. Rides
This area features Rainbow Net Maze, a fun maze to master. For kids, the candy-themed bouncy castle is a must to burn their energy. The two stories high, both bouncing castles are 60 feet wide. Spider ride is another exciting ride to indulge in.
5.3. Live Entertainment
Each day, the 50 ft wide entertainment stage promises live music and performance ranging from dance to martial arts, live singing to medleys. The best entertainers perform and keep you rocking. I bet this is the way to relax your muscles after the stroll. Isn't it the best reason to gobble some more delicacies?
Novices and artists showcase the great city's arts and culture scene. Live spray painting and sketch artists make your sketch at a price.
Magicians performing live is another amazing event here.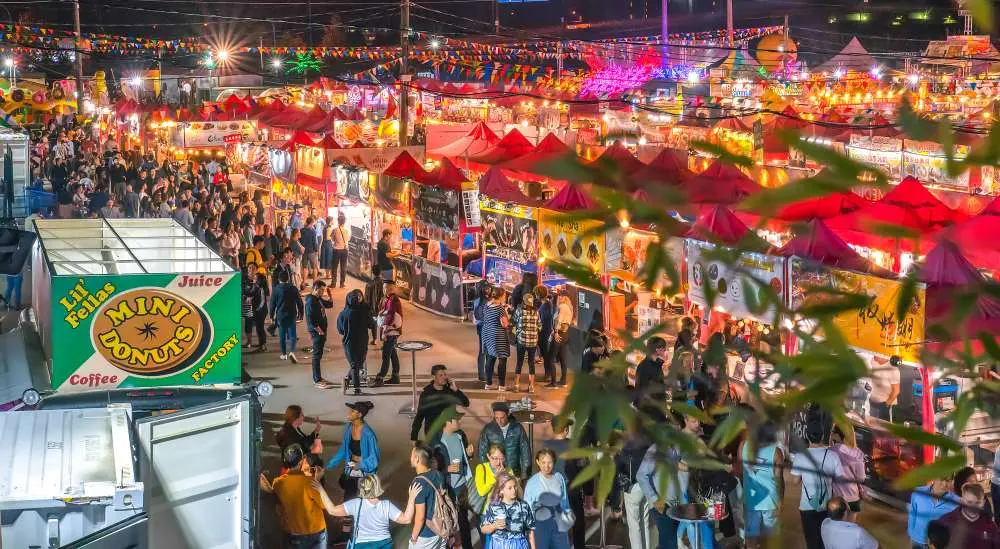 5.4. Games
The array of midway games may stop you from hovering around the stalls. The games are fun and ensure a prize on your every win. The carnival-like games are liked by children and adults alike.
The classic and unique games are worth trying and unfold your skills by competing with the game instructor at the stall.
5.5. Shopping
As mentioned above, this market is Asian-inspired; you can buy many Asian goods, jewelry, and artisan goods here.
Apart from the Richmond Night Market, the founders love to showcase and sell the products of local artisans of Richmond and worldwide.
Toys and stuffed animals worldwide are a massive hit for children.
Phone cases, groovy sunglasses, paper lanterns, and daily wear items are primarily sold here. Authentic silks and handmade clothing at street prices are must-buys.
For teenagers, Japanese comics and types of camping equipment are a huge hit.
By now, you must have decided to jiggle with your friends, try the food, and enjoy the games and rides. The evening is celebrated with neon lights added galore to the grand event.
The popularity and love for the Richmond Night Market are evident from "Mineko's Night Market"; here is the link to the website. This is the video game inspired by this night market with 16 different night market levels. It is made by a couple who are fond of this market. They have beautifully intricated the night market details in the game.
But before you leave, here are a few tips I hope you follow for a smooth sail in the evening:
6. Points to Remember
It is advisable to follow the points below before you leave for the Richmond Night Market.
If you are from Vancouver or nearby, it is always better to reach here by public transport rather than driving alone to avoid parking hassles.
With zoom pass, you can find other people to go in with you.
Bring cash. The night market is cash only. Some vendors may give HelloChat app on AppStore or Google Play as another option.
The number of seats or stand tables at the food court or off the food court area is lesser than the footfall.
Points to Remember related to the Food
You better go hungry and try new things if you wish to enjoy the flavors of Asian night markets in North America.
It is better to pick your eat and assemble at a place to enjoy the variety of food.
It is better to buy the coupons at the entrance for food, games, or rides because inside, it is tough to beat the crowded trails.
It is advised to have food first and then stroll around. The food area starts getting packed by 8 pm.
A great place to visit with grandparents, but you might have to wait at food stalls, so plan accordingly. So if they are not good at knees, make them comfortable in the sitting area first.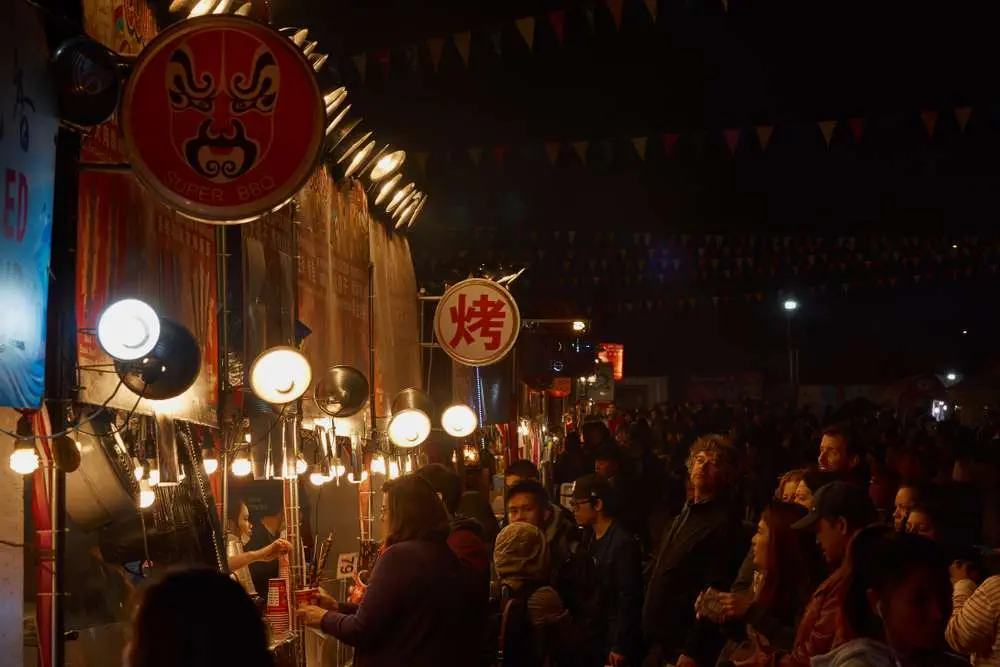 7. Takeaway
This annual summer market at the weekend is presented with new themes every year. Though once a year market, I am sure you will bring memories and make new friends for the year around.
All Richmonders appreciated Post Pandemic "Summer of Magic Rainbow" theme. Stroll through the stalls keeping an eye on your little ones, soak in the night market vibes, gaze at trinkets and try street foods of the world in one place.
If you have planned a day or a two trip to this great city, here is a list of some exceptional restaurants for you to visit:
Timothy's Frozen Yogurt– to satiate your sweet tooth.
Catch Kitchen & Bar– a top dining spot for excellent food and incredible views.
Blue Canoe Waterfront Restaurant– named "Richmond's best restaurant."
Let all the worries go off and all the riches turned down, shake your leg at the live performances, and let the child in you speak for all the excitement for Richmond Night Market.
Indeed said the RNM team," The energy rises as the sun sets."
8. Frequently Asked Questions
Q1. Is Richmond Night Market children-friendly?
Richmond Night Market is an entirely family-friendly event with many activities and fun unfolding for children.
Q2. When is the major footfall?
Friday and Saturday are the busiest, followed by the Sunday and Monday holidays. Significant footfall is when school is out.
Q3. Is a parking facility available at the Richmond Night Market?
Parking is free, but the parking lot is comparatively smaller than the crowds that gather.
Q4. Is vegetarian food available at the Richmond Night Market?
Not much, but Rotato, corncob, french fries, and giant onion with dipping sauce are must-vegetarian dig-ins.
Q5. Are any vegan food options available at the Richmond Night Market?
Yes, explore the food market.
Q6. Is Richmond Night Market cash or Card-Friendly?
Richmond Night Market is cash friendly.
Q7. What if I forget to bring in the cash?
Get some dollars in exchange from the casino at a five-minute walk distance or ATM at the site. ATMs may be crowded.
Q8. Is Richmond Night Market pet friendly?
Yes, you can bring your pets along as the market is in the open area. You can leave your pet at the dog play area before entering the food court.