Is skydiving on your bucket list, and you are nearby Vancouver? Don't worry, you can try skydiving in Vancouver, and here is all you need to know about it!
Skydiving is a sport and not just a hobby. It is one of the most thrilling and adventurous sports, which you can experience at the cost of a few dollars. Skydiving was introduced to the world in the late 18th century, and since the technological advancements have seen progress, it is now famous as a sport.
The thrill and adrenaline rush experienced during the skydiving freefall, it something which cannot be explained in words. It is something that needs to be explored and felt. And as Vancouver looks so beautiful from the ground level, imagine an aerial view of the city, there are chances of you falling in love with the city.
The experience of skydiving in Vancouver is such that it is worth the amount spent and is something which you should give a try. Once you get a taste of this once-in-a-lifetime kind of adventure, your life will undoubtedly have more meaning to it.
You don't need to be a sportsperson or a fit body type for experiencing sky diving in Vancouver. So, let's gather some information about sky diving in Vancouver.
5 Things to know about Skydiving in Vancouver!
1. Basic Things to Know About Skydiving
You need to be above 18 years of age for Sky diving in Vancouver or any other place. So, if you are below the age limit, we suggest you wait for a few years.
There's no restriction for your height, occupation, background, etc. but in some cases weight matters, if you are overweight and physical movement is a task for you, then it can be a challenging task for the team of guides and you as well.
Apart from that, pregnant women, a person with heart disease or fear of height are not allowed to go for sky diving. But few sky diving organizers provide sky diving experience to differently-abled persons or those who are paralyzed or have lost a limb, etc.
Because everyone deserves to experience the thrilling life has to offer, and when it is safe to try, then why not!
It is said that when you spend on an experience, the amount spent is not an expense but an investment! The same is the case here; the cost of skydiving in Vancouver can range somewhere between $200 to $300 and beyond.
But there are always loopholes, so it is suggested that if you go for skydiving in groups, the discounts are likely to be better. If you are an experienced skydiver, then Vancouver is waiting for you, but if you are thinking about this sport, then you need to read further.
2. Important Information For The First-timers
If you are going to try Skydiving for the very first time, then don't panic. Give yourself some time before the moment. Prepare yourself mentally, that there's nothing to fear. Because if you are a first-timer, you are likely to go for tandem skydiving where a guide will jump along with you, and he will control everything.
We are assuming that you are not scared of height, because you wouldn't be looking for sky-high adventures otherwise. It is advisable to learn some jargons used during skydiving, like a canopy which is your parachute, drop zone is the area where you are asked to jump off the plane, free fall means the best part of skydiving that is jumping off!
Your chances of getting hurt are meager, as the instructors usually have two parachutes with them, one is for backup. And yes, you can take your camera along for recording the whole journey.
You will get comfortable and cozy while your time on the plane, but don't let your fear overtake you, try to stay calm and relaxed so that your first attempt can be a success.
The whole journey of getting on a plane, jumping, and landing can take around 30 minutes, but your freefalling will only last for 60 to 90 seconds but don't need to get upset because that fall is where the thrill lies.

3. Best Places for Skydiving in Vancouver
So, as you are in Vancouver with your friends and family, the question is where to get started with? There are several places for trying sky diving in Vancouver or nearby it. There are lots of tour groups and guides who offer attractive packages and training for experiencing sky diving in Vancouver. Few places are:
A] Skydive Vancouver Island– Vancouver Island is the first place that strikes in mind when it comes to sky diving. Nanoose Bay in Vancouver Island is a hub for sky diving. The island is mainly known for its specialized tandem sky diving adventure. The best part about jumping from the plane is the view; you will witness the vastness of the blue ocean and a small island beneath, where you are supposed to land.
B] Vancouver Skydive Centre in Pitt Meadows- It is another famous drop zone for skydiving in Vancouver. The best part about skydiving in Pitt Meadows is the fact that after jumping, your view will include the metropolitan city of Vancouver. The tour guides here offers the highest jumps in British Columbia. This skydive facility was established by two skydivers in 2015 but provided the best service in Vancouver.
C] Abbotsford- This location is just an hour away from Vancouver city. Abbotsford is a privately owned airpark mostly built for skydiving purposes. It's a functional space from the 1950s, which makes the first skydiving space in North America and world-class facilities have been provided for the people. You will get a beautiful combination of the view of parks, forests, ocean, and city.
D] Whistler- Whistler is one fantastic destination for skydiving and adventures, and is located around 120 miles away from Vancouver; you can easily reach here in a couple of hours of driving. In Whistler, there are plenty of drop zones and functional spaces dedicated to skydiving experience.
For gathering some more information about Whistler and its skydiving places, you can click here!
4. Groups and Events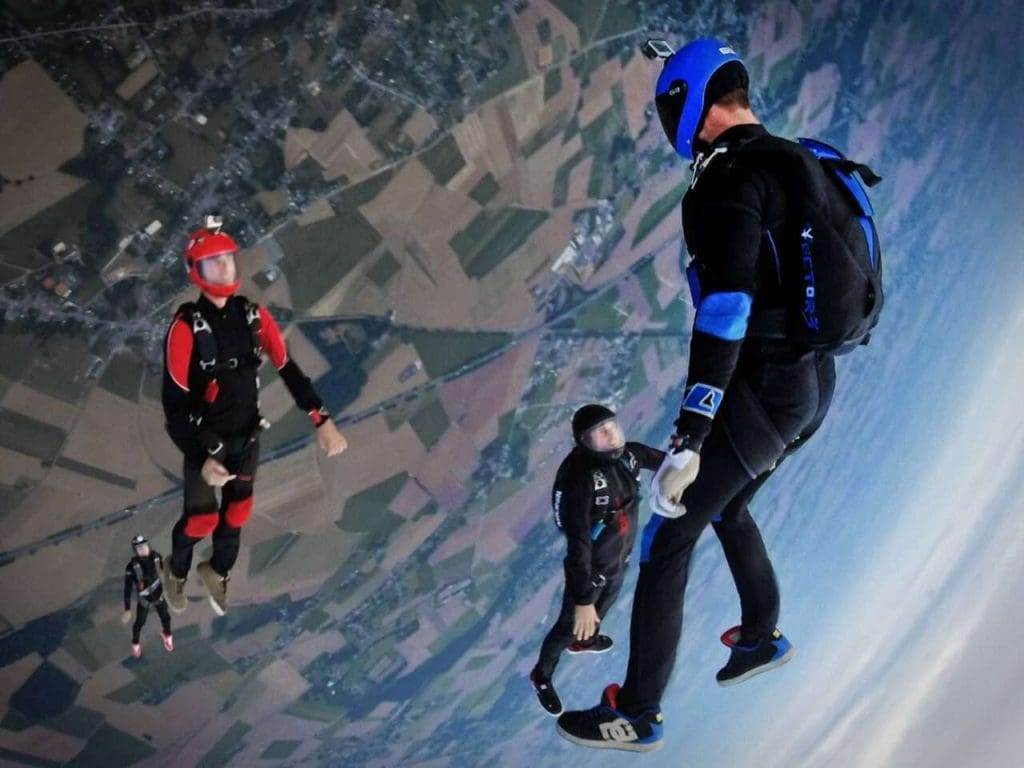 You must be wondering what kind of events can happen in the sky. Well, there are lots of other things that happen in the sky while you are falling. For example, World records can be made by over 100 skydivers forming different patterns and 3-D structures. But don't worry; you can be a part of some regular events.
The first one is the group skydiving event, where a group of 5-6 skydivers jumps together from the plane, and they balance themselves in such a way that patterns can be formed. There are lots of other diversification in group events and tours.
You can visit a particular place in Vancouver for trying skydiving; you can jump in the group with the first-timers, or go solo if you are experienced. There are training courses available for those who want to learn skydiving in Vancouver.
Challenges like bucket list challenge, air shows, beach day, etc. are organized every then, and now, they do offer discounts or attractive packages, and some also do it for a noble cause.
5. Weather Check
Weather plays a vital role in skydiving in Vancouver. The weather of Canada is known for its mood swings, which means it can change anytime.
So, if you are planning to go for skydiving in Vancouver, check the weather forecast in advance; because in bad weather, the risk of accidents and trouble gets doubled up. The skydiving team is likely to cancel your trip during bad weather because of safety issues.
So, don't rush it up. For sky diving, you need to have time and patience for it. So wait no more, plan a trip to Vancouver and try skydiving between the hills, oceans, and city, with all your friends and family.
It is a fact the first-timers have mentioned that, that the moment you land safely is the time you want to go up again. Yes, sky diving is that addictive, but it's a good addiction; we can say that.
And for the experienced skydivers, there nothing stopping you, as you have plenty of options in Vancouver, you can go solo, arrange a personal trip or free fall from the plane with your friends, and even sharpen your skills by enrolling for training courses.
This was all about the necessary things to know while planning skydiving in Vancouver. There are lots and lots more to learn about skydiving and Vancouver. If you are planning on visiting Vancouver Island, there are lots of other places you can visit and things to do, that you can check it out here!
Vancouver is a fabulous place for everyone, it doesn't matter if you have a shopping addiction, or you are an introvert, extrovert, nature lover, nirvana seeker, or extreme sports enthusiasts, Vancouver has something for everyone.
This was an article on 'Skydiving in Vancouver? 5 Things you should know!' if you have anything more to add, please feel free to share your thoughts with us!
Hey, wait!
Sign up to our newsletter and get exclusive discounts!
Want exclusive deals and discounts? We have just the list for you, from web hosting deals to your next Zara purchase.
Get how-to guides to shopping online, starting essentials to launch your business and general life hacks. And get additional discounts when you use our content writing services. Know more here. 
Enter your email address to sign up for our newsletter!