The magnificent snow-clad mountains of Vancouver have no bound to their beauty. Experience the snow sport of snowshoeing in Vancouver, British Columbia & have a mindblowing spell cast upon you.
Walking, trekking, Skyride, new moon nights, skiing, snowboarding, and snowshoe fondue are all the activities you can participate in during winter. Snow brings a lot of exciting opportunities with splendid views and the night sky.
But one of the best activities you can do is to go for a snowshoeing experience…. and Vancouver is the best of the places to go!
So, if you are thinking of snowshoeing along Vancouver state? Follow the below instructions to avoid upsetting consequences for a great snowshoeing Vancouver experience:
Look into the following action plan for Snowshoeing Vancouver has to offer informative white-out conditions and varied terrain, and have experience using actual snowshoes.
1. Preparation for Snowshoeing Vancouver Experience
Spontaneous trips are exciting and give a different kind of thrill, but they, too, need planning. Impromptu trips have a thrilling feel, but if something doesn't go your way, it becomes upsetting. To prevent avoidable circumstances, one must always plan the journey ahead of time for a safe and secure experience.
Snowshoe mainly helps walking in the snow but sideways or downhill would make it troublesome! It's not easy to walk along these grounds with snowshoes for amateurs. It has a high risk of slipping and injuring yourself.
First, get some training if you are interested in wild, adventurous walking in the snow. Check online platforms that can offer you information and tips on snowshoeing safety.
Different types of snowshoes also play a significant role in this section. If you plan to move from the flat terrain, you also need some avalanche safety guidance. Adventure is good, but the safe experience is the best.
1.1 Snowshoe Renting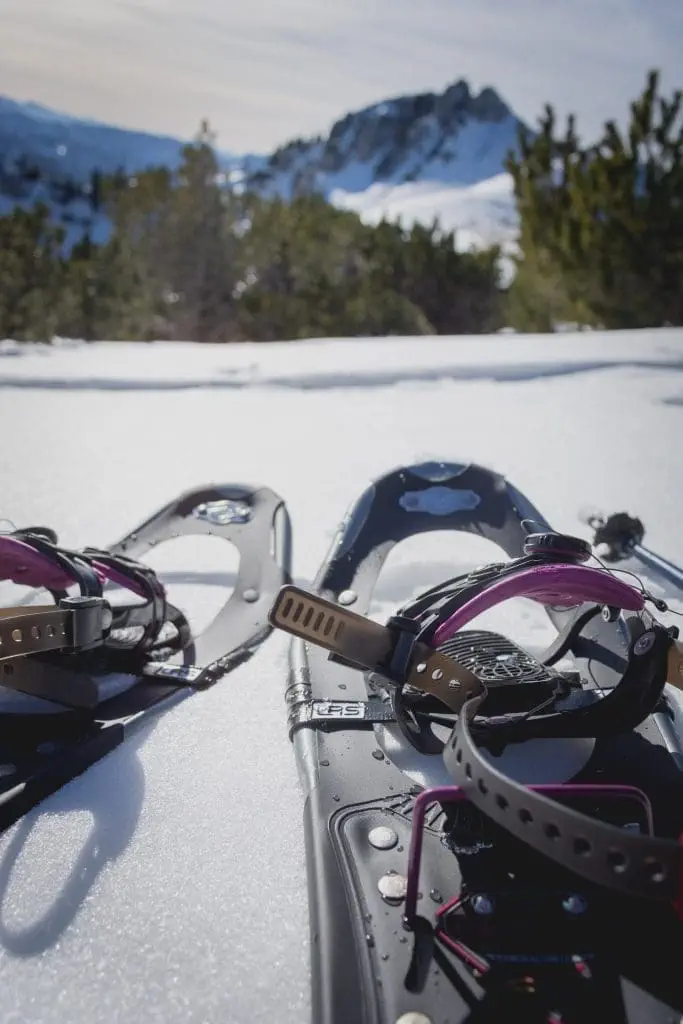 Have no idea or trial about snowshoe rentals, many places in Vancouver offers them on rent for you to try and make you decide which of the snowshoe type might be suitable for you.
Renting them in the town and bringing them to the mountains makes it a cheaper option. There's an option of both directly buying or renting before buying.
You can rent snowshoes from ski resorts, but they restrict where and how to use them. For snowshoe rentals, the vocational season and sunny weather are busy. Thus, snowshoes being available on the spot is a bit difficult. However, pre-booking can be done.
1.2 Assemble a Trip Plan
Snowshoeing trails aren't crowded ski areas. They are pretty silent places packed with solemn wilderness. Beware and be prepared for any situations you can avoid with thorough planning of your location. Check and make a plan that is suitable for your aptitude. Inform your close ones about your trips and who you can rely on if something goes wrong.
Prefer places for your trip for Snowshoeing Vancouver can provide you with some relevant sightings!
Photo by Brian McGowan/ Unsplash Copyright 2021
1.3 Forecasting Check
Before you leave for the trip, check the climatic condition of the place you prefer. Also, check the trail conditions. Verify the avalanche report of the vicinity. For the South Coast Zone, make sure to check the avalanche reports.
Unless you have avalanche safety training, do not opt to go out in that weather. Please make sure to avoid any mishappening.
1.4 Winter Essentials
The trip needs some planning and packing. Preparing for winter emergencies is very important for trip-goers. Check out some repercussions and recommendations you can follow to experience a higher adventure feel.
Packing essentials for unknown situations and going through the tips ensures safe and secure winter hiking and snowshoeing trails.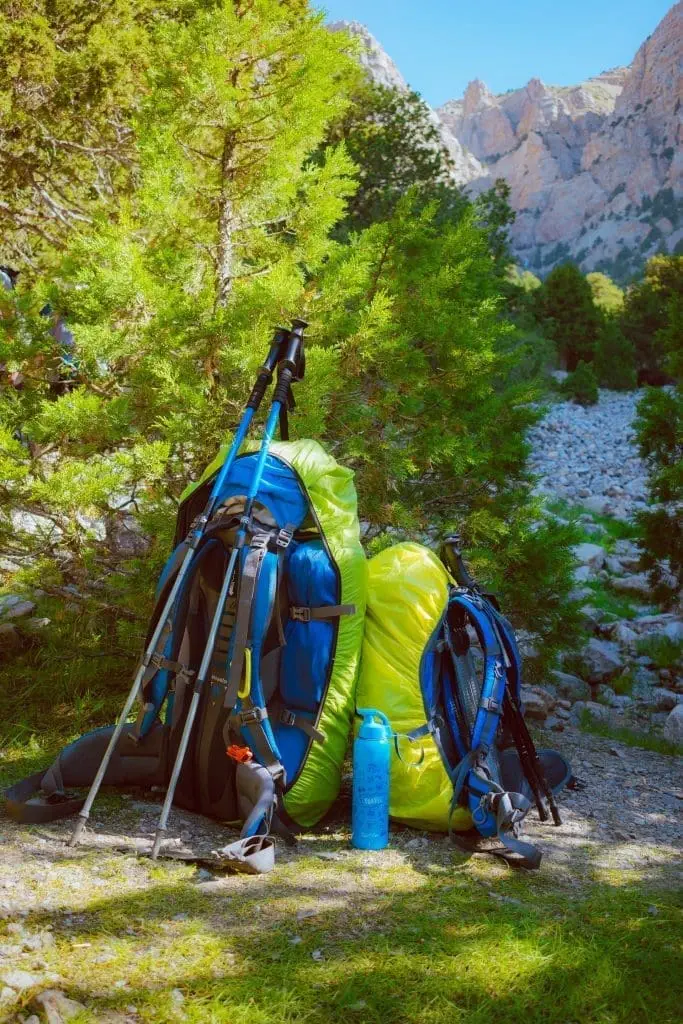 2. Snowshoe Destinations: 5 Destinations Vancouver Offers
Check out the destinations for Snowshoeing Vancouver has to offer. British Columbia has snow lands rich in spectacular views of the snowshoeing area. It's a winter wonderland for snow sports activities.
Below are specific names of popular trails near Vancouver that you might find appeared in the Snowshoe magazine with guided snowshoe tours and surrounding mountains that you can explore.
2.1 Mount Seymour (Discovery Snowshoe Trails)
It's one of the most preferred North shore mountains for Snowshoeing in Vancouver, British Columbia.
The distance of Discovery snowshoe trails is 5.5 km of various loops. The elevation gain is 50m. The time required to trek can be 1-3 hours, depending on how far you intend to go. It's rated to be an easy trail.
Mount Seymour has its private ski resort. The Mount Seymour Discovery snowshoe trails are part of this ski resort. You need to pay for ski trails and parking. You can get the tickets on the Bc Parks website.
It's simply a 35-minute drive from Vancouver towards the downhill ski area at Mount Seymour. Public transit is available in the Mount Seymour Shuttle.
2.2 Mount Seymour Provincial Park (Dog Mountain)
If you choose to snowshoe around Mount Seymour provincial park alongside Dog Mountain and Mt Seymour trails) a BC parks day pass is needed from mid-December to March 31st. The Dog Mountain's open summit crosses a small lake on its route as they are rolling trails. It's one of the snowshoe trails that give quite a view of the city.
The distance to travel is up to 4.5 km round trip, which takes up to 2-2.5 hours. It's a moderate or easy trail to trek, and the elevation gain is 30m.
In this area, no fees or permit is required for snowshoeing trails. It's one of the most popular and preferred snowshoeing trails in Vancouver by most of the crowd.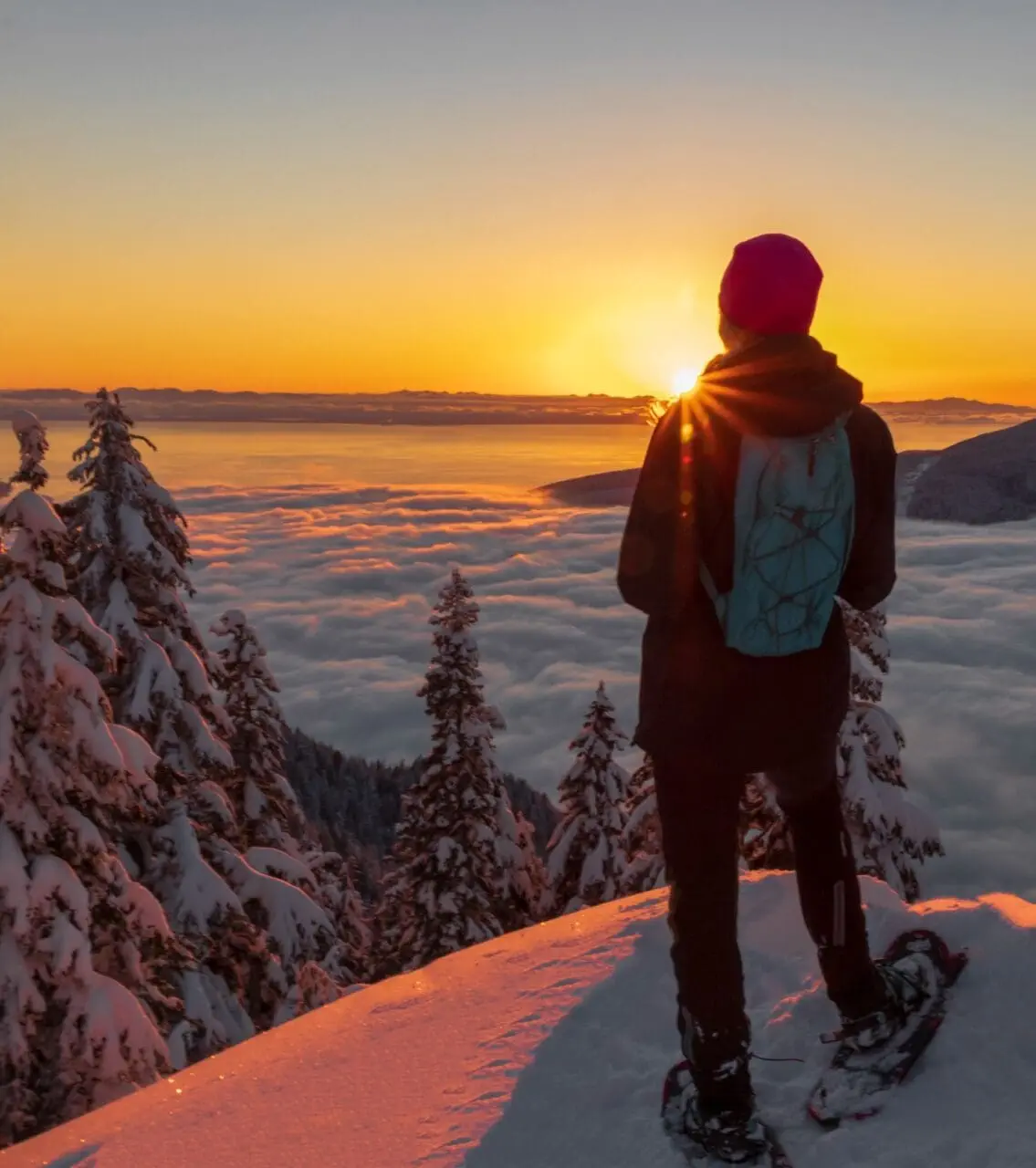 Photo by Susan Flynn/ Unsplash Copyright 2020
2.3 Grouse Mountain (Blue Grouse Loop)
The second most choice of snowshoeing, Vancouver's north shore mountains favoured. It's a 20-minute drive from Vancouver to the base of Grouse Mountain. There are no external fees required except for Mountain Admission Ticket. There's a resource Translink bus available as public transport to get you to the gondola.
An alternative for Grouse Grind, not as steep as the snowshoe grind that ends at Dam Mountain. A groomed beginner can be toured along the intermediate snowshoe trails of the Blue Grouse loop or the three pristine loop main trails that circle Dam Mountain and Thunderbird Ridge.
Munday Alpine Snowshoe Park of Grouse Mountain has groomed trails of four categories. Snowshoeing Vancouver has the best places to offer. One of them is Grouse Mountain. You can follow the trails easily as marked signs are specified from Grouse Mountain.
Its steep hill produces quite some avalanches. In short, don't waiver from the trail maps, as it's full of avalanche terrain and dangerous steep. The summit is not to be crossed; however, the landscape is rugged. Go through the south summit avalanche forecasts before you go. It's closed chiefly down in bad weather conditions. Even if it's not, you might need crampons and an ice axe to hike up the trail maps route.
2.4 Cypress Mountain (Nordic Area Snowshoe Trails)
Cypress Mountain is located within the vicinity of Cypress provincial park. It is officially connected with a contract to operate the ski area of the Cypress Mountain Resort. It has two main areas: the downhill ski area and the nordic ski area.
The Hollyburn Nordic Area Snowshoe trails are a cross-country ski area like a maze that runs crisscross. It also has a flat course, but you can have a ski run along the hills. It's an area to enjoy the night sky of downtown snowshoeing Vancouver.
Downhill ski areas trail the Black Mountain plateau Winter trail, which is around 7 km round trip and located 30m west of the lower terminal to Eagle Express Quad Chairlift as per the sign board.
The path is a well-marked trail with safety gear and headlamp rentals available at the base. Like single-track snowshoeing, you can also try Hollyburn mountain on Cypress Dam Mountain, similar to this trail. Historic Hollyburn Lodge snowshoeing is Vancouver's Cypress mountain top place among Snowshow magazines.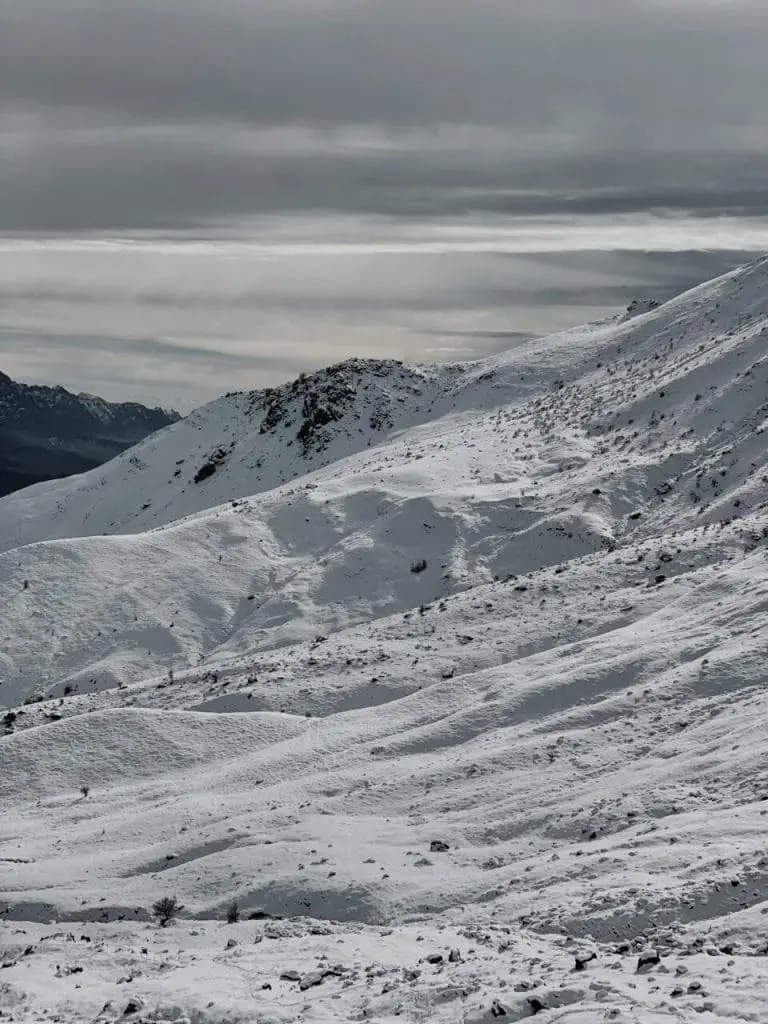 2.5 Cypress Provincial Park (Bowen Lookout)
The first part of the Howe sound crest trail gives a great view of the Bowen lookout through the short and steep trails. If you are a sunset lover and like snowshoeing, Bowen lookout is the place that gives sunset snowshoeing; Vancouver's north shore is the best place to go.
You will need a free backcountry access pass to cross the ski hill to start the trail. You can get one at the Old Black Mountain Lodge in the downhill parking lot. It's a place with well-marked trails located outdoors for snowshoeing in Vancouver with spectacular views.
Be aware, and don't cross beyond Bowen Lookout. The trail is full of avalanche terrain, dangerous gullies and sharp drop-offs. Even if you want to go beyond that, you should have avalanche training and safety equipment.
3. Gear Guide for Snowshoeing Vancouver Adventure
To prepare for any change of weather or unplanned night out, specific measures are needed to avoid a disastrous event. Below is a checklist to make sure you're prepared for the snowshoeing event:
Long underwear that is moisture-wicking (can be wool or synthetic).
Make your jacket or vest insulated.
Have rain gear that is waterproof/breathable.
Snow pants or bibs.
Jacket and pants of soft shell quality.
Your gear kit guide should include appropriate footwear, hiking socks, and hiking pants to make your hike comfortable.
It would be suitable to wear gaiters to avoid dampness in slushy conditions.
Trekking poles are a good option, with snowshoes for trekkers.
Closing Thoughts
Snowshoeing is not like skiing which needs much guidance. It's just an ability to hike all winter. You can opt for some fantastic deals provided by Alpinists, who offer group trekking or hiking with paid trails, and the tour includes a snowshoe.
You can also book private snowshoe tours where snowshoe rentals are included, along with headlamps. Though, private tours are based on guide availability. Each participant needs to have a valid pass or mountain admission ticket.
Snowshoeing is a tiring experience for some but the ones who know how to enjoy the elements of nature wait to get a kick through it. The views of the snowy hills, skiing trails, and icy cold bring the whole adventure to the top. Enjoy the thrill of snowshoeing. Vancouver has trails that can be the best with previous accords.
Follow all essential tips and recommendations regarding the equipment and the commodities you need to carry. Don't be too fuzzy and move too much, but be careful to have all you need.