Stuck or confused about which college or university in Toronto to choose? Worry not; we have got you covered. We are here to help you make this important decision more easily.
The List of the Top Colleges in Toronto
Toronto is a popular city in Canada and can be understood by seeing the vast diversity and presence of immigrants in the city. Studying in this city is definitely a good idea, with several options to choose from for your graduation or post-graduation degrees. We have listed and ranked the top colleges in Toronto. We hope this helps! Good luck with your future endeavors.
1) George Brown College of Applied Arts and Technology
Type – Public College
Established in – 1967
Official Website – https://www.georgebrown.ca/
Campus location – Urban
Name of the different Campuses – St. James Campus, Casa Loma Campus, and Waterfront Campus
Total enrollments – 25,888 (full-time)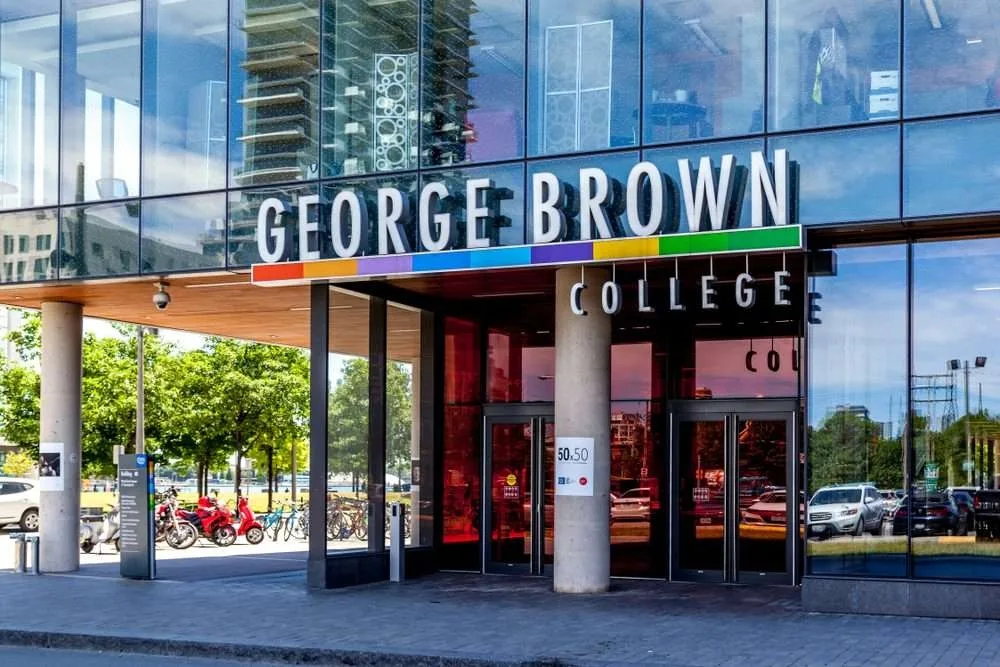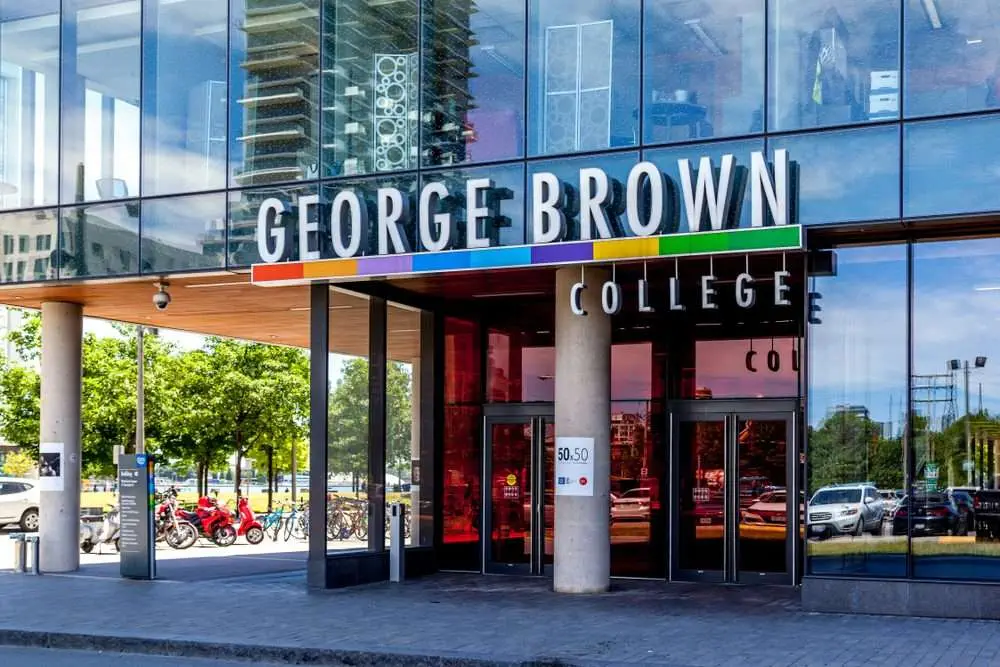 The college has expanded from over 2,000 students in 1968, and now it schools almost 30,000 students. One of the top colleges in Toronto, the Goerge Brown College now offers 27 certificate programs, 5 pre-school programs, 10 apprentice programs, 28 graduate certificate programs, 35 diploma programs, 31 diploma programs of advanced level, and 8-degree programs. One of the degree programs is in conjunction with Ryerson University. Distance education programs are also available. Specialization programs are offered in 7 fields.
George Brown College also has a theatre school and a sports team named Huskies. The students have a newspaper named The Dialog, a service given by the college's Student Association. The standard of education that the college offers is of a world-class level.
Using the college's advantage is at a good location, students are exposed to the job market's ways. Students are provided with field education and employment by tying up with companies and organizations, apart from the course curriculum. So the students are able to learn and develop their skills according to what the job market demands. You can check out videos on their YouTube channel, which might guide you well. This is probably the best college to opt for if you want both education and exposure to real-world activities.
2) Seneca College of Applied Arts and Technology
Type – Public College
Established in – 1967
Official Website – https://www.senecacollege.ca/home.html
Campus location – Urban
Name of the different Campuses – Newnham Campus, York University's Keele Campus, King Campus, Markham Campus, Peterborough Campus, Newmarket Campus, Vaughan Campus, Yorkgate Campus
Total enrollments – 17,000 (full-time)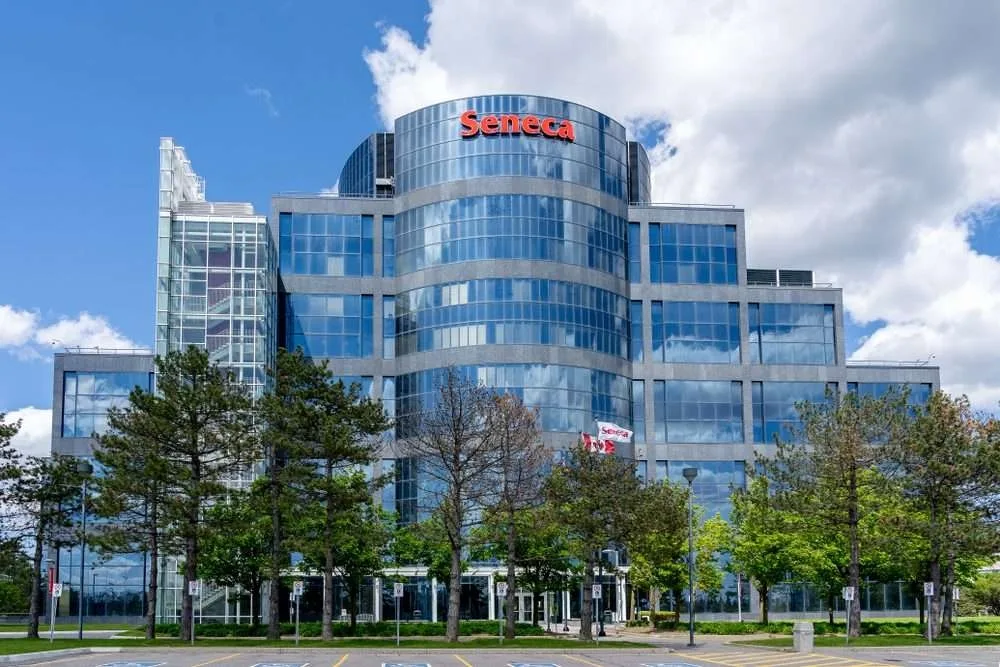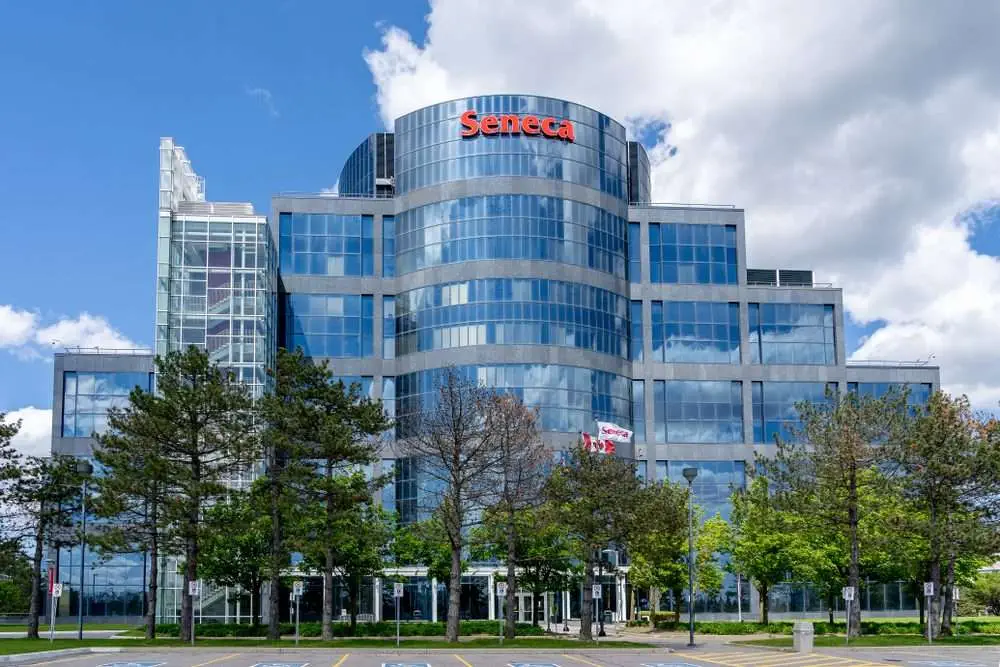 Another of Toronto's top colleges, Seneca College, has provision for around 145 full-time programs,135 part-time programs. Among these, 14 of them are bachelor's degrees, and 30 are for graduation certifications. The college offers guidance on career choice, experiential learning and placement options. The libraries of Seneca have upgraded facilities like audiovisual and electronic resources for studies. Seneca has been a new home to over 3,500 international students every year.
The Newnham campus is said to be one of the largest college campuses in Canada. It schools several full-time students in the different courses that it offers. This campus also has daycare facilities, a sports center, and over a thousand beds for residents. The King campus offers Underwater Skill training and also has facilities for residing there. The Markham campus was the first college to offer post-secondary education in 2005.
One campus is in the Peterborough Airport itself, which is a center of Aviation studies. Counseling on employment and job-related workshops are held in the Newmarket campus. Apart from these, there were a few campuses that had to be shut down. Seneca College offers a wide range of courses from aviation to entrepreneurship; hence it is a pretty good college to consider going to. Seneca College offers first-hand exposure to job opportunities and learning experiences. You can check this video for more insights.
3) Humber Institute of Technology and Advanced Learning
Type – Public College
Established in – 1968
Official Website – https://humber.ca/
Campus location – Urban
Name of the different Campuses – Humber North Campus, Lakeshore Campus and Humber Orangeville Campus
Total enrollments – 27,000 (full-time)
Humber College offers around 150 programs, including bachelor's degree, diploma courses, certificate courses, post-graduation and apprenticeship, in around 40 fields of study. This college's highlighted facility is that besides textbook knowledge, they impart experimental practical application, internship programs, and field placements. For internationally trained professionals, there is provision for Bridge programs too.
One of the top colleges in Toronto, the Humber Orangeville campus has six wireless classrooms, a computer lab. Also, it has facilities for fitness like a pool and provision for playing hockey. Humber College has a Fashion Institute for students eager to study fashion and want to go into the beauty industry. It also has Arboretum, which is a space for students to carry out research in an outdoor classroom.
The college provides a comfortable residence for students. To make it more comfortable and at home, there are study rooms, community kitchens, and recreation spaces. A student body named IGNITE looks into the management and executive works for the students.
All of the programs are career-oriented and indulge in practical, hands-on training experiences. Hence, it is definitely a good choice. Make sure you find the right course for you.
4) University of Toronto
Type – Public University
Established in – 1827
Official Website – https://www.utoronto.ca/
Campus location – Urban
In 2020, the University of Toronto was ranked 29th globally by QS World University Rankings and first in the entire country of Canada. The University of Toronto is famous because it was the research birthplace of insulin and stem cells. It was also the site where the electron microscope was tested for the first time and some other discoveries. Many notable people were students in this University, like Canada's longest-serving Prime Minister, William Lyon Mackenzie King, and the first female Canadian to go to space, Roberta Bondar. It's among the top colleges in Toronto today.
Apart from being the oldest and most prestigious, the University of Toronto is equipped with upgraded technologies and infrastructure. Under this University, there are 14 colleges, some of which are Woodsworth, Innis, and Massey College. There are 18 faculties under the University, like the Faculty of Music and the Faculty of Social Work. Hence, the University of Toronto offers a wide range of courses to choose from.
The college's athletic team's name is Varsity Blues, representing the college in other Universities and institutions. After Harvard and Yale, The University of Toronto is said to have the largest library in North America. The library has a huge stock of archival materials, journal titles, and e-books. Every season, the Hart House Theatre of the University produces four major plays. Canada's oldest student-run newspaper is from this place, name The Varsity. Check out this video for more insight.
5) Ryerson University
Type – Public College
Established in – 1948
Official Website – https://www.ryerson.ca/
Campus location – Urban
Name of the Campus – Ryerson Square
Ryerson University happens to be home to Canada's largest business undergraduate school, the Ted Rogers School of Management. It offers various courses based on business disciplines. It also has programs for entrepreneurial studies. Apart from full-time and part-time courses, the University also provides distance education and certification programs.
There are many different faculties you can choose from. The Faculty of Arts has 11 humanities and social science programs. Under the Faculty of Communication and Design, 9 schools offer a total of 13 major degrees. The Faculty of Community Services has a wide range of schools like the School of Occupational and Public Health, Midwifery Education Program, and School of Urban and Regional Planning.
The Faculty of Engineering and Architectural Science has 9 bachelor's degree programs, 15 master's degree programs, and 5 doctoral degree programs. If you want to enroll in Continuing Education, Raymond Chang School of Continuing Education is the right place. It has certificate programs, degree credit courses, and also certificate and interest courses. The Digital Media Zone (DMZ) at Ryerson is ranked highest globally as the university-based incubator for startups.
The University provides housing to 1417 students inside the campus in three residential buildings. The name of the student newspaper is The Eyeopener, and the campus radio station is CJRU. Students from the journalism program produce another newspaper named The Ryersonian and a Ryerson Review of Journalism magazine. The Engineering Student Society produces another newspaper named The Golden Ram. For more insight, check out this video.
6) Centennial College
Type – Public College
Established in – 1966
Official Website – https://www.centennialcollege.ca/
Campus location – Urban
Name of the different Campuses – Morningside campus, Progress Campus, Ashtonbee Campus, Story Arts Centre
Total enrollments – 26,000 (full-time)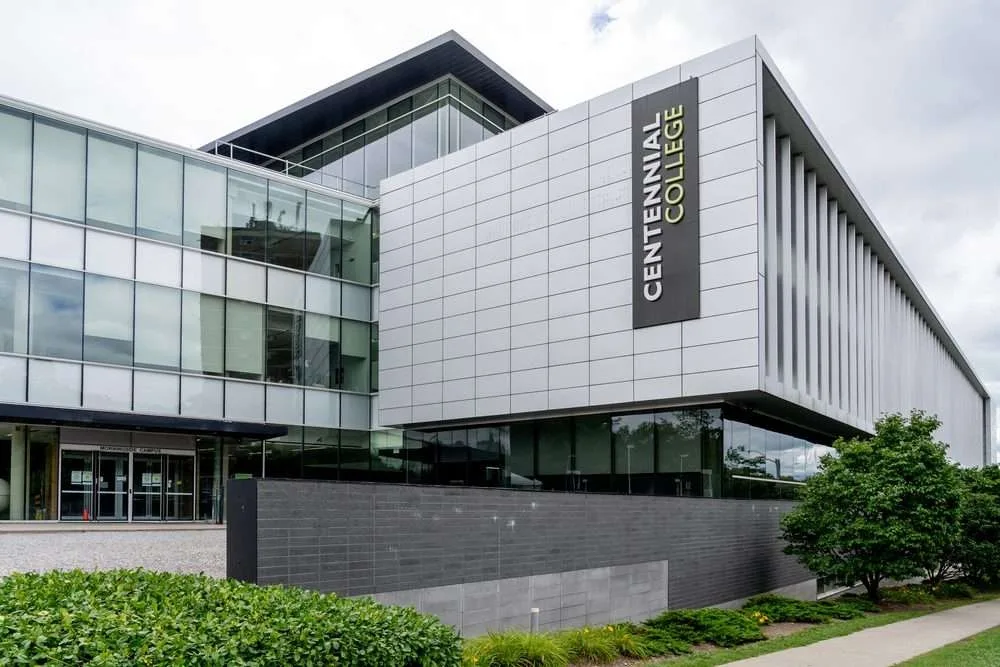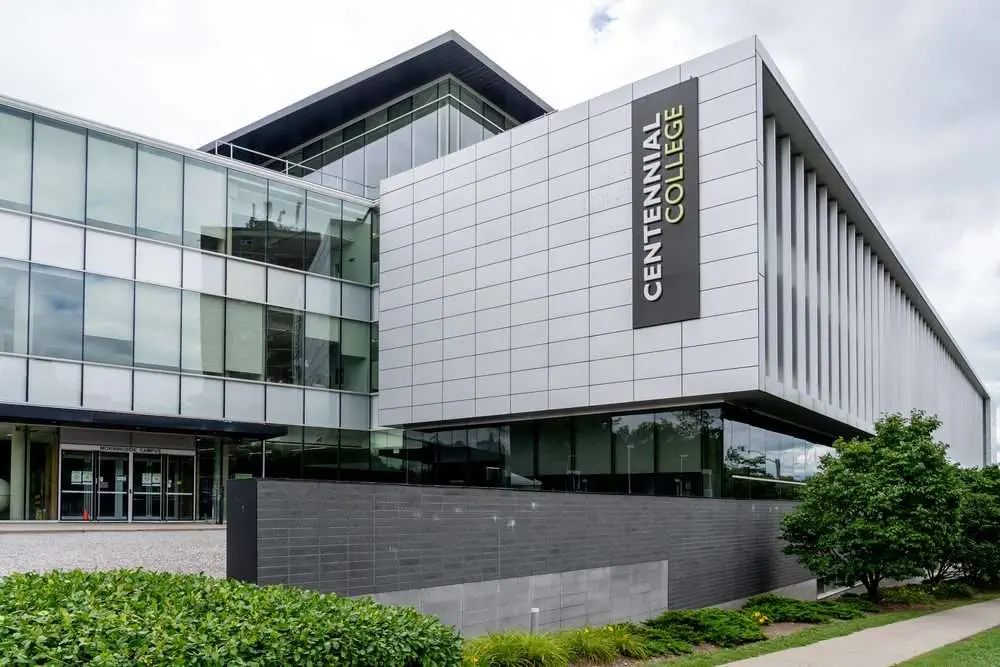 Centennial College is said to be one of the most culturally diverse institutions for post-graduation in Ontario. This college offers around 260 programs, including diploma programs, certificate courses, and apprenticeship programs. There are programs in diverse fields like animation, health sciences, music, theatre, and design too. This college mainly focuses on experiential learning and quality education while also providing industry and field placements.
The Morningside campus has programs in health science and environmental science. Among them, some programs are personal support workers and massage therapy. So there is a diverse range of courses you could opt for. Progress campus, which is the largest in Centennial College, offers hospitality and culinary arts programs. If you opt for culinary arts, you could even work in the student restaurant. The Ashtonbee campus is said to be the largest transportation technology training center in North America. The Story Arts Centre provides courses in the creative field like advertising, public relations, digital animation, and game design. Check out this video for more insight.
7) Trent University
Type – Public College
Established in – 1964
Official Website – https://www.trentu.ca/
Campus location – Urban
Names of different Campuses – Peterborough Campus and Durham GTA Campus
Trent University has many colleges under it. Like Catharine Parr, Traill College is among the top colleges in Toronto. It is the base for some of the undergraduate programs like English, Cultural Studies, Canadian Studies, and Modern Languages. It offers 5 graduate programs also. The Otonabee College offers programs in Psychology, Anthropology, Sociology, and many others. Trent's Durham campus offers full or part-time degrees in Media Studies, Social Work, Communications Critical Thinking, and many more.
M.A./M.Sc. degrees are available in courses like Applications of Modelling in the Natural and Social Sciences, Theory, Culture and Politics, Material Studies, and a few more.
The names of the student-published newspaper and magazine are Arthur and Absynthe Magazine. They are distributed among the students of the college, free of any cost. Trent Radio is the community radio organized by the students. TrentBook is a website for students made by the students, which has articles regarding the University. For more insight on this, check out this video.
8) Lambton College
Type – Public College
Established in – 1969
Official Website – https://www.lambtoncollege.ca/
Campus location – Urban
Name of the different Campuses – Mississauga Campus and Toronto Campus
Total enrollments – 35,000 (full-time)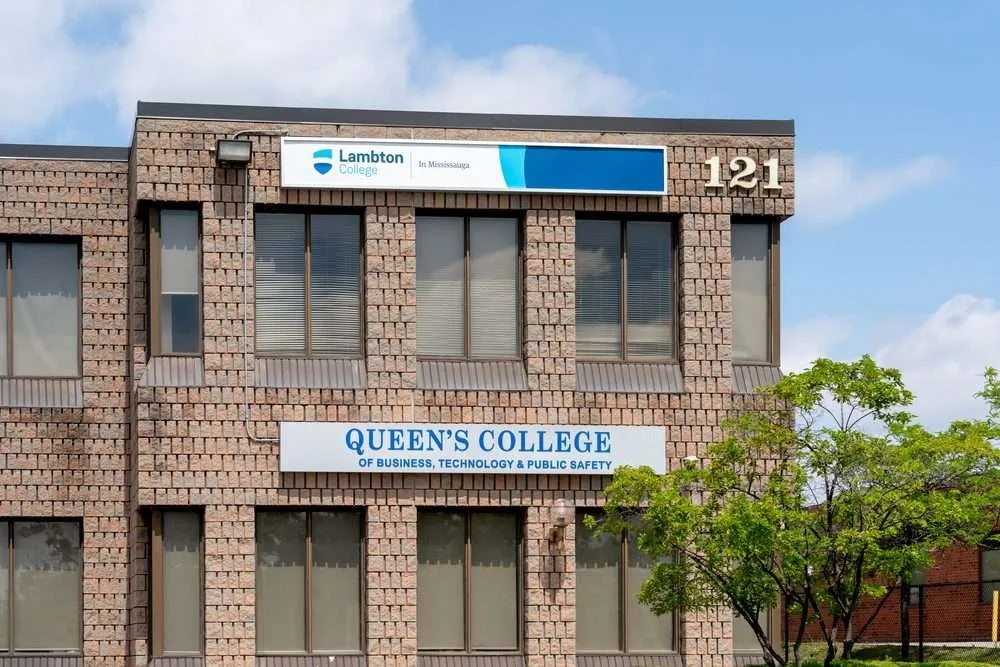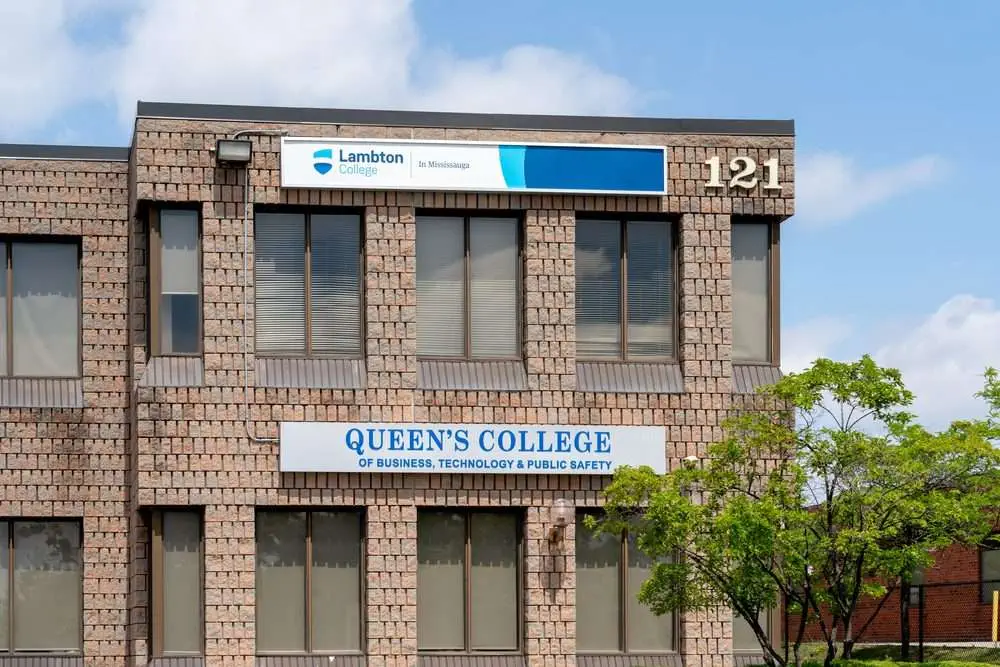 In 1966, Lambton College was the second one to open in Ontario officially. From 45 students, it is now home to over 14,600 students. The College of Lambton now offers almost 90 courses, including post-secondary programs, apprenticeships, academic upgrading, and a few more. It has a NOVA Chemicals Health and Research Centre, which has programming Health Sciences labs and facilities for advanced technology simulation. The college has an Athletics and Fitness Complex and a Centre of Excellence in Energy and Bio-Industrial Technology. 
There is an on-campus restaurant named Creations Fine Dining, which also provides an applied learning environment for the Tourism Management, Hospitality, and Culinary Management programs. The residential capacity of the college is for around 280 students with a courtyard and lounge area. It ensures a comfortable college life. You can check out this video for more information.
We hope we could narrow down the options for you to choose from. Do you feel we should have included another institution in our top colleges of Toronto list? Do let us know below if we were of any help to you.
As an Amazon Associate, Icy Canada earns from qualifying purchases.
[amazon_auto_links id="81298"]
The Icy Canada team strives to create content that matters. It's why our content is written by travel writers, authority experts, well-known authors, and niche experts. Our content is also periodically reviewed by expert authors for accuracy and trustworthiness.
As an Amazon Associate, Icy Canada earns from qualifying purchases. [amazon_auto_links id="81298"]