Dawson City– a place that brags about having the mixed history of the First Nations people as well as the Gold Rush history, is indeed a vibrant tourist location. It is an extensive community located beside the Yukon River in Yukon, Canada.
Whether you want to step back in time to look at the history or you are looking for some typical snow activities- Dawson City has activities for anyone and everyone. The thriving arts scene, dancing, and local music draw everyone here too.
A Brief History of Dawson City
Everyone knows the Klondike Gold Rush and other histories of this place, but very few people know what was here before the gold rush took place.
The tourists mainly end their visit to Yukon at Whitehorse, the capital city of Yukon. But it is here in Dawson City where the real experience and authenticity lies.
Before the Gold Rush
The city was not much known before the gold rush happened. It was sparsely populated. Its geology presents one of the best landscapes you will see in North America.
The terrain is evident in the fact that the last Ice Age created this place.
Tr'ondëk Hwëch'in of the First Nations were probably the first inhabitants of Yukon. They used this land primarily for hunting and fishing. The origins of these people or when they started living here- is still unknown.
There are still a few of these people even today. You can also get to hear about their stories in the Dänojà Zho Cultural Centre.
The Klondike Gold Rush
It was in August of 1896 that the city started gaining population. It saw a hike in the population overnight!
Outsiders rushed to Dawson when they heard about the emergence of gold.
The first gold was discovered in Bonanza Creek (a small branch of the Klondike river). As soon as they came back and told about their discovery, thousands of people, which included traders, missionaries, miners, and people looking for jobs, rushed to Dawson City.
The world which was facing a recession back then became hungry for this unclaimed gold. The word spread like wildfire, and the city got 100,000 people in no time at all.
Famous Canadian politician George Black also visited the city during the rush and made a fortune here.
However, the gold started to exhaust, and the place which was known as the "Paris of the North" lost its popularity again when miners discovered gold in Alaska.
Though it is all over, you can still find many gold mines here, kept for the sake of history and adventure.
Dawson City Now
The tourism industry is the leading industry here right now. Artists, photographers, history lovers flock from all over the world to get a taste of this incredible place.
Klondike Institute of Art and Culture (KIAC) and Yukon School of Visual Arts (SOVA) keep the place alive too.
Certain events like Dawson City International Short Film Festival, as well as the Yukon Riverside Arts Festival, bring many artists to Dawson throughout the year.
Similarly, the Dawson City Music Festival is an event of prime attraction and importance to musicians across the world.
The options of things to do in Dawson are endless compared to its small size. If you aren't an artist or a musician, you can always find joy in adventures like skiing, canoeing, dogsledding, and many more!
Also, the heritage buildings of the city are maintained and funded by Parks Canada, so you can be sure of the fact that the conditions of these are indeed top-notch.
The Klondike National Historic Site is also a lovely and maintained place that shows the picture of Dawson City.
Best Things to Do in Dawson City
Here are some interesting things that you can try doing in Dawson City.
1. Take a Walking Tour Around the City
You can learn about Dawson while walking around this little place. But if you want to have an in-depth knowledge of its entire history as well as culture, then its recommended that you to take a guided walking tour.
There are a lot of companies willing to offer you tours, but it will be best if you go along with a good one! In that case, locals recommend the Klondike experience.
It has a high rating and a tourist favorite. The tour guide will take you to all the nooks and crooks of the city and tell you everything there is to know about this historic city.
Often these tour operators also provide helicopter services and even skiing and dogsledding options. Ask yours to avail of all these.
Ask your guide to take you to the midnight dome to get the best views of the city. This is a must-do when you visit the city. The midnight dome is on the top of a hill that gives you impressive views of the Dawson City.
There are a couple of ways to go up to the top of the hill. You can either drive, and there is a path that will lead you straight to the lookout.
And if you are an adventurous soul, try hiking! There are different trails, and it is approximately a 5-mile hike.
The entire town is very photogenic apart from being historical. You can wander around the city and find several mesmerizing spots for your Instagram. The Kissing Buildings are the most Instagrammed spot in the city.
2. Visit the Diamond Tooth Gerties
This iconic Gambling Hall of Dawson City is like a step back in time. It is an incredible experience. There is also a lot of history entangled with this place.
This casino was opened back in 1971 and is the first Canadian casino ever to own a license.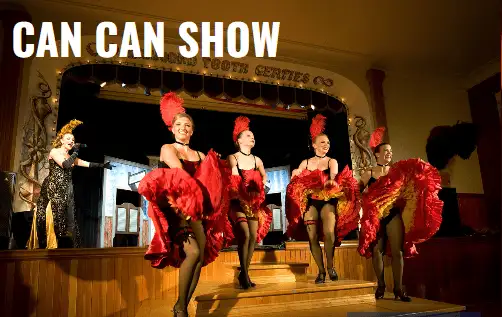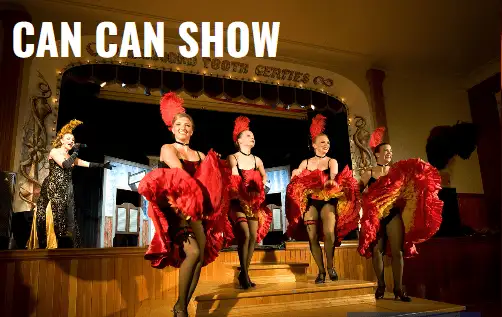 The theme of this casino is also the gold rush of the city.
The casino is worth your visit. You can play a lot of fun gambling games like roulette, blackjack, and slots. Don't you like gambling? Watch the dancers dance like there's no tomorrow.
Also, this is a non-profit organization, and all the money of gambling goes back into helping and developing the city itself! And it is even open seven days a week during the summers.
3. Take Part in the Sourtoe Cocktail Legacy
"You can drink it fast, you can drink it slowly, but your lips must touch the toe."- the most famous saying that goes around here. Now wondering what that is all about?
The city is not only famous for the gold rush history, but there is also one another thing that makes it iconic among adventurous travelers- the Sourtoe Cocktail Club.
This pretty gruesome tradition requires you to drink a cocktail that has a severed toe in it! And yes, it is a severed human toe!
This is a pure tradition of the city that has been going on for decades. In 1973, a local by the name of Captain Dick Stevenson came across a severed toe while cleaning, and he started a drinking game that involved putting this toe in anyone's drink, which was up for the game.
Since then, a tradition was born in the Sourdough Saloon of Downtown Hotel. The rules are that you have to finish it in one go, and it must touch your mouth or lips.
And please don't swallow the toe as the expensive fine will cost you a total of $2500!
4. Try Out Your Luck in Gold Panning
Miners build Dawson City. Yukon used to have the most mineral-rich soils in all of the United States, and it was here that thousands of traders made their entire fortune.
Though the rush is gone, there are still some gold fields left where the large companies have taken over, and gold is still mined.
Do you know that you can try out your luck in panning gold? Yes, it is a part of guided tours. It doesn't matter if you have experience or not. It is an enjoyable and innovative thing to try out while in Dawson City!
Search for treasure in the various gold fields available, and you might even get your hands on some gold dust!
5. Visit Tombstone Territorial Park
Though this place is not in Dawson City, it is a fantastic tourist spot nearby. A 1-2 hour drive away from the city, on the infamous Dempster Highway, the Tombstone Territorial Park should not be missed!
Home to many Canadian specials like the black bear, grizzly bear, caribou- this state park is almost 2200 square kilometer.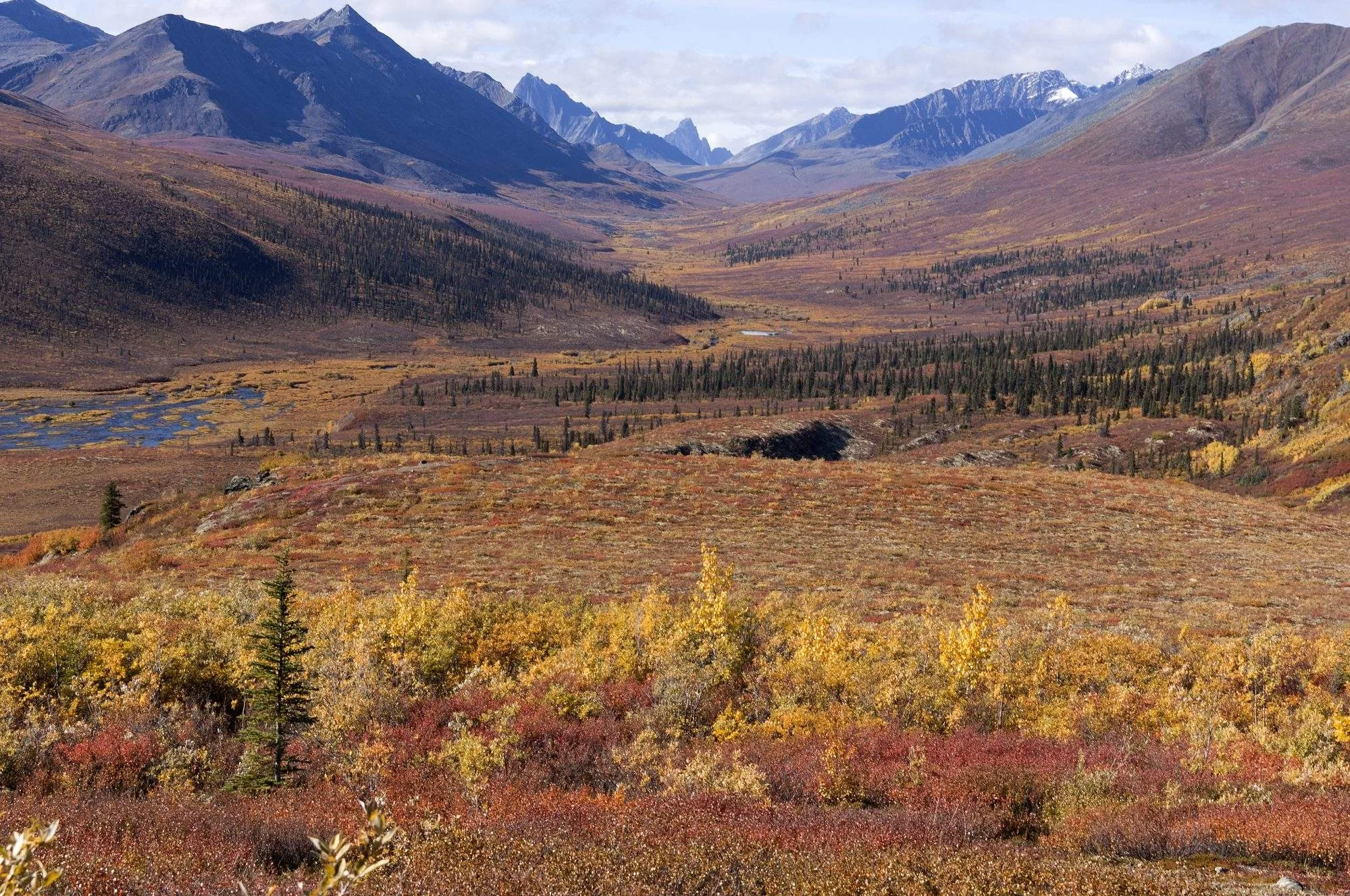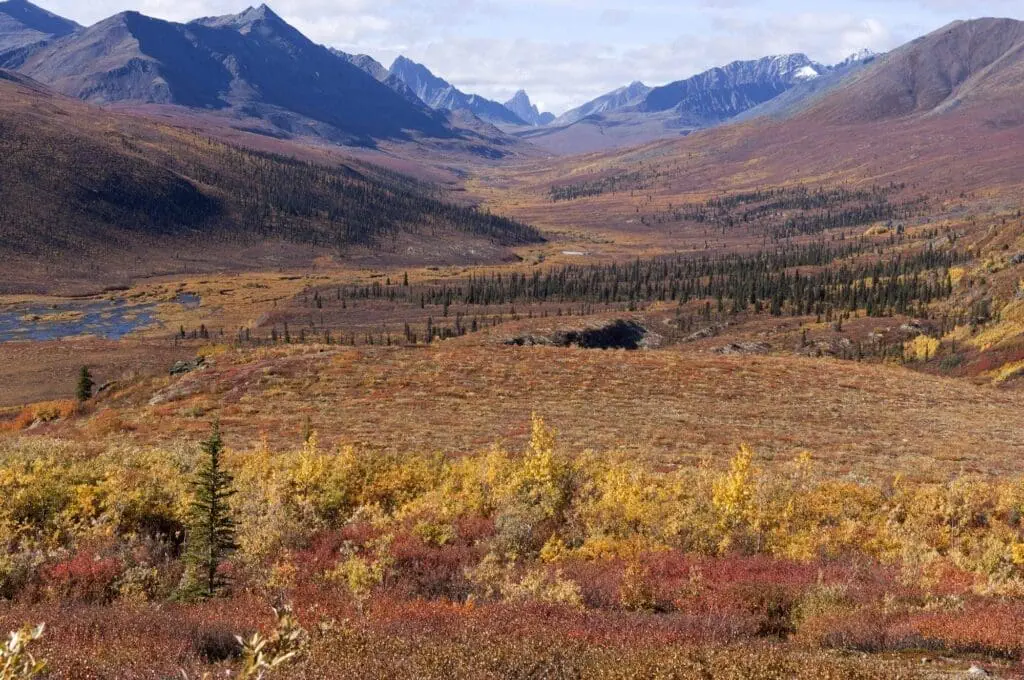 Though animal watching is the main activity here, the rugged landscape of the valley is spectacular indeed.
It is a multi-purpose park- you can hike here, camp even opt for an overnight stay. It is usually remote in off-seasons. But keep one thing in mind- the hiking trails are dangerous, so try visiting the place with a guide!
6. Go Dog Sledding
One of the fascinating things about this place is dog sledding is a mode of transport here! Yes, locals of Dawson city used this mode for generations. Now it is more of a tourist attraction.
You can find several companies or operators who conduct dog sledding tours. However, you decide to choose a good one! There are many kinds of tours available- it can either be a quick 1-hour tour, or it can even last overnight.
There is one more thing that will make you fall in love with dog sledding even more- you get to pet and play around with the adorable and gorgeous huskies later! It is a fun and amusing thing to try out in the city.
Try to visit during the Yukon Fest. It is a remarkable dog sledding competition where there is a 1000 mile trail for dogs to compete in! The track runs through the heart of Dawson City.
All the locals and as well the tourists visit the route to cheer up these cute huskies.
It is indeed one of the best things to try out during the cold and harsh winters.
7. Enjoy Dawson City Music Festival
The music festival of this city is an absolute legend all over Canada and even the rest of the world.
Did you know that the music festival started as a simple family barbeque? And now it has taken the shape of a continuous three-day party and one of the best fests of the city.
Starting in 1979, this fest is now attended by tourists from all over the nation as well as famous musicians of the world. Please make sure that you have booked the tickets if you plan to stay in town for the fest!
Conclusion
Have you ever been to the gorgeous Dawson City? What would you recommend for the new tourists? Let us know about your views and places of interest! Click here to read about more such mesmerizing places in Canada!
FAQs
1. Best time to visit Dawson City?
If you want pleasant weather as well as cheap airfare and Yukon's wildflowers, then fall is the time for you. July and August are indeed the best time for canoeing in the rivers.
But to experience the magic of the midnight sun, you'd have to go in the summer. Also, there are a lot of opportunities for adventures in the summer.
If you are courageous enough to face the Sub-Arctic temperature, you get to see the northern lights as well as ski and go dog sledding.
The city has something to do all around the year. You need to plan your trip according to your favorite season!
2. How to get to Dawson City?
The best way to get to the city is by taking a five-hour bus ride from Whitehorse. You can also choose a small plan journey from Whitehorse.
Otherwise, if your adventurous soul is craving for some action, there are specific unconventional ways to get to the city. Apart from opting for a motorcycle journey, you can choose canoeing or kayaking as a mode of transport!
3. Where to stay in Dawson City?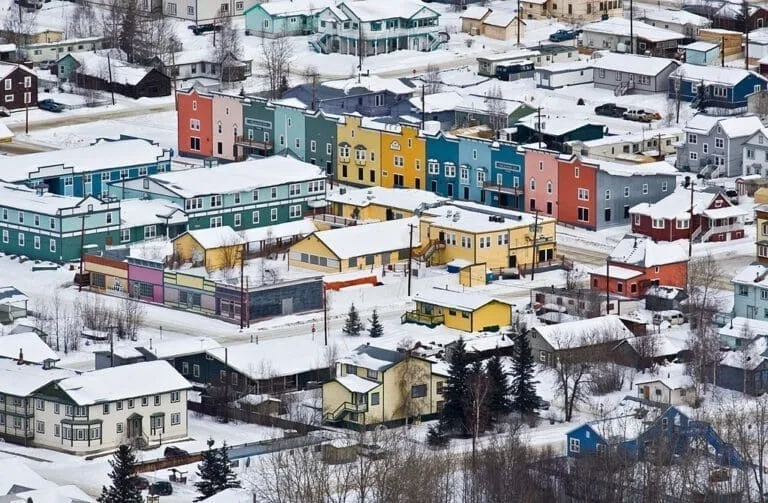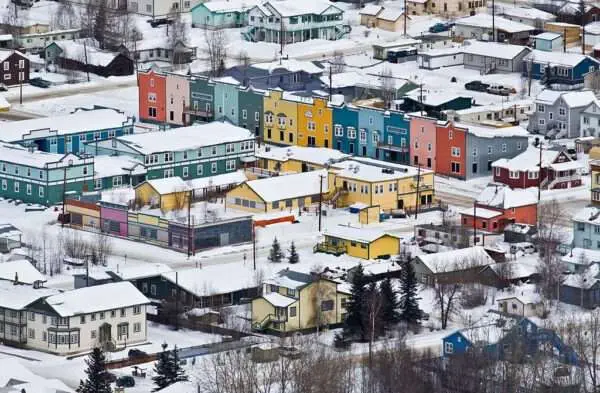 While the Downtown Hotel and the Bombay Peggy's Inn are the most common among tourists, it is indeed hard to get a room in these during the peak season. So I'd recommend making an early booking if possible.
If they are unavailable, there is nothing to be worried about as there is a lot of accommodations in this small city. Also, everything is close to one another so that the hotels will be close to the sightseeing spots!
Suggested Reads
Athabasca Falls – 12 Attractive Facts To Know Before Visit!
As an Amazon Associate, Icy Canada earns from qualifying purchases.
[amazon_auto_links id="81298"]
The Icy Canada team strives to create content that matters. It's why our content is written by travel writers, authority experts, well-known authors, and niche experts. Our content is also periodically reviewed by expert authors for accuracy and trustworthiness.
As an Amazon Associate, Icy Canada earns from qualifying purchases. [amazon_auto_links id="81298"]