Are you a teenager looking for a store in Canada for your retail therapy? Then PINK Canada is just for you. PINK is a brand that focuses on teen girls and their needs. Being the apparel line of a famous brand PINK has been able to attract teenagers easily. PINK Canada stores are located in some of the most beautiful shopping streets and centers in Canada. There are only a few stores of PINK Canada, but you can buy from their online stores anytime.
Pink, written and stylized as PINK, is a lingerie and apparel line of Victoria's Secret, a subsidiary of L Brands, that focuses on younger women than their target customers. Youth between the ages of 13 and 22 are the target population. PINK had a recurring segment in the Victoria's Secret Fashion Show throughout 2018, showcasing their items.
L Brands, Inc. (previously Limited Brands, Inc. and The Limited, Inc.) is a Columbus, Ohio-based American apparel retailer. Victoria's Secret and Bath & Body Works are two of the company's most well-known brands.
Victoria's Secret is American lingerie, apparel, and beauty company recognized for its high-profile marketing and branding. It involves a popular catalog and an annual fashion show featuring supermodels known as Angels.
Victoria's Secret launched PINK, a new product range aimed towards young adults and older teenagers, on October 16, 2002. The product debuted in select locations in late 2003, with a full chain-wide rollout in July 2004. L Brands launched PINK with a strategy to create customers from a younger generation. Those teenagers would eventually shop at Victoria's Secret stores.
The PINK brand sells underwear, swimsuits, sleepwear, loungewear, beauty items, and accessories to lure customers into Victoria's Secret's adult product categories. The company frequently positioned its outlets next to Victoria's Secret locations.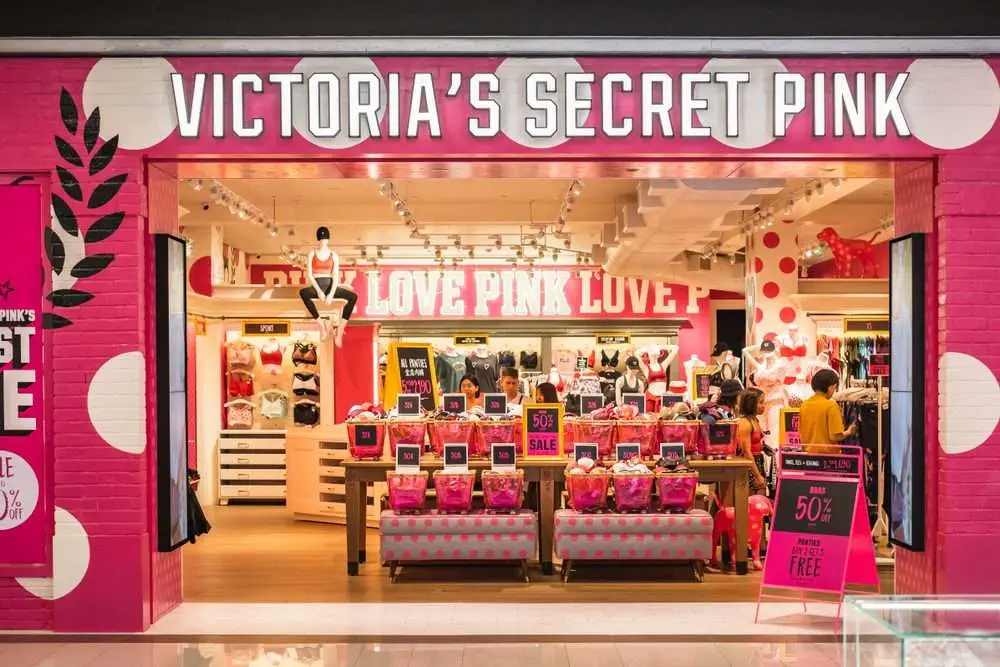 It is a lifestyle brand that celebrates and supports the power of community, promotes positive mental health in young adults, and is environmentally conscious. PINK is a brand that pays back to society from time to time. It is a lifestyle brand that wholeheartedly follows its values. It contributed to maintaining American forests and reducing plastic waste. It is also promoting sustainability.
These gift boxes and paper shopping bags are purely made from paper that came from sustainably managed forests through an FSC source. They have donated to many foundations that contribute to social welfare. They mostly donated to the JED Foundation, which is working in feeding foods to hunger-stricken people, supporting and spreading awareness among the younger generation regarding mental health.  You can check their social networking sites to know more.
Together with their customer, PINK values diversity, equity, and inclusion, as well as self-confidence. Their products are designed to make you feel great on the inside and out.
Victoria's Secret PINK is a college lifestyle brand that embraces and encourages the strength of femininity, originality, and self-confidence. The product line is sassy, fascinating, and absolutely comfortable. The product range comprises loungewear, knit tops, bras, undies, accessories, and beauty that appeal to the girl who lives and loves PINK's energy, humor, optimism, and self-confidence.
PINK has launched many products that are exactly the opposite of what Victoria's secret is well known for. PINK has done a decent job selling products as a brand that supports body positivity by selling products for all body types and sizes. PINK tried to build a different image from Victoria's Secret. It also launched sportswear, accessories, and wellness products formerly not part of Victoria's Secret. However, because Victoria's Secret continues to push PINK as a brand, it has proven difficult for PINK to attract clients who are turned off by Victoria's emphasis on sensualness.
Why is PINK by Victoria's Secret so Expensive?
You might have always thought about why those simple pieces of clothing are so expensive. There are many reasons for this. One of the main reasons is fabric. Well-made loungewear and undergarments use high-quality fabric that is both attractive and comfy. Cotton is one of the fabrics that are used for manufacturing undergarments.
Cotton is a washable, absorbent, and skin-friendly fabric. With all of the synthetics lowering lingerie prices, a 100% cotton panty can feel unexpectedly luxurious! Cotton prices change according to the crops harvested and market demand, so a pair of panties this season could cost more to create than last season – even if they are sold at the same price.
Cotton produced and grown without pesticides or additional chemicals is around 30% more expensive than conventional cotton. It is often softer, has higher fiber quality, and is better for you and the environment.
Silk is perhaps the most coveted fabric for high-end clothing. It is lustrous, robust, and long-lasting. That is why it takes a long time to manufacture. Another expensive fabric is Lace is usually the most costly material used in underwear.
Another reason for its expensiveness is the brand image and reputation of being the best in the business. PINK built its brand image by promoting body positivity among the younger generation. It also got benefits of being the subsidiary company of L brands.   If you can afford it, it will be worth your money, Because it provides what it promises.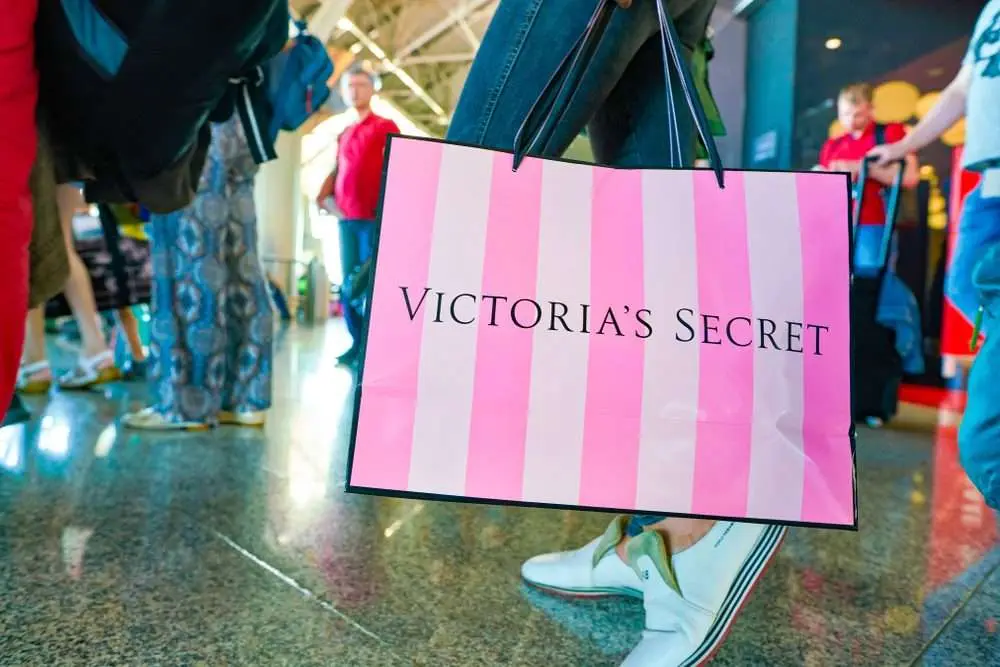 Some of the other reasons for the brand to be high-priced are the:
price of maintaining luxurious stores,
marketing,
advertising.
These reasons majorly contribute to the high pricing of PINK.
Shopping with PINK is easy as they are available online as well as in physical stores too. You can shop online at your convenience from their official website with minimal delivery charges. While shopping online, you can adjust prices and sizes accordingly. You can shop by country location and order to whichever location you want.
PINK stores are located all across Canada. They have a good collection of clothing and accessories, from slides to backpacks, from swimwear to tank tops, you can get whatever you want with high quality and great prices. Stores are specially designed to enhance customer experience. Every PINK store is designed in shades of Pink and White.
According to color theory, pink is connected with compassion, nurturing, love, and romance. It is feminine and youthful in its milder shades, but in its darker shades, it exudes more passion and fire. Pink soothes and comforts our emotional energies, reducing anger, aggressiveness, resentment, abandonment, and neglect. At the same time, white represents purity, innocence, light, goodness, brilliance, illumination, understanding faith, fresh beginnings, possibility, humility.
PINK stores are mostly present beside Victoria's Secret stores. In some places, the apparel line is sold in Victoria's Secret stores. PINK is sold in more than 140 stores across America and Canada.
There are about 10 to 15 stores in PINK Canada. Mostly it is presented as an apparel line of Victoria's Secret, but there are some places where they have a separate store. You can visit their official website to locate their stores.
Here is The List of The Top 10 PINK Canada Stores You Need to Visit
PINK Canada stores are mostly located inside some of Canada's largest and most famous shopping malls and shopping centers. The Canadian shopping malls and centers are every shopaholic's dream as every high-end label is available in a building.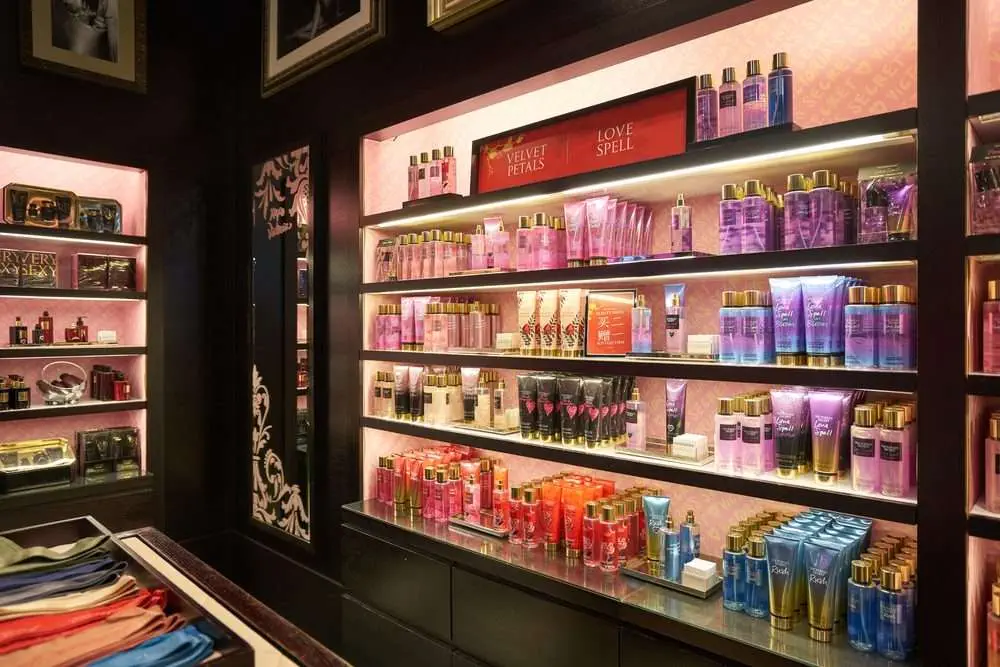 1. West Edmonton Mall, Edmonton
West Edmonton Mall is a shopping mall in Canada. It is the second-most-visited mall in Canada. The PINK store is present in the 3rd phase of the mall. The mall is located at 8882 170Th Street in Edmonton, Alberta. The Store Includes Beauty, Lingerie, PINK, PINK SWIM, SWIM, Sport.
2. Vaughan Mills, Ontario
Vaughan Mills is an outlet mall in Vaughan, Ontario, located at Rutherford Road in Vaughn, Ontario. It is one of the largest shopping centers in Canada. The store includes Beauty, Lingerie, PINK, PINK SWIM, SWIM, and Sport. The PINK store is present here beside Victoria's Secret store.
3. CrossIron Mills, Alberta
CrossIron Mills is a fully enclosed shopping center located just outside of Calgary's northern city boundaries of Alberta, Canada, and directly east of the hamlet of Balzac in Rocky View County. The store includes Beauty, Lingerie, PINK, PINK SWIM, SWIM, and Sport. The PINK store is located with other outlets of other famous brands.
4. Polo Park Mall, Manitoba
Polo Park (officially CF Polo Park) is a shopping mall in Winnipeg, Manitoba, Canada. It is located near the junction of Portage Avenue and St. James Street on the former Polo Park Racetrack. It is located just beside the West 49 store on level 1 of the mall. The store includes Beauty, Lingerie, PINK, PINK SWIM, SWIM, and Sport. Tne PINK apparel line present in Victoria's Secret store.
5. St. Catherine Street, Montreal
The PINK store is located at 1171 on St. Catherine Street. Sainte-Catherine Street is the main commercial thoroughfare in Montreal, Quebec. The street runs adjacent to the major section of Montreal's underground city, with several interconnected office tower basements and shopping complexes. It is a favorite street for every shopping enthusiast. All the stores of famous and high-end brands are located here. The PINK store is located somewhere between these stores. The store includes Beauty, Lingerie, PINK, PINK SWIM, SWIM, and Sport.
6. Carrefour Laval, Qubec
Carrefour Laval is a regional shopping center in Qubec. Carrefour Laval is known as a gateway for multinational retail companies wishing to expand in Quebec, and it is one of the province's best-performing shopping malls in terms of sales per square foot. It is the largest enclosed shopping center in the Montreal area. It is also Quebec's largest single-story mall. The stores include Beauty, Lingerie, PINK, SWIM, Sport. The PINK store is present here in the same store as Victoria's Secret. The store is located just beside the Laura store.
7. Bayshore shopping store, Ottawa
Bayshore Retail Centre is the top shopping destination in the National Capital Region, with a tenant mix and convenient location. Bayshore is a super-regional shopping area with approximately 200 attractive stores spread across three levels.
The PINK store is present here in the same store as Victoria's Secret on level 1 of the shopping store. The stores include Beauty, Lingerie, PINK, Sport. The store is present just beside the Kids foot Locker.
8. Tsawwassen Mills, Tsawwassen
Tsawwassen Mills is a huge outlet mall with designer boutiques, factory outlets, and eateries located in Delta near the Tsawwassen Ferry Terminal. Tsawwassen Mills is home to several high-end fashion labels as well as factory outlet retailers. Clothing, electronics, shoes, beauty products, home decor, and sporting goods are all sold here.
In the same store as Victoria's Secret, there is a PINK store. The stores include Beauty, Lingerie, PINK, Sport. The store is present right beside Swarovski stores. The store is located on 1 level of the shopping center.
9. Metropolis at Metrotown, Burnaby
Metrotown (also known as Metropolis at Metrotown) is a three-story shopping mall complex in Metrotown, Burnaby, British Columbia, Canada. With 27 million annual visitors, it is the largest mall in British Columbia and the third-largest in Canada, behind Alberta's West Edmonton Mall and Ontario's Square One Shopping Centre. The Pink Store is located in the same store as Victoria's Secret on the mall's ground floor. The store is placed between the fossil store and Ardene.
10. Robson Central, Vancouver
Robson Central is a building in Downtown Vancouver, British Columbia. The Victoria's Secret store where the PINK apparel line is displayed is located on 750 Burrard Street Vancouver, BC V6Z 1X5. The store includes the following: Beauty, Lingerie, PINK, PINK SWIM, SWIM, Sport.
PINK Canada stores are spread all across Canada in physical forms as well as online stores. You shop at your convenience, and your order will be delivered to your doorsteps.
You must visit PINK Canada stores if you are a teenager and a shopping enthusiast. You will find yourself intrigued by their vast collections of clothing and accessories. You can gift yourself one swimsuit, mix-match bikinis, or cute little fanny packs. You can also gift your friend their gift vouchers or cards so that they can also shop at this wonderful store.