Which are the top thrift stores in Vancouver? How do I find the perfect one for my liking when there are so many? Should I check them all out? I wish somebody would put up a Top Thrift Stores Vancouver" article so that I can sort out my options?
Is this what you are thinking right now? Then we have heard your prayers.
Thrift stores are all the rage these days. Fashion Vloggers and Influencers are always bragging about finding a vintage piece or a luxury brand for just a small amount in thrift stores. Now, if you are in Vancouver and are thinking of getting some new clothes, we have put up a list of the best thrift stores in Vancouver, BC.
After this post, you don't need to search for a thrift store near me or good thrift stores near me.
1. Wildlife Thrift Store
Want to find pieces that are "one-of-a-kind" while you are thrifting? Then Wildlife Thrift Store is the place that you are looking for. It is one of the best thrift stores in Vancouver, with a wide collection of unique clothing pieces for him and her. They also have housewares items and furniture pieces there.
What exactly does this store have to find its way into this list? Let me explain. The Prices? Reasonable. The Staff? Super friendly. The Store? Neat and Organized. The clothes? Amazing and in good condition. 
This place has it all. However, one downfall is that the store is quite busy most of the time. But it is a worthy price to pay for some top-notch second-hand clothes.
The shop has been around since 1997 and is situated at the corner of Drake & Granville St. The motto of this shop is to recycle as many goods as possible in order to give back to the community. What are you waiting for? Grab a friend and head over to this store as soon as possible. Check out their website to know more about the store.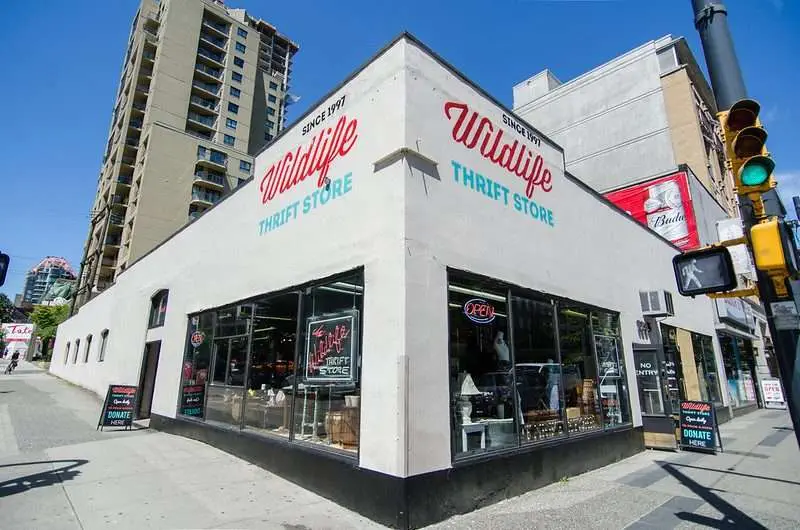 2. Value Village
Oh! An article about second-hand stores without value village? I doubt so. We knew it would definitely be in here when we read the title "Top Thrift Stores Vancouver."
This place is always stacked with new stuff. Every time you visit, you get to see new unique stuff. It's not just clothes. This store has about everything.
If you are a shopaholic, then you will enjoy surfing through the large ocean of items until you spot "The One." The joy and excitement you feel when you find the perfect piece of clothing or item you were looking for you cannot be substituted by anything else. The feeling is one of a kind.
But the downside is that the store is always crowded, and the parking lot is always full. If you hate busy places and people, then you better check out some of the quieter places in this thrift stores Vancouver list. If you are looking to visit, the address is 6415 Victoria Dr, Vancouver, BC V5P 3X5, Canada. Visit their website to know further details about the timings and donations.
3. Union Gospel Mission Thrift Store
Why is Union Gospel Mission in the top thrift stores Vancouver list? Firstly, there usually is an abundance of second-hand clothes in many thrift stores, and you will struggle with your time. Sometimes, after looking for hours, you might not find the piece you want. Well, in Union Gospel Mission, there is just a required quantity of clothes, graphic tees, and they are not over-stacked. So you might find what you want quickly.
The quality of clothes at this place is good, and there is also some jewellery that you can choose from. The staff of this place is polite and attentive. Low prices add to why it earned its spot in this top thrifts stores Vancouver list. The store is located at Hastings Street. The place also has a wide collection of furniture from which you can choose your pick. Do give this place a visit during your next thrifting adventure.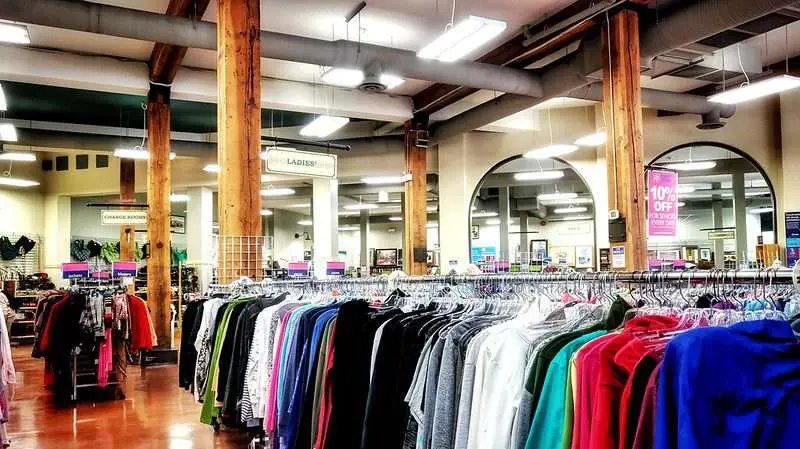 4. The Rag Machine
Why should you shop at the rag machine? The styles they exhibit are amazing for both women and men. You will find exactly what you are looking for, whether a shirt or coat. If you are into the 90s trends, you might find some good products here. You might also find some cool vintage art t-shirts here. We hope you get lucky with your sizes.
There are also some shoes and accessories from which you can choose your pick. Clothes are purchased by weight, and stock changes every day.
Even though this store had low prices at first, the prices have gone up over the years. The shop is located at 2425 Main Street, Vancouver, BC. It is situated behind some garbage bins, but don't be fooled by the appearance as you will find good clothes inside.
5. My Sister's Closet
Our next pick on the best thrifts stores in Vancouver is "My Sister's Closet." If you are looking for quality brands for reasonable prices, then My Sister's Closet is the place for you.
The shop donates the money they gain from the sales to help fund violence prevention. A just cause and a quality place. No wonder why it is one of the Top Thrifts Stores Vancouver.
If you are looking to donate, the shop accepts both men's and women's clothing, including handbags, shoes, and jewelry. If you have a large amount of stuff to donate, they usually pick up the items. The money you spend here will be serving a good cause. The place consists of helpful and attentive staff.
What more do you want from a goof thrift store? Since its establishment in 2001, the store has been around for twenty years. The shop has two branches. One is located downtown Vancouver at Seymour Street, the other at East Vancouver, 1830 Commercial Drive. Make sure to check out this place.
6. Vancouver General Hospital Thrift Store
Books, Pc Games, they have it all at the Vancouver General Hospital Thrift Store. If you are lucky, you might find a unique piece of antique in this store. The treasure that this store holds is abundant, but you just need to look at the right place to find it. You don't know what rare item you might find here for a very low price. An old record, wine glasses, classics? It depends on when and where you are looking.
This place is definitely the gem of Hastings Street. The friendly staff and the great number of used clothing add to the reasons why it made the top thrift stores Vancouver list. Another reason why you should shop here is the great music that the shop plays. Listen, Enjoy and Shop to your heart's content. You can also volunteer here to support the hospital.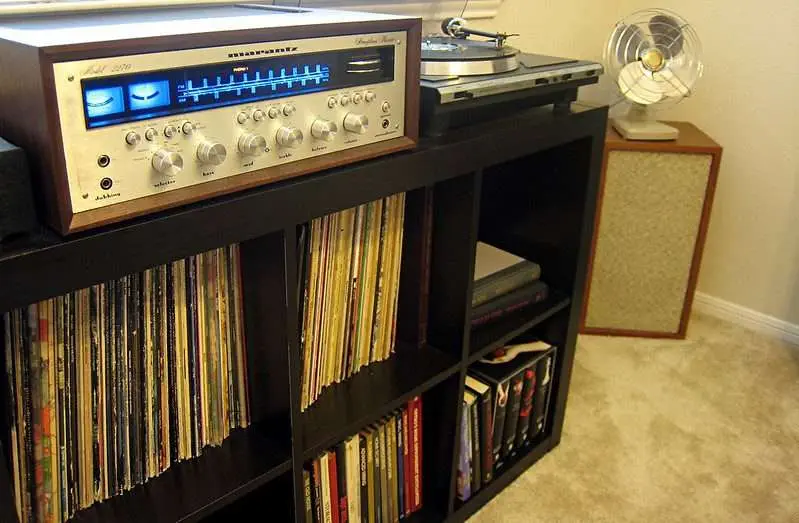 7. Miscellany Thrift and Vintage
Looking for some quality vintage clothing for a low price? Then, Miscellany Thrift and Vintage is the right place to shop. You will find some excellent quality goods here. There is also a good selection of different sizes: both affordable and adorable items. You can also purchase clothes online from their website. The order will arrive pretty quickly without any wear or tear.
So, when talking about Thrift Stores Vancouver, how can we not include this hidden masterpiece? If the perfect piece of clothing is a treasure, then this place will make your treasure hunt ( shopping) a wonderful experience.
The shop is like a fun maze, and while you look for your treasure, you might find even better ones than the one you were looking for. The store is located at 323 E Broadway, Vancouver, BC, Canada. So What are you waiting for? Embark on your treasure hunt right now.
8. Turnabout
If thrifting was an assignment, then Turnabout definitely understood the assignment. Great Fitting Rooms, Friendly Staff, Good Products. What more do you want at a second-hand store? This is the reason why we listed Turnabout as the best thrift store in Vancouver.
You will discover some famous brands of clothing in this store for almost a quarter of the original price. Sounds exciting, right? The items are in good condition. Occasionally, you might find a stain or tear, but most of the pieces are in good shape.
There are many branches of the Turnabout spread all across Vancouver. We have one located in CenterPoint Mall, another in Granville Street, Another in W Broadway, and one in Commercial Drive. We highly recommend you shop at the one in the CenterPoint Mall at 2929 Main St, Vancouver, BC V5T 3G3, Canada.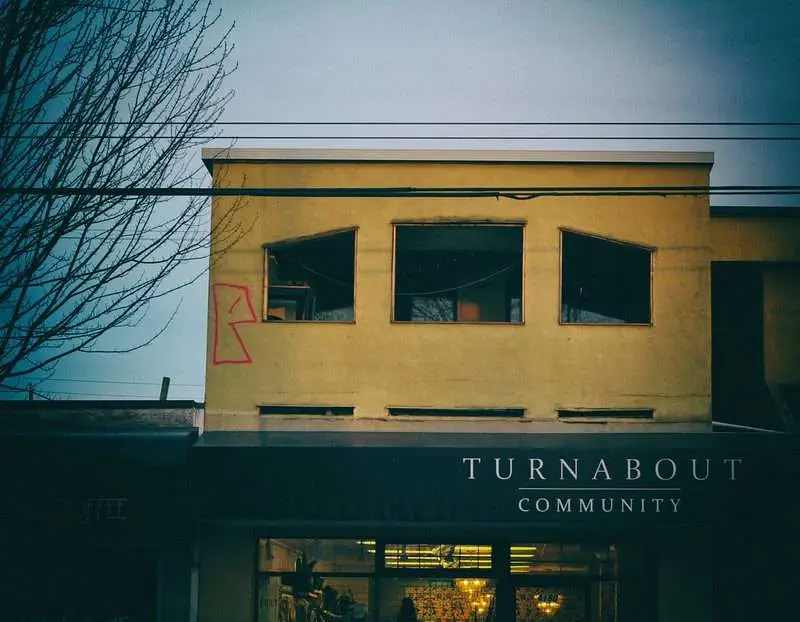 9. Mine & Yours
Out of all the thrift stores in Vancouver, Mine and Yours is the best one to find rarely used clothing, shoes & accessories from designer labels. They have a huge collection of items both online and in-store.
The clothes you find in this consignment store are in such good condition that it makes you wonder if it's brand new. Easily one of the best thrift stores in Vancouver. Make sure to visit this place next time you go thrift shopping.
Those were our suggestions for the Top Thrift Stores in Vancouver. Hope you liked these thrift shops. But there are many other amazing thrift stores in Vancouver, so don't limit yourself to the options provided in this article. Take your time and check out all of the places.