Imagine: It's a lovely, sunny day in summer and a bowl of watermelon and feta salad is in your hand. Doesn't that sound just divine? The freshness and coolness of the sweet watermelon relieve your body from the scorching heat, the feta cheese adds just the right amount of saltiness, and the fresh mint adds to the experience.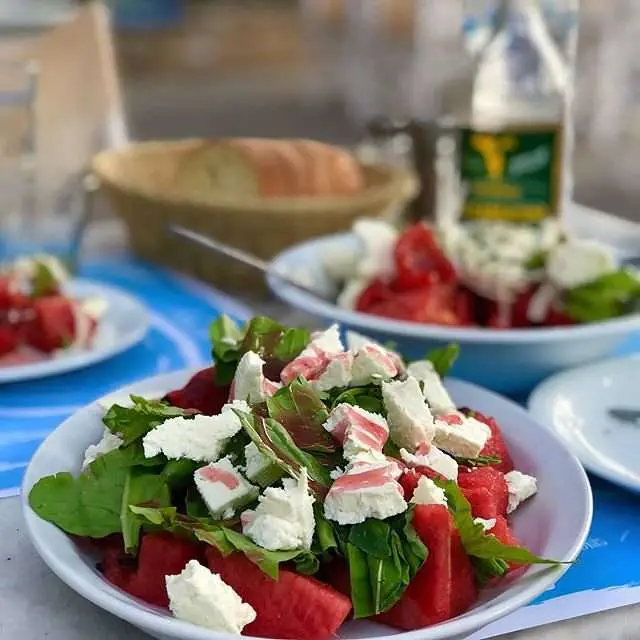 So to savor this experience, you must also know how to make a watermelon and feta salad but first, let us dig deep into the ingredients used in different kinds of watermelon and feta salad; yes, you heard that right, there are different recipes for watermelon and feta salad. Some like to keep it simple and add the basic key ingredients like the watermelon, salty feta, and mint leaves; while some recipes are one level up in their ingredients game, by adding other ingredients like onions, cucumbers, red wine vinegar, and whatnot. Some commonly used ingredients in the salad recipe for watermelon and feta salad are:
Ingredients for Watermelon And Feta Salad
1. Watermelon
The foundation of the watermelon and feta salad is the watermelon itself. You can now add watermelon in whatever shapes and sizes you like; either you can scoop the watermelon with a mini scooper and make watermelon balls, or you can have cubed watermelon diced by a knife.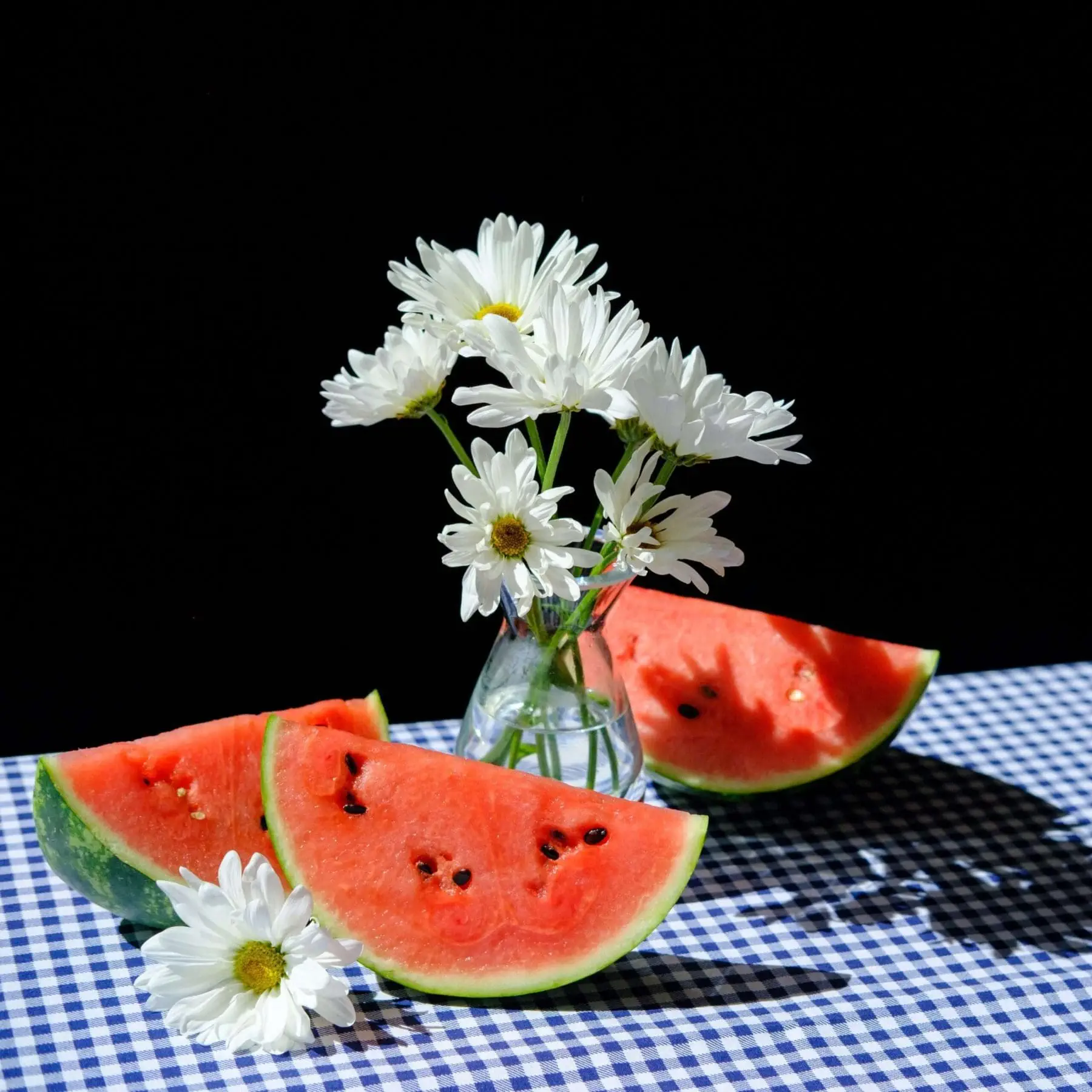 The cubed watermelon is one of the key ingredients that adds freshness to the salad. The sweet watermelon adds flavor and provides a refreshing feeling. A good watermelon is essential for the perfect watermelon salad with feta; therefore, look for perfectly ripe watermelons to make the best watermelon salad with feta.
2. Feta Cheese
The second key component in the watermelon and feta salad is the delicious feta cheese; feta adds that salty and cheesy flavor that makes an otherwise boring salad interesting. The soft, chewy feta melts in your mouth and leaves you wanting more.
The creamy texture and the tangy flavor go hand in hand with the fresh watermelon. Crumbled feta cheese is the way to go while adding it to the watermelon and feta salad; crumbled feta cheese adds a rustic touch, making it even more delicious and appealing.
3. Mint Leaves
Who doesn't like a breeze of freshness in the boiling summers? Fresh Mint in a watermelon and feta salad is the perfect trio you're looking for.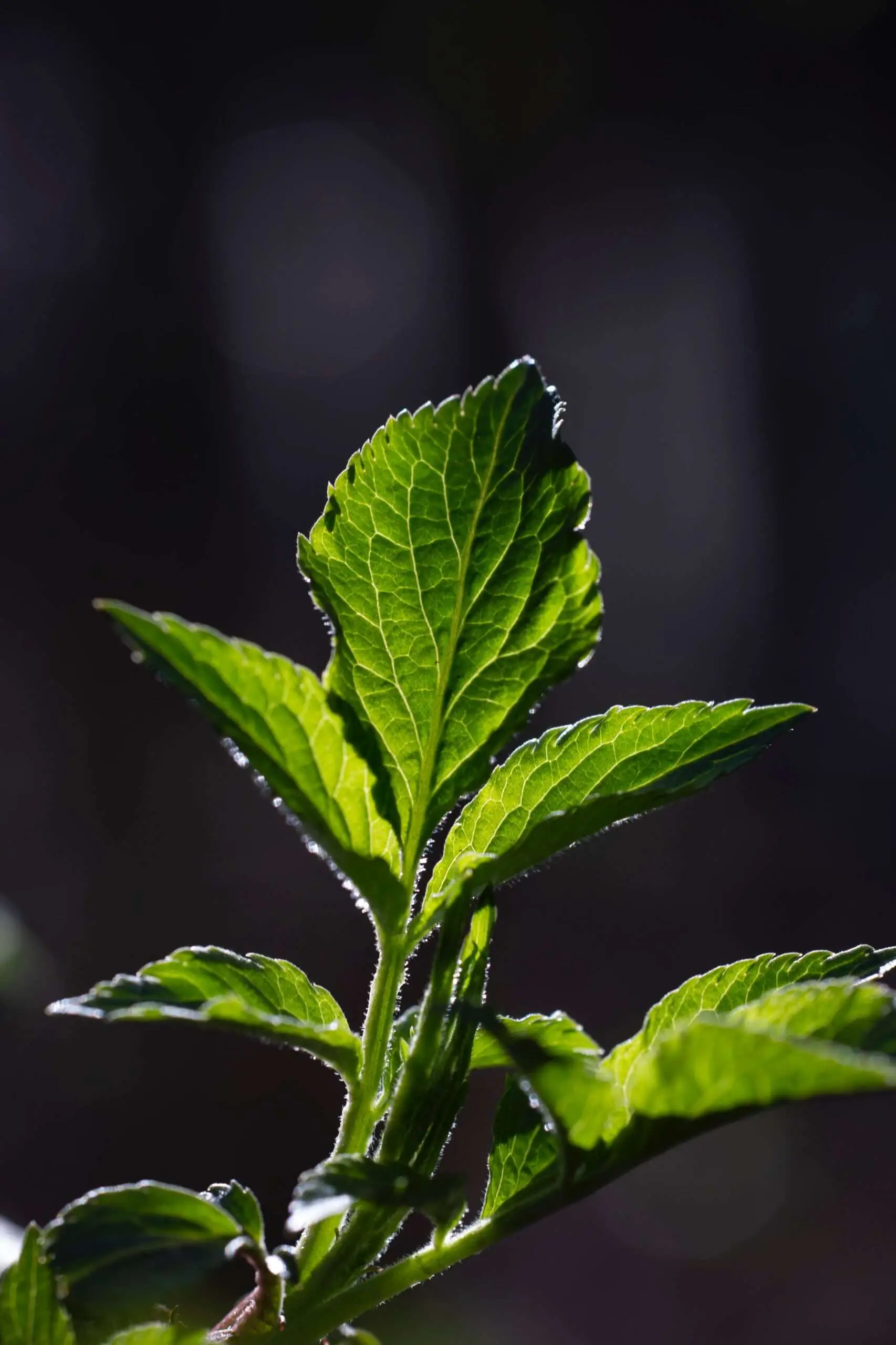 The feta cheese and the watermelon paired with chopped mint taste heavenly; the juicy watermelon and the fresh mint add a freshness to the salad. Mint also adds a crunch to the salad and makes the salad even more healthy. You can even choose to add fresh basil to your salad recipe to add that hint of spiciness and coolness.
4. Cucumber
Another ingredient that adds freshness to the salad is cucumber. Many people love their watermelon salad with feta; cucumber adds the crunch factor and an overall beautiful appearance to the watermelon salad with feta.
Most people like to use English cucumbers in their watermelon and feta salads as they have fewer seeds and are crunchier; you can add cubed cucumbers to your salad to add that extra something and have a watermelon cucumber feta salad instead of the plain watermelon salad with feta.
5. Red Onions
If you like to jazz up your watermelon salad with feta, then adding Red onion should be on top of your list, as anyway, adding a little red onion never hurt anyone; the onion packs the salad with a strong flavor.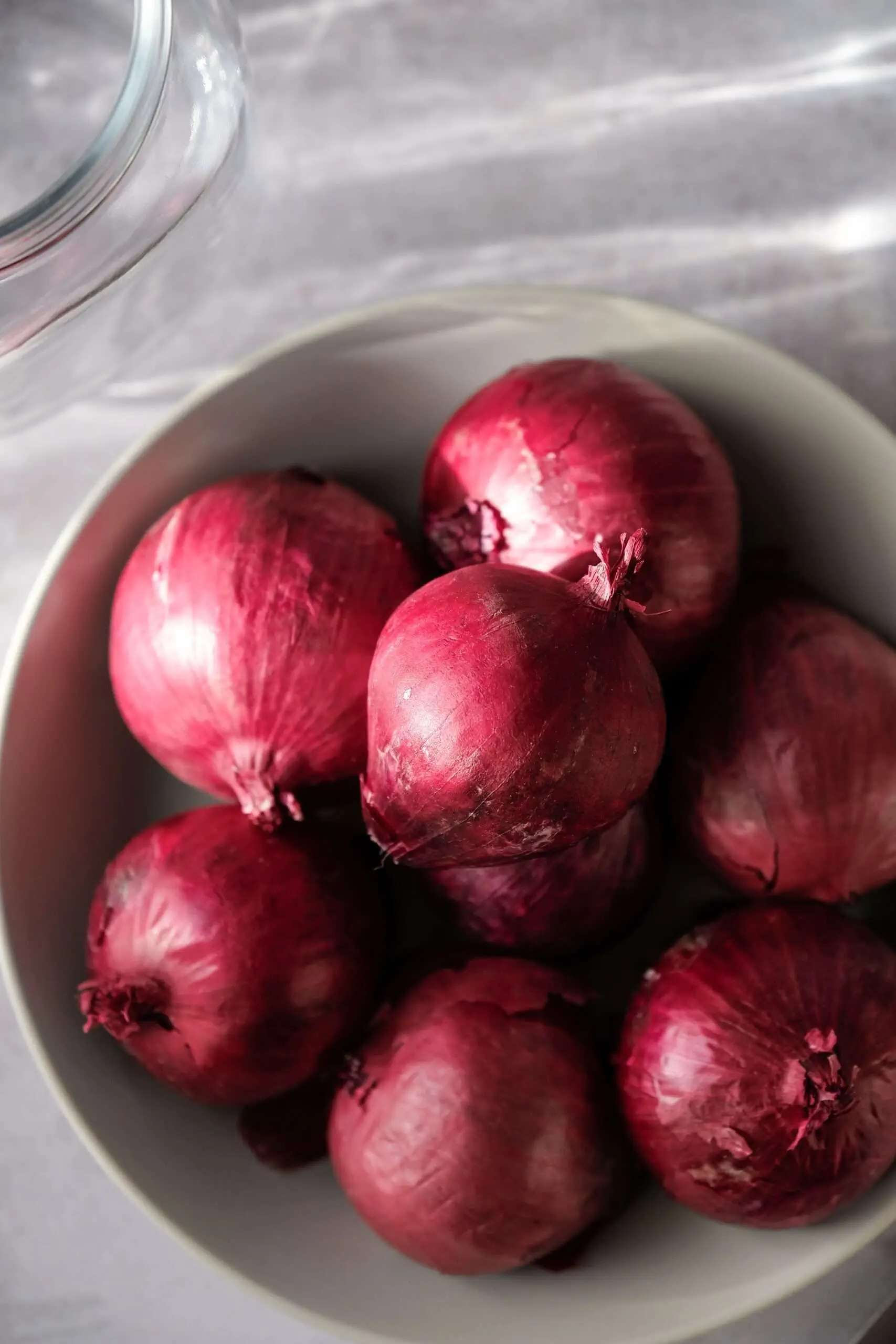 The onions add a nice bite, and this low-calorie ingredient makes everything better, from burgers to curries to salads. Moreover, the red onions add a nice color to the salad as compared to white ones. With onions, too, the choice of shape and size is yours; you can either cut them in rings or dice them finely into cubes or even slice them thinly.
6. Goat Cheese
If crumbled feta cheese is not your cup of tea, or you're in the mood of trying something new, then you can try goat cheese; as the name suggests, it is made up of goat milk, while feta is usually made of sheep's milk.
It has a crumbly and soft texture which goes perfectly with the watermelon as a replacement for feta cheese.
7. Olive Oil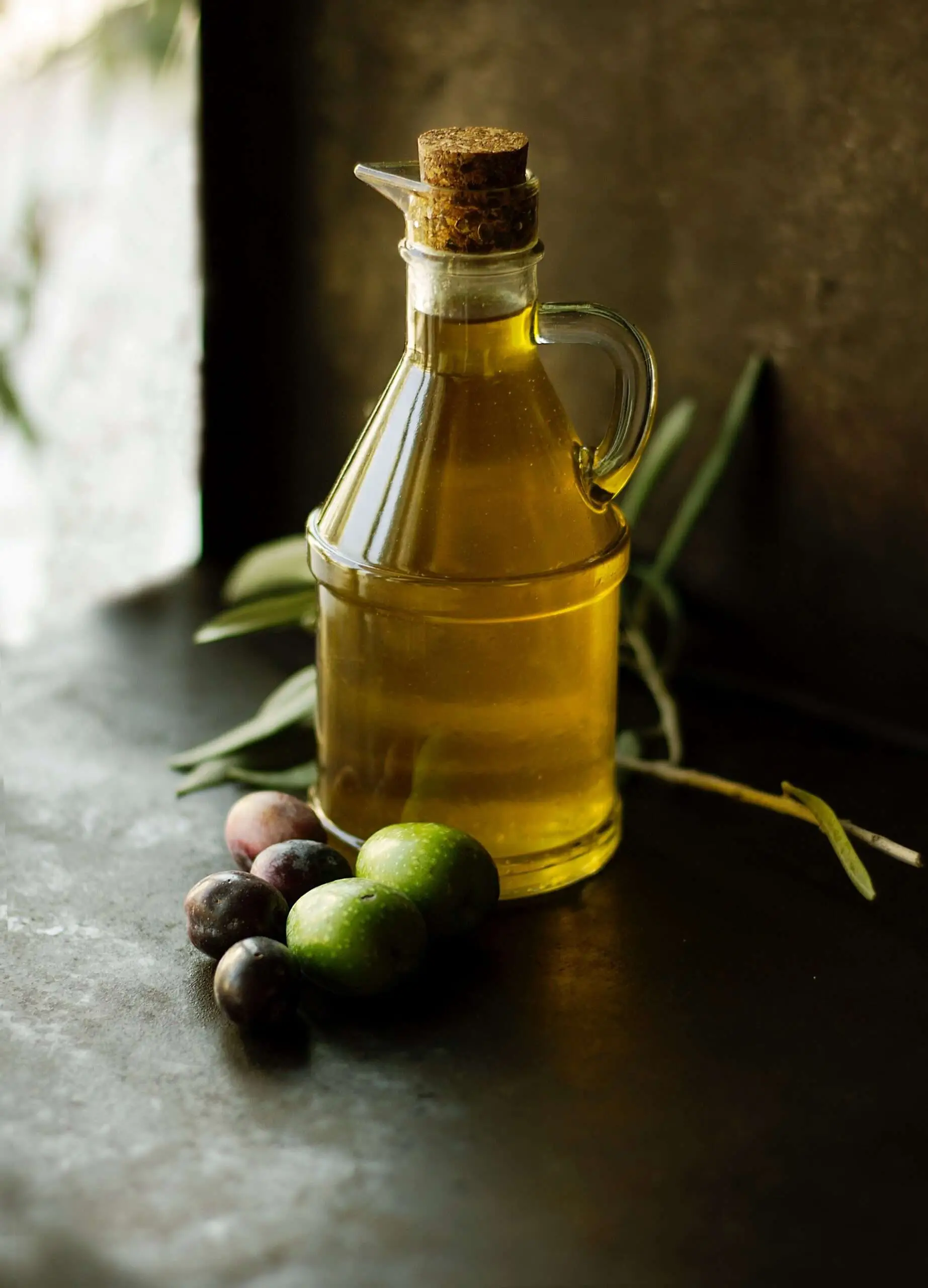 One of the simplest no-fuss dressings is olive oil, add some salt and pepper along with the olive oil, and you're done with the easiest dressing of all time.
Extra virgin olive oil is the best choice as it is packed with flavor and, at the same time, is healthier as compared to any other oil in the market.
8. Lemon Juice 
Another option for a simple but delicious dressing is lemon juice or lime juice; if you like a sweeter dressing, then lemon is the way to go, but if you like your dressing more on the sour and bitter side, then lime juice should be your pick.
Both lime juice and lemon juice add a pungent, sour flavor to the salad, making the salad even more appetizing. You can even add lemon zest for that lemony flavor throughout your salad; the lemon zest packs a punch to your otherwise boring salad.
Benefits Of Eating Watermelon Feta Salad
1. Hydration
Watermelon has a very high water concentration, as much as 92 percent. Including watermelon salad in your daily diet will help keep you hydrated. If you don't like the taste of water a lot, then watermelon can help with that.
Another ingredient commonly used in watermelon salad with feta is cucumber, which is popularly known for its hydration factor; also, cucumber has a high level of water concentration up to 96 percent! Combined, both these ingredients can help you a lot if your body struggles with hydration.
2. Helps With Digestion
The fiber and the heavy water content in watermelon and cucumber ensure healthy digestion. Along with watermelon and cucumber, mint plays an equally important role in digestion; mint helps with indigestion too.
3. Good For Hair And Skin
Watermelon contains vitamins A and C, both of which are great for healthy skin and hair. Cucumbers also consist of vitamin C; these vitamins make sure you have supple and radiant skin that looks healthy. Watermelon and cucumber are also the perfect anti-aging ingredients, so adding these to your diet will have positive results.
4. Weight Loss
Almost all the ingredients in watermelon salad with feta aid weight loss. Watermelon, cucumber, mint, feta, lemon juice, and olive oil promote weight loss. The high water weight in cucumber and watermelon, metabolism-boosting property of mint, low calories of lemon juice, and feta and olive oil being the better alternative to the unhealthy oils and cheeses in the market, make the watermelon salad with fat the perfect solution for weight loss.
5. Bone Health
The calcium, phosphorus, and protein in feta cheese and goat cheese contribute to better bone health.
6. Minimizes Risk Of Diabetes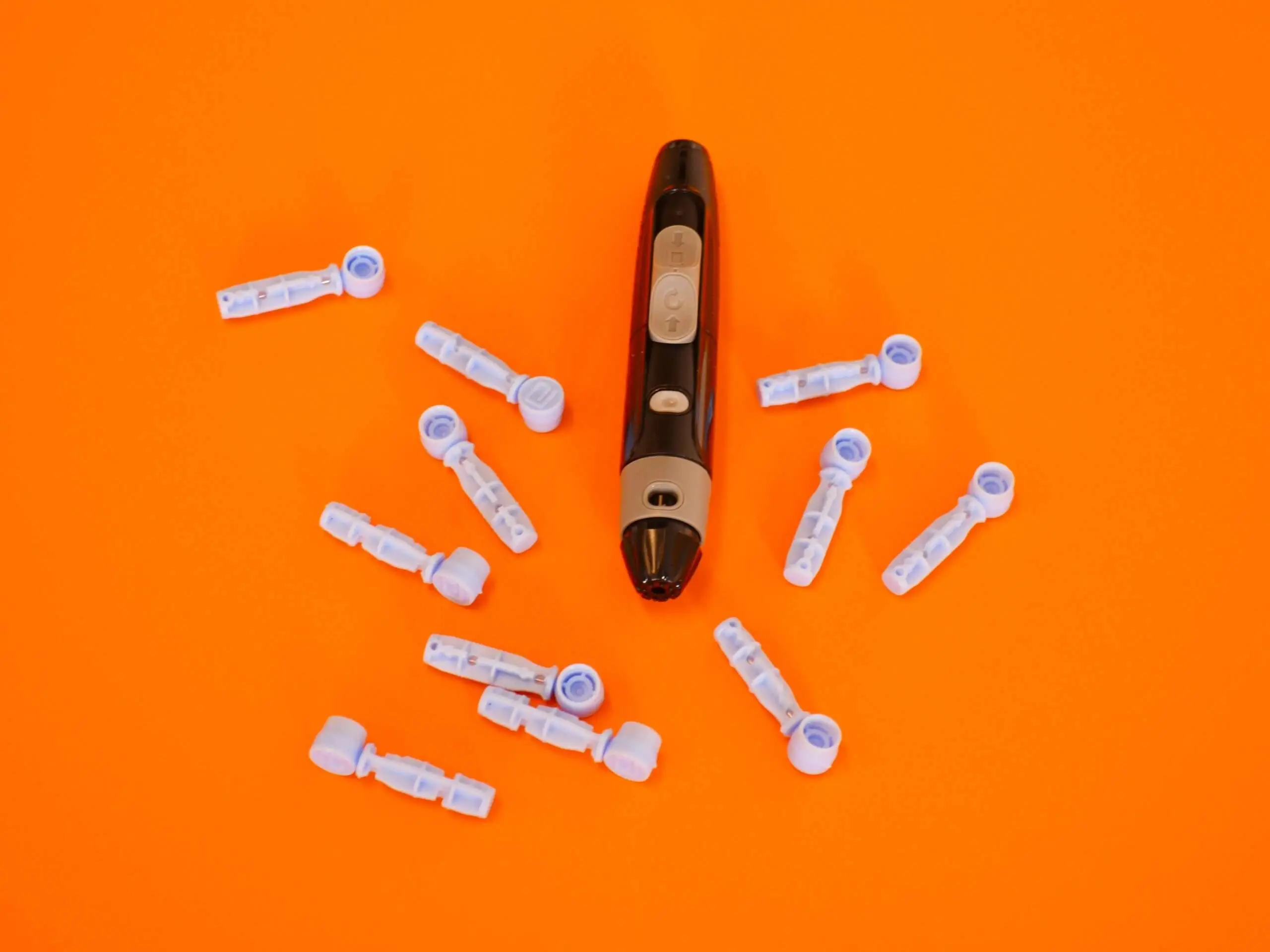 Reports mention that eating watermelon and cucumber may reduce the risk of diabetes, an olive oil-rich diet ensures early prevention of diabetes, onions may keep blood-sugar levels balanced, and vitamin C content in lemon may also help with diabetes.
7. Rich In Antioxidants
An antioxidant-rich diet prevents many diseases like heart diseases and cancer; watermelon, mint leaves, cucumber, lemon, onions, feta cheese are all rich in antioxidants. Antioxidants also prevent inflammatory diseases, reduce stress, contain anti-aging properties, promote eye health, brain health, and many more benefits.
8. Boosts Immune System
The minerals, vitamins, and various nutrients like lycopene in watermelon, paired with the may vitamins in cucumber and the probiotics in feta cheese, help boost the immune system.
After looking at the key ingredients and the health benefits of watermelon salad with feta, you might be interested in knowing the salad recipe and the overall prep time, so grab a bowl and get follow the below-stated recipe!
Recipe For Watermelon Salad With Feta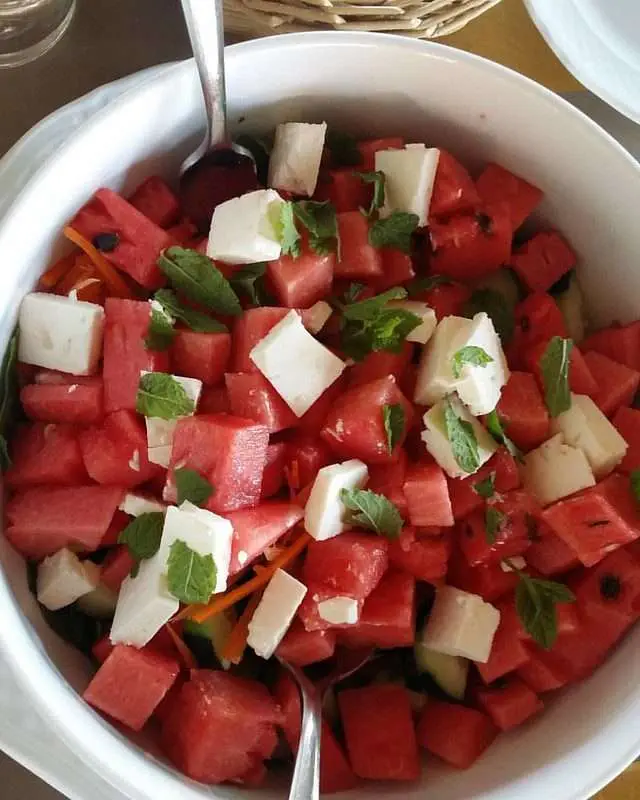 Grab a small bowl and cut watermelon as you like, either in cubed form or scoop out balls of watermelon.
Similarly, prep other ingredients such as crumbled feta cheese. You can add pre-crumbled feta, mint leaves, onions, cucumbers, and any other ingredient you would like to add to your salad recipe.   
For the salad dressing, take a small bowl whisk together olive oil, lemon juice, or lime juice, zest of a lemon, salt, and pepper, all according to your taste. You can also add red wine vinegar to the dressing to add some color and tanginess. And just like that, the dressing is ready.
Now take a large bowl, add all the ingredients like the watermelon, feta, red onions, cucumbers, mint leaves, and along with these ingredients, add the dressing as the final step and mix everything well together. And ta-da, your watermelon salad with feta cheese is ready!
The prep time usually takes between 10-15 minutes maximum, so enjoy this quick and mouthwatering recipe which is healthy and delicious.