Patios are outdoor seating areas at restaurants. Toronto has many lovely patios all around the city. Some of Toronto's best patios have gorgeous views of the city, the Toronto skyline, and the Don River. There are even some that have a panoramic view!
Summer is usually the 'patio season, and knowing the Canadian weather where the temperature drops to around -30 degrees C, sitting outdoors in the winter seems impossible, but lucky for you, Toronto has even got heated patios! So you can enjoy going to them all year round! Be it rain, snow, or sunshine, we got you covered.
I have put together a list of 21 of the Best Toronto Patios below. They are all perfect places to visit, each with its drink menu. Food bloggers, Reel Makers, and Youtube Vloggers will want to try these out as they are all charming, and aesthetic, and serve amazing food and drinks.
So what are you waiting for? Keep scrolling to find the best patios that Toronto has to offer!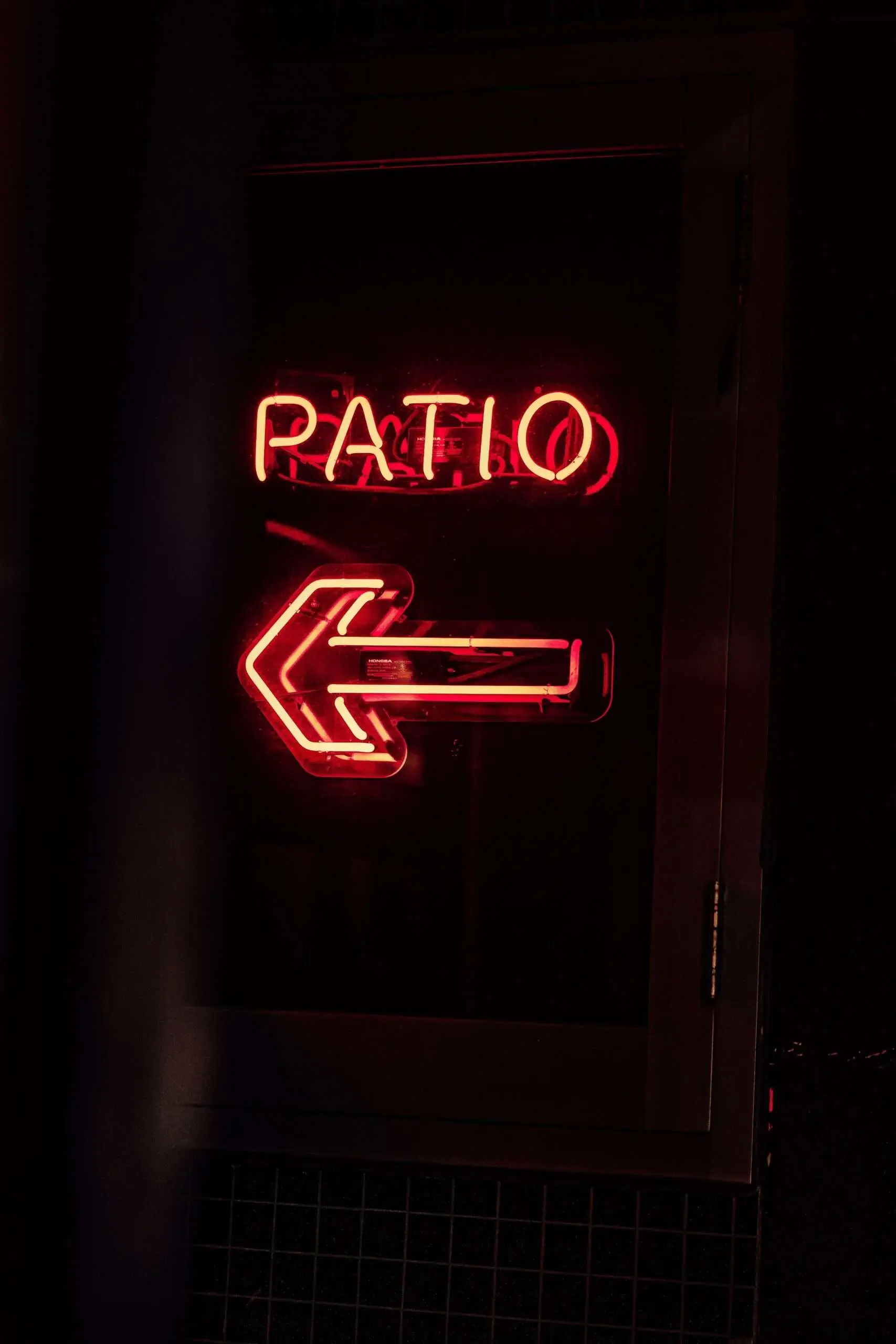 1. Best Patios Toronto has to offer
1.1. Atomic 10
Location: It is located at 145 Lauder Ave
Atomic 10 is a Mexican restaurant with a street-side patio. They have a big awning that can turn it into a covered patio. So whether it is raining or too sunny, they've got you covered! They accept walk-ins, so reservations are not necessary.
They have a cool neon sign that says 'Atomic 10,' and you will be seated and served below it. They have a variety of drinks you can select from their wine menu.
They have delicious chips and dips. The tacos there are yummy too. They have a creative menu with options for everyone. All the prices are reasonable.
1.2. The Porch
Location: It is located at 250 Adelaide St W
The Porch is one of the best Toronto patios with a rooftop patio. They have gorgeous unobstructed views of the city. They are very conveniently located 3 blocks north of Rogers Centre.
Their beautiful rooftop patio is the best place to be to sip a refreshing margarita on a warm day. It is a lovely place to go to for a special occasion.
They recently got a skating rink on the rooftop, which has views of the city, its skyline, and the CN Tower.
You will have to reserve a table online before you go there.
1.3. The Drake Hotel
Location: It is located at 1150 Queen Street west
The Drake Hotel also has one of the best patios. It has a very vibrant ambiance and is filled with energy. In the evening, the vibe is relaxing and quite romantic. They put up fairy lights.
They have delicious food, and the drink menu is pretty interesting. It is an excellent place to go for a casual drink.
4. El Catrin
Location: It is located at 18 Tank House Lane
El Catrin has a fantastic atmosphere with a lovely food menu. The patio is very cozy and has a very grand and colorful decor. The space has heaters and fire pits to keep you warm in the chill months.
This Mexican restaurant serves authentic or modern mexican food. They have a full menu with margaritas, churros, and tacos. They have yummy Mexican tapas and lovely cocktails you can sip. It is an excellent place to go to dinner with family or friends.
They say that going to El Catrin is 'an experience' because of the unique vibe and events there. It's the hip spot at Distillery District.
5. Venice Beach Bar:
Location: It is located at 1251 Dundas St W
Venice Beach Bar is a Cocktail bar that serves southern Californian snacks in an outdoor dining area. It has a lovely ambiance and helpful servers.
It is at a very convenient location – Dundas west.
The food and drinks are moderately priced. The beer is delicious, and shot specials are a must-try. They have karaoke every Monday, which is fun.
They have dine-in and takeaway but no delivery. They are very close to the Ossington strip.
6. Toronto Beach Club
Location: It is located at 1681 Lake Shore Blvd E
There is a new lakeside lounge and patio in Toronto. It is at Woodbine Beach and is a stone's throw from the beach. They have a 176-seat patio which is easily accessible—a gorgeous location with fantastic views.
They serve a variety of Mediterranean dishes. Fresh seafood and local meats are their popular items. They also have a raw menu with snow crabs, lobster, and oysters.
You can have a good drink he- pick from different beverages like beer, cocktails, and champagne.
7. Lavelle
Location: It is located at 627 King Street West
Lavelle has a stunning rooftop patio with an experience you will never forget. It is in the exclusive King West neighborhood in Toronto. This gorgeous landmark is 16 stories above the city and has a 360-degree view of the city's skyline.
The chef's new menu includes a variety of contemporary Brazillian and Japanese foods. Their sushi menu lets you order both small and large plates. They have many cocktails to choose from.
You can get served at the table or poolside, which is very convenient.
8. Gusto 101
Location: It is located at 101 Portland Street
Gusto 101 is an Italian restaurant that has patio season all year round! Their retractable roof lets you enjoy watching the snow while you are warm and cozy inside.
Gusto 101 is not like your normal, average Italian place, there are a few things that set it apart. The location was an auto body shop originally. They still have exposed brick walls. They also have a unisex lavatory and an in-house winery! Wine is served on tap at a dollar per ounce.
Go there to enjoy their house cocktails. They also have a food menu with all the season's most popular requests.
9. Kost
Location: It is located at 80 Blue Jays Way
Kost is located on the 44th floor of the Bisha Hotel. It is a rooftop restaurant right above Toronto's bustling environment. If you are looking to get that perfect pic for your gram, this is the location you want to be at.
This airy restaurant has beautiful views. The Bajan cuisine inspires their dishes, and they have al fresco dining, which is right next to their infinity pool. They have plenty of cocktails, mocktails, beers, wine, and spirits you can pick from.
10. E11even
Location: It is located at 15 York St
It is a popular patio place for a cocktail or meal right before a concert or a Raptors game. It is right in the city's heart and is just opposite the street from Scotiabank Arena.
They have a good ambiance, yummy food, and a great dining area. The staff is friendly, and they are very accommodating.
American-style grill, ribs, burgers, and roast chicken are a few things off the menu that are loved.
2. Covered and Heated Patio list in Toronto – to enjoy during the Winter
As I've mentioned, you can go to a covered and heated patio in Toronto and stay warm even in the winter. The harsh winter does not have to prevent you from being seated outdoors and enjoying the views of the city.
2.1. Hemingway's
Hemingway's is a New Zealand-based restaurant known for its beautiful rooftop patio. This weatherproof patio is an iconic spot in Toronto and is one you should visit!
They have trivia night – which is pretty popular. They also have international sports like cricket and rugby.
People enjoy going there on dates, and many consider it a 'very romantic patio bar' and 'one of the best patios Toronto has.' The food is fantastic, and you will want to go back again.
They have amiable staff who will go out of their way to serve you and make you feel welcome.
Location:
It is located at 142 Cumberland St
2.2. Terroni
Terroni is known for its fresh, authentic Italian pizza served to you fresh out of the oven. Yum!
They have a few locations around Toronto- all with beautiful patios, but the one at Rosedale on Price St. is probably the prettiest.
Their rooftop patio is heated and has a lot of greenery and wooden ceilings. If you request them to give you a table facing the LCBO, you will get a view of the Toronto Skyline!
Location:
They have many locations all across Toronto, and all have Patios
2.3. Wish Restaurant
Wish, located in a chic neighborhood, has a cozy heated patio. Their heated patio is very relaxing and prevents you from shivering in the winter. In the summer, it is open, and during the chilly winter months, they enclose it.
The interiors and patio are stunning. A great place to go to if you want pictures for your Instagram. They have good service, good decor, and a lovely ambiance. The location is very convenient, and there is parking close by.
They have delicious brunch options and comfort foods that anyone will enjoy. People love the burgers there. They have vegetarian, vegan, and gluten-free options.
A nice thing about the place is that if you don't finish the bottle of wine order, they cork it and let you take it home!
Location:
It is located at 3 Charles St East
2.4. Baro Rooftop Patio
Baro Rooftop is on the Fourth floor of Baro Toronto. The patio has a Latin touch to it. They have a custom-made rooftop grill. You can go there to enjoy a pitcher of Sangria in the summer. In the winter, the cozy setting with the patio beneath the stars and overlooking King Street is a must-see!
They have DJs so you can party late at night, you can go there to catch the local games and share a booth with your friends.
Location:
It is located at 485 King Street West.
2.5. The Broadview Hotel
The Broadview Hotel is a sophisticated historic hotel at Toronto's east end. The hotel has many spots where you can go to eat. One of them is a beautiful rooftop restaurant. The outdoor terrace has a gorgeous view of the CN Tower and a panoramic view of the skyline!
They have outdoor heaters in the winter so you can enjoy the views. Their dishes are seasonal and are made with local ingredients. Their menu includes crispy prawns, chicken katsu, and a lot of snacks that can be shared.
In the winter, if you get there around 4 in the evening, you will get to witness a gorgeous sunset.
Location:
It is located at 106 Broadview Ave
2.6. C'est What
C'est What is a Beer Garden, known for its original craft beer? It has a very cozy and laid-back environment. They have heaters over the table in the winter to keep all their guests warm. They have a unique food menu and unique beers you can choose from. They also serve wine. It is an excellent place to go with friends.
It is located in downtown Toronto – a very convenient location. They have good service, friendly staff, and a comfy atmosphere.
Location:
It is located at 67 Front St East
3. Toronto Patios in the East End
Patios in the East End have picturesque waterfronts and courtyards. No matter the vibe you are searching for – they have got it! As long as the weather is above 10 degrees, umbrellas are up, and patios are open.
3.1. Harriet's Rooftop
At Harriet's Rooftop, you know it is the holiday season because you can feel the holiday spirit in the air. It is located at the top of 1 Hotel Toronto.
They have beautiful views of the city and a very cozy fireplace to keep you warm in the winter.
Location:
It is located at 550 Wellington St. West
3.2. Maison Shelby:
Maison Shelby is your neighborhood cocktail bar, cafe, and French bistro – 3 in one! It is set in a historic mansion that is over a century old. They have a 32-seat garden patio that wraps around the side of the property.
The 'favorites' on the menu are a must-try. They serve simple French food, but it is yummy! Every dish is made with a lot of attention given to detail. They also have a good drink menu with plenty of options. Even coconut milk cans, if you are into that.
They serve cocktails and snacks. Once you are done with dinner, you can go downstairs (to the secret basement) bar and continue if you want to continue drinking.
Location:
It is located at 592 Sherbourne St
3.3. Casa Loma Gardens
Casa Loma Gardens is a gorgeous castle. Probably the prettiest place you could go to. They have a global menu and a Royalty- inspired cocktail menu. When you leave, you will feel like royalty.
During the Christmas Season, they put up twinkly lights in the garden and tunnels, so you can enjoy the spectacular view if you visit at night. They even have a holiday lights tour.
Location:
It is located at 1 Austin
3.4. Factory Girl
Factory girl was named after the Rolling Stones song. It is a gastropub with a casual bar. They have a rock and roll atmosphere, which feels very welcoming. Their patio is very cozy and is surrounded by a beautiful backyard. They put up lights at night.
Many people pop in to drink and then proceed to Danforth Music Hall for a show.
The calamari starter is something you CAN'T miss. You have to have it, do not leave without trying it! They have excellent starters, and their Burgers, rings, and wings are delicious.
They accept walk-ins.
Location:
It is located at 193 Danforth Ave
3.5. The Only Cafe
The Only Cafe is a popular bar in the east end. Though the name might sound like a coffee shop, it isn't. Their interior is filled with posters and postcards, and the patio opens up and is lovely to sit at in the summer.
They have many board games, so you can spend a few hours there without feeling bored.
Location:
It is located at 972 Danforth Ave
Closing Thoughts
All of these restaurants are on my list for best patios in Toronto- some are heated patios so you can enjoy the great outdoors, some have a street-side patio, some offer a rotating selection of coffee, wine, and snacks, some face the city, and some have a panoramic view! Just imagine it, and Toronto's got it!
Whether you are looking for a cozy patio, some aesthetic rooftop patios, or nautical-themed streetside patio, these patios like a backyard beer garden, sky yard, and sprawling patio, are perfect for your every need.
With the number We have listed above, We can guarantee that you will have a new place to go to every time you want to go out!  Check out the best patios in Toronto where you can eat and drink.
We hope you have a fantastic time trying out the various patios around the city of Toronto.