For those willing to withstand the cold and enjoy outdoor skating as it was intended to be—bundled up on a frozen lake in silence, gliding to the hollow sound of blades stroking the ice beneath your feet, breath frost on your hair, cap, and scarf—Lake Louise is a hidden beauty in the winter.
Lake Louise is the second-largest ski area in Canada and one of the largest ski resorts in North America, with 11 square miles of terrain spread across four mountainsides. From early November to late May, it offers one of Canada's longest, reliably continuous ski seasons.
If you are into it and thinking of visiting there. Hand on! There are some you should know. In this blog, we will go over some of the main ones that are imperative to make your trip memorable.
Why Visit Lake Louise?
Lake Louise is the heart of Canada's first and most famous national park. Louise took 16 years to construct because it was designed to last and not just be a hotel. Lake Louise is cleared daily of snowfall. Skating is available from mid-December to mid-April, depending on conditions. There are no reservations available for ice skates at Louise lake. Rent skates and more at Chateau Ski and Snow Rentals.
It is conveniently accessible by bus or vehicle from Calgary International Airport and is about 35 miles east of Banff and just over 100 miles west of Calgary.
It is best known for its iconic turquoise blue lake and epic Victoria Glacier mountain backdrop, which many tourists visit in the summer. People don't forget to take a moment to admire the magnificent, beautiful night sky at lake Louise.
The first lodging on Lake Louise's coast was a straightforward, one-story log cabin in 1890, which contrasts with the Fairmont Chateau hotel, which has more than 548 rooms.
1. The Icy Skating Experience at Banff National Park
The Banff National Park's mountains and a mile-long frozen lake might be the perfect setting for the ultimate ice-skating adventure.
The Lake Louise ice rinks are regularly flooded and cleared of snowfall each day to provide the best possible outdoor skating. The ice on Lake Louise will probably be empty if you want to glide in the evening because peak hours are often from 9 am to 6 pm. Adventurers can take in the clean mountain air and marvel at the shadows cast by the nearby mountains, thanks to the area being lit up for night skating.
The mountains of Canada remind visitors of Switzerland. Lake Louise was nestled in the Rocky Mountains.
End of 1800, when people started exploring the mountains of Canada, they lacked experience in mountaineering, which led to an accident and death, so to explore the Canadian mountains, they needed help from experts. Swizz was the expert in mountaineering at the time.
This Chateau became the base camp for a lot of this climbing expedition education, learning how to climb and navigate these mountains and access them. Over the next 50 years, there wasn't a single fatality in all the explorations in this area to make way for tourism, leaving a mark on the culture. Swizz experts passed on their knowledge to their Canadian brothers and sisters.
According to a Canadian Historian
"It was the swiss guides who made manifest the meaning of having so many beautiful mountains"-RW SANDFORD.
James Fraser states, "One of the best times to go skating is at sunrise or sunset against the breathtaking mountain backdrop of Lake Louise."
The swizz influence is still there from those early days when swizz experts were there to teach Canadians how to access their mountain.
1.1 Ice Magic Festival of Lake Louise
The intricate ice castle has been built as the centrepiece of the most stunning rink in the world as part of the ice magic festival. The ice palace uses over 50,000 pounds of ice, each block over 300 pounds and perfectly transparent.
The frozen lake, which must be at least 16 to 18 inches thick to support the eye-catching structure, is immediately on which the castle is constructed, which makes visitors blown away by the beauty.
1.2 How the Name Lake Louise Coined?
It was the third name given to the lake. The area's original occupants, Stoney First Nations people, gave it the name Horâ Juthin Îmne, which means "lake of small fishes."
A member of the Stoney First Nations guided Tom Wilson, a Canadian railroad worker, to the lake in 1882. Later it was coined as EMERALD LAKE. After two years, the lake was renamed Lake Louise after Princess Louise Caroline Alberta (1848-1939), the daughter of Queen Victoria.
2. Seven Things to Know About Magical Lake Louise Ice Skating
2.1 The right time to go skating
Daily snowfall is removed from Lake Louise. Depending on the weather, skating is possible from mid-December to mid-April. Each year's precise date for when it is safe to skate on the ice varies depending on the winter weather.
2.2 Skate rentals hours and costs
Skate rentals are available from 7:30 am to 8 pm.
There are only about 8 to 9 hours of daylight on Lake Louise during the winter, yet skating is available daily.
Lake Louise skate rentals are available at Wilson Mountain Sports in the village of Lake Louise or at Chateau Ski and Snow Rentals, which opens in mid-November. Snow tips-Bactrax offers skate rentals if you're travelling from Banff. Skate rentals are provided in Canmore by Gear Up Mountain Sports.
2.3 Is skating on lake Louise safe
When Lake Louise is frozen in the middle of winter, skating on it is safe. It is safe to slide on when the Fairmont is preparing the ice for skating.
2.4 How chilly is lake Louise
Lake Louise's water temperature on August 2 averaged 16.19° C (61.15° F), with lows of 14.68° C (58.42° F) and highs of 18.07° C (64.53° F).
In December and January, Lake Louise typically experiences highs of -6 degrees Celsius. Lows are often about -20 degrees Celsius.
2.5 Essentials for skating at lake Louise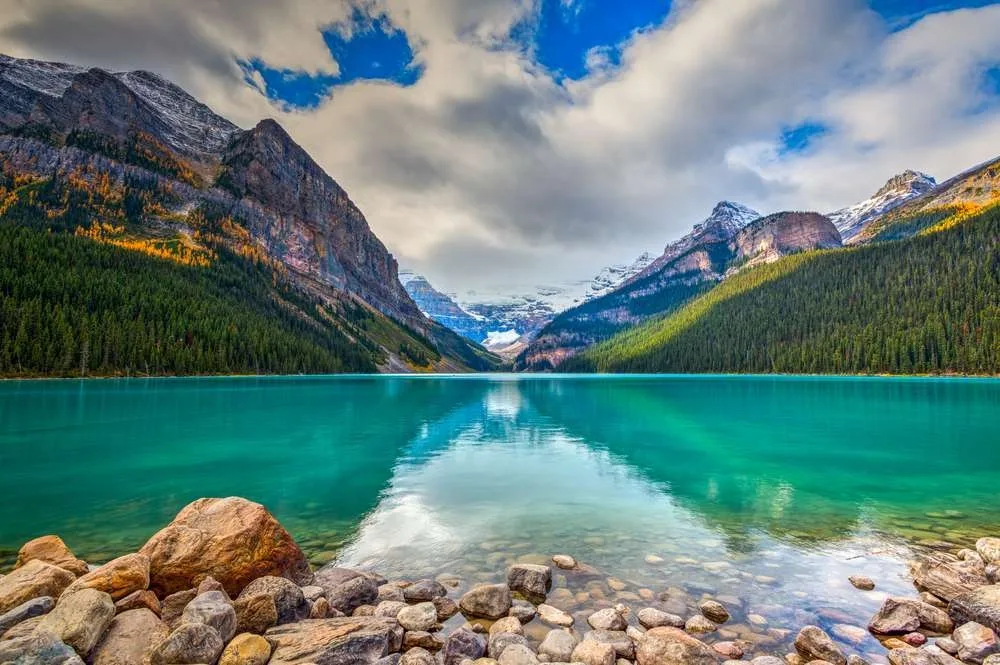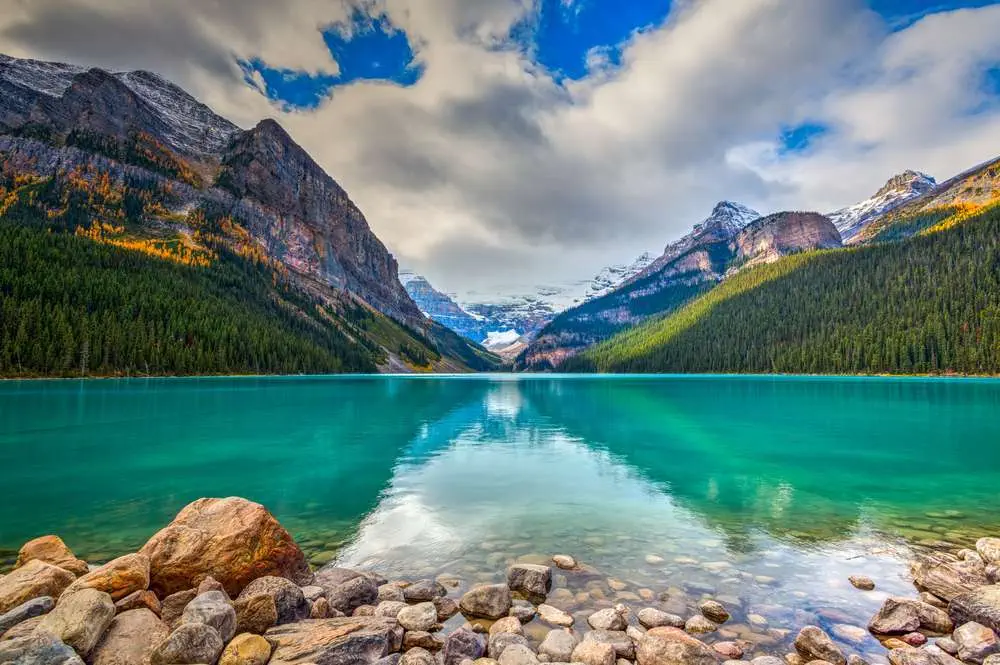 A thick jacket, headlamp, scarf, and toque
Layering is the essential winter clothing strategy in Lake Louise. Include your socks in the wool base layer you start with.
Add a fleece layer or a warm mid-layer to your base layer.
Add a warm winter jacket last. The ideal item will be waterproof and windproof.
Snow pants as bottoms are preferable on chilly days
Must-haves are warm mitts or gloves!
Youngsters must have a hat or toque without a pom-pom if they will be skating while wearing a helmet. Visitors constantly struggle because the cutest hats have the most oversized pom-poms.
2.6 Fires & Drinks for warming up
You'll have a blast at Lake Louise's most desirable new hangout. Visit The Ice Bar, the coolest bar in the Canadian Rockies, when your nose is red and pink and you need to relax. As visitors sip our traditional mulled wine or indulge in a hot chocolate with Baileys, feel your insides slowly defrost.
There are some nearby fires where you can warm up, but not sure they'll be there in 2021/22, owing to social distance. The Lake Louise Ice Bar serves hot chocolate and cocktails with liqueurs as warming drinks.
2.7 How busy is the Place
Lake Louise and Moraine Lake are very popular from May through October. These venues' parking lots are frequently packed before dawn and stay that way all day long throughout the summer. Only when there is room in the Moraine Lake parking lot does Moraine Lake Road become accessible to private vehicles.
3. Seven Reasons Ice-skating Is At Its Best At Louise Lake
3.1 Heavenly Views
The Victoria Glacier, the Victoria Lakes, the towering mountain backdrop, the opulent hotel, and the outstanding skiing and hiking make Lake Louise famous worldwide.
Lake Louise is an exceptional location that needs to be seen to be believed, surrounded by a lifetime's worth of breathtaking vistas and adventures.
3.2 The lake Louise skating rink
The Fairmont Chateau regularly maintains the ice rink on Lake Louise. Depending on the weather, they preserve it from the middle of December to the middle of April by clearing it every morning of snowfall.
You'll need your canoe in the summer, but your ice skates in the winter! One of the best winter activities in Banff National Park is ice skating on Lake Louise, referred to as "the world's best ice skating rink.
They even use a machine that resurfaces the ice to clear the snow daily called Zamboni. The lake is smoothed out by a Zamboni, making it perfect for beginning skaters and a pleasure for seasoned ones.
Other mountain lakes won't have ice as smooth; that is certain. You are skating on actual ice rather than the flooded surfaces frequently found in hockey rinks, or public skating rinks is even better. Zamboni is to remove a thin layer of the top and wash the ice.
3.3 Magical Ice Festival of Lake Louise
The ice magic international Ice carving competition runs from January 19-30. Here, ice takes on a life of its own and is used for art and architectural design. You may watch artists from all over the world carve various frozen figures at this moment.
This ice castle is made by the Fairmont Chateau Lake Louise employees, which further adds to the magical experience of ice skating there. They are typically left there until they melt after being carved during the initial portion of the celebration (or are no longer safe to go up).
The ice carving events are open to the public Monday through Friday and on the weekends before 10 am or after 5:30 pm. An admittance fee is levied on the weekends during the busiest hours; the carvings will be exhibited throughout February.
3.4 Breathtaking Location
Lake Louise transforms into one of the world's most breathtaking ice skating locations throughout the winter. The Rockies of Canada has many beautiful lakes for skating in the winter, such as Johnson Lake, Spray Lake, Goat pond, and Gap lake.
The key to skating on these lakes arrives just as they start to freeze before a significant snowstorm covers the ice. The Fairmont Château Lake Louise clears a sizable portion of the lake of snow for visitors and hotel guests to enjoy this traditional winter activity.
3.5 Glassy Lake Louise
Every few winters, Lake Louise may freeze quite early before a significant snowfall, leaving the lake as clear as glass. Although it can happen in November, November is typically the worst month to visit Banff so you won't see the lake this way.
According to Fraser, this unusual event only occurs once every three to four years. "For the lake to ice and give me enough time to skate on it before the next snowfall, the circumstances must be ideal, and Mother Nature must cooperate.
3.6 Free Ice Skating
Ice skating on Lake Louise is free. This is among the top free activities to do in the winter in Banff National Park.
Although there is no skate fee, you may rent ice skates at the Wilson Sports or Fairmont stores in the Samson Mall.
3.7 Skate Rentals
If you're planning on going ice skating in the beautiful mountain town of Lake Louise, there are a few options for rental equipment. At the Alpine Social, located in the Fairmont Chateau Lake Louise's lower lobby, you can rent regular skates for $23 for four hours or $33 for eight hours.
Skates for juniors are also available for $13 for four hours or $23 for eight hours. Hockey sticks can be rented for $8 for eight hours, and helmet rentals are available for $8 per eight hours.
Another option for skate rentals is Wilson Mountain Sports, where skates cost $12 daily and sticks can be rented for $6 daily. Banff Adventure also offers skate rentals for $15 per day, as well as helmet rentals for $7 daily and stick rentals for $5 daily.
It's important to note that if you're planning on skating during the day in the mountains, it's best to schedule your skates between 8 am and 4:30 pm. In the Rockies, it becomes completely dark around 5 o'clock, and although the rink is open all day, floodlights are only turned on until 11 pm. While skating at night can be peaceful and beautiful, it can also get quite cold.
Frequently Asked Questions
1. The Best Resorts at the Banff National Park?
Louise Lake is Surrounded by soaring mountain peaks, the majestic Victoria Glacier, and the popular Fairmont Chateau hotel is located in Alberta's Banff National Park, 35 miles east of Banff and a little over 100 miles west of Calgary; visitors can reach them easily by bus or cab at Calgary International Airport.
The famous Fairmont Chateau hotel of lake Louise is situated in Alberta's Banff National Park, a UNESCO World Heritage Site. It is known throughout the world for progressive environmental stewardship and responsible tourism. It is surrounded by towering mountain peaks, the majestic Victoria Glacier, and a glistening emerald lake.
This 539-room luxury resort in Banff National Park lives up to the natural wonder with which we share a name. It is elegant and refined yet casual and welcoming. The Canadian Rocky Mountains and Lake Louise are visible from the Fairmont Chateau Lake Louise, which offers stunning views of both.
2. The Best Restaurants Near Lake Louise?
WALLISER STUBE: At the Fairmont Chateau Lake Louise, there is a European restaurant called Walliser Stube. It's an elegant event ideal for celebrating a special occasion, such as a honeymoon in Banff. Only available at night from 5:30 pm to 9:30 pm; reservations are strongly advised. This restaurant has a swizz touch, even though you can see a great deal of lake Louise inside.
FAIRMONT CHATEAU LAKE LOUISE: The Chateau Lake Louise, a sister property of the illustrious Fairmont Banff Springs Hotel, is well known for its high standard of luxury. With more than 500 guest rooms, the Chateau Lake Louise offers accommodations to suit every taste, from modest Fairmont Rooms to luxurious suites with a lake view and 1- or 2-bedroom options.
LAKEVIEW LOUNGE: Another fantastic Lake Louise eatery at The Fairmont is the Lakeview Lounge, perfect for visitors and locals who want to take in the Victoria Glacier views.
Take a seat on the gorgeous outdoor terrace if you want to eat outside in the summer. Though visitors might have to wait a little longer to get this seat, it is well worth the wait if you can try to grab a seat adjacent to the large oval windows.
LAKE LOUISE INN: After playing in the snow, the heated indoor pool and hot tubs at the Lake Louise Inn are ideal. The Timberwolf Pizza & Pasta Cafe and the all-day Legends Restaurant are the two on-site eateries of the Lake Louise Inn.
WHITE HORN BISTRO: Visitors should also stop at Whitehorn Bistro for a meal, whether they visit the resort in the summer or the winter. The Bistro is situated at 2,042 meters above sea level! From every angle of the restaurant, one can see the entire Rocky Mountains. They provide a variety of modern Canadian foods, including the charcuterie board, cheese fondue, and the renowned Whitehorn burger. The restaurant is only open until 5 o'clock, and visitors should stop here for lunch before continuing to enjoy their day at the resort.
As an Amazon Associate, Icy Canada earns from qualifying purchases.
[amazon_auto_links id="81298"]
The Icy Canada team strives to create content that matters. It's why our content is written by travel writers, authority experts, well-known authors, and niche experts. Our content is also periodically reviewed by expert authors for accuracy and trustworthiness.
As an Amazon Associate, Icy Canada earns from qualifying purchases. [amazon_auto_links id="81298"]