There are more than enough places where you can sight the gorgeous Vancouver Sunrise in the city of Metro Vancouver. So many people love chasing the morning sun while on their morning walk, while some love the sight of the sun rising. Fear not, for we have some of the best places where you can witness this breathtaking sight.
Some residents in Vancouver, British Columbia, despise the sun during the summer because it makes the day excessively hot. Then some complain that it is too chilly in the winter since the sun does not warm the day sufficiently to keep the cold at bay. At times, it appears like the sun is powerless to prevail.
There aren't many individuals cursing the sun during those two hours. On the other hand, the sun has the most admirers when it rises in the morning and sets in the evening. The beauty of both, especially in Vancouver with its unique position, overwhelms those who take the time to see the sunrise in the morning and set in the evening.
Natural beauty can be seen around every bend in British Columbia. We are endowed with so much, whether it be the mountains, the rainforests, or the diversity of civilizations. It's an incredible experience to see the sunrise and set over our diverse landscapes.
The average Canadian lives to the age of 81. That corresponds to 29,565 chances to stop what you're doing, relax, take a deep breath, and marvel in one of the most incredible vistas that we frequently take for granted.
When does the Vancouver sunrise sunset?
The joy of being in the Northern Hemisphere is that the times for the sun to rise and set change every day. There is no definite hour when the sun rises and sets at the same time every day. Sometimes it's only a few seconds, and other times it's a full minute.
You may even plan a month or year to coordinate your vacation itinerary with your sun watching.
Top 6 Places Where You Can Catch The Beautiful
Vancouver Sunrise Spots.
Vancouver is in a unique location. Sunrises and sunsets there are spectacular, surrounded on two sides by mountains, one by water, and another by what appears to be an endless supply of suburbs.
You also have a plethora of excellent viewing locations for any event. White Rock beach at White Rock, a tiny village just down the highway from downtown Vancouver and near the American border, is a fantastic example.
1. Queen Elizabeth Park
Location: 4600 Cambie Street.
Queen Elizabeth Park is home to one of the best places where the beautiful Vancouver Sunrise can be witnessed. The Park has many morning lovers cycling, walking all the way to catch some of the spectacular views that can be seen.
Also, check out some of the best bike routes you can take to reach destinations via bike while in Vancouver.
Situated in the arms of Mount Pleasant, this refreshing green Park is 125 m above sea level and attracts many photographers. Since the spot is in the heart of Vancouver, getting there takes you only 15 to 20 minutes by transit or car.
It might sound a little exaggerated but catching the Vancouver sunrise from this point in the city is one breathtaking sight. If you are someone who loves the warm, welcoming view of a sunrise, Queen Elizabeth Park is one place you sure must visit.
2. Whytecliff Park
Location: Marine Dr, West Vancouver
Speaking of stunning views and beautiful sunrises, Whytecliff Park is one great place that stands witness to them all. It is situated in Western Vancouver around Horseshoe Bay amidst scenic mountains and spectacular sights.
Whytecliff Park is popular for being one of the most publicly loved Vancouver Sunrise Spot and has many people rushing here. Activities like hiking, scuba diving, and others are a regular thing here, and these draw a lot of families and groups to the Park for picnics.
The Park also has a beautiful beach area and a few hiking trails that occupy the park. If you are a local staying around West or North Vancouver, we highly recommend you visit Whytecliff and witness a glimpse of one of the most surreal Vancouver Sunrise.
3. Stanley Park Seawall
Location: Seawall, Stanley Park
The Stanley Park Seawall from the English Bay to Siwash Rock is a scenic 22 km long trail that offers a beautiful view of the Vancouver Sunrise. A great way to begin the day for many locals is cycling, walking, or even jogging along the shoreline.
The Seawall trail is also one of the major tourist attractions in Vancouver and draws a large crowd of people every day. The best point to witness the Vancouver Sunrise along this trail is the Dead Man's Point, where photographers flock to catch the early first light of the day.
It is a great way for tourists to start exploring Vancouver with the Seawall as it tags along some of the city's best, like Stanley Park, Kitsilano Beach, and Granville Island. The trail also has a skating track for inline skaters to glide through with ease.
4. Wreak Beach, Vancouver
Location: West End UBC, Vancouver
Vancouver is home to some of the world's best sunrises and sunsets, and what better than to kick start your day with an exotic beach view. Situated at the edge of the westernmost point of Vancouver, this beach is famous and for all good reasons.
You may have to go up and down a few stairs, but once you reach the view, there's no regretting it. The beach is famously known among tourists for its very southeast Asian touch and its clothing-optional advantages.
The best time to visit Wreak Beach is during the summer, as it can get chilly during the other times of the year. So be sure to get you something warm if you plan to catch the gorgeous sight of this Vancouver Sunrise in the early hours.
5. The Lighthouse Park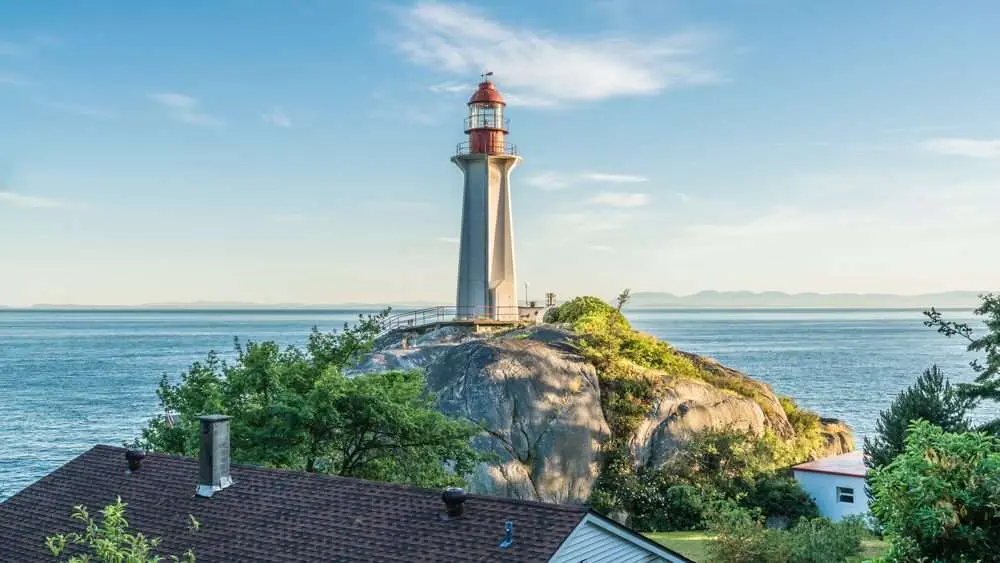 Location: West Vancouver
There is something about lighthouses and gorgeous views, and to prove us right is the beautiful Lighthouse Park with one of the stunning Vancouver Sunrise. This is one tourist-attracting marvel in the residential area of West Vancouver, with a lot of locals utilizing the space for their morning walks and jogging.
The Park is kept open throughout the year and has a very well-maintained surrounding, making it one perfect sunrise/sunset location. It attracts a large crowd that includes locals as well as tourists during all times of the day.
The Lighthouse Park is so dramatically scenic that it also has many photography enthusiasts flocking around frequently. It is of historical importance to the city and has no shortage of points to see the Sunrise/Sunset. Visit to catch a few scenes yourself with a well-packed picnic lunch that can be enjoyed with the great views here.
6. Mount Seymour
Location: North Vancouver, British Columbia
There is a breathtaking boon to being an early riser and visiting Mount Seymour, and that is getting to see this stunning Vancouver Sunrise. But, of course, the best time to visit this point is during winters, where the skies are usually in a gorgeous combination of pink, purple, and orange.
Mount Seymour is also home to Mount Seymour Ski Resort, which offers skiing and many other affordable prices. The best part about choosing this point for viewing the sunrise is that hiking up here is sure to give you Narnia vibes, leaving you nostalgic.
Remember to be geared up in a warm snowsuit and some ice cleats to make the most of your little trip here. This place is proof that you don't always need summer or a great sunny day to catch a perfect sunrise.
And that's not to say that sunsets in Vancouver are any less. Check out this sunset picture from Jericho beach in Vancouver, clicked by Vancouver resident Soubhik Chakrabarti!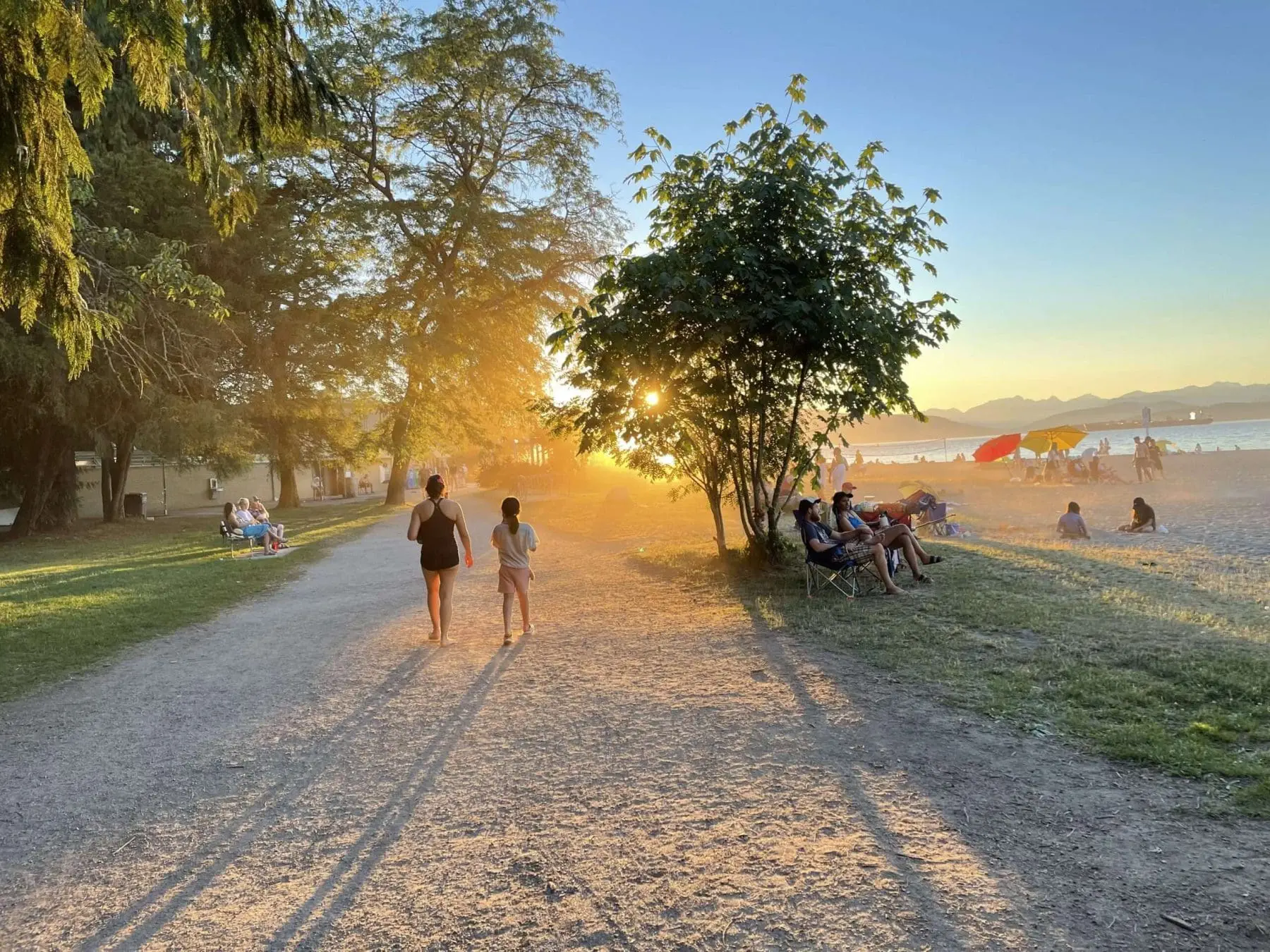 There are many more beautiful places like these in the city to catch the best Vancouver Sunrise. Being an early riser allows you to witness these gorgeous views and gives you the freshness that you need to get on with your stressful days. So make sure to visit some of these scenic beauties if you live in and around Vancouver.
Best Vancouver Sunset spots
Vancouver's sunsets are magnificent since it faces west into the Pacific Ocean. You may watch the sunset from the beach, the mountains, or the city centre.
Vancouver's Third Beach
Third Beach in Stanley Park faces west, giving it a fantastic sight to watch the sunset into the sea. The best way to get there is to ride your bike along the seawall in Stanley Park. Don't forget to pack some lights for the drive home!
Vancouver's Jericho Beach
View the sunset from Jericho Beach, where the warm glow of the setting sun illuminates the glass skyscrapers of downtown Vancouver in gold, pink, and purple.
Vancouver's Wreck Beach
Head to UBC, then down the steps to Wreck Beach to watch the sunset over the Strait of Georgia. Bring a flashlight with you to assist you to make your way back to Marine Drive.
Vancouver's Crab Park
Crab Park is a great place to catch a sunset in the centre of downtown Vancouver. The glitter of the setting sun behind Canada Place's sails makes for an excellent #VeryVancouver photo opportunity.
Vancouver's Sunset Beach
It's somewhat of a no-brainer to suggest you watch the sunset at Sunset Beach in the West End. But it is deserving of the moniker! Take a seat against one of the nicely placed logs, then relax and watch the nightly display.
Vancouver's Queen Elizabeth Park
Head to Queen Elizabeth Park's lookout to watch the sunset over Vancouver. The city is stretched out at your feet, and the pink and purple glow of the sunset on the North Shore Mountains can be seen.
West Vancouver's Whytecliff Park
Whytecliff Park in West Vancouver is a photographer's dream for sunsets. The tiny island just offshore glows in pinks, purples, and oranges as the sunsets.
Burnaby Mountain Park, Burnaby
The sunsets at Burnaby Mountain Park are breathtaking. It looks west into the setting sun, with the city skyline ahead.
Vancouver's Lions Gate Bridge
Take a walk over the Lions Gate Bridge at night to enjoy a spectacular sunset view.
The Sunrise of Vancouver
Sunrise Senior Living Vancouver is a multi-award-winning Licensed Residential Long Term Care complex in British Columbia, with a welcoming, inclusive atmosphere and a range of resident-centred amenities. Residents enjoy freshly prepared meals with a range of options catering to particular interests and needs in their magnificent dining area and neighbouring café.
Residents may relax in the lovely south Vancouver location, where Designated Care Managers provide personalised Individualised Service Plans, medication delivery service, and nursing staff is available 24 hours a day. All apartments at Sunrise of Vancouver include high ceilings and curtained picture windows, and a range of amenities meant to assist protect the safety of their residents.
Their elegantly designed sitting room, library, reading spaces, TV lounge, and sunroom provide various opportunities to unwind alone or with friends and family—or with one of their community dogs. Our Reminiscence Program gives extra comfort and security for elders who have Alzheimer's disease or other kinds of memory loss.
Their staff is dedicated to delivering holistic care, from activities and volunteer coordinator who helps new residents discover companions with shared interests to a care team whose members are specialists in relationship-based Alzheimer's and memory care. And they're well-equipped to do it since many of their employees have been with Sunrise of Vancouver since its inception. Their commitment is priceless to our people and their families.
When it comes to beautiful sites to see the dawn and sunset, these are only the tip of the iceberg. If you aren't too busy seeing Vancouver's tourist attractions (Gastown is one), you should be able to witness both events on the same day and in different locations.
Beauty is found wherever it is found, and Vancouver, British Columbia, has more than enough beauty to last a lifetime.