Are you planning a trip to Calgary or staying back from your fun trip to Banff?
Downtown Calgary is the hidden gem in the city of Calgary. Dive into these appetizing restaurants downtown Calgary has for you!
Top Restaurants Downtown Calgary – A Delightful Treat
Experience the rich and diverse cuisine in the streets of downtown Calgary.
Let's not waste a minute and move to the delightful hunger calming treats to find in the city.
1. Workshop Kitchen + Culture
Workshop Kitchen + Culture, located in the old Grand Theatre, is one of the best downtown restaurants in the city.
This restaurant offers contemporary Canadian cuisine and specialty drinks in a beautiful, brick-walled setting. The historic Grand Theatre Building in Downtown Calgary houses the restaurant serving Canadian cuisine.
The restaurant is in the courtyard before the theatre entrance, offering event spaces and a casual but effective style of service. This makes the site unusual because it isn't a standalone spot. The restaurant serves "improve food" for the dinner menu on a three- and five-course menu that is always changing.
There hasn't been a single dish from the Improv Menu duplicated in the three years the restaurant has been open. Every day, the available fresh ingredients serve as inspiration for new dishes. This eatery is suitable for fine dining. Workshop kitchen+ culture has good options for vegetable dishes.
This kitchen restaurant has urban vibes, high and low tables, an open kitchen, cold rooms, and exciting wine and cocktail listings.
You can try various food from beef to fish, carrot appetizer to mushroom/leek pasta, and vegetarian options.
The Improv menu is a special three-course or five-course tasting option to give you the best taste.
2. Holy Grill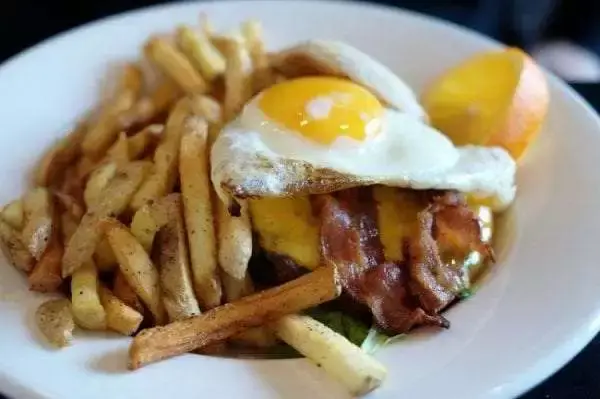 This is a go-to place for every food lover on the corner of 5th Avenue. This is one of those restaurants Downtown Calgary has which gives you a unique lunch experience.
After taking a stroll through Century Gardens, many guests stop at this restaurant. You can get grilled chicken, beet salads, or delectable breakfast sandwiches from the menu. Muffins are good, according to the opinions of the guests. You'll most likely visit Holy Grill again later to sample some excellent wine or beer. Come here and order a delicious latte.
This location's cozy ambience makes it possible for guests to unwind after a long day at work. Without qualified employees, this location couldn't receive good ratings. Your mood will improve thanks to the cool service. You may get a wide selection of meals at this restaurant at reasonable costs.
The restaurant serves a combination of healthy and themed comfort food. It is quite different in its service, unlike the other restaurants in Downtown Calgary- with counter service.
The menu here is small but unique. The chicken burgers, homemade dips, and sausage muffins are a must-try.
The Holy Grill is a must-visit restaurant because of its delectable cuisine and chic setting.
3. Anju Restaurant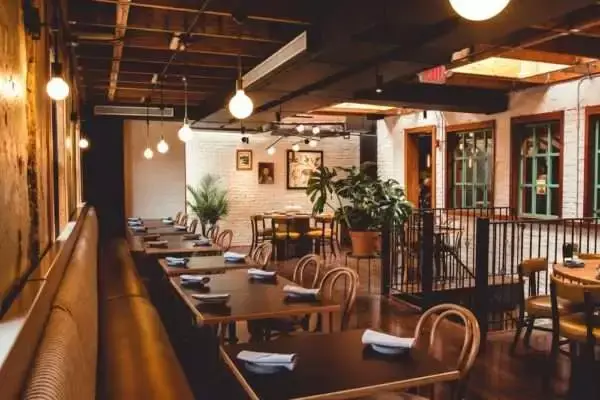 Anju Restaurant is a great choice to rest your hunt for contemporary Korean food.
Award-winning chef and proprietor Roy Oh gives Korean food a contemporary spin. A contemporary Korean small dish called Anju, which translates to "meal consumed with wine," is supposed to be shared with friends.
With our broad wine list, craft cocktails, and Soju choices, Anju's sharing plates go great together. The open kitchen is located after that, followed by a sitting space.
If you choose to reserve the space for an event, there is a somewhat different room with additional eating. Black and blue are used in the decor, together with wood tables, white ceilings, and sporadic green banquets. Korean-style tapas are served at this establishment. Anju offers contemporary
Korean cuisine is both creative and reassuring, serving as both a haven for ardent Korean food enthusiasts and a home away from home for native Koreans. Its distinct concept sets it apart from the tired crowd in Tanjong Pagar, which is surely something to cheer about.
The dishes are handcrafted by chefs Danny Lee and Scott Drewno to bring you the rich taste of Korean food.
Anju has a decent selection of beers and wines for beer lovers at reasonable prices.
There is an endless list of Korean juiciness to try when you get here.KFC Sliders and Brussel Sprouts are the highlights not to miss at any cost.
4. Charcut Roast House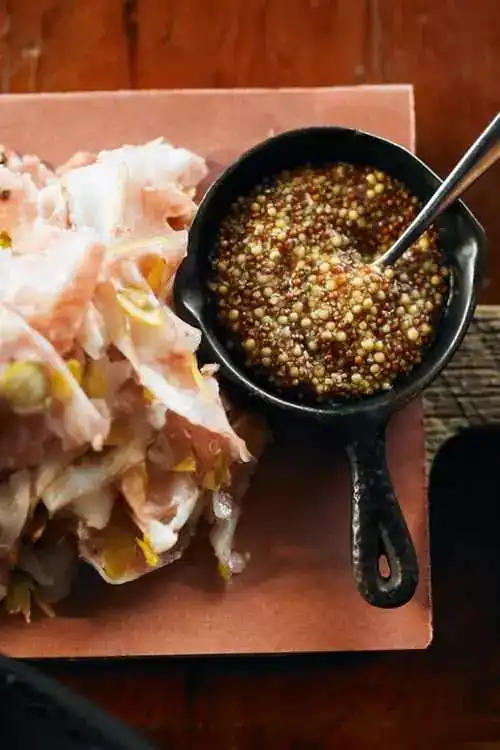 Charcut Roast House is an urbanite and rustic restaurant loaded with local goodness.
John Jackson and Connie DeSousa, who you may recognize from her appearances on Top Chef Canada, are the co-chefs at CHARCUT, an Italian roast house. They are two of Canada's most renowned chefs individually. One of Canada's most esteemed dining establishments is Charcut Roast House.
Each and every aspect of the restaurant, from the repurposed local barn wood panelling to the mason jar chandeliers, brings the authenticity and soul of local, farm-fresh farmers and their flavorful products to the downtown area's busiest restaurant and bar. It offers a selection of small plates combining French as well as Italian dish flavours.
Jackson, DeSousa, and CHARCUT are putting Calgary on the map of global cuisine with their house-butchered meats, handcrafted relishes, local and seasonal ingredients, intelligently crafted drinks, local craft cocktails and brews, and a busy open kitchen.
The best way to characterize the food at CHARCUT is as chef-driven regional cuisine with Italian and French influences. For the delight of even the most sophisticated palates, co-chefs Connie DeSousa and John Jackson make charbroiled and rotisserie meats and artisan charcuterie from "local ingredients."
The restaurant is decorated with local barn wood panelling and mason chandeliers. It brings the authentic taste to you with farm-fresh ingredients.
The chefs know how to make you happy, so fresh ingredients change the menu daily.
Try the tasty poutine and charcuterie board when you hop in here.
5. Provision
Set in Memorial Park, this is one of the open and cozy restaurants Downtown Calgary has. It is a perfect place for a romantic date night. Provision, which is located in Central Memorial Park, provides an alpine hut vibe in the middle of the metropolis.
The restaurant's menu is always evolving and focuses on seasonal ingredients, veggie meals with proteins from Alberta, a daily pasta dish and fish special, as well as our in-house pastry program. Their "cocktail menu" includes veggies as well as cool, tiny, focused wines.
Provision boasts a menu that changes frequently and uses seasonal ingredients that, whenever feasible, are acquired locally. The eatery serves a variety of freshly cooked sandwiches for lunch that is always changing. And for dinner, a variety of meat and protein dishes are served alongside vegetables (which typically come in three-ounce or six-ounce sized portions).
Family-style dining is advised but not required. Additionally, eating veggies is strongly advised.Everything is perfect for bringing you into your best mood, from the setting to the ambiance and food.
With an impressive list of vegetarian food and desserts, every dish is tastefully handcrafted to give you the best taste.
6. The Palomino
The Palomino is a great BBQ and pub-like ambiance restaurant.
The BBQ season at The Palomino Smokehouse never stops! The largest smoker in Western Canada is located in the middle of downtown Calgary. The popular smokehouse in downtown Calgary offers a tantalizing menu of plentiful favourites, a wide range of beers, a wonderfully distinctive terrace, and a number of fantastic special events!
The most distinctive live music venue in Calgary is the music room downstairs, which presents a wide range of genres from local and international bands every day of the week.
The Palomino has a fun atmosphere that provides a unique and authentic Western experience that is unmatched and ideal for large or small corporate events, private parties, or informal business lunches.
Every day, all of their meats are low and slow-smoked while we consume pounds of traditional BBQ dishes, including beef brisket, pulled pork, and ribs. Locals love our smoked chicken, catfish po'boy in the New Orleans tradition, award-winning chilli, and rib-sticking macaroni and cheese.
They make all of their own gluten-free barbecue sauces and rubs, including House, Chipotle, and Carolina Mustard. For early and not-so-early risers, we offer the renowned Cowboy Brunch, our barbecue-inspired spin on breakfast staples, on the weekends.
They provide a big assortment of beer, whiskey, bourbon, and other spirits to quench your thirst.
They have a delicious range of food and beer on the menu, which you should come here to taste. Get the real BBQ experience!
7. The Libertin Public House
The Libertin Public House is a hipster restaurant and bar. It is excellent for casual dining and is located in the Stephen Avenue Mall.
The Public House at Libertin Welcomes two levels and 8000 square feet of unrestricted eating, drinking, and mingling in the libertine tradition. Enter the building to observe the action, have supper, or join them  for "happy hour." Head upstairs for lunch or the bar shelves overlooking Stephen Avenue for a different atmosphere.
Breweries that adhere to the "fresh is better" dietary and beverage philosophy is represented on The Libertine's beer menu. The best local micro and craft beer are available from them. They often switch up our taps with seasonal beer and distinctive Libertine specialties.
Their customer service staff shows visitors around the merchandise and provides wings of sample-sized pours for those who desire it all! They don't forget about good wine and cocktails; you'll find ironic labels and unusual varietals on our extensive wine list and a decadent cocktail menu with a twist.
This is a perfect place to host a party. The restaurant's football table, golden tee game, and dartboard make it a fun spot.
A decent wine selection at a reasonable price makes this restaurant recommendable.
8. One 18 Empire
One 18 Empire is a whiskey-inspired bar and restaurant. The restaurant's ambiance is warm and welcoming, with a variety of private to communal seating options.
One18 Empire is a whisky-inspired restaurant and lounge with a strong focus on sharing, regionally inspired cuisine, expertly coupled with our select onsite reserve, located in the heart of thriving Downtown Calgary.
One 18 Empress encourages a sense of community among its visitors by offering a variety of chef-created dishes meant for tasting and sharing in a distinctive and lively local setting. The crew, who take great delight in the craft of storytelling, aims to introduce guests to the fascinating history of One18 Empire by showcasing how these tales have shaped the layout of our food and drink selections.
A fine dining restaurant welcomes patrons 24/7 One18 Empire keeps up with the metropolis. For both locals and visitors, One18 Empire creates a lively and active pub experience.
This is one of the restaurants Downtown Calgary has, which brings 300 different types of tasteful whiskeys and cocktails for you.They have something for everyone, timely breakfast, brunch, lunch, dinner,late-night dining, quick wine, and whiskey tasting as well.
This restaurant is the right choice for handcrafted beers & wines and a high-class selection of simple whiskey cocktails.
Come here to taste and watch the custom-made old-fashioned scotches and whiskeys.
9. Teatro Restaurant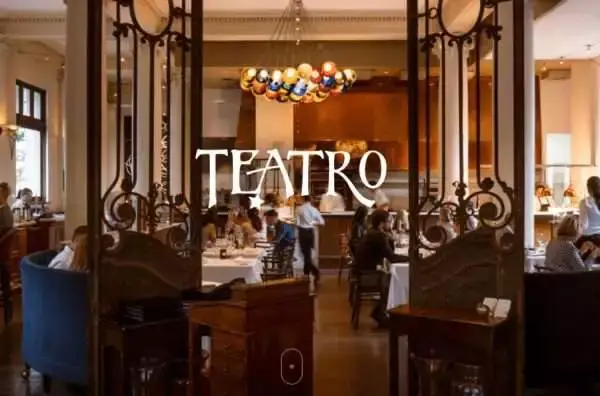 This restaurant has a classic ambiance with a clean, spacious interior. You can find chairs welcoming you at the entrance.
Teatro, which translates to "theatre" in Italian, honours the place where our restaurant is situated—Calgary's arts and theatre district. Teatro has been providing modern Italian cuisine in a sophisticated dining setting since 2011.
Their award-winning wine cellar, housed in the historic Dominion Bank (established in 1911), has over 10,000 bottles and more than 1100 labels, focusing on the premium wines of Italy and Bordeaux. At our chic bar, sip on handcrafted concoctions, book a table for your upcoming business meeting, or savour a 5-course chef's tasting menu.
For big groups, they also provide private and semi-private eating choices. It goes without saying that a superb meal starts with high-quality ingredients. When possible, Teatro purchases its ingredients from regional and organic farmers. They look elsewhere with the same attention for those products we can't find locally.
These include premium imported cheeses from all over the world and extra virgin olive oil from owner Dario Berloni's family's olive trees in the Marche region of Italy. It offers delectable Italian dishes.
Come here to experience a romantic dining room. The restaurant has a sit-up bar with an impressive range of appetizers and wine menus.
The ingredients are sourced locally to give you a healthy and wealthy fine dining experience.
Not just the food, but the wine menu is classic. You will be impressed with the award-winning wine menu they offer.
10. Blink Restaurant & Bar
Blink Restaurant & Bar is a lovely restaurant with an open kitchen, a classic bar, and rustic walls on the streets of 8th Avenue.
Executive Chef Brian Diamond combines slow cuisine cooking methods with regional flavours through a special blending of texture and colour, allowing each delectable menu item to change with the seasons.
Various carefully chosen grape varietals and vintages are combined with traditional and modern cooking methods to provide an unrivalled European fine-dining restaurant experience that will dazzle even the most discriminating palate.
Blink is a go-to location for business lunches and is the best venue to wow visitors with expertly prepared Canadian food. The dining area is a downtown sanctuary, cool in the summer and cozy in the winter, with its soft lighting, dark oak floors, and spa-like accents (even the bathrooms have squishy chairs and mirrors that make you look taller).
One of the few eateries in the area that allows for calm conversation, and with such excellent cuisine and wine, you'll have enough to talk about. One of the best restaurants in Calgary is this one.
They offer a great selection of wine at the Happy Hours. The Happy Hours appetizers are what stand out.
The ambiance and atmosphere of the restaurant are relaxing.
This is one of the top restaurants Downtown Calgary has. You should not shy away from visiting.
A few more well-reviewed restaurants are Bridgette Bar, Deane House, Modern Steak, Native Tongues Taqueria, Vero Bistro, Ten Foot Henry, Model Milk, Rouge, River Cafe, Bonterra Trattoria, etc.
In Calgary, here are the top 5 happy hour bargains to check out.
"It's five o'clock someplace!" a wise man once stated. And that individual lived happily ever after. That knowledgeable person was alluding to booze-fueled good times that begin at the most joyful hours.
Most restaurants and pubs offer happy hour specials, but not all of them are equal.
You must decide which ones are worth checking out.
We've produced a list of Calgary's greatest happy hour discounts for their delicious drink and food special
1.Blanco Cantina's
Happy Hour is daily from 2 to 5 p.m. and from 9 p.m. to close.
#HalfyHour! Blanco is the first to take the stage! Every day, traditional tacos are half-price, margaritas and select beers are $6, and tequila is half-price. Not only that, but if you're a member of their Tequila Club, you'll receive half off all of their premium tequilas from 3-5 pm and 9 pm-close daily! And that's quite a lot.
The menu at Blanco Cantina combines hearty comfort cuisine with flavorful fresh Latin flavours, world-class tequila, energizing drinks, and a narrowly focused selection of draught beers.
There is something on their menu for everyone, including custom nachos that have been meticulously stacked with cheese, tacos, burritos, salads, and churros. The best place in town for mingling and watching sports is Blanco Cantina, where everyone is up for a fiesta whether you stop by for a quick bite or stay all night.
With over 75 hand-selected options, their assortment of tequila and spirits is unmatched. There is a fantastic assortment of featured cocktails and drinks, as well as traditional margaritas on the rocks, slushy creations, and other beverages.
Phone: 403-228-1854
Address: 723 17th Avenue SW, Calgary
2. Calcutta Cricket Club
Happy Hour is from 4-5 p.m. every day.
The restaurant chain Thank You Hospitality includes Calcutta Cricket Club. The Indian restaurant and cocktail bar CCC was created by regional artist Maya Gohill.
The unique, vintage-inspired interior of the Indian restaurant and bar Calcutta Cricket Club showcases superb culinary interpretations of West Bengal's diverse cuisine. One of the top patios in Calgary. Every weekend brunch with Indian influences.
Calcutta Cricket in Calgary is offering some delectable offers. Chips and curry are $6, chilli chicken is $9, and papri chaat is $8. Aperol Spritz is $5, Field and Forge Light Lager is $5, featured red and featured white are $8, featured cocktail is $8, and buckets of Jasper Pilsner are just $25. That pilsner is, without a doubt, one of the greatest beers available.
Phone: 403-719-1555
Address: 340 17th Avenue, SW, Calgary
3. Craft Beer Market
Happy Hour is from:
Monday to Thursday, 2-5 pm and 9 pm-close
Friday to Saturday, 2-5 pm
Sundays are all-day happy hour!
The neighbourhood hangout, Central, is where excellent food, good company, and good fun are a way of living. Stop by for lunch, supper, late-night snacks, and anything in between because they have you covered. Their food is produced with high-quality ingredients and enthusiasm.
Their wine and specialty drinks are too excellent and crushable. They have carefully chosen regional beers. They have developed a brand-new atmosphere that reimagines dining and social interactions where they are more than a bar. They are much more than a restaurant.
They have established a brand-new benchmark for dining, drinking, and mingling that is so hip it goes without a name.
Craft Beer Market's happy hour offerings have just been updated! It's fresh, exciting, and will give you more bang for your buck. Pizza and burger bargains range from $15 to $16, tacos and nacho fries are $13, and pickles, sliders, and cauliflower nibbles are $9 at both Calgary locations. Drink deals include $8 sangria and Moscow mules, $6.50 rotating beer taps (around 15 different selections! ), $9 8oz house wine, $7 shaft on draught, and $6 highballs! There is also a $5 rotating "shot of the day," so get a few of them as well.
Phone: 403-514-2337
Address: 345 10th Avenue, SW, Calgary – Downtown
4. Earls
Earls Happy Hour is open daily from 2 to 5 p.m. and from 9 p.m. to close.
An international restaurant focused on using the freshest ingredients and producing its dishes and drinks from scratch is called Earls Kitchen & Bar.
They take intentional care to consider how the product is made, bred, and cultivated, and they believe in using the best proteins and locally grown produce. It was designed as a friendly space for friends to get together, families to celebrate, and collaborators (workers) to grow.
And a restaurant that combines the finest products, first-rate service, and exceptional staff, all of which have helped us get to where we are today: a pioneer in the food and beverage sector and one of the most well-known, popular, and successful family-owned restaurant groups in North America.
Earl's happy hour has got to be one of the greatest around. Mojitos and sangrias cost $7 each. The Aperol Spritz and espresso martinis are only $9! Tacos start at $4, Margherita pizza is $5.50, their spinach and three cheese dip costs $13, and two varieties of burgers and fries cost $15. We already know where we're going after work!
Earls 16th Avenue
Phone: 403-289-2566
Address: 1110 16th Avenue, NW, Calgary
Earls Bankers Hall
Phone: 403-265-3275
Address: 315 8th Avenue, SW, Calgary
Earls Barlow Trail
Phone: 403-291-6700
Address: 3030 23rd Street, NE, Calgary
5. Home and Away
Happy Hour: Monday through Friday, 3-6 p.m.
A hearty celebration of food, friends, and the heyday of sports, Home & Away. They proudly honour everything their beautiful city has achieved while respectfully remembering its past.
They embrace their illustrious past as dedicated prairie sportspeople—hustlers, ballers, cowboys, and all—and warmly welcome amateurs, underdogs, sleepers, and long shots because they, too, played a part in establishing our reputation.
Every historic athletic event will now be met at Home & Away with a front-row seat and an amazing supper. Their mutual love of sports, their enduring affection for Calgary, and their fondness for the heroes who gave us all hope form the foundation of their home.
They are responding to the desire for delectable homegrown favourites, and comfortable classics staple meals far and away.
Home and Away has a tonne of daily content and a happy hour from 3-6 pm! Consider $3 bar appetizers like chips and salsa, deep-fried pickles, and chicken sliders. Tacos with pork, cauliflower, chicken, or "f#@% in hot fried chicken" cost $4. It serves home-brewed Parallel 49 Lager for cocktails, house wine, and highballs for $4 and $6 mules and shafts on Fridays!
Phone:403-455-9789
Address: 1207 1st Street, SW, Calgary
Savoury Local Taste You Can't Say No To!
A list of the best restaurants in Downtown Calgary has invited you to come and savour your tongues with exceptional taste.
But what should you try when in Calgary? If this is what you are thinking, let us tell you some of the best foods and flavours you should try.
1. Sushi Rolls
Try Sushi, the famous dish from Japanese cuisine, to melt your heart! Served with healthy white or brown rice and seafood, spicy and chilly soya sauce, and pickles will make your mouth go watery.
Sushi rolls or sushi, the choice is yours. But it's a must-try when you visit Downtown Calgary.
2. Charcuterie Board
Charcuterie Board is loaded with a tasteful combination of meat, cheese, nuts, crackers, and fruits. Makes one of the delicious spreads that you can't stop craving.
If you never had, Charcuterie before, then Downtown Calgary is calling you to taste this impressive and delicious appetizer.
3. Poutine
French Fries loaded with cheese curds, smoked meat or pork, and topped with the delicious gravy.
Poutine is the king of Canadian cuisine! You can't miss this lovable dish when you are planning your trip to Downtown Calgary.
Hop into any of the best restaurants Downtown Calgary has and dissolve the taste o Poutine on your tongue.
4. Ginger Beef
Ginger Beef, another master king from the cuisine of Canada, is a delectable treat to serve your tongues and pack your tummies tight with.
This delicious dish of beef, ginger, and the sweet sauce has the best taste when made in Calgary style.
Try this Calgary-styled Ginger Beef on your next trip to Downtown Calgary.
5. Bloody Caesar
Why just immerse yourself in the tasteful dishes when you can relax with the cocktails?
Bloody Caesar Cocktail, a blend of caesar, vodka, hot sauce, Worcester sauce, and a pinch of salt, is a great cocktail you should take when in Downtown Calgary.
If you haven't made a tasteful trip of these savoury dishes & cocktails in the best restaurants Downtown Calgary calls you to, then you are not yet done with your food trip!
Comfortable Stay With Downtown Calgary Hotels
Packing your tummies with delicious food is not enough when you are planning a trip. A place to relax with comfort is what makes your trip a great one!
Here are the top Downtown Calgary Hotels to make your trip more comforting.
1. Calgary Mariott Downtown Hotel
Located opposite to city's regal Calgary Tower, this hotel is the best for everyone, from businesses to travellers.
The rooms are spacious with modern décor, a small sectional couch, a coffee table, large walk-in showers in the bathroom, and various USB outlets.
The hotel has a fantastic M-Club lounge serving you a delicious breakfast. Happy hour services are available all 24 hours to make your stay comfortable.
Starbucks, on the hotel's ground floor and a fabulous restaurant – One 18 Empire, adds plentiful flavours for you.
2. Hyatt Regency Hotel

Hotel Hyatt Regency is located closer to the magnificent attractions of the city. This includes City Center for Performing Arts, Glenbow Museum, and Calgary Tower.
The hotel has 355 spacious rooms and suites for your stay, a luxurious spa, a great fitness center, a water pool to relax, and an accessible sports bar.
You can satiate your hunger with the delicious Canadian food at Thomson's Kitchen + Bar and dine along with the impressive drinks.
The hotel has Starbucks for you. You can have light food – sandwiches and flaky pastries at Baker's Coffee Shop to keep your stomach filled.
3. Fairmont Palliser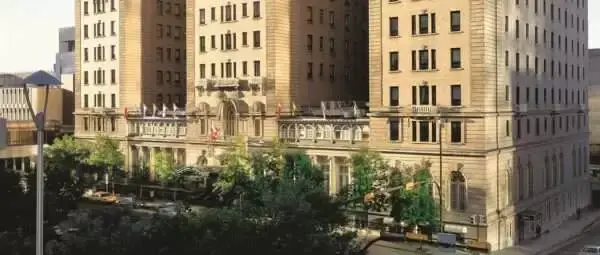 Fairmont Palliser is one of the city's premium hotels with stunning architecture, history, and royalty. This is the place for your luxurious stay in Downtown Calgary.
The 407 rooms and suites are clean and spacious, with comfortable beds and chic modern décor.
The hotel has Starbucks for your coffee cravings. The Boulevard is an intimate space to serve you tasty breakfast, lunch, dinner, and happy hours from Monday to Friday.
Another choice to make your stay tasteful is by dining at the Hawthorn Dining Room.
4. Hotel  Le Germain
Hotel Le Germain is located closer to Calgary Tower. It is a unique boutique hotel with a modern and elegant chic interior.
The hotel has 143 modern rooms. The rooms have bathrooms with large rain showers and head showers. Twenty-four fitness centers, massage rooms, and luxury Sante Spa is a special treat the hotel gives you.
Not only does Le Germain fascinate you, but the American cuisine restaurant serves extra delicious food, which is a delight.
5. Sheraton Suites Calgary Eau Claire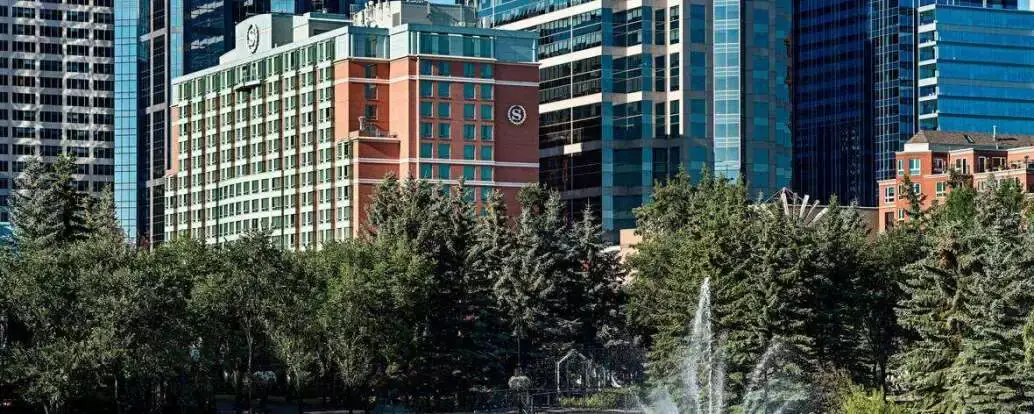 Sheraton Suites Calgary Eau Claire is a luxury hotel for your weekend or travel leisure stay.
The location is perfect, with a river view, shops, walk-in trams, and taxis nearby.
The hotel has spacious, clean rooms with separate living rooms, bedrooms, and sleeping arrangements.
The hotel doesn't fail to feature its amenities for you to relax, with a heated swimming pool and hot water tub, and fitness center.
The hotel has onsite restaurants where you can take a bite and enjoy your stay.
Want to read more about hotels in Downtown Calgary? Read Here.
So, don't forget to come and drool in these restaurants Downtown Calgary keeps you calling in. Come and enjoy amazing delicacies here!
Suggested Reads:
Unique Restaurants in Vancouver
8 Awesome Music Stores Calgary to Check Out
Toronto Premium Outlets to Visit
Also read: Top 23 fun things to do in Calgary
As an Amazon Associate, Icy Canada earns from qualifying purchases.
Auto Amazon Links: No products found.
Auto Amazon Links: No products found.