Warner Bros. made some of the best innovative and exciting films and tv shows. And it has been 100 years, with an iconic history of producing for decades. Candlelight: 100 Years of Warner Bros. will be held to honour the legacy by having a live musical of some of the best tv shows and films. This event will be held at Triffo Theatre in Edmonton, and the date is May 26, 2023.
It will be your evening of fond memories and an event of celebration. Candlelight concerts bring the allure of a live musical experience to locations. You will have two options to choose your time, i.e., 6:00 p.m. and 8:15 p.m. So, what are you waiting for? Get your tickets from Fever today to enjoy the evening reminiscing about iconic films, tv shows, and music.
1. Unforgettable Concert Celebrating 100 Years of Warner Bros.
1.1. Details about the Amazing Musical Concert
The Candlelight concerts and events bring allure to different locations like never before in Edmonton.
This candlelight event is a fascinating experience with a live musical of iconic movies and tv shows. If you love to watch movies and tv shows and their music, do not miss out on this spectacular program.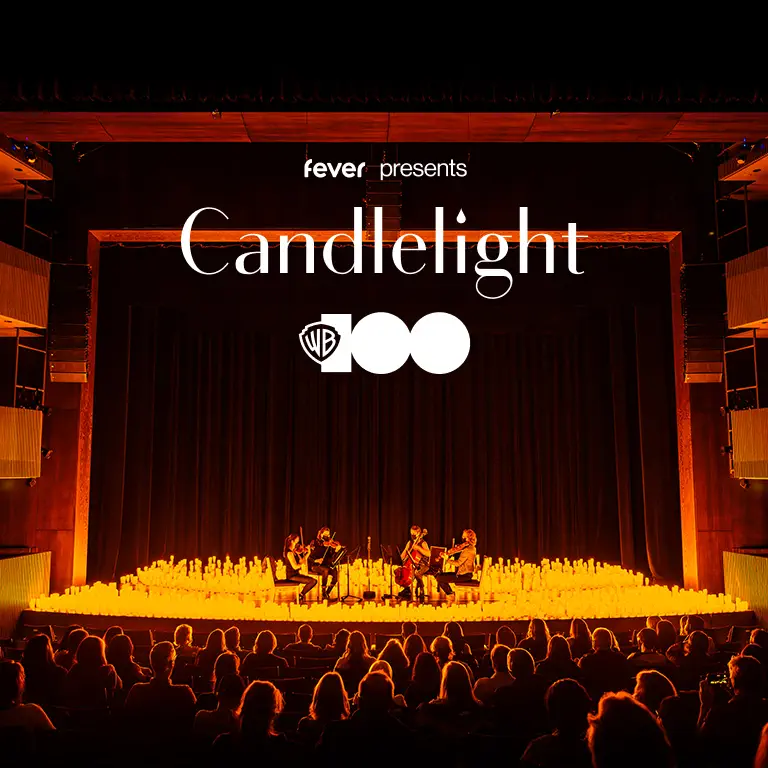 1.2. Venue and Time
This event will be taking place at the art theatre named Triffo Theatre in Edmonton<span style="font-weight: 400;"> the date is May 26, and the timings are 6:00 p.m. and 8:15 p.m. You can select the time while purchasing your ticket.
The duration is about 65 minutes. The doors open 45 minutes ahead of the start time. And mind you, late entry is not acceptable.
1.3. Age Requirements and Accessibility
The age requirement for this candlelight event is 8 years old or older and if someone is under the age of 16, they must be assisted by an adult.
The accessibility of Triffo Theatre is ADA-compliant.
1.4. Seating Arrangement and Program
In each zone, the seats are on a first-come, first-served basis.
The list consists of The Wizard of Oz, Willy Wonka, Casablanca, Singin' in the Rain, Scooby-Doo, Purple Rain, The Exorcist, Harry Potter and the Goblet of Fire, Batman, The Lord of the Rings, Inception, Justice League, Wonder Woman, Friends, A Star is Born and many more.
1.5. Performers
The Listeso String Quartet will be performing at the candlelight event.
1.6. Get Tickets Now
Tickets for Candlelight: 100 Years of Warner Bros. are available on Feverup, with prices starting at CA$ 30.00 to CA$ 50.00 per person. The tickets have limited availability, so you need to ensure your spot early for this event.
1.7. An Event You Cannot Miss
The event Candlelight's 100 Years of Warner Bros. is an exciting and unforgettable one-of-a-kind experience to attend.
This concert should not be missed by fans and music lovers. It will be an exciting evening of musical performances. So, purchase the tickets right now. Be ready to enjoy one of the magical events.
2. Experience and Commemorate 100 Years of Warner Bros. by Candlelight in Edmonton
What

:

Candlelight's 100 Years of Warner Bros.
When

: May 26th, 2023

Where

: Triffo Theatre in Edmonton (MacEwan University, Avenue NW 11110 104).

Time

: 6:00 p.m., 8:15 p.m.

Tickets: You can purchase them online here.
As an Amazon Associate, Icy Canada earns from qualifying purchases. [amazon_auto_links id="81298"]
The Icy Canada team strives to create content that matters. It's why our content is written by travel writers, authority experts, well-known authors, and niche experts. Our content is also periodically reviewed by expert authors for accuracy and trustworthiness.
As an Amazon Associate, Icy Canada earns from qualifying purchases. [amazon_auto_links id="81298"]