Named after Dover's coastal town in England, the community of Port Dover is famously known for its fishing industry.
Located in Norfolk County, Ontario, on the north shore of Lake Erie, this hamlet has primarily been a place of attraction for anglers and beach lovers.
The region of Port Dover was once home to the world's largest freshwater fishing fleet, but now, the number one draw to this region is its beach and harbour-front.
Nevertheless, it is still a popular destination for anglers and is regarded as a highly desired adult-lifestyle community. Port Dover is also the home to one of the world's biggest motorcycle festivals, which is a huge spectacle you can enjoy every Friday, the 13th.
The beach and the pier attract thousands of people, along with the Lighthouse Festival Theater and its unique Port Dover Harbour Museum boosting the crowd levels.
Although not a very large town to enjoy much of a lifestyle, Dover still is a preferred destination. Locals and people visiting from around the country love spending time at the pier and the beaches.
The best thing to do in Port Dover includes fishing, of course, as it is known for its fishing industry in the first place. Other than that, outdoor adventures, and visiting the wineries and breweries are also the preferred activities.
Click here to learn all about the Best Things to do in Port Dover.
A Brief History of Port Dover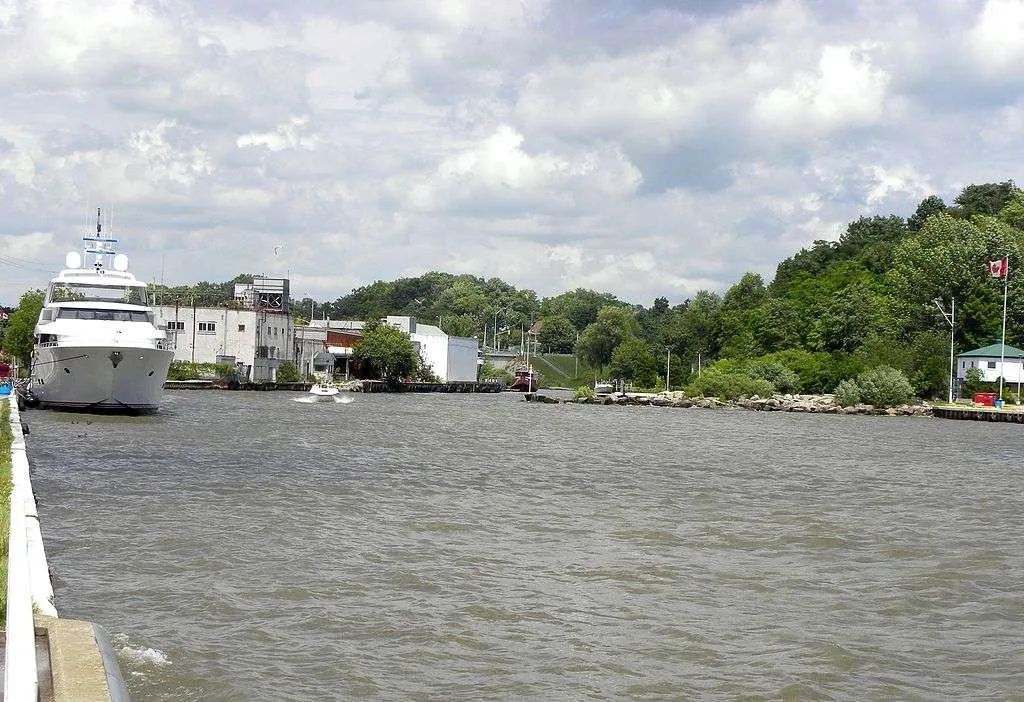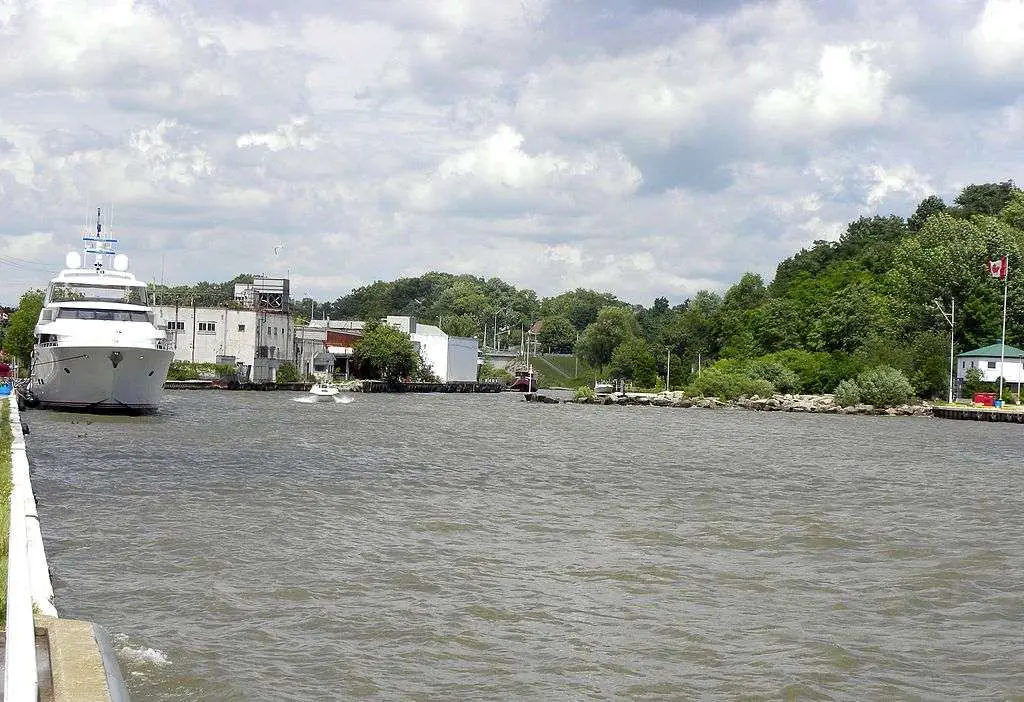 In the early 1800s, Daniel McQueen created a small village about two miles north of Lake Erie. Before the war of 1812, this community was known as Dover Mills.
After it was subjected to an American raid in 1812, much of this village burned down and was destroyed.
The survivors of the war slowly rebuilt the community, and thus, Port Dover was born. In 1835, it was incorporated as a village and later as a town. By 1877, Port Dover had become a large village with a resident count as high as 1,100.
Construction of a harbour, lighthouse, bridge, and a fully-functional road to Hamilton had already been finished by then.
The period of the 1920s saw an increase in its tourism. Especially during the summertime, when masses of people were attracted to the beachside.
A few light industries started growing, but the town was still best known for its fishing center. The fish from this town were shipped by rail to not only Canada but parts of the U.S. too.
In 1974, this town was amalgamated into Nanticoke's new city, and by 2001, Nanticoke and all other municipalities were dissolved. As a result, Port Dover became an incorporated community in the region of Norfolk County, Ontario.
While visiting Port Dover, one should also know about Ontario. You can now get the best guide to Ontario.
Modern-Day Attractions And Fascinating Facts To Know
Here are the best facts and fascinating attractions that you need to check out in Port Dover.
1. Friday, the 13th Motorcycle Rally
This spectacular phenomenon of Port Dover's famous motorcycle rally is celebrated every Friday, the 13th. Interestingly, it had a fairly common beginning on November 13, 1981.
It is said that a local bike shop owner, Chris Simons suggested his motorcycle buddies grab a few beers at the Commercial Hotel, currently known as Angelo's of Dover.
On the inaugural Friday, about 25 guys showed up and decided to meet again when there was a Friday, the 13th. And as people say, the rest is history.
Every Friday, the 13th, Port Dover attracts a mass of bikers and bike enthusiasts to celebrate this traditional event. People get to enjoy great food, drinks, and music.
A typical summer attendance exceeds the presence of a hundred and thousand bikers from cities as far away as Ottawa and even parts of the U.S., mostly from New York and Pennsylvania.
2. The Port Dover Harbour Museum
This small, quaint museum ensures the preservation of Port Dover's historical role in the commercial fishing industry.
The museum, unnoticeably located on the edge of downtown, houses a rich history of life and death on the shores of Lake Erie – comprising famous shipwrecks and rum smugglers.
Some of this museum's gem's most classic possessions include hands-on exhibits, an original fisherman's net shanty, and a century-old freighter wheelhouse.
The exhibits of this museum continue to be an important part of local life. This museum in Southern Ontario promotes the rich history of Port Dover and its fishing heritage and treasures the lost ships of Lake Erie.
For more information about this museum, you can visit the official website. 
3. Beaches in Port Dover
There are multiple beaches in and around Port Dover, which are highly packed with tourists and local people during the time of summer.
Filled with nearby attractions like the Fishermen's Memorial Monument and a historic clock tower from Troy, New York, this beach is ideal for families, small-town charm seekers, and most importantly, the bikers who arrive here for the event of Friday, the 13th.
The beach's scenic pier is perfectly designed for fishing, long romantic walks, or watching the tugboats return with their daily catch.
It is a great place to spread a blanket, build sandcastles, go for a swim, eat out, or go shopping.  Other nearby beaches as attractive as Port Dover Beach include Turkey Point Beach, Port Ryerse, and Peacock Point. 
Spending time on the Dover beaches will feel like an ultimate lifetime experience. To make the beaches more convenient, it features mats, making them accessible for people in wheelchairs.
4. Lynn River Falls
Tucked away on a small side street in Port Dover, the Lynn River Falls are sometimes also called the hidden gem of Port Dover.
The Lynn river follows a trail between the small town of Simcoe and Port Dover, where it finally empties into Lake Erie at Port Dover.
Although the waterfall is surrounded by private property, roadside viewing has enabled visitors to see these falls.
The river bed is quite easy to walk on, and if you don't feel comfortable entering private property, you can get a pretty beautiful view from the bridge as well.
You also need not worry about the time of your visit as Lynn waterfalls have a good flow of water all around the year.
Although it is quite a small waterfall with almost a drop of 5-6 feet, it is truly a gem because of its forest setting.

5. Restaurants
The fish and chips available at most of the restaurants in Port Dover are incredibly delicious. It is also a great place to grab a hot dog – well-known local stands are famous among the crowd for offering a huge variety and unusual selections of condiments. Some of the most famous places where you can eat include:
5.1 Erie Beach Hotel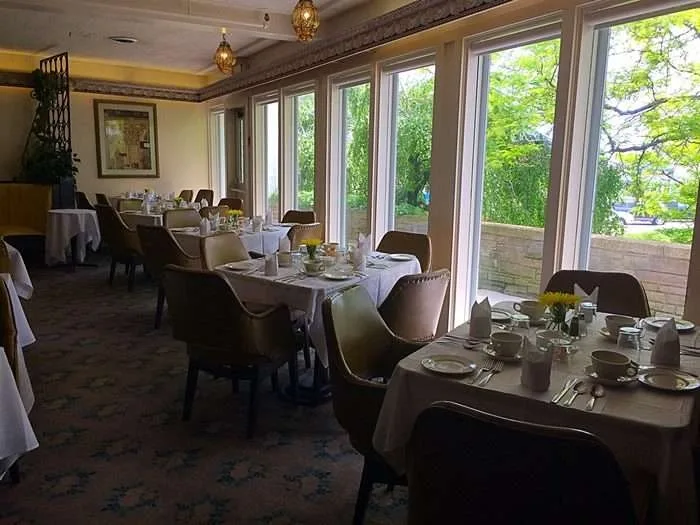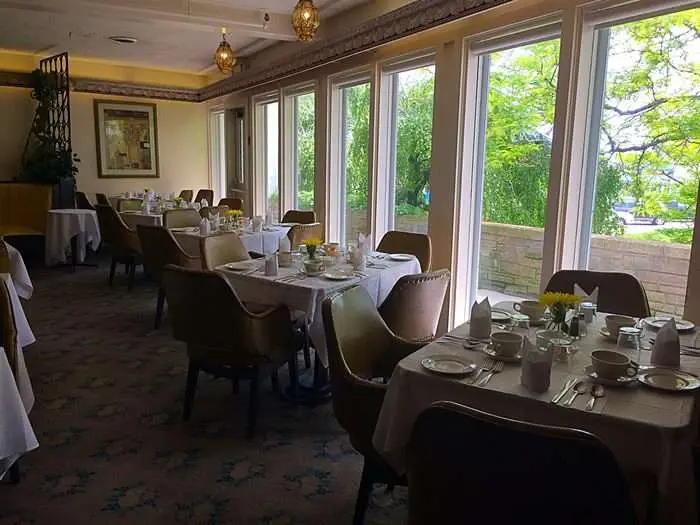 This beautifully landscaped beach hotel and restaurant is a longtime family business that is extremely close to Lake Erie and also is a short walk to the Port Dover Harbour.
This family-run hotel is famous for its Lake Erie Perch, Pickerel, and Celery bread.
Accommodation in the hotel consists of rooms with air conditioning, private baths, and a television. You can also avail of the luxurious banquet and meeting rooms if needed for any private event.
5.2 The Arbour
The Arbour has been in the main streets of Port Dover for as long as anyone can remember. Built-in 1919, this restaurant's iconic takeaway has been "Golden Glow," Ritz Red Hots, foot-long hot dogs, and fresh-cut fries.
Located very near to the beach, The Arbour also serves a wide range of delicious sweets like chocolate cookies and fudge and a wide range of choice ice creams.
5.3 Schofields Bistro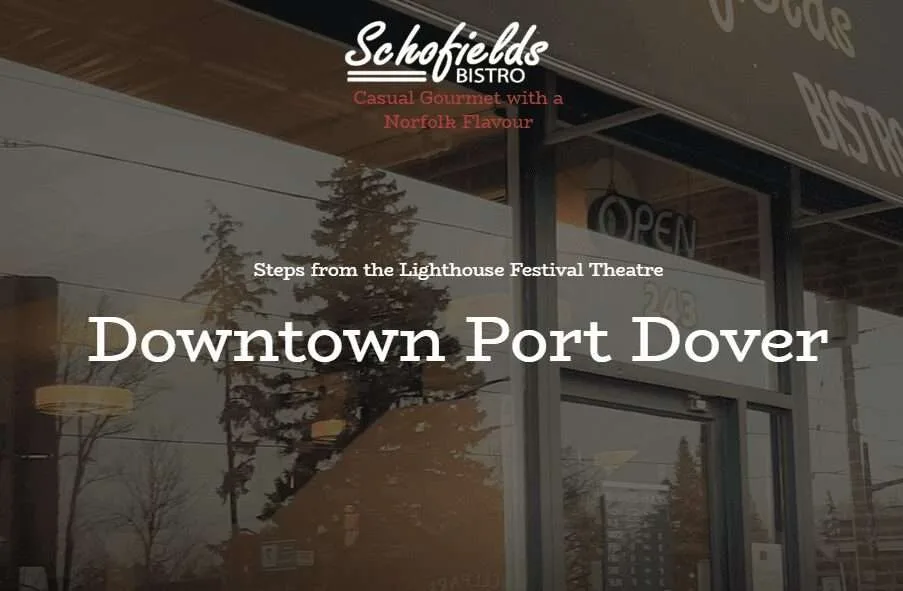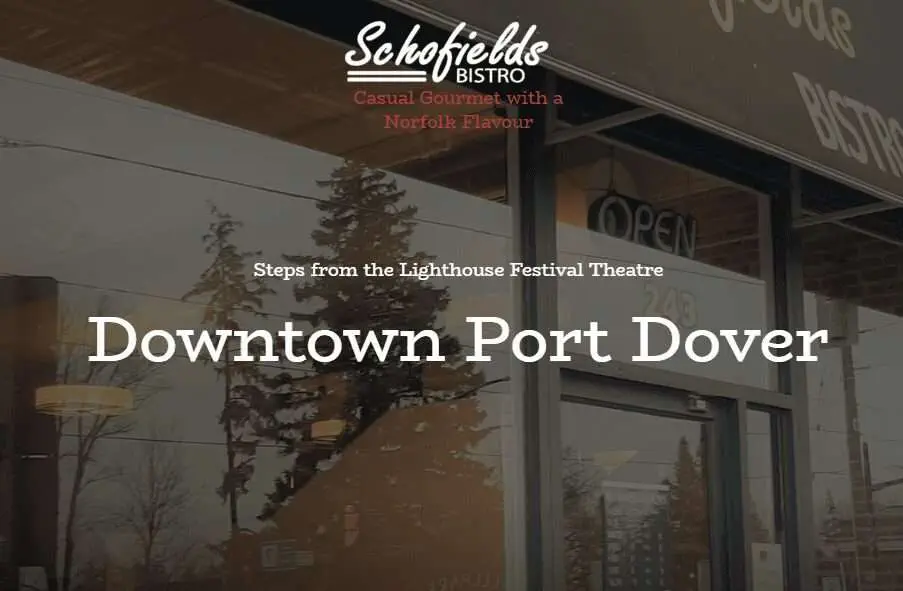 A popular upscale Italian restaurant in Port Dover offers culinary delight to anyone who enters here. Providing gorgeous views of downtown Port Dover, it is only stepping away from the famous Lighthouse Festival Theater.
The staff here takes pride in serving mouth-watering French and Italian dishes. In addition to these classic dishes, their menu also includes a fine range of wine and craft beers.
While there are many more fine establishments for dining and lunch, these are just a few and the main ones. Some other eating places to check out include The Crepe House, David's Restaurant, The Beach House, and many more.
Suggestion Box: If you like travelling then you must read 13 Reasons to Visit North Bay Ontario article.
6. The Lighthouse Festival Theatre Corp
Located right in the heart of Port Dover is the Lighthouse Festival Theatre. It is a major summer theatre in Ontario.
The Lighthouse Festival Theatre enriches the community's values for arts and culture. It is mostly dedicated to enhancing and promoting Southern Ontario's live professional theatre.
It hosts concerts for a variety of genres and musical tribute shows as well. The theatre corp has been for the Canadians and by the Canadians since 1980.
7. Port Dover Cemetry
Port Dover Cemetry on Blue Line Road has the world's largest gravesite collection. From the late 18th century till now, i.e., 2020, it is still functioning.
Since 1875 the Port Dover Cemetry has been serving as a dignified and peaceful resting place for your loved ones. The Board for the Cemetry is a charitable organization committed to maintaining the historical significance of the cemetery.
To date, more than 5000 individuals or families have their remains in the cemetery, including the famous critic and editor Raymond Knister.
It also includes the remains of veterans from wars Canada was involved in.
And in 2011, a storage place for the cremated remains was installed.
8. The First Lighthouse
The first Lighthouse at Port Dover was put together in 1845. But unfortunately, due to an accidental fire, the Lighthouse burned down on 5th November 1848.
The unfortunate incident forced the keepers of the Lighthouse to hoist two lamps instead at the top of the poles as a reminder of the shipping season.
However, by 1877 a new Lighthouse was built on the pier. But in 1904, the Lighthouse on the western pier was taken down to build a new and improved tower.
In 1905, the Department of Marine published the new Lighthouse's descriptions, which include: an enclosed wooden building, 35 feet high with sloping sides, and a square iron lantern.
This 1905 Lighthouse remains active at Port Dover. It boasts stunning views and outer scenery.
The Lighthouse is a major part of Port Dover, as it serves as a symbol for Port Dover and Norfolk County.
9. The Red Apple Rides
With the Red Apple Rides, tour all of the areas and know its enticing rich history.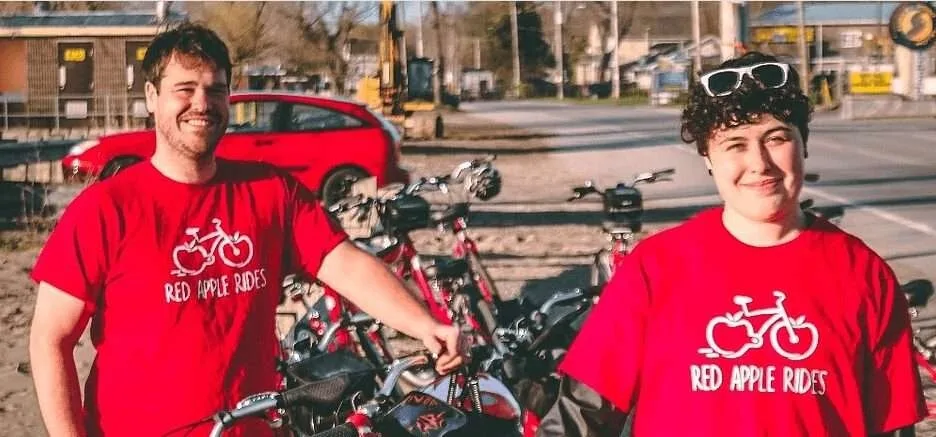 The Red Apple Rides offers you a guided bike tour to all of the local areas and the most popular spots. You can either book a guided bicycle tour or rent a bike and see Port Dover from their perspective.
They offer you a special and unique tour experience. With them, you get to know Port Dover a lot better. And that's what makes them different from other rentals.
From popular spots to foodie tours and farm tours, you will experience everything in a single ride.
10. The Port Dover Summer Festival
The third weekend of August is a special time in Port Dover. It is time for Port Dover Summer Festival or more commonly known as the "Art in the Park.
For the last 40 years, this particular weekend has attracted hundreds of people. During the festival, local artists and craft persons exhibit their skills.
The picturesque town is very well witnessed during this summer festival.
It is a two-day celebration of arts, crafts, foods, antiques, and entertainment. Local merchants host sidewalk markets and sales.
They also organize afternoon puppet shows and live music events in the evenings. Your weekend will certainly be full of entertainment.
On the first day, that is on Saturdays. It is open from 10 in the morning till 6 in the evening. And the next day, which is on Sunday, it starts at 10 am and ends at 5 in the evening.
The Summer Festival shows a different side of Port Dover. Experience this side as well.
Conclusion
Port Dover, even being remotely a small town and mostly known for its fishing industry, actually has a lot of hidden gems to explore and experience.
So if you are planning to visit Port Dover anytime soon, I hope everything mentioned in this article helps you to experience the town a little better.
And if you have any experience already of Port Dover, we would love to hear about it. Do share your experiences below with us in the comment section.
As an Amazon Associate, Icy Canada earns from qualifying purchases.
[amazon_auto_links id="81298"]
The Icy Canada team strives to create content that matters. It's why our content is written by travel writers, authority experts, well-known authors, and niche experts. Our content is also periodically reviewed by expert authors for accuracy and trustworthiness.
As an Amazon Associate, Icy Canada earns from qualifying purchases. [amazon_auto_links id="81298"]