People who don't know much about Canada Day might get confused at the sight of celebrations on July 1 and find themselves asking- What is Canada Day? 
If you find yourself in that group of people or if you generally want to expand your knowledge on Canada's National Day, you've come to the right place!
Like every other former colony country in this World, a first-world developed country like Canada also has a separate day to mark its independence from the British Empire and become a self-governing dominion.
Becoming fully independent is more than just a holiday for every country & it's the same for Canada. Canada Day, or as citizens call it, 'Canada's Birthday. 
It is marked by annual celebrations, including pancake breakfasts, parades, hoisting of the flag, fireworks displays, and concerts.
Indigenous people inhabited Canada's land until the 16th century when the British and French explored the land. Soon it became a colony like many others. It was only in 1982 that it became a self-governing dominion by unifying four provinces.
Since then, the country has become the best in every sphere, like the economy, geography, education, multi-cultural, etc.With a developed present, the country still remembers its past and shows gratitude to its ancestors in its way.
Below is a comprehensive guide on the day and everything you need to know about it, as in French Fête du Canada.
1. Commemoration
People in the popular press often refer to Canada Day as Canada's Birthday. 
However, the term "birthday" may be an oversimplification, as it commemorates only one significant national milestone on the path to full sovereignty. 
Namely, with the colonies joining on July 1, 1867, Canada, Nova Scotia, and New Brunswick merged into a bigger British federation of four provinces. 
(Canada's colonies) following Confederation, it was partitioned into the provinces of Ontario and Quebec.
Canada established itself as a "kingdom in its own right" inside the British Empire, known as the Dominion of Canada. Canada gained greater political autonomy and control over its affairs despite being a British dominion.
The British parliament and Cabinet retained political influence over some areas such as foreign affairs, national defence, and constitutional revisions.
Canada progressively achieved growing autonomy over the years, most notably by ratifying the Statute of Westminster in 1931. 
Until the Constitution Act of 1982 completely ratified the Canadian constitution, it was partially autonomous.
It is honoured on July 1 under the federal Holidays Act, unless that day comes on a Sunday, in which case July 2 is the official holiday. 
Even though July 1 is not a formal holiday, celebratory festivities will nevertheless occur. If it falls on a weekend, companies ordinarily closed frequently take the following Monday off.
2. History of Canada Day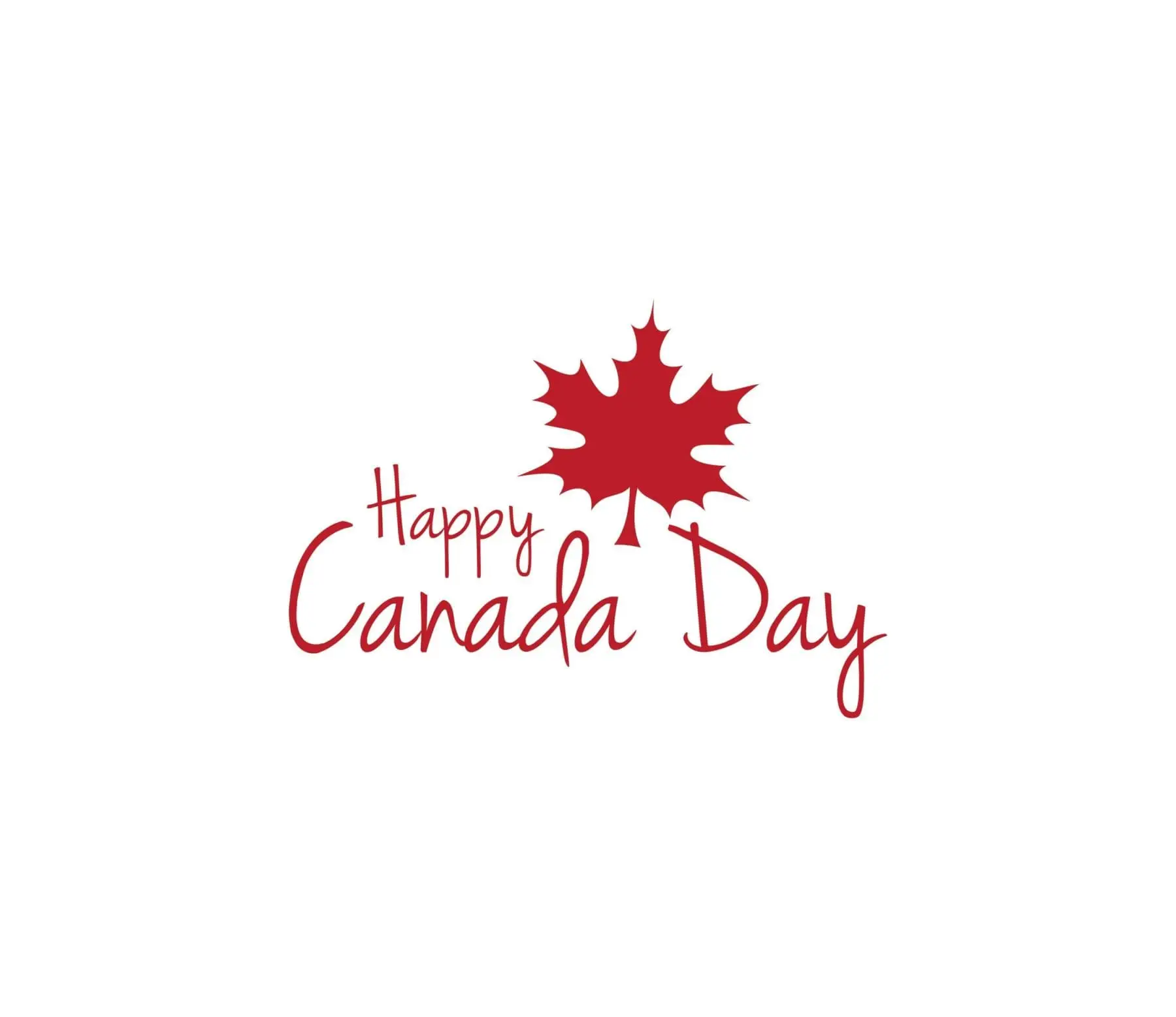 By: Intolus on Shutterstock
Its history dates back to as early as 1862, when it became a sovereign with the passing of Canada's Constitution Act, 1982. 
Great Britain enacted the British North America Act of 1867, presently referred to as the Constitution Act, under which the former colonies- Nova Scotia, New Brunswick, and the Province of Canada were united to make Canada a single dominion under the British Empire.
Viscount Monck became the last governor-general of the Province of Canada and the first after the Confederation. The unification day was dated July 1, which is considered an important day. 
Still, in 1879 July 1 was established as a federal statutory holiday under the name 'Dominion Day,' which referred to Canada as the British Dominion.
Although, in 1946, a bill was introduced in the House of Commons to rename the Dominion Day holiday as 'Canada Day,' it was tabled due to lack of support.
Since 1958, Dominion Day public holiday celebrations have been federally organized. Then Prime Minister John Diefenbaker requested a separate fund for organizing the dominion day events. 
It included Trooping the Color ceremonies on Parliament Hill, mass band concerts and firework displays, and even folk performances from ethnic groups.
Dominion Day, and later Canada-Day, were the dates set for several significant events, including the first national radio network hookup by the Canadian National Railway (1927); the inauguration of the Canadian Broadcasting Corporation's cross-country television broadcast with Governor General Vincent Massey's Dominion Day speech from Parliament Hill (1958); the flooding of the Saint Lawrence Seaway (1958); and the first colour television broadcast (1980). 
During Canada's 150th anniversary in 2017, the Bank of Canada issued a commemorative $10 banknote, which was scheduled to be widely accessible by Canada Day.
By the 1980s, Canadian people started referring the Dominion Day as Canada-Day (or Fête du Canada) informally, which brought back the narrative to rename Dominion Day. 
Accordingly, the House of Commons introduced a private member's bill, Vaudreuil MP Hal Herbert's, to rename the national holiday. 
The name was successfully changed with Royal's consent to Canada Day on October 27, 1982.
In the 21st century, the day is marked by national celebrations, with events organized either federally or privately, including firework displays, volunteer work, picnics, pancake breakfasts, etc.
By: Anna Kraynova on Shutterstock
3. Criticism of Canada-Day-Celebrations
Why is Canada Day bad for some? There is a lot of criticism involved in celebrating this day. 
With the anniversary & its local celebrations comes the horrifying past story of indigenous people who are reminded of the colonization of their home and native land.
Indigenous peoples in Canada and non-Indigenous allies see it as a celebration of the colonialism of Indigenous land, and it has earned a bad connotation. 
Critics of the celebrations were especially vocal during the country's sesquicentennial in 2017, alleging that the events ignored the role of
Indigenous peoples in the country's history and the problems they experience now.
 "There's nothing to celebrate." And that's the statement from many Indigenous people across Canada, which celebrates its national celebration on Thursday, only weeks after discovering hundreds of Indigenous children's bones in unmarked graves.
Following the discovery of unmarked Indigenous children's graves at the site of an Indian residential school in British Columbia in May and June 2021, calls for Canada-Day-celebrations to be cancelled or modified to respect truth and reconciliation increased, including discussion on social media using the hashtag "#CancelCanadaDay."
If not already cancelled or altered due to COVID-19 restrictions, celebrations in various communities in British Columbia, New Brunswick, and Northern Saskatchewan were cancelled. 
At the same time, Idle No More announced its intention to organize peaceful rallies in multiple significant cities.
Carolyn Bennett, Minister of Crown-Indigenous Relations, indicated that she would wear an orange blouse as a mark of remembrance for the residential school system and commemorate the first National Day for Indigenous Peoples. 
"While there are things that we can be proud of, sure, there are things that are very horrific, and they are a part of our heritage," NDP leader Jagmeet Singh said. 
When we disregard the unfairness, the ugly elements of our past, the ongoing legacy, and the consequences of those horrible things that have happened and continue to happen, we do ourselves a disservice."
Conservative Party Leader Erin O'Toole told his caucus that he was "concerned that injustices in our history or present are too frequently seized upon by a tiny minority of activist voices who use it to challenge the fundamental notion of Canada itself," and that "the idea of Canada itself is under assault."
4. When is Canada Day 2021 or Dominion Day celebrated?
Since Canada's Constitution Act came on July 1, 1982, it has been observed every July 1. 
However, events celebrating the day are observed on July 1 only. If the date falls on a weekend, the Friday before or the following Monday, either day is declared a holiday for all public offices and workplaces.
Since 1958, people have celebrated the federal holiday, demonstrating the day's significance in people's lives. The date falls on Friday, and it is a weekend in 2022.
4.1 Diamond Jubilee
Due to the subdued 1917 commemoration, Canada's Diamond Jubilee festivities in 1927, marking the 60th anniversary of Confederation, increased significance. 
The Viscount Willingdon's governor-general unveiled the magnificent 53-bell Peace Tower carillon on Parliament Hill for the first time. 
The federal government pledged $250,000 — the equivalent of $3.5 million today — to organize the country's first national birthday celebration.
The sound was heard as part of the country's first national radio broadcast.
More than 30 years had elapsed before another similar event was held on Parliament Hill. The federal government agreed to finance an annual Dominion Day celebration in 1958.
The Government of Canada had decided the Canada-Day-celebrations on its 50th anniversary in a grand way in 1917. 
Still, the plans were shattered due to the First World War, so the Diamond Jubilee was celebrated on July 1, 1927, the 60th anniversary of the day. 
It was the first time the festivities were organized federally in such a big way.
Some events included a simulcast radio broadcast featured by Prime Minister Mackenzie King and a dramatic pageant that year. 
The communities celebrated with local conceptions like parades in Ottawa pageants in Winnipeg, which included eastern European immigrant communities.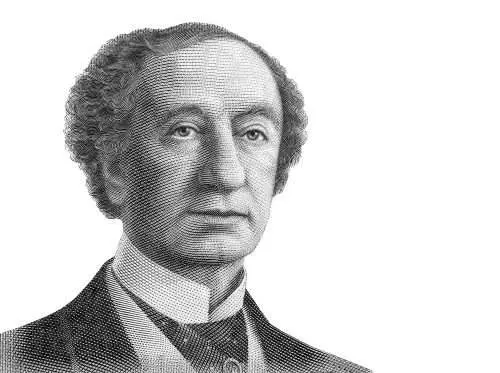 4.2 Contemporary Celebrations
Since the 1980s, Dominion Day celebrations in Ottawa were still in a traditional format. 
Today, official Canada Day celebrations include formal ceremonies or official celebrations on Parliament Hill and are addressed by senior politicians, usually including the Prime Minister and Heritage Minister.
The evening activities have a much larger audience-based orientation and include firework displays and concerts starring performances from across Canada. Flyovers by Snowbirds are still a significant part of the day. 
There is always a military guard inspection from the governor-general and the national committee to plan the festivities with music and dance performances.
5. Symbols of Canada Day celebrations
Every holiday or festival has certain symbols used to make it distinctive. Most common include the Canada Flag (le Drapeau national du Canada), and it's called the Maple Leaf or l'Unifolié.
The same rule applies to celebrations of former Dominion Day. It has two red rectangles with a white rectangle in the middle, which has a red image of maple leaves.
Many Canadians wear red and white clothing and face paints to mark the day across the country.
6. How is Canada Day Celebrated?
Traditionally, the statutory holiday of Canada Day (called Dominion Day) was officially celebrated by the government, but the statutory holiday has increased its significance with time.
People across the country & citizens abroad mark this day with various events. People decorate their houses, make traditional recipes, wear red & white clothing & paint faces with those colours symbolizing the Canadian flag.
There's no statutory method to celebrate the day. Most Canadians spend their time with family & friends, go on picnics, attend concerts, participate in sporting events, and watch fireworks display. 
Some people even organize Canadian Citizenship ceremonies, hoisting the national flag.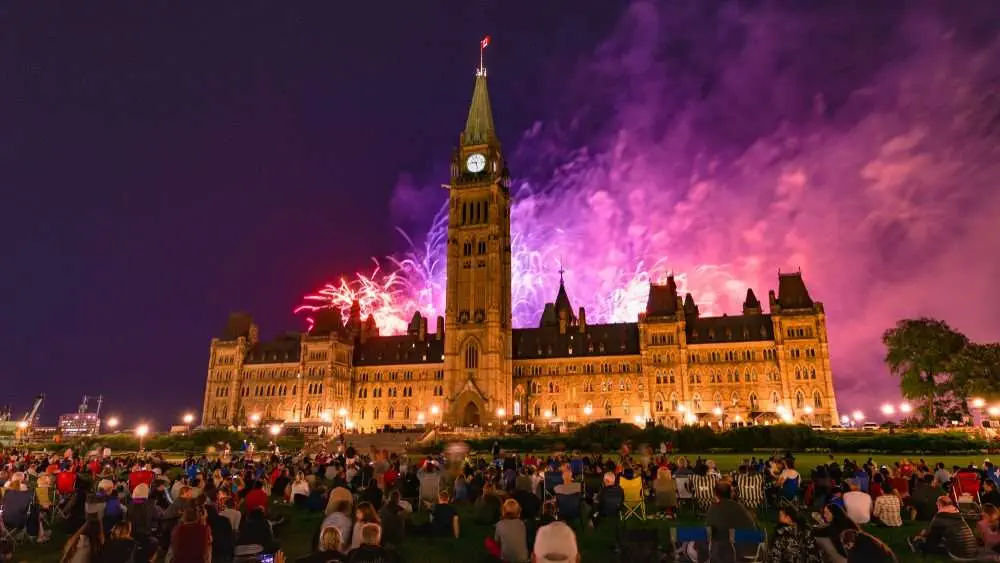 By: Facto Photo on Shutterstock
6.1 Celebrating Canada Day in Ottawa
Ottawa, known for its tourist locations and Food, celebrates the holiday in the best way possible.
The statutory holiday in Ottawa, Canada's capital city, is exuberant. Being a capital, extra effort is made by the federal government to decorate public places sometimes, adding a festive mood during the holiday.
Parliament Hill has many people hoping to look inside at politicians, famous personalities, and sometimes royal family members. 
Other programs include concerts, dramatic presentations, and military displays; many still consider snowbirds flying over Parliament Hill the best part of the day.
Other common activities by people in Ottawa that can be commonly seen are:
Carnivals.

Picnics in parks.

Spending time indoors with family & friends.

Making traditional food recipes of the day.

Celebrating on the streets.

Celebrations of Canadian heritage.
Public transportations stay busy as people travel from venue to venue to celebrate the day. 
People are covered in red and white clothing (Canada's national colours) or painted faces in those colours and participate in events with Canada's flag in hand.
6.2 July 1 outside the capital of Canada
Toronto is not the only city buzzing with celebrations. All Provincial capitals offer a broad array of events.
In Quebec, most rental properties begin on July 1 and last for an entire year. Many Quebecers move their furniture from one place to another during the holidays.
In Newfoundland and Labrador, July 1 is also Memorial Day. People commemorate the heavy loss of life in the Newfoundland Regiment on the first day of the Battle of the Somme during World War I. 
The morning of July 1 is usually dull here. Flags are flown at half-mast here, unlike in other provinces, and memorial services are held, but the afternoon celebrations are similar to those in the rest of the country.
Charlottetown (the provincial capital of the Island). Here the whole community supports the Canada-Day plans. 
Charlottetown was hosted by those named "Fathers of Confederation," who first debated the term dominion for the country at a national convention & raised the issue of addressing the country still from its past.
The city was also called the birthplace of the Confederacy, honouring the city that stood up for the country. In Newfoundland, July 1 is Memorial Day, as people remember the killings of Newfoundlanders in World War 1.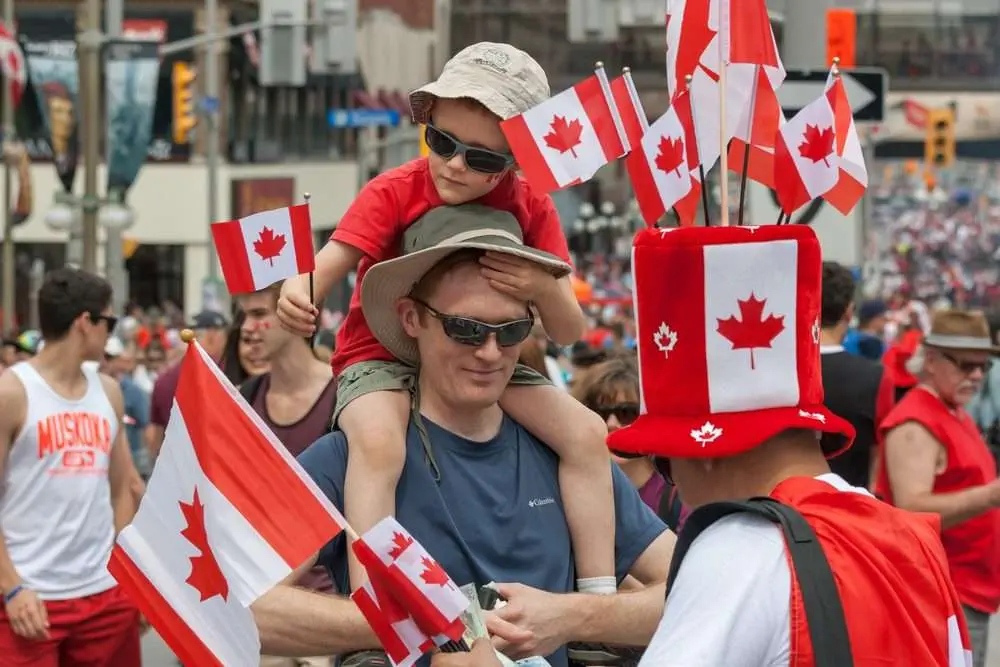 By: David P Lewis on Shutterstock
7. What does Canada Day celebrate?
Canada-Day (Fête du Canada) is a federal holiday commemorating the Canadian Confederation. 
Originally known as "Dominion Day," the festival honours the amalgamation of three British colonies in North America: New Brunswick, Nova Scotia, and the Province of Canada (which consisted of Ontario and Quebec).
Canada day is celebrated outside by many other Canadians living abroad, including in Afghanistan and China. 
The most famous celebration of the former Dominion Day takes place in Hong Kong, known as Canada Day, and is celebrated at Lam Kwai Fon.
7.1 Canada Day Activities
Most towns will hold scheduled festivities, generally outside public activities such as parades, carnivals, barbecues, air and marine exhibitions, fireworks, free musical concerts, and citizenship ceremonies.
Jennifer Welsh, a professor of International Relations at the University of Oxford, says there is no traditional way to celebrate: "Canada-Day, like the country itself, is inextricably decentralized.
There doesn't appear to be a centralized formula for celebrating it—blame it on the federation's character." 
However, the heart of the celebrations is the national capital, Ottawa, Ontario, where enormous concerts and cultural exhibits are hosted on Parliament Hill in a spectacle dubbed the "Noon Show."
7.2 Food and Celebrations
The statutory holiday is also marked by local communities feasting on traditional recipes, including pancake breakfasts, traditional desserts, cakes, etc. 
People also prefer to make or decorate the Food with the primary colour of red and white celebrations (Canada's national or flag colours).
The internet is filled with delicious recipes to mark this day. Here are some links to get you to make tasty Food on this auspicious day with a click:
8. International Celebrations
Canada D'eh, an annual celebration held on June 30 in Hong Kong, at Lan Kwai Fong, where an estimated 12,000 people attended in 2008; Canadian Forces' events on bases in Afghanistan; Trafalgar Square outside Canada House in London, England; and in Mexico, at the Royal Canadian Legion in Chapala and the Canadian Club in Ajijic. On or near the day of the event, Canadian ex-pats would frequently arrange festivities in their local region.
The Canadian Chamber of Commerce in Shanghai celebrates at the Bund Beach, while the Canada China Business Council celebrates at the Canadian International School in Beijing.
Closing Thoughts
With this, we reach the end of the article. Wishing a red and white and a very happy Canada Day to everyone celebrating 2022.
We appreciate having you as readers. We hope you found this information to be useful. Please share your opinions with us in the comments box, or feel free to contribute anything to this article.
Canada Day trivia
July 1, 1857- John A. became the country's first Prime Minister on Canada Day. Presently the post has been headed by Justin Trudeau since 2015.

In 1967- Montreal hosted Expo 67, i.e., the World Fair (the World's most successful one so far!), marking the centennial of Canada Day.

On July 1, 1980, ' O Canada' was declared the official National Anthem on Canada Day. It is a French song first performed in 1880 in Quebec City.

The statutory holiday of July 1, 2017, marked the 150th anniversary of the Confederation of Canada.
Also, read- why celebrate your holiday in Canada?
Suggested Reads:
Advertising Council Of Canada – 10 Best Facts!
Best Furniture Stores Winnipeg
10 Most Important Events In Canadian History