Wood Buffalo National Park, being the largest in Canada, stretches through northeastern Alberta and protrudes into the southern part of the Northwest Territories. The Park encompasses one of the largest freshwater basins in the world, the Peace-Athabasca delta formed by the rivers Peace, Athabasca, and Birch. Identified as a World Heritage Site by UNESCO in 1983, it is home to one of the world's last surviving free-roaming wood Bison herds.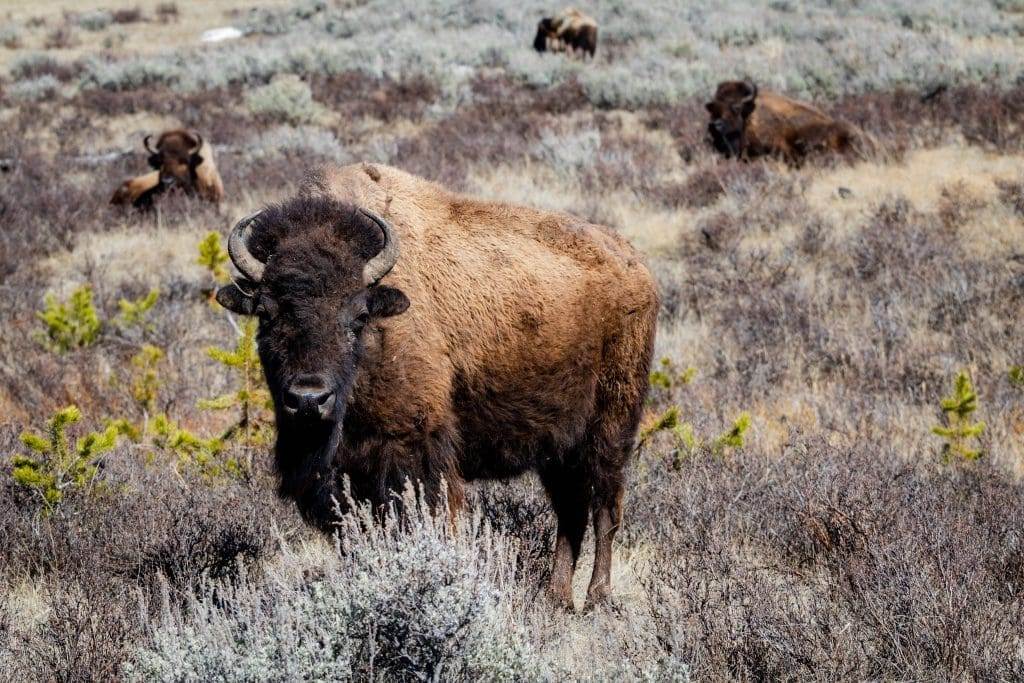 Established in 1922, having an area of 17,300 sq mi (44,807 sq km), it is the world's second-largest National Park. Further, it is one of two known sites housing whooping cranes.
Fun fact: Wood Buffalo National Park is more significant than 105 countries in total, including the entire country of Switzerland. It also houses the world's largest beaver dam- about 850-m (2,790 ft) in length- which was discovered in 2007 using satellite imagery. 
Wood Buffalo National Park offers a wide range of opportunities for tourists. Moreover, the roads of the Park, mostly on the east end of it, include several pull-offs and interpretive trails, a campground, and cabins. The diverse vegetation of the Park comprises the boreal forest, salt plains, and land-forms of gypsum karst.
The Park's most open and renowned region is the boreal plains near the town of Fort Smith in the Northwest Territories. Day hikes allow tourists to see these salt plains, underwater lakes, sinkholes, and tidal ponds. In this post, we will mainly discuss all the activities you can take up during your stay. You can plan your trip by going through the visitor information provided here.

What Are The Things To Do In Wood Buffalo National Park? 
For a park so massive, there must naturally be a plethora of amazing things to do. It is genuinely a paradise for adventure/outdoor lovers. Here's hoping you do not miss out on these great experiences while visiting the National Park! 
We will be dividing the article into four parts- general activities, winter activities, and special events. 
General Activities
1. Hiking

Owing to the enormous size of the Park, it naturally presents endless possibilities for hiking. Their trail service includes short, pleasant walks, day-hikes, and more demanding overnight adventures.
Further, for your convenience, they have divided the trails based on difficulty levels while assigning a color to each- Easy (green), Moderate (blue), and Difficult (black). For front-country hiking, you must head to the Salt River Trail System. This offers seven trails that range in difficulty levels. For back-country hiking, you have two routes to pick from – the easy 6 km (3.7 mi) climb to Rainbow Lakes or the more challenging 12 km (7.5 mi) trek to Sweetgrass Station.

You can check the entire list of trails here.

2. Camping
There are several camping opportunities throughout the Park. Front-country campsites are accessible on the Campground at Pine Lake. Back-Country Camping is accessible throughout the length of the Park. 
3. Canoeing
Irrespective of the kind of paddling you prefer, this National Park has it all! Pine Lake provides fast paddling throughout the day. For experienced back-country paddlers, the Peace, Athabasca, and Slave rivers promise great wilderness adventures.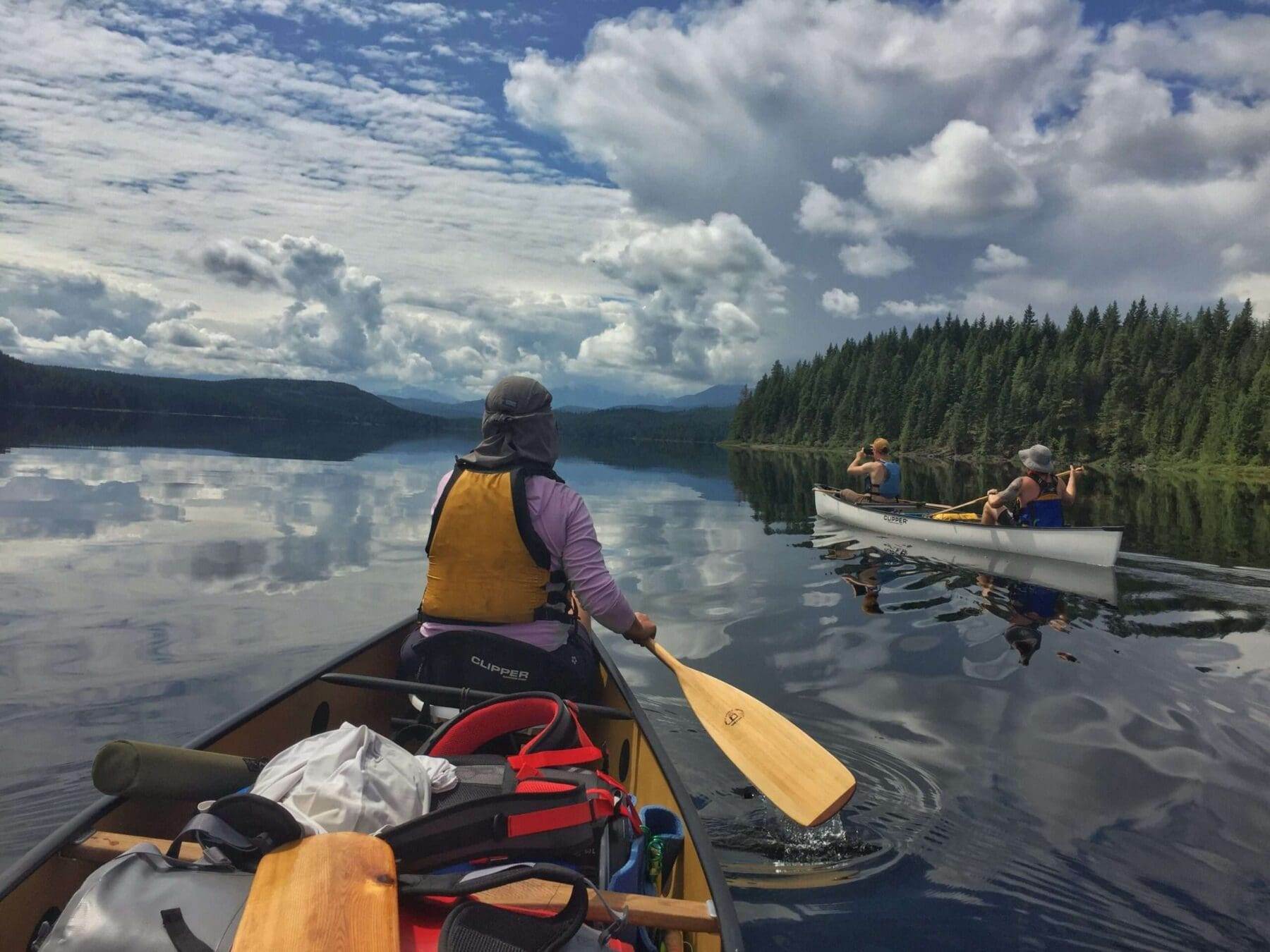 4. Swimming In A Sinkhole
Soon after entering the National Park on Pine Lake Road, you will find yourself in a parking and turn-off area. Here you will witness the beginning of the Karstland Trail, a short 750 m loop, which is almost unmissable.

The Karst topography features the fascinating collections of natural swimming holes in the entire continent. Swimming in this collection of blended sinkholes generates an unparalleled view of the wilderness.
5. Fishing
The best fishing spots in this National Park are along the Park's main rivers: the Slave River, Rivière des Rochers, Peace River, Chenal des Quatre Fourches, and Athabasca River. This is where walleye, goldeye, whitefish, and northern pike are moderately available. Saline waters and shallow, muddy lakes inside the Park are not great fish habitats. Many of the deeper karst lakes have no channels of inflow or outflow needed for spawning by fish. 
6. Boating
Only experienced and skilled travelers can seek to navigate by boat on the Park's main river systems, owing to the existence of innumerable natural hazards. These hazards might include- adverse weather conditions, unmarked or poorly marked channels, and the presence of underwater rock reefs. Further, all boats must follow the Small Vessel Regulations.
7. Wildlife Viewing
Wood Buffalo National Park is home to several Northern Boreal forest wildlife species. These include bears, moose, beavers, lynx, and many others. Common birds include hawks, owls, and eagles. As mentioned earlier, this Park is one of the two sites of whooping cranes. The Park was established to protect the endangered free-roaming wood-bison herd. Therefore it is no surprise that they're quite easily spotted here. However, it is not always guaranteed. To have a fair chance, do visit the primary spots for wildlife viewing- Grossbeak Lake, Sweetgrass, and Salt Plains viewpoint. 
Winter Activities 
1. Wildlife Viewing
Talking about wildlife viewing, many animals come out in the colder months. A few animals like wolves, snowshoe hares, lynx, and ptarmigans are easily spotted along the winter road. Although bears hibernate during Winters, there are quite several animals still out in the open. 
2. Travel on the Ice Road
Ride through the National Park on your vehicle, extending 228 km. Travel the winter route from Fort Smith to Fort Chipewyan and cross the bridge across the Peace River— built entirely of ice!

3. Pond Skating and Cross-Country Skiing
The Fort Smith Ski Club & Nordic Center operates a network of groomed tracks for moderate hiking, skateboarding, and back-country skiing purposes. The trails provide panoramic views of the Slave River and the boreal forest around it.
4. Stargazing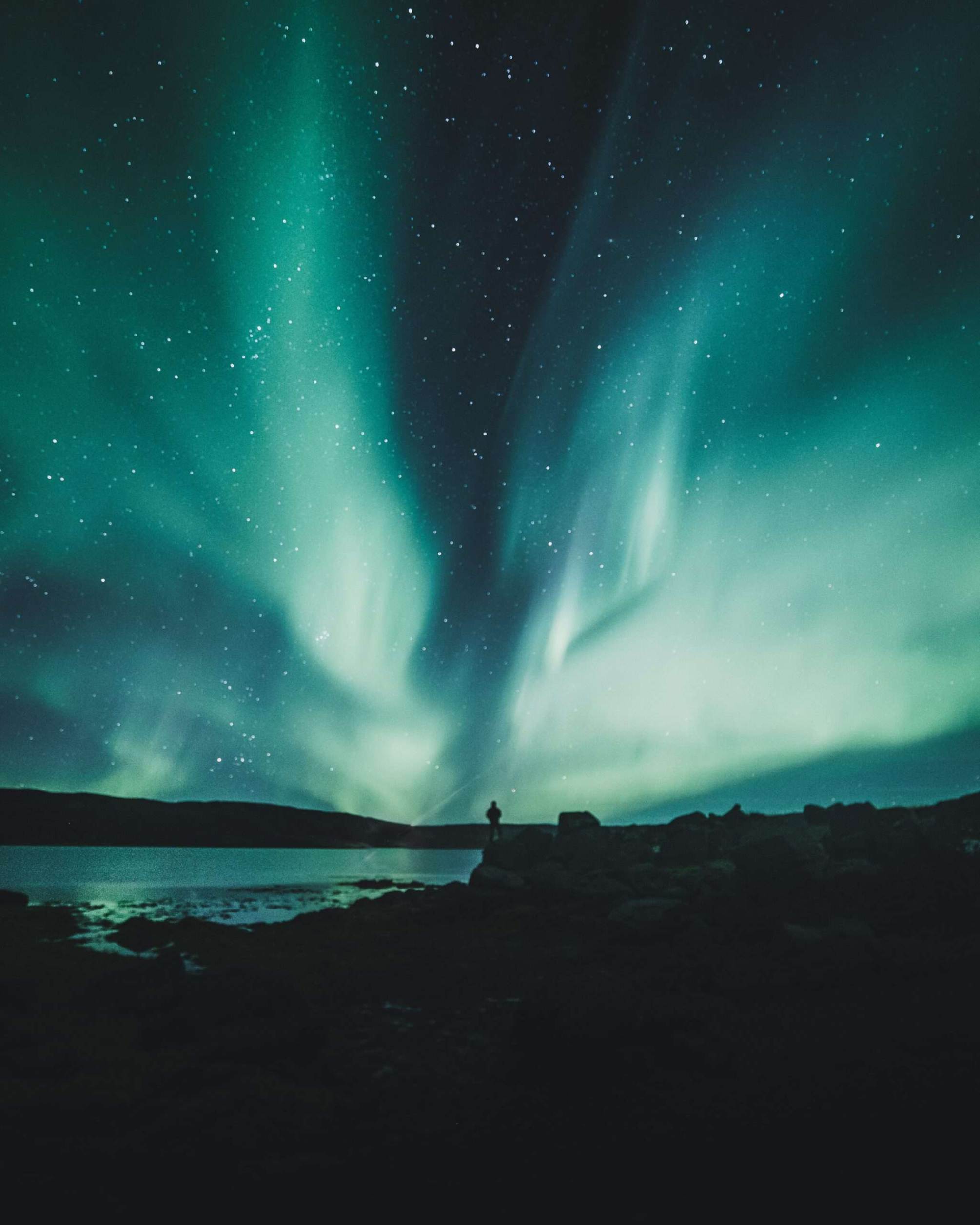 Wood Buffalo National Park is the largest Dark Sky Preserve (DSP) on the planet. What is DSP? A dark-sky preserve is a region that prohibits artificial light emission, typically around a forest or an observatory.
In general, a dark sky preserve aims to foster astronomy. It is no surprise then that Wood Buffalo National Park permits only the best stargazing environment. It conducts an annual three-day Dark Sky Festival in August, honoring its excellent stargazing conditions. We'll talk more about it in our segment for "Special Events." 
5. Aurora Hunting
Fort Smith is situated in a region of 85-95 percent occurrence for auroras. This ensures that you'll be sure to see some amount of aurora activity on clear nights. For your convenience, a Sky Circle has been put into place along Pine Lake. Here, a telescope has been placed amid a circle of benches aiding aurora hunting.

Special Events
1. Thebacha & Wood Buffalo Dark Sky Festival
As mentioned earlier, this Festival is specific to stargazing and occasionally even aurora hunting. For over a decade now, this special event has attracted astronomy aficionados who come together at the Dark Sky Preserve to observe the sky. It is a celebration of the black clouds returning to the Northern Latitude (60 ° N).
This event is hosted in mid-to-late August every year, often with activities, lectures, and screening sessions both in Fort Smith and at Wood Buffalo National Park. This event is organized by Thebacha & Wood Buffalo Astronomical Society (TAWBAS), which is a non-profit society. Membership in this society is open to all given an astronomical inclination.
However, the authorities have confirmed that they might consider hosting a scaled-down version of the event sometime later. Make sure to stay updated by visiting their website.)
2. Fire and Ice Festival
This is a one-night festival that is exceptionally family-friendly, and the occurrence of which depends solely on the prevailing weather conditions. Participants can skate as much as they want to, on the ever-beautiful Pine Lake.

3. Pine Lake Picnic
This is an annual picnic that usually takes place in February. In the ambit of this picnic, tourists get a fun-filled day full of snacks and games. There are competitions, like canoeing and tug of war, where the entire family can participate at once. Pine Lake Picnic is one of enormous Northern picnics; it would be way too unfortunate to miss this! 
4. Canada Day
The Regional Municipality of the Park observes Canada Day on July 1, and the Canada Day Parade is a hallmark of the festivities!
Do check our article on Festivals in Canada.

Apart from these activities and events, the National Park also hosts a series of programs. A few of these programs are- Bare Feet on the Salt Plains, Mission to Mars, Guided Canoe Tour at Pine Lake, Campfire Program, and Xplorer or Club Parka Program.
Although all of these activities are free of cost for children below five years of age, three of them cost a minimal amount. Campfire Program and Xplorer are absolutely free for all ages. For your convenience, these programs are held every week. The only exception being The Club Parka Program, which is hosted only on select Sundays. Tourists must, however, come prepared with water and snacks to enjoy these programs. 
Bare Feet on the Salt Plains
Contrary to usual salt plains that are mainly found in deserts, the salt flats at Wood Buffalo National Park are the only ones in the entire country of Canada. While tourists walk on the remnants of a prehistoric sea, tour guides and interpreters help them in understanding the Science and History behind it all!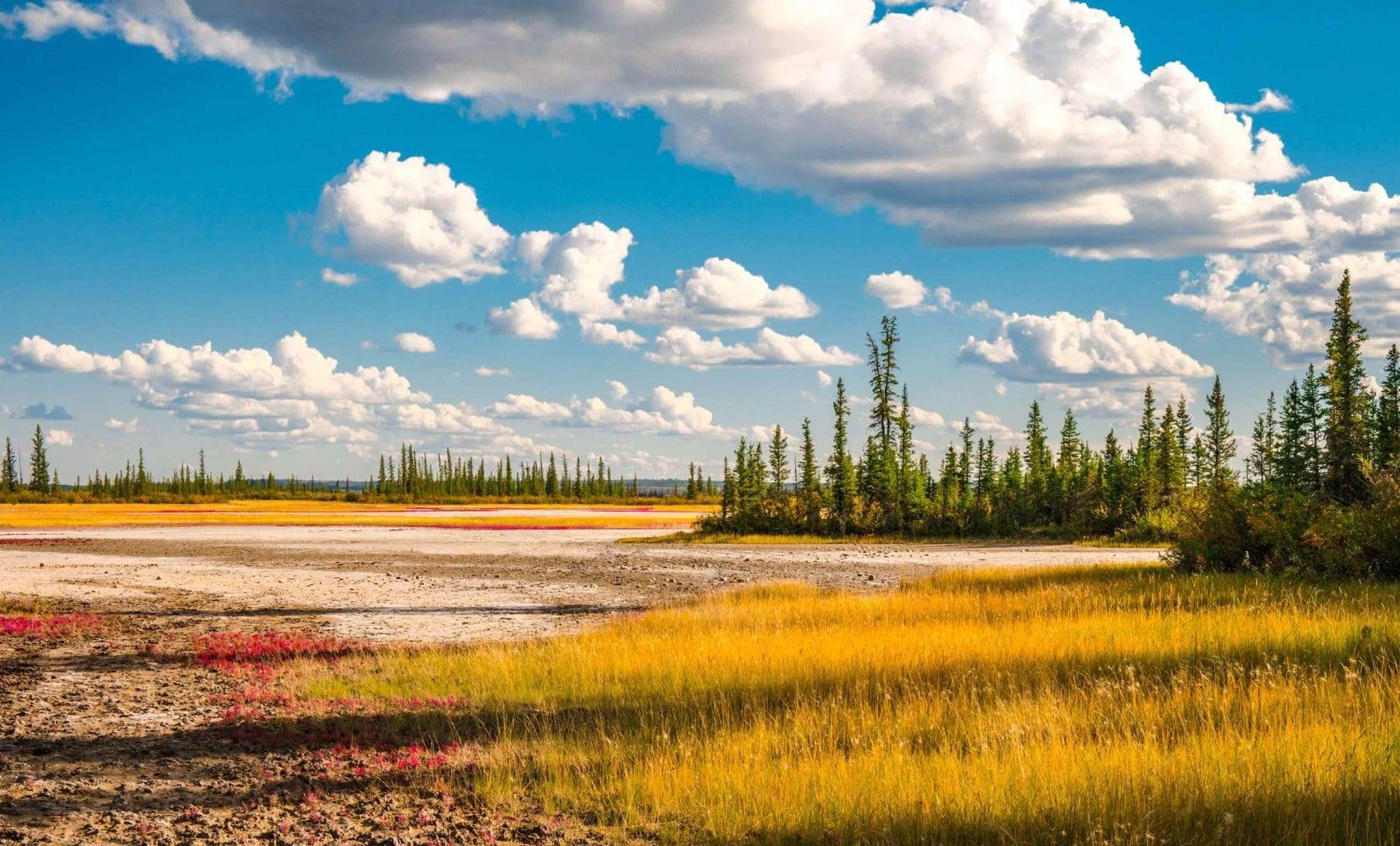 Guided Canoe Tour at Pine Lake
This program is dependent on the prevailing weather conditions of the day. As mentioned multiple times earlier, Pine Lake is one of the leading lakes of the Park. In this program, all facilities (i.e., the canoes and other floatation devices) are provided. Basic swimming skills are necessary, and adult swimmers must accompany the children. 
Mission to Mars
Found at Grosbeak Lake, the displaced rocks covered with salt deposits tell the story of an ancient period. This program also unravels historical and scientific theories behind the unusuality of the surface found in this part of the Park. 
Campfire Program
This complimentary, open-to-all program, also held at Pine Lake is quite explanatory. Tourists sit around a campfire and share stories and experiences. A local storyteller is also present to kickstart the program. 
Xplorer or Club Parka Program
This program is mostly youth-centric. On select Sundays, this program gives the younger generation a chance to get closer to nature and the culture of the region. Accompanied by guides, this program presents a series of opportunities for the youth to participate in activities. A bonus is a certificate they provide at the end of the program! 
This list is not exhaustive. Given the size of the Park, numerous activities are going on throughout the day across the stretch of the Park. This list, however, only broadly presents to you the type and nature of the activities.
Another important aspect one must always consider is the weather condition of the region. You must plan your trip, keeping that in mind because, as mentioned above, some activities are dependent on the weather. The Park is also spread across a broad regional area, so there may be variations in climate across various cities throughout the Park. For your convenience, Park authorities have separately described everything about each season here.

The Park Authorities have prioritized the health of the visitors and the staff of the enormous National Park. Only those activities and places where the risk is manageable have opened; visitors have been asked to avoid all green spaces, day-use areas, and closed trails.
Wood Buffalo National Park has, however, resumed camping facilities. Visitors can self-register at Pine Lake Camping ground. However, the rental services at Pine Lake remain closed until further notice. 
Visitors must, nevertheless, obey the recommendations of public health authorities, including appropriate hygiene measures and physical distancing of two meters from others. Further, according to government guidelines, non-residents are prohibited from traveling into the Northwest Territories for the time being. 
To know about the Top Amusement Parks in Canada, do read our article on it.

That's all about Wood Buffalo National Park! Have you visited this World heritage site yet? Do share your experience in the comment section below. 
Why Try Out Rocket.net - IcyCanada's recommended hosting provider