Midland Ontario is a town in Simcoe County, Southern Ontario. It is located in Midland Bay and is one of the main towns in Lake Huron's southern Georgian Bay area. The town of Midland was founded in 1878 and is known for its historical sites and cultural centers.
This culturally rich city has become the center of North Simcoe's economic prosperity, with a fantastic lifestyle in picturesque settings and plenty of recreational opportunities. It is known for its quaint atmosphere provided by attractive shops and houses, the Butter Tart Festival, and Midland Murals that depict its long history. 
Midland is home to several historical and popular sites, including the Jesuits' mission of Sainte-Marie among the Hurons and the Martyrs' Shrine. If natural sites are more your cup of tea, head over to the Wye Marsh Wildlife Centre or the Little Lake Park. 
Fulfilling all your cottagecore aesthetics and expectations, this town is a paradise offering magnificent sights, sounds, and vistas to anyone who visits. Midland is the perfect weekend getaway in Canada, be it summer or winter. It provides a wonderful Canadian weekend trip with walkable historical landmarks, great restaurants, bakeries, and harbor views. 
Here is a glimpse of the Ten Popular Tourist attractions in Midland Ontario . 
10 Popular Tourist Attractions in Midland Ontario
1. Sainte-Marie among the Hurons
Sainte-Marie Among the Hurons is located on the Wye River about 3 miles east of Midland. From 1639 to 1649, it served as the headquarters for the French Jesuit Mission to the Huron Wendat people. It is recognized as the first European community to have settled in Canada and housed Ontario's first hospital, schools, and farms. 
The work on this headquarters started in 1639, with the Jesuits building this fenced town with the help of French lay workers. This fenced community featured barracks, churches, workshops, dwellings, and a sheltered space for Native visitors.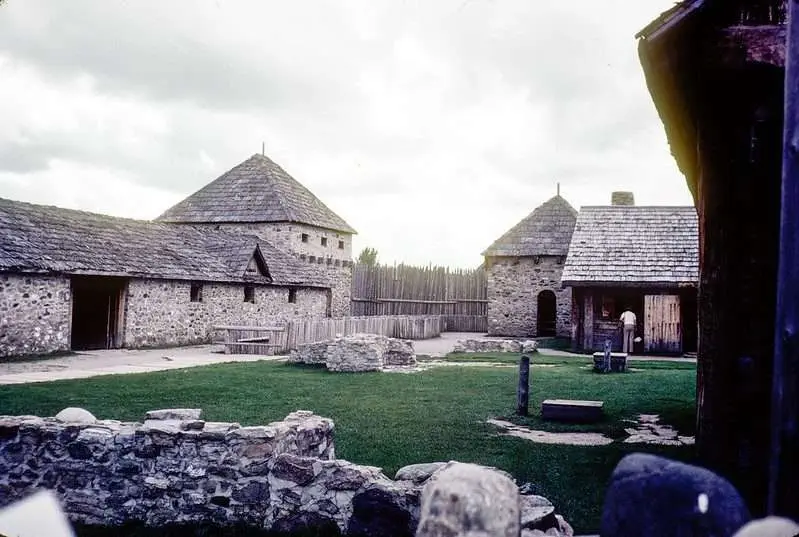 In 1639, the Jesuits began building this fenced town that featured barracks, a church, workshops, dwellings, and a sheltered space for Native visitors, with the help of French lay workers.
After considerable historical and archaeological research, Sainte-Marie among the Hurons was reconstructed on its original site. This historical heritage now acts as a living museum depicting 17th-century indigenous history.
2. Little Lake Park
https://www.youtube.com/watch?v=kB21EDQDeLE
Surrounded by lush greenery and encompassing some of the best recreational activities that Midland offers, the Little Lake part is a must-visit Midland attraction for all. This park provides a picturesque landscape, incorporating both natural and artificial highlights. The park's name derives from an artificial lake and is the perfect picnic spot for a sunny day out with family and friends. 
Little Lake Park offers visitors a variety of options to spend their day out. Visitors can enjoy sporting facilities like baseball fields, volleyball courts, skateboarding, golfing, tennis courts, and more. The park offers dog parks, refreshment stands, boating, public gardens, nature trails, picnic spots, snacks, and a wide range of recreational activities to accommodate a leisure day out. 
3. Wye Marsh Wildlife Centre
Wye Marsh Wildlife Centre is an ideal midland attraction for nature lovers. Venture to the south shores of Georgian Bay and find yourself surrounded by the vivid green wildlife that is the Wye Marsh. Established in 1978, this wildlife center is situated on 3,000 acres of National and Provincial Wildlife Area. The Ontario Ministry of Natural Resources has recognized it as a Provincially Significant Wetland.
The marsh offers various guided tours to visitors, including guided canoe or kayak tours and woodland trails. The wildlife regions feature more than 30 kilometers of hiking paths and offer school and private group programs. Other popular forms of recreation include skiing and snowshoeing, and it provides rentals of equipment needed for these activities.
The Wye Marsh setting includes a boardwalk with several lookouts and paths in and around the marsh. Visitors can relish in its wildlife, including turtles, birds of prey in enclosures, frogs, trumpeter swans, and chickadees that you can choose to feed. Its interpretive center also displays live reptiles and amphibians. 
4. Midland Public Library
The Midland Public Library can be found at 320 King St and is a paradise for the readers in Midland. The library has quite a history of its own, having been found only two years after the town was found. The entire library's collection was nearly destroyed when a fire broke out in 1894, but it still thrives owing to sufficient funding and donations.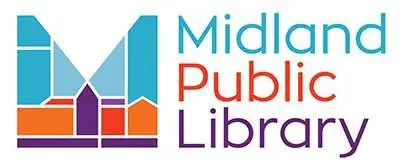 The Public library functions in a beautiful heritage building with contemporary accommodations. There are stacks of well-maintained books, journals, papers to choose from. It provides a digital collection consisting of Blu-rays, DVDs, and console games. Situated in the library's basement is a petite used book store called 'The Book Cellar' offering quality books at affordable prices. 
The range of books and media available at this library, coupled with friendly and knowledgeable librarians, makes the Midland Public Library a must-visit.
5. Martyrs' Shrine
The Martyrs' Shrine is also known as the Shrine of the Canadian Martyrs. It is a Roman Catholic church built in memoriam of the eight Canadian martyrs' who made significant contributions in establishing the Province of Ontario and the Canadian nation. Of these eight saints, six were Jesuits martyrs and two laypersons.  Their contribution also had a significant influence on the indigenous culture of Canada.  
Also, read The Indigenous People In Canada – An Intriguing Subject.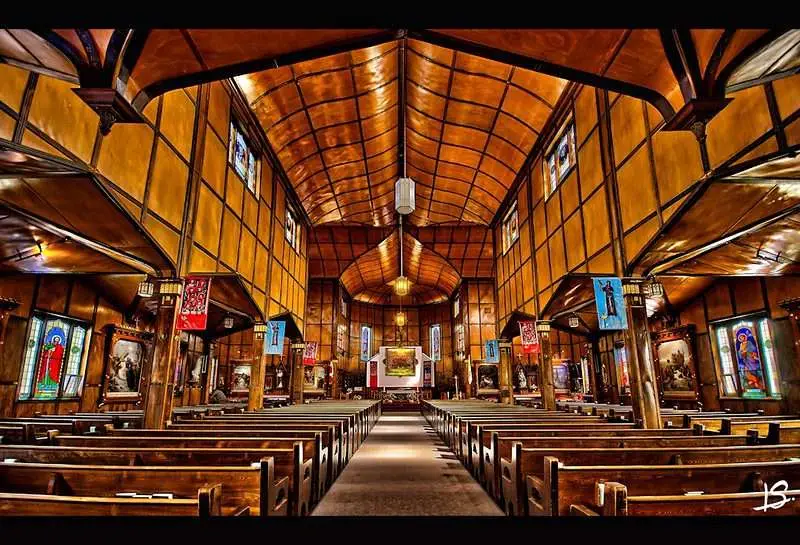 The Martyrs' Shrine is one of nine national shrines in Canada and has serene landscapes stretching over 7 acres of land.  Visitors can take a historical tour that includes the Shrine Church and Martyrs' Hall and Education Centre. 
It also serves as a museum for Huronia. The relics of the Martyrs St. Jean de Brébeuf, St. Gabriel Lalemant, and St. Charles Garnier are housed within the Church, while the grounds have lovely walks, monuments, and altars. Every year, over a hundred thousand people visit the Martyrs' Shrine and continue to unfold the history of the Jesuits' Mission along with its values and principles. Providing pleasant pilgrimages, perspective tours, and tranquil scenes, the martyrs' Shrine is a well-known attraction in Midland Ontario, and worth visiting. 
6. Midland Murals
The town of Midland is quite well-known for its artistic and cultural display that is visible on the very streets of Midland. Over 30 mesmerizing murals can be found in downtown Midland. The late artist Fred Lenz is credited as the painter of most of these paintings. Following his death in 2001, his sons completed painting these murals that give Midland its artistic and historical identity. 
If a casual weekend is what you're looking for, take the scenic Midland Mural tour with all murals located at a walking reach. The majority of the paintings can be found along King Street, with a handful along the harbor and others spread around downtown alongside streets.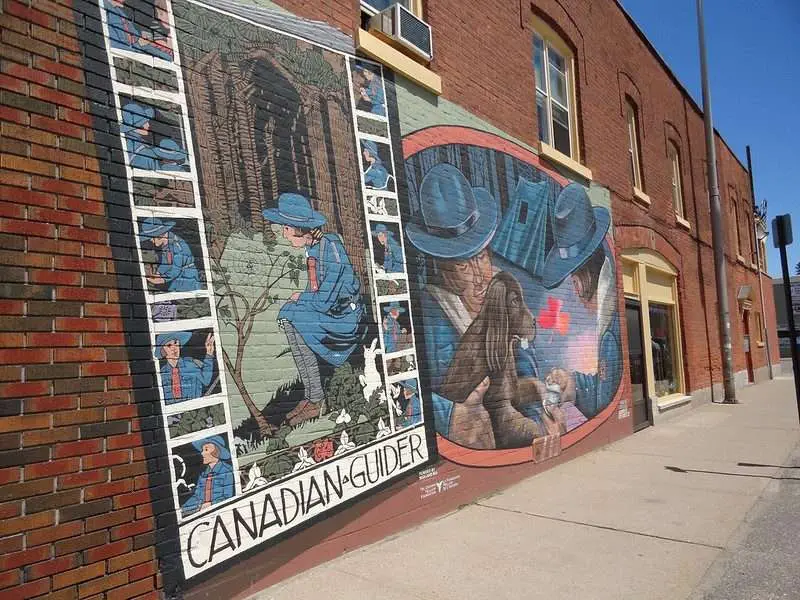 Each mural represents a different time and event of history and leaves the viewers in awe. These murals celebrate the pioneers of Midland and achievements in history in vivid detail. Among these is a mural depicting the meeting between a local native and Jesuit Missionary Jean de Brebeuf, which is said to be the largest outdoor mural in North America. 
You'll find some of these murals faded due to time or overpainted, but these murals still have the same enthralling charm. 
7. Midland Cultural Centre
Located on 333 King Street, the Midland Cultural Centre is a year-round facility dedicated to arts and culture in Huronia. This modernistic and self-sustaining center provides facilities for music, theatre, art, and culture. It's a beautiful, well-lit center with excellent acoustics, making it a perfect venue for bands and shows. 
The Roxy Cafe housed by the cultural center is a town favorite frequented by various actors and artists. The venue can be booked for weddings, celebrations, conferences, events, and conferences. 
The constant flow of conversation and lively energy of the Midland Cultural Centre promises a good time to all who come here.  
8. Discovery Harbour
Known as "His Majesty's Naval Establishment on Lake Huron" in the past, the Discovery Harbour has a history. Built by the British, it was constructed to provide safe access to Upper Canada after the War of 1812. Later, it was converted to give shelter to over 70 people, including soldiers, sailors, and officers. Originally a British naval and military base located in Penetanguishene, it is now an Attraction of the Ministry of Heritage, Sport, Tourism, and Culture Industries.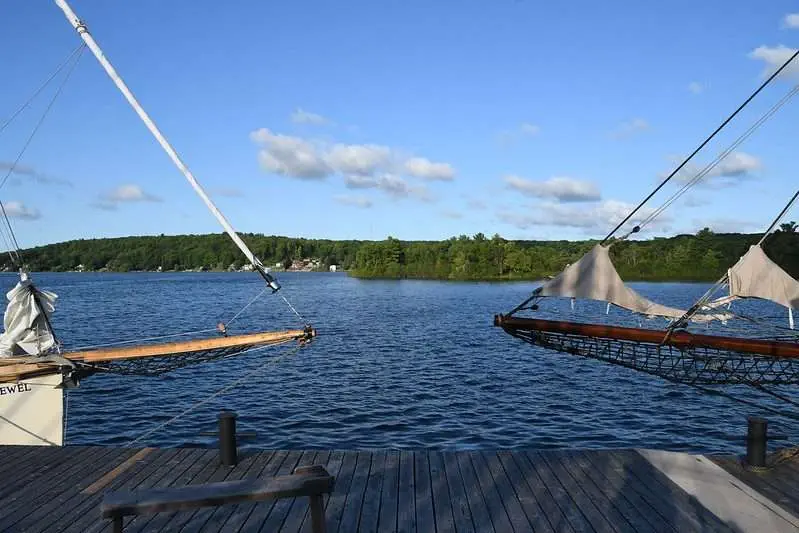 At present, Huronia Historical Parks operates Discovery Harbour and provides guided tours around this reconstructed naval base – highlighting the 18th-century buildings and replicas and retelling their history to the world.  
9. King's Wharf Theatre
The King's Wharf Theatre is situated within Discovery Harbour on Georgian Bay. This Theatre is known for its pleasant rustic atmosphere and interactive eye-pleasing plays. It's an up-to-date modern facility accommodating 385 seats that give a great view of the stage. It's known for providing high-quality entertainment and has fantastic acoustics, satisfying all the needs a good theatre should have. 
King's Wharf Theatre is situated at the end of a boardwalk overlooking the homeport replica ships with historical significance. It is also surrounded by historic buildings resembling a 19th-century British naval and military base.  
While the first look might give you a community-theatre vibe, the talent at King's Wharf Theatre will leave you with joy and wonder. Get some popcorn and have a relaxed day watching talent play out in front of you. 
 10. Awenda Provincial Park
Spread over 2900 acres of forestland, Awenda Provincial Park can be found on the northern tip of Penetanguishene Peninsula on Georgian Bay. It was established in 1975 and is classified as a Natural Environment Park, and therefore all land is protected. Promising a day full of adventure, visitors can choose to do any of the wide range of recreational activities offered here – be it camping, swimming, canoeing, or hiking. 
Visitors can spend their day exploring the four large parks surrounded by tranquil nature, walking along nature trails, cycling on its bike trails, or simply gazing at the beach.  This provincial park offers many activities, so be sure to head over once – even if it's just for a walk. 
Suggested Reads:
Understanding the Tragedy of National Truth and Reconciliation Day