Here is your guide to the 8 fun things to do in Kelowna BC (British Columbia, Canada)
Kelowna is the largest city in British Columbia's (BC) famous Okanagan Valley region. The Okanagan Valley region is a scenic area lying in southern British Columbia, whereas Kelowna sits right in the heart of the valley.
Kelowna is as scenic and magnificent as Okanagan and is surrounded by mountains while it nestles along the east banks of Okanagan lake. Both Okanagan & Kelowna offers endless things to do in any season. And for this very season, for a long time, Kelowna has been a go-to vacation destination.
It wouldn't be wrong to say that there's is something for everyone here. The list of things to do in Kelowna BC is very long — from wine tours, recreational activities, major attractions to golf courses. And whether you are here over a weekend, for a whole week or a month, you will have enough things to explore.
And the best part is Kelowna BC, is an ideal place during any season, thanks to its mild climate, mountains, & sunshine. And the city is not just limited to outdoor activities or attractions, but there are some mouth-watering delicacies.
This city in BC's interior has drawn people each year to explore the prettiest surrounding towns, lakeside community, exciting outdoor & indoor activities. So, let us then check out a few of the things visitors can do in Kelowna BC.
8 Fun Things To Do in Kelowna BC
1. Walk Along the Myra Canyon Trestles
One of the favorite things to do by visitors or the locals on the weekends is going for a hike or a bike ride along the Myra Canyon Trails.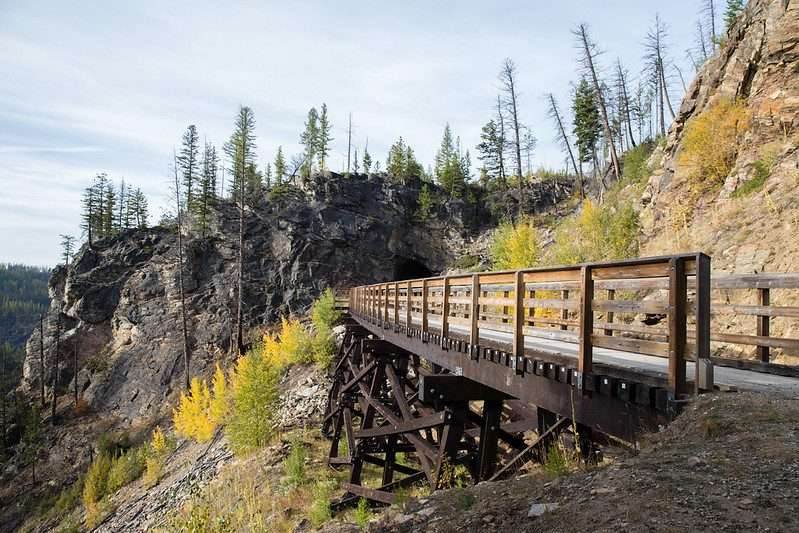 The Myra Canyon trail is a one-way, highly scenic 12 km long trail that includes a portion of the famous decommissioned Kettle Valley Railway (KVR). The KVR is no longer in the running, which is why this restored historic trestle has become a popular trail for hiking, biking, and walking.
Following the old railway road, this trail offers breathtaking views on both sides. And the major highlights of the trail are the two tunnels & 18 trestle bridges along the route.
Visitors can go to Myra Canyon any day; however, the best time is during the autumn. During those months, the surrounding landscapes look more beautiful, and the experience is more special.
Getting there: Myra Canyon trail is just about a 24 km drive from downtown Kelowna BC.
2. Visit the Okanagan Lake
Coming to Kelowna BC, and not going to see Okanagan Lake can never happen.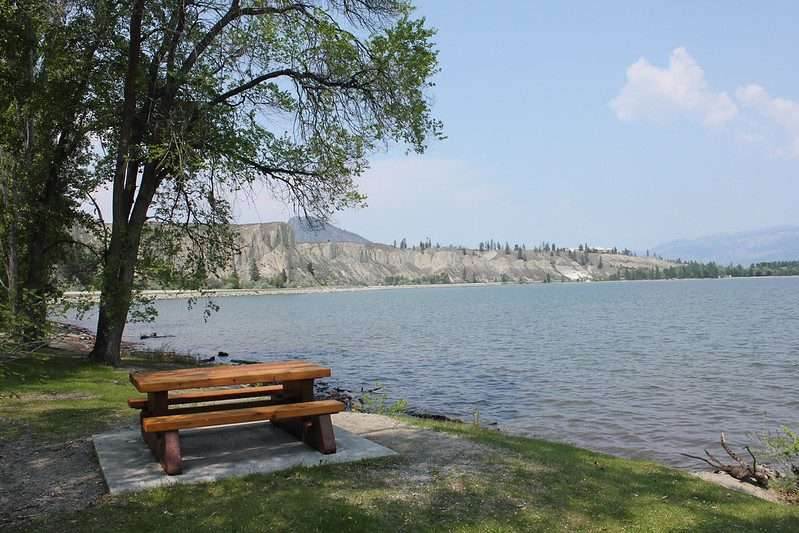 Okanagan Lake in Kelowna BC is the largest lake in a chain of ancient fjord lakes. The lake is the main recreational destination for both visitors & locals throughout the year.
The Lake expands about 84 miles from the North to the South, including the communities Vernon & Penticton. The lake offers a variety of activities to do out there, such as kayaking, sailing, swimming, houseboating.
The lake waters are so calm & refreshing that just walking alongside and enjoying the views is even the best feeling. And the lake's most attractive part is its beaches. There's no better feeling than just lazing around on the beach on a sunny day.
3. Have a Fine Glass of Wine
Who wouldn't love exploring great wineries, right? I mean, this is Kelowna's biggest attraction and probably one of the most enjoyed things to do in Kelowna BC too.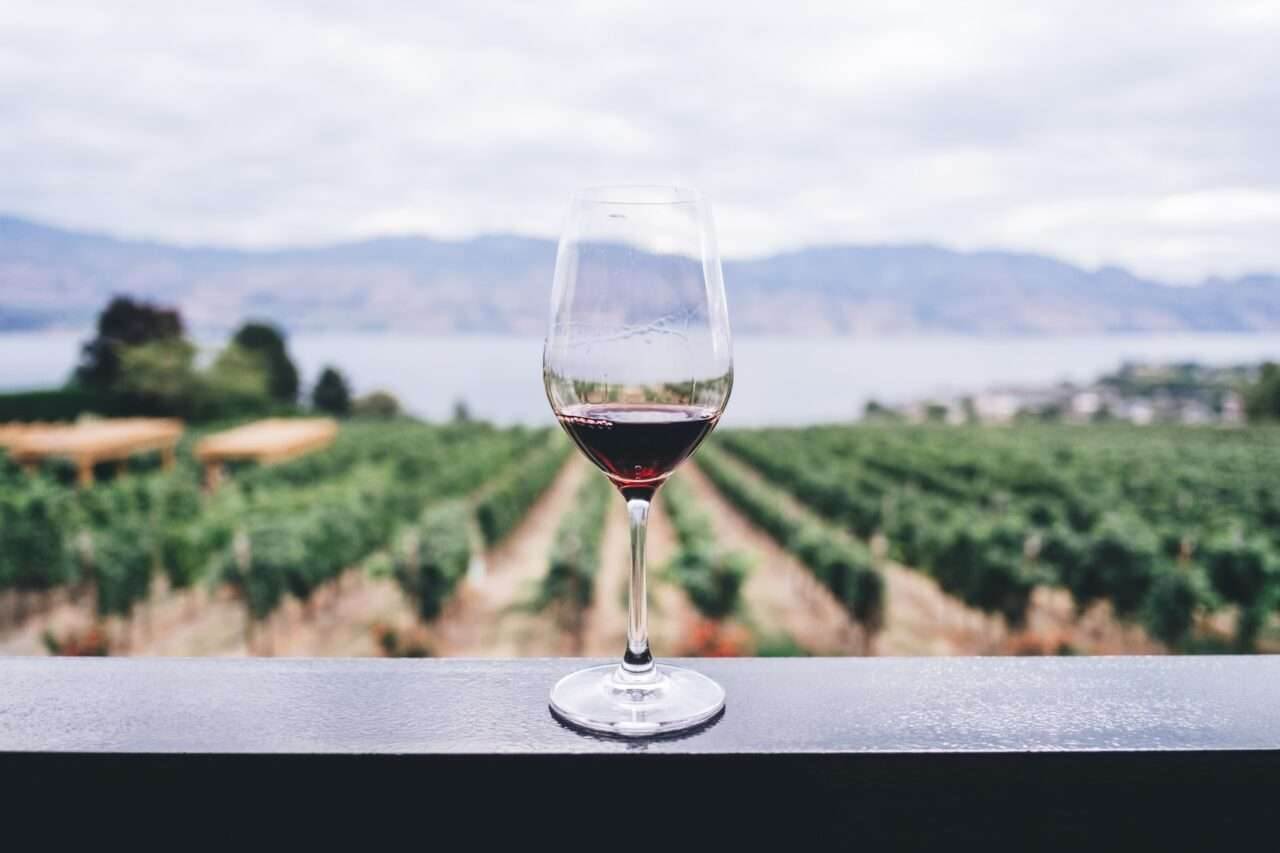 Be it East or West Kelowna, both have equally gorgeous vineyards. And one cannot miss the wine tasting experiences in one of these Kelowna BC vineyards; it is practically the best part of the trip.
There are many ways for you to enjoy a sip of fine wine. You can take a self-tour or a guided tour with proper directions. Wine tours will take you across 3-5 vineyards of your own choice. The tour covers everything from your drive to your lunch.
Tip: If you want to arrive in style, you can choose the helicopter wine tours. 
4. Go Skiing at the Big White Ski Resort
Located between the Monashee Mountains & the Okanagan Valley, the Big White Ski Resort is one of Canada's most popular and spectacular ski resorts.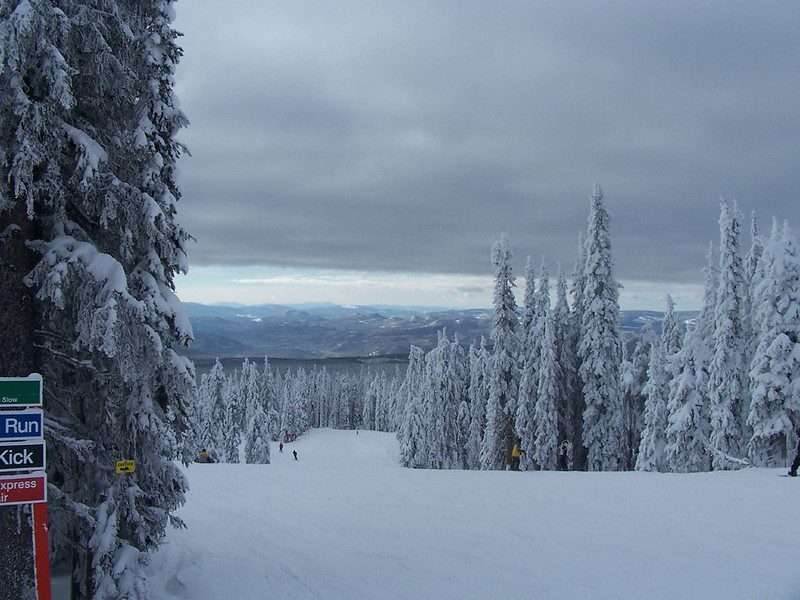 The mountain has the ideal conditions for skiing & other snow activities, receiving around 750 cm of white snow annually. The resort has 2526 acres of skiable terrain and 16 lifts.
And the snow-capped trees alongside create a magical backdrop. It has the perfect winter playground for families. However, it might not be great for expert skiers or snowboarders, but it features a great selection of terrain for everyone.
And apart from the activities, Big White has fancy restaurants, coffee houses, lounges, and bakeries to choose from.
5. Hike the Knox Mountain
Knox Mountain is located in the north of downtown Kelowna BC and is the city's largest natural area park. The park expands about 367 hectares.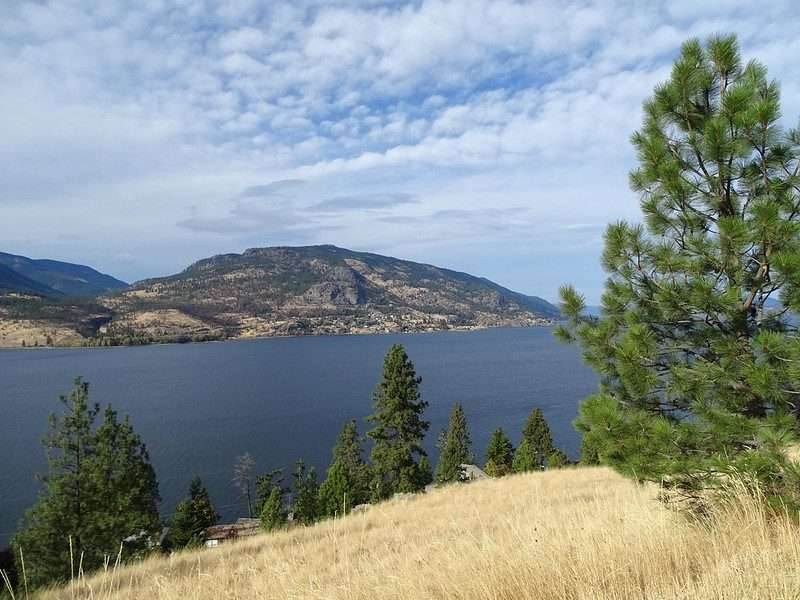 The Knox mountain provides stunning views of Okanagan Lake & Kelowna and is a place where you can choose your adventure. It offers you the opportunity to enjoy various things.
It has something for everyone; you can hike, bike, or even laze around and enjoy the views. There is a graveled pathway for adventurous visitors leading to the midpoint lookout, and they can hike that path.
Or if you are just into enjoying the views, you can drive up the mountain, park near the peak and enjoy the panoramic views of the valley from your car.
There are many trails for hiking, and all of them are quite easy. Visitors can choose what fits their mood.
6. Spend Some Time With the Farm Animals
One of the most interesting & peaceful things to do in Kelowna BC is spending the day with farm animals in the Arion Therapeutic Farm.
Arion Therapeutic Farm, located in South-East Kelowna, is a peaceful sanctuary for animals & people. The farm is spread across 12acres of land and is a volunteer-driven enterprise.
The farm is open all year round and organizes interactive tours & various programs covering animal care and organic farming daily. The farm is home to a variety of animals, including sheep, goats, donkeys, llamas, and ponies.
Visitors can feed the animals, play with them, and learn how to nurture them. They have two different tours regularly, namely, Farm Animal Tour & Behind The Scenes Tour. 
Tip: Tours can be booked beforehand via online mode. 
7. Grab Some Fruits At a Kelowna "U Pick Farm"
Isn't it great when you have the chance to pick your fruits? Well, the orchards at Kelowna BC provide you with this great chance, as the Okanagan Valley is filled with fruit orchards.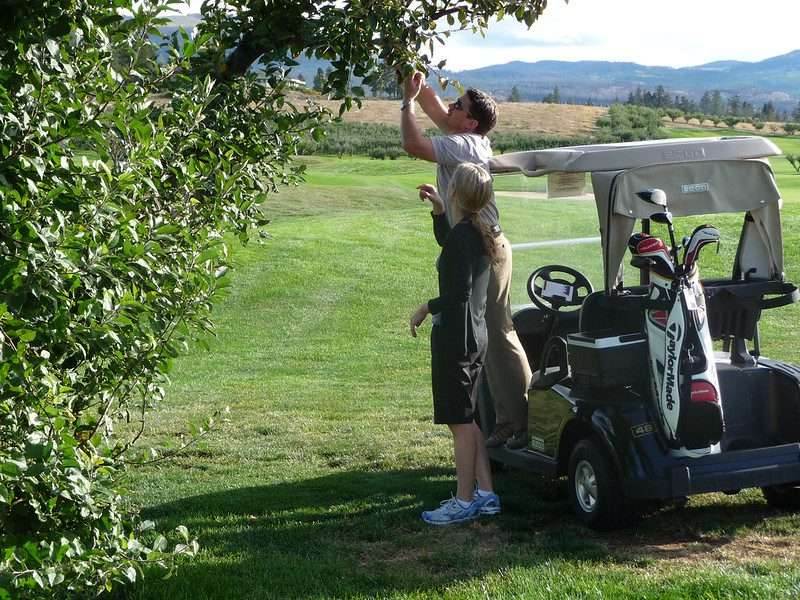 The U-Pick Farms in Kelowna allow the visitors to pick their produce. The climate in Kelowna is ideal for fruit orchards, and there are different picking times in the summer for different fruits.
Cherries and apples are the top two fruits grown in the orchards, starting from June to September. Visitors can even set up a small picnic with their families in the field.
Here's a list of the best places to do the picking across the region:
Sun City Cherries Ltd
Kempf Orchards
Gambell Farms
Arndt Orchards
So grab your baskets, make some space and pick fresh fruits from the farms. 
8. Spend the Day in Downtown Kelowna BC
Downtown Kelowna is the city's most vibrant place. Visitors can spend a whole day across the downtown area exploring sights, tastes, and everything.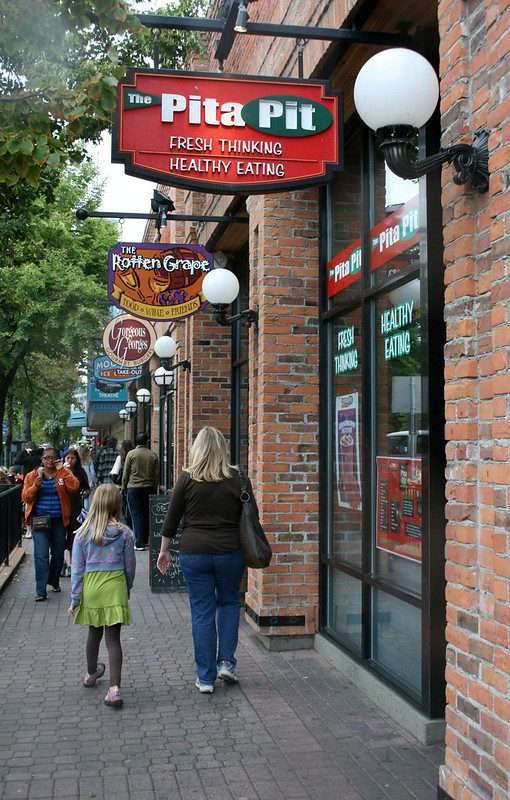 The downtown area of Kelowna BC is filled with activities. From cute little bistros, restaurants, unique stores, galleries, visitors can explore a bunch of things. There is even public art on display in the area, telling the story of the city.
Visitors can roam the streets, enjoy the art & sculptures, or maybe do some window shopping. When tired from all the walking around, visitors can grab a bite or two in one of the outdoor patios (and there are many). The nightlife scene in this area is quite amazing, with many DJs, dance clubs, karaoke, & live music. Visitors enjoy the energetic vibes around the pubs.
Overall there's much to enjoy both during the day and night in the downtown area. It's fully vibrant, friendly & has a laid-back atmosphere. And with this, we have come to the end of the list of things to do in Kelowna BC. But things do not end here. This is just the beginning; the number of things to do in Kelowna is beyond a list.
Now, if you would like to know the top-rated attractions in Kelowna, click here.
For a very long time, Kelowna has been one of the most visited family vacation destinations. Because there is absolutely no shortage of things to do here. There are beautiful sights to see, activities to do, & places to explore.
Kelowna is one of those places where everyone fits perfectly. There are mountains & resorts for the adventure seekers, and there are beautiful beaches & trails for those who want to spend some time in peace with nature. All you have to do is decide what to do and when, there's plenty of choices to pick from.
Hey, wait!
Sign up to our newsletter and get exclusive discounts!
Want exclusive deals and discounts? We have just the list for you, from web hosting deals to your next Zara purchase.
Get how-to guides to shopping online, starting essentials to launch your business and general life hacks. And get additional discounts when you use our content writing services. Know more here. 
Enter your email address to sign up for our newsletter!