Have you had the chance to have a fine dining experience in some of the best Canmore restaurants?
If not, then what are you waiting for? Dining in one of the best Canmore restaurants is a fantastic experience. Canmore lies in Alberta's rocky mountains. It is
just
minutes away from Banff National Park. It is one of Canada's most beautiful towns.
Although a small town, Canmore still has a lot to offer. It has stunning mountain views and gorgeous natural wonders. It has an amazing bunch of Canmore restaurants. This place is all that you need.
Experiencing the rich taste of every corner is by far the best experience in the world. Good food brings us closer to the world. And in a place like Canmore, which is so beautiful, in and out works wonders.
Fine dining isn't
just
about eating delicious dishes. It is more about the experience you get out of it. It's the experience that clings to your memories for a long time.
It's the ambiance that matters. It's what makes your food more delicious and worth remembering. Music, lighting, graphics, everything adds to a fine dining experience.
And you are going to get
all of
these in some of the best restaurants in Canmore. Here is a list of the 13 best Canmore restaurants that you should visit.
Wherever you are in Canmore, there are plenty of things to do. Check out this article on classic restaurants in the beautiful town of Canmore. Please
click here
 to get started.
13 Best Canmore Restaurants
Let us walk you through the thirteen best restaurants in Canmore. Check out all the options. Pay a visit to whichever you think will suit you the most, and see for yourself why they are the best in town.
1. The Sensory & Wit Bar
Address: 101-300 Old Canmore Rd, Canmore, Alberta, T1W 2X2, Canada.
Experience the best in the Canadian Rockies. The Sensory is the newest dining in Canmore with great customer reviews.
It offers a fine dining experience. You can enjoy gorgeous mountain views through its large window panes.
The Sensory offers you a high-end experience. It offers excellent Canadian cuisine and wine pairings. The dishes contain ingredients found in the Bow Valley.
To
fully
savor your taste buds, The Sensory offers amazing highlights on its menu. Here are two of their must-try highlights.
Try the hunt: a seven-course tasting menu 
and the $49 
Trust me: 3-course meal
are their names.
The Wit Bar is what's all the more special about them. You can try out 20
amazingly
unique wines. You can parcel comfort food to go along in the bar. Their specialty is the Wit Classic Burger, or The Outlander and Elk Short Ribs.
A glass of wine in hand, with small plates of appetizers, sounds relaxing. With stunning mountain views to enjoy, what else could one wish for? That's what makes it one of the best restaurants in Canmore. We
highly
recommend this restaurant for photography lovers!
Tip: Do not forget to capture the stunning views. Also, try bread crisps and other baked goods from the kids' menu.
2. The Iron Goat Pub & Grill
Address: 703 Benchlands Trail, Canmore, Alberta, T1W 3G9 Canada.
Experience multi-level dining at The Iron Goat Pub & Grill. For over 10 years, it has been offering its best services and great food in Canmore. It is now expanding throughout Bow Valley.
The restaurant offers you some amazing views, which seem too good to be true. The scenic mountain vistas feature the Three Sisters.
They are the Big Sister, Middle Sister, and Little Sister. They get you an incredible panorama of the iconic peaks. The scenery makes it one of the best places to eat in Canmore.
Grab your friends and experience mountain dining like never before. This three-level timber-framed restaurant is a must-visit. The restaurant features an unforgettable setting. It has two elevated patios (
the best in town
) and a deck on the upper floor.
They have some real delights in the way of baked goods. Do try the cornbread with garlic and honey butter. Additionally, your dietary restrictions are also considered and altered
accordingly
by the chef.
3. Tapas
Address: 633 10 St, Canmore, Alberta T1W 2A2 Canada.
In the heart of Canmore hails Tapas, the most-voted "romantic restaurant" in Canmore by the locals.
Tapas lies right off Canmore's main street. It
is tucked
inside a lovely character house, which used to be a Miner's home.
Tapas provides you with the best-shared tasting experience on small plates. They curate their recipes from domestic and
organically
sourced ingredients.
They also offer a "Tapas style" menu. It features dishes
mostly
prepared from the freshest farms. The best part of their food services is they do offer you gluten-free and vegetarian options too.
But the food is not the only best part of Tapas; their intimate dining experience counts
equally
. Tapas has an eclectic attic with slanted ceilings. It makes the interior great for small intimate parties. You can also try the housemade bread and other baked goods on the menu.
In the summer, Tapas is at its best with a lovely alfresco ambiance and Mediterranean deck. Couples would
highly
recommend this place for a romantic dinner!
Tip: Try to visit in the summer.
4. Sage Bistro & Wine Lounge
Address: 1712 Bow Valley Trail, Canmore, Alberta T1W 2X3 Canada.
An amazingly exceptional dining experience awaits you at Sage Bistro & Wine Lounge.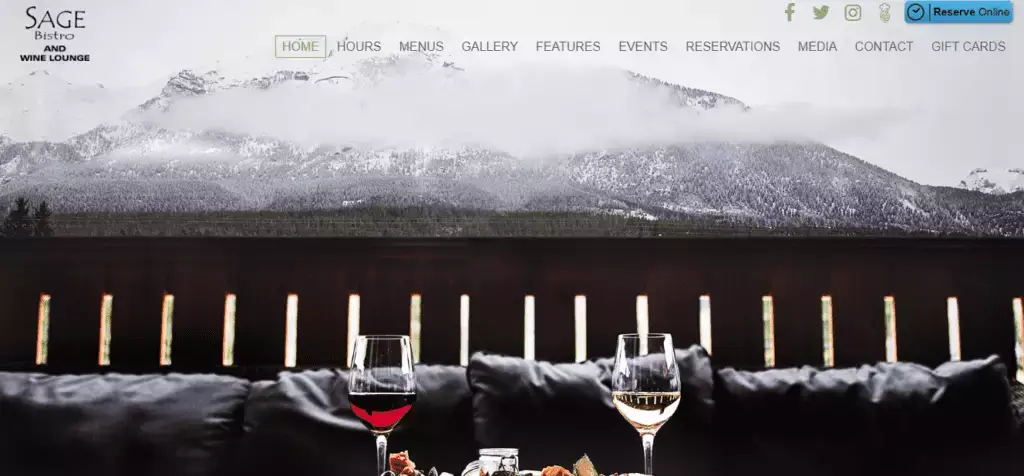 Sage Bistro lies in the heart of the Canadian Rockies. It offers you breathtaking views right through its intimate Canadian rustic log cabin. It's here where the upscale ambiance molds into the beautiful natural mountains.
As a family-owned business, it's been almost 30 years for Sage Bistro. It has two different and unique dining areas. Sage Bistro offers you both the classic and high-end experience.
They have been
widely
known for their food services and quality. The ingredients used are
mostly
sourced from local producers to bring you the best taste.
You can dine at the classic French bistro dining space. Or you can go upstairs to the contemporary wine lounge.  The downstairs dining space offers you great views. The wine lounge with small seating offers you an intimate environment. We
highly
recommend this place for a filling brunch on vacation!
Enjoy the warm, cozy atmosphere in the wine lounge with more than 18 unique wines by the glass.
5. Devils' Table
Address: 709 Benchlands Trail, Canmore, AB T1W 3G9 Canada.
Devils' Table is a striking restaurant among upscale Canmore restaurants. It is located in Creekside Villa.
This upscale restaurant blends Chef's Caribbean roots and European training
well. Devil's Table provides you with a fun and relaxed vibe.
It has mouth-watering Caribbean cuisines and authentic American food. We
highly
recommend this place for its diverse continental cuisine.
The best-hidden gem in Canmore is what people usually say about Devil's Table. Devils' Table offers you great scenic views of the surrounding mountains. Their decor gives off a cool and inviting vibe, which the people most love.
Experience a great fusion taste by the patio, and enjoy the views.
6. The Drake Public House
Address: 909 Railway Avenue, Canmore, Alberta T1W 1P3 Canada.
Voted as the "best pub" in the Canadian Rockies, The Drake offers a fun & memorable dining experience.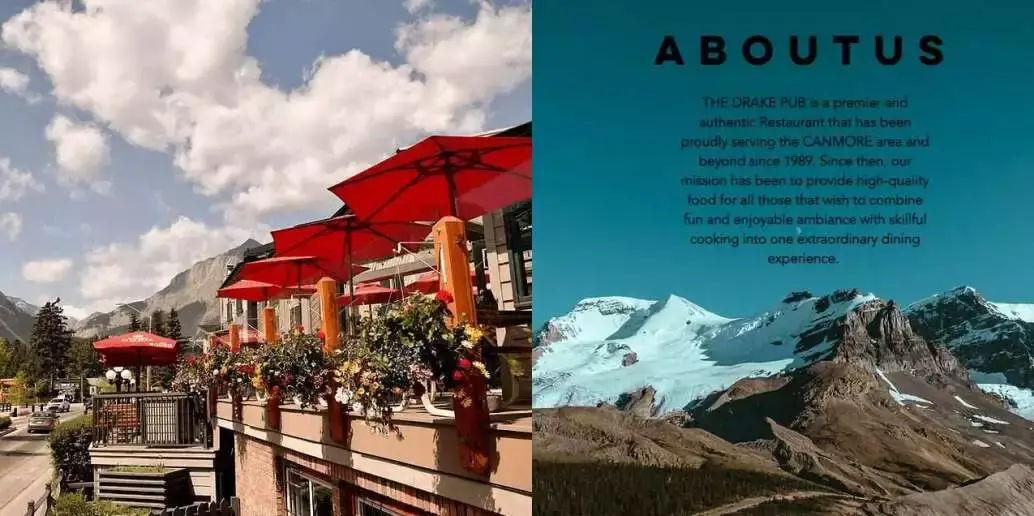 Over the years, "The Drake" has become a favorite of both locals and visitors. It has become the most visited and favorite space for everything. Dining, live music, or happy hours are all great here.
In the case of entertainment from Monday-Sunday, they have it all covered. There are karaoke, live band performances, and open mics. They keep you entertained and help build amazing memories.
They have two new smokehouses that serve the best barbeque in the entire valley. And one must try their famous wings, from the pub fare.
As good as their barbeque is, the views are no less. It has 4 patios, which give you some of the most beautiful mountain vistas in town.
Disclaimer: Be ready to spend more than expected, as every good thing comes with a good cost!
7. Indian Authentic Cuisine
Address: F-1702 Bow Valley Trail, Canmore.
Experience and explore all of the rich Indian spices and delicacies under one roof at Indian Authentic Cuisine.
Indian Authentic Cuisine lies tucked in the valley and surrounded by mountains. Indian Authentic Cuisine offers a kind of ambiance that is most appreciated by all. In the heart of Canmore, this restaurant offers a wide variety of Indian dishes.
Indian food is not
just
a treat to your taste buds but also a treat to the eyes. And India Authentic Cuisine very well represents Indian food.
This restaurant has raised the bar by providing the best services in Canada. Pure Indian spices and herbs
are served
with a touch of Canadian richness. It makes their food all the more delicious and appealing.
Tip: You can customize your dishes, and add your flavors and spices.
8. Murrieta's Mountain Bar & Grill
Address: 200, 737 Main St. Canmore.
Murrieta's Mountain Bar & Grill offers a refreshing and inviting aura. It is quite different from other Canmore restaurants.
Enjoy a warm hearth, vaulted ceilings, and jaw-dropping scenery. Look through the large glass panes. Since the renovation, Murrieta's pleases your eyes as much as they please your taste.
Also, they offer private rooms for special events and functions.
Special dishes: Fried Chicken, Bison short rib, Seafood risotto.
9. The Grande Kitchen+ Bar
Address: 901 Mountain St Canmore, Alberta.
Experience the perfect blends of Eastern influences with classic French and Italian cuisines.
Another hidden gem in Canmore tucked off inside a resort is The Grande Kitchen+ Bar. It is a lovely fusion restaurant. The restaurant is quite small, good for intimate parties and dates, and is very well furnished.
All week long, they have special menus. They have Rib Mondays, Burger Tuesdays, Wine Wednesdays, and Pasta Thursdays.
Must-try dishes: Tiramisu dessert, Spicy meatball pasta, Pulled pork sandwich.
10. Wild Orchid Bistro
Address: 1818 Mountain Eve, Canmore, AB T1W 3M3 Canada.
If looking for delicious Japanese delicacies in Canmore restaurants, Wild Orchid Bistro is there for you.
You can enjoy unique and excellent Japanese flavors mixed with the traditional essence. Wild Orchid Bistro serves all gluten-free food.
The dining room of the Wild Orchid Bistro is good for intimate dinners and cocktail parties. They have some of the best sushi rolls and soups in Canada. They make it a perfect space for experimenting and exploring Asian food.
Speaking of rocky mountains, you should check out Rocky Mountain Bagel Company. Their seating arrangement is quite casual and relaxing.
It has great views of the Canadian Rocky Mountains. It lies in the area. They serve some of the best bagels and cream cheese.
11. Blake
Address: 810 Bow Valley Trail, Canmore.
In the heart of downtown Canmore, Blake is a unique space offering six experiences, all under one roof.
Blake offers a
family-friendly
dining space with international fusion food and drinks. Explore all the six experiences blake offers.
PD3 by Blake- Ever been to a bustaurant? PD3 is a converted bus that offers new Canadian dishes to
satisfy
your taste buds.
Explore the intimate semi-private dining space. Have something
specially
made by the chef.
Blake Brewhouse- Blake serves some of the freshest beer in town. Take a tour, and have a drink.
Enjoy the scenic backdrop while at Blake.
12. Mad Dog Cafe & Market
Address: 113, 302 Old Canmore Rd, Canmore.
Mad Dog Cafe & Market is an Indian-inspired comfort food diner in Old Canmore.
It
is known
throughout Canmore for curry specials, samosas, and homemade soups. Along with the casual diner, they have a market too for all kinds of local items.
Also, they offer daily specials featuring house-roasted meats.
It is the perfect stop for both a quick snack and a cozy dinner with friends and family.
Tip: Book kennel and sled dog tours and experience the world of "Mad dogs."
Final Verdict!
While exploring some of the best restaurants in Canmore, you can
surely
make a trip to Banff. These two towns in the heart of Canada's Mountain escape
are meant
to
be explored
. Please click here! Here's your guide to camping in Banff.
Well, finding the perfect space for a fine dining experience is not easy. It's not
just
about the good food that makes up a memorable experience, but also about the aura a place offers. A good, comfortable, and inviting environment are what people
mostly
look for.
That was our piece on Canmore restaurants. Check out similar articles
here
.
As an Amazon Associate, Icy Canada earns from qualifying purchases.
Auto Amazon Links: No products found.
Auto Amazon Links: No products found.