Everything you need to know about Canada's large Gujarati population is mentioned in this article. Canada is one of the most multicultural countries in the world.
A large population of Punjabi Sikhs are found in Canada and Guajarati's are just behind them.
They're great business-minded people and since they have settled in Canada's British Columbia and other places, they've well established a sword mark in their respective fields. 
Reasons For High Gujarati Population In Canada
Below mentioned are four obvious reasons for the abundant population of Gujarati people in Canada.
a) History
Known for their reputation of prominent business minds, most of their groups have settled in there at some point in history, probably in the 1950s, have absorbed their culture and lifestyle since then.
Some have immigrated to escape the harsh conditions in their own country, or for the search of better education or for some great economic opportunities and settled back there.
Their determination to become a settled race, as well as their contribution to Canadian culture, established them as a well-known name in the Indo-Canadian society.
During the period of 1904-1905, about 5000 Indians settles in British Columbia as laborers. Most of them were Sikhs.
Due to the economic crisis, there was a slowdown in immigration from India as the Canadian Government imposed a ban on them from 1908 to 1947.
After the post-ban period, there was a huge rise in Asian immigration in Canada, about 85% of them were Indians!
During the post, World War II period, highly skilled and educated Indians immigrated to Canada and settled there. Sikhs and a large amount of Guajarati's have shifted here in Canada.
Chhagan Kheraj Verma, the first Gujarati person to arrive in Canada in 1910, was a Lohana by caste, later converted into Muslim. He was charged for violating the Canadian government's immigration policy.
b) Cities with most Gujarati Population
In the 1960s, there were about 900 Gujratis in Toronto city, and today the number shows more than 1,00,000 Gujarati population live in Toronto and its suburbs alone.
Toronto is one of the biggest hubs in Canada for Punjabi and Gujarati immigrants is also home to the second-largest Gujarati community in North America after New York.
Most of the Gujarati population residing in Canada live in Toronto and its suburbs. Toronto is also home to the largest Navaratri Raas Garba festival in the whole of North America.
With the facilities of transportation and post facilities, Gujarati people have always loved to travel to different places in search of different business opportunities, and Canada welcomed them wholeheartedly since the 1960s.
The cities of Artesia and Cerritos are dominated by the Gujarati population and can pretty much be called "Little India" there.
Canada is one of the favorite countries to the students of Gujarat in India to pursue higher education.
The number of students immigrating from Gujarat to Canada for the highest level of education is more than a 30% hike each year. Canada also purposed better student facilities and easy immigration processes to attract them over there.
c) Gujarat-Canada Business Relations
Migration of the Gujarati population to Canada dates back to the end of the 19th century and to the early part of the 20th century.
According to the 1996 census statistics of Canada, near about 45,180 Gujaratis lived in Canada at that time. Currently, the Gujarati population in Canada is about whooping 3,30,000.
These days they're the most affluent persons to have entered in every field of business, service, and professions.
In 2013, Canada's minister for citizenship, immigration, and multiculturalism Jason Kenney said in a summit that Gujaratis with surreal entrepreneurship skills are fuelling the Canadian growth.
To assist in their business and career growth, Canada has started a national business platform, a common platform to share referrals and contacts with everyone exclusively for the Gujarati population, called the Global Gujarati Network (GGN).
Just like the United States, Gujaratis have now started their own small and large scale businesses in Canada, including hospitality sectors, I.T., and healthcare sectors, and more likely.
There are few neighborhoods in Toronto, where Gujarati is considered as the mother tongue namely, Woburn, Rouge, Bendale, Thorncliffe Park, Mount Olive-Silverstone-Jamestown, Malvern, and Dorset Park. This is because of the high Gujarati Population in the area.
Canada contains the world's eighth diaspora and of them, about 30% is comprised of the Gujarati Population.
d) Gujarati Food Joints in Canada
There are some notable Gujarati restaurants in Toronto that offer Gujarati Thalis and other delicacies. Of them, Rasovara, Govardhan Thal, The Veggie Thali, Avsar, Daal Roti, Tandoori Flame deserve some special mention.
When in Toronto, here are some restaurants to watch out for.
Govardhan Thal, one of the great food joints where you can find homely cooked foods, one of the best places to have Puran Poli, Kadhi, and Lassi, locals claim to be the best place for having a Gujarati Thali.
Rasovara is another gem, they offer a sensual feast for a fraction of cost than other downtown restaurants offering their special Gujarati Dabeli and Vada Pav.
Atithi in Scarborough is absolute bliss in Gujarati food culture in Canada. Their specials include Cheese Thepla, Ragda Petis, and Chana Samosa, and yes, they're 100% vegetarian.
Moving towards Calgary, another popular Gujarati food joint is there, Rajbhog Trades, where one can find one of the best traditional Shrikhand desserts and Dhokla, the popular Gujarati snack. Try their Chaas once!
Urban Tadka, Spice 72 Indian Restaurant, and Lounge are some handful Gujarati eateries in Vancouver where one can find both vegetarian and non-vegetarian food of their choices.
When in Mississauga, Avsar is a great choice. They offer sublime Batata Nu Shaak, Puran Poli, Khandvi, and other mouthwatering Gujarati delicacies.
The success of Gujarati food joints relieved the way to the establishment of other different eateries and that's where the investment deals upon.
The pioneers attracted more and more from their country and paved the way for a successful Gujarati community there in Canada.
Check this out if you love Indian food. visit these places for awesome Indian street foods in Canada.
Gujarati Festivals in Canada
Toronto, being home to the largest Gujarati population in Canada holds the record for the most famous Raas Garba in the whole of North America.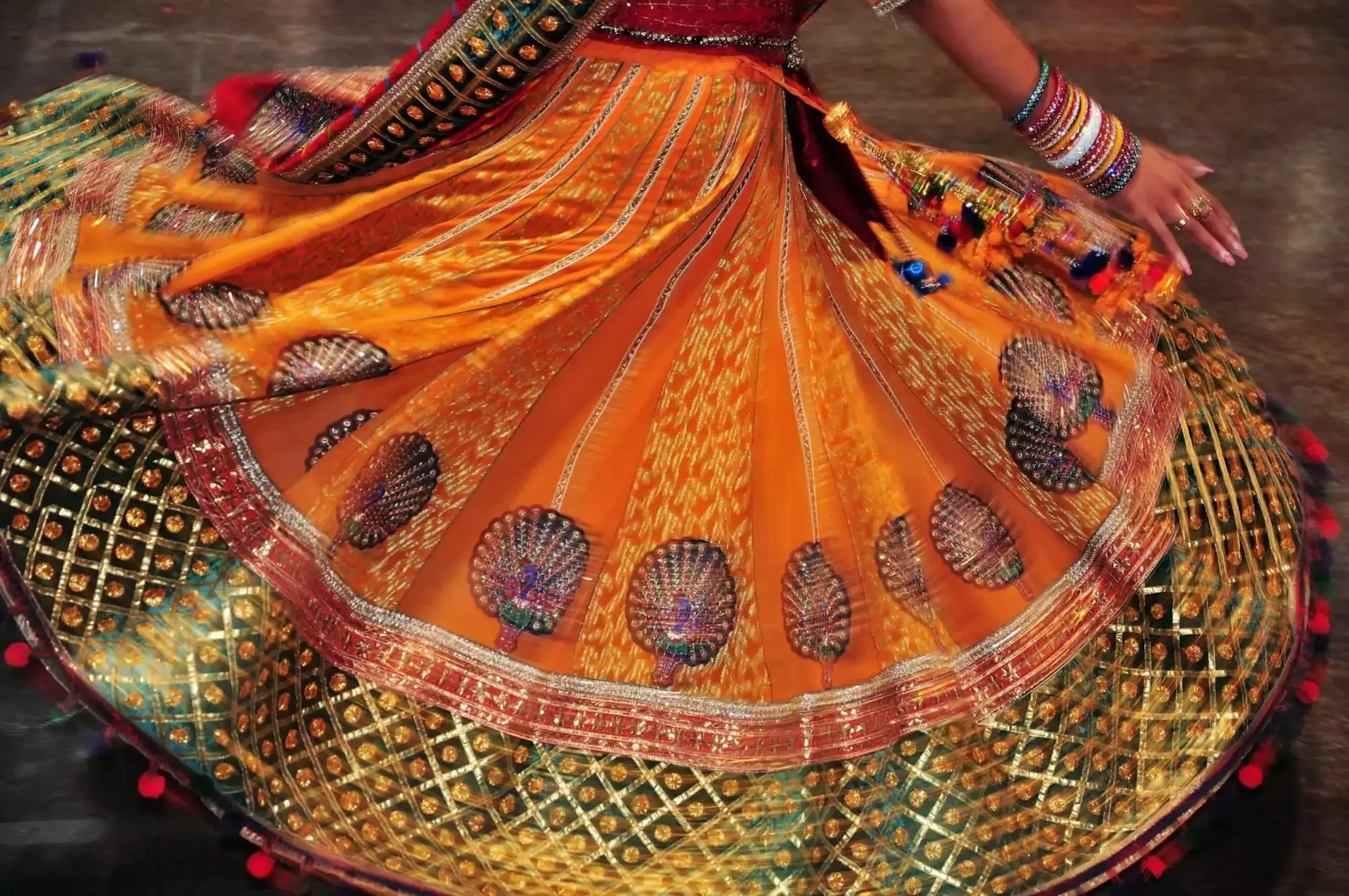 Women in ghagra and men in dhols will make you groove to the age old Gujarati culture, as will Falguni Pathak's melodies.  
Some well known Gujarati festivals celebrated in Canada, are Gudi Padwa, Nag Panchami, Bhajan Sandhya, Navaratri, Holika Dahan, Janmashtmi, and many more.
Kudos to those who've kept alive the age-old process of festivals and kept igniting the culture and tradition to the upcoming generation.
Gujarati Communities in Canada
Many Gujarati communities have popped up since the Gujarati population has started to excel in the prosperous fields of Canada.
FOG Canada, or Friends of Gujarat, a non-profit organization from Brampton with a view to foster a robust relationship between Canada and Gujarat, working together to celebrate the festivals together, share their experiences together, and contribute to the community together.
Also, Gujarati Samaj of Surrey, Gujarati Society of British Columbia, Gujarati Mandal of Calgary, Garvi Gujarat Association of Canada Edmonton, and other organizations are working to form unity among this particular race of people and share joys among themselves.
Gujarati newspapers Gujarat Abroad, Gujarat Express, Vatan, Swadesh, Gujarat Times, Divya Bhaskar. Gujarati Radio and TV programs are also playing important roles in the promotion of Gujarati language, literature, and culture.
Notable Gujarati Canadians
Naheed Nenshi (36thMayor of Calgary)
Prashant Pathak (Philanthropist and investor)
Rizwan Manji (Canadian actor)
Nazneen Contractor (Canadian actress)
Bharat Masrani (CEO of TD Bank Group)
Zain Verjee (CNN Journalist)
Richie Mehta (Canadian film director)
Jay Gajjar (Gujarati novelist, first Gujrati to receive 'Order of Canada', Canada's highest National award)
Rahim Jaffer (Member of Parliament, Edmonton-Strathcona)
Arif Virani (Member of Parliament, Parkdale-High Park)
Nikhil Dutta (Canadian National Cricket team player)
Conclusion
Probably because of their great success in trade and industries, the Gujarati population in Canada is successful in binging with the Canadian environment and adapt to their cultures.
A big round of applause to the early Gujarati settlers who have made their way down today, and continuing their legacy.
So next time if you spot a Gujarati in Canada, instead of saying 'Hello', simply say 'Kemcho' and they'll surely reply with 'Majama' with a big smile on their face!
Click here to read about "Amazing Vegan Restaurants in Vancouver."
As an Amazon Associate, Icy Canada earns from qualifying purchases.