The Icefields Parkway is a brilliant stretch of road between Jasper and Lake Louise. Along this Parkway stands brilliant attractions one can't resist.
Visiting here is like a day in paradise. The Parkway holds more than 100 ancient glaciers, gushing waterfalls, incredible rocks, pristine lakes, and dense forests.
Wildlife lovers can explore Banff National Park and Jasper National Park. You must stop here for hiking or to explore the beautiful surroundings. Canada never fails to surprise us, just like offering Icefields Parkway.
Every city or town in Canada has its top attractions. But what about these beautiful areas we miss out on. This article answers every query on how to explore Icefields Parkway. Have a good read.
How to Explore Icefields Parkway
How to Reach Icefields Parkway?
Before going into details on Icefields Parkway, let's know how to reach there first. Icefields Parkway road remains open one year-round. In winter, due to heavy snowfall, all tourist attractions are closed here. Often the road remains closed due to unpredictable weather in winter.
Icefields Parkway is a few km drives from the west of Banff. From Calgary, it's a two and a half hours journey while from Edmonton it's a 30-minute drive. The Parkway spreads for 230 km and takes 3 hours to complete it. But tourists spend more time here due to eye-catchy attractions.
Best Time to Visit Icefields Parkway?
The road remains open the whole. But the main time to visit is from May to October. Avoid peak winter times.
Winters bring unpredictable weather and heavy snowfall. The Parkway remains open, but the park attractions stay closed. Car access is usually denied in winters.
Rocky mountains don't have definite weather. Temperature changes drastically from day to evening.
The best time to visit is from June to September when the heat is average. You can explore the park well. These months offer favorable road conditions and wildlife watching. The temperature
June and September offer cold temperatures. During August, the Parkway is mostly crowded. Snowfall occurs from mid-October.
Accommodations in Icefields Parkway remain closed from November to April. If you wish to explore the Athabasca Glacier Ice Adventure, it opens from April to October.
The spring and autumn weathers may stun you. Though these seasons still may receive heavy snowfall. Summer offers dry and sunny days. But higher elevations receive light snow and rain.
Temperatures are below freezing point from November to April. It is best to ignore these months.
Are There Any Nearby Restaurants?
It is advised to bring your lunch or snacks. There are many scenic points nearby to sit and have a proper picnic. Only a few food outlets are available. You may not like them. Food prices are hyped.
The restaurants at Saskawetch Crossing serves mediocre food. At the same time, Icefields Parkway Visitor Centre serves costly food.
During summers, these places remain crowded. There is also a small store, but the items are overpriced. Near Lake Louise is Num Ti Jah Lodge has a restaurant that offers luxury dining. Stope there for a coffee or pie.
Travel Facts About Icefields Parkway
1. A Glacier or Icefield?
You really cannot explore a hundred glaciers in one day. There are over hundreds of glaciers to explore. This trip lets you walk over glaciers. As the journey ends at Columbia Icefield, you can walk on Athabasca Glacier.
The best part is you can walk both on a glacier and the icefield.
Several interconnected glaciers together form icefields. Water from Columbia Icefields flows into three major oceans, The Pacific, Arctic, and Atlantic. Thus, Icefields Parkway offers both icefields and glaciers. You can enjoy both.
2. A Historical Journey
The massive ancient icefield keeps on keeps on shifting and forms unusual sculpted geography. Glaciers are moving at a fast rate.
These are like an alarm to us. On Icefields Parkway, the Athabasca Glacier is retreating from its base point since the 1990s.
The Columbia Icefields keep on getting shallow with high density. It's as deep as the Empire State Building. A historical journey for over 100 years. And also a matter of concern. However, it hasn't harm any tourists. The Parkway is still the best place to visit.
3. The Glacier Skywalk
A trip to Icefields Parkway is incomplete without Glacier Skywalk. The Glacier Skywalk is a must-try one that offers incredible scenic views.
The skywalk starts from the Discovery Center. Monster ice bus reaches you at this point. The skywalk hangs at the bottom with glass over the valley offers a panoramic view.
Accommodations in Icefields Parkway
Accommodations in Icefields Parkway are limited due to environmental impact. Accommodations are not much luxurious but just a basic motel. Since the Parkway is an isolated location, prices are high for mountaineer lodge.
Guesthouses are available in Saskatchewan Crossing, Icefields Visitor Center, and Sunwapta Falls. Num Ti Jah Lodge is the most expensive among all.
Further from Jasper, Baker Chalets offer cabin-style accommodation. Beauty Creek, Hilda Creek, Rampart Creek, and Mosquito Creek has hoteling style accommodation. They are no electricity and water sources.
Campsites along the Parkway provide first come first served service. You need to arrive early in summer to book a camp.
Campsites are available in Mosquito Creek, Waterfowl Lake, Rampart Creek, Wilcox Creek, and Columbia Icefields. Few have washrooms and water sources, while others have toilet pits.
Campsites near Lake Louise and Jasper remain fully booked in summer. Plan thoroughly before coming here. It's better to have one round trip. Stay back can cost you more.
Exploring Icefields Parkway: Quick Facts
Icefields Parkway spreads for over 325 km, making it the largest ice body in the Rocky Mountains.
The Parkway is Mount Columbia's highest point standing at 3745 meters.
The road was built under Public Works Depression Relief project.
The road construction took nine years long from 1931 to 1940.
More than 2000 unemployed men had built this Parkway.
Instead of machinery, hand tools were used for construction.
Eight years were taken to complete 33 km of road by hand tools.
It receives an average rainfall of 23 feet per year.
The average height is 10,000 feet.
The waters wonderfully drain into the Pacific, Arctic, and Atlantic Oceans.
How is the Road?
The Icefields Parkway is a full surfaced widespread road. You'll pass through scenic landscapes and mighty mountain passes. An incredible sight, much better than your expectations. An easy drive with a few steep areas. Large RV's can easily access here.
From above, you may have got the idea of how to reach Icefields Parkway. Let's explore the top attractions in Icefields Parkway. These attractions fall along the parkway. There are picnic spots, beautiful lakes, and many others. The main attractions are the scenic roadways and Banff National Park.
Icefields Parkway: Top 15 Places to Explore
1. Incredible Roadway
The parkway never fails to live up to the expectations. It's the number one attraction in Banff National Park. The roadway is a beautiful stretch of land that offers overwhelming drives in the world. One cannot just explore its complete beauty in just a day.
An ideal spot to try out long drives. You need to look outside the window to feel every scenic spot. From Banff to Jasper National Park, the road gives breathtaking views. Capture those captivating scenes in your cameras. And cherish them forever.
Watch the ancient glaciers, majestic mountain peaks, pristine lakes, and mesmerizing waterfalls through the drive itself.
Icefields Parkway is an incredible drive that stretches for  232 km amidst the Canadian Rockies. There are several short hikes and road stops to try out. They offer more splendid views.
A once in a lifetime experience. Feel the coniferous trees protecting you from either side if your traveling to Banff National Park chose this roadway for sure. You will never regret it. The road remains crowded during peak summer months.
Avoid these times as you won't be able to enjoy much. Also, in winter, car access is denied. Plan your trip accordingly.
2. Herbert Lake
You can stare at the fascinating Herbert Lake for the whole day. The top place along Icefields Parkway. A pristine and serene lake sure to make you fall in love with it.
Since Herbert Lake is crystal clear, witness the perfect reflection of mountains, sky, and the forest over it. A priceless moment to store in your memories.
Visit during the early morning to experience such beauty. Mother nature offers us such mesmerizing views.
Explore more in this area. Click photographs and have fun. Dip your fingers in this lake—an ideal spot for nature photographers.
3. Peyto Lake
Peyto Lake is a must-stop spot under exploring Icefields Parkway. The parkway isn't complete without Peyto Lake. A beautiful lake that keeps you halt for hours. A quick turn from parkway will reach you here.
A 40 km distance away from Lake Louise. A perfect place to spend time with families and kids. Peace lovers can spend time here alone, secluded from the city chaos.
Feel the fresh air whispering in your ears. It's similar to a short hike until you reach the viewpoint.
The surrounding area is fantastic, and the lake seems to be just perfect, as in an animated movie. Experience the overwhelming visual treat.
The water is bright turquoise due to rock flour. This makes the lake more attractive. Glaciers feed such lakes. Rock flour occurs due to the grinding of rocks when glaciers move.
Peyto Lake falls amidst Bow Summit, the highest point of Icefields Parkway. It stands at the height of 2088 meters. Enjoy the view, climb the rocks, and watch the chipmunks play. Watch how the mountain peaks remain hidden under the clouds. A brilliant sight to ever witness.
To avoid crowds, visit during early mornings or late evening. Early mornings are better to experience a picturesque view. Witness the sunset in the evening, how the sun hides among the majestic mountains.
4. Columbia Icefields
The best part about Icefields Parkway is to witness the majestic glaciers. Such massive ice sheets hang against the mountains. A fascinating sight to ever see. Not just this Parkway but there are other parks Canada.
Be more close to the exciting Athabasca Glacier. Visit the Columbia Icefield Glacier Centre to enjoy the splendid glacier skywalk.
The skywalk is a suspended glass bridge over a valley. It gives you amazing views of the surrounding nature.
From Columbia Icefield, ride the glacial travel vehicle. An exciting adventure towards Athabasca Glacier.
You can even drive your car to reach here. Reach the world's second steepest road. Explore the history of the glaciers. Walk on them and have adventurous fun.
Explore the ice glaciers within a safe marked area. Feel the beauty of mother nature. Carry enough water. You may be tired of fun activities. Do taste the cold glacial water nearby.
5. Glacier Skywalk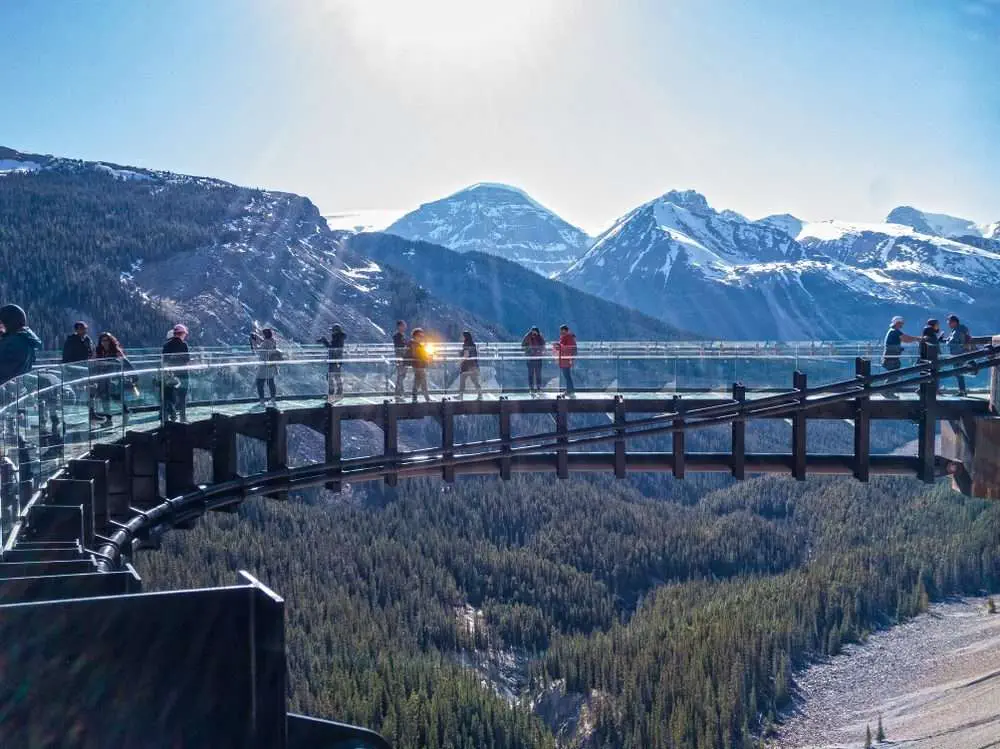 Take a shuttle from Columbia Icefield Discovery Centre to reach Glacier Skywalk. This suspended glass floor gives an excellent view of the rocky mountains and Columbia Icefields.
Some people might be scared due to heights phobia. Other than that, the view is breathtaking. Valleys, mountains, forests, and icefields build up the scenery. Watch the great Sunwapta Valley below your feet. Listen to your steps as you walk the glass bridge.
The bridge stands at the height of 918 feet above the whitish glacier. It's like an extraordinary experience.
Still, you would wish to visit here again. Glacier Skywalk is a must try to experience chills. Save 45 CAD for this adventure.
Do try out Jasper Skytram another adventurous ride.
6. Sunwapta Falls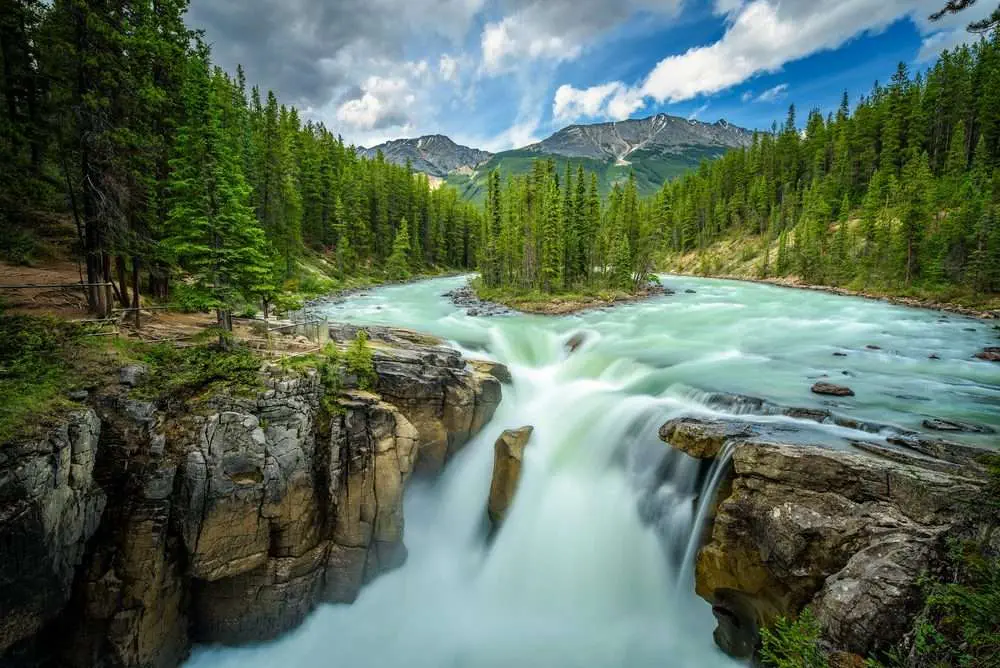 About 177 km away from Lake Louise and 45 minutes away from Jasper is the incredible Sunwapta Falls. The area close to Jasper holds several waterfalls. But the best among them is Sunwapta Falls. People feel blessed to witness such beauty.
There's an island on top, mountains at its backdrop, and the incredible falls gush into the canyon.
Cross the bridge amidst the forest to reach the shore of waterfalls. Rocks are quite slippery, watch your path. Views are unbelievable and known as Jasper's top photography spots.
Make sure to add this excellent piece of nature to your bucket list.
7. Athabasca Falls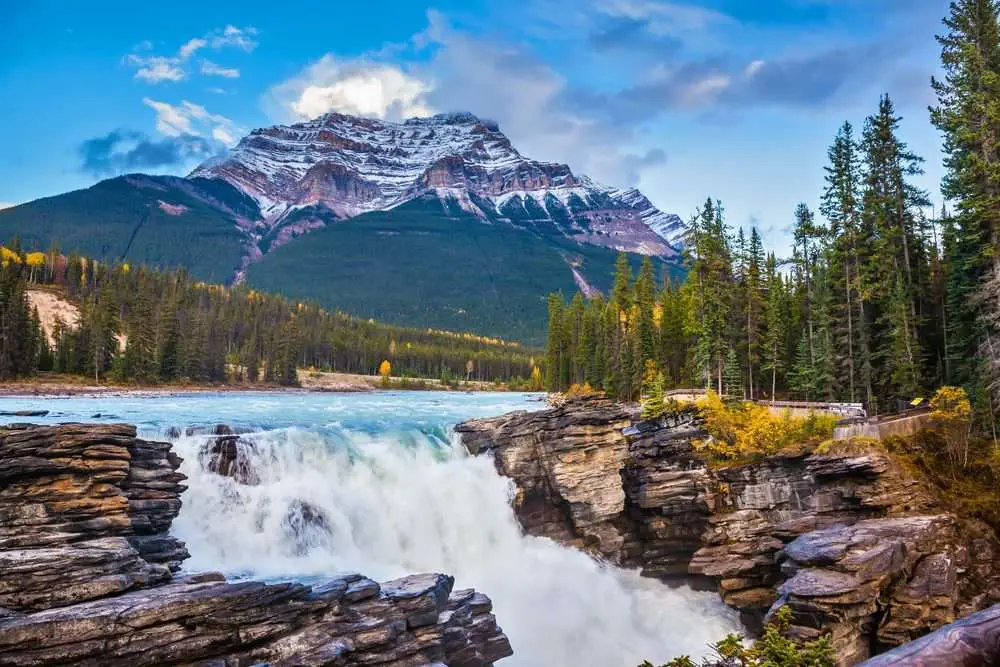 Another dramatic waterfall to ever witness. The bright white waters flow into a narrow canyon. Perfect for nature photography. Experience the splendid view or try out the adventurous white water rafting.
Tourists come here to witness the spectacular scenes. There various platforms that offer a view from every angle. Be careful against slippery; do not go too near the waterfall. Save at least half an hour for this beauty.
8. Bow Lake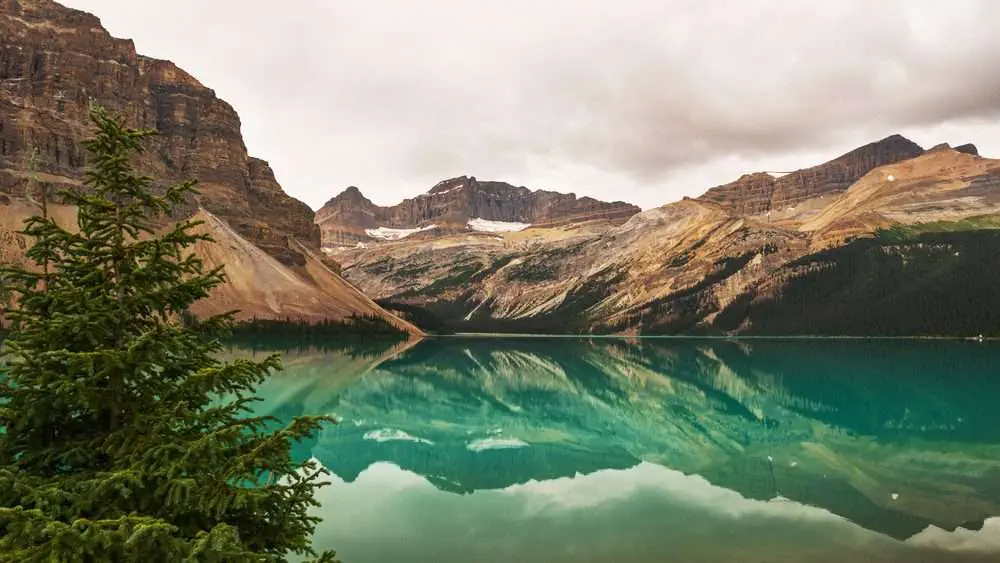 Bow Lake is nearest to Lake Louise. A perfect glacial lake. One of the biggest lakes of all. The lake is bright blue as if someone has added color to it.
Stop by the road and watch it from the trail. A less-traveled trail path that leads to Bow Summit. This area is usually less crowded. Vast green meadow, sandy path, magnificent landscapes, and majestic mountains surround this lake.
9. Parker Ridge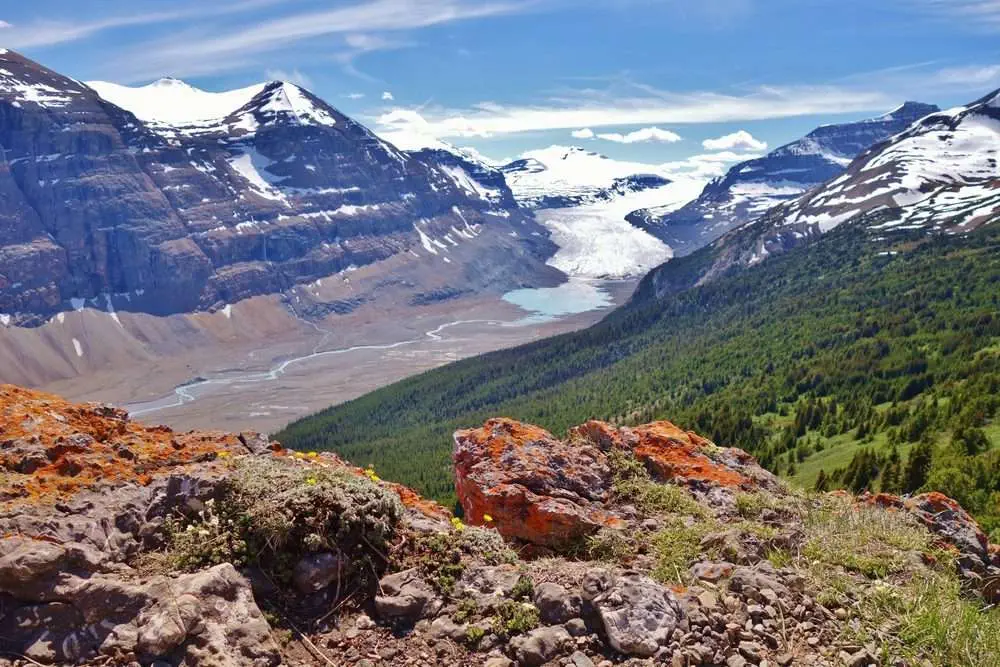 Halfway through Icefields Parkway, you'll reach the Parker Ridge. One of the main highlights of this parkway. A favorite hike among tourists.
View the spectacular glacier from here. The glaciers feel like iced lava coming out of far volcanos.
The area is quite steep and exposed. Unless you hike towards the edge, this sight is rare to witness. Save a couple of hours to hike till here. The strenuous hike is rewarding. Avoid walking in windy or rainy weather.
This hike is perfect in reasonable weather. Parker Ridge should be on top under the hiking list.
10. Wilcox Pass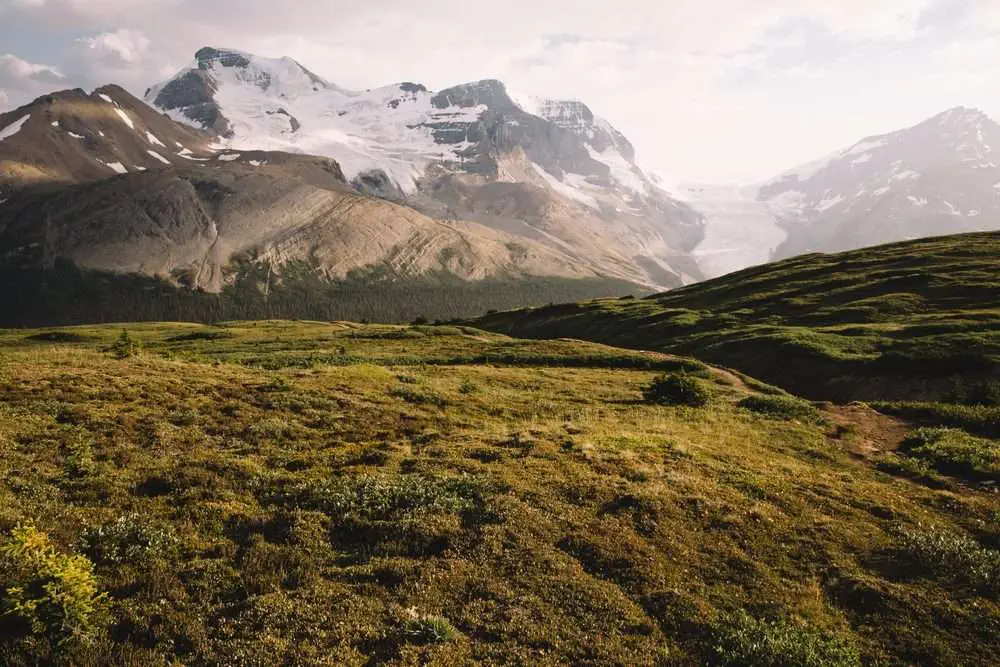 This Pass is the best place to witness the Athabasca Glacier if you don't wish to take the tour. It's a short hike among the forest ad gives the view of the glacier from above.
Wilcox Pass is ideal for the ones who want to save time.
There are chairs for you to relax and experience the outstanding beauty. A 3 km trail that takes 1 hour to finish. A longer walk adds more 3 km walk from the lookout to the Pass.
The best part is to sit and watch the glacier. Bring in your snacks to munch on.
Check out more exciting trails that offer brilliant campsites.
11. Mistaya Canyon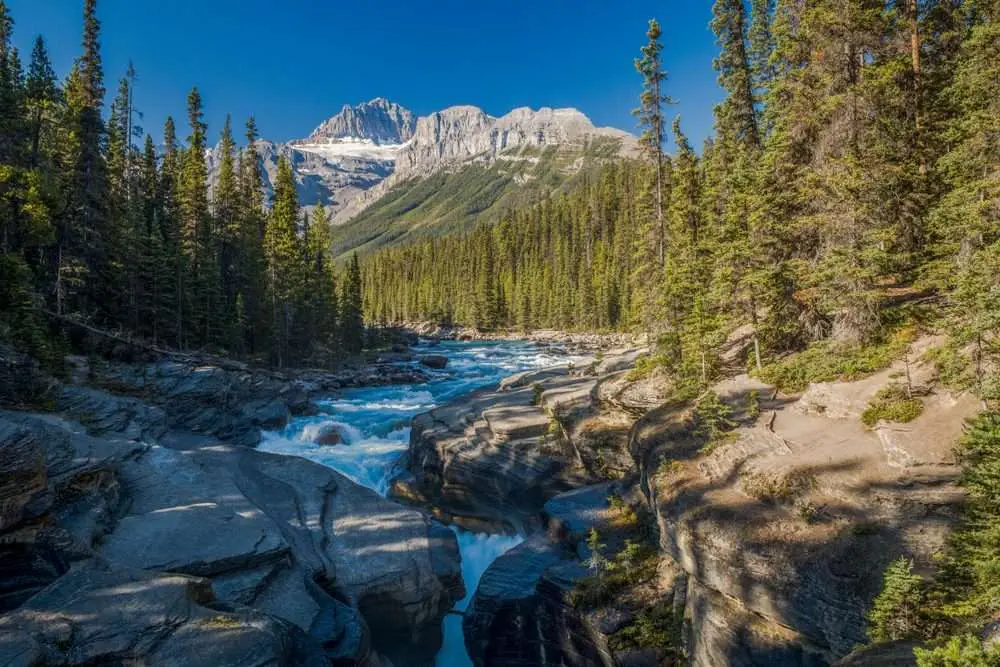 One of the exciting places of Icefields Parkway, the Mista Canyon. It's easily accessible from the car parking area. This canyon holds scenic rocks, among which the lake gushes. The whole scene is like a dreamland. Coniferous forests surround the background. A total beauty to witness.
It remains crowded during peak times. The early morning view is perfect. If you wish to click, pictures visit here during the early morning. The water gives a pale blue color that comes from the melting glacier.
12. Valley of Five Lakes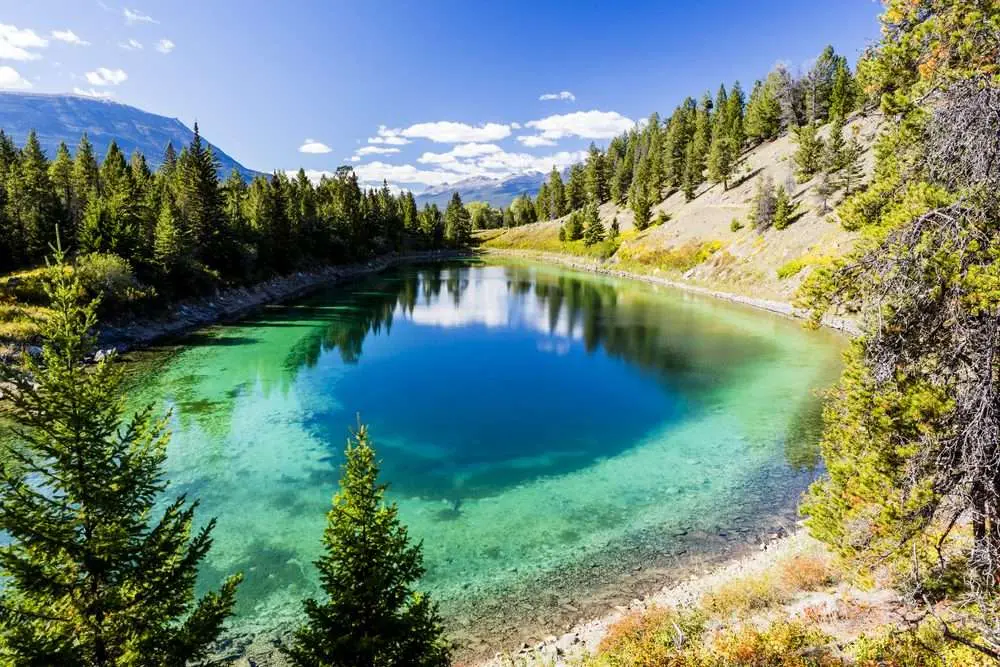 Just close to reaching Jasper is the Valley of Five Lakes. The name itself is incredible. Cover three miles to visit this magnificent five lakes. An ideal hike spot for trekkers in Icefields Parkway.
One of the lakes even forms a heart shape, upon which the surrounding reflection falls. A treat to the eyes. Coniferous trees surround each lake—a perfect exploration on a bright sunny day to witness the colorful lakes.
Trekking difficulty is moderately easy. Do wear good grip shoes that protect you against uneven paths. A must try the route in summers. You won't enjoy this in winter.
13. Old Parkway
Wish to go back in history? Even Icefields Parkway has an old Icefields Parkway. Take the sharp curve from this parkway that leads to Big Hill and Big Bend. On the left side, there's a small path leading downwards.
From Banff rout, this area falls on left while from Jasper, it's on the right side. It's an old road blocked by granite rocks. Cross a small stream to reach here.
The American Navies had built this road. Pass through an old bridge from 1938. View an old crashed car beside the bridge.
There is less information about this road—an offbeat track in Icefields Parkway. Explorers are sure to love this hidden beauty. The road leads to Saskatchewan Glaciers. A place where early American soldiers tried modern ice walking equipment.
14. Abraham Lake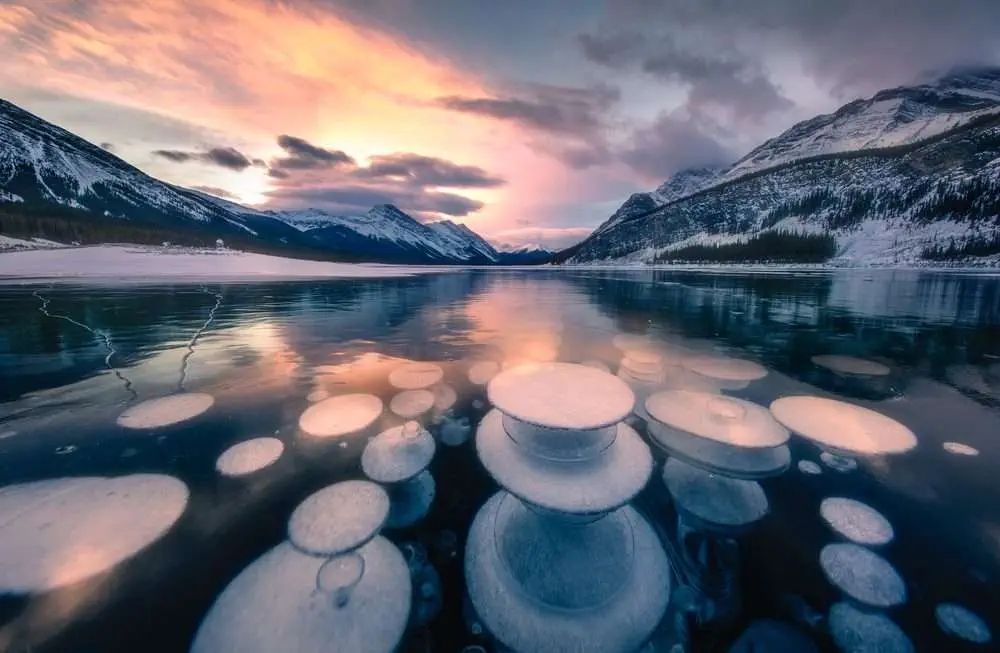 Abraham Lake doesn't belong to either Banff National Park or Jasper National Park. It's a must-visit lake along Icefields Parkway. While you drive, halt for some time near the lake. Visit during summer to experience the pristine blue lake.
In winters the lake freezes, methane bubbles also freeze and create a spectacular moment. Daring ones can try walking on the freezing lake. Watch the gas bubbles trapped in various layers of ice. Have a safe walk on the ice.
15. The Wildlife
The central part of this trip is to open your eyes wide. Icefields Parkway's surroundings are full of life. There is a wide variety of flora and fauna. Spot a variety of animals like grizzly bears, black bears, mountain goats, deer, caribou, mountain lions, big horned sheep, and moose.
Bird lovers can spot different kinds of birds. To enjoy the wildlife here, the best time to travel is at dawn and dusk.
Animals remain active during this period. Check the small streams near the road. It's common to see animals drinking water.
Drive carefully as you may crash with an animal. Let them be as free as they are. It's their home.
Check out the list of wild animals in the Canadian Rockies for more details.
Points to Remember Before Exploring Icefields Parkway
Icefields Parkway is the most famous road. It remains busy almost the whole year. Starting late, you may get stuck in road jams due to overcrowding.
Drive early to feel the chill weather and explore the places. Give yourself enough time to explore. This Parkway is all about good exploration, which requires plenty of time.
This parkway doesn't offer a good dine out. There aren't many places to have a proper lunch. Restaurants are not pocket friendly.
Make sure to pack your lunch. There are enough spots to have a great picnic. Enjoy with your family and friends while munching on a good lunch.
The Columbia Icefields Discovery Centre remains busy all the time. They have a long waiting line for tickets. It's better to book tickets in advance. This will save you time. And you can enjoy Glacier Adventure Tour and Glacier Skywalk.
Each area offers different weather. In some regions, the climate is moderate, while in some, it's windy. Carry layered garments to help you cope with the weather.
I hope this article served your query on how to explore Icefields Parkway. Make a comment on which places you wish to visit here.
Hey, wait!
Sign up to our newsletter and get exclusive discounts!
Want exclusive deals and discounts? We have just the list for you, from web hosting deals to your next Zara purchase.
Get how-to guides to shopping online, starting essentials to launch your business and general life hacks. And get additional discounts when you use our content writing services. Know more here. 
Enter your email address to sign up for our newsletter!