If you're in Malahat and looking forward to your next big adventure, you've got to check out Vancouver Island's newest attraction. Yes, you've guessed it right! We're talking about the spectacular Malahat Skywalk!
1. An Overall View of the Epic Malahat Skywalk Experience
1.1. How To Get There: 
Located on Vancouver Island's Malahat Highway, a 35-minute drive from Victoria, Canada, towards the north of the Malahat Summit and an hour south of Nanaimo, Malahat Skywalk is the best place for you to build a deeper connection with nature.
If you are heading south, skip past the entrance to the turn at Malahat Chalet, and you're good to go!
1.2. Attractions: 
Adorned by a beautiful arbutus forest on all sides, its sightseeing lookout offers enchanting views of the lush green Finlayson arm, Saanich Peninsula, Salish Sea, Mount Baker, and the mesmerizing, distant Coast Mountains.
Moreover, as you tread up the giant spiral ramp of the Malahat Skywalk, you get to see the most breathtaking views of Vancouver Island, with dense forests, magnificent orchards, and bewitching vineyards – a view you're going to cherish for a lifetime!
1.3. Duration:
If you want to enjoy your Malahat Skywalk experience to the fullest, you've just got to take 90 minutes of your day and immerse yourself in the pristine beauty of nature.
1.4. Distance:
The Skywalk consists of a 600-meter, long elevated walkway through amazing views of the beautiful arbutus forest and a 250-meter walk to the top of the spiral tower, all at a gentle incline.
1.5. Accessibility:
The Malahat Skywalk is easily accessible to people of all ages and abilities. The journey consists of the skywalk and the spectacular gentle spiral ramp. The paths are wide enough for two wheelchairs to pass by one another. The washrooms, fully accessible by wheelchairs, are stroller friendly and support similar technologies.
1.6. Best Time To Visit: 
The best part about Malahat Skywalk? You can visit whenever you want! Malahat Skywalk has a lot to offer you, whether dry and sunny or cloudy and misty. On clear days, you can sit back and enjoy stunning views of the mountains and the sea, while on misty days, you can be prepared to delve into the depths of the forest around you and quieten your mind and soul.
The Malahat Skywalk welcomes guests every day from 10 AM to 4 PM off-season.
This uniquely constructed piece of architecture allows you to experience the great outdoors in a fun and accessible way while providing you with an adventure-filled venture wrapped in a peaceful walk through nature.
Scroll down to find more options you can try at this majestic skywalk!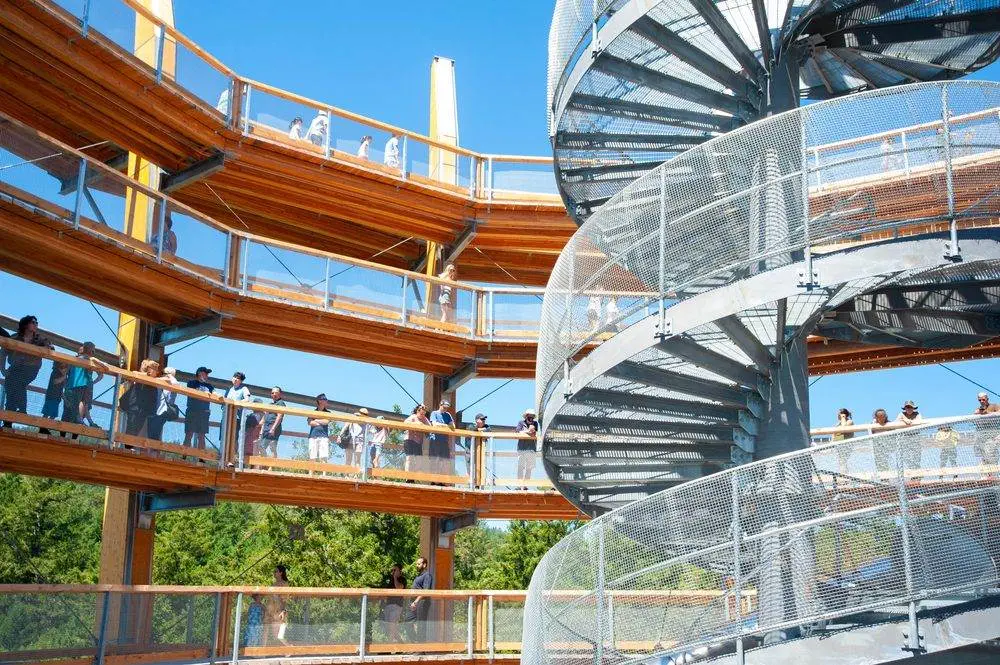 2. Your Online Guide to the Malahat Skywalk on Vancouver Island!
2.1. The Welcome Centre and Gathering Place
As you approach the Malahat Skywalk, your journey starts at the gorgeous Welcome Centre, where you can explore Indigenous art styles of the Coast Salish culture. You can find fascinating driftwood sculptures of cougars, wolves, owls, and several animals native to Vancouver Island. Similar pieces of art like the Thunderbird and a Cedar Canoe, which are integral to the culture of the Coast Salish people, can be found here.
2.2. A Cute Gift Shop for Your Loved Ones
Before you begin your deep dive into nature, check out the well-stocked gift shop at the entry, where you can find a wide variety of cute gifts for your loved ones!
2.3. Check Out the Cozy Cafe
All the adventure and outdoor activities can make you hungry. Drop into Malahat Skywalk's cozy cafe, where you can get your hands on chocolaty coffee, tea, sandwiches, and locally baked goodies.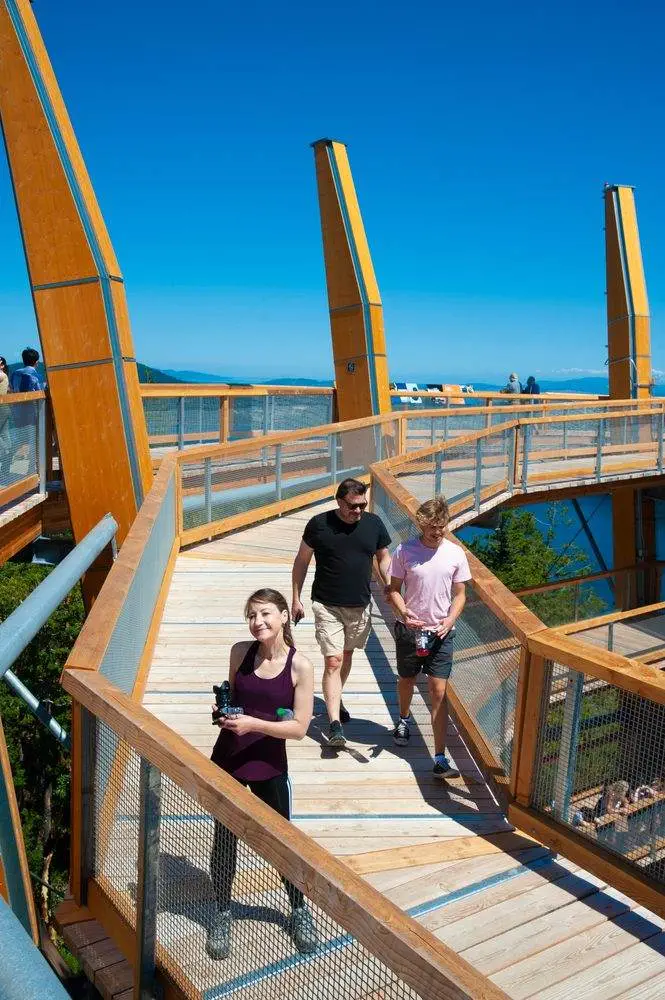 2.4. The Mystifying 600-Meter Malahat Skywalk
Once past the Gathering Place, you head towards a 600-meter elevated wooden walkway and immerse yourself in the vast canopy of Douglas-fir and Arbutus forest. Moreover, the rest stops along the route provide enriching information about Vancouver Island's surrounding natural environment.
2.5. The Charming Spiral Tower
After passing through the grove of beautiful Arbutus trees, you'll find a gigantic Spiral tower awaiting your ascent. This magnificent winding structure which rises to 250 meters above sea level, can be easily accessed by people of all ages and abilities. If you or your loved ones have mobility issues, you've got nothing to worry about! The path is wheelchair and stroller friendly and thus fully accessible to enjoy the scenic beauty of Vancouver Island with your little ones, friends, and family.
2.6. An Enchanting Sightseeing Lookout
Awaiting you at the top of the spectacular gentle spiral ramp is an enormous deck that provides a panoramic sightseeing lookout offering views of sea inlets and mountains from about 250 meters above sea level! The Gulf Islands, Saanich Peninsula, Finlayson Arm, Mount Baker, and the Salish Sea are some of the most enchanting attractions of the Malahat nation that you can lay your eyes on. The guests get 360 degrees of incredible views of the most beautiful fjords, mountains, and the deep blue sea. It is the best place for you to refresh your senses and gain the ultimate natural high!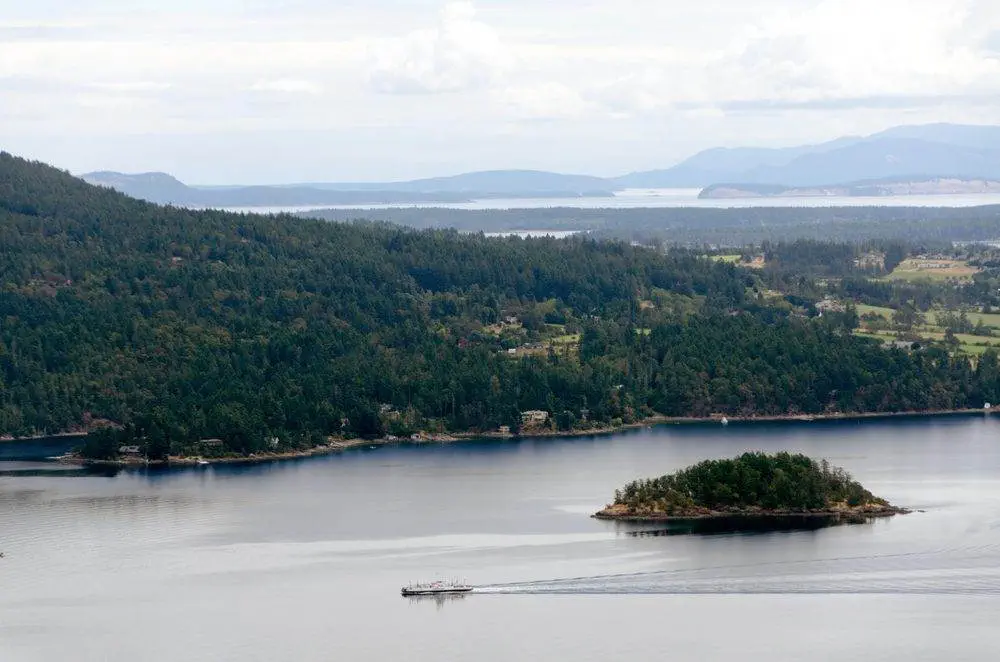 2.7. The Bouncy Adventure Net and Other Fun Stuff
Another incredible attraction awaiting you at the top is a bouncy adventure net suspended partially across the tower. Moreover, this piece of attraction is known to be children's favorite spot to hop into! You can fulfill your childhood dream of walking in the sky, about 250 meters above sea level, as you get an incredible view of the spiraling structure below.
2.8. The Malahat Skywalk Slideshow
Although you've taken a long and laborious walk to the top of the tower, there's a fun way for you to return to the ground level! You can use an exhilarating ride down the 20-meter-long, enclosed spiral slide to get back to the ground level. You'll be given a fabric mat to sit on for a safer experience, then a gentle push, and wheeee! You find yourself on a fun and joyful ride down the spiral slide.
The best part of Malahat Skywalk? Visitors can ride as many times as they want!
2.9. Cantilevered Viewpoint
You find a second lookout at the ground level, where you can sit and enjoy watching families walk to the top of the tower.
2.10. Fun Picnics
You can also spend time with your family in the picnic area and spice up your ultimate natural high with the unique firepit. This place in Malahat Skywalk also has convenient tables to sit at and enjoy a meal.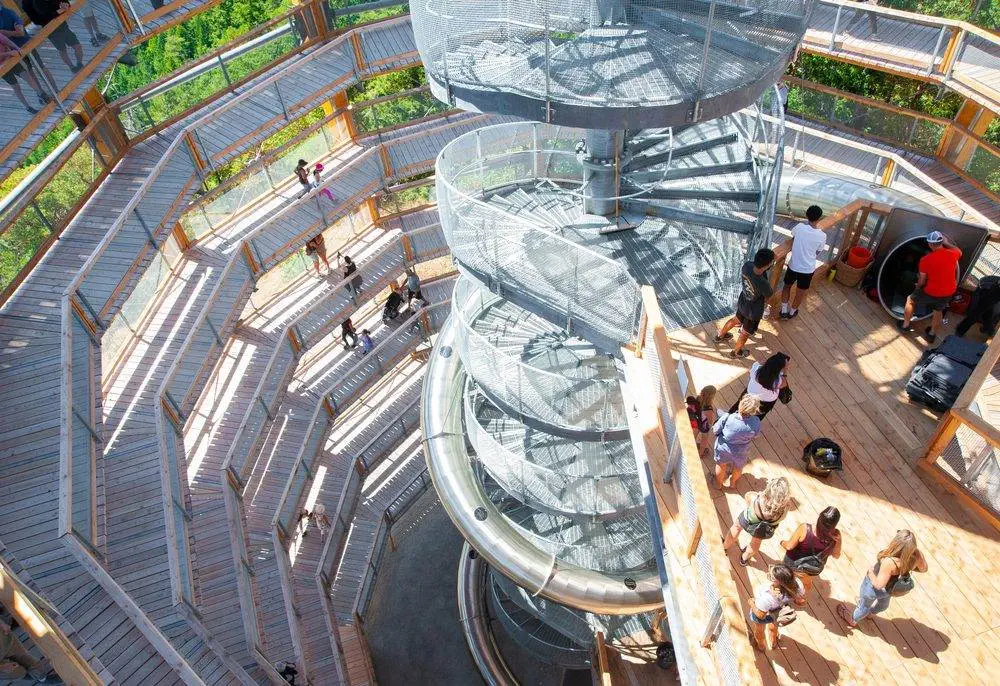 2.11. Other Ground-Level Experiences
You can also come down other ways, like the gravel path through the forest leading back to the Welcome Centre. You'll find beautiful ponds where birds of different varieties like to spend much of their time. You may also come across toads and newts bouncing along the pond.
2.12. A Spooky Halloween by the Ethereal Skywalk
If you're reading this blog in October, you're in for a treat! You're right on time for Malahat Skywalk's Halloween celebration! Button up your Halloween costumes and show up at Malahat Skywalk for trick or treating! Rumor is, you'll find famous magicians, have face painting sessions, and lots of fun activities at the skywalk from 29th October 2022 – 31st October 2022! Open up Malahat Skywalk's Facebook page on your browser to find essential information about the event!
The Takeaway
By the end of this peaceful yet adventurous journey, you'll find yourself reconnected with your surroundings and fully satisfied with a happy family vacation at this new place of attraction. You'll find yourself rejuvenated with joy and a new-found respect for your surroundings and the different cultures that adorn the Malahat Skywalk.
So, when are you planning on heading north of Victoria to experience Vancouver Island's newest favorite – The Malahat Skywalk?
Want to discover more interesting places in Vancouver? Click here and add them to your bucket list!