Want to explore Victoria, Canada but also have time issues? Do not worry; we have chosen the greatest locations for you to visit and amuse yourself. All the places mentioned in this article are worthwhile and will give you the best experience. Are you ready to know the 12 things you can do in Victoria, Canada? Let's begin!
1. An Introduction to Victoria Canada
You must have heard the name Victoria, a beautiful city in Canada. But do you know it's one of the top tourist attractions? Of course, you know, because that's why you are planning a visit. This Pacific coast-based city has a lot of fun and adventure for its tourists.
Victoria City is located at the southern tip of Vancouver Island. It's one of the country's most picturesque cities and the capital of British Columbia. Although many brilliant places surround the city, it is known for its natural beauty. The British Columbia capital city has been rich in annual flower count since the 1970s and has still successfully maintained its position. Victoria is also titled the 'Garden City' internationally.
One of Canada's top tourist destinations, the Victoria area's surrounding natural environment is renowned for its outdoor recreation opportunities. Nevertheless, you should go to Victoria for more reasons than these two, which you will learn about in this article. To make your trip more exciting and memorable, consider some outdoor activities in addition to just exploring.
2. 12 Interesting Things to do in Victoria Canada
2.1. Vancouver Island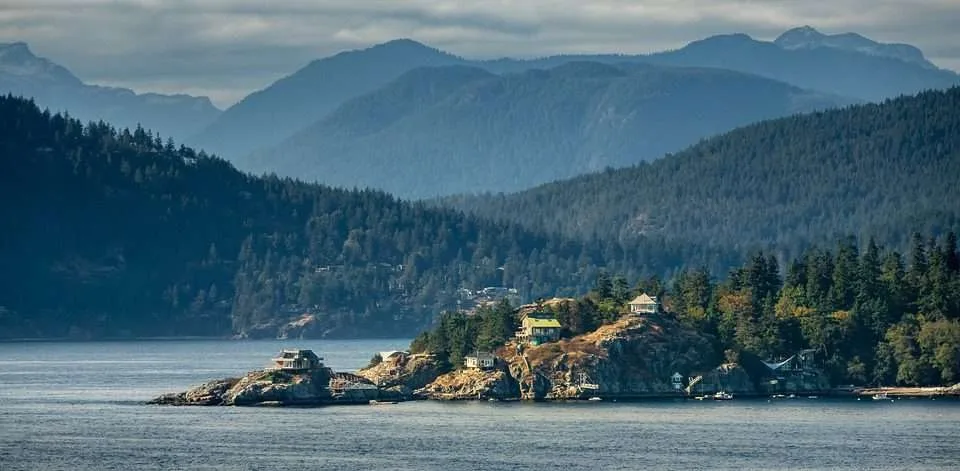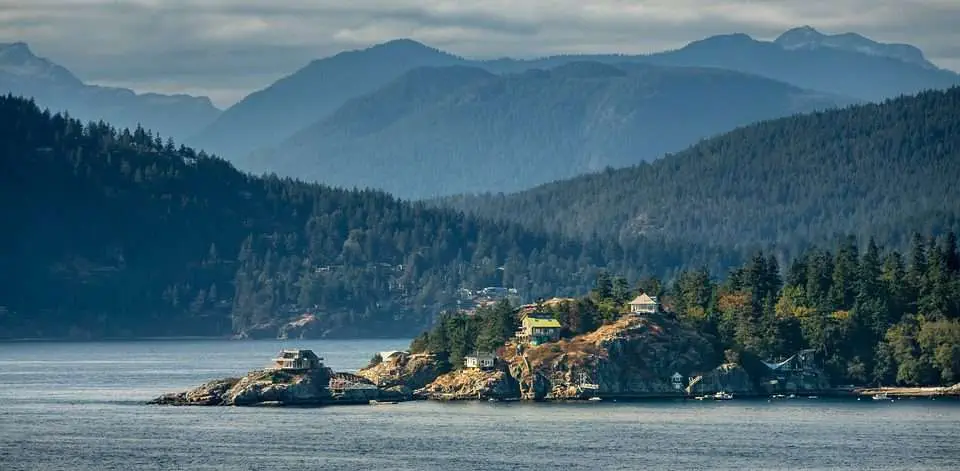 Vancouver Island is a part of the Canadian province of British Columbia and is known for its mild climate and creative arts community. It is also titled 'Crown Colony.' Visiting Vancouver Island during the summer months will be blissful because of its lovely weather conditions. The area of the island is huge and is considered the 11th largest area in Canada.
The large Vancouver Island has a tremendous amount of things to offer. You can see everything, including sea lions, bald eagles, and whales. Due to its breathtaking natural beauty, this island is nothing short of perfection. Black bears can also be seen on Vancouver Island.
2.1.1. 5 Amazing Things to do on Vancouver Island
i) Mountain Biking
Vancouver Island offers some amazing spots for mountain biking. Cumberland is an incorporated village on Vancouver Island's east coast and is one of the top spots on the island for adventure sports. For some reason, if you cannot do mountain biking, you can also try cycling. For mountain biking, you can consider other spots on Vancouver Island: Campbell River, Duncan, and Nanaimo.
ii) Windsurfing
Windsurfing is quite a thrilling water sports activity you can experience on Vancouver Island. The southern tip of Victoria is the perfect spot to perform it, but the accessible shorelines and good weather make this sport more adventurous and fun. Vancouver Island, British Columbia, has so many sites for it. You can try Cadboro Bay beach, Willows beach, Cowichan Lake, Esquimalt lagoon, etc.
iii) Fishing
Many people travel to Vancouver Island each year to go salmon fishing. The most well-liked fishing location is the Campbell River in British Columbia. Campbell River is sometimes called the 'salmon capital' of the world. However, if trout fishing is your thing, you should check out Cowichan, Elk, and the Stamp-Somas river system.
iv) Hiking
Outdoor activities like hiking require a lot of walking, and Vancouver Island has several excellent hiking paths. The Juan de Fuca path is the nicest of all the trails since it allows you to observe the region's natural splendor up close, including sandy beaches, meanders, and Sitka forests. It takes roughly 3–4 days to complete the Juan de Fuca path. You can skip it if you like because all the spectacular sites are accessible from Port Renfrew, which comes on the way of the Juan de Fuca path.
v) Wakeboarding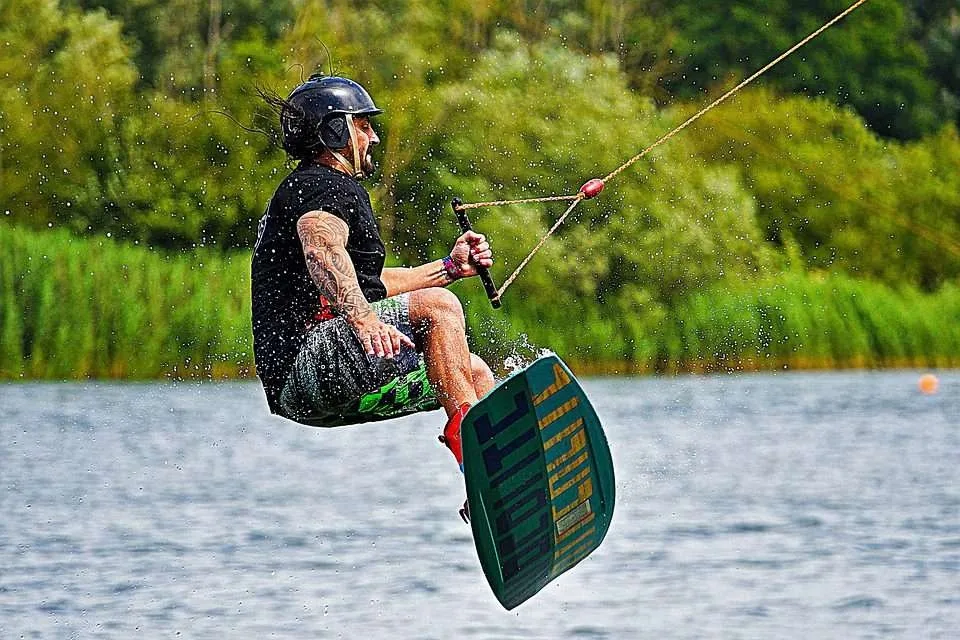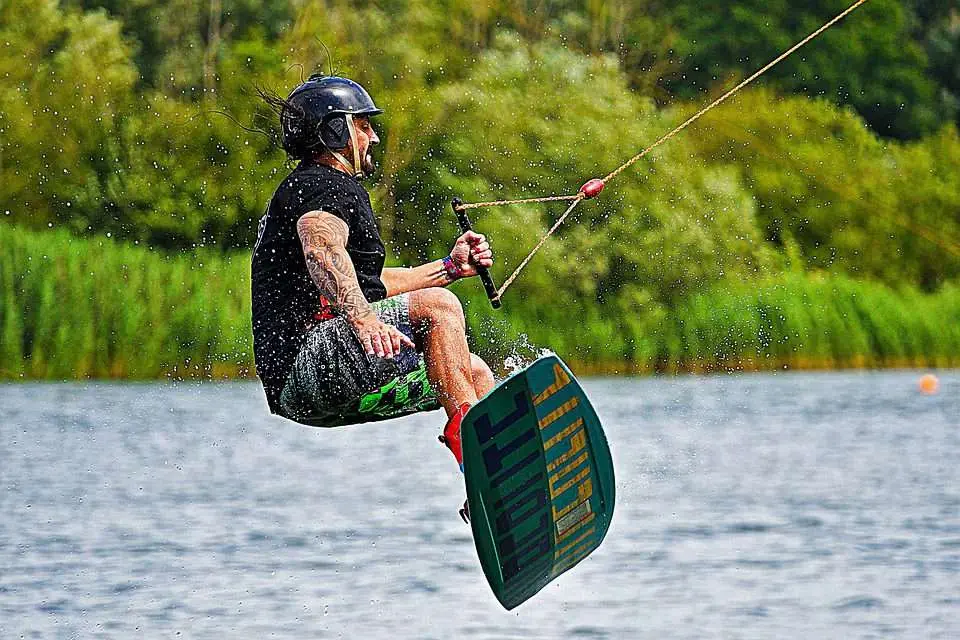 Wakeboarding is one of the super thrilling water sports activities you can do on Vancouver Island. It is risky but quite adventurous because the rider must stand on the wakeboard to participate in this water sport. So, you need proper training before. For wakeboarding on Vancouver Island, British Columbia, you can consider Cowichan Lake, Shawnigan Lake, Comox Lake, and Sproat Lake.
2.2. Royal British Columbia Museum
The Royal British Columbia Museum was constituted in 1886 and included the human and natural history of British Columbia. You can get a chance to learn about things that you never knew before. If you are a historian or interested in learning about this place's natural and modern history, you should visit the Royal BC Museum.
Have you ever seen dinosaurs in your life? If not, what are you waiting for? The Royal BC Museum, also known as the Human History Museum, is considered one of the cultural icons in British Columbia. This natural history museum showcases natural wonders like dinosaurs and includes an IMAX movie theatre.
Every year-round, millions of visitors arrive for a tour of the galleries that have an immersive experience of 550 million years of natural history and 9,000 years of human history in British Columbia. This human history museum on Vancouver Island is a great place to acquire information.
2.2.1. Is the Royal BC Museum Closed?
Not at all, as visitors can still enter the museum. The Royal British Museum did indeed declare that it would close. However, the news only applied to the museum's third-floor art galleries. Visitors can access modern, and natural history exhibits on the museum's first and second levels, respectively. The third floor is closed for safety reasons due to the dismantling of the art galleries. Still, all the specialty stores, IMAX Victoria, and food vendors will operate as usual.
2.3. Beacon Hill Park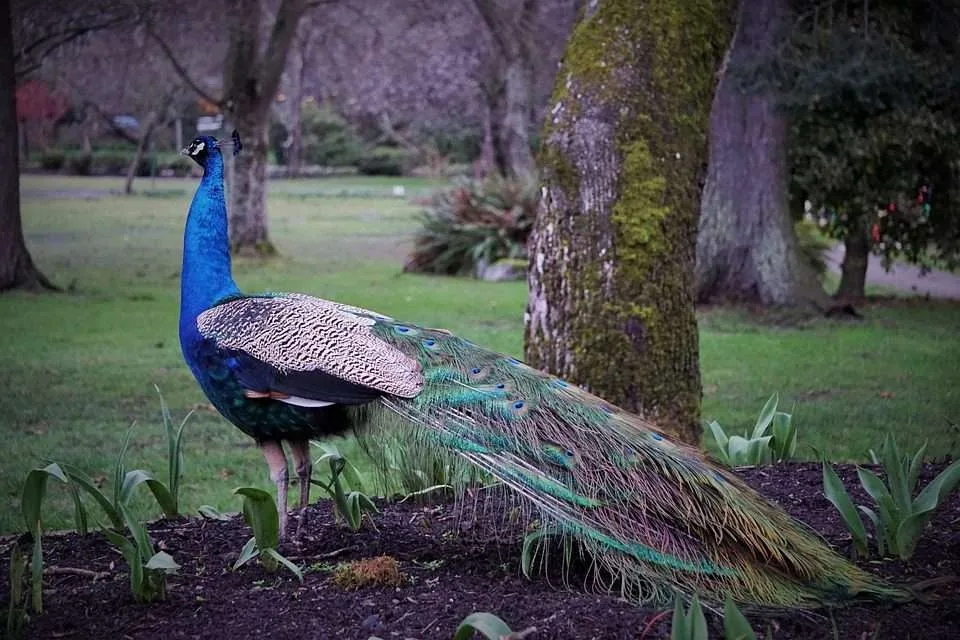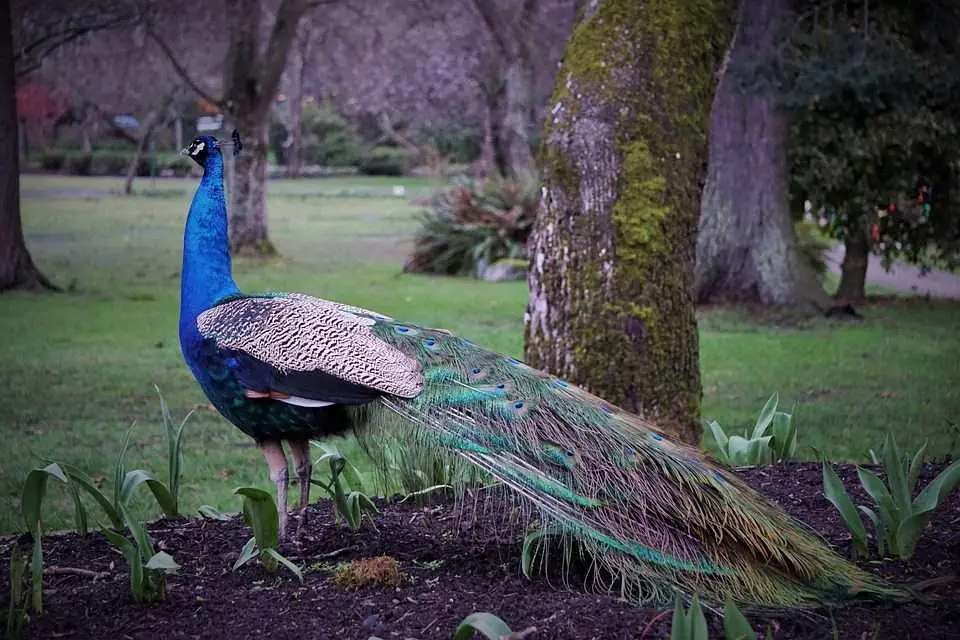 Beacon Hill Park is one of the beautiful places on Vancouver Island in downtown Victoria City. If you adore nature, it's a perfect spot for you as it is filled with natural beauty, including trees, landscaped gardens, ponds, peacocks, and a bandshell. The 200-acre park on Vancouver Island also offers wildlife. In addition, it has a perfect picnic spot where you can sit and relax.
It is centrally located in Victoria, and after visiting, it will also win a place in your heart. The region around Beacon Hill Park is tranquil and covered in beautiful vegetation. While exploring, you might come across other people sitting, walking, running, or exploring. This park may be explored in no more than an hour.
2.3.1. Why is it Popular?
The British Columbia-based Beacon Hill Park is a popular attraction because it has the 'Gary Oak Ecosystem.' Have you ever heard of it before? Most of you haven't because it's a very rare and endangered ecosystem, and it is tougher to find in Canada.
The brilliant blue camas flowers, gorgeous pink shooting stars, and brilliant yellow western buttercups are worth seeing in the spring. Another stunning kind of peacock that may be seen here is the 'Blue Indian Peafowl.' don't miss the chance to visit Victoria City and discover this wonderful place.
2.4. The Butchart Gardens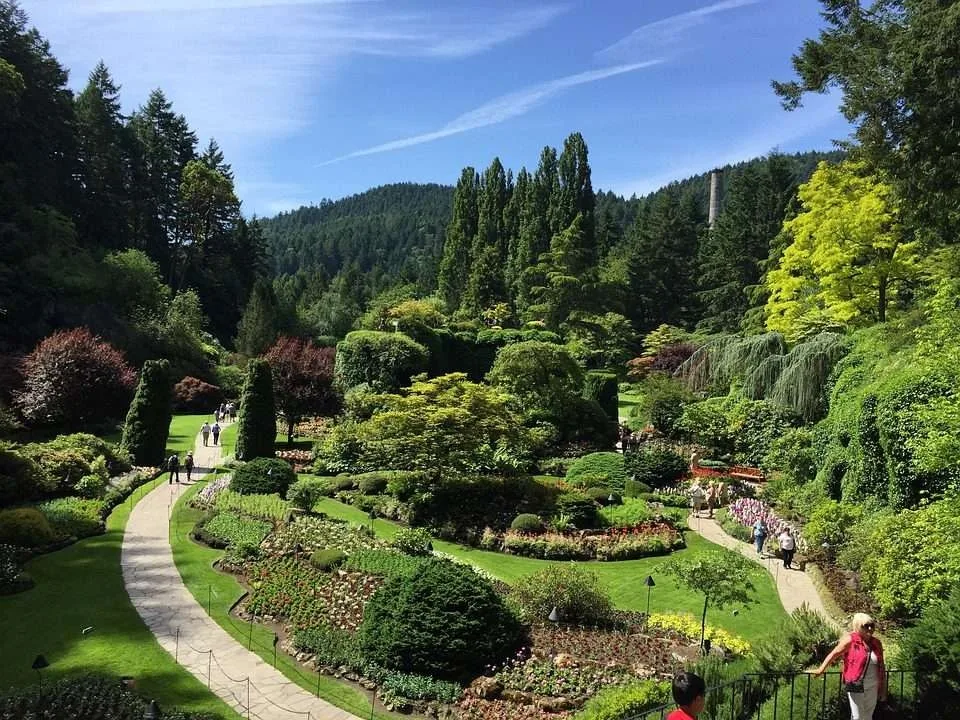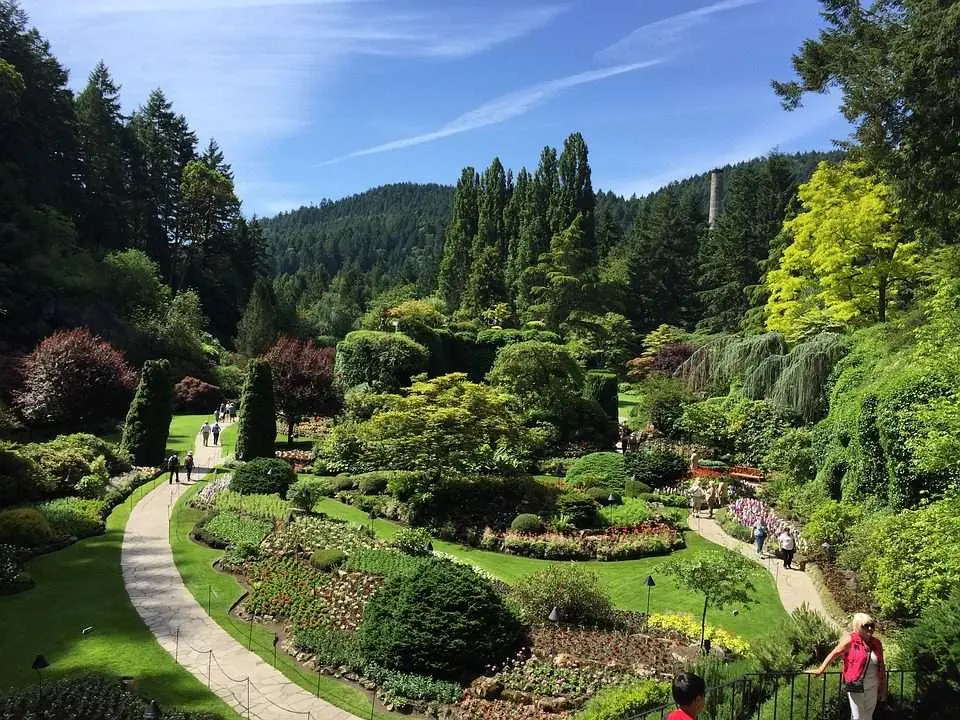 You may have visited many gardens, but have you ever seen a garden that already has 4-5 gardens inside it? The Butchart Gardens in British Columbia, Canada, are a group of floral display gardens. Five main gardens bound it with stunning views of nature.
Butchart Gardens has an amazing history, and according to its official site, it is the oldest garden in Victoria, BC, around 118 years old. It is one of the major reasons why tourists visit Victoria City. The 55-acre Butchart Gardens is considered a 'National Historic Site' in Canada.
2.4.1. The Butchart Gardens' Interior Gardens
i) Rose Garden
The Rose Garden is the most enticing in Butchart Gardens due to its large rose collection. The rose garden is stunning when it is awash with summer blooms. Autumn is the perfect season to explore this rose garden.
You've mostly only seen red, white, or pink roses. Butchart Gardens' rose garden offers a wide variety of roses you may not have seen previously. It features a collection of about 250 roses, which includes floribundas, ramblers, climbers, and hybrid tea roses. Every rose has a beautiful scent. Don't miss the chance to visit Victoria's most beautiful rose garden at Butchart Gardens.
ii) Japanese Garden
The Japanese Garden in Victoria, British Columbia, is a paradise in the city. This location is stunning and makes for an excellent photo opportunity. One of this garden's unique attractions is the waterfalls. Simply close your eyes and listen to the sound of the water; it will help you feel calm and collected.
Due to the park's surrounding area's beautiful atmosphere, you might also think of this location as a gateway for romantic encounters. Downtown Victoria's Butchart Gardens has a lot more to offer. The Japanese Garden at Butchart Gardens offers a tranquil stroll and many types of plants, much like the retreat of Japanese fountains.
iii) Italian Garden
With its array of spring blooms, the Italian Garden at Butchart Gardens is a stunning setting. Pink or purple flowers cover almost the entire surrounding area of the Italian Garden. This lovely park includes grass, a flower-filled view pond, and a bronze-cast statue of Mercury.
2.5. Craigdarroch Castle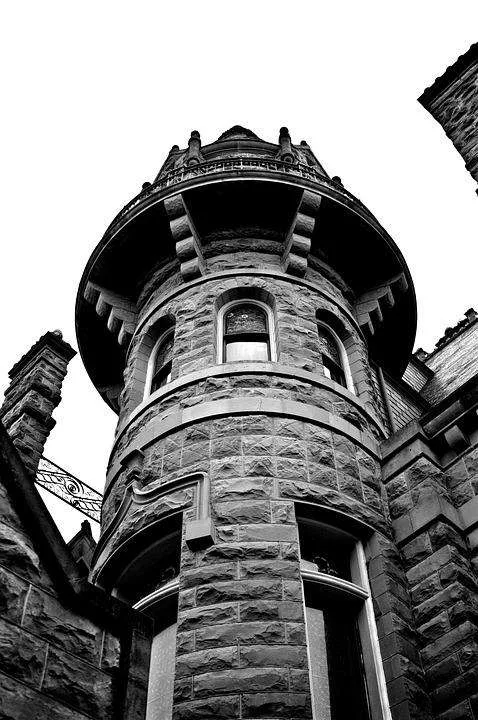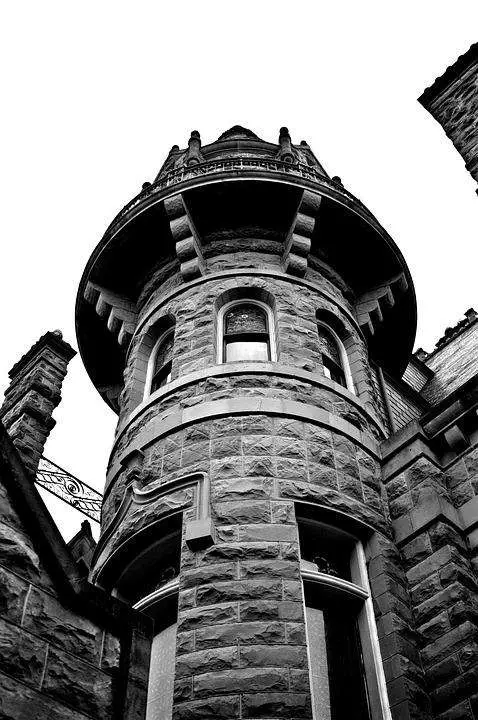 Craigdarroch Castle is a national historic site on Vancouver Island. It's a Victorian-era Scottish baronial mansion in British Columbia that looks royal and classy. This national historic site gives glimpses into the lives of the privileged people of the 1890s.
This place is quite underrated, but you'll see how worthwhile it is once you visit. It has a beautifully decorated house that looks quite interesting. Another thing about this place is that you don't need a guide because it's a self-guided place where you can tour alone.
The Craigdarroch Castle tells a wonderful story about an intriguing family, their accomplishments, relationships, and even eccentricities. This national historic property is both a very large house and a castle. The mansion is as terrifying at night as the fictional Indian horror home. Do you intend to visit Victoria City and its Craigdarroch Castle, then?
2.6. Inner Harbour
Victoria's most highly recommended location is the harbor, which is one of the most recognizable on the entire globe. The government street with parliament buildings and the Empress hotel encircles the Inner Harbour, which is the focus of interest in Victoria West's downtown. The Inner Harbour has many beautiful sites and allows boating too.
The Inner Harbour is the historic neighborhood of Victoria, British Columbia, and also offers some of Victoria's most popular attractions, including the Royal British Columbia Museum and the Parliament Buildings. Staying near the Empress Hotel will allow you to enjoy watching seaplanes without having to leave Victoria's picturesque Inner Harbour.
2.6.1. Why should you Visit Victoria's Inner Harbour?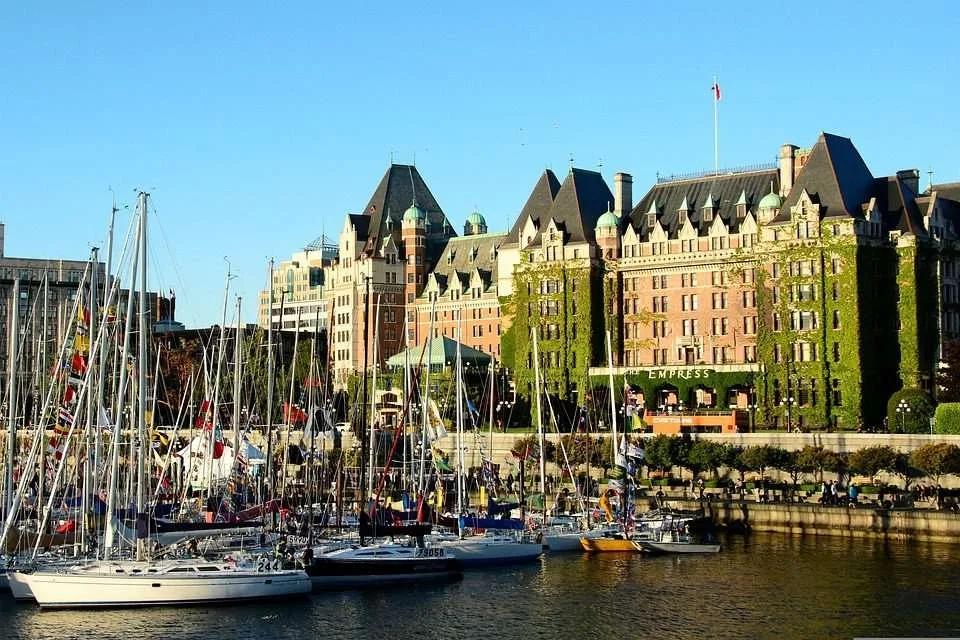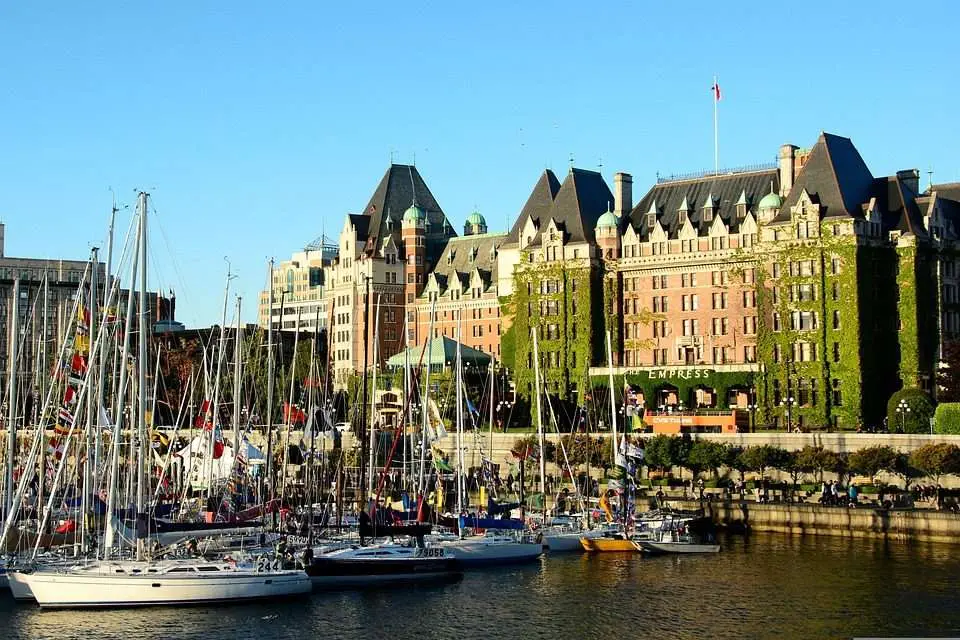 i) The Parliament Buildings
The legislative assembly is located in Victoria City's parliament buildings. The legislative assembly is where official debates and the parliamentary process take place. As Victoria's parliament buildings are the city's most iconic symbols, they are also open to tourists. Some of you may assume that it must be dull because it's a political place. If you believe that, you are mistaken. In Victoria, British Columbia, you can explore the architectural beauty and learn about the legislative assembly's parliamentary procedure.
ii) Victoria Harbour Festival
One of the most lovely and enjoyable festivals is the Victoria Harbour Festival in the Inner Harbour. You may find a lot of artistic things at this festival. At the Victoria Harbour Festival, artists can showcase their skills if they lack a platform. Everyone is welcome on the stage, whether they are well-known artists or street performers.
iii) Breathtaking Views
Victoria's Inner Harbour has a couple of glorious spots you must visit. Here, you can experience wonderful whale watching at Lower Causeway. The history of this place is also interesting, as its historic streets and distinctive architecture will let you experience something unique and different. You can also gain knowledge at Victoria's Inner Harbour and have fun.
iv) The Inner Harbour Foods
Exploring is nothing without food, and most of you agree with me. Don't you? We all love exploring food, and the Inner Harbour in Victoria, BC, has several outstanding restaurants. You can enjoy a delicious meal while enjoying the beauty of the place. The mouth-watering food items you should not miss here are lemonade, mini donuts, afternoon tea, and fish and chips.
v) Hotels
Many hotels are on the right side of the Inner Harbour, but the 'Empress Hotel' is still the iconic building on Government Street in Victoria, British Columbia. In addition to being a hotel, it is a national landmark. The location is impressive, and having afternoon tea there will make it even more enjoyable. The 'Hotel Grand Pacific' is another option for a hotel. Despite being only three minutes from the Inner Harbour, it provides its clients top-notch service.
2.7. Johnson Street Bridge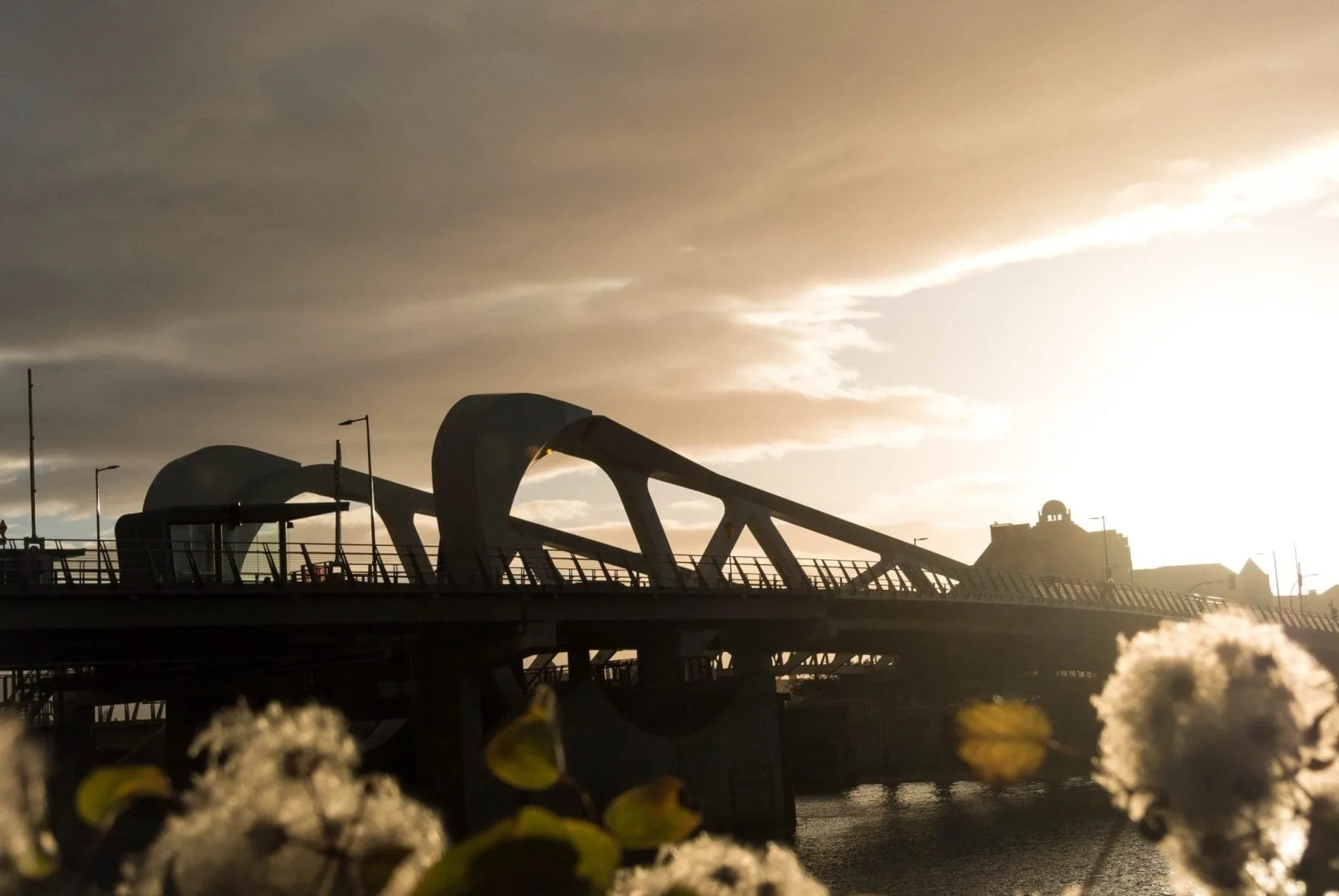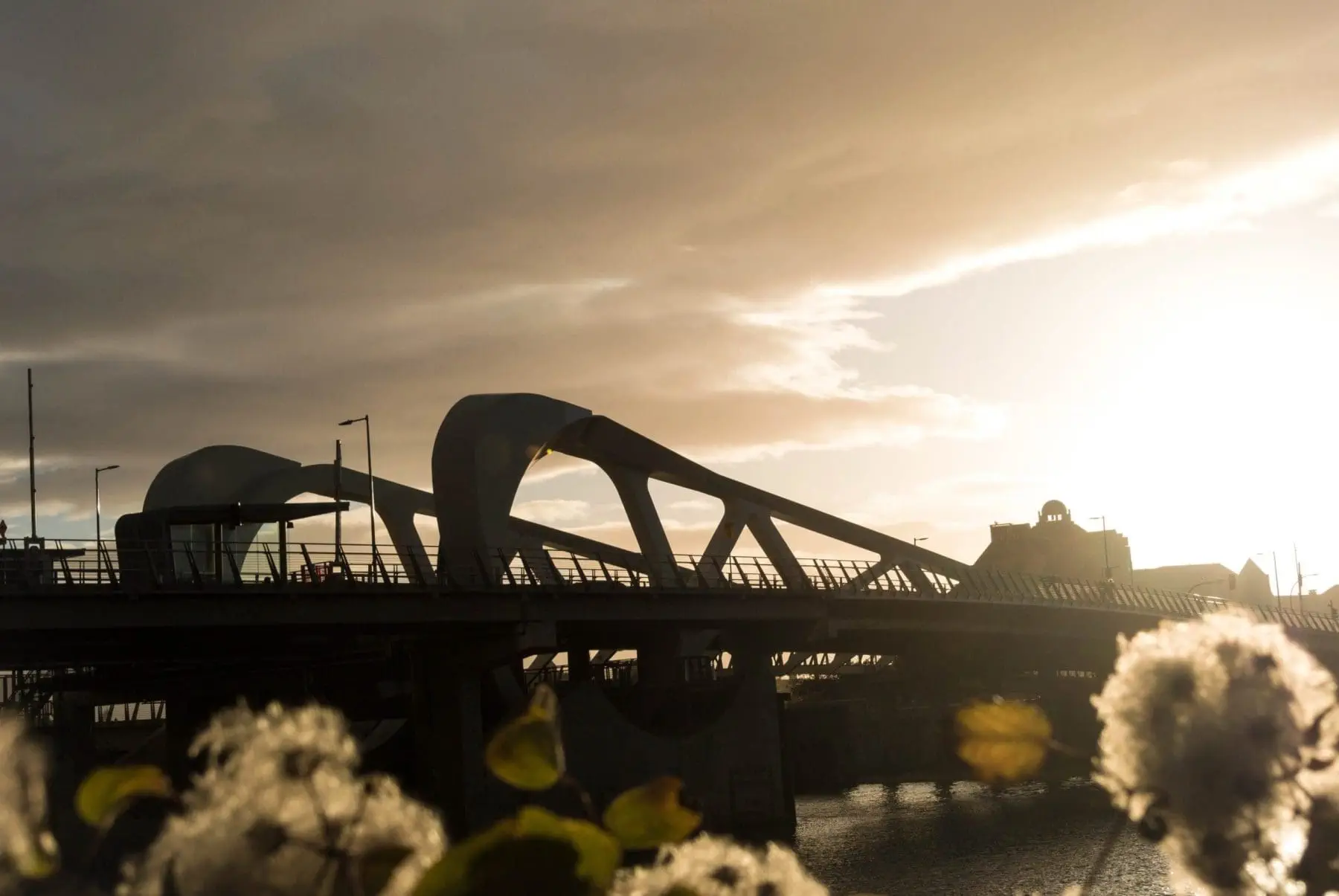 The replacement bridge is located at the top of the Inner Harbour in Victoria, BC. It's Canada's largest single-leaf bascule bridge currently, where you can go whale watching in the deep blue ocean.
The Johnson Bridge in Victoria City took more than 100 years to complete. More time, effort and money were spent on its construction. The construction started in 1920, and the bridge was opened to the public in 2018.
2.7.1. Things to do at Victoria's Johnson Bridge
i) Walking Distance
We often engage in walking, which is healthy for us as well. However, wandering in an area with many amazing sights is a pleasant experience. Victoria City's largest bridge has a pedestrian walkway separated from vehicular traffic. Bring your dogs if you don't have a walking partner because they make wonderful companions. Walking with a buddy can make it more exciting.
ii) Sunset and Sunrise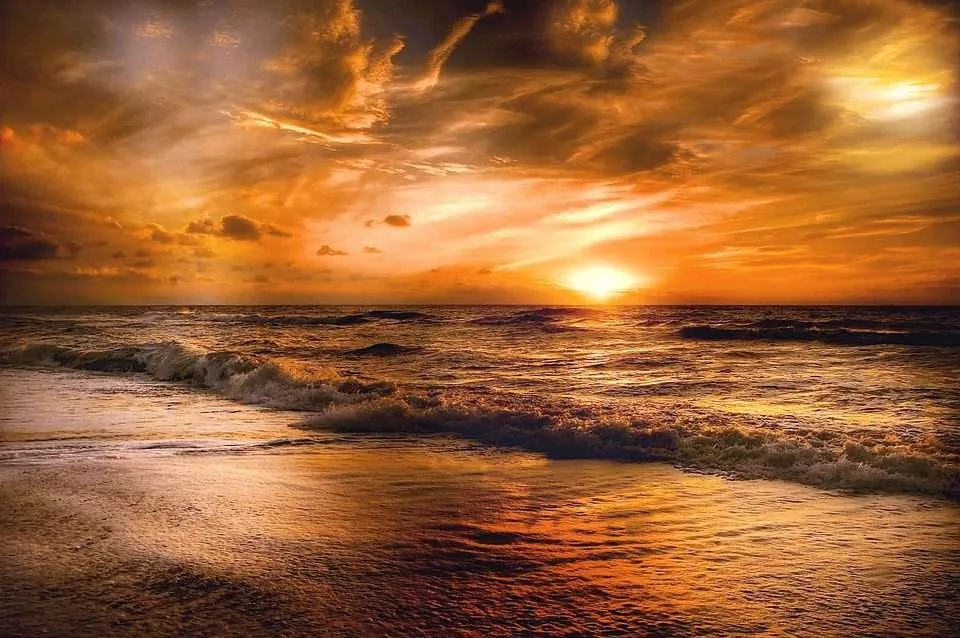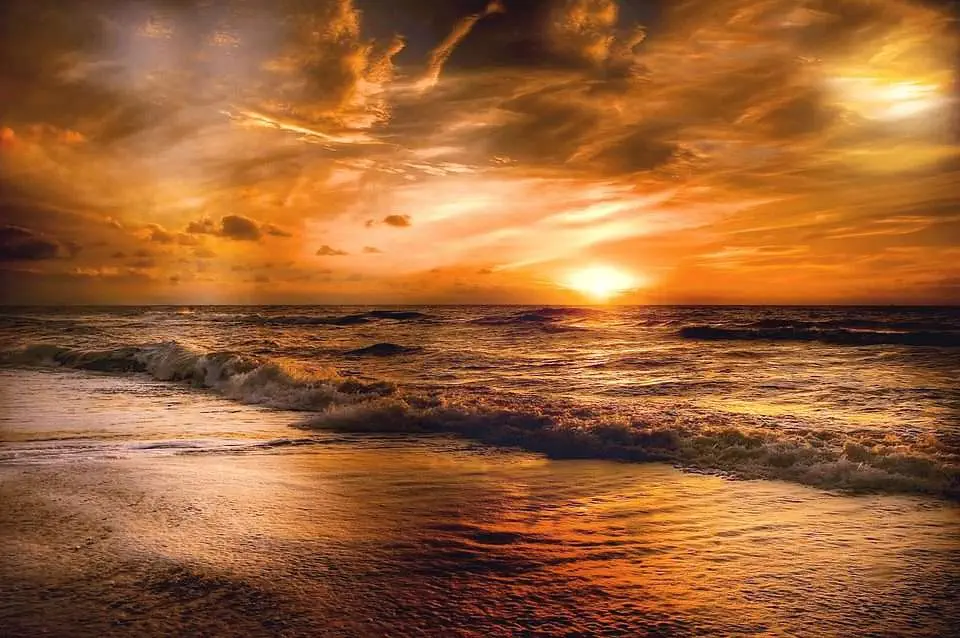 Like walking, sunsets and sunrises are natural processes that happen regularly. But the right place and the right companion can make it beautiful. The fun doesn't stop here because the stars in the sky look shiny and brighter at night.
iii) Capturing Views
Sometimes you just want to stop and take in the views because they are so stunning and eye-catching. Documenting these breathtaking sights is important so that others can see just how amazing this bridge is. It is painted with blue oxide, which makes it stand out at night and gives it the nickname 'blue bridge.'
2.8. Canadian Pacific Railway
The Canadian Pacific Railway, also known as CPR, has always played an important role in tourism. It was built around 1881 and wasn't developed at all then. Victoria's population at that time was smaller, but now, there is a steady growth in its infrastructure, and it is a tourist place in Canada. It also offers lavish guest rooms where you can spot the west coast's natural beauty.
The train travels a 14,700-mile itinerary, taking four different routes from Vancouver to Halifax. When traveling by train, you might come across extravagantly lovely locations, settings, or scenarios you haven't seen before. Therefore, you must not miss this incredible riding experience while visiting Victoria.
2.8.1. What is the Most Scenic Spot on a Train Ride in Canada?
The rocky mountains are the most beautiful scenery you can witness during the train ride. All the landscapes from Victoria, British Columbia, to Alberta are jaw-dropping. If you're a photographer, this ride is an amazing opportunity for you to capture nature's beauty. So treat yourself to a train ride, and make your journey more cheerful and adventurous.
2.9. Victoria's Chinatown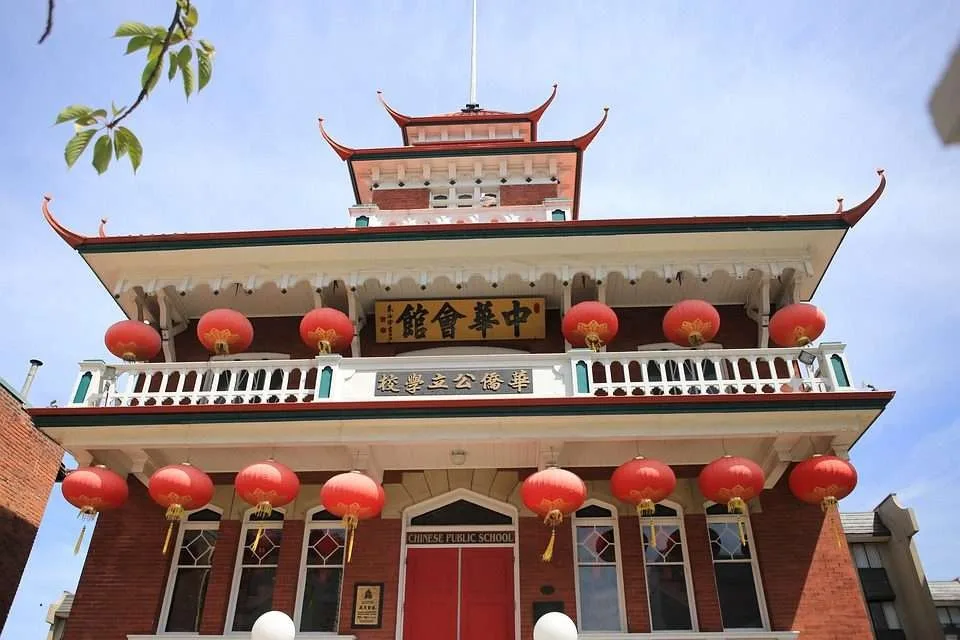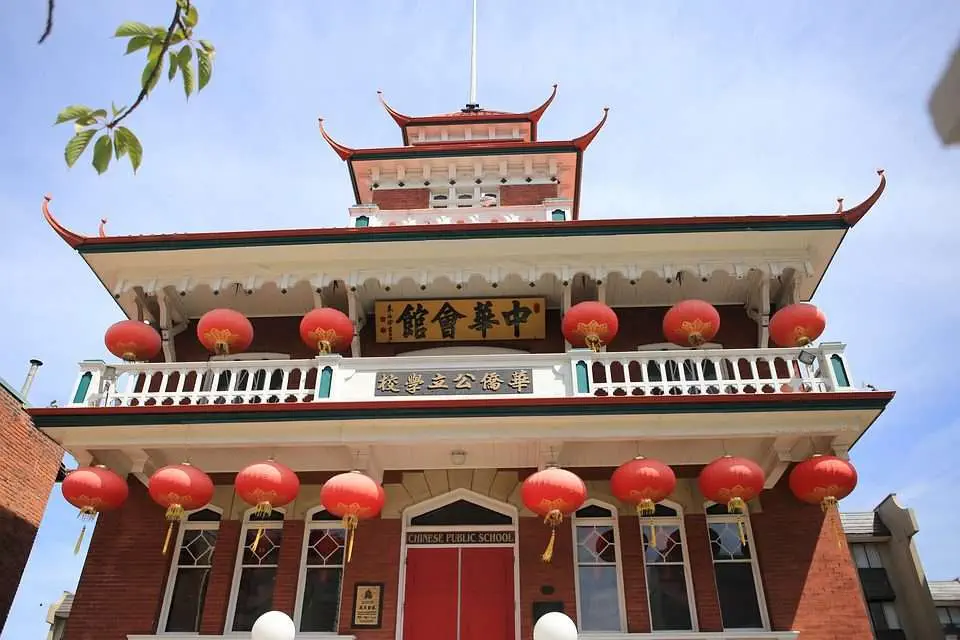 After San Francisco, Victoria, British Columbia's Chinatown is the second-oldest Chinatown in North America. It is a popular tourist destination. Most significantly, this neighborhood is teeming with life. It's an artistic location where you can see many unique things. Unique shops and eateries can be found on the area's winding streets. You can enjoy afternoon tea while sitting and unwinding in restaurants. We all enjoy window shopping, so you should head to the government street between Johnson Bridge and Humboldt Streets.
2.9.1. Why is it Popular?
i) Fisgard Street
The lighthouse on Fisgard Island was the first ever on the West Coast of Canada and is extremely beautiful. You should check out this place in the Chinatown of Victoria City. It is one of the national historical sites located in the downtown area of Victoria City.
ii) Fan Tan Alley
Between Chinatown and Johnson Street lies an avenue called Fan Tan Alley. The tiniest roadway in Canada is an unusual, 3-6 foot alley. All the local food in Victoria can be found here, so if you're a foodie, you can have a fantastic culinary tour. This location used to be a gambling district with restaurants and stores, but it is now a highly popular tourist attraction.
iii) Historic Buildings
Historic buildings are also one of the reasons why tourists like to visit Chinatown. The Sheam and Lee building in the city center of Chinatown in Victoria, BC, is a residential and brick-clad commercial building that many tourists visit every year. These buildings cover both the southern tip of Fisgard Street and the northern part of Fan Tan Alley.
2.10. Thunderbird Park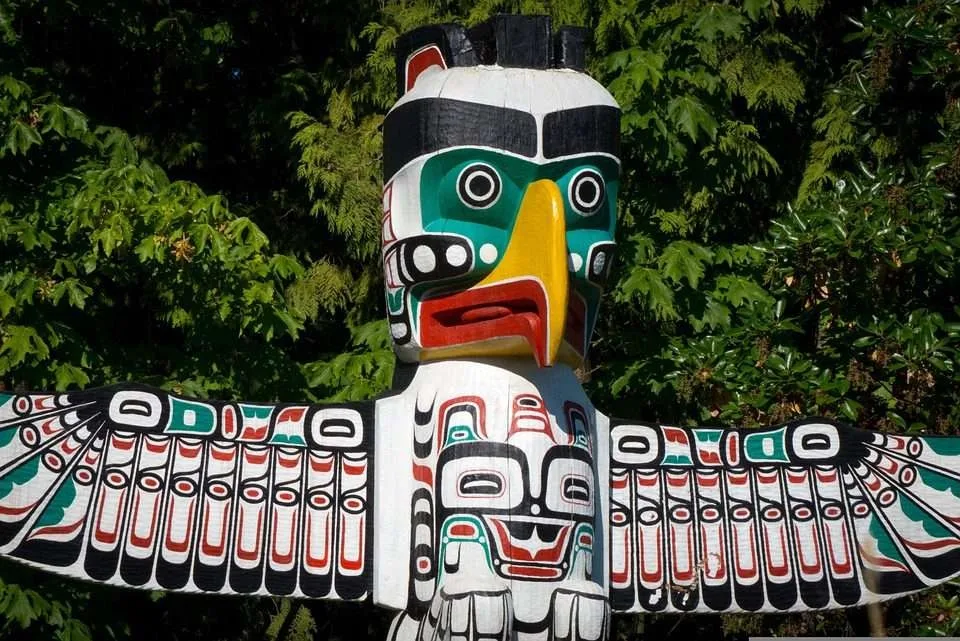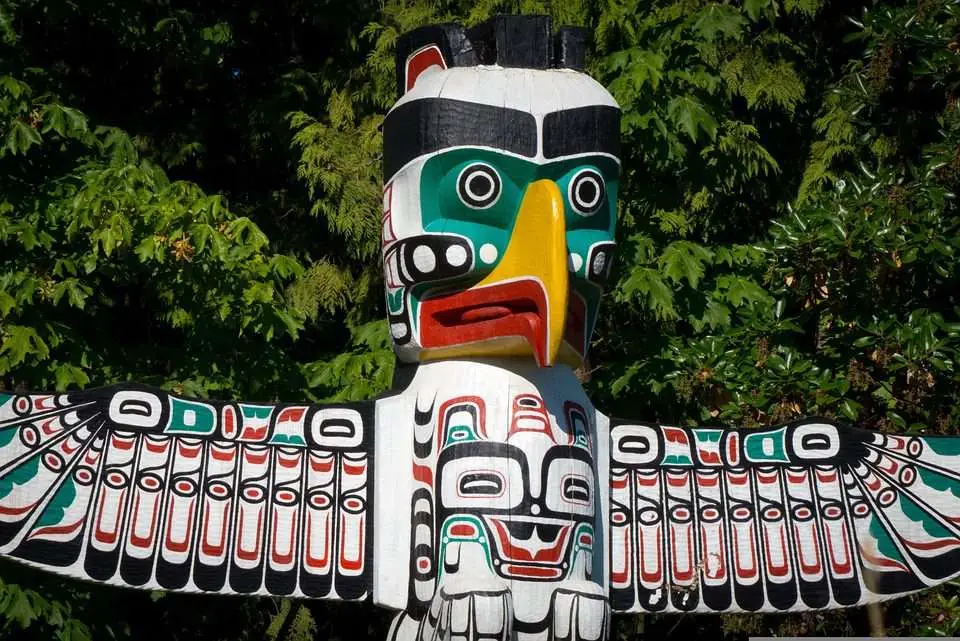 Thunderbird Park near Vancouver is home to many totem poles and other early national monuments. It also features an outdoor collection of totem poles in the downtown core of Victoria and historic buildings, including a convent and a carving studio. It was established in 1941 and was named 'Thunderbird' after the mythological indigenous culture of North America.
The Thunderbird Park near Vancouver will introduce you to the British Columbia province's natural beauty. The display of colorful artwork and cultural monuments at this park is why tourists are attracted to this place. The atmosphere at this park is spiritual and relaxing. You can also learn about different tribes through their creative work on the poles.
2.11. Hatley Castle
Hatley Castle is a national historical site located at the Royal Roads University campus in Greater Victoria. This place features early 1900s mansions with formal gardens. The Greater Victoria, situated at Hatley Castle, also offers a pleasing array of rose, Italian, and Japanese gardens. These gardens were previously used as residences, Royal Roads Military College, and a naval training center.
Many films have been shot here, as Hatley Castle has great locations. This place's gardens are small but worth visiting as the beauty of any site does not depend on its size. While visiting here, you should bring some snacks as there is nothing to purchase, but overall, Hatley Castle is worth visiting and beautiful.
2.12. Fisherman's Wharf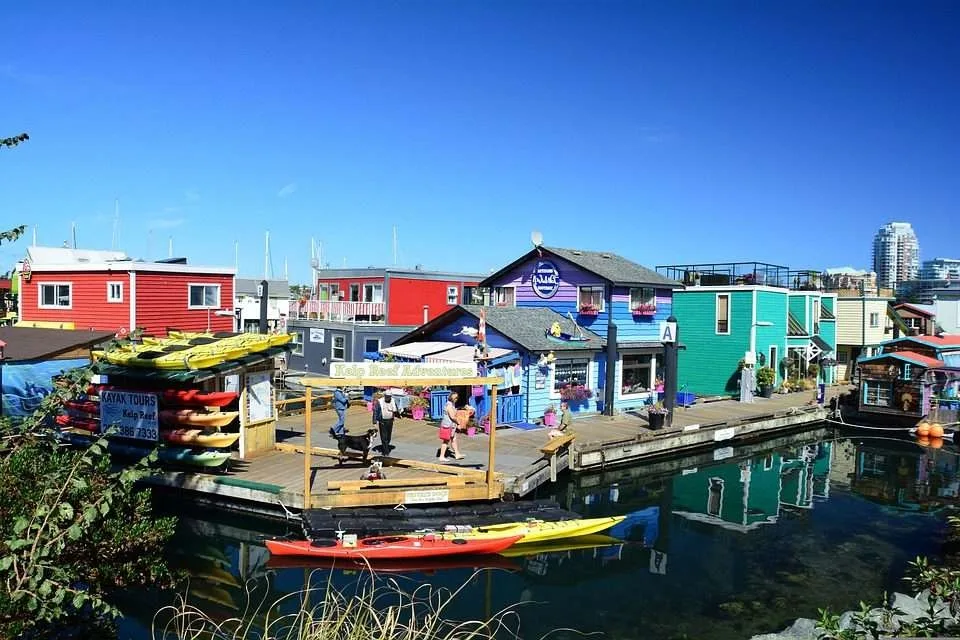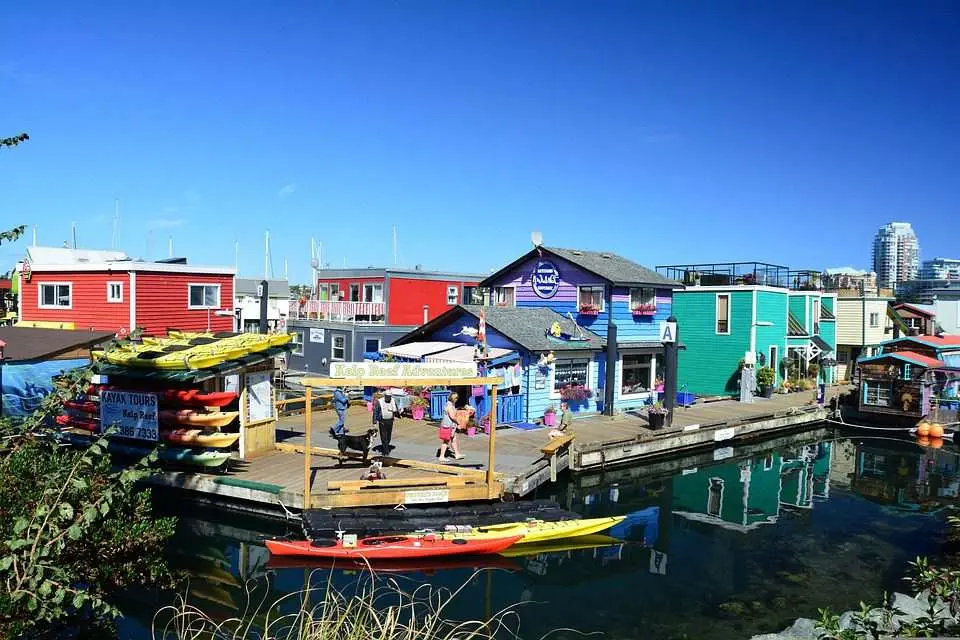 Fisherman's Wharf Park is one of the best locations in Victoria, BC, where you can go whale watching on the west coast and discover some amazing marine life, including bald eagles. This unique Fisherman's Wharf park also offers top spots like great waterfront restaurants, the Francisco Maritime Museum, the Cannery Shopping Center, and the Wax Museum.
Pier 39 in Fisherman's Wharf is the most popular place that offers spectacular views of the maritime museum in Bastion Square, located in the Fisherman's Wharf park. Most of the time, people confuse Fisherman's Wharf Park and Pier 39 as the same, but Pier 39 is just a part of Fisherman's Wharf Park.
3. Victoria Canada: A Must-Visit
The Canadian province of Victoria City offers much more than just the top 12 places mentioned in the article. The city is a true representation of the splendor of nature and is highly recommended if you enjoy the outdoors. Every location in this metropolis has something unique to offer.
Victoria City offers a wide range of fascinating and adventurous activities, more than just natural beauty. How could we possibly forget about the food? The meal is amazing. The location is a whole package of enjoyment in and of itself. What else do you need with a tourist location?
Give yourself a treat by visiting this place. Book your flights as soon as possible and visit Victoria, Canada, to create some lifelong memories. I wish you a happy voyage and enjoyment while you're on it.
Suggested Reads:
The Best Ten Halifax Beaches Worth the Drive
As an Amazon Associate, Icy Canada earns from qualifying purchases.
[amazon_auto_links id="81298"]
The Icy Canada team strives to create content that matters. It's why our content is written by travel writers, authority experts, well-known authors, and niche experts. Our content is also periodically reviewed by expert authors for accuracy and trustworthiness.
As an Amazon Associate, Icy Canada earns from qualifying purchases. [amazon_auto_links id="81298"]