"You see magic if you believe it"  because magic is what you see, comprehend, and take its flavour with you forever. Well, friends, the magic I am talking about here is an art installation, seven magic mountains.
The seven magic mountains are a desert landscape, seven in number, each somewhere about thirty feet high, man-made painted rocks situated within Ivanpah Valley.
Seven magic mountains are a popular attraction for visitors and passersby. The rock wonder was exhibited in May 2016, initially scheduled for two years. But the footfall inspired the Nevada Museum of Art and Art Production Fund to reinstitute again.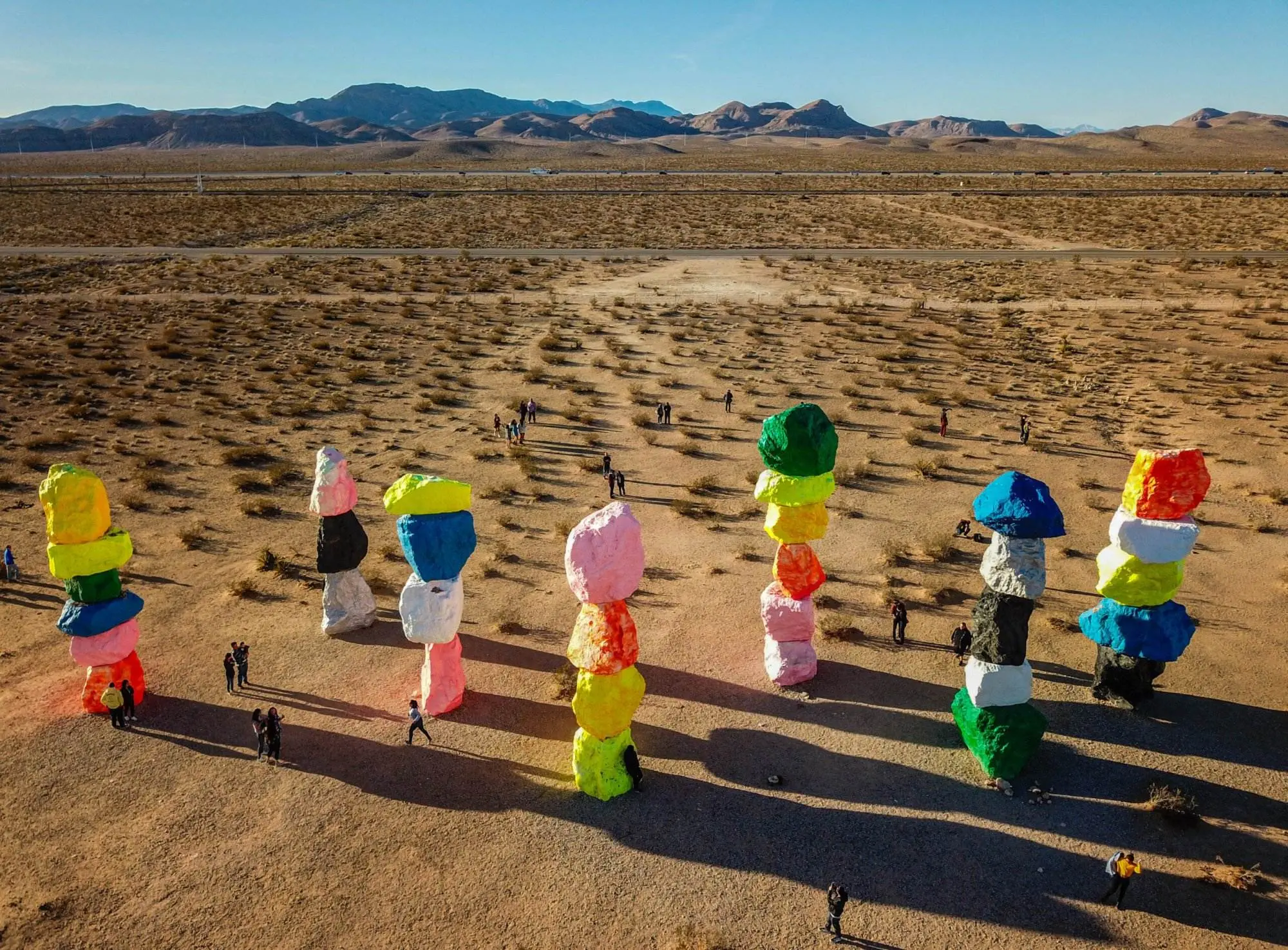 Where is it? For how long? Why? Let's go ahead and unfold all your questions one by one on seven magic mountains and read on.
1. Location-Seven Magic Mountains
So, here is the seven magic mountains address and the drive you may take
Address: S Las Vegas Blvd, Las Vegas, Nevada 89054, United States
If you are moving in and out of Los Angeles and Las Vegas, you must have seen the desert art on the way to either of the town.
1.1. From Las Vegas
So if you are coming from Sin City, take Interstate 15 S to Sloan Rd(exit 25). Then turn left, and it is almost 10 mi southern of Las Vegas, Nevada. With Jean Dry Lake's backdrop, the coloured rocks are on your left.
1.2. From Los Angeles
But if you are coming from LA or San Diego, take north on I-15 to Jean, NV (exit 12).  Then take a right (east) on NV-161 toward Sin City Blvd. Steer for another 5 mi north on Las Vegas Blvd., and the coloured composition will appear on your right.
Park the vehicle in the parking area, and the desert land art installation is merely a short walk away. Look out for interpretive signage on the way to the painted rocks.
Apart from the beautiful backdrop of the Nevada desert, the seven magic mountains are symbolically mid-way between the natural and the artificial. The magic mountains between the natural setting of mountain ranges and Jean Dry Lake, contrasting Interstate 15 and the constant flow of traffic to and fro Los Angeles and Las Vegas, denotes the artificial setting.
2. Who Built the Seven Magic Mountains?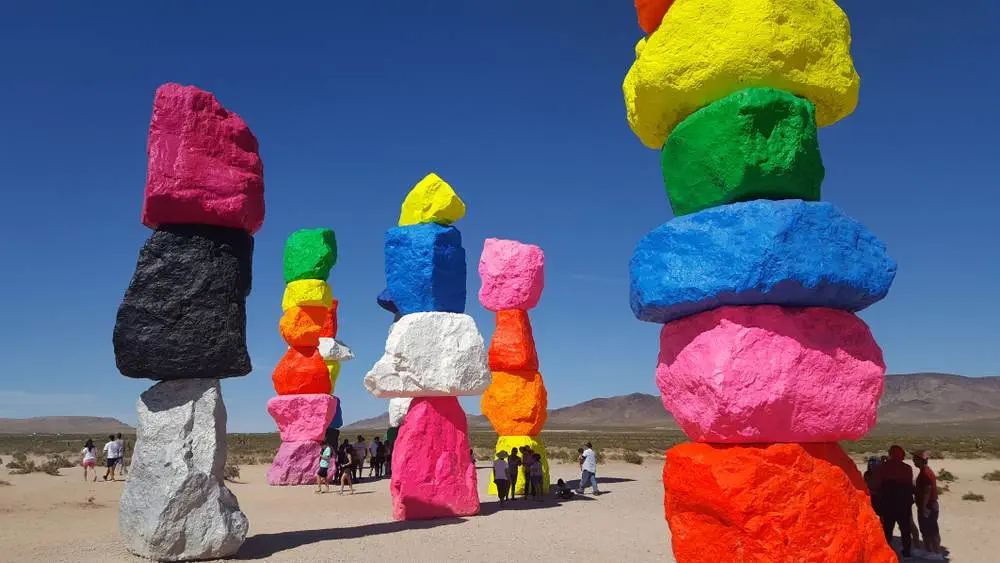 Swiss artist Ugo Rondinone, a renowned artist, and art gallery built the marvellous seven magic mountains in the desert in 2016. It was originally installed for two years.
The incredible success of seven magic mountains drove him to explore ways to keep the Nevada desert art installation on the current site for a longer time. Nevada Museum of Art and Art Production Fund have been working to upkeep, and exhibition opened for another couple of years.
3. How were the Seven Magic Mountains Built?
The effort undertaken by the Swiss artist Ugo Rondinone to build the seven magic mountains is worth mentioning. Here are a few of the steps on how the Seven Magic Mountains were built.
A number of giant boulders were selected.
They were then cut into small boulders.
Next, the hole was drilled straight through each of them.
Then came the main task of selecting boulders that would be stacked together as seven magic mountains.
The stacked boulders were then painted with the colours best suited to each boulder in the stack.
4. Producer of Seven Magic Mountains
Nevada Museum of Art and Art Production Fund is behind all the expenses incurred on stacked boulders standing on Las Vegas Boulevard.
They got the installation done. Not only this, they acknowledged Rondinone's strong desire to keep the artwork at the current site for a longer time. Although they got the nod till 2021, they are now working on an extension plan so that seven magic mountains could stay there for several years.
5. Facts to Keep in Mind Before You Visit
Well, if you are planning to visit, here is the list of points to know before you go
The parking lot is large near seven magic mountain. But during peak hours, you may find it challenging to park. Better wait than park on the roadside.
The seven towers are installed several minutes' walk from the parking lot.
Follow the interpretive signage and use phones for an audio tour.
Don't scribble or scratch the coloured stones. It is an offence.
Summer months turn brutal. The temperature soars at around 40 degrees Celsius during day time. So bring plenty of water and sunshades as the art structure is in the desert.
Though open 24 hours and freely accessible, camping is not allowed.
Bring some snacks if you are planning to spend a few hours here. However, you can expect a food truck near.
No restrooms at the sight of the art installation. The nearest one is five miles away at Jean.
It is public property, so respect flora and fauna and beware of snakes.
You can bring your pets along but do keep checking on them.
Sight is strictly "Leave No Trace."
5.1. Visit Hours
Open 24-hours. The artwork can be accessed from sunrise to sunset.
5.2. Tickets
Nevada Bureau of Land Management is a public art installation and gives you free access.
6. The Souvenir
Your eyes savoured the art, and you snapped your favourite pose with your loved ones. Now, if you wish to take the artwork with you, well, why not order Gianfranco Gorgoni's official seven magic mountains pictures?
You can find tiny stones lying on the bare land near the seven magic mountains. Why not stack these little stones and then click next to the painted boulders? I hope it to a fun activity for you and your loved one.
7. Takeaway
A visit to seven magic mountains is one of the free leisure activities that could be undertaken on Las Vegas Boulevard. Renowned Swiss artist Ugo Rondinone's artificial-coloured rock structure was installed here after several years of planning.
The regular restoration work has kept the artwork up to the mark. Even the organizers are working hard to get an extension of another five years from the Bureau of Land Management and Clark County.
The place is the fine amalgamation of what Rondinone was looking for, natural and artificial. The constant flow of traffic between Las Vegas and LA and I-15 represents artificial and the backdrop of Jean dry lake and the mountain is the natural setting. However, Valley of Fire is yet another must-visit place in Las Vegas.
Hope you keep in mind all the points before visiting the seven magic mountains.