Characterized by rugged mountains and rainforests, Pacific Rim National Park gracefully represents the Pacific Coast Mountains Landscape.
Seated wildly on the Pacific Ocean's coastline in British Columbia, the Pacific Rim National Park is a scenic beauty to breathe in and rejuvenate.
The Pacific Rim National Park is divided into three areas, each having its specialty and beauty to offer.
First is the Long Beach Trail which is easily accessible and welcomes millions of visitors worldwide. Second is the West Coast Trail, and lastly, the Broken Group Islands.
The Pacific Rim National Park Reserve is spread over a wide area of 511-kilometer square and is governed by Parks Canada.
The reserve area is in the category of a protected area with sustainable use of natural resources. Let us explore the beauty of this park according to the areas it is divided into.
1. The Long Beach Trail
The earliest and most popular area for surfing, Long Beach is the largest and longest beach in the Pacific Rim National Park Reserve.
The Tofino-Ucluelet highway parallels this sandy beach on the west coast of Vancouver as it is located on the Wickaninnish Bay between Tofino and Ucluelet.
The sights you can explore in Long Beach are-
1.1 Schnoor Cove Trail
This is a 2-kilometer trail having an elevation of 336 stars. It is a very popular hiking trail as it is short and quite easy. This Pacific Rim National Park trail leads you through lush rainforests and streams that end at a spectacular beachfront.
This beautiful rainforest trail starts on a gravel path, and then the set of wooden stairs continues the journey. The trail quickly turns into a forest with a thickly covered floor of green moss.
There are stairs, a boardwalk, a small valley, and a bridge across small creeks. You will also come across a small valley and, finally, would be welcomed by the rolling sounds of the ocean.
You can walk along the ocean that will lead you to Long Beach and enjoy the serenity.
1.2 Cox Bay and Long Beach Lodge Resort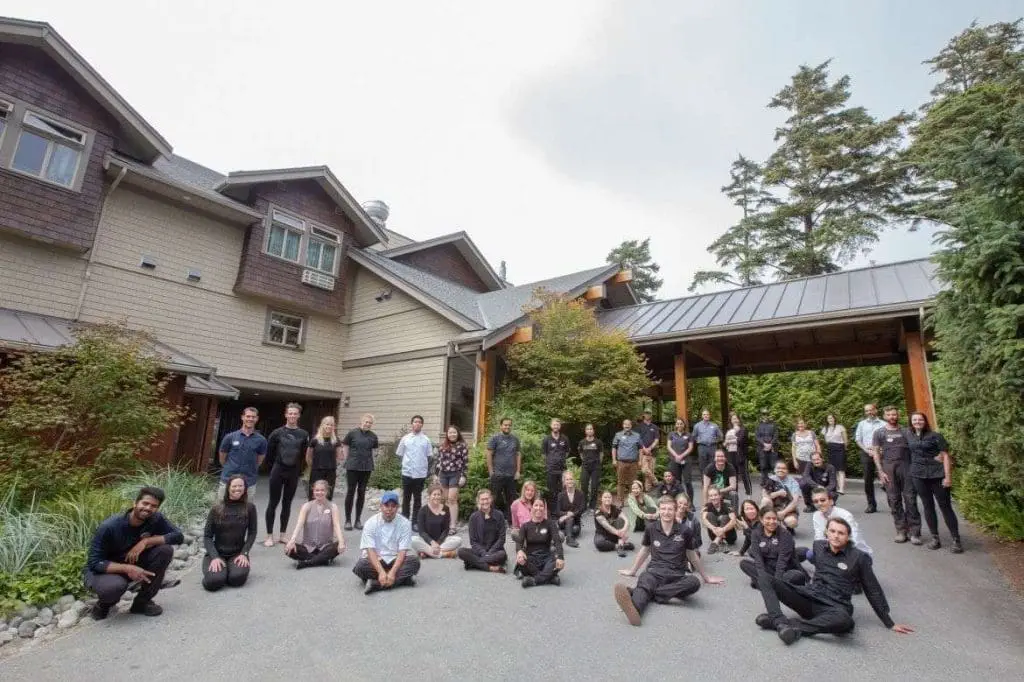 Long Beach Lodge Resort is a family-friendly spot on the edge of Cox Bay and just 5 minutes outside Tofino's humdrum. Cox Bay is to marvel at being one of the most picturesque beaches.
The beach is in a crescent shape with blue and white lapping waves. Cox Bay is ideal for surfing and an occasional dip at sunset.
The Long Beach Lodge Resort is incredible due to its location at Cox Bay. The resort has to offer many activities and amenities right on the resort ground.
You can get a personal cottage or choose among the hotel rooms for lodging. The cottage living experience is one of a kind at the resort.
There is a surf club adventure center outside the resort for getting rental surfboards and surf lessons. The surf club has a spa-style bathroom and change room.
After surfing through the cool splashing waves, and the hot showers at the club have a great time.
If you visit the Long Beach Unit of Pacific Rim National Park, don't forget to spend a day at Cox Bay and Resort.
1.3 Wickaninnish Beach
In the southern part of Long Beach's 16 km of coastline, this beach was named after Chief Wickaninnish, who in the 1700s used to rule the Clayoquot Sound.
The beach is relaxing during summer with its northwest winds. You'd find a line of driftwood, stray floating logs, and debris on the beach.
Know About some of the interesting things about Long Beach and explore more of it.
1.4 Other Activities in Long Beach
Long Beach is 16 kilometers long, and is among the star attractions of Pacific Rim National Park. You can enjoy walking on the beach when the tide is out. You would have a great time surfing on Long Beach and Chesterman Beach.
There are many hiking trails and old-growth forests. Apart from the Schooner Cove Trail, there is South Beach Trail and the Wild Pacific Trail.
The latter one is a comparatively longer trail having more rugged landscapes. You can find many other beautiful hikes in Tofino.
You can visit Long Beach in the fall or winter for Storm Watching and witness a spectacular display of nature. If you enjoy wildlife viewing, catch up on a whale-watching tour.
Kayaking is also available around the Clayoquot Sound. A bear-watching tour is also available here. You can walk through Tofino Botanical Gardens.
To catch a bird's view of mountains, coastlines, and lakes, take a Scenic Flight. There are floatplanes and helicopters for 20 minutes to 5 hours.
As per your choice, the pilot can land you on a glacier, an alpine lake, or some remote and hidden hot spring. This is one of a kind experience that you shouldn't miss.
A high point of land, i.e., Radar Hill, gives you some gorgeous panoramic views of the region. If you're a fishing enthusiast, go for deep-sea fishing in the waters of the Pacific.
You'll find many luxury and mid-range hotels and resorts that will provide you with an itinerary, including many activities.
Have an unforgettable time at Long Beach Unit and explore the Pacific Rim National Park Reserve's most loved section.
2. The West Coast Trail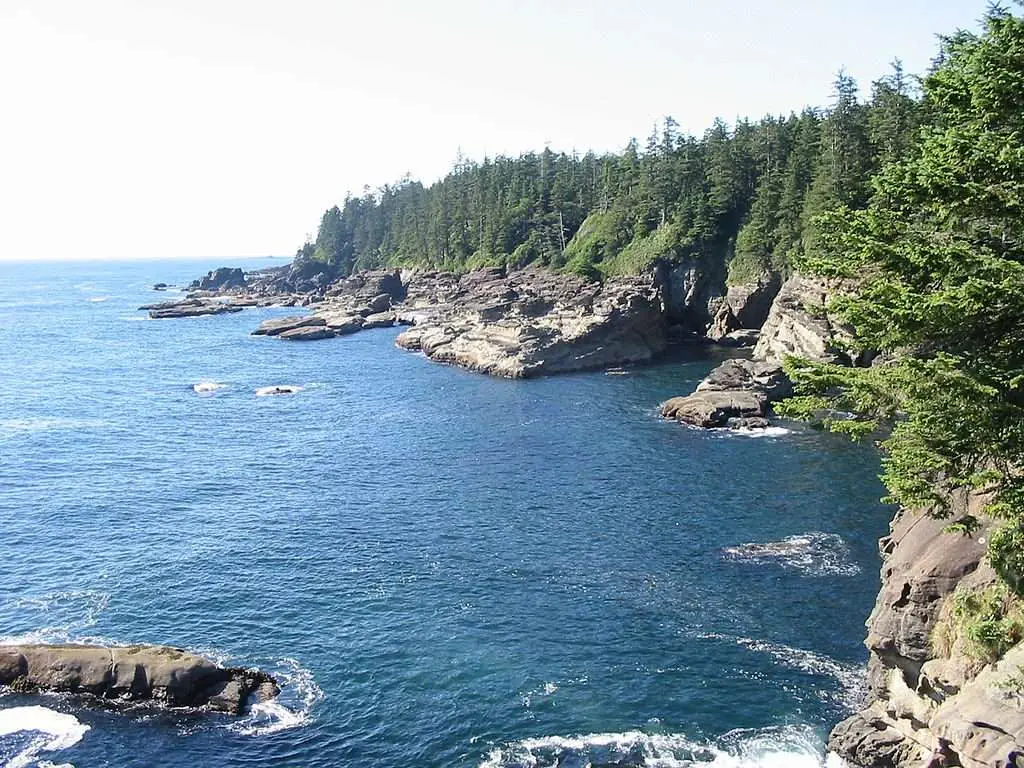 The West Coast Trail is iconic, a multi-day backpacking trail on the bucket list of many enthusiastic hikers. It is a challenging trail, and even experienced hikers are brought to their knees after its experience.
You have to be prepared mentally, physically, and equipment-wise to climb around 100 ladders with a pack on your back. You will cross through deep mud, mountain-fed rivers, hip-dip waters that are fast-flowing, and a lot more.
Yes, this 75-kilometer trail, yes, you're reading it right, 75 KM, was a part of ancient paths and paddle routes used for trading by First Nations.
If the route is iconic, then so would its history. Huuay-aht, Ditidaht, and Pacheedaht Villages were established before the foreign sailing ships arrived around 200 years ago.
Many ships used to sail through the Juan de Fuca Strait, and as a result, many shipwrecks and drownings happened on the coast. With passing time, the coastline started to be known as "the Graveyard of the Pacific." Interesting, isn't it?
There is a Nitinaht Trailhead, which is an adventure of 3-5 days. This is a midpoint kind of the West Coast Trail. The entrance to this trail is at the Nitinaht Narrows, which is accessible only through a water taxi from Nitinaht Village.
The West Coast Trail can be overwhelming for most experienced hikers, and this trail allows enthusiasts to tackle a shorter region.
Check out some of the Best Hiking Trails in Tofino just here.
2.1 Challenges of the Trail
You have to be prepared for many challenges if you're thinking of seeking adventure in the West Coast Trail region of Pacific Rim National Park.
Firstly, you'll have to spend around 6-8 days in the backcountry region, and the ground can be rugged, uneven, and muddy with slippery conditions.
You will have to wade rivers and climb ladders on the way. You might have to use cable cars to follow a rough trail with steep slopes. The structures might be damaged along the way, and their maintenance is still ongoing.
If you're to spend days hiking the trail, you will have to bear the temperate rainforest climate. Heavy rainfall is possible at any time and frequent falls in May and June. Fog is also common, especially around July and August.
The hikers who are experienced in overnight backpacking and can hike long distances through rough terrain with a heavy backpack along with recurring scraps, knee, back, or ankle injuries should plan a hike through West Coast Trail.
It would help if you also were prepared to experience the wilderness through and through.
2.2 Packing and Planning
You must be prepared well for things that might be required along the hike. You have to use lightweight yet, good-quality equipment to avoid accidents. Your backpack should weigh around 25 to 30 percent of your body weight.
Wear sturdy boots, and make sure to break in new boots on this hike. You can wear sandals or running shoes around camp areas and for the river crossing. You should have rainwear and warm clothing, both.
A tent, quick-cook food with lightweight stove and fuel, sleeping bag, first aid kit, 15 meters of synthetic rope, and other things that might be necessary like a fire starter, garbage bags, flashlights, toiletries, few utensils, and weather radio.
If you are an adventure seeker and hiking enthusiast, start with short trails and build some hiking experience. If you are experienced enough, then the West Coast Trail of the Pacific Rim National Park Reserve will give you goosebumps and make you feel heavenly.
3. The Broken Group Islands Trail
In the middle of Barkley Sound on the west coast of Vancouver Island lies the Broken Group Island Unit of Pacific Rim National Park Reserve.
This includes the Long Beach between Ucluelet and Tofino to Barkley Sound's northwest. To the Southeast of it lies the West Coast Trail between Port Renfrew and Bamfield.
An island is a unit that consists of over 100 islands and islets. There are lots of rocky outcrops scattered. The area is almost 10,607 hectares, of which only 1350 hectares is land area. The paddlers and boaters love this island for its experience.
The popularity of these Broken Group islands is due to the relishing experience of sheltered water. The sea kayakers can easily reach Port Alberni and Ucluelet's islands, which adds to the charm.
The Broken Group Island is majorly known for kayaking and wilderness camping. Being desolate islands that include lagoons, sandbars, blowholes, village fortifications, stone fish traps, and archaeological sites, they are like an escape from the daily nuisance of life.
Kayak is a perfect way to explore the Broken Group Islands' magnificent trees, white sand beaches, wildlife, and marine life.
These parts of the Pacific Rim National Park have the calmest and purest waters in the pacific. Kayaking through them feels like gliding through the glass, and their beauty is splendid.
You can come across natural sea caves, and geological delights and know a lot more about the history of First Nations culture. The Broken Group Islands have a history and culture that is 4500 to 8500 years old.
You come across rich wildlife and spot seals, sea lions, eagles, mink, otters, sea stars, crabs, anemones, and many shorebirds.
Whales migrate through these islands, and you might be lucky to spot a gray whale around February to April. You could even add boating and paddling to your trip.
There are certain camping areas designated on the Broken Group Islands. There are solar composting outhouses at these camping sites. There are certain regulations for camping which you will have to know beforehand.
Know about the camping experience at Pacific Rim National Park through this video.
Sights to Explore on the Broken Group Island
Experience the scenic waters and finest fishing at Barkley Sound. You can enjoy the area by boat and enjoy sightseeing.
Have a good time at an irregularly shaped Benson Island. The shoreline is mostly rugged and has two rock beaches. There is a large cultural shell midden at the northeast beach and a small blowhole active during high tides.
There is a Wild Pacific Trail, which is a beautiful tree-topped hike that overlooks the rugged coastline. This is also known as the Ucluelet Lighthouse Loop.
There are other spots like Effingham island, Dodd Island, Amphitheatre Point Lighthouse, Turret Island, Ucluelet Aquarium, and others. Choose your spot and breath in beauty everywhere.
Pacific Rim National Park – Final Words
The exploration of Pacific Rim National Park is an extraordinary experience that can hardly be summed up in words. It has many spots, trails, beaches, resorts, activities, and fun to offer.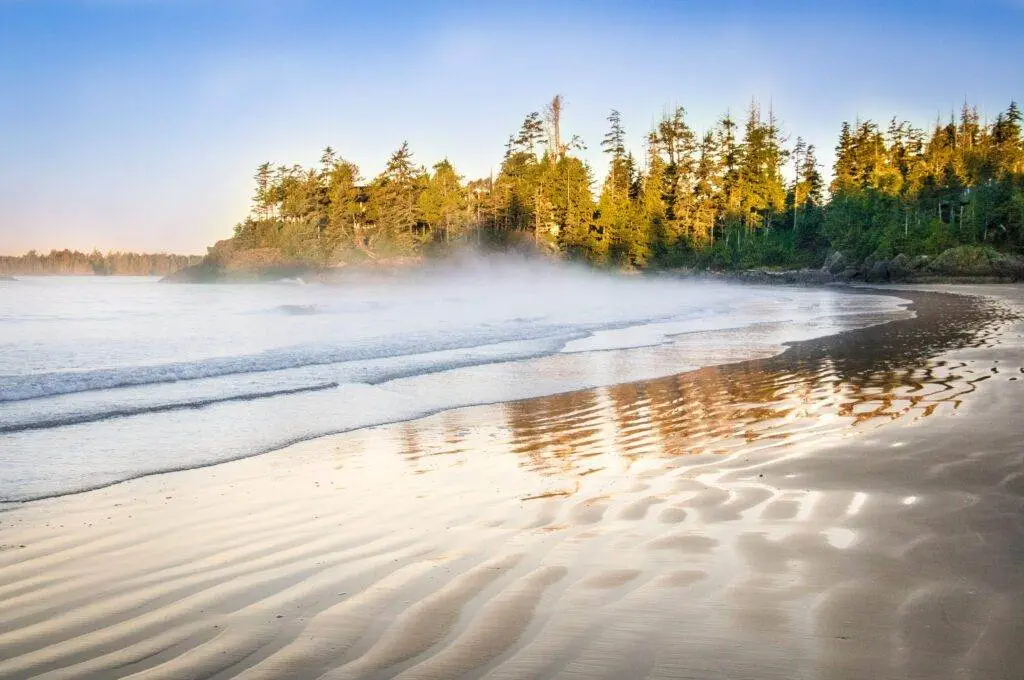 To bag most of the beautiful things offered by the Pacific Rim National Park and its units, think wisely and choose your destinations. Whichever you choose, you are in for a great vacation.