Canada's largest metropolis, Toronto, is also one of the most diverse cities in the world. This indicates that it has a tonne of fantastic eateries in addition to having many dual-language street signs and nice residents. But that might also make choosing a restaurant difficult when you're here, which is why we're here.
While Toronto may not be recognized for its consistently pleasant weather, there is one thing you can always count on: a delicious meal from one of the city's top restaurants. The top restaurants in Toronto are among the best in the world, featuring everything from sushi bars with expertly made nigiri and Italian diners with beautiful platters of pasta to vegan places that often astound us with their seasonal options and culinary prowess.
There are a lot of top places to eat in Toronto. Toronto used to constantly compare its cuisine to that of New York, but now that it is an adult, it has developed a distinctive food culture of its own, and we couldn't be more proud.
We have you covered with everything from tacos and traditional seafood to the greatest places for brunch, day drinking, and BBQ, whether you're thinking about moving over the border or just organizing a quick weekend getaway. These are our 25 top places to eat in Toronto, which include restaurants and bars.
Top Places to Eat in Toronto:
1. Avelo Dining Room
Even carnivores can enjoy dining at the vegan restaurant Avelo. Thanks to its warm atmosphere, excellent service culture, and creative menu.
This elegant but modest plant-based eatery housed in a typical Toronto Victorian townhouse exemplifies everything excellent about Church-Wellesley Village: it's fun, it's trendy, and it shows that new eating habits can be just as fulfilling as traditional ones.
Out of all the places to eat in Toronto, one of the best places to eat is the Toronto Avelo Dining Room.
Nearly every day, the Avelo menu is updated to include items like cheeses without nuts or dairy, mushroom ravioli in a creamy truffled cauliflower sauce, vegan béarnaise-sautéed root vegetables, and zucchini caponata.
It also has one of the best drink menus in the city for vegans, with a variety of selections that are both organic and free of animal-based flavorings like milk proteins or egg whites. You may anticipate a younger and more eclectic crowd here because it is a refuge for all things plant-based. The dining area has only 22 chairs, so the atmosphere is quite intimate.
2. Canoe Restaurant and Bar
The finest view in Toronto is from Canoe, where you can see the CN Tower to one side, aeroplanes landing at City Airport to the other, and Toronto's shimmering skyline stretching off in the distance.
And sure, the quality of the food in this area matches that of the homes. Canoe's cuisine is an exciting, unexpected, and just wonderful celebration of tastes and ingredients from all over Canada.
You can discover Quebec foie gras, the freshest fish from the Pacific, and premium produce and dairy from Ontario. Start with either the Quebec foie gras with rhubarb, pink peppercorn, and sumac meringue or the Ontario burrata with birch-pickled cucumbers and prairie seeds. It is exquisite to eat the tea-smoked duck breast with duck liver mousse, parsnip, and poached Niagara pear.
3. Taverne Bernhardt
The most fun you can have while wearing your trousers is at Bernhardt's; we'll just come right out and say it.
This is precisely what we would anticipate from Joe Beef grads Carmelina Imola and Zach Kolomeir, who acquired Julie's Snack Bar in 2020 and renovated it into this secret hideaway (notice the old sign is still hanging).
The cozy bistro, which is tucked away on Dovercourt, exudes the charm of Montreal. Attentive servers, who are always eager to gush about their excellent wine list, bring out pretty plates adorned with colorful, local veggie dishes and their famous rotisserie chicken.
A lunch in Bernhardt's elegant dining room is hardly chopped liver, but their patio with twinkling lights is a real jewel. It's beautiful.
4. Grey Gardens
Grey Gardens is just antique enough to avoid feeling dowdy and fulfils its bohemian-luxe promise Kensington Market locale. The dry-aged Peking-style duck breast, paired with sweet shrimp with compressed watermelon radishes and homemade sauerkraut and duck fried rice are two of the outstanding dishes on the menu.
No bookings are necessary, so stop by after work for a rare Sauternes and a snack, or bring a friend for a leisurely supper in the back dining room (reservations only).
5. Alo Restaurant
Local foodies were dubious when Patrick Kriss, a chef, said he would launch a restaurant located on the third floor of a significant Victorian structure at the corner of Queen and Spadina in Toronto since that location has never been particularly affluent or fascinating. Alo's elevated and influenced by France cuisine quickly rose to the top of critics' choice lists worldwide after it opened in 2015.
Out of all the places to eat in Toronto, one of the top places to eat is Alo Restaurant.
As a result, Kriss' detractors were persuaded to change their minds. The menu fluctuates as the seasons change; you're just as likely to find Hokkaido sea urchin with wasabi, fennel, and yuzu as you are a 30-day dry-aged rack of lamb.
6. Pukka
Chef Dinesh Butola's elegant yet approachable Indian fare at Pukka features dishes such as sliced paneer with pistachios, shiitake, and spinach mushrooms, as well as slow-braised beef short ribs with cloves, cumin, and cardamom. A standout sticky toffee pudding—a gooey mound of chai-caramel goodness—is on the menu of British desserts.
Avoid the cocktails and choose a wine from the excellent wine list, which has a wide range of fairly priced bottles that can withstand the strong flavors from the kitchen.
7. Constantine
Constantine shines at all hours of the day and night in the recently renovated and popular Anndore House boutique hotel. It is located past the front desk and down a short hallway. The meal emphasizes coastal Italy and honors the Mediterranean.
Highlights include the braised rabbit pappardelle, the roasted sweet potatoes with fresh figs, the creamy fire-roasted eggplant, and the grilled halloumi with chickpea fritters and a hearty shmear of labneh. The Fogo Island cod with leeks, saffron, and walnut is a revelation. The grilled seafood is also fantastic. The entire setting is ideal if you're looking to make an impression.
8. Chubby's Jamaican Kitchen
The top Jamaican restaurant in Toronto is Chubby's. The jerk chicken, which is prepared over four days, is the highlight of the menu here. There are also excellent coconut-crusted fish and burgers. Before being grilled over maple wood, each bird receives a 24-hour brining and dry-rubbing, seasoned with scotch bonnet peppers, and let to dry. Out of all the places to eat in Toronto, one of the top places for Jamaican cuisine enthusiasts is Chubby's Jamaican Kitchen.
If at all possible, save space for dessert since The pie with passion fruit and coconut cream provides a pleasant contrast to the pleasing heat of the spice rub.
9. Gusto 101
The fact that Gusto 101 is housed in a former auto body shop is not what makes the establishment stand out the most; rather, it is the fact that the atmosphere is warm and inviting. The eatery serves mouthwatering Southern Italian classics, such as a nearly flawless Cacao e Pepe.
The branzino, which is served with escarole, cannellini beans, and a lemony, garlicky salmoriglio sauce, is among the best-grilled dinners. Additionally, the $1/ounce house wine—a genuine steal in this region—means that you won't need a happy hour here.
10. Bar Raval
Toronto's affluent foodies fight for tables at Bar Raval, a cosy and lively establishment renowned for its outstanding tapas and pintxos. Given that the sexy atmosphere and vibrant décor were inspired by Barcelona's Raval neighborhood, owners Grant van Gameren and Robin Goodfellow have succeeded if the dining room has a Barcelona-like feel.
Be prepared to order a lot of food from the pintxos menu to split, including the pancetta with rhubarb and the house-smoked mussels with chile and fennel.
11. Scaramouche
Scaramouche prides itself on having "unobtrusive and respectful" wait staff, which has contributed to the restaurant's success in Toronto for more than 35 years. The menu, which features AAA Ontario beef, Quebec suckling pig, and sustainable British Columbia caviar, is permeated with a philosophy of ethical sourcing and civic involvement.
Keith Froggett, the chef and proprietor, pays special attention to his sources and uses cooking methods that highlight their natural flavors. Significant life events like graduations, birthdays, and proposals are celebrated here by visitors. Even though the dining area is a little quiet, you'll nevertheless notice a joyful atmosphere among other customers.
12. DaiLo
A French-Cantonese restaurant on College Street in Little Italy may seem out of the ordinary, but it is all part of the charm of DaiLo.
While Nick Liu dislikes the phrase "fusion cuisine," he is redefining Asian food on College Street in a way that is anything from conventional (and we mean that in the best way possible).
Liu, a Hakka-born Canadian native, routinely astounds diners with his brand of Chinese cuisine prepared with French culinary flare. This cuisine has carved out a cultural blueprint for the city that others can only attempt to imitate, from the whimsical Big Mac Bao, a steamed bun stuffed with ground beef, pickles, and chef's secret sauce, to the more sophisticated tasting menus that delighted gastronomically starved Torontonians mid-pandemic.
Order the truffle fried rice and Hakka wontons, and then indulge in a well-made cocktail.
The whole fried trout, a visually arresting and savory meal that is presented pre-chopped with a variety of dipping sauces, the braised lamb neck with banana blossom salad, and the General Tso sweetbreads are some of the true pleasures on the menu. The entire meal is presented on a $65 chef's choice menu that has six or seven courses.
13. The Lakeview Restaurant
Entering The Lakeview is like entering a bygone era of Toronto. Since 1932, the all-day breakfast, potent Caesars, and greasy spoon staples have been served at this 24-hour diner, which is a long, narrow area surrounded by vinyl banquettes and a bar with circular stools. The Lakeview's menu, for a greasy spoon, is pleasantly devoid of grease and features all the traditional diner staples along with a few unusual twists.
The Lakeview is a beloved casual destination for all occasions and a classic Toronto landmark. It is the perfect place for late-night breakfasts, early-morning fuel-ups, or even stopping in for an afternoon milkshake.
14. Donna's
Donna's has a proudly uncool approach—so much so that it becomes cool—for a come-as-you-are, home-cooking establishment founded by a trio of Momofuku graduates. Take note of the oddly matched dishes, the record player from the past, and the potted plants.
You can always count on expertly seasoned dishes that let each ingredient's natural flavors shine, even if the menu at this place is hyper-seasonal and subject to adjustments depending on what's fresh—and how the chefs are feeling.
15. Campechano
There are several Mexican eateries dotted around Toronto, but no one does tacos better than Campechano. They recently built a new, cosier location on College St. after growing from their original King West taqueria.
Among all the places to eat in Toronto, eating at Campechano is one of the greatest options for a fun meal for tacos enthusiasts.
Traditional tacos made with freshly pressed corn tortillas are available at both locations. The menus are tiny and straightforward (Campechano translates to "no fuss"), but the flavors are huge and robust, like their vibrant, inviting settings.
From the chicharrón to the chorizo, each taco's component shines out while mixing flawlessly with the other ingredients for a delightful, occasionally drippy, always-worth-it mouthful.
16. Richmond Station
It may sound like a glittery, one-hit wonder when a Top Chef Canada winner runs a restaurant, but Carl Heinrich is still turning out some of Toronto's top cuisine even ten years after the show ended.
The welcoming neighborhood restaurant not only offers excellent service, consistently superb food, and a wide selection of wines, but it also promotes healthy eating. Heinrich manages an organic garden at the New Farm in Creemore since he is so dedicated to supporting local and sustainable agriculture.
Skipping meat becomes obvious when considering the inventive veggie meals and seasonal fare that results. However, pastured beef and a gorgeously house-cured charcuterie board give carnivores an excuse to keep returning without feeling bad about it.
17. Le Swan
Few competitors for the title of the finest restaurant can claim to offer a tuna melt on the menu, but that's good because Jen Agg has never shied away from challenging the status quo, and Le Swan is just one more instance of her doing things her way, to exquisite effect.
Looking closer reveals a dual menu with comforting classics like fish sticks and pork chop with applesauce on one side and French bistro favorites like smoked trout rillette, sole meunière, and steak fries on the other. At first glance, this establishment appears to be just an old-school diner.
The unanticipated gem in Agg's Toronto restaurant empire is revealed when you combine one of Canada's most intriguing sommeliers, Jake Skakun, with manager David Greig, the guy behind some of the city's best cocktails.
18. Maple Leaf Tavern
A once-disliked section of Gerrard St. E. is now home to class and a burgeoning restaurant scene thanks to Maple Leaf Tavern, which has shunned its seedy past. Sit back in a gloomy booth, order a Manhattan, and enjoy the Tavern's effortlessly chill, speakeasy ambience.
Out of all the places to eat in Toronto, one of the best places for meat lovers is Maple Leaf Tavern.
Each member of your group will find something to drool over from the seasonal salads and appetizers stuffed with locally sourced produce that sit side by side with strong and flavorful wood-grilled meat entrees, like rib steak and their famous namesake burger.
Head east for neighborhood vibes, exquisitely balanced libations, and some good old-fashioned fun if you want your great dining without the attitude.
19. Mamakas
With their sophisticated yet approachable homestyle cooking and laid-back coastal environment, Mamakas blew us all out of the water back when Greek taverna-style eateries felt a little gimmicky (styrofoam Ionic columns, huge murals of the Acropolis). Even when the weather outside stings your skin and its negative stuff, the Agean summer never ends at this Ossington retreat.
The food effectively strikes a balance between traditional cooking methods and contemporary additions to create some genuinely amazing dishes from both land and sea. And until you've tried their barrel-aged brick, you haven't experienced feta.
20. Pai
Although long lines in Toronto aren't always necessary (dick waffles, we're looking at you), this is certainly not a passing trend. Since its doors first opened in 2014, Pai has been filling our bellies with delicious northern Thai cuisine.
The Royal Thai Government has acknowledged PAI, providing chef Nuit Regular's genuine and heartfelt meals with a merited certificate for traditional Thai cuisine and ingredients. In the vibrant dining area of PAI, savor khao soi, which features exquisitely cooked short ribs, pad Krapow gai, a holy basil stir-fry, or their best-selling pad thai.
No way to receive a reso? For decadent dinners like this, takeout (and elasticized waistbands) were invented.
21. Dreyfus
Although a restaurant named for the French artillery officer who was wrongfully imprisoned and at the center of a political scandal (the Dreyfus Affair) may not sound like the most romantic place to have supper, we have strong feelings for this Harbord Village establishment.
The food is "French-ish," and is served in a red-brick row house. Expect meaty wonders from an impressive larder, as well as seafood-forward plates, veggie dishes like green bean almondine, and perhaps even one or two madeleines for good measure.
Zach Kolomeir, a Joe Beef ex-pat, was raised Jewish in Montreal. Thus, the menu, which is scribbled every day on a chalkboard, unsurprisingly, features a lot of Quebecois influences.
22. Tutti Matti
We're usually in the mood for rustic, domestic servings of freshly prepared pasta, so forget about fancy garnishes and Jackson Pollock-Esque squirts of molecular gastronomy.
Out of all the places to eat in Toronto, one of the best places to eat in Toronto for pizza lovers is Tutti Matti.
Italian meaning "we're all insane," Alida Solomon, who spent many years cooking in Montalcino, has created a gorgeous landmark in the form of Adelaide Street's Tutti Matti, where the emphasis is on straightforward cuisine executed to perfection.
Guests are treated as though they were guests in Solomon's Tuscan home as housemade pasta piled high with wild boar ragu and porchetta pizza fresh out of the wood-fired oven sail merrily onto tables of both first-time visitors and devoted patrons who have frequented this establishment for nearly 20 years.
23. Akira Back
The Toronto restaurant bearing the same name as the chef, Akira Back, who received a Michelin Star for his establishment in Seoul, offers a remarkable experience, from the perfectly crafted food and beverage program and the superb service right down to the show-stopping design.
The amazing interior, designed by Studio Munge, is charcoal black with black marble columns, layers of gold details, and a blue graphic ceiling that curves. The wonderful location provides the ideal place to enjoy the mouthwatering selection of Japanese food prepared with a Korean flair.
Out of all the places to eat in Toronto, one of the favorite places among locals is to eat at Akira Back.
With rolls like the Brother from Another Mother, unagi topped with ponzu aioli, and foie gras, the sushi at this restaurant goes far beyond your standard maki.
The 48-hour wagyu short rib is so juicy and soft that it almost comes apart; if mouth climaxes could be achieved, this dish would always put us over the top.
24. Oji Seichi
Ramen appears to be very simple, but it has a lot of moving elements, all of which Oji Seichi masterfully handles. The vast majority of Toronto's foodies have followed Chef Mitch Bates from Momofuku to Grey Gardens and finally to this quaint location in East Chinatown, which should not be confused with the city's main Chinatown.
Here, Bates offers up his interpretation of the popular soupy noodle dish. While ramen should and does take center stage, there is also a fantastic selection of "Sandys" available. Ask if there is any Coco Kasu Pie available if you have room for dessert.
25. Bar Isabel
Bar Isabel, Little Italy's counterpart to the gloomily lit tavernas and tapas bars of Barcelona, is one of the few places that can fill Torontonians' hearts with pride quite like Bar Isabel. Enter this Iberian icon via the wooden front and beneath the neon sign to find a world of flavor and excitement waiting for you.
Among all the places to eat in Toronto, eating at Bar Isabel is one of the greatest options for a fun meal.
It is physically difficult to eat at Bar Isabel and not want to continue the party due to the music blasts and panache-filled food (hello, theatrically slashed octopus). Live out your postponed European travel dreams with cocktails like the Rambla Highball or the Spanish Fizz, and don't forget to savor the basque cake topped with sizzling sherry cream.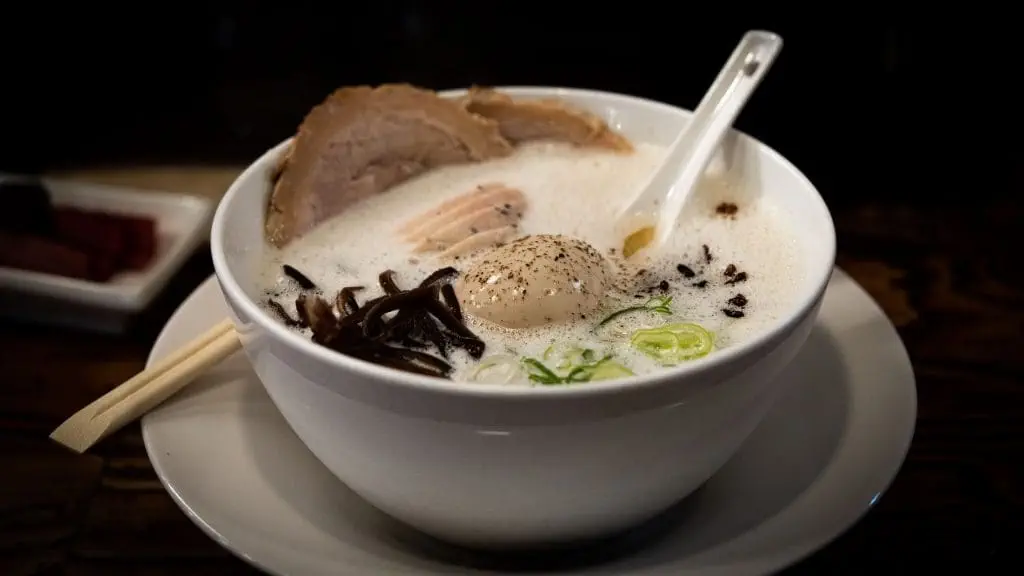 These are merely a small selection of Toronto's top restaurants. The top restaurants in Toronto are some of the greatest in the world, serving everything from sushi bars with beautifully crafted nigiri to Italian eateries with stunning pasta platters to vegan establishments that frequently astonish us with their seasonal offerings and culinary prowess.
Therefore, every time you visit Toronto, don't forget to try something new!
To read more, click here.
Suggested Reads
Best Wine Bars in Toronto {Guide 2022}
Amazing Vegan Restaurants in Vancouver
Unique Restaurants in Vancouver