To describe the beauties of this region will on some future occasion be a very grateful task to the pen of a skilled panegyrist. The serenity of the climate, the innumerable pleasing landscapes, and the abundant fertility that unassisted nature puts forth, requires only to be enriched by the industry of man with villages, mansions, cottages, and other buildings. — Captain Vancouver
The spirit of the words in "The Voyage of George Vancouver", still lives on in the present. The picturesque port city of Vancouver, a jewel of British Columbia was indeed "enriched by the industry of man" to give rise to one of the most liveable, beautiful, and visited cities in the world. A city might be judged based on various attributes and qualities such as liveability, beauty, culture, and so on. It might not be far-fetched to say that this particular city shines in all these aspects and more. In this article, we shall explore some aspects of this city and find out why it is increasingly being regarded worldwide as an ideal tourist spot, and one of the most liveable cities in the world.
The Aesthete and the Adventurer
Vancouver is quite the looker. It is a handsome port city that can easily make any urban aesthete fall in love with it. One of the reasons for its beauty is the geography of its location. Pristine beaches with shores kissed by blue waves, a skyline crowned with the majesty of the North Shore Mountains; these are only some of the natural beauties bestowed upon the city.
Cradled between the majestic North Shore Mountains and Pacific shoreline, Vancouver is a city in direct confluence with nature. The city itself houses what may be called "a huge green oasis", bordering its downtown area. Indeed, because of its geographical location, adventure is always a stone's throw away from the main city. One will never be at a loss if seeking to enjoy the thrill and serenity of nature.
Parks Galore
Vancouver is dotted with green spaces where one can find a respite from all the hustle and bustle of the city. What's more, all of these parks aren't just copies of themselves. Each of these has a unique character and is conducive to different activities, whether it be walking your dog, roller-skating, or spending some quality time with your little tike.
Stanley Park
Situated in the downtown area, Stanley Park is the "big-daddy" of all parks in Vancouver. It is a huge swathe of natural rainforest, carefully curated and maintained to be easily accessible, and can be explored in a myriad of ways. One can take the scenic route, traversing the Stanley Park Seawall. The pathway is ideal for biking, roller-skating, or just simply walking while drinking in breath-taking views of the northern mountains, the Lion's Gate Bridge, the blue waters of the Vancouver Harbour, and the English Bay, or just the cityscape itself.
You'd be in luck if you visit Stanley Park in Spring or Summer. The park houses several pristine gardens which are completely free to be explored and are at their peak bloom that time of the year. The park is decked with a landscaped rose garden which consists of over 3000 different plants. There is also a Shakespeare Garden adjacent to it, housing all the different trees mentioned in the plays and sonnets of Shakespeare.
Rhododendron lovers would find themselves gaping at the sight of the Ted & Mary Grieg Rhododendron Garden with a staggering number of hybrid rhododendrons and azaleas. It doesn't end there with the flora in Stanley Park. Each year, Stanley Park makes use of its own nursery stock to create a carpet bed from suggestions made by the public. This gets displayed at the highest point in the park, the Prospect Point.
Stanley Park also is a place, where one can go to get a glimpse of the history of the region. Totem poles stand proudly in the midst of the lush green cover of the park, harkening back to the mysterious tribal past when animists and shamans called the region their home.
Other Parks in Vancouver
The flower gardens in Stanley Park are not the only ones in the city that will dazzle and mesmerize you with their staggering display of nature's flora. The tranquil Queen Elizabeth Park does not only boasts picturesque views of the cityscape of Vancouver but is also well known for its free flower gardens which are in bloom all year round. A special feature of this park is the elegant "dancing fountains" which add a special flavor to the park and make it stand out from the rest. Vancouver is also home to a park with the chuckle-worthy name of "Dude Chilling Park". The park channels the "hipster" air of its neighborhood of Mount Pleasant and is notable for its Reclining Figure or "chill dude", as it is popularly known.
Splashing Around
Vancouver, after all, is a port city. It is bestowed with a generous amount of coastline, is situated on the shores of Burrard Inlet, the Georgia Strait, and the English Bay. Moreover, the region is peppered with serene rivers, coves, and inlets which make it ideal for water sports enthusiasts. For instance, one can participate in a thrilling whale-watching excursion by taking a seaplane across the Strait of Georgia to Victoria Island. From there one can avail a cruise across the Haro Strait to encounter killer whales, sea lions, and seals in their natural habitat.
Braving the Ice
Snowboarding and Skiing enthusiasts won't be alienated by Vancouver, because it is situated quite close to some mouth-watering snow-trails and adventure parks.
Whistler Blackcomb Resort, Whistler, B.C.
Whistler Blackcomb Mountain is an ideal spot for such activities. Its nearly 8000 acres of the terrain is dotted with adventure parks and several trails. Moreover, the two peaks, Whistler and Blackcomb are connected with a gondola zip-line making it convenient to experience the whole region to pick and choose the most preferred spots. It's by no surprise that this region was chosen as one of the most important venues for the Vancouver 2010 Winter Olympics.
Grouse Mountain, North Vancouver, B.C.
Grouse Mountain is a convenient spot, being quite close to downtown Vancouver. It has a variety of outdoor activities to offer, starting from skiing, snowboarding, and skating. Other than these, it is also a popular site for trekking. One who is willing to give in to a thirst for adventure can embark on the Grouse Grind trail, a rugged trek from the North Vancouver Plateau to the majestic Grouse mountain peak. Moreover, one can drink in the sweeping cityscape of Vancouver while zipping through the Skyride, traveling to Peak Chalet. Indeed, a willing wanderer will never be at a loss with things to do, in this city.
Mount Seymour, North Vancouver, B.C.
Mount Seymour stands out from the locations mentioned above, as other than offering thrilling snow-trails, it is also an ideal site for taking a family trip to the snowy mountains. Mount Seymour hosts Family First Night, a free family-friendly for all ages. It is an ideal event if you're looking for an evening in the snowy mountains filled with firecrackers, delicious cuisine all amidst the warmth and laughter of your family.
College and Culture
Yes, our exploration of things to do and see in Vancouver is not done yet. One can mingle with nature and venture forth out onto the Pacific Ocean or in the snowy North Shore Mountains for thrilling adventures. Yet, that is only a fraction of what Vancouver has to offer. At this point quoting the meme, "too op, pls nerf!" seems suitable.
If you take a walk down Granville Street in downtown Vancouver, you'd be bombarded with wholesome aromas swirling forth from breweries, the streets bustling with pedestrians exhuming a "professional" air. The streets, lined with elegant shops, the crowd, the smell, and the general atmosphere will conspire to remind you that a huge part of the community is fuelled with up-and-going students of the world-class Universities and Colleges that you will find in Vancouver. The city is without any doubt one of the best places for education in Canada.
University of British Columbia
Epitomizing its motto, Tuum Est (It is Yours), the UBC is a seat of innovation and world-class education. It has a vibrant and thriving campus life, comprised of both Canadian and International students. Among its alumni are 71 Rhodes Scholars, 3 Canadian Prime Ministers, and 65 Olympic medals have been won by its varsity athletes. Moreover, UBC is held globally as a top-tier institution, placing 37th in the whole world in the Times Higher Education (UK) 2019 ranking.
Simon Fraser University
Undoubtedly another one of the heavy-weights in the Simon Fraser University in Burnaby, Surrey, and downtown Vancouver. The campus is notable for its unorthodox and futuristic architecture, starring in various sci-fi movies such as Underworld (directed by Len Wiseman). It has consistently ranked as Canada's top comprehensive university in the Maclean's magazine ranking in the consecutive years '08,'09,10,11 and 12. SFU has embarked on a new strategic vision of integrating innovative education methods, top-of-the-line research, and meaningful community engagement in its university system.
The People
Vancouver is the most populous city in British Columbia (according to the 2016 census), having a total estimated population of 631,486 people. The city has a diverse multi-cultural air and according to a census, 52% of its residents have a first language other than English and roughly 30% of the city's inhabitants are of Chinese heritage. Vancouver is the most populous city in British Columbia (according to the 2016 census), having a total estimated population of 631,486 people. The city has a diverse multi-cultural air and according to a census, 52% of its residents have a first language other than English and roughly 30% of the city's inhabitants are of Chinese heritage.
The Chinese Influence
Vancouver is the site of the confluence of the cultures which have gotten associated with the city through its history, giving rise to a unique and vibrant cultural atmosphere. The multicultural nature of the city is evident from the thriving Chinatown of Vancouver, fuelled by the descendants of the Chinese workers brought during the construction of the Waterfront Station. The native seafood of the region has combined itself with the Oriental influence in Vancouver to make Chinatown a site of a buzzing and thriving food scene. The area is furnished with traditional Asian bakeries, dim sum restaurants, and dazzling cocktail bars. One might easily stumble upon an old-school rustic style apothecary with shelves lined with jars of ginseng and dried fish. The streets are lined with shops of all shapes and colors from the hip, up-and-coming indie fashion outlets to Chinese grocery shops stocked with live seafood and exotic vegetables.
Dr. Sun Yat-Sen Classical Chinese Garden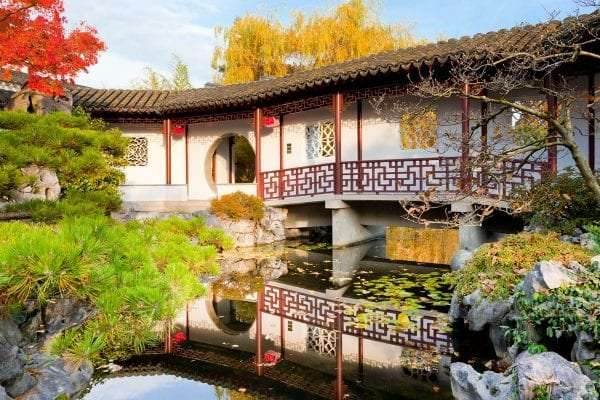 A visit to the Chinatown in Vancouver is incomplete without a stroll through the serene Dr. Sun Yat-Sen Classical Chinese Garden. No effort and expense were spared in its construction in 1986 by fifty-three master craftsmen from China. The first of its kind outside China, it was built with 950 crates of traditional material and constructed using 14th-century methods. The garden is well known for its pristine pavilions, elegant covered walkways, and its jade green pond filled with koi fish. It is an ideal place to visit all year round, is family-friendly, and also has wheelchair facilities.
Besides the oriental flair of its Chinatown and the natural beauty that the city is touched does by, the architecture of its buildings cannot be overlooked. The city itself is a treasure trove, a mining site for any urban photographer. Perhaps this is the reason why it is "disguised" as various other cities in major films in Hollywood; examples being, the Bronx in "Rush Hour" and as North Korea in "The Interview".
The Verdict
This article has explored some of the faces of Vancouver, which undoubtedly has a lot more to offer. The residents proudly call the city their home, and the tourists can't help but be taken aback by the city's beauty, elegance, and character. It is an ideal place to spend your holidays especially if you live in the US. Vancouver is just about 228 km away from Seattle and a road journey will take about a meager 3 hrs. One can easily take two or three days and explore the delights of Vancouver and then return with a storehouse of memorable moments.
Hey, wait!
Sign up to our newsletter and get exclusive discounts!
Want exclusive deals and discounts? We have just the list for you, from web hosting deals to your next Zara purchase.
Get how-to guides to shopping online, starting essentials to launch your business and general life hacks. And get additional discounts when you use our content writing services. Know more here. 
Enter your email address to sign up for our newsletter!