Grundy Lake Provincial Park was established in 1959 and is located 13 kilometers east of Georgian Bay, with direct access from the Trans-Canada Highway. Backcountry canoeing and camping, hiking routes, fishing, swimming, and group camping are all available at Grundy.
Grundy Lake is such a beautiful park and is a prime example of the Canadian Shield's glacier-shaped environment, with carved granite dotted with bogs, ponds, lakes, and mixed woodland.
At the nearby Visitor's Center or Amphitheater, park visitors can learn about the history of the French River area, the Voyageurs and the fur trade, and the logging industry. Grundy Lake Provincial Parks also offers a variety of family-friendly activities that provide hands-on learning about the Park's natural history and much needed environment care in general.
What is the location of Ontario's Grundy Lake Provincial Park?
This huge park is located off of HWY 522, just east of HWY 69 and east of Georgian Bay. It's roughly an hour's drive south of Sudbury, Ontario, and an hour's drive north of Parry Sound. 
Grundy Lake is located in Ontario's <span data-preserver-spaces="true">"near north," where there are many calm lakes and a laid-back rural ambiance. It mixes the best of southern Ontario parks like Arrowhead with the stunning scenery of northern Ontario parks like Rainbow Falls.
Things to do at Grundy Lake Provincial Park
There are plenty of things to do in Grundy Lake Provincial Park, with its stunning mix of wildlife and landscape, to satisfy every camper's wish list.
1. Camping
Grundy Lake Provincial Park has nine campgrounds, each named after a different variety of natural trees, accessible through the main entrance. Despite being a great park, the campsites are often large and secluded. Some of them are wired for power.
Many beaches are located throughout the campgrounds, allowing all campers easy access to the water. Bathrooms and, in certain circumstances, comfort stations are available at all campgrounds and beaches. A separate pet exercise and beach area are available to pet owners.
These are some of the popular campsites of Grundy Lake:
a) Poplar Campsite
Grundy Lake Provincial Park's Poplar campground is the largest. Near the beaches of Gurd Lake, there are 69 campsites. Poplar is a campground that welcomes pets.
Most sites have RVs and trailers with a length of more than 32 feet. You will find a resting ares with laundry, showering facalities, and toilets within the Poplar campground. A beautiful beach with a volleyball court is also available.
b) Hemlock Campsite
The Hemlock campground is Gurd Lake's southernmost campground. There are 59 sites total, 31 of which are electrical, including one premium waterfront electrical site. Hemlock additionally has nine regular premium sites. Because this is a "radio-free" campground, noise must be kept to a bare minimum to avoid disturbing other campers.
c) Balsam Campsite
The Balsam campground, one of Grundy Lake Provincial Park's "hidden jewels," has 46 non-serviced campsites, including five premium standard campsites that overlook Clear Lake. Balsam is a calm and private campground located far away from many of the Grundy Lake campgrounds.
Tents and small campers up to 25 feet in length are welcome in this park. Grundy Lake Provincial Park has a number of water stations, vault toilets, a canoe launch, and one of the greatest beaches in the area.
The majority of the sites are level and well-kept, easily accommodating trailers up to 32 feet in length. A comfort station with a laundry room and showers are also available. A beach that descends into Grundy Lake is also available at the campground.
d) Red Maple Campsite
Grundy Lake is home to the Red Maple campsite. The campground is completely unserviced and has 45 campsites. Out of 45, 9 campsites are premium regular lakeside campsites.
The campground is designated as "radio-free."  It means you must keep noise from radios, televisions, and other equipment to a minimum. Red Maple is also Grundy's "pet-free" campsite.
A picnic table is also provided at each location. Red Maple is mostly a modest camping campground, while some of the spots may accommodate trailers up to and including 32 feet in length. The campground has lots of drinking water and vault toilets, but there is no comfort station, laundry, or showers.
e) White Pine Campsite
On Main Beach, the White Pine campground is located near the southern part of Grundy Lake Provincial Park. The majority of the sites at this campsite are unserviced, although there are nine regular premium sites near the water. This is also a pet-friendly campground.
Near the backside of the campsite, there are 16 electrical sites, including two barrier-free electrical areas that are close to the Main Beach and the Grundy shoreline.
f) White Spruce Campsite
White Spruce is the smallest campground of the Grundy Lake Provincial Park, with only 32 non-serviced campsites. The campground has three premium sites overlooking Gut Lake. This camping site is one of the quietest zones in the park, but it also provides easy access to the majority of the park's services.
g) White Birch Campsite
White Birch Campground, located on the west sides of Grundy Lake. White Birch has 58 campsites. There are 28 electricity campsites (including seven premium electrical campsites) and two premium conventional waterfront campsites. White Birch is a very popular campground at Grundy Lake Provincial Park, and it fills up quickly.
White Birch has a spacious comfort station with laundry and showers, as well as plenty of water taps. If you are staying on the south end of the campground, you will have easy access to Main Beach, while if you are staying on the north end, you will have easy access to another tiny beach.
h) Jack Pine Campsite
Jack Pine is the best camping place in Grundy Lake Provincial Park, with easy access to both the Swan Lake hiking trails and Grundy Lake. There is a fair mix of electricity and non-electrical sites at this seasonal campsite. There are 55 total sites, 35 of which are electrical and 6 sites are regular premium sites.
A comfort station with laundry facilities and showers and toilets is located in Jack Pine. Water stations, good fishing, swim sites, and a small beach are also available.
2. Hiking at Grundy Lake Provincial Park
One of the most popular activities at Grundy Lake Provincial Park is hiking the trails. There are some truly fantastic hiking trails in Grundy, with its beautiful landscape, calm forests, and extensive seaside routes. Here is a rundown of the most famous hiking trails, so you know what you are in for.
a) Trail of Swan Lake
The Swan Lake trail is a 1.5-kilometer loop that circles Swan Lake. This specific natural site within the park is particularly lovely. The trail is a bit tough, with some rocky terrain and steep slopes. However, there are boardwalks and well-groomed terrain on some sections of the trail.
While this hiking trail is not particularly long, it does pass through a variety of environments, including marshes, woods, and the Precambrian Shield. You might see beaver and Great Blue Heron along the route. The Swan Lake Trail should take approximately one/two hour(s) to complete.
b) Trail of Gut Lake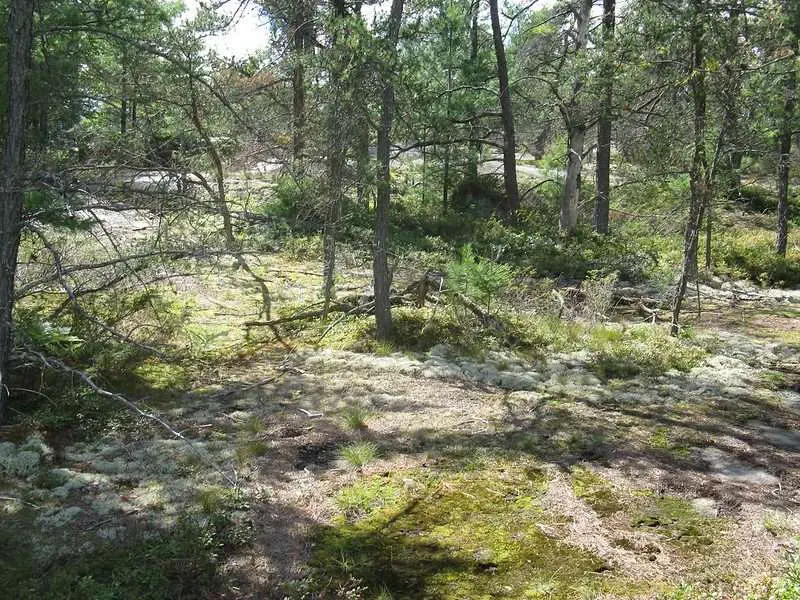 Of all the hiking paths in Grundy Lake Provincial Park, the Gut Lake Trail is the most famous and is one of the regularly nice hiking trails.  A 2.5-kilometer walk here takes you through the rugged terrain of the Precambrian Shield, which makes up the majority of the park. While traveling you will see many lakes, streams, and marshes along the journey.
c) Trail of Beaver Dams
The 3.6-kilometer Beaver Dams trail is one of Grundy Lake's most underappreciated walks. This walk traverses through spooky environments such as bogs and wetlands. Here you can see skeletal tree remains protrude from the water.
There's also a Great Blue Heron rookery. Here you may see clumped branches that are sitting on top of the tree stumps if you go during the right season.
d) Trail of Pakeshkag Lake
The Pakeshkag Lake Trail is a good option for individuals who want to enjoy their weekends. On a 10.4 kilometers journey, this trail is reasonably easy and covers some beachfront paths.
Here you can expect a stroll that will take you past Beaver Lake and several of the backcountry areas on Beaver and Pakeshkag Lakes.
3. Canoeing at Grundy Lake
For paddlers, Grundy Lake is a dream come true. There are other lakes for individuals who enjoy exploring deep into the wilderness. Clear Lake, Gut Lake, and Grundy Lake offer gorgeous settings and sheltered water for those who prefer to stay near the action.
The ten backcountry camping spots at naturally beautiful park Grundy Lake can all be reached by boat. So, if you want to make your canoe trip to Grundy lake an amazing one, you may camp out in the forest away from the tourists.
4. Fishing at Grundy Lake
The most popular activity to do in Grundy Lake Provincial Park is go fishing. Bass, walleye, and crappie can also be found in the park's lakes.
In addition, Grundy operates a  "Learn to Fish" program which is very popular. This interactive workshop teaches youngsters and adults the fundamentals of fishing and about fishing gear. From the professional hands of Ontario Parks employees, you'll learn about knots, how to handle your catch, and much more. More information about this fishing program can be found here.
5. Discovery Program at Grundy Lake Provincial Park
Visitors to Grundy Lake Provincial Park may like to participate in the Discovery Program. The exciting activity combines a variety of park activities, such as walks and some nature programs, along with a scavenger hunt. All these activities encourage kids to explore the natural world around them.
You can sign up for the Grundy Lake Discovery Program by speaking with an Ontario Park warden or by going to the Grundy Lake Provincial Park Visitors Centre.
6. Swimming at Grundy Provincial Park
Throughout much of the summer, the water is warm and shallow, and there are six sand beaches to enjoy on Clear Lake, Gut Lake, and Grundy Lake,. The largest of all the beaches at Grundy Lake Park is Main Beach. The Main Beach is located at the base of the lake.
This beach, like the other of the beaches of the national parks, features a drop-off, making it a favorite family destination. There are no lifeguards on the beaches at Grundy Lake, so please be careful.
7. Cliff Jumping
If you want something exciting other than swimming or fishing at Grundy Lake, try cliff jumping at Gut Lake! The leaping rocks at Grundy Lake Provincial Park are located in the White Spruce campground.
These little cliffs feature ledges for every level of comfort. Low ledges are available for those who want to test their mettle. Greater jumps of up to 15 feet are available.
Visit Recollet Falls in French River Park as a Side Trip
The historical and magnificent French River Provincial Park is just a few kilometers up Highway 69 from Grundy Lake Park. Even though part of the French River park is only accessible by boat, you may still go to the French River Visitors Center and climb 1.5 kilometers to the stunning Recollet Falls.
You can take a short walk to the visitors center and reach to the well-known suspension bridge. The bridge has the best views of the river and cliffs.
Families Will Enjoy Grundy Lake Provincial Parks
It's almost as though Grundy Lake Provincial Park was created with families in mind. Kids will enjoy exploring the magnificent beaches, stunning trails, and numerous waterside campsites. All of these are available without the need to schedule a trip or worry about luggage weight.
Make sure to take a waterproof camera if you want to document all of the incredible Grundy Lake experiences.
As an Amazon Associate, Icy Canada earns from qualifying purchases.
[amazon_auto_links id="81298"]
The Icy Canada team strives to create content that matters. It's why our content is written by travel writers, authority experts, well-known authors, and niche experts. Our content is also periodically reviewed by expert authors for accuracy and trustworthiness.
As an Amazon Associate, Icy Canada earns from qualifying purchases. [amazon_auto_links id="81298"]