It is quite natural that if you are in Vancouver, you would like to visit Victoria, also fondly called the garden city. But how to get to Victoria from Vancouver? We have provided a few of the best ways below to reach Victoria from Vancouver.
Vancouver and Victoria are two fabulous cities that anyone would love to visit. Vancouver offers the best outdoor life and has numerous cultural and historical attractions. On the other hand, Victoria also gives tough competition.
Victoria's breathtaking sceneries, picturesque towns, and colonial architecture draw tourists from all over the world. Located on Vancouver Island, the capital city of British Columbia offers countless attractions, and one among them is the beautiful Butchart Gardens.
Let us head straight to the ways to get to Victoria from Vancouver.
1. How to Get to Victoria from Vancouver?
There are numerous choices to enter Victoria from Vancouver. Of these, you can select the best one depending on your convenience.
You can also decide based on time and money. If you want to reach Victoria quickly or would like your trip to Victoria to be less expensive, you can opt for those choices too. You can find all these essential details explained below.
Choose the one that suits you the best, and have a memorable trip to Victoria – BC's capital city.
1.1. BC Ferries from Vancouver to Victoria BC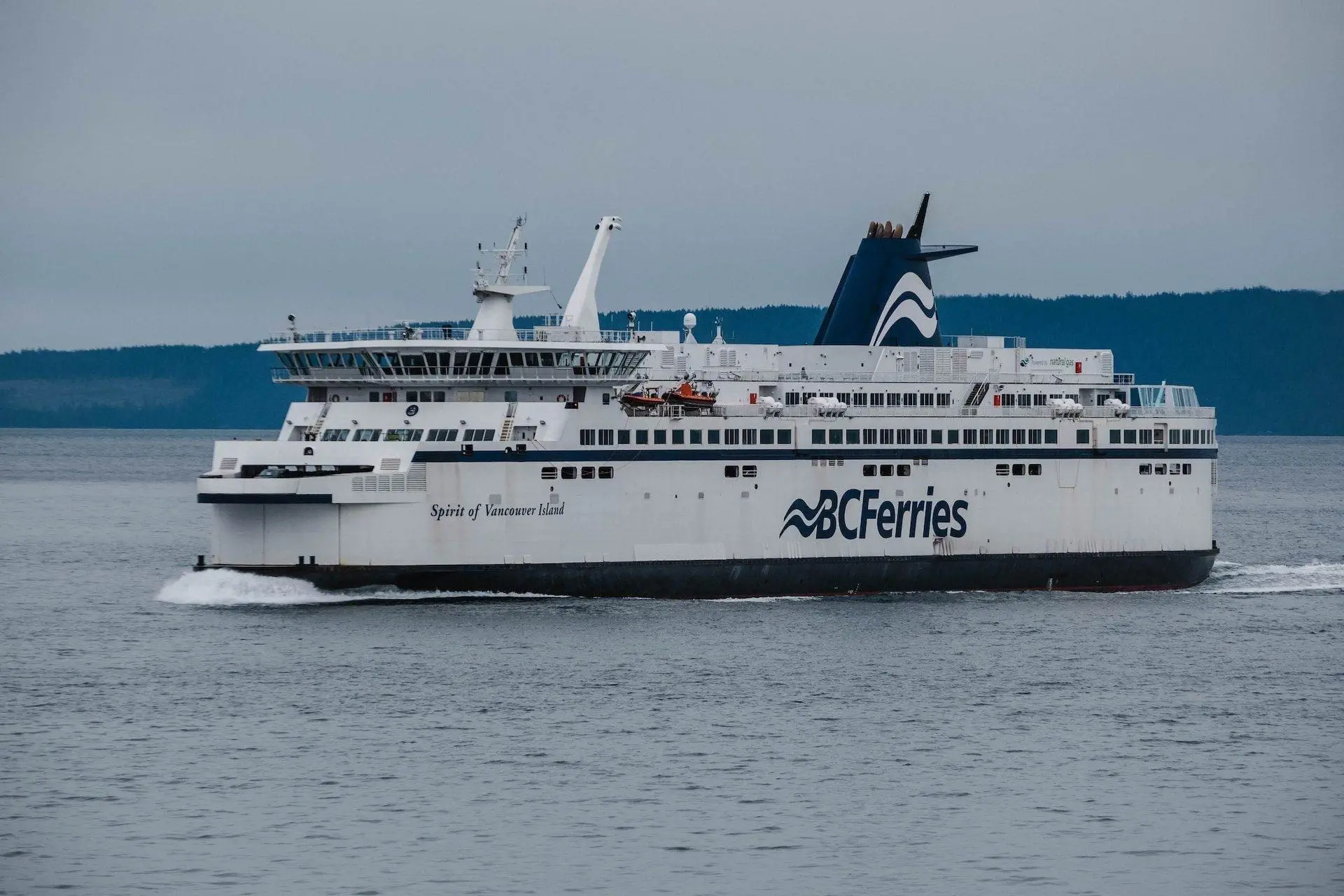 You can board a BC Ferries vessel that runs the main ferry service between the following two places: Vancouver and Vancouver Island.
You can find two ferry terminals in Metro Vancouver: Tsawwassen ferry terminal and Horseshoe Bay. Now, let us look at the services these two provide.
1.1.1. BC Ferries from Tsawwassen
The Tsawwassen ferry terminal boasts of being the largest in North America. What is the travel duration once you board this ferry ride? It takes more than an hour from Tsawwassen to Victoria's Swartz Bay ferry terminal.
Once you reach Swartz Bay terminal, it will take a further forty minutes to reach Downtown Victoria. The entire travel time from Downtown Vancouver to Downtown Victoria is approximately four hours.
1.1.2. Various Options to Reach Tsawwassen Terminal
If you want to reach the Tsawwassen terminal from Downtown Vancouver, you can do it in three ways. The ways include driving, public transit, and bus service. When you choose driving, you can have a comfortable journey. It is also cost-efficient.
Next, if you choose Public Transit, you have to travel through the Canada Line of Skytrain to Brighouse. Then, catch a bus to Tsawwassen. Lastly, you have the bus service. The BC Ferries Connector runs services from Vancouver International Airport or Downtown Vancouver to Victoria through the Tsawwassen terminal.
How to get to Victoria from Vancouver? Why don't you check these options?
1.1.3. BC Ferries from Horseshoe Bay
If your departure is from any of these places, namely, Whistler, West, or North Vancouver, you can board the ferry ride from Horseshoe Bay in West Vancouver to Nanaimo's Departure Bay terminal.
Once you reach Nanaimo, you can take the TransCanada Highway (#1 Highway) to Victoria. The ferry crossing duration is about one hour and forty minutes.
You can board the ferry in any of the ways: You can either take your car or board a rental car.
1.1.4. BC Ferries Reservations
It is best that you make your ferry reservations much earlier. Why is it important to do so? Because the reservations are priority basis. Whoever reserves first is given priority.
Another advantage of the reservation is you can board the ferry ride at the reserved time. Especially if you fail to book during the peak season, it will result in you waiting for longer durations in a ferry line-up.
If you wish to acquire complete information about reservation fees, saver fares, and tickets for travelling between Vancouver and Vancouver Island, you can check the fare information of BC Ferries.
How to get to Victoria from Vancouver? Well, now, you have already found a good way.
1.2. Vancouver to Victoria Bus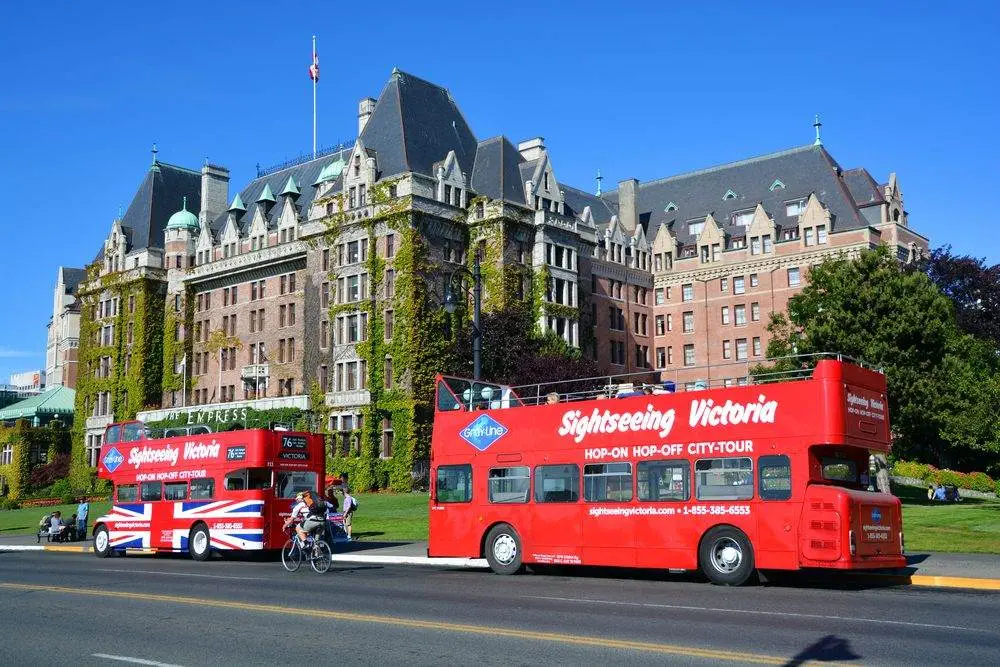 You can find buses operating from Vancouver to Victoria several times through BC Ferries and Tsawwassen terminal. You will have a comfortable experience in this mode of travel.
Vancouver and Victoria bus tickets include a combo pack of ferry tickets and coach transport. When you opt for these tickets, you can observe that it is less expensive than the ferries.
This option is also the best choice if you don't want to go for car rentals or wish to avoid multiple transfers.
1.2.1. BC Ferries Connector
BC Ferries Connector is the one responsible for operating bus services from Vancouver to Victoria. It departs from Pacific Central Station, located outside Downtown Vancouver, and reaches Capital City Station in Victoria.
Once you have purchased your tickets, you can show them on your mobile fifteen minutes before the start of your journey if asked.
If you have not purchased the tickets online and are planning to get the tickets at the ferry terminal, there are chances that you might be able to do so if the bus is full.
1.2.2. A Brief about Your Journey
Once you have settled down comfortably, you will enjoy a hassle-free journey. After your bus enters the ferry, you can visit the upper decks and watch the lovely views of the ocean or grab something to fill your stomach.
After your ferry lands on the other side, return to your coach bus. It will take you on a beautiful journey where you will get to see a few of the fantastic attractions offered by Victoria.
On your journey through Downtown Victoria, you will have a tour guide showing all the major attractions. You will also be allowed to visit the lovely Butchart Gardens.
This tour also covers your travel back to Vancouver. With these comfortable travel options, you no longer have to be concerned about how to get to Victoria from Vancouver.
1.3. Vancouver to Victoria by Seaplane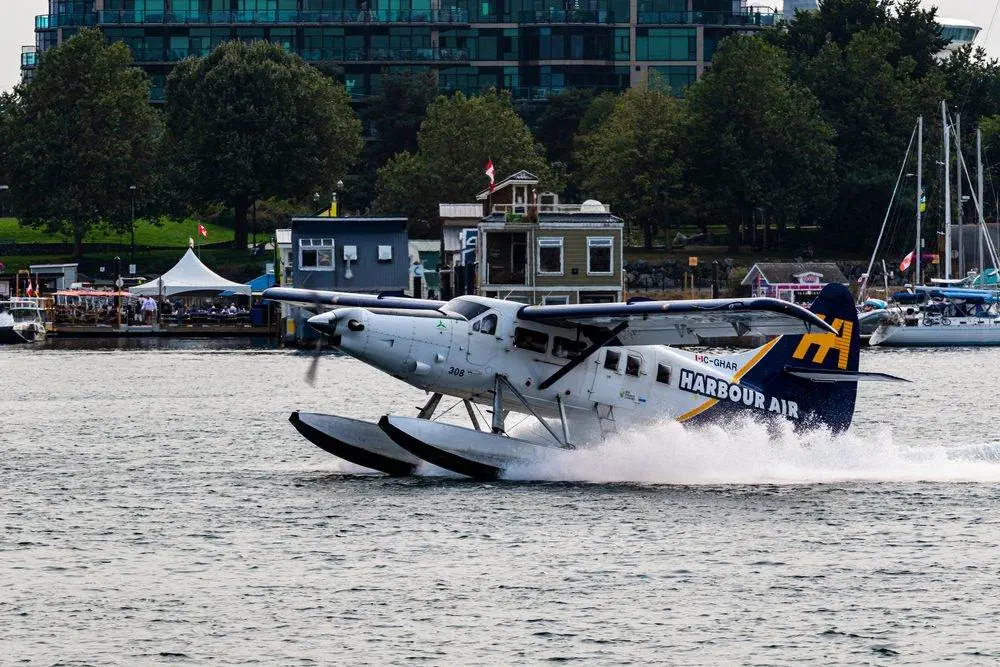 Here is another way if you are still searching for the answer to How to get to Victoria from Vancouver? If you opt for a Seaplane to reach Victoria from Vancouver, you can avoid the tedious airport check-in formalities.
You can take a pre-flight walk by the side of Vancouver's seawall. The Seaplanes will take you on a journey from Vancouver Harbour to Victoria Harbour, and the experience you get during this trip will be outstanding.
The Seaplane will finally land in the Inner Harbour of Victoria. While travelling, you will have numerous fascinating views that will keep you hooked.
1.3.1. More about Your Journey
During your take-off, you can witness the Vancouver skyline, the adorable Stanley Park, the beautiful North Shore Mountains, and the captivating Lions Gate Bridge. Hold on, as the views don't end here.
You can also see the Gulf Islands before you finally touch Victoria. You can find planes leaving all seven days of the week. Not only that, they depart many times throughout the day too.
If you want to enjoy this adventure, book your tickets well in advance, as tickets get filled up quickly. But, one noteworthy point is that Seaplane is much more expensive than a ferry trip. However, the advantages the Seaplane provides are worth your money.
1.3.2. Harbour Air
Harbour Air provides flights from Vancouver Harbour Flight Centre. This place is near Downtown Vancouver's Convention Centre. Once these planes reach Victoria, they land at the Victoria Harbour Airport terminal. The Inner Harbour houses this terminal.
This service is the quickest and most effective way to get to Victoria from Vancouver.
1.4. Vancouver to Victoria by Public Transit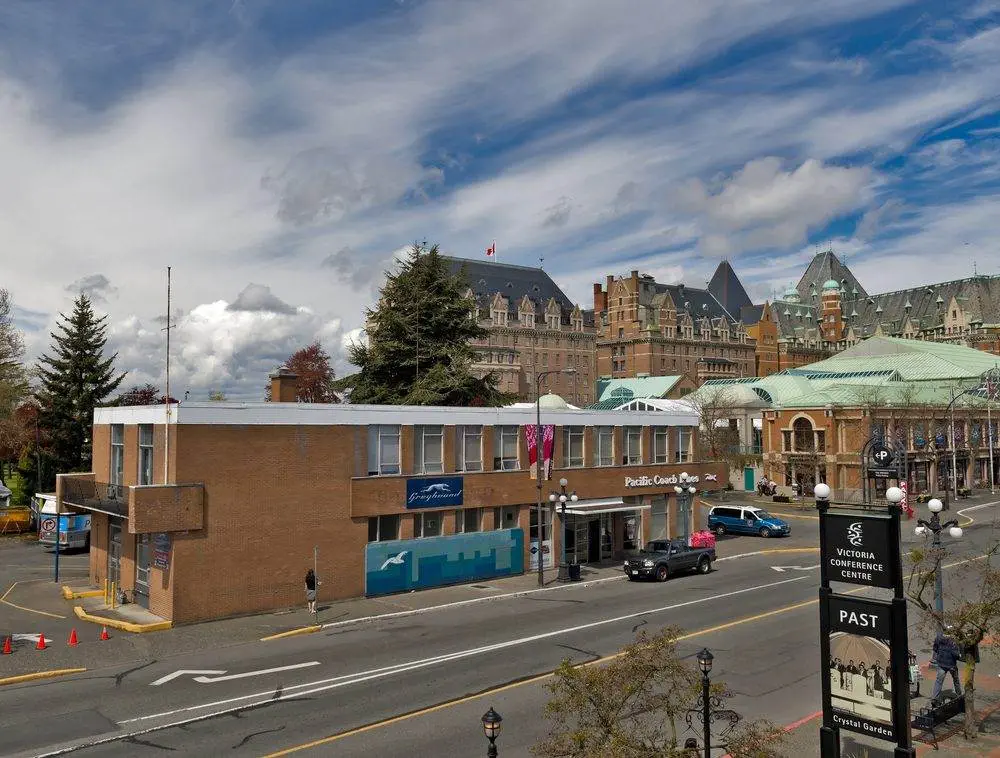 Are you considering how to get to Victoria from Vancouver in a less expensive way? Undoubtedly, you can choose this method. You can then board the ferry as a foot passenger.
1.4.1. Public Transport Directions from Vancouver to Victoria
From Vancouver, you can catch the Canada Line in Downtown Vancouver. Then, you can get down at Bridgeport station.
From the Bridgeport station, board the Translink bus 620, and reach the Tsawwassen ferry terminal. Once you land at the ferry terminal, purchase your ticket to Victoria's Swartz Bay terminal.
After you reach Swartz Bay, board the BC Transit Bus 70- an express bus, or the non-express bus- BC Transit Bus 72 to Downtown Victoria.
1.4.2. Swartz Bay Terminal
Swartz Bay, located in Sidney's northern suburb, provides BC Ferries sailings to Vancouver and the Gulf Islands. The majority of travellers reach Victoria this way too.
1.4.3. Major Victoria Transport Hubs
Victoria International Airport provides services to Vancouver, Seattle, Toronto, and many others.
The Inner Harbour accommodates terminals for Seaplane service for the following: Vancouver and Washington state ferries.
Capital City Station is the primary bus station in Victoria. It provides services to Vancouver and other places all over the island.
1.5. Vancouver to Victoria by Guided Tours
There are two choices for you to explore Victoria through this method. The first is a day trip to Victoria, and the next is an overnight trip. On both these trips, you can visit the most popular Butchart Gardens.
1.5.1. What Does the One-Day Tour from Vancouver to Victoria Offer?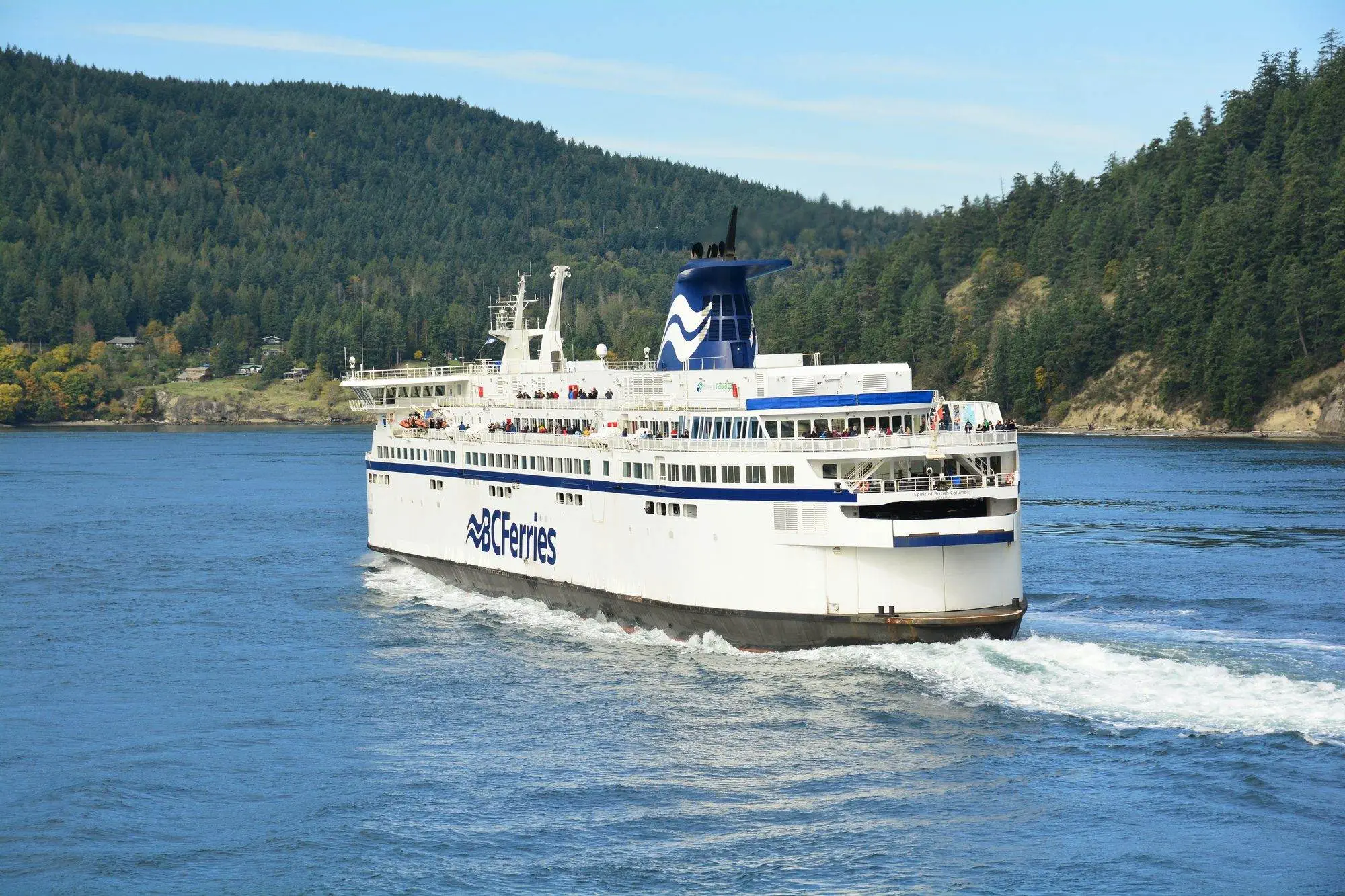 If you have only a short time to spend in Victoria but want to explore its major attractions, one day trip comes to your aid. This tour begins in the morning and picks you up.
Once you board the coach bus, it will take you to the ferry. The ferry will reach Victoria. Feel at home on the ferry, and have fun. You can enjoy the beautiful scenery on your ferry ride, and whale watching is possible.
You can also spot sea lions. The ship's captain may also alert you when these creatures are nearby, but sometimes they might miss it too. So you can stay alert if you don't want to miss spotting them.
After you reach Victoria, you have a few hours to roam this beautiful city. Stroll by the side of the Inner Harbour, and visit the significant attractions, namely Beacon hill park, Royal BC Museum, and Parliament Buildings.
1.5.2. More about Your Trip
Since your time is short, you can remain in Downtown Victoria. It will keep you hooked. The place has fantastic local shops. Suppose you wish to visit Fisherman's Wharf, you can hire a taxi.
After having your fill of all these attractions, your coach will lead you to the beautiful Butchart Gardens. You will have enough time to roam among the most lovely flowers. Once you complete this tour, board your coach and be prepared for your trip back to Vancouver.
1.5.3. What about Food?
If you feel hungry, you have dining choices on the ferry. Depending on your ship, you may even encounter the Pacific buffet. You can taste numerous dishes in this buffet.
The dining room on the ferry consists of floor-to-ceiling windows. You may admire the sunset at this place while on your way back across the Georgia Strait.
Once you are back at the ferry terminal in Vancouver, your dropping point will be Downtown. Overall, an incredible experience and a wonderful journey. How to get to Victoria from Vancouver? Try this wonderful one-day tour.
1.5.4. What Does the Overnight Tour from Vancouver to Victoria Offer?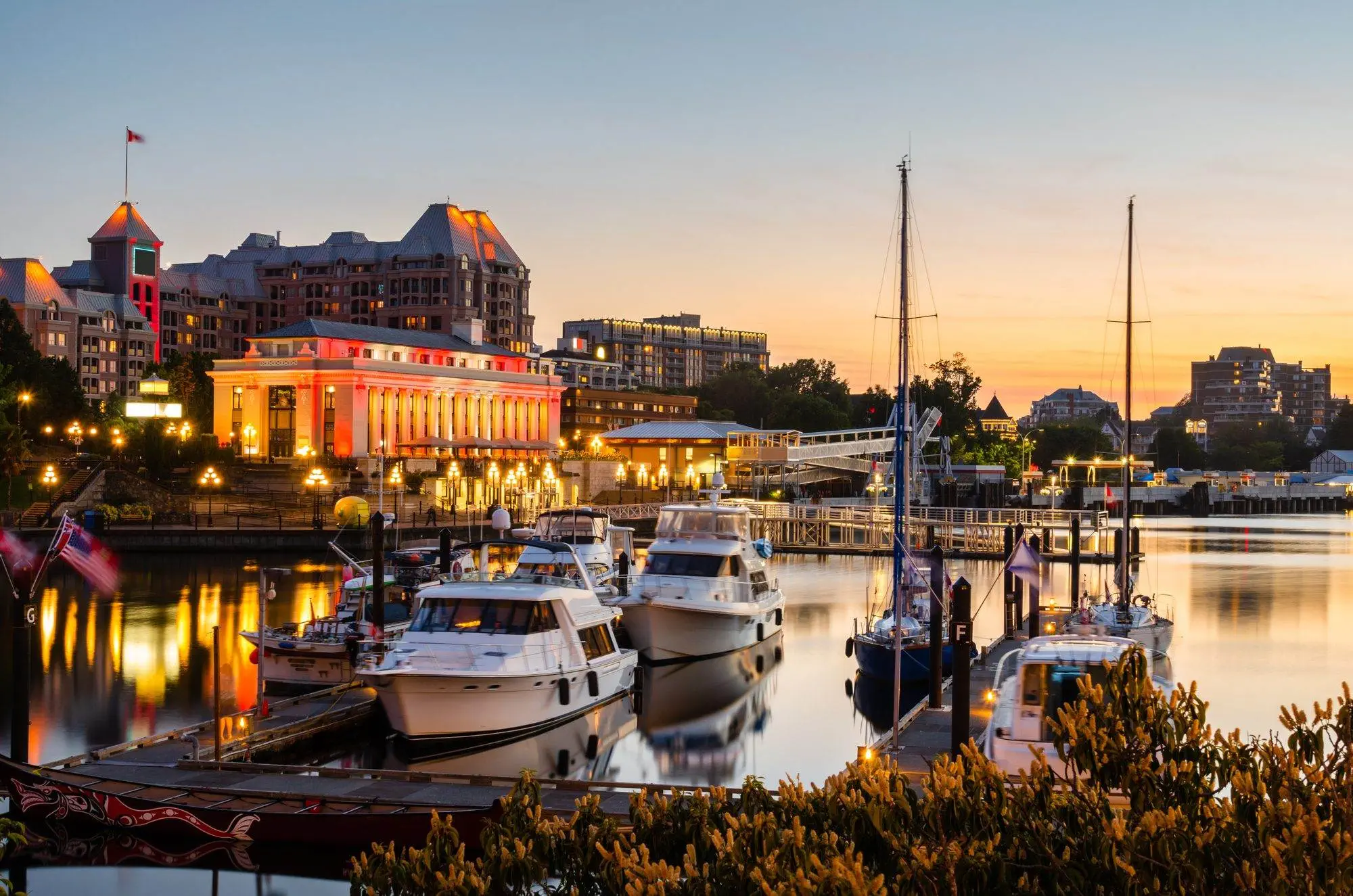 An overnight trip is an apt choice if you plan to spend lots of time in Victoria. Apart from staying the night in this beautiful city, you can enjoy your ferry ride across the Georgia Strait and a Seaplane flight on your return trip to Vancouver.
You can board the coach from your pick-up spot or your hotel. After you board the coach bus, it will take you to the ferry to cross over to Vancouver Island. You will enjoy the ride and also click pictures for your Instagram stories.
After reaching the ferry terminal, your coach bus will take you to Butchart Gardens as in the one-day trip. Once you finish the gardens, you can visit the Inner Harbour and return to your hotel.
1.5.5. What Next?
The next day is all yours. You can spend the whole day sightseeing leisurely. You can visit all the important places, go shopping, explore museums, and whatnot.
When you finish all these activities, you will be content and happy. After sightseeing, you can go to the Inner Harbour. From there, you can board the Seaplane to reach Vancouver.
This flight trip will also let you experience breathtaking views, so once again, let your camera start clicking pictures. The Seaplane will land at the Airport in the Downtown Harbour of Vancouver. From here, Harbour Air offers a complimentary shuttle and drops you at your downtown hotel.
How to get to Victoria from Vancouver? Opt for this incredible tour.
2. Frequently Asked Questions (FAQs)
2.1. Are Taxis Available from Vancouver Airport to the Ferry Terminal?
Yes, taxis are available from Vancouver Airport to the Tsawwassen ferry terminal.
2.2. How to Get to Victoria from Vancouver?
You can reach Victoria on Vancouver Island from Vancouver by seaplanes, ferries, or coach buses.
3. Bottom Line
Visiting Vancouver and Victoria is always lovely. Both cities have countless attractions to offer. Now you have also found marvellous ways to reach Victoria from Vancouver. So, stop fidgeting about how to get to Victoria from Vancouver and start your journey to Garden City.