Welcome to the bewitching city of Victoria. Victoria, the capital city of British Columbia, is known to be the liveliest city of all time.
Stationed on the Vancouver Islands in Western Canada, the city of Victoria is a popular destination among British Columbians and other visitors from around the globe. The city is just the perfect place for a visit over a long weekend.
The best part about the city of Victoria is, that it is quite a small place which makes most of the tourist spots and attractions lie just within walking distance from the city centre.
Whether you like shopping, taking tours of museums and gardens, or maybe having some fun in a pub, the city of Victoria has everything to offer.
Every wonderful thing is just right across the beautiful streets. The streets lift up a lovely feeling. Visitors enjoy the Victorian neighbourhood's old-world charming vibes as it connects their souls to nature.


The streets take you back to the feeling of visiting an English Village, with all the colourful Victorian buildings, amazing architecture, street entertainers, and floral baskets hanging everywhere. Everything feels beautiful, merry, and light-hearted.
The city of Victoria is internationally known as the city of gardens, and you can not miss a chance to visit one of them.
Speaking of which, the city is also well known as the pub capital of British Columbia. So, the city is not just about the old charm about also about the fun and thrills.
Above all, the city very well displays its British heritage and colonial past through its architecture, museums, and English-style pubs.
Surrounded by the waters, the city is obviously more famous for its marine life and harbour other than for its enchanting heritage buildings and soothing climate.
To know more interesting things about the city, please click here!
How to Dig the City of Victoria?
One of the best things about Victoria, which is located on an Island, is the journey itself. Getting to Victoria, itself is an amazing journey. However you are comfortable, you have all the travelling means to choose from.
You must have heard, "it's always more about the journey than the destination," and that stands very true for Victoria. Your journey from Vancouver to Victoria is one of the best parts of your entire trip.
From Vancouver, it's an easy day trip. Your comfort and convenience are always taken into priority. There are several ways through which you can reach Victoria and save yourselves plenty of time to explore the city.
1. BC Ferries
Take the ferry, and travel along the waters to reach your destination.
One of the most regular and suitable ways to travel from Vancouver to Victoria is to cross the Strait of George on a ferry. You have to catch a ferry from Tsawwassen to reach Victoria.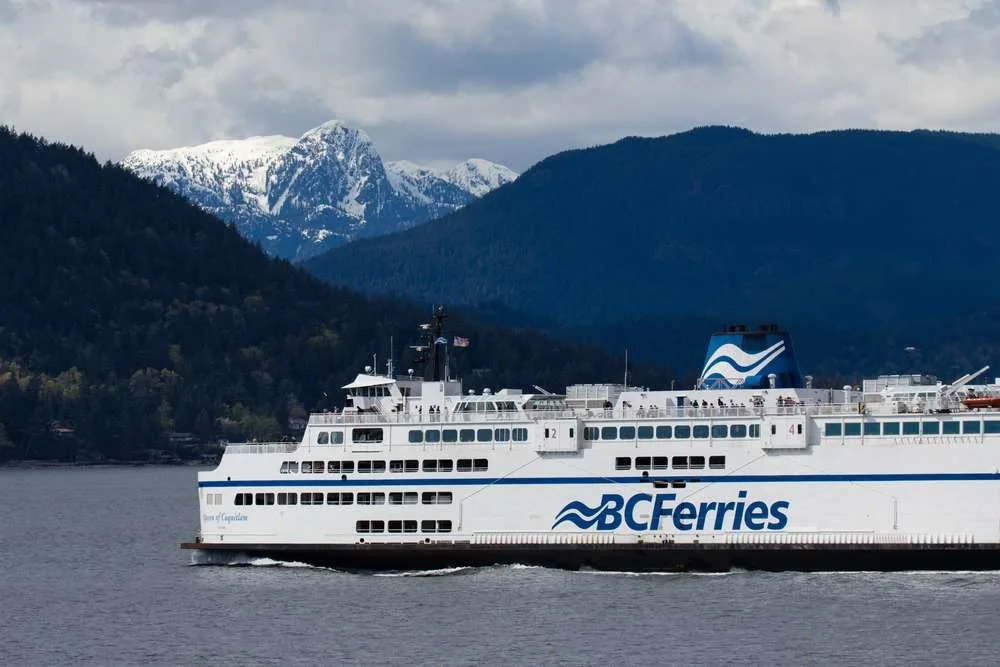 There are several ferry trips per day, so feel free to choose your ferry of choice in your own time.
2. Bus Tour
When in doubt, take the bus. From Vancouver to Victoria, a bus tour is the right choice for you to make when you have any doubts about where to start or where to go first.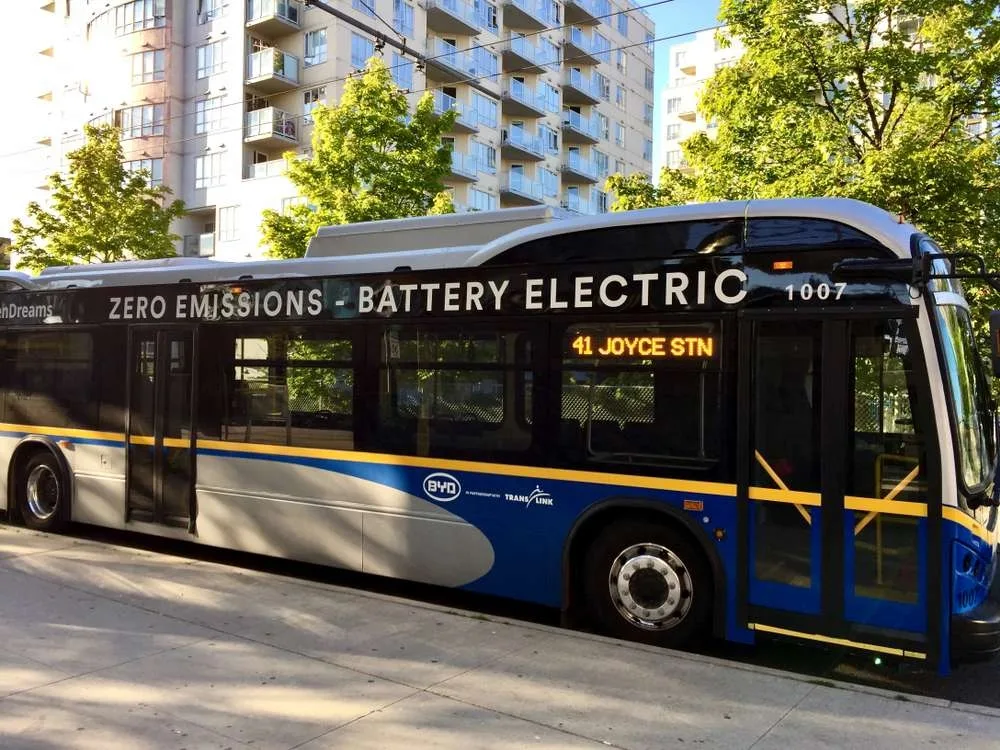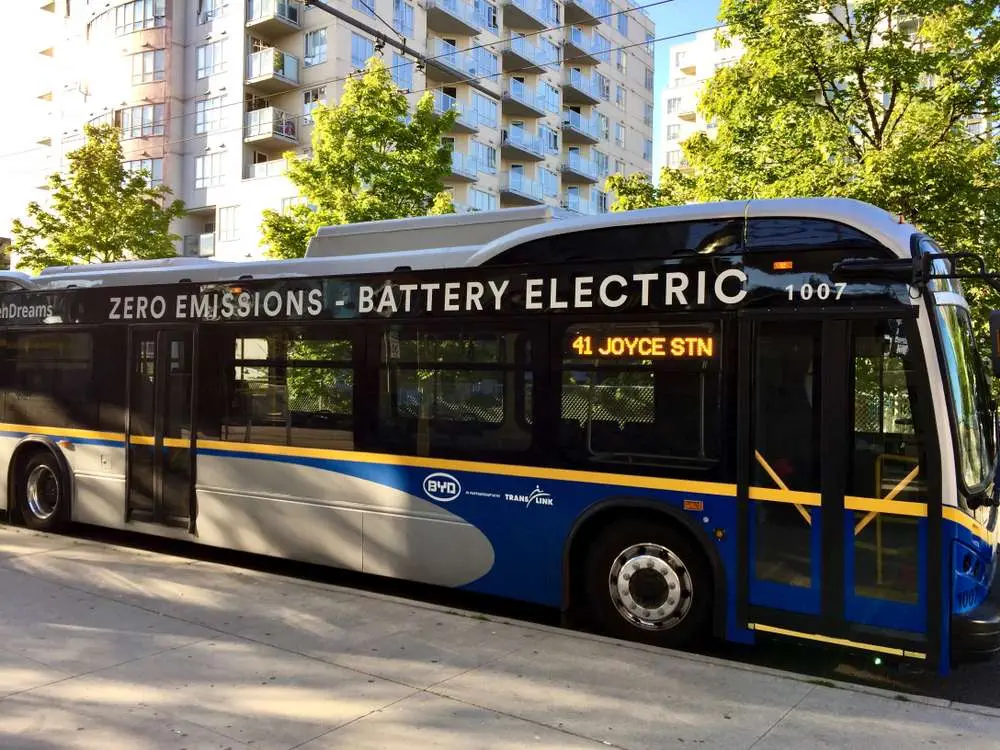 These bus tours save you from all the trouble involved in taking the ferry trip. It's very comfortable and convenient, and all you have to do is just hop on and take the ride.
The bus takes you through downtown Victoria, with an expert tour guide, pointing out all the key sites along your way.
Along with that, you also get a tour of one of Victoria's most famous and visited gardens- Butchart Gardens. The bus tour also offers a trip back to Vancouver.
3. By Seaplane
The best way to travel to the city of Victoria from Vancouver, without a doubt, is by Seaplane. Planes regularly leave every week throughout the day.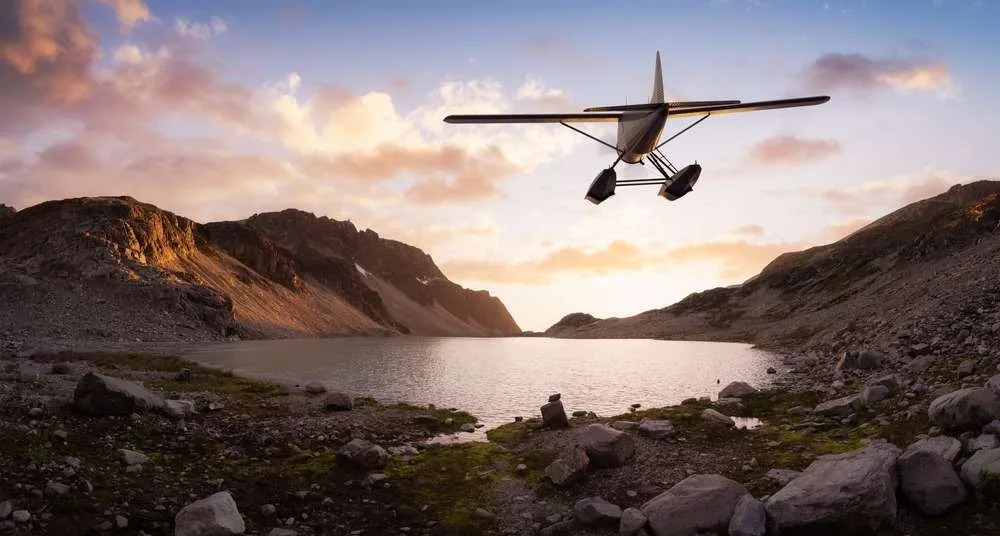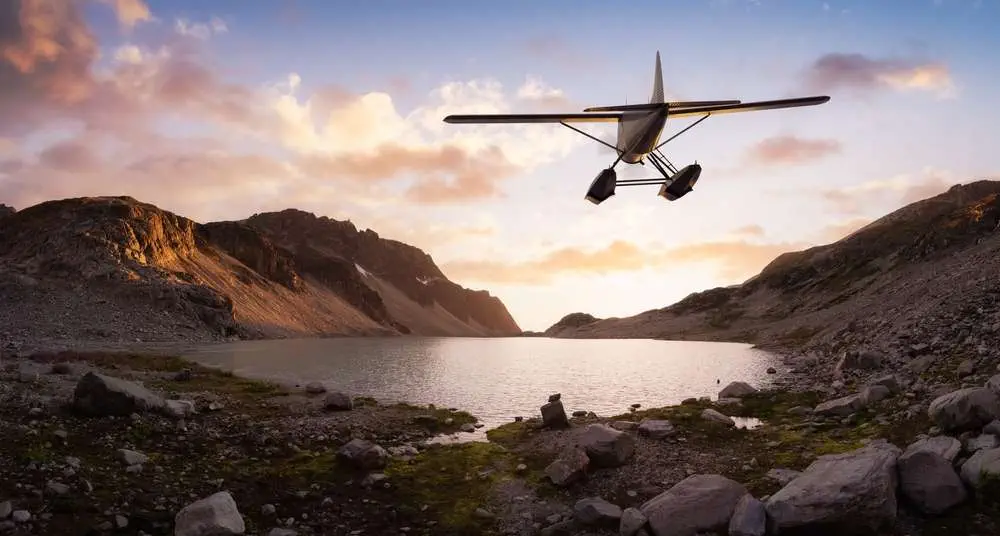 Travelling by seaplane has a lot of added benefits that make your trip more memorable.
Firstly, it's less time-consuming, only takes about 35 minutes to cross-Strait George. And that gives you enough time in your hands to explore the city very well.
Secondly, the planes land straight into Victoria's Inner Harbour, which is exactly where you start to explore. And last but not least, plane tours provide you with incredible and stunning views.
There's no chance you are going to get such views through other means. Vancouver to Victoria from the above is a treat to your eyes.
Although the seaplane might cost you a fortune, the perks are worth every penny.
So make sure to choose your best travel.
How to Expend Your Time in the City of Victoria?
Once you are in Victoria, you can't just stay put. There's so much to see, experience, and explore.
The city holds a bit of everything in it, from enticing history and rich culture to beautiful gardens, parks, streets, great food and drinks, and people. You can't just get enough of the charming, beautiful and artsy environment you come across.
It is said, Victorians love the waters as much as they love the land. Being in the waterfront city, you cannot escape the drizzling waters. You can head down to the Harbour, the heart of the city, and start your journey with a touch of city life on land and sea.
There are boats, water taxis, luxurious yachts, and everything for you to have great evenings in the waters. For crazy energetic mornings, you can start with The Pedaler's 'Eat, Drink, Pedal' cycle tour.
They offer a range of themed bike tours around the city for about 4 hours. It is a perfect experience for food lovers.
There's so much to see that you will feel like there's so little time. Every corner of the city speaks volumes; you get a different vibe at each corner.
Getting around on foot is easy, for major tourist attractions are right there in the downtown area.
10+ Amazing Things to Explore in the City of Victoria
Here is a list of some amazing things to see and do from every corner of the city of Victoria. I hope it helps to plan your trip better.
1. Inner Harbour
Inner Harbour is the heart of downtown Victoria.  It is one of the most pleasing harbours in the world.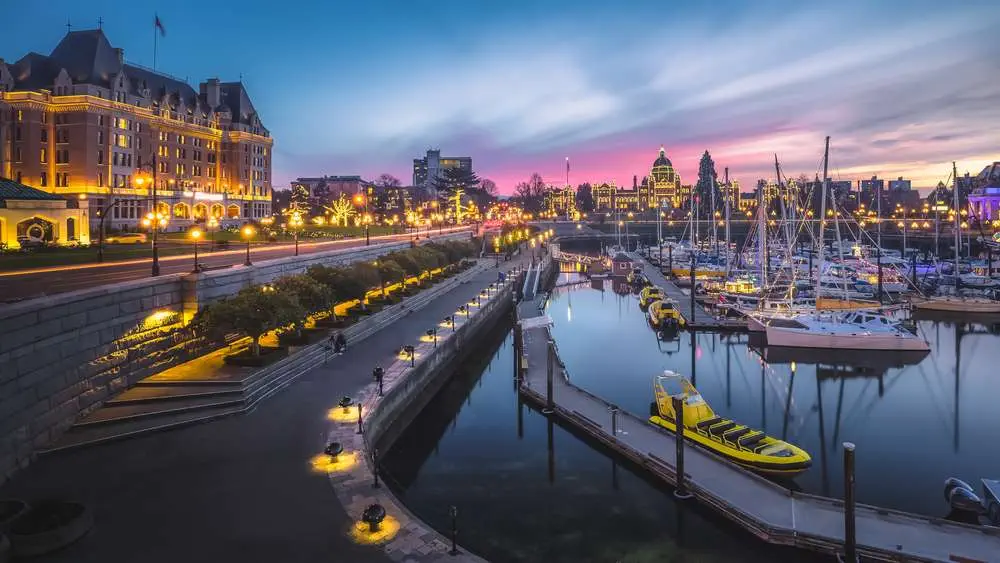 Beautiful isn't enough when describing the most picturesque, Inner Harbour. This is the place where the fashionable part of the city begins, and exactly from where you start off your journey into the city.
The streets' whole ambiance dates back to the historic fishing and shipbuilding period, with unusual architecture.
Today, the area is a place with ferries, cruise ships, boats, and floatplanes. You will see buskers on the streets, entertaining people wandering around. The streets are always busy.
The inner harbour basically is the reason that makes Victoria a world-famous tourist destination. The Harbour has many of Victoria's most popular and picturesque attractions.
i) The Empress Hotel – The castle-like landmark hotel, is now a National Historic Site. This hotel brings you a luxurious stay during your trip.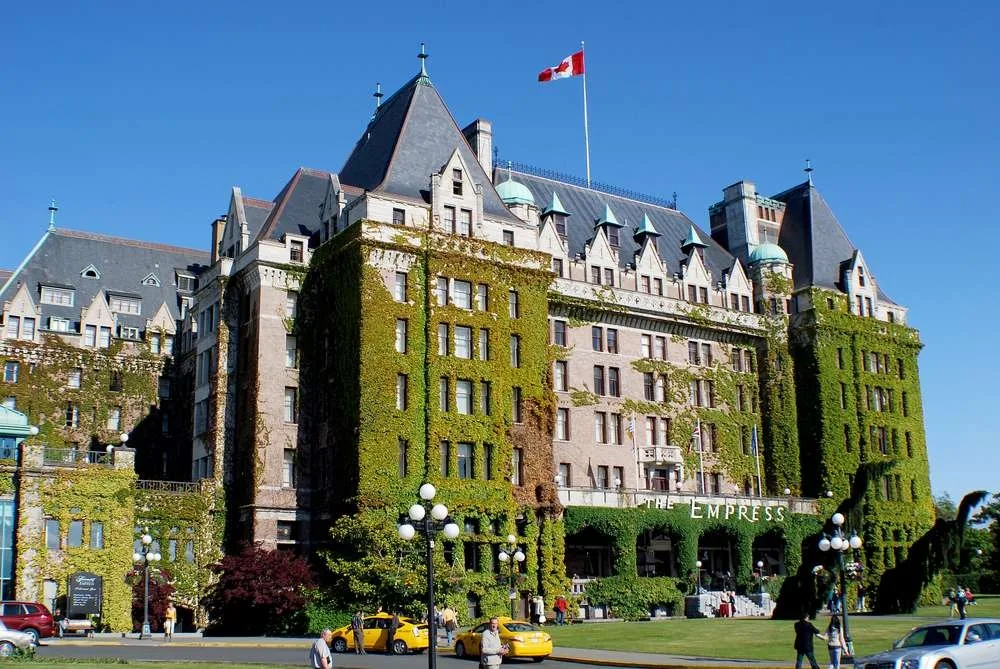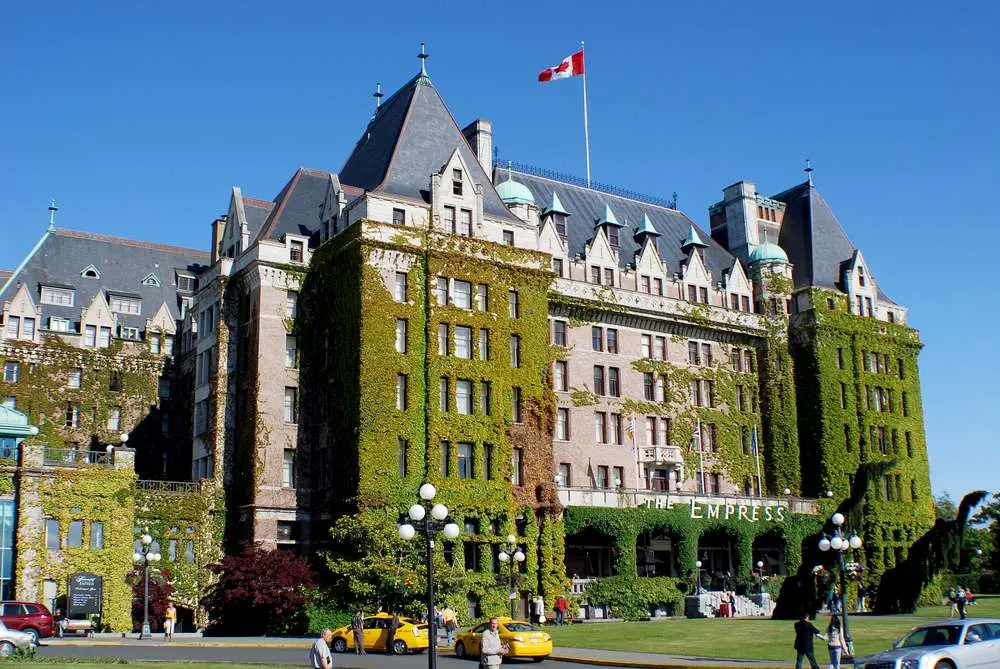 The Empress gives you a royal feeling with its built-in architecture. It is one of the oldest hotels in Victoria, providing amazing facilities such as house restaurants, indoor pools, hot tubs, spas, and a fitness center.
ii) Inner Harbour Night Market –  A night market mostly in the summers, on the main dock in Inner Harbour.
It is a pedestrian market held together by artists, musicians, jugglers, and food vendors. Visitors have a great entertainment experience in this market.
Visitors spend a great deal of time strolling around the market, visiting each shop one by one. Exploring the best of everything they have.
iii) Miniature world – One of the most popular attractions in downtown Victoria. This museum lies at the side of the Empress Hotel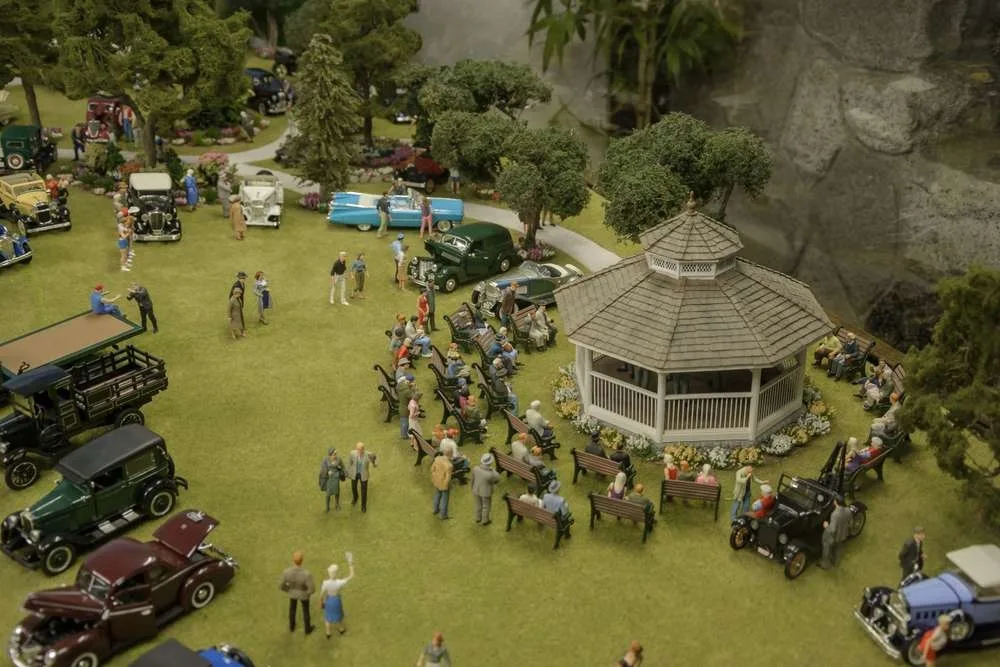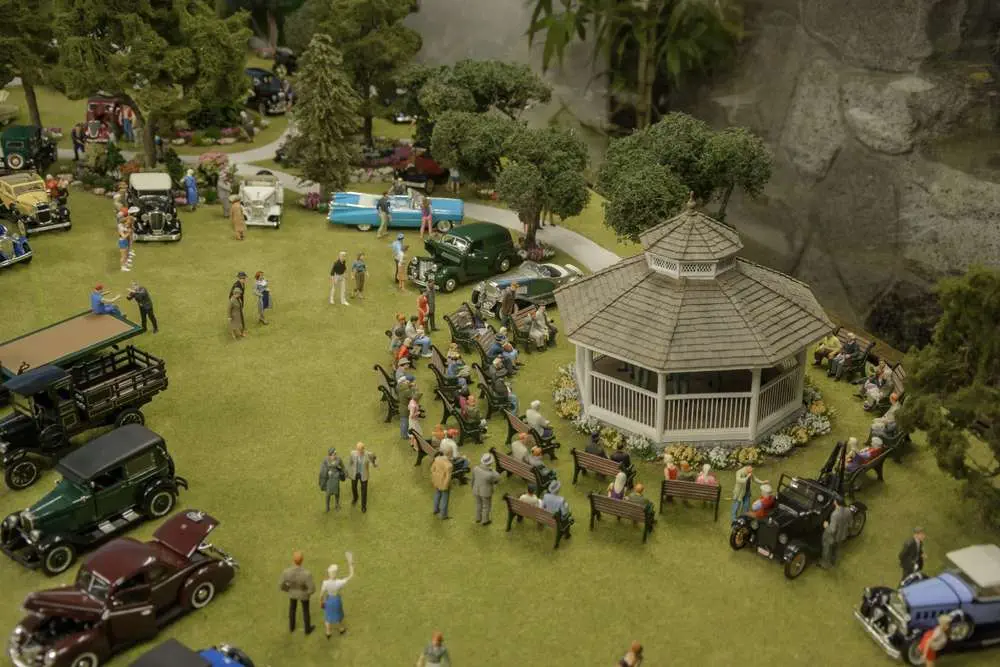 This museum is full of exciting elements. It displays dollhouses, miniature railways, and toy soldier battle scenes. And it also features two of the world's largest dollhouses.
The museum amazes people of every age group. Both adults and children are mesmerized by the fine detailing of the tiny world.
Enjoy the world's best small things in your very own city of Victoria.
During the summers, the harbour is most crowded for being the focus of festivals, shows, and music. Something is always on the move here, giving off a youthful spirit.
2. Cook Street Village
Cook Street Village is a shopping district on the east side of Beacon Hill Park in Victoria.
Cook Street Village is a colourful community with charming shops, coffee houses, restaurants, and brit-style pubs. This historical place presents to you the European Old World ambiance. And it attracts visitors who live by a simple rule, relax and enjoy.
The village spreads along with five blocks between Leonard and Oscar streets. And offers a pedestrian-friendly environment too. There's a lot of corner space for outdoor eating, which is loved by most people.
Several organic food markets manage well to impress visitors. Along with that, unique clothing boutiques are also in demand.
They have different styles, ranging from age-old French fashion to mid-century modern. And that gives the pleasure of satisfaction to all of its customers.
Just take a walk down the streets, and you will feel so relaxed. The whole ambiance is so wonderful and soothing.
If you start from Inner Harbour, the village is at a short distance of about 6-7 minutes.
3. Royal BC Museum
In 1886, the Royal British Columbia Museum was established. It is one of Canada's greatest cultural treasures.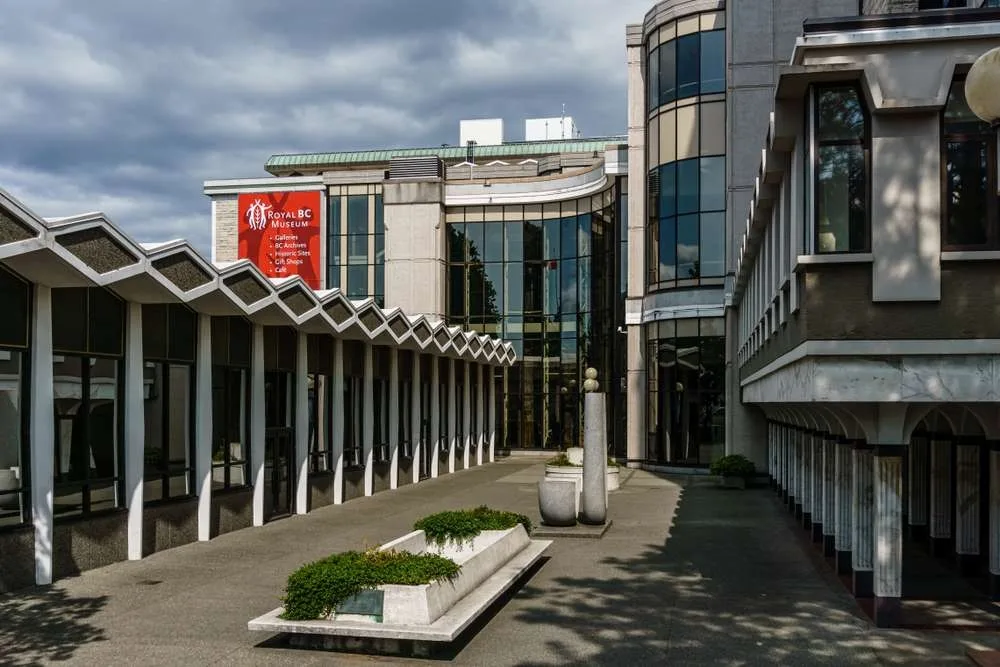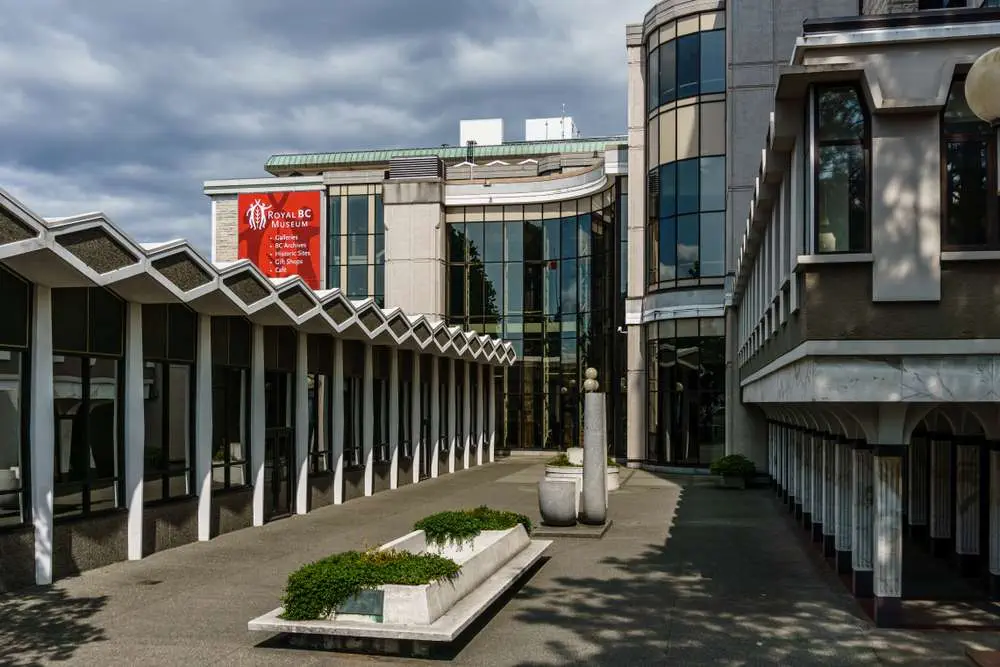 The museum consists of three galleries: Natural History, Becoming BC, and the First People's Gallery. It features collections of about 7 million objects, including natural history specimens and artifacts.
History comes to life at the three permanent galleries when visitors walk through the doors. Through a display of their prized collections, the inspiring stories of British Columbia are told.
The museum consists of the largest IMAX screen in British Columbia, which offers you an incredible cinematic experience. Mostly nature and travel documentaries are featured, but it also screens a few Hollywood films.
There's a section, "Wildlife Photographer of the year," which fascinates many people. It displays 100 of the most stunning wildlife images from around the world.
It is probably the one place to get a sense of all of British Columbia at once. You get to learn all about the natural and human history of the province at this very place.
You can visit two of the oldest buildings in the province, and see totem poles and dinosaur footprints.
4. Fisherman's Wharf
A unique marine destination in the city of Victoria, located just around the Inner Harbour. Explore a picturesque floating village.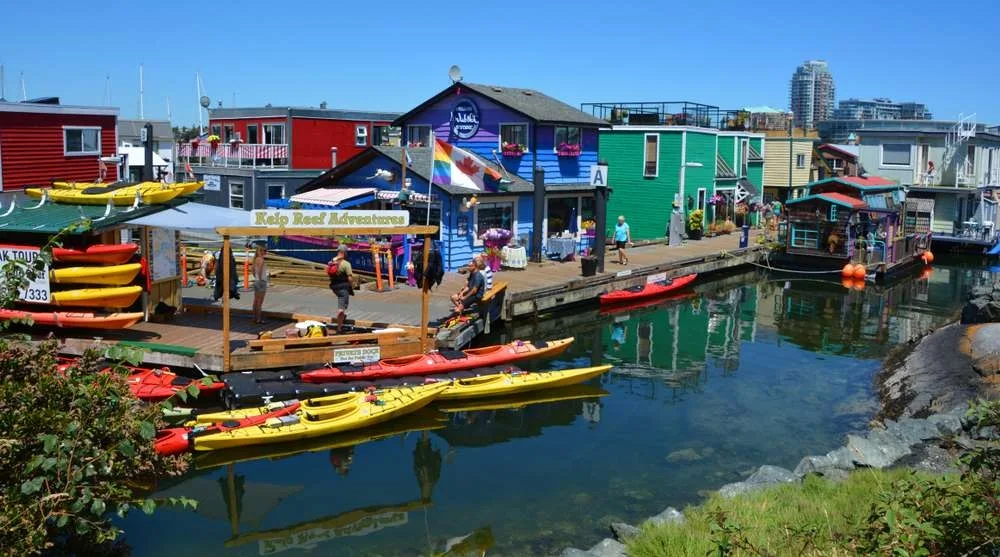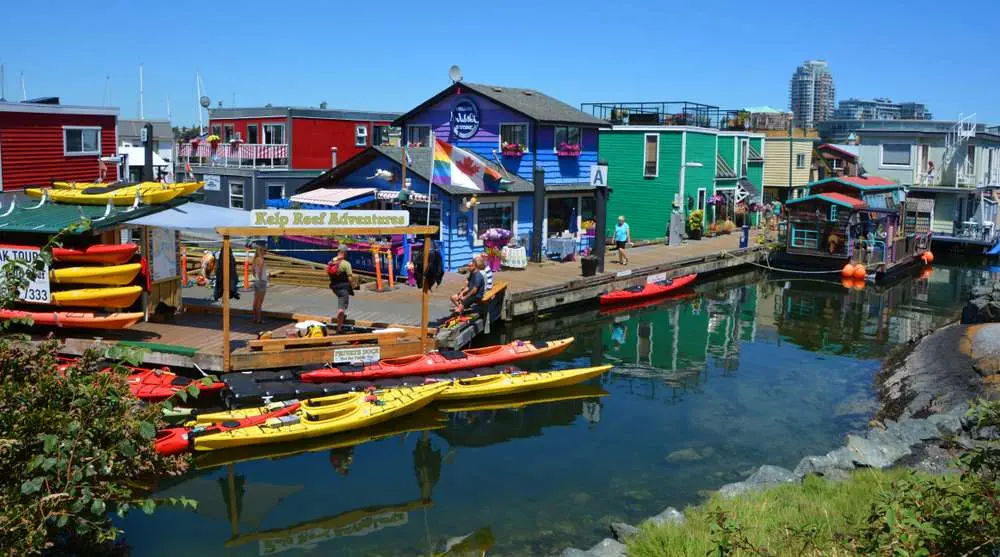 Fisherman's Wharf is considered a hidden treasure in Victoria city that is waiting to be discovered. Just a few blocks away from the city center, it offers you stunning, colourful floating homes with amazing dining choices.
This marine destination is a must-visit attraction because of its colourfulness, food kiosks, unique shops, and eco-tour adventures.
The colourful floating homes are what attract visitors the most. One of the best things to do at Fisherman's wharf is to feed the resident seals. The seals are very friendly, and people seem to enjoy feeding them a lot.
Visitors find it pretty amusing to have fine dining experiences in the waters, with such great views.
Adventures such as whale watching and wildlife viewing tours are mostly enjoyed.
You can talk to the friendly villagers and learn about their lifestyles or maybe try some fresh and delicious seafood off the boats.
Do not miss this amazing place in the city of victoria.
5. Beacon Hill Park
Beacon Hill Park hails from the coastal region of Juan de Fuca Strait in downtown Victoria and is within walking reach from the Inner Harbour.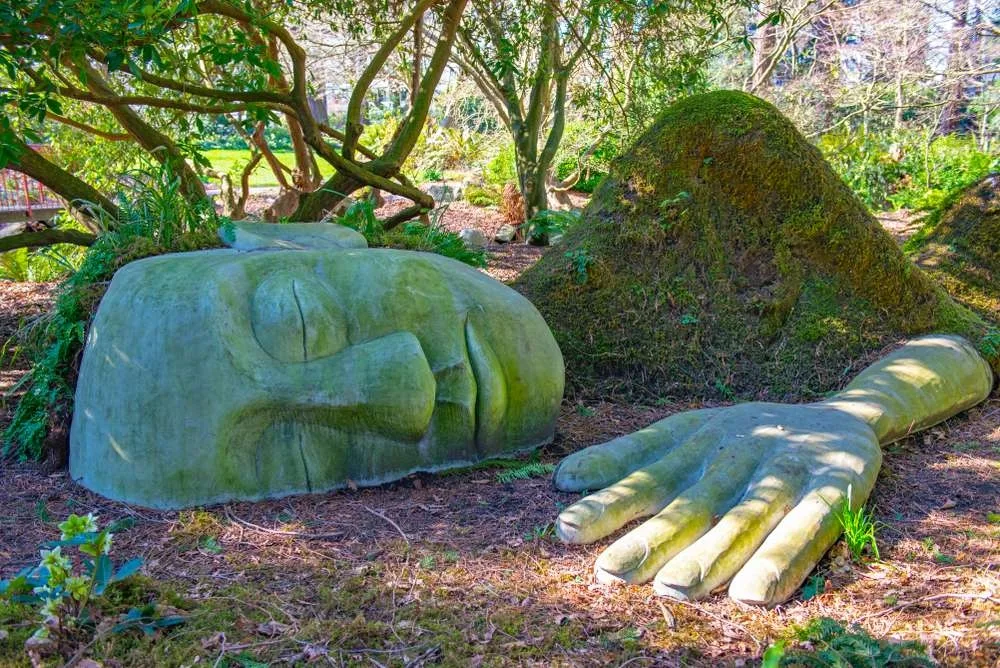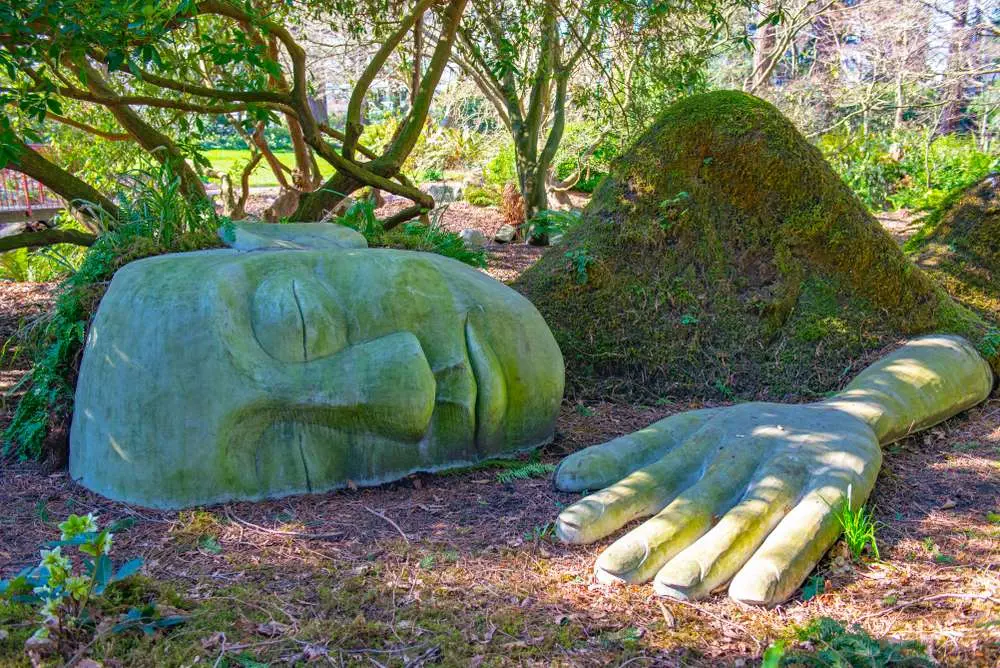 Opened in the year 1882, Beacon Hill Park is popular among both locals and tourists for its wide range of attractions.
It is always a delight to take a stroll inside the park. There's so much to see and explore in this huge park, make sure you have plenty of time.
Beacon Hill Park offers various activities of interest and attractions such as a petting zoo, playgrounds, seven walking trails, tennis courts, ponds, and landscaped gardens.
There are fun family activities you can very well enjoy. Here's a list of such activities:
i) Animal Fun at the Children's Farm
Beacon Hill Park is fun for every age group, and few activities are best for your children. The Beacon Hill Children's Farm is what keeps your children entertained.  It is full of animals that you and your children can interact with.
The park offers you the best farm animal experience.
The farm is open from 10 am-5 am every day and has a goat stampede twice every day, which is very fun to watch.
ii) Enjoy the Water Parks
The best part of visiting Beacon Hill Park in the summer includes the water park. Nothing feels better than a cool breeze from the waters on a hot summer day.
Other than this, the walking trails are also the most popular sight in the park. It is a 4.3-kilometre loop trail and is a comfortable trail for any level of hikers.
The trail is mostly used for walking and running purposes and is also dog friendly.
6. Tour Chinatown
Victoria's Chinatown is known to be the oldest Chinatown in Canada. It is a popular area for tourists as well as for artistic people.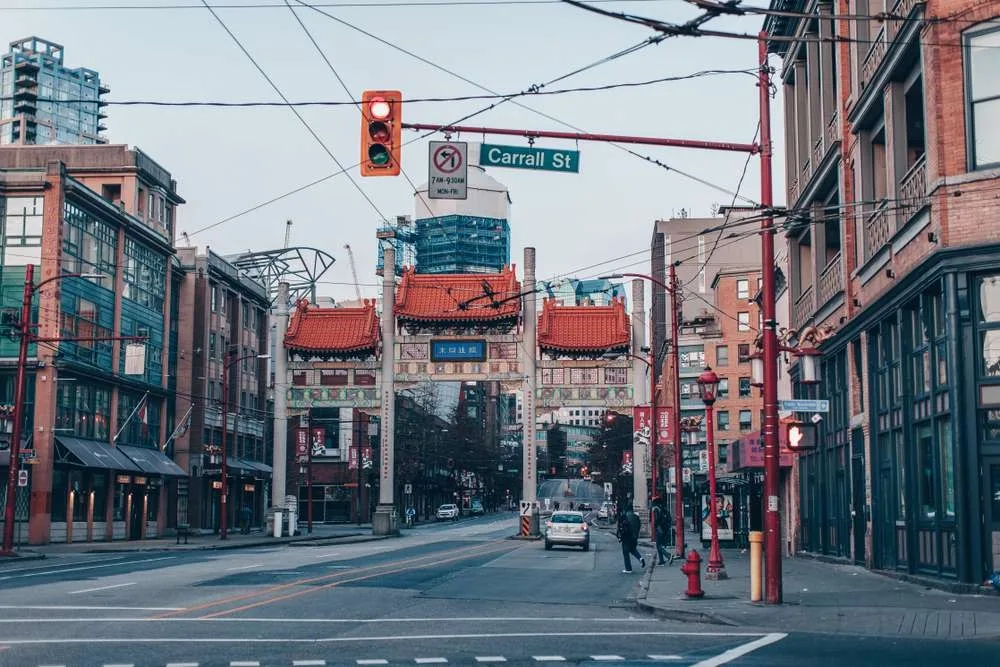 Chinatown very well expresses and presents the Chinese immigrants' culture and traditions in the late 1700s.  It was declared a National Historic Site in 1995, and ever since, it is home to a variety of businesses.
The colourful streets and narrow alleys are taking a stroll. You will find the best noodles to hog on.
The whole place is so beautiful and attractive, visually. You can see rows of lanterns hanging there to guide your way into the town.
The entrance to Chinatown, the Gate of Harmonious Interest, is the most eye-catching of all. Visitors start their perfect stroll from this very spot.
Everything about this place is amazing, but you will need to walk down Dragon and Fan Tan Alley to have a magical experience. Fan Tan Alley is the narrowest street in Canada, yet it never fails to provide the best services and experiences.
You will find a variety of shops in the alley, from decor and gifts to bakeries and clothing.
Enjoy Chinese roots right in the city of Victoria, Canada.
7. Admire Art at the Art Gallery
The Art Gallery of Greater Victoria is an art museum in Rockland.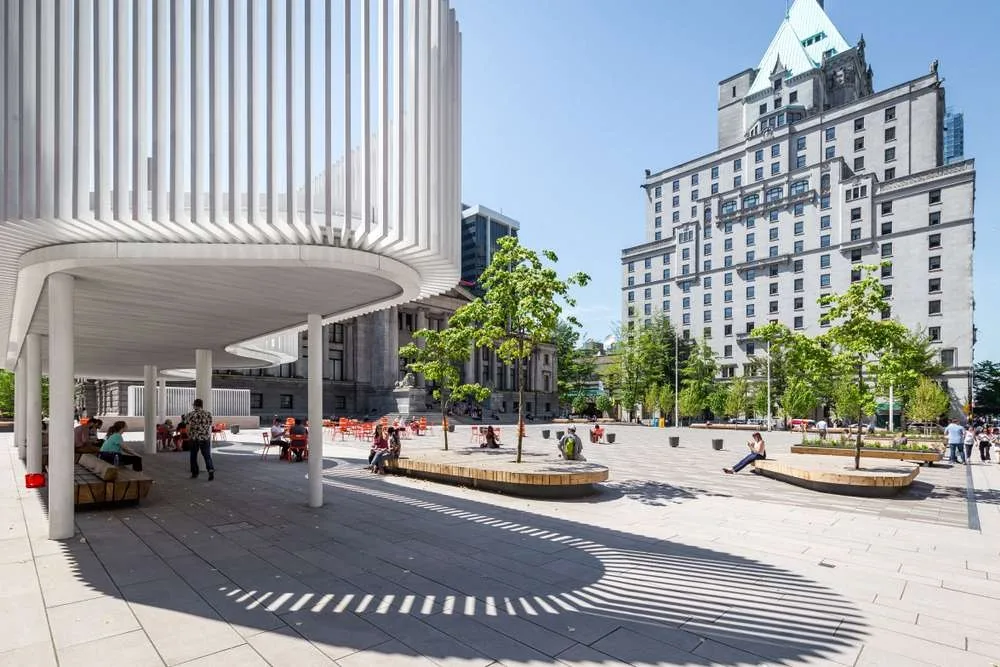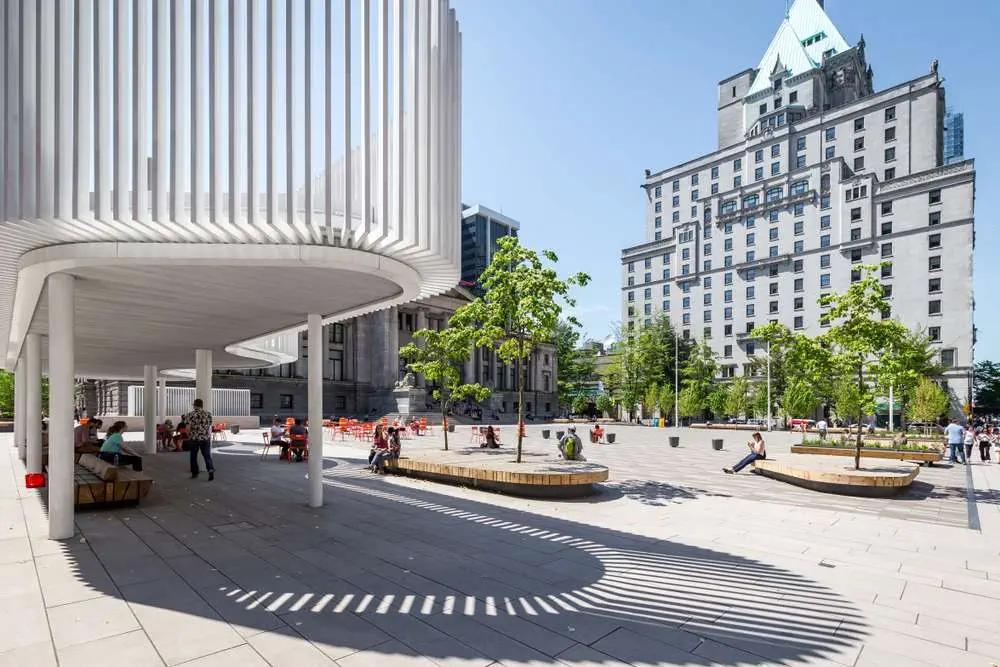 It is the largest art gallery in the province and was founded in 1951. The gallery doesn't only exhibit great works from artists but also helps build artists' careers at different stages of their life by developing visual arts.
Various research works on visual arts are also published to help artists get better insights and knowledge.
The gallery is built in a park-like setting, which makes it more fascinating to the eyes. It mostly displays historical and contemporary art, but it also has a unique collection of art from Asia.
Also features one of the largest collections of work from the renowned Victorian artist Emily Carr.
The gallery has a gift shop that attracts most visitors for its handmade pottery, jewelry, and other beautiful art and crafts by local artisans.
It is a heaven for people in art and craft. Admire the best of art, right here.
8. Take a Ghost Tour
Disclaimer: Not for the faint-hearted.
The city of Victoria is not just a beautiful place but also a daring one.
Victoria is known as the garden city for its jaw-dropping beauty, but there's a ghastly side too, waiting to be explored. The city is also well known as the most haunted city in British Columbia.
You can enjoy a self-guided tour by picking up a guide from the Inner Harbour Visitor Centre and experiencing the popular evening ghost tour.
The tour takes you around three to four haunted places, which include Ross Bay Cemetery, Bastion Square, and Old Burying Ground.
You can explore the spooky dark side of this beautiful downtown city through the narrated phase of the tour. A guide will take you to various haunted places within the city and narrate the dark past behind them.
The tours are organized all year round and take you on a 90-minute horror adventure.
9. Grab the Best Fish and Chips
If you are a food lover and you love fish and chips, Victoria has one of the finest food places to offer you your favourite. Grab the best fish and chips at Red Fish Blue Fish- an oasis of pleasure.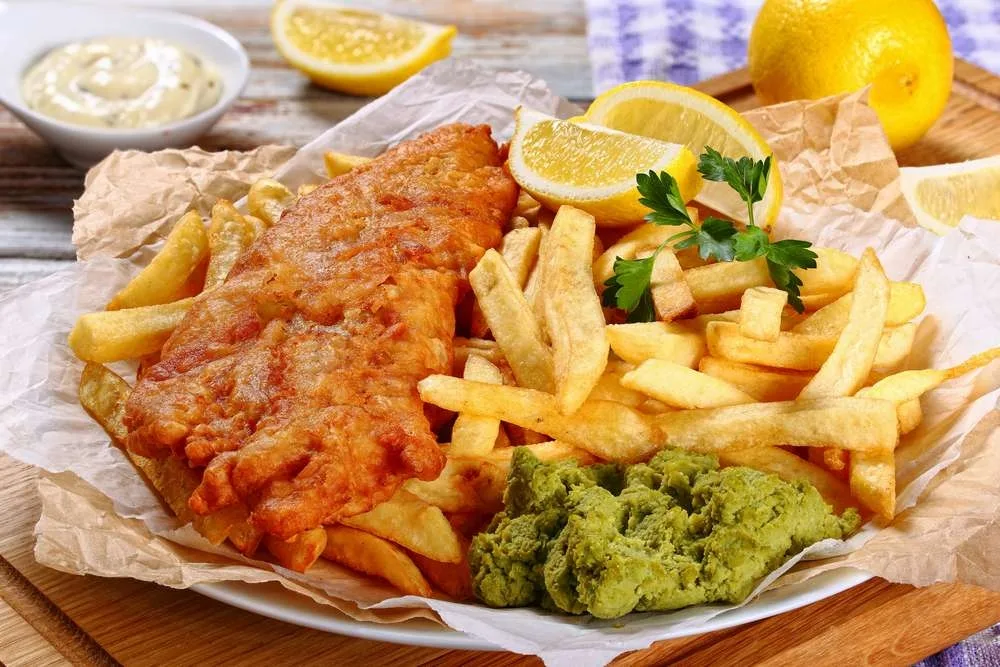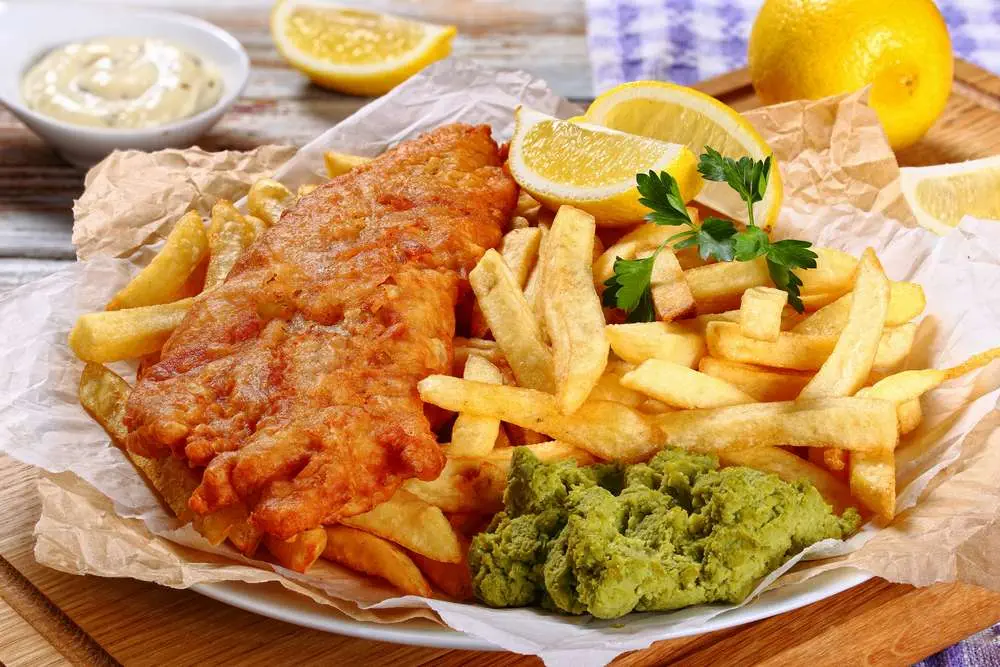 Red Fish Blue Fish is a dockside seafood restaurant located in Inner Harbour, serving delicious fish and chips.
The place is always crowded and busy, but it's worth the wait. They serve three different types of fish; you can choose any you like.
After eating at Red Fish Blue Fish, you will never want to try out the classic "fish n chips" anyplace else.
Although best known for its delicious fish and chips, it is also famous for its creative hand-roll style tacos.
If you love tacos, you can surely try that too. You won't be disappointed.
10. Shake a Leg at the Pubs
The city of Victoria is popularly known as the pub capital of British Columbia. At every corner of the city, there are pubs with different vibes.
Pubs are the best place to spend relaxing evenings. After a long tiring tour of the city, find yourself a nice pub and have a great evening.
With great live music and drinks, this is everything you need to end your weekend with. Victoria has some of the finest pubs, some of which include:
i) Irish Times 
Irish Times is a traditional Irish bar, with the best live music around. The pub runs by the motto: Food for the body, Drinks for the spirit, Music for the soul.
Since 2004, the pub provides its customers with the pure essence of Irish culture.
ii) The Drake Eatery 
The Drake Eatery is open since 2014 and has been serving its customers a safe and comfortable space. With that, they serve the best beer in town. For a refreshing evening, this pub is the best place to be in.
Do not forget to check out their menu. Delicious food, good music, and some chilled beer what else could anyone wish, for a refreshing evening?
11. Drive along the Scenic Marine Route
The scenic Marine Route is a trail that follows the Pacific coast of the city of Victoria.
You can either drive, ride, or cycle along the ocean shore on Scenic Marine Route. On a fresh, sunny morning, a drive along this route feels heavenly.
The route has enough viewpoints to give you a beautiful moment to enjoy. Take a ride along this trail on your last day of the trip, because there's no better way to end your beautiful journey other than being on this panoramic oceanfront route.
It's the best way to bid goodbye to the magnificent city of Victoria.
Conclusion
Millions of people visit Victoria every year. The temperate climate and old-world ambiance are what make Victoria the most visited and special city in Canada.
Victoria is made for every kind of person; nature lover, adventure lover, or outdoorsy person.
And if visiting ain't enough, how about settling out there? To get more ideas about Canada, its tourism, or its citizenship, please visit our website and read more articles. Also, to know how to get Canadian citizenship, please Click here!
Make sure you keep these sights in view while planning your trip to the city of Victoria. And if you have already been to the City of Victoria or any of these places, please share your experiences below in the comment section.
Click here to read more.
As an Amazon Associate, Icy Canada earns from qualifying purchases.
[amazon_auto_links id="81298"]
The Icy Canada team strives to create content that matters. It's why our content is written by travel writers, authority experts, well-known authors, and niche experts. Our content is also periodically reviewed by expert authors for accuracy and trustworthiness.
As an Amazon Associate, Icy Canada earns from qualifying purchases. [amazon_auto_links id="81298"]