Rule the waters and let the winds guide you. Kiteboarding Ontario is an adventure sport where you use the power of wind through a kite to move on water and snow in winters. Kiteboarding is also called kitesurfing in the European continent.
Given the amazing geography of Ontario, kiteboarding here is a popular sport amongst people and visitors alike. This article is a guide that puts together everything you need to know about Kiteboarding Ontario.
7 Awesome Spots For Kiteboarding Ontario
1. Cherry Beach- It is located at the foot of Cherry Street on Toronto's outer harbor east of the eastern gap. Cherry beach is amongst the few popular places for skillful riders because of its wind-blowing fashion. During summer, the beach is crowded with visitors, pets, and swimmers.
How to get there: Drive straight on Cherry Street and keep going to the end.
2. Lagoon City- This is a waterfront community located on the east shore of Lake Simcoe, Brechin town in the province of Ontario. The consistency of water here is flat, perfect for intermediate to advanced level riders. Along with Kiteboarding Ontario, they are open to other activities like Water kiting and Snowkiting.
How to get there: Take HWY 404 North from Toronto. Exit at Woodbine Avenue North and take Road to HWY 48 immediately. Stay on it until the fork and then HWY 12 North to Ramara Road 47.
3. Long Beach– Long Beach is located on Lake Erie and is one of the offbeat locations of Niagara. This beach is also popular for its camping sites which are in full booking through all the seasons. The waters here are shallow. The winds at the long beach are not beginner-friendly for kiteboarding Ontario. During summers you might find the beach full of people.
 How to get there: Reach 12475 Lakeshore Road, Wainfleet, Ontario.
4. Oliphant Beach- It is situated in South Bruce Peninsula between Sauble Beach and Red Bay on Lake Huron. Oliphant beach is split up into two beaches-The North Beach and South Beach. North Beach is allocated to Kiteboarding, and South Beach is saved up for swimming. Seeing the consistent winds and shallow waters, the north Oliphant Beach is best for all suitable riders.

How to get there: Take Bruce Rd and hit the Sauble Beach, turn right on Sauble Falls Pkwy and follow to Oliphant. Take a left on Oliphant Way.
5. Wasaga Beach- Wasaga Beach is the longest freshwater beach in the World. It is located along Georgian Bay. The beach has been assigned specific areas for a specific part of the crowd.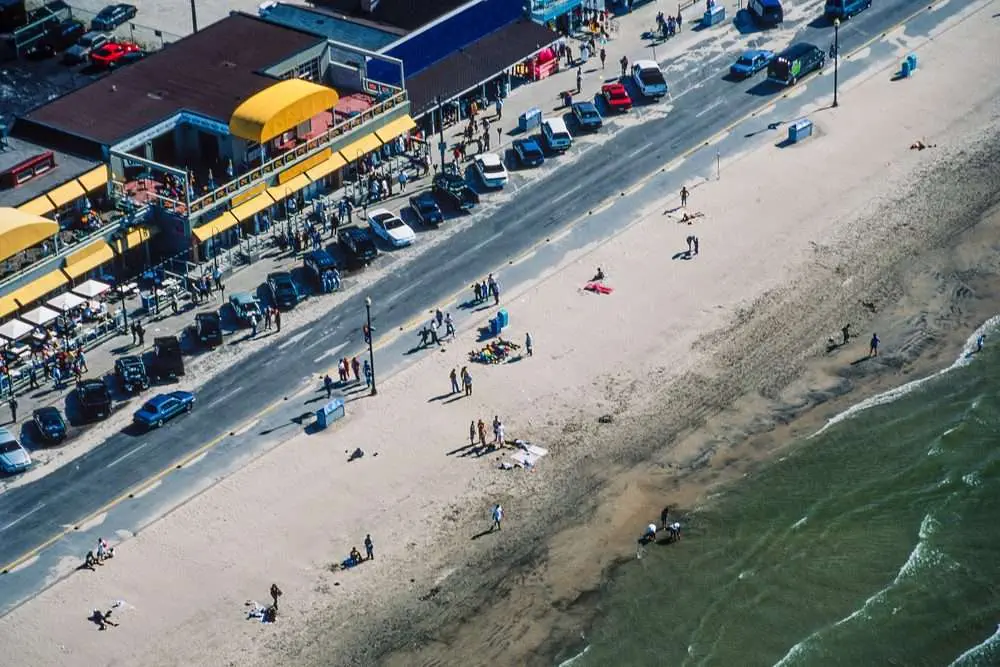 Beach 6 is ideal for kiteboarding Ontario. Summers on this beach are not advisable for beginners.
How to reach here: Drive on HEY 26 and follow the signboard to Wasaga beach.
6. Beaverton- Beaverton is amongst the favorite of all the kiteboarding Ontario spots. Beaverton kiteboarding is at 9th concession Road and Shore Line.
It is located at Thorah Centennial Park. Beaverton is suitable for every type of rider because of its shallow and sandy bottom. Riders set up their kites and gears on the Thorah Park grass. The beach is also a famous recreational spot for localities on Lake Simcoe.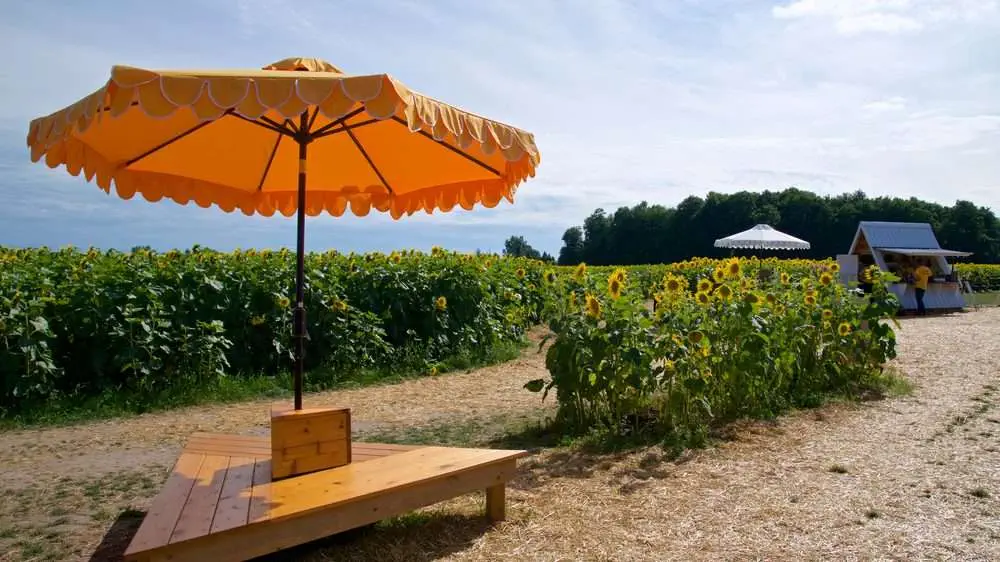 How to get there: Take HWY 404 from Toronto to Keswick. From there, follow HWY 48 until the fork and take HWY 12 till you reach the 9th concession road.7.
7. Keswick– Keswick kiteboarding Ontario spot is located in Cook's Bay, Lake Simcoe. It is just a few miles away from Glenwood Beach and Clardon Beach Park. The wind directions here are suitable for intermediate and advanced riders. It has a rocky shoreline, but you will be acquainted once you get in. The spot is filled with willow trees that might be a problem for kites sometimes.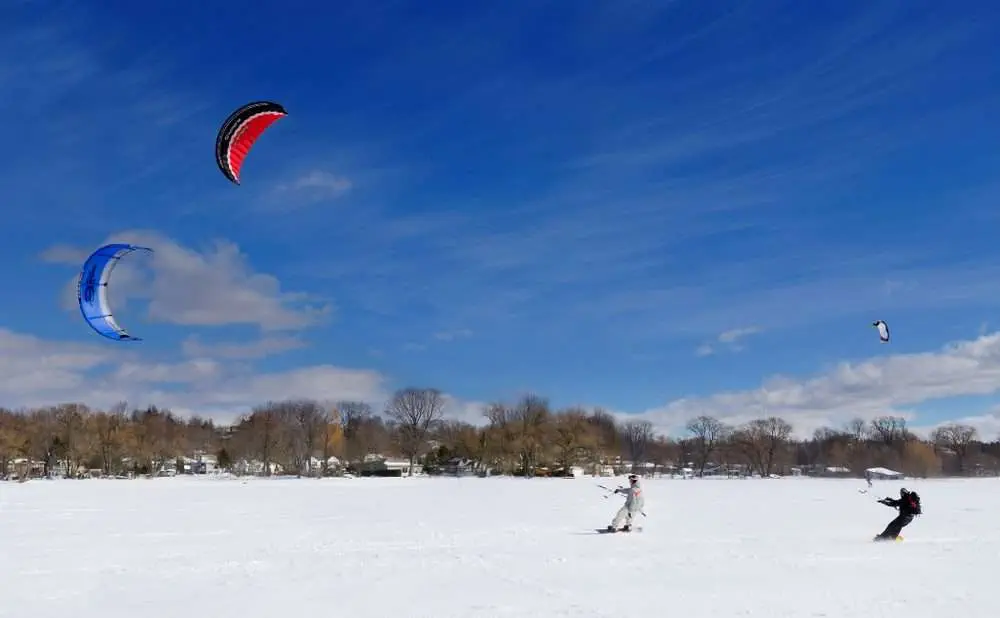 How to get there: Keswick is a few minutes away from HWY 404, making it easier to reach.
If you are up for kiteboarding Ontario, all you need is the spirit, energy, and patience. Several schools and instructors offer to train you as a beginner or improve your skills in this adventure sport.
Kiteboarding Schools
1. Ukiteboard– Ukiteboard offers you certified instructors to teach you kiteboarding in a safe way. For you to be an advanced rider, you have to pass 3 kiteboarding levels. The coaching will supply all the necessary gear for learning. 
The instructors here take a short video of you while studying your techniques and rectifying your mistakes. Ukiteboard offers lessons in 4 packages- Beginner package, Powerkite lesson, Semi-Exp lesson, and Group lesson. They are a mobile school, and they go where the winds take them.
2. PBK Kiteboarding Ontario– PBK offers you the latest kites, gears, and equipment you need to become a rider. PBK is just 5-10 minutes far from Cherry Beach and Woodbine Beach. PBK takes kiteboarding lessons in 3 sessions.
PBK1 island training, PBK2 is Self Rescue, and PBK3 is on the water. All the 3 lessons can be completed together but is recommended that you take them separately for safe learning.
3. iKite Kiteboarding Ontario– The ikite school offers you IKA(International Kiteboarding Organisation) certified instructors to learn from. It is located in Southern Ontario and proves ideal for lessons. ikite school offers 6 different types of lessons from which you are to choose one.

They also have a kiteboarding Ontario program for kids, which helps them engage in adventurous sports from an early age. ikite School organizes kiteboarding trips to other communities of Ontario, Canada, and sometimes to the U.S., Caribbean, and Europe.
4. KitePassion– Kitepassion is a shop for all your gears and equipment. Along with selling the gears, kitePassion also offers kiteboarding lessons to beginners as well as riders who want to improve their skills in the sport. They take their lessons in Wasaga Beach, Georgian Bay, and Oliphant beach, which run all year round.
5. We love Kiteboarding– This school provides you with IKA-certified instructors. We love kiteboarding give lessons to beginners. If you do not have your equipment, you can rent it for a day here. You can bond with the local kiteboarding community over camping, barbeque, and beach parties.
We love kiteboarding arranges amazing kiteboarding trips around the world during the off-season. You can also enter a fun local kite competition through we love kiteboarding.
Kiteboarding has been emerging as a popular adventure sport recently. So on your next trip to Ontario, don't hesitate to learn this new sport at some of the given schools. All you need is some patience and passion to get you going.