A large number of interesting festivals and events in Canada are celebrated every year. All these events and festivals signify the country's diverse culture and attract visitors from all over the world.
The unity and love of the people for their cultures have given birth to many celebrations.
This multicultural country has festivities that involve colors, light, music, culture, and the oneness of life.
Some of the biggest carnivals in the world are celebrated here. A majority of these festivals and events in Canada are planned during the summer.
Let's take a look at a list of the most loved festivals and events celebrated in Canada.
Top 11 Events In Canada For You
Here are the 11 most interesting events in Canada to attend and empty.
1. The Calgary Stampede, Calgary
Put on your Cowboy Hat and head over to one of the greatest outdoor shows on earth. This 10-day Calgary Stampede Party takes place in July every year. More than one million people travel to Calgary every year to participate in this Stampede.
Calgary is a perfect combination of cultural diversity and hospitality with a hint of modernism.
A one-hour drive out of town takes you to the heart of the Canadian Rocks, Banff, and Jasper. Travel here to be a part of one of the extravagant events in Canada.
The Calgary Stampede is scheduled to take place between July 9 to July 18 in 2021.
2. Vancouver Celebration Of Light, Vancouver
Every year in July, the Vancouver skies are full of flashes and explosions of gorgeous fireworks. Vancouver Celebration of Light is one of Canada's premium summer events and a widely known festival globally.
Three teams worldwide come together and compete to give the world a fascinating view of lights. This is a show of sound, color, and light in sync with great music and can be easily viewed from English Bay, Stanley Beach, and Sunset Beach, but the best of it can be witnessed from Kitsilano Beach.
The festival is also famous for its delicious Canadian beer to celebrate the day with a hint of tradition.
3. Toronto International Film Festival, Ontario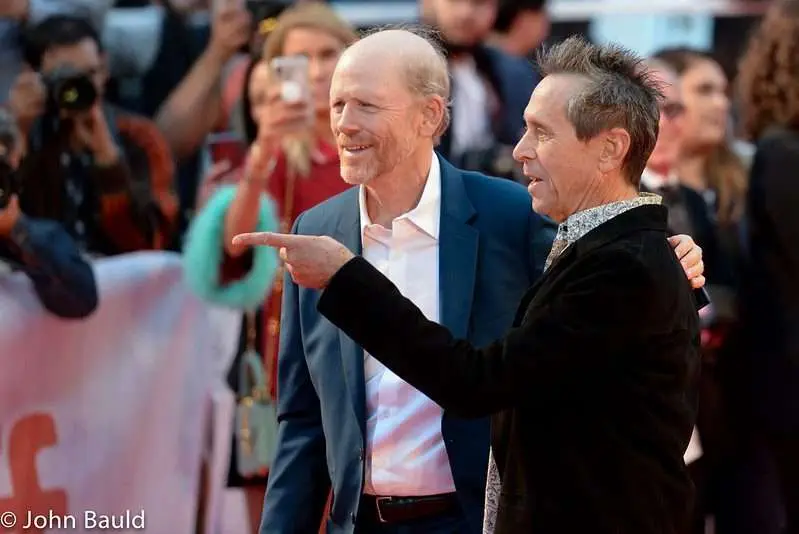 Toronto International Film Festival, also known as TIFF, started to use films as a medium of Charity. It takes place in September of every year in Ontario of Toronto, Canada. In 2020, TIFF took place between September 10-19 and was a huge success.
TIFF was founded in 1976 and has been one of the most prestigious film festivals in the world even today and is one of the events in Canada that acts as a launching pad for the best of talents from Hollywood and Canadian cinema.
TIFF competes with other greatly respected award shows like Cannes and Sundance Film Festivals.
Movies like Hotel Rwanda, American Beauty, and The Big Chill first premiered at TIFF with a star-studded event.
TIFF is a kick-start to the awards season, and most of the films that get premiered here are sure to make an appearance at the Oscars and Golden Globe.
4. Edmonton Folk Music Festival, Alberta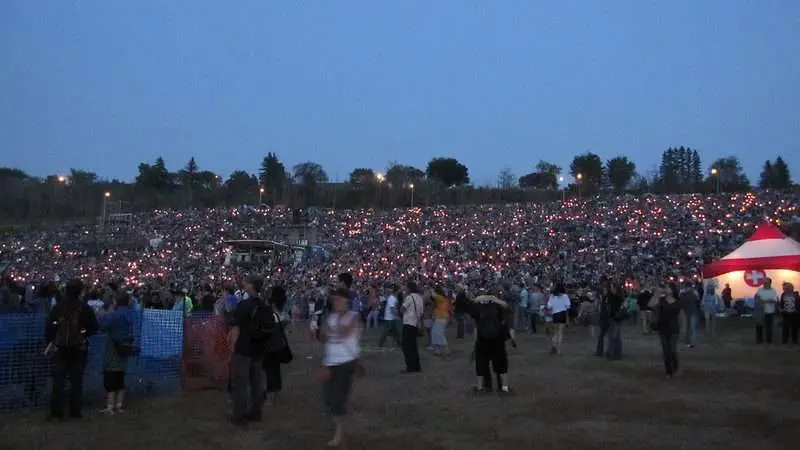 The Edmonton Folk Music Festival is one of the leading Folk Festivals around the globe. It is a 4-day outdoor music event that takes place on the second weekend of August every year. It started in 1980 in Alberta, Canada, with one staff and 300 volunteers.
A large number of people from all over the world attend this festival as both performers and spectators.
The performances are based on various genres, including Folk, Celtic, Bluegrass, Blues, Gospel, Roots, and Worldbeat. In 2021, The Edmonton Folk Festival is expected to go on between August 5-8.
The Edmonton Folk Festival takes place in Gallagher Park, situated on the banks of the Saskatchewan River, and has around 2000 people volunteering each year.
It is one of those events in Canada with a beer garden, which serves more beer than any other event in Western Canada. If you are a passionate music lover, this place is a must-visit for you.
To know more about the biggest Folk Music Festivals in the World, do not forget to visit The 25 Biggest And Best Folk Music Festivals In USA.
5. Montreal Jazz Festival, Montreal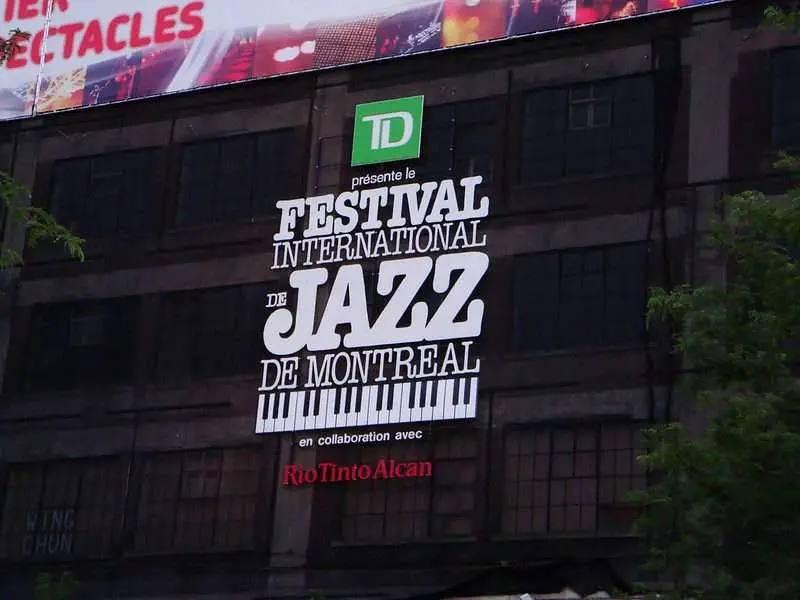 Montreal Jazz Festival is declared the Largest Jazz Festival In The World by the 2004 Guinness Book Of World Records.
This festival draws approximately 2.5 million visitors every year worldwide and offers hundreds of free concerts over a duration of 11 days.
The Festival made its debut as an event in Canada in 1980 and featured genres like Blues, Latin Jazz, Soul, Brazilian, Cuban, African, Rhythm and Blues, Rock, Pop, Reggae, and Electronica.
However, it was the non-jazz shows that made this Jazz Festival a hit. The Montreal Jazz Festival's 41st edition is scheduled from June 25 to July 3.
If you are looking for Jazz in its purest and filtered form, head to Montreal's hottest Jazz Clubs during the festival. It is a blessing to Jazz Lovers worldwide with no worries about budget and hundreds of free shows to enjoy.
To know more about this festival in detail, read our article on Best Musical World: Festival de Jazz And All About IT.
6. Winterlude Festival, Ottawa, Ontario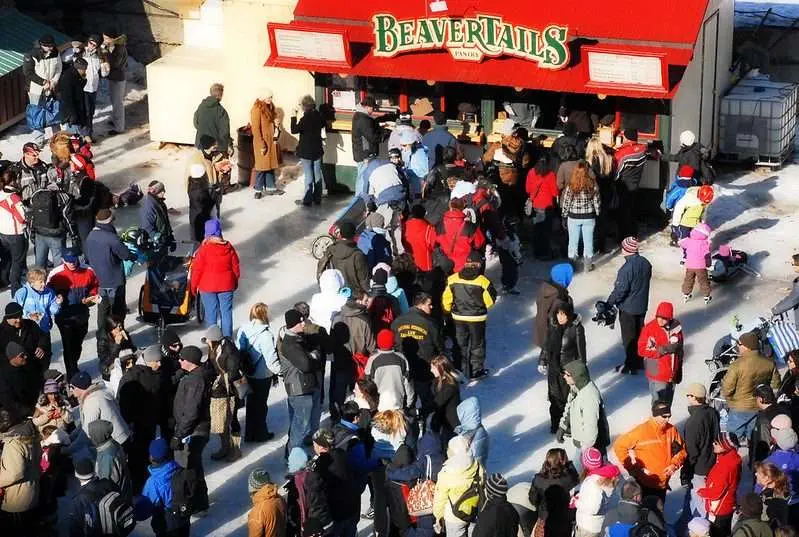 The annual Winterlude Festival is celebrated every year in the Ottawa, Ontario, and Quebec cities of Canada.
In the first three weekends of February, the capital organizes this gorgeous winter festival show that includes ice skating, ice sculptures, a snow playground, concerts, and more.
This Winter Carnival is one of the major events in Canada that draws the attention of thousands of tourists every year.
Apart from all the basic activities, the other primary sites of this carnival are The Snowflake Kingdom, located in Jacques-Cartier Park In Gatineau, Confederation Park, and, Dow Lake.
Confederation Park is the location where ice sculpture competitions, ice lounge, and, musical concerts take place.
Dow Lake also has a large skating ground, and many other activities take place here. In the upcoming year, Winterlude Festival is expected to go on between 5th February 2021 and 20th February 2021.
7. Quebec Winter Carnival, Quebec
The Quebec Winter Carnival is a century-old tradition that first took place in 1894. This picture-perfect winter celebration is one of the oldest winter celebrations in the world where people eat, drink, and enjoy.
Some of the major attractions of this event include a winter amusement park that has skiing, snow rafting, ice sculptures, sled rides, and other outdoor activities.
It usually falls in February and is one of those events in Canada that are frequently talked about.
Another perk of this stunning event is its Carnival Parade in the Upper City. Some outdoor activities conducted are snowboarding, canoeing, snowshoes, and dog sledding, and thousands of people participate.
Not just that, a lot of commercial streets and bars are decorated using ice sculptures that give the city a Christmas-like vibe. In 2021, The Quebec Winter Carnival is supposed to take place between 5th February to 14th February.
8. Just For Laughs, Montreal, Quebec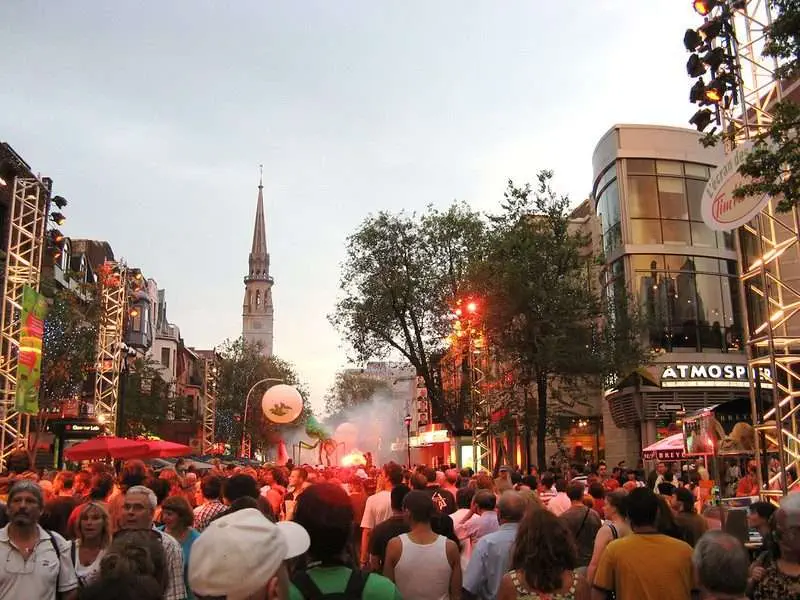 This legendary show called Just For Laughs is put up every year in Montreal, and it manages to display approximately 2000 performances for the public, out of which 1500 of them are free.
Just For Laughs was initially only a two-day program and was first founded in 1983 by Gilbert Rozon. After some time, Andy Nulman joined the show's creative team and extended the duration by a whole month.
This is one of those events in Canada that provides a platform and an audience for undiscovered talents. A lot of industry professionals attend these events and choose from the best to work for them.
Many creative programs and help desks are put up to help performers make the best of their opportunities.
This is one of the events in Canada that was canceled and postponed to 2021 due to the Covid-19 outbreak. However, the dates have not been finalized yet.
9. Celtic Colours International Festival, Cape Breton Island, Nova Scotia
Celtic Colours is a nine-day International Festival held in October every year. This event is famous among communities residing on Cape Breton Island in Nova Scotia, Canada.
Cape Breton Island is a warehouse of unique music and culture that gets displayed during this splendid event.
Some of the major attractions of the Celtic Colours Festival are extensive Workshops, Visual Art Exhibitions, and a Festival Club. Hundreds and Thousands of visitors worldwide fly to Cape Breton to be a part of this spectacular event.
The Celtic Colours Festival was listed as the Event Of The Year in 2007 by the Tourism Industry Association of Canada.
This is one of the events in Canada that has Gaelic Instrument Use, Traditional Dance, Cultural Tours, Ceilidhs, and a series of lectures all in a single place.
This is one of those events in Canada that take place during autumn and is scheduled between October 13-17 in 2021. To know more, Visit The Celtic Colours International Festival.
10. Folklorama Festival, Winnipeg, Manitoba
Folklorama is one of those events in Canada that is a long-running multicultural festival that started in the year 1970 and has been running successfully ever since. The Festival pulls around 4,25,000 visitors from all over the world.
This event provides the required exposure to talents and directs them to achieve excellence. This event increases Tourism in the country, thereby having a positive effect on the country's economy.
Three programs have eventually stood out and gained extra attention from visitors.
1) Folklorama Talent
This program mainly focuses on contemporary artists and performers that participate in special events throughout the year.
2) Folklorama Teaching
This program is responsible for collecting the best storytellers and performers in the schools and daycare.
3) Folklorama Travel
This facility works on drawing travel and visitors to Winnipeg during the festival and all year long.
11. Canada Day Celebration.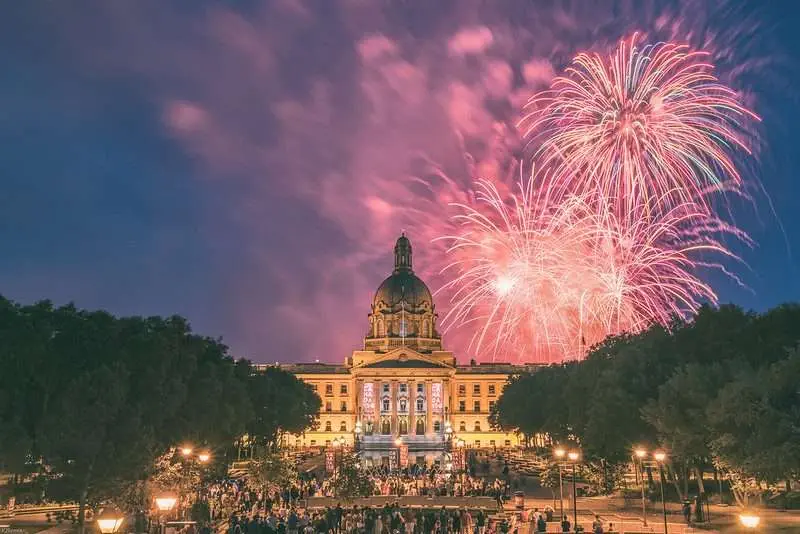 Every year on the 1st of July, the whole country of Canada celebrates Canada Day with zeal and enthusiasm. It is a federal holiday to show pride in the country and make merry. This day marks the union of Nova Scotia, New Brunswick, and the Canada Province.
On this day, many communities gather and host outdoor public events like parades, carnivals, festivals, barbecues, and a lot more.
Takeaway
Apart from these events and holidays, there are a lot of other holidays in Canada for you to enjoy. If you are around the country and wondering what to do, Visit our article on Awesome Ways To Spend Holidays In Canada.
Canada has a vast collection of things to do, holidays to spend, and events to participate in. This country is also a beautiful place to settle in as it has many communities living in harmony.
However, the main motive for having get-togethers and participating in these international events is to maintain good foreign relations, support tourism, enhance the country's cultural heritage, and increase its economy, which overall leads to the development of the nation.
So this was all about events in Canada, have a great time holidaying in Canada!
Bonne journée!