Econo Lodge is your place to go if you are a person spending most of your time on the road or you're travelling on a low-budget trip to fulfill your wanderlust. You must be searching for a convenient stop, which balances your trip as well as your budget.
The Econo Lodge brand is here to provide you with the experience that will simplify your travel and reduce your expenses, which can save you a lot of money off the total cost of your trip.
We know that you want a good night's rest in a clean, comfortable room with specific amenities that will make your stay more enjoyable. And that's why we have the Econo Lodge for you!
Econo Lodge is an economy chain-based motel in the US and Canada, operated by Choice Hotels International. With more than 800 motels across North America, it is the largest brand in Chain Hotels System.
The properties are often located near the highway, making it easy for travellers to stop by.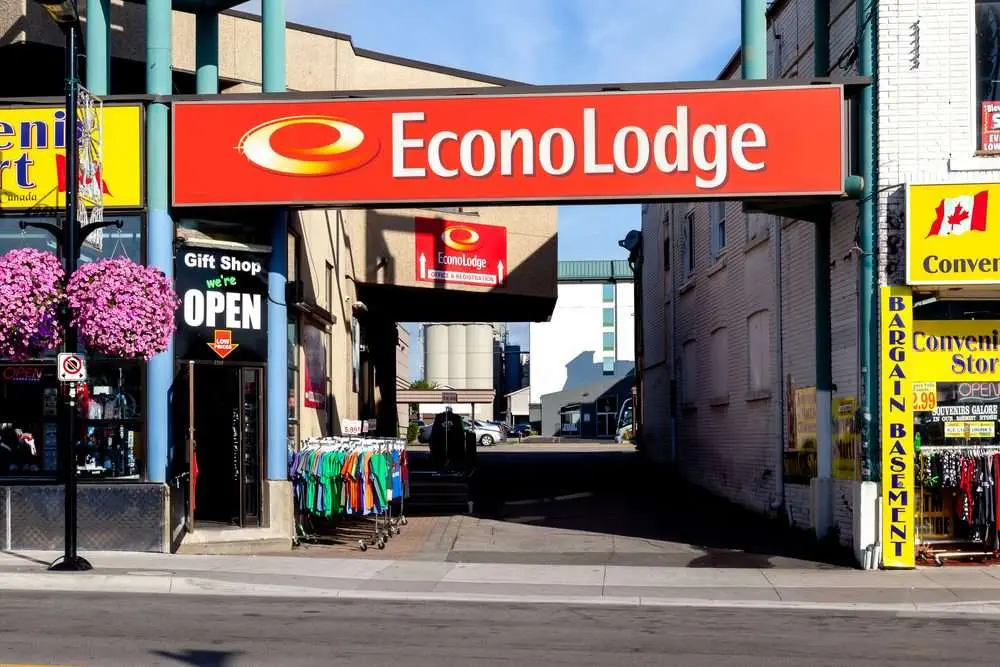 The Emergence of Econo Lodge 
Let's take a quick look into the backstory of how the most iconic hotel brand came into being. In 1969, Sandy Econo, dressed in a Scottish skirt and team, a mascot, visited neighbouring businesses at Virginia Beach Boulevard and Military Highway in Norfolk.
She told them about a new hotel concept on 865 Military Highway called 'Econo Travels.'
Born in Norfolk, Virginia, by developer Vernon Myers and his son, Vernon Jr, in 1969 as 'Econo Travels,' they were joined by Lloyd Tarbutton, a local businessman.
They shared the same intention and desire to create a new business category of filling an important market need – a clean, cheap hotel.
They wanted to make inexpensive lodging for travellers by ditching the amenities of expensive hotels and constructing an economically efficient building for low-budget travellers on the road.
Tarbutton brought in investors and money while doing extensive market research. By the 1970s, he changed the name 'Econo Travels' to 'Econo Lodge.'
He introduced new hotel features – putting on a mattress on boxes so that customers wouldn't lose their belongings, automatic telephone switchboards, and electric panels for managers to shut off lights in empty rooms. He even tried a daring innovation – non-smoking rooms.
Between its founding and growth, Econo Lodge went through ups and downs until it fell into the hands of Paul Wallace.
His funds brought the brand, replenished it, and mended relations with all the franchises involved with the chain.
Tarbutton sold off the chain of 306 locations in 1983 for $836 million. It was then sold off to Choice Hotels International in 1990.
Remarkably, the brand of Econo Lodge grew from a single location on the Military Highway into a chain of 800 hotels today.
The Emblem
The brand's logo consists of a rectangular emblem with rounded angles comprising the wordmark and its symbol above it.
The eye-catching thing about the logo is its colour palette, which makes it distinctive and blatant. It has a bright red background with a yellow swirl, forming the letter 'E' in a yellow diagonal shade, making it look modern and exquisite.
The logo, minimal yet contemporary, looks bright and energetic, evoking a happy and welcoming mood.
Why Econo Lodge?
Here are reasons that will convince you to choose Econo Lodge hotels over everything else.
1. Easy Stop on the Road
Econo Lodge hotels are mostly located near the highway or have access to the highway, thereby making it easy for travellers to spot it instantly while passing through.
Plus, you don't need to pay a fortune for it, because it provides inexpensive lodging and accommodation.
Whether you are a backpacker or a business traveller, you want to get the best room possible without spending too much on it.
2. Book in Advance
Instead of booking rooms at the last minute, you can plan and book your stay in Econo Lodge. It's very easy to book; you can book directly at ChoiceHotels.com or get the mobile app and manage your stay location.
For your next trip, make sure you reserve and pay in advance. You could save up to 15% at participating hotels. Be a frequent guest; you can accrue miles and points with them, redeeming discounts for your stay.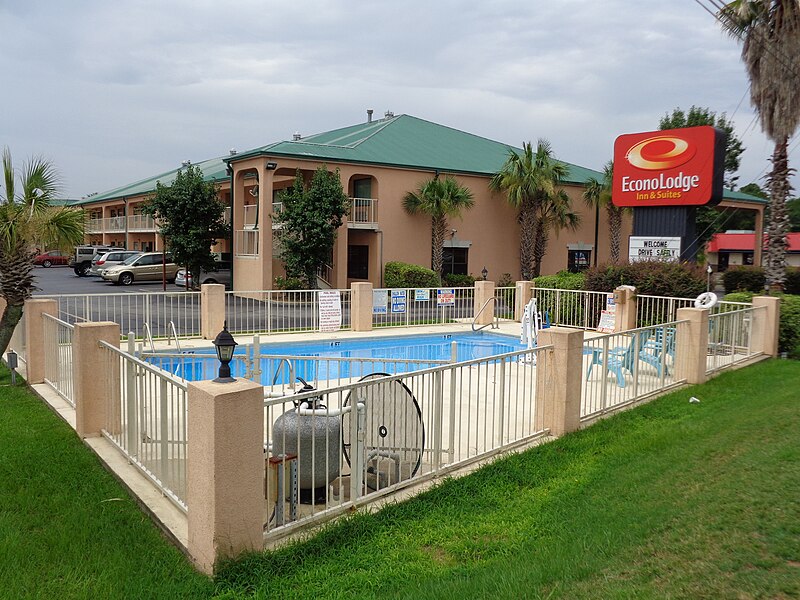 3. Amenities of Econo Lodge Hotels
Econo Lodge also provides the services you need while still allowing you to stick to your budget, allowing you to have a comfortable stay while you engage your mind in other important plans for your trip.
You will find cozy rooms, free WiFi, and convenient outlets near your room. You will find necessities like a TV, refrigerator, a working desk, a hairdryer, fax machines, etc.
It's a pet-friendly environment so take your furry friend with you too! If you are bringing your car along with you, there's free parking.
4. Free Continental Breakfast
Another striking feature of Econo Lodge hotels is that you get free continental breakfast. Breakfast is the most important meal, ensuring that you don't start your day with an empty stomach.
Coffee, juices and baked goods are served on the table. This light breakfast, which is 'self-served,' will fuel your energy to start your day.
5. Econo Lodge Is Located Close To Nearby Attractions
A benefit of staying in Econo Lodge is that most of the properties are located close to the region's nearby attractions. Most of them are at a walkable distance of a few minutes.
And you would find other attractions like shops, restaurants, museums, etc., surrounding Econo Lodge. After touring numerous attractions outdoors, you can walk back to your rooms and get a good night's sleep.
6. Econo Lodge Is Environment Friendly
Econo Lodge cares about the environment (And they should) and has taken active steps to support local green practices in their hotels.
Choice Hotels have introduced the "Go Green Room" program for its hotels. All properties participate in energy conservation, waste reduction, and water conservation.
Hotels use energy-efficient indoor lightings solutions such as compact fluorescent (CFL) or LED Bulbs in all guest fixtures.
For conserving water, the hotels have adopted allowing guests to reuse towels or linens. They also provide a recycling program for guests to reduce waste.
7. Find Econo Lodge in Various Locations
As the brand falls under the chain of hotels under ChoiceHotels, Econo Lodge Hotels and lodgings are found in various locations of North America, numbering over 800.
The properties are mostly located near the highway and make travel a little easier for everyone. They are also situated close to tourist attractions of a particular area.
Let's take a quick look into some of the hotels and lodgings of Econo Lodge to get a picture of what it's all about.
Econo Lodge Inn & Suites – Around USA
Here are some locations in the USA, where you can enjoy Econo lodge services.
1. Econo Lodge Inn & Suites, Toronto
Many travellers have made Econo Lodge Inn & Suites their hotel of choice in Toronto. If you're around downtown Toronto, you must spend your night here as it provides an ideal mix of value, comfort, and convenience.
It will offer you a budget-friendly setting with an array of services designed for travellers like you.
Although a 2-star hotel, Econo Lodge, tries to keep up with all the necessary Renos and keep the rooms clean and comfortable, making it look inviting.
With amenities like free WiFi, modest continental breakfast, choice of bedrooms, etc., basic objects like a coffee maker and ironing board are also available in the rooms.
The location is a prime one, as everything is accessible or within walking distance. A short walk will lead you to a lot of restaurants, bars, sightseeing tours, etc.
You should go and check out China Town and CN Towers. Because of its location, an uber can easily drop in and pick you up.
2. Econo Lodge South Calgary, Alberta
The Econo Lodge South Calgary is located in an excellent location at MacLeod Trail. It has a walking distance of Calgary's largest mall, Chinook Center.
You will also find a Farmer's Market just a block away from where you can get locally grown and organic products. About a dozen restaurants are found around Econo Lodge.
You will be pleased to know that all amenities are free of charge, like the other Econo Lodge properties. Parking, high-speed internet, heated indoor pool, hot tub, fitness center, business center, and continental breakfast.
The rooms are smoke-free and pet-friendly. The skilled and motivated staff are always looking forward to serving you in the future.
3. Econo Lodge Inns & Suite, North Vancouver
Econo Lodge Inns & Suites of North Vancouver aims to make your visit as relaxing and enjoyable as possible. Guests of North Vancouver Comfort Inn can easily experience some of North Vancouver's most well-known attractions.
It takes 1.3 minutes to reach Such as Capilano Suspension Bridge Park and 2.2 minutes to get to Capilano Salmon Hatchery.
Econo Lodge brings the best parts of North Vancouver to your fingertips, making your stay relaxing and enjoyable.
The room offers a flat-screen TV, a kitchenette, and air conditioning. Internet connectivity is not a problem here as free WiFi is available. The lodge features a 24-hour front desk. If you're bringing your car along, you could park it outside as it gives access to free parking.
4. Econo Lodge Quebec Airport
Less than 3.1 minutes from Quebec International Airport, Econo Lodge Airport is located in Ste-Foy. The hotel features amenities like free WiFi and an airport shuttle with a surcharge.
Each room has a cable TV connection, a working desk, which is quite helpful for business travellers, laundry facilities, and vending machines. You'd get newspapers in the lobby too.
Staying in Econo Lodge, you can walk to Quebec's famous attractions like Colosse de Quebec, the Galerie de la Capital, and the Quebec Winter Carnival. You will find other attractions- shops, golf courses, and casinos, all located nearby.
Econo Lodge hotels are found across Canada in certain locations. For more information on the Econo Lodge Canada Hotels, click here.
5. Econo Lodge, Chesapeake Route 13 and 1-464, Virginia
Suppose you ever land in Chesapeake for business or a tour. In that case, you'll enjoy the scenic Hampton Roads area of Virginia, along with excellent accommodations and amenities at affordable rates in the Econo Lodge.
While staying here in the lodge, you will get the opportunity to explore the charming city of the Mid- Atlantic, which offers outdoor adventures, arts, culture, family fun, and more.
Econo Lodge will provide you with all the basic needs you need while staying in the inviting guest rooms. TV, wireless free internet, WiFi, toiletries, etc., will be available for your use. The nightstand includes convenient electrical outlets for any charger cords or other play-in needs. All of this for less money!
6. Econo Lodge, Elko, Nevada
The Econo Lodge in Elko invites you to come and experience the Silver State with its rich history of Goldrush and many scenic nature spots, and many outdoor adventures like hiking, biking, etc.
While you enjoy the outdoors, there's one location you must not miss! Soap up the sun at Humboldt National Forest.
The Econo Lodge provides amenities, dining selection, and recreational activities to help you create a getaway suited for any budget, personal preferences, and time restraints. The hotel also features fitness centers, pools, food and beverages, and other services.
7. Econo Lodge, Phoenix, Arizona
Econo Lodge hotel in Phoenix, Arizona, offers travellers an easy, affordable stop on the road in the Valley of the Sun. With amenities of free WiFi, continental breakfast services, guest laundry services, and heated outdoor pools.
Discover the great attractions in the Valley of the Sun in the Econo Lodge, which is about 25 minutes from Phoenix Sky Harbor International Airport. You will find great hiking trails and scenic views in the Phoenix mountains preserve nearby.
Need caffeine to refill yourself? You can also find a coffee maker in the room where you get to make your convenient cup of coffee.
Plan your visit from Econo Lodge to the city's best museums and galleries like the Phoenix Art Museum and the world-famous Heard Museum.
Econo Lodge – Final Verdict
There are other popular attractions, including Castles and Coasters Amusement Park, the Peoria Sports Complex, and so much more.
Pack your bags and take your family or partner out here; Econo Lodge is always going to guide you to have a wonderful vacation and help you save up your money.
If you want to search locations of Econo Lodge outside Canada
This lodge has been serving travellers for nearly 40 years and has served as a familiar beacon for them as they drive in through the nation's highways. So, if you're planning for your next trip to America, make sure you choose it as your home. They will make your stay more enjoyable and comfortable.
The Econo Lodge was born out of innovations over the years. Today, we see free WiFi, free continental breakfast, and cheap and elegant rooms throughout Econo Lodge locations, nearly 900.
If you have been on the road and came across Econo Lodge, share your experience with us in the comments. We would love to hear them.