A city and its transportation network share a relationship akin to the one between a human body and the several networks of blood vessels within it. A city, much like the human body, suffers if its transportation networks fall short of meeting its needs. In this light, Vancouver is blessed with one which does a lot more than meet its needs. The SkyTrain Vancouver transit system fits perfectly with the character of Vancouver; serving both a functional and an aesthetic utility. Whether you're visiting Cypress mountain or Stanley Park, you might want to use the Skytrain.
Contrary to the name, it is not one of those fancy hovering trains that we are all too familiar with from those cyberpunk movies. Vancouver is by no means an advanced Wakandaesque city-state(or is it??) with flying hover-trains. Yet, that does not beguile the fact that the Vancouver skytrain is really quite awesome in its own right!
It is a state-of-the-art automated, elevated, light rapid transport system (Tony Stark would be proud!) that meanders throughout Vancouver and has networks connecting it with the surrounding municipalities. And while property crimes around Skytrain stations have been a worry for some years, there is no denying the fact that Skytrains are Vancouverites' top transit option when moving around.
Why Will You Love the Skytrain Vancouver?
It is a citywide network, connecting Vancouver with New Westminster, Burnaby, Surrey, and Richmond. The network as a whole is conveniently designed to be an ideal ride for a day's sightseeing of the city; several of its stations being situated near the most sought after tourist spots such as:
Queen Elizabeth Park (King Edward Station),
Dr. Sun Yat-Sen Classical Chinese Garden (Stadium-Chinatown Station)
The Science World ( Main Street-Science World Station).
Not to mention, it extends directly to, and from the Vancouver International Station, ending at Waterfront Station. Moreover, with the DayPass for just $10.75 you can exhaust the whole of the 28 Km route that it covers, making it one of the best bargains for transportation options in Vancouver.
Now that we have broken the ice and established the fact that SkyTrain Vancouver is really quite awesome, let us explore some interesting facts and information about SkyTrain Vancouver!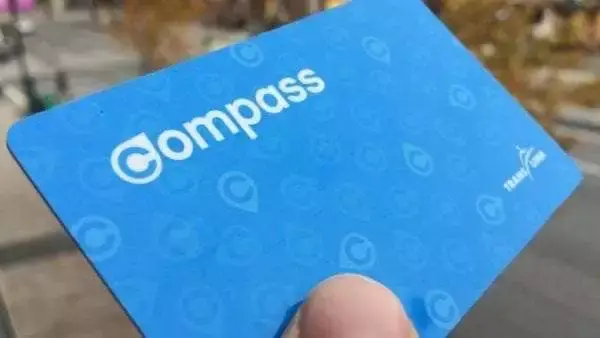 1. The Compass Card
The Vancouver transit system, for lack of a better word, can be quite daunting at first for the uninitiated wanderer. Yet, once familiarised with the system, one cannot help but appreciate its elegance and convenience. The Compass card is your best bet, as a means to traverse the transit lines in the most hassle-free manner. Not to mention, the Compass card as an option is actually on average easier on the pocket than just going for cash and tickets. Basically, it is a reloadable fare card which works on the transit system as a whole, everywhere in Vancouver.
These cards can be loaded with a number of fare options such as
"monthly passes",
"day passes" and
"stored value".
If you're in Vancouver as a tourist, you should definitely go for the "day pass", as it allows you unrestricted travel within all the three zones into which the transit network is divided, for an entire day. On the other hand, a "month pass" is the more suitable option if you're planning on staying in Vancouver for a while.
You can choose to buy a one, two or three-zone month pass that will allow you to ride the SkyTrain Vancouver for the duration of a calendar month. Lastly, you have the option of "stored value", which is the one you should go for if you don't plan to use transit very often. When paying by a single fair, the ticket lasts for a duration of 90 minutes and can be used multiple times within those 90 minutes. Moreover, a child under five years of age can ride the SkyTrain Vancouver or any of the transit systems free of cost. A concession pass is your option, if you're between the ages of five and eighteen years, to get cheaper travel transit fares.
2. The Zone Divisions and the Lines
The Vancouver transit system is divided into three zones as shown in the SkyTrain Vancouver map—
Zone 1– The city of Vancouver
Zone 2– North Vancouver, Burnaby, New Westminster, and Richmond
Zone 3– Coquitlam, Port Coquitlam, Port Moody, Surrey, Langley, Pitt Meadows, and Maple Ridge.
There are three SkyTrain lines—
The Canada Line extends from YVR to Waterfront Station in Central Vancouver. One thing to be aware of when you're riding the Canada line is that the train will have alternating destinations. At times, it may very well look like you're heading in the same direction but one train will be going to Richmond Brighouse, the other one going to YVR. The Expo Line starts at Waterfront Station and has alternating destinations of King George in Surrey, and Production Way in Burnaby; similar to the Canada line. The Millennium Line starts connects VCC-Clark station to Lafarge Lake-Douglas in Coquitlam.
The three zones and their respective start to end stations
       Expo Line
Waterfront Station to King George Station (Surrey)
Waterfront Station to Production Way–University Station (Burnaby)
The Millennium Line operates between VCC–Clark Station (Vancouver) and Lafarge Lake–Douglas Station (Coquitlam).
Canada Line
Waterfront Station to YVR–Airport Station (Richmond)
Waterfront Station  to Richmond–Brighouse Station (Richmond)
3. SkyBridge
SkyBridge….because under every futuristically named train is a similarly named bridge! The SkyBridge is the world's longest cable-supported double-tracked transit-only bridge, which is a part of the SkyTrain network connecting New Westminster with Surrey and spanning the breadth of the Fraser River. Hyundai Engineering & Construction partnered with a Chilliwack-based construction company to manufacture the bridge.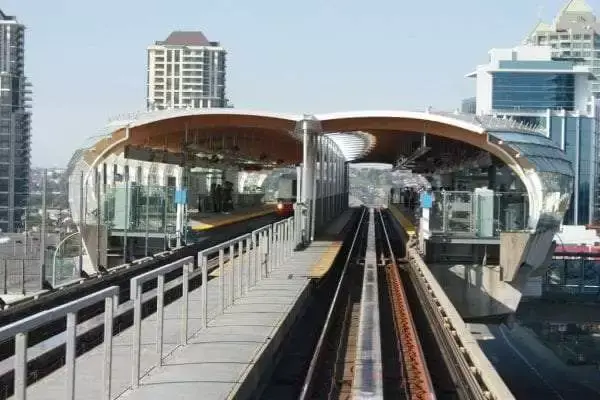 Source: https://www.flickr.com/photos/dennistt/5102893140
4. Millennium Masterpiece
As visible on the skytrain map, the original stations of the Millennium Line, connecting Waterfront Station to VCC-Clark Station (near Vancouver Community College's Broadway campus) were designed by some of the top architects of British Colombia. The Busby and Associates Architects, who designed the Brentwood Town Centre Station in Burnaby City, were honored with the Governor General's Medal in Architecture in 2004.
Source: https://dailyhive.com/vancouver/translink-vancouver-transit-ridership-data-2018
5. The Olympic Spirit
The 2010 Winter Olympics brought with it a surge in SkyTrain's ridership. During the 17-day event, the SkyTrain's compartments were cramped with snowsports enthusiasts eager to visit Whistler and Cypress Mountain; both spots featuring as important sites for the events. Each event ticket included an unlimited day-of transit usage which helped proliferate the number of passengers who availed the SkyTrain. There was a record 110 percent increase in the ridership to an average of 228,000 per day, and on February 19, with a single-day record of 287,400 passengers.
Top
Source: https://www.reddit.com/r/vancouver/comments/906ggr/tbt_expo_86/
6. Transportation and Communication: World in Motion — World in Touch
In the 1950s, Vancouver bit adieu to its then public transit rail system. It was because the British Columbia Electric Railway Company (BCER) then chose buses as the means of future transport, to accommodate the rising commuter needs. However, the increasing number of buses and private cars led to the decline of streetcar ridership, eventually leading to the BCER ending streetcar service in 1955. The bus service is indeed economical and convenient.
Vancouver's traffic problems began to worsen in the 1960s and 70s because of the dearth of rail networks and freeways, combined with a significant increase in the number of cars. The need for a rapid transit system arose in the 1970s and 80s. Due to the demand, the "Advanced Rapid Transit" was selected to be built in Vancouver and showcased as the highlight of Expo 86. The first line that was built, epitomized the fair's theme: " Transportation and Communication: World in Motion — World in Touch".
7. Automated Navigation, Yes Yet Not an Automated Voice?
The SkyTrain announcements aren't merely programmed automated robotic voices like your quirky personal Google assistant. A woman named Laureen Reagan, president of the video production company known as Reagan Productions is the all too familiar voice of most of the SkyTrain announcements. Reagan's voice was re-recorded to meet the requisite needs for the recently updated transit lines.
8. The Skytrain schedules
SkyTrain provides high-frequency service along with trains arriving every 2–7 minutes at all stations during peak travelling hours. Trains operate between 4:48 a.m. and approximately 1:30 a.m. on weekdays, with reduced hours on weekends on the Expo and Millennium lines which is quite reasonable for SkyTrain vancouver hours
9. the prices of Skytrain vancouver
There are three fare zones all across Vancouver. the amount of SkyTrain boundaries you cross during your trip determine your fare.
SkyTrain and SeaBus require a 1, 2, or 3 Zone fare, betting on the time of day and number of zone boundaries you cross during your trip.
A single fare is valid for 90 minutes on SkyTrains
All journeys across the system starting after 6:30 p.m. weekdays and every one travel on weekends (Saturday, Sunday, and holidays) are a 1-Zone fare.The prices of a visit are as follows :For zone 1 – An adult ticket costs 3.5 dollars and concession is 2 dollarsFor zone 2 – An adult ticket costs 4.35 dollar and concession is 3 dollars

For zone 3 – An adult ticket costs 5.90 dollars and concession is 4.05 dollars
The train winds through several interesting locations. Here are some of them:
Jericho Lands
The Jericho Lands are within the unceded traditional territories of the Musqueam, Squamish, and Tsleil-Waututh Nations and are primarily owned by these nations along with Canada Lands Company, a federal government agency, they co-own the 90-acre parcel of underdeveloped land.
It is a 36 -hectare (90-acre) site located in Vancouver's West Point Grey neighbourhood and is bound by West 4th Avenue, Highbury Street, West 8th Avenue, and West Point Grey Park.
Lougheed Town Center
Lougheed Town Center has shopping malls, nature parks, and more. You can also find escape rooms, theatres, and beaches in Lougheed Town Center. There are many fun options to try at Lougheed Town Center. Lougheed Town Center Station is one of the three stations that allow transfer between the Expo and Millenium Line.
Columbia station
This is another popular stop that lies on Columbia street in New Westminister. Interestingly, the station was not built as a major transfer point. It has side platforms that prevent cross-platform transfers. The station is built horizontally on a slope. So the track at both ends of the station dips underground below Clarkson street.
Production Way University Station
Production Way University Station is also a major transfer point. You can commute from Simon Fraser University. You can also have access to the local suburban bus service. Production Way University Station is the terminus of the 145 bus routes running to Simon Fraser University.
King George station
King George Station lies on the South end of the Surrey City Center in British Columbia. Production Way University Station and King George station are the only two outbound termini of the Expo station. King George station is within walking distance from Holland Park.
SeaBus and Lafarge Lake Douglas station
Lafarge Lake- Douglas Station lies in Coquitlam, British Columbia. SeaBus is a ferry service in Vancouver. Both SeaBus and Lafarge Lake Douglas station lie in central Vancouver. SeaBus is fully integrated into the transit system. It is possible to commute between SeaBus and Lake Lafarge Station. You can also commute between SeaBus and West Coast. TransitLink recently announced an added bus service to SeaBus and West Coast.
The Skytrain often interchanges stations with the West Coast Express. The West Coast Express serves in Lower Mainland and British Columbia. It also has links with the bus service. The West Coast Express links Metro Vancouver and the Fraser Valley Regional District. The West Coast Express and Skytrain make the railway network very accessible.
Fun fact: Even Morgan Freeman's voice made it to the Skytrain sometime back in 2018 – though it didn't last long!
Granville Station
Granville is an underground station on the Expo Line of Vancouver's SkyTrain transit system. The station is located in Granville between Georgia and Dunsmuir Streets in Downtown Vancouver. Right near the mall u can find Granville mall which is a highly popular mall in Vancouver
Vancouver city centre station
Situated in Downtown Vancouver on the Southwest corner of Granville Street and W Georgia Street, Vancouver City Center offers easy access to offices, shopping, transit connections and everything downtown has to offer. Shoppers will find additional underground entrances leading directly into the very captivating and massive Pacific Centre Mall, Vancouver Centre Mall and The Bay.
Future plans for the SkyLine in Vancouver
This Area Transit Plan identifies a long-term vision for transit in the City of North Vancouver, Districts of North Vancouver and West Vancouver, and the service and infrastructure priorities needed to realize that vision. The plan will guide future transit service and infrastructure investments and ensure coordination between transit service and ongoing changes in land use in and around Vancouver
The UBC skytrain
A rapid rail connection to The University of British Colombia has been a part of the long-term vision for Vancouver's transit strategy for years. The Broadway Subway project—extending the Millennium Line SkyTrain to Arbutus Street is a very important start and is now under construction but, on opening day in 2025, the bulk of the line's passengers will still should look ahead to buses to urge to and from campus. now's the time to increase SkyTrain all the thanks to UBC and complete this long-standing regional transit priority.
Broadway
The City of Vancouver is working alongside partner agencies Translink and the Province of BC to plan and deliver  transit improvement along Broadway for quite a few years now.
The Broadway Corridor is British Colombia's largest employment center after Midtown Vancouver.
The Corridor is currently served by the B-line, which stands as the busiest bus route in Canada. At Commercial Drive and Broadway, 2,000 people are left waiting for the next bus everyday. Every year, people waiting at bus stops along this route get passed by at least one full bus which acts as a major hinderance to their daily routine.
Various other transport options other than skytrains in and around Vancouver
Buses
TransLink provides a huge network of bus services and smaller community shuttles that carry fewer passengers to specific areas all over the city throughout the day. RapidBus routes provide faster service with fewer stops at a cheaper rate if u can't find a skytrain near me.
HandyDART
HandyDART is a door-to-door shared-ride service for people who share physical and cognitive disabilities who need assistance to use public transit everyday.
West Coast Express
The West Coast Express is a train operated by drivers which connects Waterfront Station in Vancouver to Mission, with some small stops along the way. On the weekdays, five trains travel into Vancouver in the morning, and leave Vancouver in the afternoon on time every day.
Also read: Indian Grocery Stores in Canada.
As an Amazon Associate, Icy Canada earns from qualifying purchases.