More than just an imaginary place, the town of Mont Tremblant has been the center of Quebec tourism since the beginning of its development.
With an attractive location and an attractive view, it's easy to see why Mont Tremblant has become one of the most popular vacation destinations in Canada. The entire atmosphere and the incredible scenery make it an unforgettable experience for anyone visiting Mont Tremblant.
In this guide, we'll be listing all of the adventure activities available at wonderful Mont Tremblant as well as other suggestions on how you can enjoy your stay there. Continue reading to find best things to do in Mont Tremblant are listed in this article.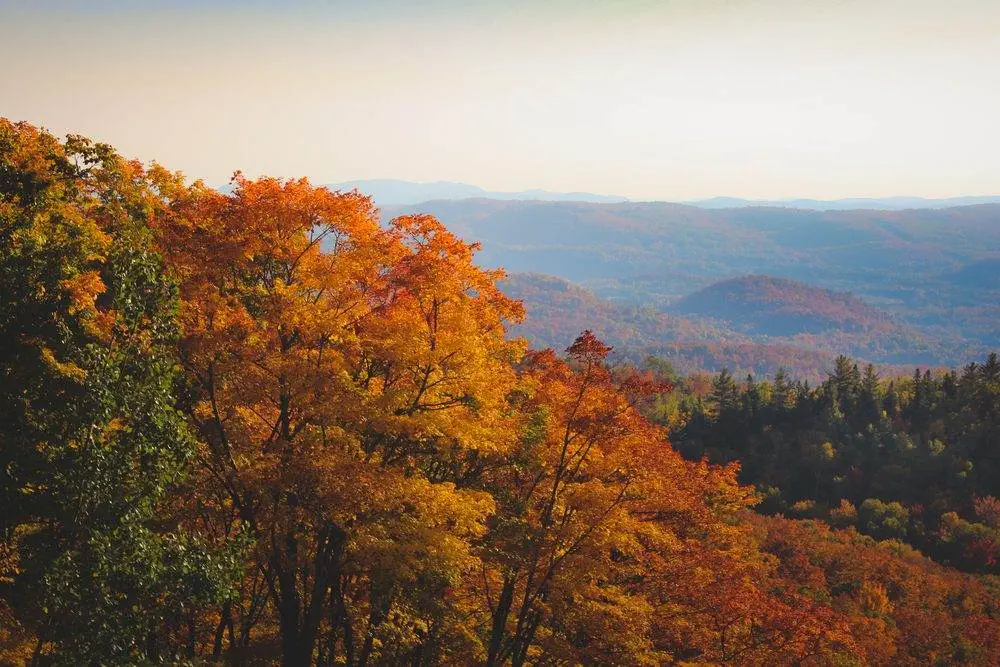 1. Why is Mont Tremblant Popular?
If you are looking to visit a small town, Mont Tremblant is an ideal choice. It has always been a well-liked vacation spot that appeals to a variety of interests and tastes.
One thing that makes Mont Tremblant ski resort truly special is its location near the Laurentians Mountains. The four months of the winter season in Wonderful Mont Tremblant from November to March make visiting Mont Tremblant perfect for your ski vacation.
Both the summer and the winter are perfect to visit Mont Tremblant. Here are some wonderful Mont Tremblant activities to have a great family pace.
2. Mont Tremblant Activities in Summer
Here are top activities in Mont Tremblant during the summer are listed below.
2.1. Golf Courses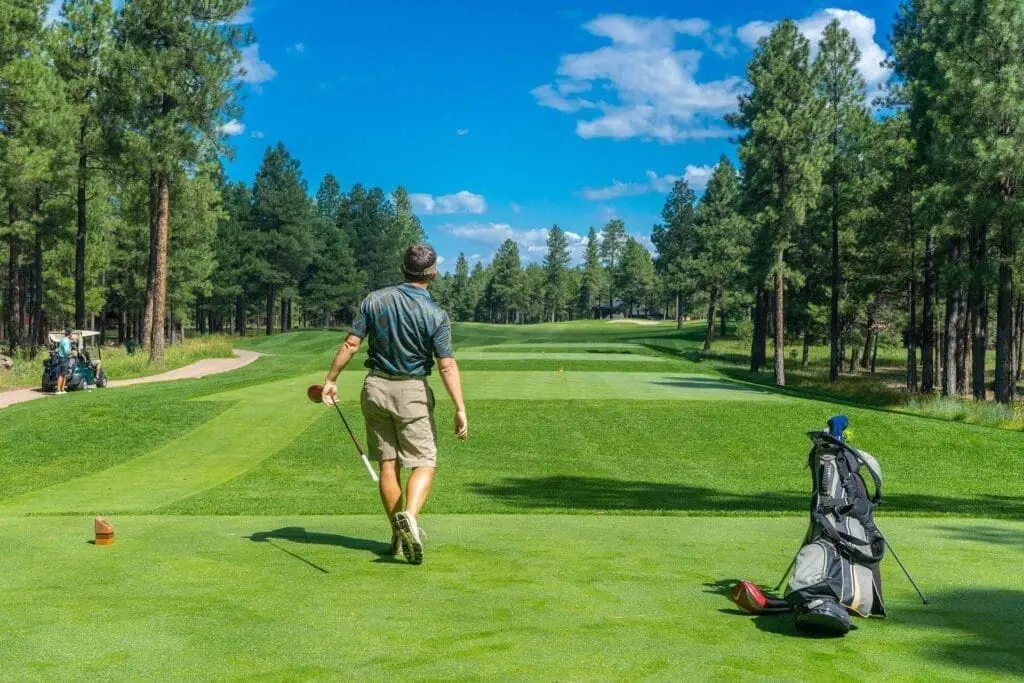 Make your summer astounding at Mont Tremblant with golfing, one of the popular outdoor activities. The various golf courses in Mont Tremblant provide golfers of all ability levels with a variety of experiences. Let's explore the best four golf courses of Mont Tremblant:
All the courses at Mont Tremblant offer beautiful views of the surrounding mountains, and the Le Geant and Le Diable courses offer a ski-in/ski-out experience, allowing golfers to hit the links in the summer and the slopes in the winter.
2.2. White Water Rafting
Make your summer more adventurous with white water rafting. You can swim and body surf there as well. The white-water rafting is a fun family rafting tour with class 3 rapids.
After having adventurous fun with white water rafting, you can enjoy lunch as well as a sandy beach. If you want to enjoy the whole day of rafting, you can book a full day along with lunch and a roast dinner.
2.3. Rock Climbing
Ice climbing in winter and rock climbing in summer, whatever the season is, you'll have fun at Mont Tremblant. Summertime rock climbing is the ideal outdoor activity to really give a try.
Although, you don't need to worry as a beginner climber. Here, you'll get all the necessary equipment as well as get a chance to learn the techniques to climb the rock and how to belay. Rock climbing provides both physical and mental health benefits to you. Go and climb up the rock to improve your stamina.
2.4. Mountain Biking
Mountain biking lovers are welcome to mount bike destinations in Mont Tremblant with a network of over 50 km of trails. A mountain bike is a special bicycle having two-inch or larger Tyres with stubby grip for stability and wide, flat handlebars to make them easier to manage.
Mont Tremblant is heaven for mountain bikers. Although mountain biking is popular in winter, summer, fall, and spring in Mont Tremblant, in short, all year long. It is a favorite activity for both locals as well visitors in Mont Tremblant.
2.5. Zipline
Zipline is one of the best ways to get rid of excess stress. Definitely go and get rid of your excess stress (if any) with the ziplining experience. Here in Mont Tremblant, you get a chance to enjoy about 5 outstanding zip lines.
You'll also get an opportunity to enjoy the longest zip line in Quebec which is a 3-hour long zipline tour. In addition, this tour takes you to the summit of Mont Tremblant from the panoramic gondola. Ziplining is generally safe as a thrilling activity to do in summer. Always pay close attention to your guide's advice while giving instructions to you.
3. Mont Tremblant Activities in Winter
Visiting Mont Tremblant in winter is like very good value time in the cool breeze with young teenagers or the whole family. So, go and plan your winter trip to visit Mont Tremblant and have a great experience of snow tours.
Below is the list of Mont Tremblant winter activities (outdoor activities) that make your Mont Tremblant resort vacation the most memorable vacation in Canada.
3.1. Mont Tremblant Pedestrian Village
Mont Tremblant is the best ski resort as well as the best pedestrian village in the entire Eastern North America. Coffee shops, pubs, a cafeteria, and spaces for fondues and grilled cheese are all found in the picturesque Mont Tremblant Pedestrian Village. As the Mont Tremblant pedestrian village name suggests where people walk and no vehicles to see here.
The Pedestrian Village is at the base of the mountain of Mont Tremblant. Further, the Pedestrian Village is divided into two sections, the upper section, and the lower section.
Skiers can ride the panoramic gondola from the upper area to the mountain's summit. This gondola also known as The Cabriolet links the lower and upper sections of the Village.
3.2. Scandinave Spa Mont Tremblant
The Mont Tremblant skiing feels you tired, and you need relaxation. Right! Relax at the Scandinave spa. Waterfalls, plunge pools, and hot pools at the Scandinave spa Mont Tremblant will give you the best outdoor spa experience with the outdoor hot tubs.
One of the best things at Scandinave spa was the ban on using phones and digital gadgets. So, you can enjoy the serenity of the hot pool without the distraction of your digital devices.
3.3. Mont Tremblant Casino
Skiing all day and what about the evening fun? It is here at the Mont Tremblant Casino (Casino de Mont Tremblant). Mont Tremblant Casino is a good place to escape from the cold as well as spend your evening.
It has more than 400 slot machines, poker, and all the typical casino games. Although if you are planning to visit Mont Tremblant on weekend then you get a chance to enjoy the music events hosted at the casino.
3.4. Cross Country Skiing
Another Mont Tremblant winter activity is cross-country skiing. There are plenty of trails in Mont Tremblant, where you can enjoy cross-country skiing fully. Don't forget to book a guide if you're new to this area, it's safer. Although enjoy the 11 km of snowy skiing at La Villageoise-de-Mont-Tremblant trail.
Parc National du Mont Tremblant is one of the best places for cross-country skiing which is 12 km away from Mont Tremblant ski resort. If you are an experienced guy, then Mont Tremblant has 80 km of backcountry trails for you.
3.5. Snowmobiling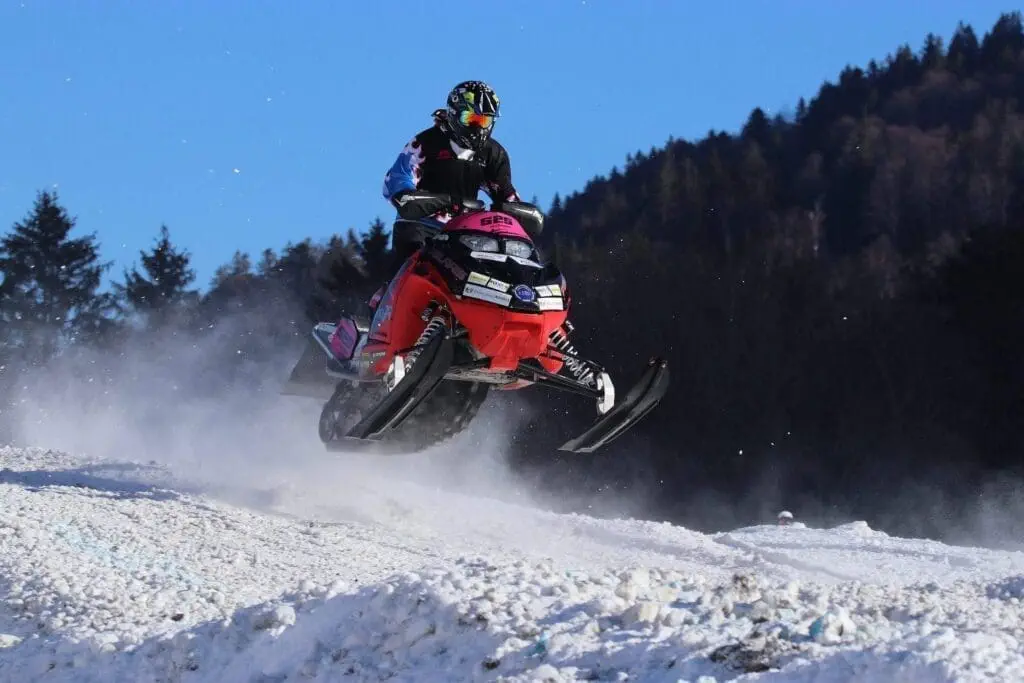 Snowmobiling is yet another great outdoor activity to do in Mont Tremblant. Snowmobiling is a fantastic way to discover the Laurentian Mountains' magnificent peaks, relaxing lakes, and dazzling rivers.
The Mont Tremblant's snowmobiling tour has all the equipment you require like a helmet, mittens, boots, and snowmobile suit to make the snowmobiling experience memorable.
If you're unfamiliar with the Mont Tremblant area, then you should get an experienced tour guide that will help you explore the Laurentians mountains seamlessly.
3.6. Old Mont Tremblant Village
The charming village on the lake is the Old Mont Tremblant. You can get a real feel of Quebec life in these villages. Here you'll find cobblestone streets and narrow alleys filled with quite a few shops and restaurants, as well as points of interest such as antique shops, pubs, coffee shops, and quite a few shops of gourmet.
While it's known for its stunning scenery, you will also find exceptional food and culture. The historic village is also home to Place de la Gare, an art gallery that is a recreation of the old railway station.
3.7. Mont Tremblant National Park
The first National Park in Quebec is Parc national du Mont Tremblant (Mont Tremblant National Park). Additionally, it is the third oldest park in Canada. Here you will discover plenty of rivers and lakes, wildlife, and so many hiking and climbing.
40 species of animals, 6 rivers, 400 lakes, many waterfalls, and streams can be found in this National Park. Every day of the year, Mont Tremblant National Park is available to the public and provides a wide range of summer and winter activities for all ages.
3.8. Snowshoeing
Love to explore backcountry forests, frozen waterfalls, and high peaks in winter at Mont Tremblant? Have a pair of snowshoes and start exploring. Snowshoeing is one of the best ways to experience winter at Mont Tremblant.
The Mont Tremblant snowshoeing trails range around 1 km loops to 5 km hikes. The whole family can enjoy this awesome outdoor activity. One best thing about Mont Tremblant is that you can have a guide there almost for all the outdoor activities and you can get a guide for snowshoeing too.
3.9. Snow Tubing
Snow tubing is one of the best Mont Tremblant attractions things for those who don't love skiing. Give a try this exciting adventure to enjoy the slopes of Mont Tremblant.
Have fun at the eight snow tubing hills of Mont Tremblant without any requirement of experience. Just the person grabs the tube and takes you to the top of the hill and then lay back down.
3.10. Fat Biking
Did you love mountain biking in summer? Then you'll definitely love the fat biking in the winter. Mont Tremblant has more than 50 km of trails for mountain biking along with single and double tracks.
In case you didn't know, fat biking is one of the most popular activities among Mont Tremblant citizens. Grab a rented electric fat bike at the Mont Tremblant to enjoy the beautiful sights and fresh air with the cool breeze.
Enjoy your fat biking tour along the snow-covered forest. Riding an electric fat bike in the Mont Tremblant is an outstanding experience there!
3.11. Ice Climbing
Love adventure then ice climbing is one of the top attractions of Mont Tremblant winter activity that will get your attention. Give ice climbing a try in winter but make sure that the conditions for climbing an ice wall might be good.
There is no climbing experience required to love this Mont Tremblant winter activity. You will learn about the climbing technique and how to belay there.
3.12. Snowboarding or Downhill Skiing
Mont Tremblant is a premier destination for snowboarders and skiers. Downhill skiing is one of the top Mont Tremblant attractions in eastern Canada.
You can choose your snowboarding trails from the four different areas: North Side, The Edge, South Side, and Sunny Side. However, on the North side, you will see some nasty trails for both snowboarding and downhill skiing. Mont Tremblant ski resort has so many snowy trails and various runs to enjoy a whole day here.
3.13. Dogsledding
Mont Tremblant dogsledding tours are the best way to see the forest offering mountain views. Keep in mind that dogsledding is one of the best outdoor winter activities in Canada and that's why many people book dogsledding months in advance.
3.14. Ice Skating
In Canada, ice skating is known as one of the most prominent outdoor activities. If you love ice skating, then Mont Tremblant has numerous options to enjoy it.
However, ice skating is one of the several activities that can be enjoyed with the whole family even with your young kids or young teenagers. You will fall in love with ice skating on the frozen lake of Mont Tremblant. All the ice-skating rinks at night are lit, yes, you have read correctly. Ice skating at the night that's why it's unforgettable.
Here's more to make it an unforgettable experience, ice skating rinks provide numerous activities that are scheduled throughout the season for guests to participate in and have fun.
4. Mont Tremblant Events and Festivals
Do you love arts, sports, or music? If yes, then you should know that there are so many events and festivals hosted at Mont Tremblant annually that will excite you more about this place. Here are some festivals and events mentioned below:
Sporting Events- There are more than six sporting events hosted in the Mont Tremblant all year long. Among some of the sporting events held in Mont Tremblant are the Half-Marathon Tremblant, Iron Man, Crossing Lake Tremblant, and Cycling Festival Crossroads Tremblant.
Music Festivals- Make your summer warmer with the thrilling musical festivals of Mont Tremblant. You are always welcome to the various musical events held in Mont Tremblant. International Festival of Blues, Jazz Festival, and Music Feast Tremblant are open to everyone for summer fun.
Arts Festivals- Banzai, Around the Fire, and Halloween are the most attractive festivals in Mont Tremblant. Banzai in Tremblant is about engaging entertainment for both very young kids and adults that is provided by dancers, comedians, and entertainers.
Around the Fire is about gathering around the fireplace in Place Saint-Bernard and enjoying the musical atmosphere. It is perfect to relax with a drink on one of the restaurant balconies or by the fireplace in Place Saint-Bernard while listening to some music after a day of hiking or touring around the Pedestrian Village.
Halloween is the terrifying fun at Mont Tremblant that offers an extraordinary experience. It is hosted at the Pedestrian Village and is free to enjoy your vacation by dancing to upbeat music with the whole family.
If you're considering a trip to Mont Tremblant, here's some advice to help you plan your perfect getaway. Mont Tremblant is located in the Laurentians Mountain Range of Quebec. It is 1 hour 30 minutes north of Montreal, also just over 6 hours from Toronto and about 1 hour 45 minutes from Ottawa.
Mont Tremblant is a wonderful and interesting part of the Canadian outdoors. It is located in the area known as the Laurentian Mountains, and it offers some of the best nature getaways in Quebec.
If you're currently living in Toronto and would like to explore Mont Tremblant, then get a flight from Toronto's Billy Bishop Airport. From here, you can get two flights per week for Mont Tremblant.
5. Where to Stay in Mont Tremblant
Quebec's largest ski resort is Mont Tremblant. The town offers many exciting activities like snowshoeing, downhill skiing, and winter sports tours.
Excited about visiting Mont Tremblant then you should know about the places to stay there. To make this easy for you, here are some best places for your stay in Mont Tremblant resort.
5.1. Fairmont Tremblant
Fairmont Mont Tremblant is located at the foot of the Mont Tremblant summit. The hot tub and pool in this resort are not overcrowded which makes this place better for relaxation.
It's ideal for business conferences and meetings as well as romantic getaways and family vacations. This is the ideal location for you to relax, be authentic, and have one of the most unforgettable vacations of your life.
5.2. Westin Resort & Spa Tremblant
The ski resort and village of Mont Tremblant are where you'll find the Westin Resort & Spa Tremblant. The spa at this Mont Tremblant hotel offers a full range of services. There is a kitchenette in every flat.
The suites at the Le Westin Resort & Spa Tremblant have a fireplace and a microwave. The rooms also have free Wi-Fi. With an additional fee, guests can enjoy a daily breakfast.
5.3. Quintessence Hotel Tremblant
The top-ranked luxury hotel in Mont Tremblant is Quintessence Hotel Tremblant. This 30-room luxury hotel is situated in the center of the resort on the shores of Lake Tremblant, at the base of the mountain.
The rooms at Quintessence Hotel Tremblant include high-end furniture, an own balcony or porch, a flat-screen TV, a wood-burning fireplace, and a Wi-Fi connection. The Quintessence Hotel Tremblant features a modernized rustic aesthetic and a pleasant and elegant environment.
6. Is Mont Tremblant Worth Visiting?
Mont Tremblant is a brilliant destination for a ski vacation with a pristine natural environment of winter. The peak season for visiting Mont Tremblant and skiing is from November to April. It is best for visitors to zipline, ski, bike, and tour the pedestrian village of Mont Tremblant. However, the activities listed above are already cleared the worth of visiting Mont Tremblant.
The panoramic views provided by gondola rides and ziplining trips are the best ways to explore the mountain's scenery. Another reason Mont Tremblant is well-known is for the numerous events and festivities that hosts all year long.
Mont Tremblant is perfect for skiers in winter and perfect for golfers in summer. No matter the season, something is always available for your adventure in Mont Tremblant. From Scandinave spa to the sandy beach, it is fully packed with enjoyment, relaxation, fun, and a family pace.
Mont Tremblant has a lot to offer, whether it is its ski village, hiking trails, or even hot springs and cottages. Make your Eastern North America tour the best with these Mont Tremblant activities.