The majority of people from across the globe would agree that a slice of pizza is one of the most popular, delicious, and comforting foods. It's quick, easy, and makes for a great meal- what's not to like?
One of the factors that makes pizza an amazing food is its versatility. Originating as Italian pizza, it has evolved significantly over the years- but never lost its original essence.
Vancouver, BC, is a hot spot for great good- from delicious ramen spots to the best pizza Vancouver joints. Whether it is traditional Italian pizza or experimental and contemporary pizzas, we've got it all.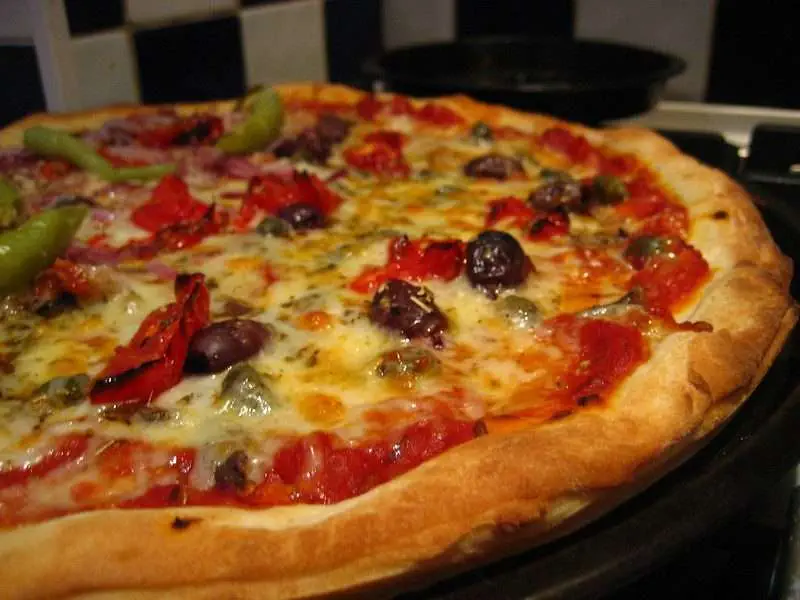 From a crispy, thin-crust pizza with delicious toppings to a simple Mozzarella cheese pizza- they all have their own charms. And whether you choose to dine in or opt for pizza delivery, you won't be disappointed.
So, if you are on the search for the best pizza Vancouver, BC, we have curated a list of our favourite places with excellent pizza.
12 Places to Have the Best Pizza Vancouver
1) Pizzeria Farina, Vancouver, BC
Pizzeria Farina serves some of the best pizzas in Vancouver. Sure, it is on the more expensive end, but it has some of the highest-quality pizza in the city.
It is a small, comfortable spot with an alluring and welcoming ambiance that shines through the entire neighbourhood. Here, you will often find locals coming regularly and visitors intrigued by the great restaurant. This pizza place serves customers up until they're out of their signature dough, so be sure to get there early for a slice.
All their pizzas have a perfectly blistered crust and are topped with fresh ingredients. Their light and crispy crust, covered in flavorful sauces and a variety of toppings, is something that they are well-known for.
Must-try items:
Calabrese is topped with Nicoise Olives, Soppressata, Oregano and Fior di latte.
Funghi is made from a flavorful and chewy dough and topped with cheese, mushrooms, and Arugula.
Finocchiona, which is a thin-crust pizza that includes sharp Piave cheese, fresh tomatoes, and spicy Italian sausage
2) Rocky Mountain Flatbread Co., Vancouver, BC
Rocky Mountain Flatbread is an award-winning pizza restaurant with multiple locations, making most people agree that it is the best pizza Vancouver joint.
It is one of the few joints that use local and organic produce and free-range organic meats. It is a completely nut-free restaurant that serves an array of vegan, vegetarian, and gluten-free crust options.
There is truly something for everyone here!
They create a blend of organic, healthy, and delicious to serve tasty, nutritious flatbread pizzas, soups, salads, pasta, and desserts.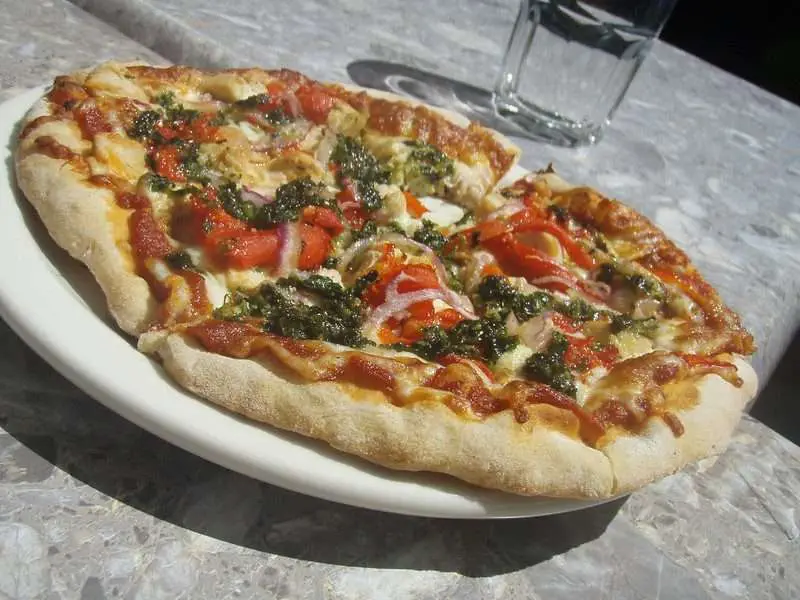 Must-try items:
Fig & Brie pizza includes fig jam, caramelized red onions, prosciutto ham, triple cream Brie, and lemon-dressed Arugula.
Honey Hot Calabrese is topped with red onions, mozzarella cheese, spicy Calabrese, Fior di latte, and honey.
3) Via Tevere Pizzeria, Vancouver, BC
Via Tevere pizzeria is the perfect romantic restaurant with a warm and welcoming ambiance along with friendly service. They serve some of the best pizza Vancouver with the perfect thin and airy crust. For people who fancy traditional wood-fire-made pizza, this is the spot you are looking for.
The owners of this spot have also opened a plant-based pizza spot, Pizzeria Grano, which is also worth a visit if you want to enjoy some delicious pizza that is also vegan-friendly.
The pizzas have three options:
Cream sauce
Red sauce
Olive oil-based
Their signature dough is vegan and serves cashew mozzarella for the perfect vegan substitute for your pizza.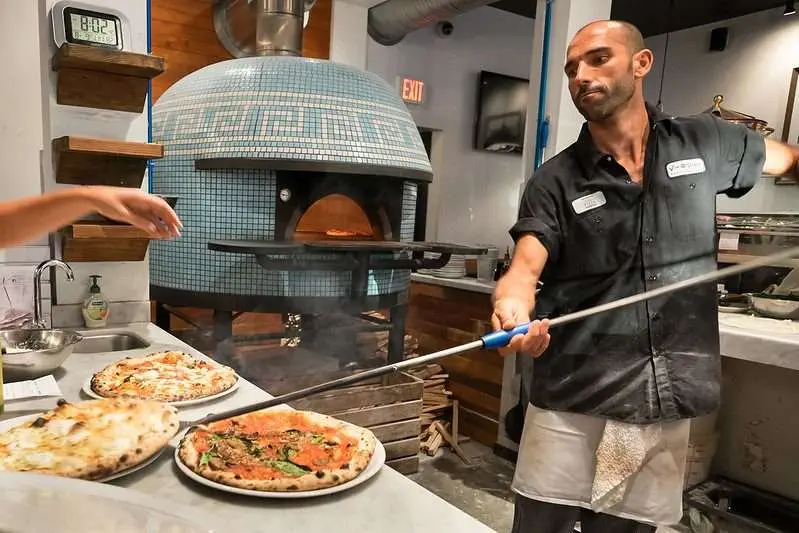 Must-try items:
Prosciutto e Rucola
Capricciosa
Salsiccia e Rapini
Napoletana is topped with anchovies, tomato, mozzarella, and basil.
4) AJ's Brooklyn Pizza Joint, Vancouver, BC
This is one of Vancouver's favourite pizza places. It is a proper Brooklyn pizza restaurant in Vancouver with a casual, old-school atmosphere and really friendly staff. It is an extremely busy restaurant, so to enjoy a fun dine-in experience, make sure to get there early.
They serve Brooklyn-style pizza, which is meant to be folded over while eating for a true experience. This pizza joint serves an array of different styles of pizza, but a classic choice is the New York-style pizza. This particular slice is very wide, with a thick, crispy crust that can be folded in half. This is an extremely popular and distinct style of pizza.
The pizza place makes most of its ingredients in-house, such as the hand-tossed pizza dough and the sauce.
Like AJ's Brooklyn Pizza Joint, Virtuous Pie is a classy fast-casual eatery specializing in homemade pizza, Vegan pizza and ice cream created entirely from plants. No matter where they are, they are renowned for their wonderful atmosphere, excellent service, and delicious food that is also healthy.
Their SuperFunghi is a delectable combination of notable ingredients, which primarily include:
Arugula
Wild Mushrooms
Truffle Almond Ricotta
Herbed Potato Cream
Fun fact: AJ's has a 'Build your own' option, so you can have fun and experiment with making your own pizza.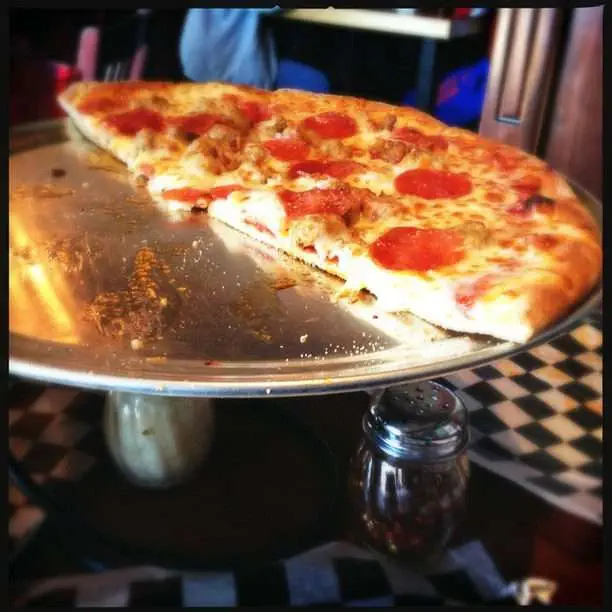 Must-try items:
The Supreme New Yorker includes spicy sausage, tomato sauce, ricotta cheese, Calabrese, and pepperoni.
Sicilian Square pizza, which comes with Sicilian tomato sauce, mozzarella cheese, and fresh basil. It has a thick crust that is cut into squares rather than the traditional triangles.
Meatball pizza
Di Niscorio
Spicy Vesuvio, which has mozzarella cheese, mushrooms, Parmesan cheese, Italian sausage, and chili flakes.
Juno's Semi Spicy Fun Guy, which is topped with mozzarella, mushrooms, tomato sauce, hot calabrese, and pepperoncini.
5) Novo Pizzeria & Wine Bar, Vancouver, BC
Novo Pizzeria is one of the best pizza Vancouver spots that serves Neapolitan pizza in Vancouver. They serve traditional wood-fired pizza, some of the finest wines of Italy, and fresh pasta that is house-made daily.
This authentic Italian pizza joint truly believes that God is in the details. Their pizza dough is aged for 72 hours, and the pizza is baked in a 900-degree wood-burning oven that is open to the view of the customers.
All their ingredients are locally sourced, and they use the freshest farm vegetables possible. Each of their pizzas is garnished with a pinch of flaky sea salt and a drizzle of olive oil.
With an expansive collection of wine, it is only fitting that they have Happy Hour daily!
It consists of great Italian wine and cocktails that pair amazingly with small and seasonal plates and their well-known wood-fired pizzas, the best pizza in Vancouver.
Apart from the air-conditioned dining room, they also have a patio where you can choose to sit and enjoy the pleasant weather.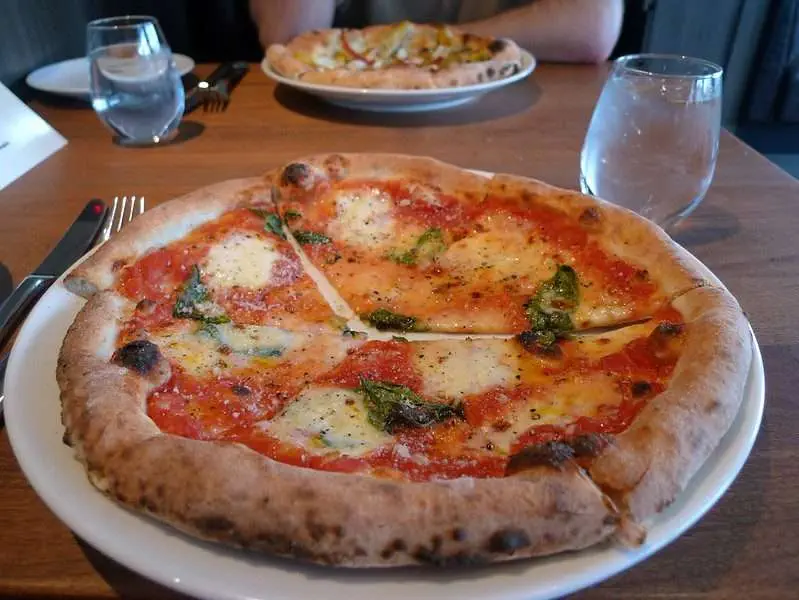 Must-try items:
Chorizo salami pizza is topped with fresh mozzarella, ricotta, basil, and chilli honey.
Salami & Olives comprises fresh mozzarella, Sicilian olives, basil, Finocchiona salami, and shaved Parmigiano-Reggiano.
Verdura Cotta includes toppings like goat cheese, pickled onions, marinated roasted peppers, artichokes, and chives.
6) Pizzeria Barbarella, Vancouver, BC
This pizza place offers more modern versions of pizzas, making their creations more fun and unique. Their serving size is huge, and they have extremely friendly staff.
A contemporary pizzeria with handmade toppings and local craft beer on tap. An excellent artisan pizza place with several delectable vegan options, but not the best deal.
They have excellent pizzas that you can pair with a wide variety of regional beers. There is decent service and a relaxed atmosphere. Although little, the pizza was good.
The crust was crisp and fresh and had a good amount of body and many toppings. The flavour balance was also good. The topping selection and quantity are ideal, and the crust is superb.
The large house salad is more than enough for two people to share. This is the place if you want the thin crust.
To truly enjoy the city's real essence and some of the best pizza in Vancouver, they also serve craft beer from the local breweries.
Apart from meat pizzas, they serve a great variety of vegan and vegetarian pizzas like Filetti, Divano, and Campagna. You can also substitute vegan cheese on any pizza.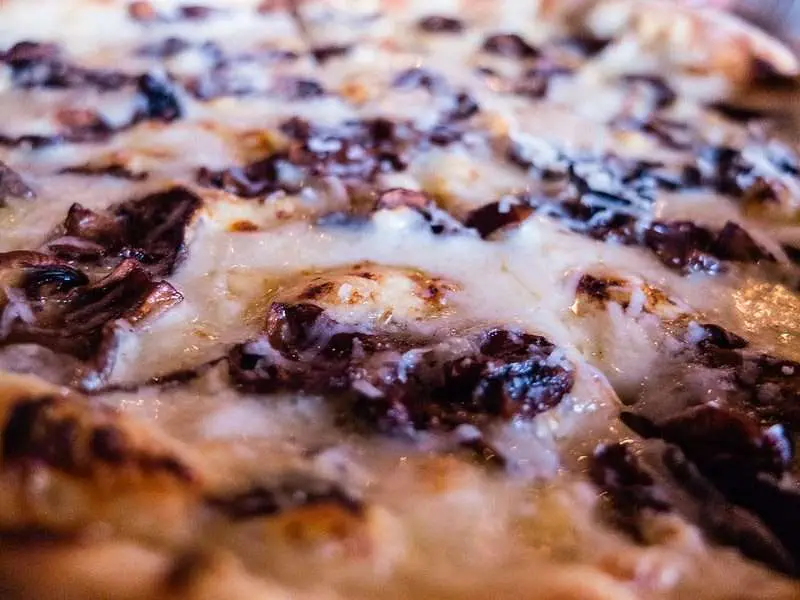 Must-try items:
Fungi, which is topped with roasted cremini mushrooms, rosemary, bechamel sauce, and green onions.
Amatriciana, which consists of red onions, fresh garlic, bocconcini, grana padano, pancetta, and aged mozzarella.
Fuoco, which comes with, fresh jalapeños, hot capocollo, bocconcini, aged mozzarella, and grana padano.
7) Straight Outta Brooklyn NYC Pizzeria, Vancouver, BC
With multiple locations around the city, this pizza place has successfully made its way into the heart of the city, creating some of the best pizzas in Vancouver. Bringing a true slice of pizza from America to Vancouver, they offer quick, cheap, and enormous slices.
Gennaro Lombardi, an immigrant pizzaiolo from Naples, started serving pizza at his Little Italy supermarket in 1905, which is when the "New York Pizza" first appeared. Lombardi invented a distinctive pizza style resembling that of the past. He continued to emphasize a thin crust and premium ingredients, but he served his pizzas "to go" and "by the slice."
His influence caused the creation of Italian American pizzaiolos, who started to produce top-notch slices across Brooklyn's immigrant communities. Brooklyn is still known for having the best pizza in New York.
Straight Outta Brooklyn uses only high-quality ingredients that mix the essence of Italy and America. Their wide slices can be easily folded in half, making it convenient to eat on the go.
Must-try items:
White pie, which comes with smoked provolone, garlic, ricotta, oregano, fresh mozzarella, and grana

Pesto, aged mozzarella, ricotta, grana, and pesto sauce (arugula, basil, walnut, artichoke)
8) Nicli Antica Pizzeria, Vancouver, BC
Nicli Antica Pizzeria is a warm and welcoming restaurant that has a huge patio that allows for the experience of outside dining.
A contemporary pizzeria with a bar and authentic Neapolitan pies is located in a former horse stable and jail. The wood-fired pizzas, salads, and antipasti diners at Nicli's Gastown restaurant relished chopping into with scissors are still on the menu at its North Vancouver branch.
This quaint neighbourhood café has a distinctly European feel. The food is excellent, and the wine and drink selection, while not extensive, is good. Keep space for dessert as well. Service was top-notch.
Their goal is to share four generations of their family's culinary traditions with the rest of the world. They believe in using only fresh and local ingredients, which helps curate a vast menu that can satisfy all tastes.
They have many options available for vegan, vegetarian, and gluten-free people, ensuring every visitor can be accommodated and enjoy their version of the best pizzas in Vancouver.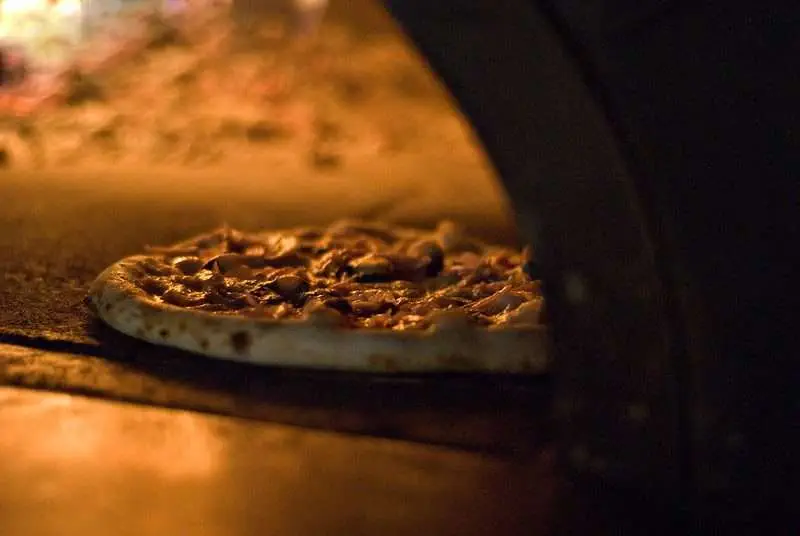 Must-try items:
9) Nook, Vancouver, BC
With multiple locations that serve some of the best pizza, Vancouver, Nook is a pizza place that has amazing service, great pizza, and the perfect atmosphere. They make authentic Italian dishes, which are wonderfully prepared.
One of those spots, Nook, is ideal for spending a special event or an evening out with loved ones. Everything on the broad menu is prepared with Italian flair.
When it comes to pizza, their house-made sausage pie is a perennial favourite, their mushroom pizza is a must-try, and their anchovy is too good to pass up.
A wide variety of toppings are available for each pizza, including
pepperoni,
baby meatballs
goat-horn chillies.
You can personalize your pizza to your taste!
This incredibly cute Italian eatery delivers some of the greatest pizza in the city, has the ideal ambiance, fantastic service, and authentic and expertly prepared food.
They have an expansive menu full of Italian food and some of the most delicious cocktails and fancy wine. The staff here is incredibly helpful and will make your experience much more memorable.
Must-try items:
Mushroom pizza
House-made sausage pie, which is topped with cheese, basil, and three chillies (goat horn, Sicilian and Calabrian)
Desserts like Tiramisu and Vanilla Pannacotta
10) The Parlour, Vancouver, BC
The Parlour is a little different from your traditional pizza joint. The restaurant turns into a lounge full of drinks and dancing on the weekends! You can enjoy the trendy night scene, following some amazing pizza and great drinks.
Their mission is to offer "an elegant twist on comfort cuisine."
The Parlour first opened its doors in Vancouver's famed Yaletown more than six years ago, and it now also calls King Street West in downtown Toronto home. The Parlour is a meeting point between West Coast hospitality and East Coast edge .
They welcome guests looking for a chic yet relaxed ambiance and blend creative cocktails, hand-crafted beers, and fine wines with an imaginative menu. The homemade pizzas on their menu are a classy take on traditional comfort food.
With some of the finest handcrafted pizza, the extremely stylish atmosphere, and their constantly evolving menu of appetizers, this modern classic is sure to satiate your desires and leave you with a memorable experience of the best pizza Vancouver.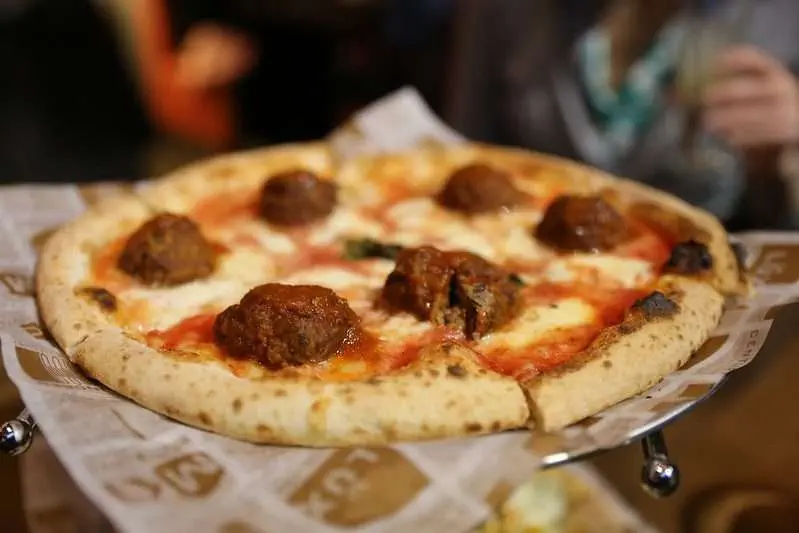 Must-try items:
The Big Prawn
The Dirty comes with pepperoni, meatballs, Banana pepper, and mozzarella.
Goldmember is topped with Yukon gold potatoes, mushrooms, truffle oil, duxelles, caramelized onions, mozzarella, and gruyere.
Zeus, which comes with tomato, basil, green onions, olives, roasted garlic, feta, and mozzarella.
11)Pizza garden
Pizza garden is a genuinely good pizza place that has kept the true essence of authentic Neapolitan pizza. Pizza garden has made its name as some of the best pizzas in Vancouver using top-quality ingredients and artistic techniques.
They have a unique menu that is constantly evolving as they continue adding new artisan flavours of pizzas. Their menu also includes a huge variety of vegetarian options, accommodating the larger masses.
They have the option of a half & half pizza for all those who are indecisive and cannot settle on a single flavour! Apart from that, you can create your own pizza, building it from scratch to match your tastebuds.
They use only top-quality flour, Caputo flour, which is imported from Italy. Their tomato sauce is hand-made, using a traditional blend of the freshest vine-ripened tomatoes, herbs, and extra-virgin olive oil. All their vegetables are locally sourced from farmers. And they only use meats that are imported from Italy or sourced from British Columbia's finest farms.
Their delicious toppings create a beautiful combination of textures and flavours that complement the crispy, thin, and not-too-chewy crust, building a slice of some of the best pizzas Vancouver.
Must-try items:
Montebello, which comes with fresh tomato sauce, pepperoni, Fior di Latte, fennel sausages, and Grana Padano
Pollo Whisky BBQ, which comes with BBQ sauce, Grana Padano, cilantro, roasted red peppers, Fior di latte, grilled chicken, mozzarella, and caramelized onions
Aglio Arrostito, which includes roasted garlic, Grana Padano, Fior di latte, mozzarella, pesto sauce, and grape tomatoes
Primo
Calabria
12) Pizza Carano
Pizza Carano is the spot for a modern take on the traditional Neapolitan pizza. They serve some of the best pizza in Vancouver, traditional Italian antipasti, freshly made pasta, along with all-day drinks.
The cozy atmosphere and approachable menu make this the best pizza Vancouver spot, perfect for a dinner party with your friends or family. You can enjoy gourmet pizza along with great urban music. They also have an open kitchen concept, allowing you to watch the making process of some great pizza.
They use the highest-quality ingredients and make most of them from scratch daily. Don't forget to try their delicious cocktails, tap beers, and curated wines.
Tip: Ask your server about the 'weekly featured pizza' a new feature pizza that is changed weekly, the unique flavours making these combinations some of the best pizzas in Vancouver.
Must-try items:
Italian sausage pizza
Spicy Coconut Kale comes with coconut cream, chilli oil, kale, and peanut satay-marinated mushrooms.
Capocollo & Smoked Ham, which is topped with white sauce, roasted pistachios, Capocollo, smoked Castelvetrano olives, and smoked prosciutto Cotto.
The Carne, comes with tomato sauce, Capocollo, pickled jalapeños, Italian sausage, and soppressata.
Pesto & Gorgonzala Bruschetta, which is house-made focaccia bread topped with pesto, grana padano, chili, gorgonzola, balsamic reduction, and Calabrian
Quattro Formaggi
Limone posset and custard with candied lemon rind
Favourite FAQs
2. What is the No. 1 best pizza?